This homemade yellow cake recipe will have you feeling like a professional baker. Paired with a delicious milk chocolate buttercream frosting, you can make the perfect layered cake completely from scratch!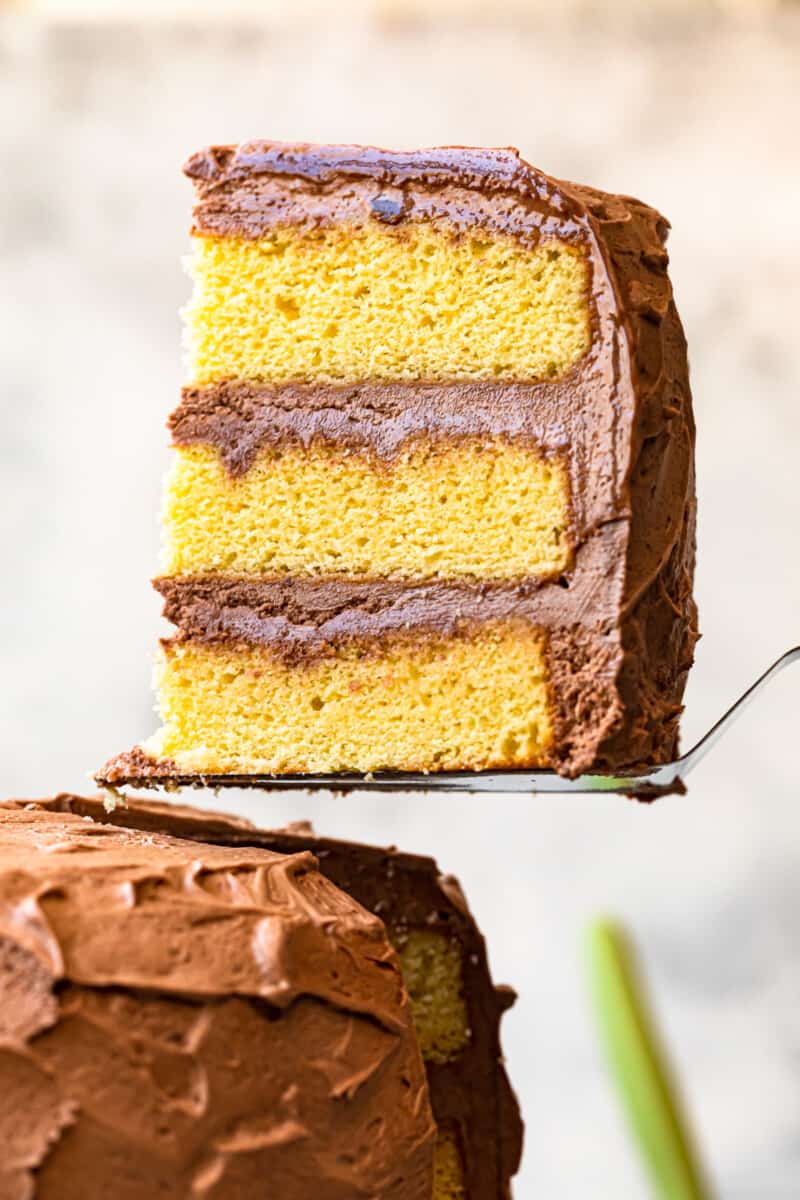 Best Yellow Cake with Milk Chocolate Buttercream Frosting
This classic yellow cake recipe is perfectly moist and flavorful, and the milk chocolate buttercream is so light and fluffy. Together, they make the best homemade cake!
Learn how to make yellow cake with chocolate frosting for a dessert everyone will love. It makes a great birthday cake, but is just as fitting for holidays like Easter or Valentine's Day.
Why you'll love this Chocolate Frosted Yellow Cake recipe: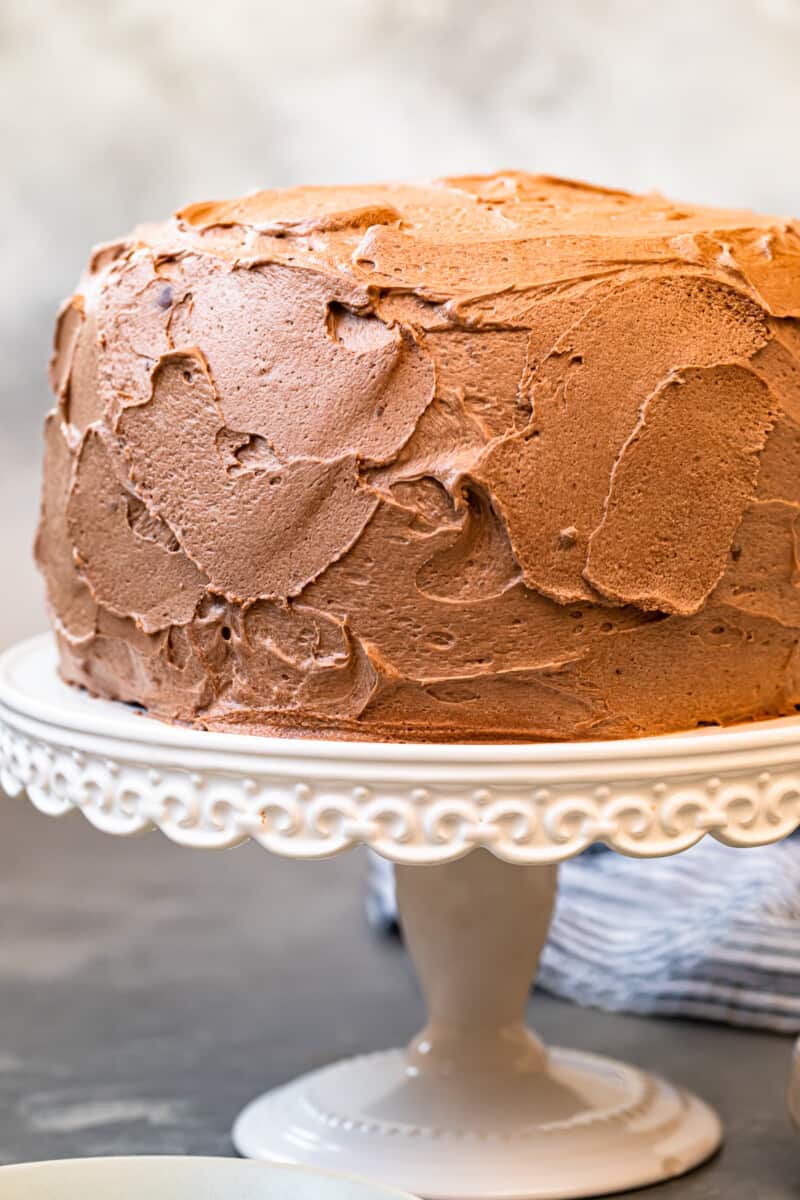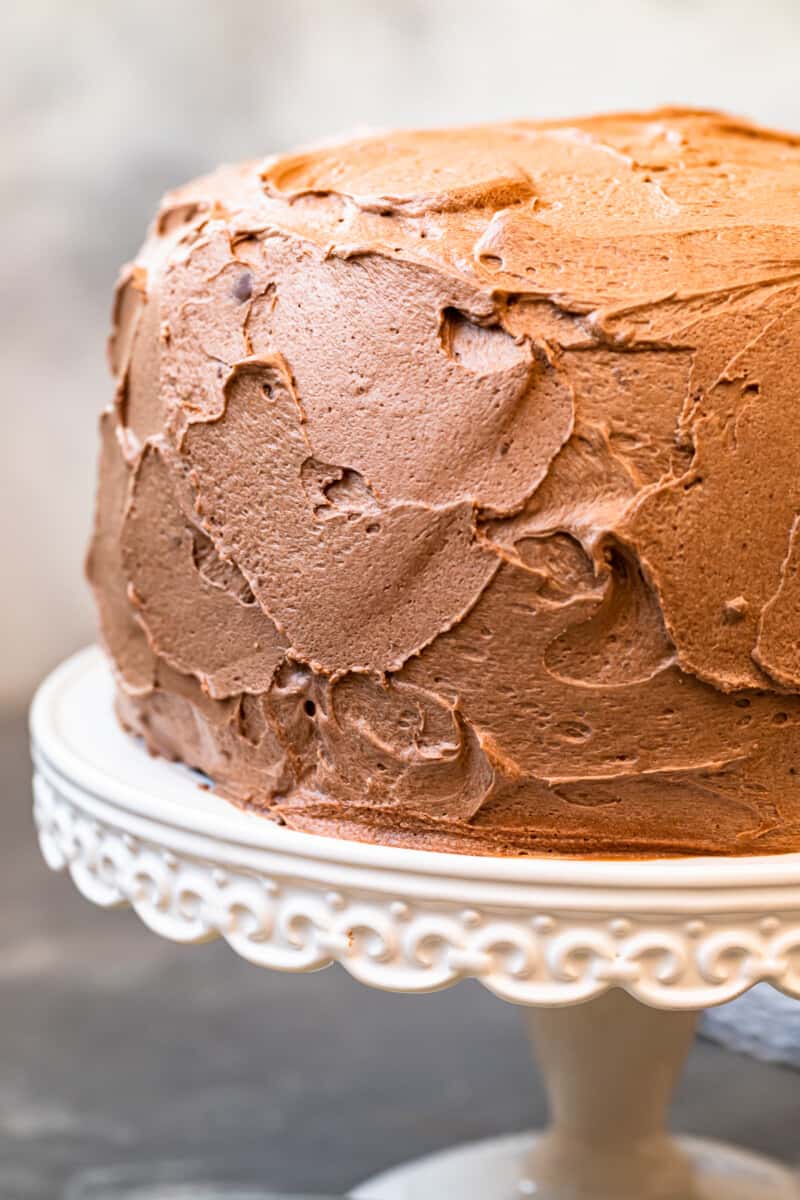 How to make Perfect Yellow Layer Cake
You can jump to the recipe card for full ingredients & instructions!
Preheat oven to 375F and prepare cake pans.
In a mixing bowl, whisk together flour, baking soda, baking powder, and salt.
Cream butter and sugar in an electric mixer. Then add in the eggs one at a time.
Slowly add in the flour and buttermilk, alternating each one. Then stir in the vanilla.
Pour batter into the 3 pans and bake 20-25 minutes.
Let the cakes cool completely before frosting. You can make the frosting ahead of time, or make it while the cakes cool.
To make the buttercream frosting, beat butter in a stand mixer, then add the vanilla and powdered sugar.
Then add in the melted chocolate, and continue mixing the frosting, scraping it down as you go. Mix until ingredients are fully incorporated and you reach the desired consistency. Add a small amount of milk if it's too thick.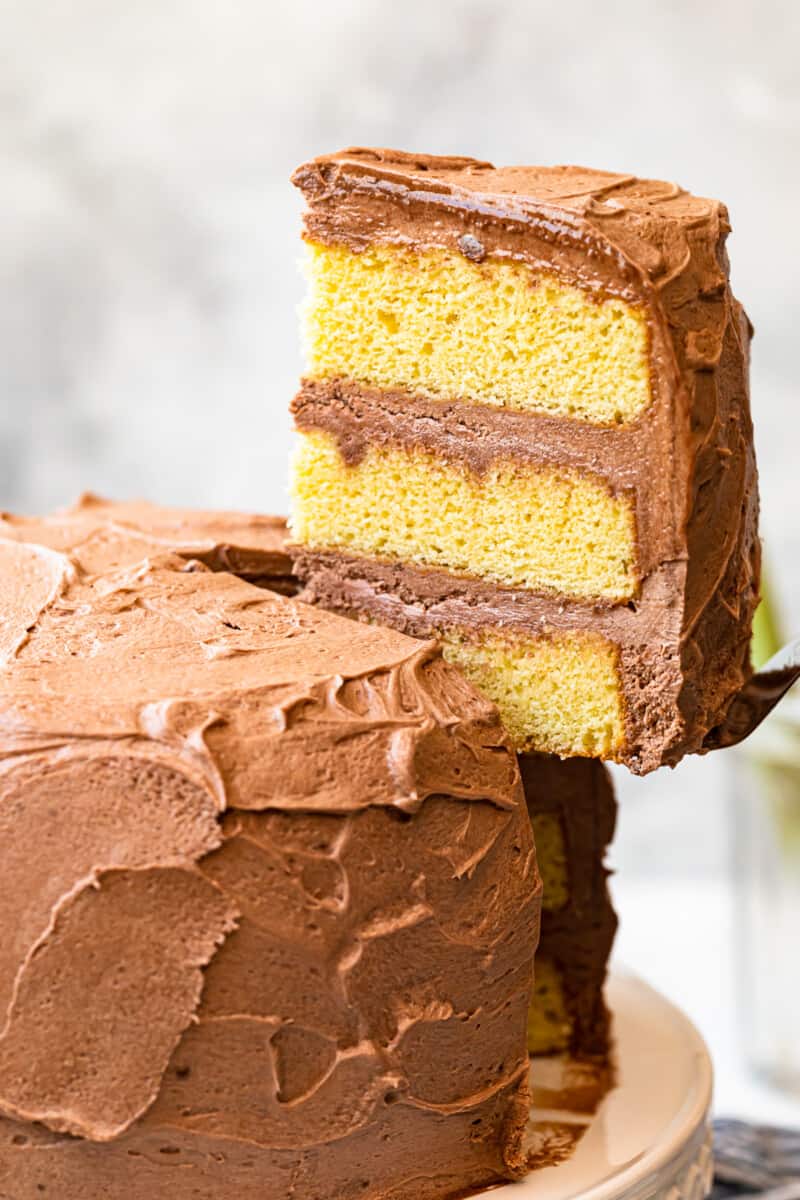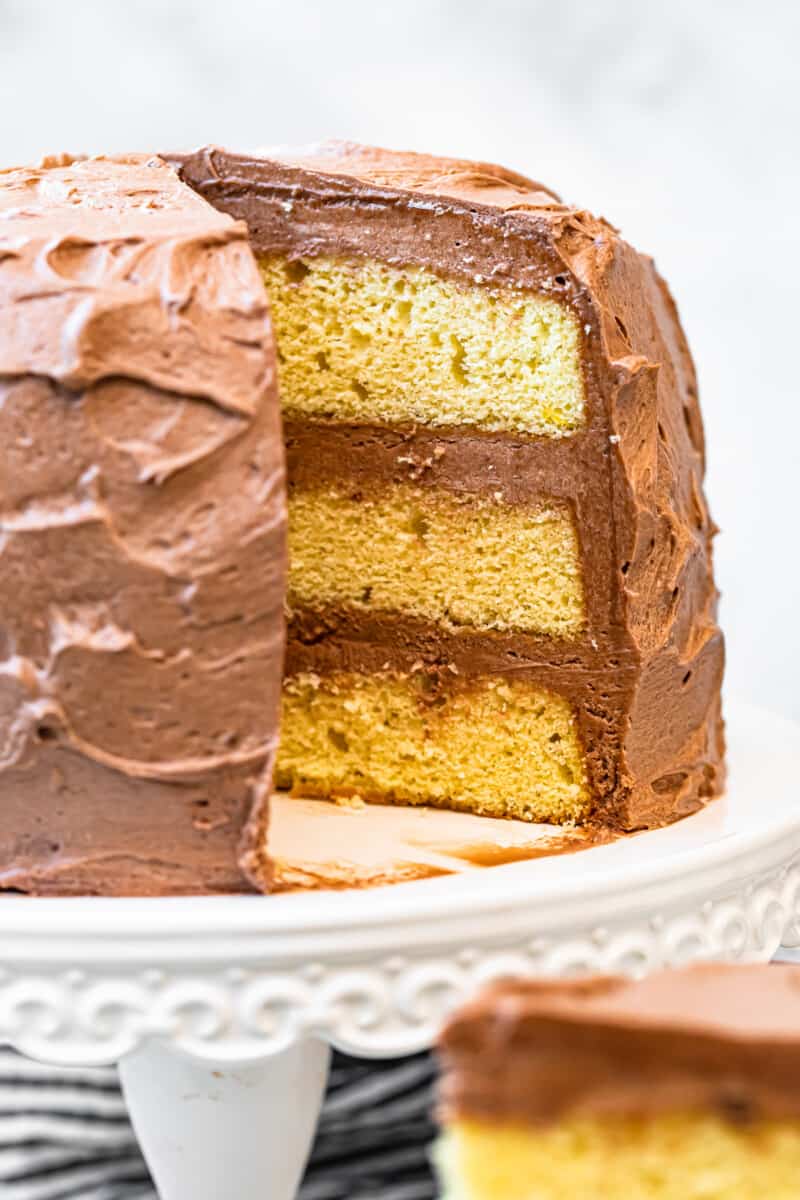 What makes yellow cake yellow?
Yellow cake mostly gets its color from the use of whole eggs (including the yolks) in the batter. Compared to white cakes, which only use the egg whites.
The yolks also add to the cake's flavor, which is a creamy, vanilla, almost custard-like taste.
How do you make this cake so moist?
Those egg yolks do a lot of work in this yellow cake recipe. They're also the secret to making it more moist, instead of dry and crumbly. It's also important not to over mix or overbake the cake, as that will dry it out.
Does chocolate buttercream frosting need to be refrigerated?
No, buttercream frosting can be stored at room temperature in an airtight container up to 3 days.
How do you store yellow cake with chocolate frosting?
After baking and frosting the cake, store it on a cake plate/stand with a dome/cloche over it. This prevents it from drying out.
It does not need to be refrigerated, and it will hold up better at room temperature up to 5 days.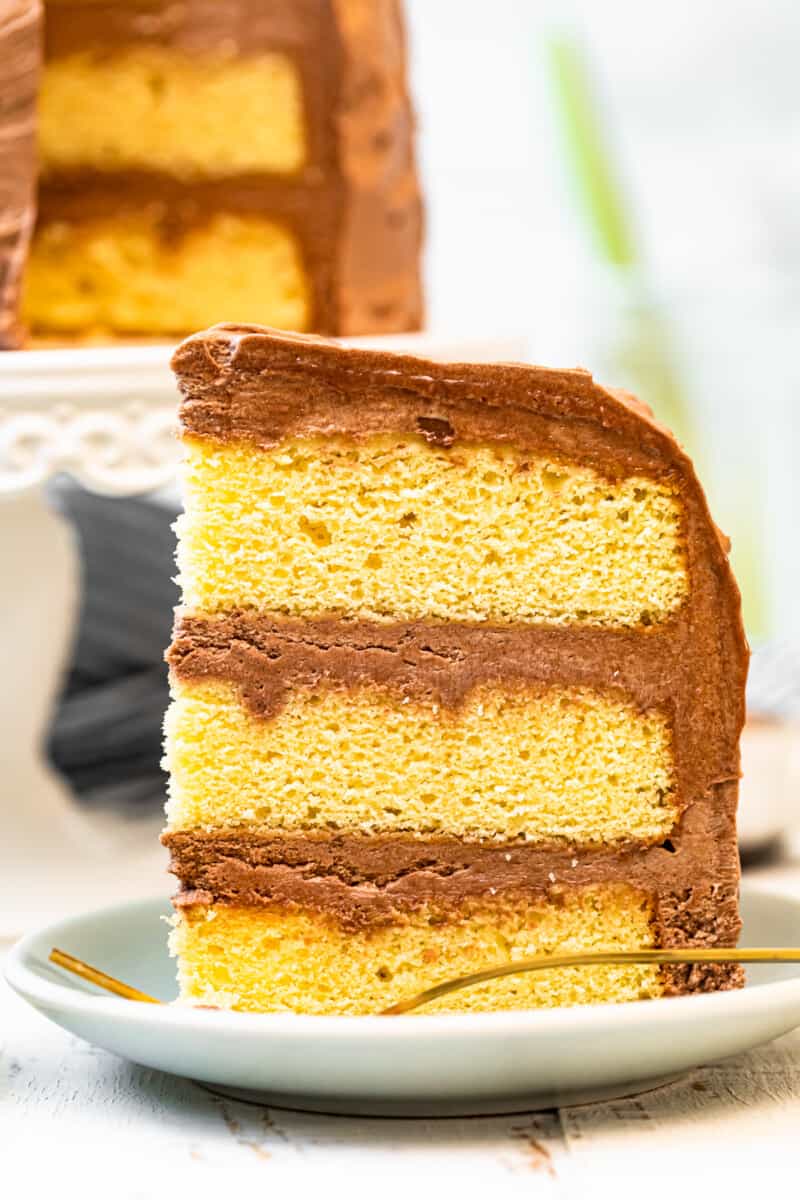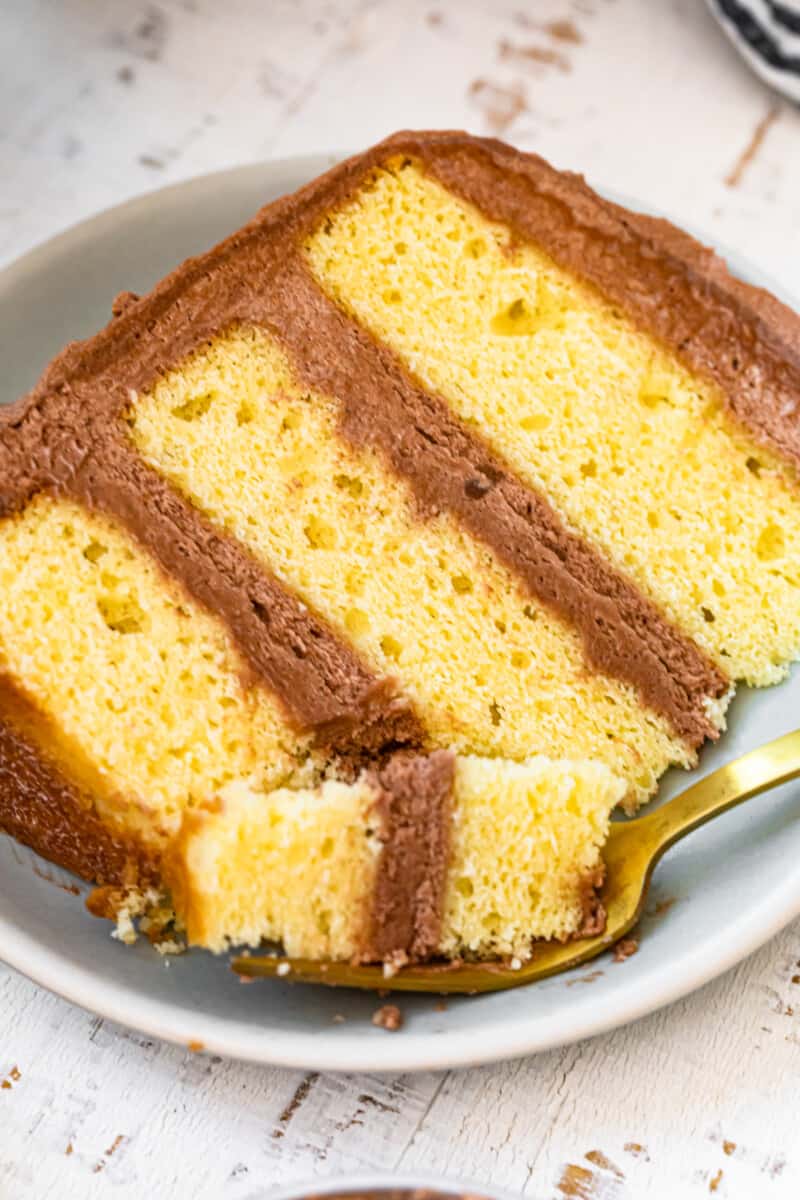 Tips!
Grease and flour the cake pans to keep the cake from sticking.
Alternate adding buttermilk and flour into the mixer. This helps create a batter that will stay moist when baked.
Don't overmix, as that will lead to a dry cake. Mix ingredients only as much as necessary.
To see if it's done, insert a toothpick into the center of the cake. If it comes out clean (no batter on the toothpick), then it's done.
Let the cakes cool in the pan for 10 minutes before removing them.
When adding the chocolate into the frosting, don't let it touch the sides of the mixing bowl.
If the buttercream frosting is too thick, mix in small amounts of milk until it becomes the desired consistency.
The frosting can be made ahead of time and stored at room temperature up to 3 days.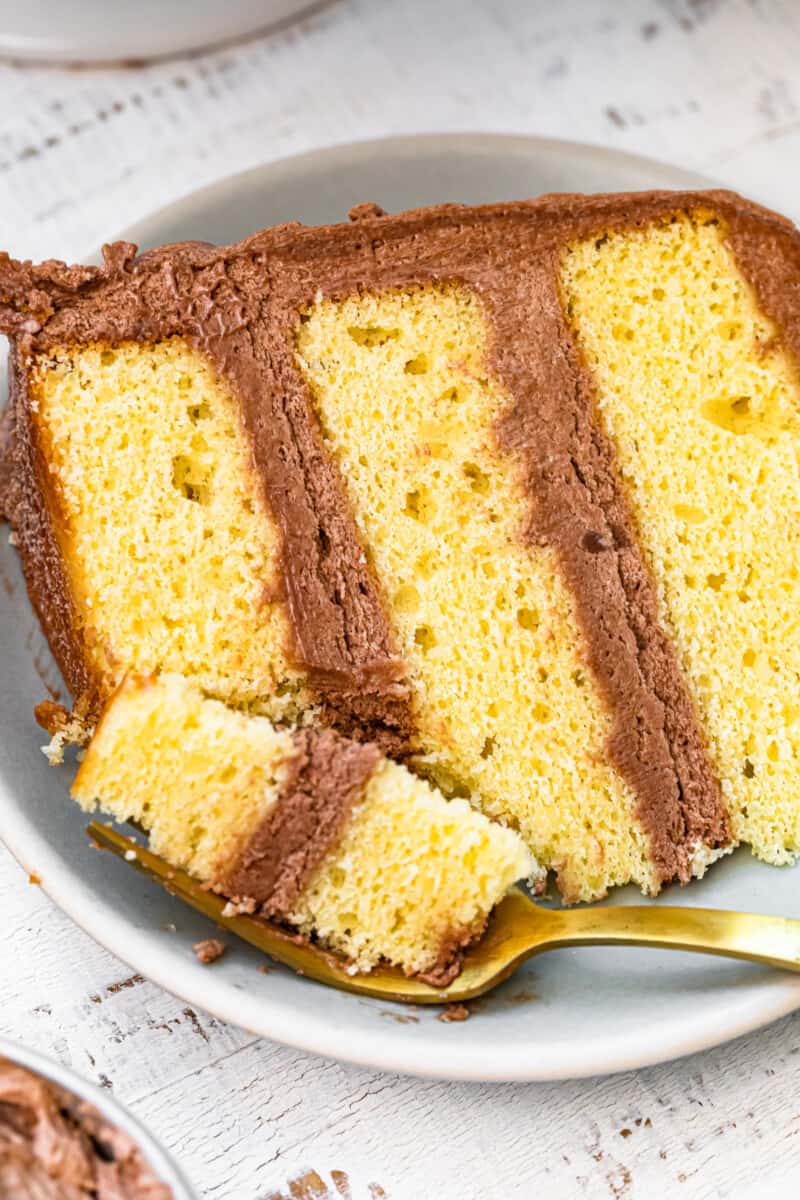 Everyone will love this delicious yellow cake with milk chocolate buttercream! It's fluffy, flavorful, and easy enough to make from scratch. Make it for birthdays, or any time you need a good dessert!
If you make this recipe be sure to upload a photo in the comment section below or leave a rating. Enjoy! You can also jump to recipe.