Baked Tomatoes with Cheese are a super quick and super easy side dish or appetizer for any occasion! These cheesy tomatoes are so simple yet incredibly delicious. They are always a hit when we make them and get eaten right away.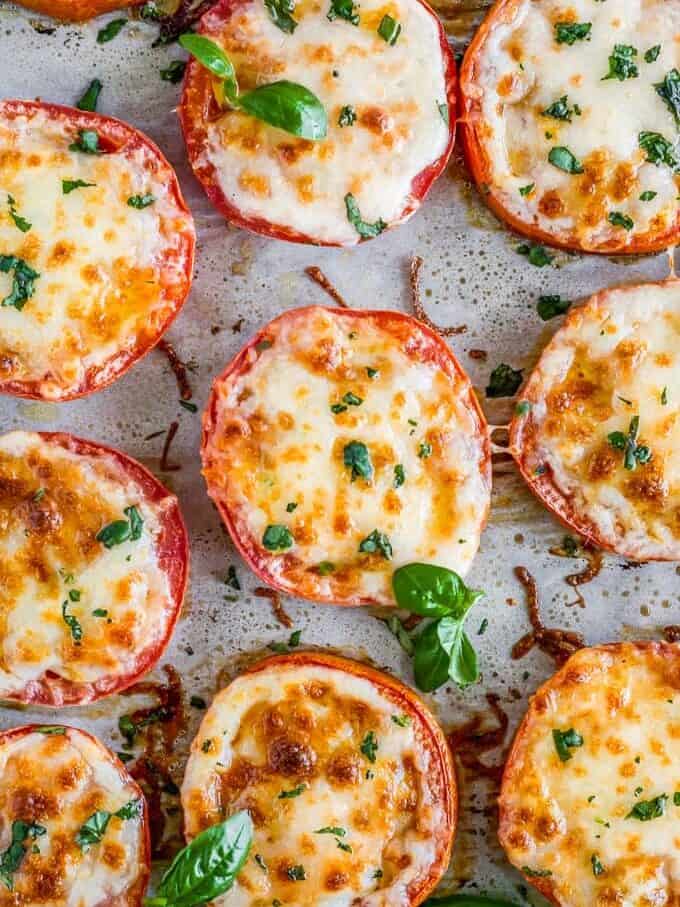 What's in Tomatoes Baked with Cheese?
These cheesy baked tomatoes are just too tasty! I'll never get tired of the fresh flavor of these simple ingredients. This Caprese salad-inspired dish is just so classically Italian, and the Italians sure know how to make a simple yet delicious dish!
Roma Tomatoes: Also known as Italian plum tomatoes, these are great for roasting. Beefsteak tomatoes also work well because of their large size and regular shape.
Cheese: The mixture of Parmesan and mozzarella cheese is creamy, tangy, and so delicious!
Basil: Adds a pop of color and freshness.
Olive Oil: Helps the cheese brown.
Pro Tip: Broil these tomatoes for a few minutes to get the cheese extra brown and bubbly!
Variations on Baked Parmesan Tomatoes
You can change up the type of cheese and herbs to change the flavor of these tomatoes. Pepper jack or Mexican blend and cilantro would be great for taco-inspired tomatoes. Gruyere or Swiss and caramelized onions would make delicious French onion soup-inspired tomatoes. And some feta and oregano would make delicious Mediterranean tomatoes.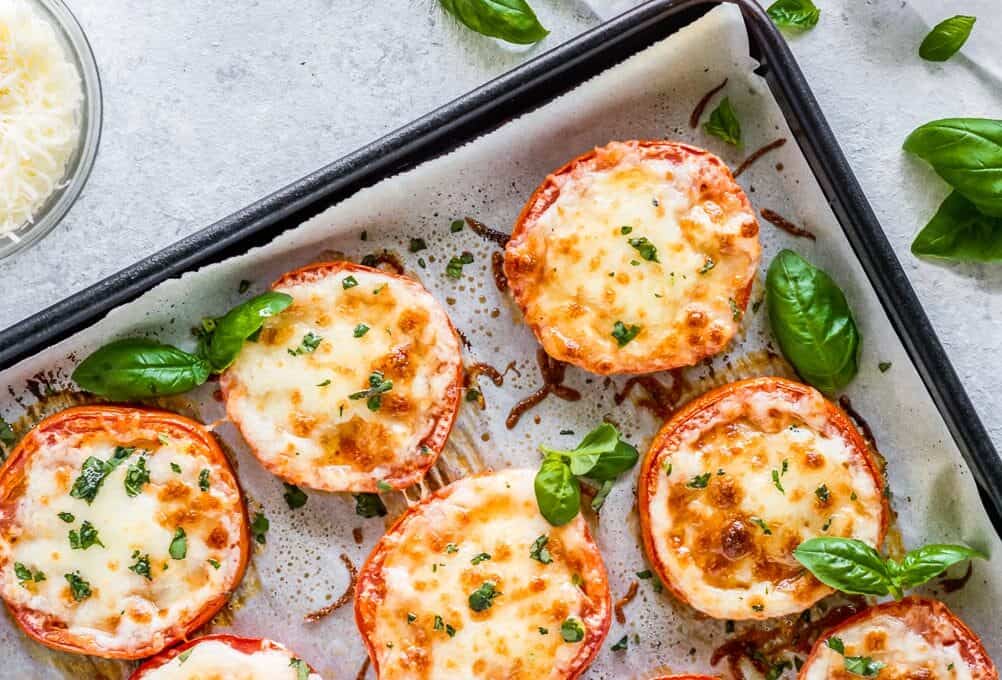 Do I need to peel tomatoes before roasting?
Nope! The tomato skins help hold these tomatoes together, so I don't recommend removing them.
Why are my roasted tomatoes soggy?
If you overcrowd the tomatoes on the baking sheet, they can steam rather than roast, leading them to turn mushy. Make sure to give plenty of space for the air to circulate around the tomatoes.
Can you overcook tomatoes?
Yes, you can overcook tomatoes. Overcooked tomatoes will turn mushy and fall apart.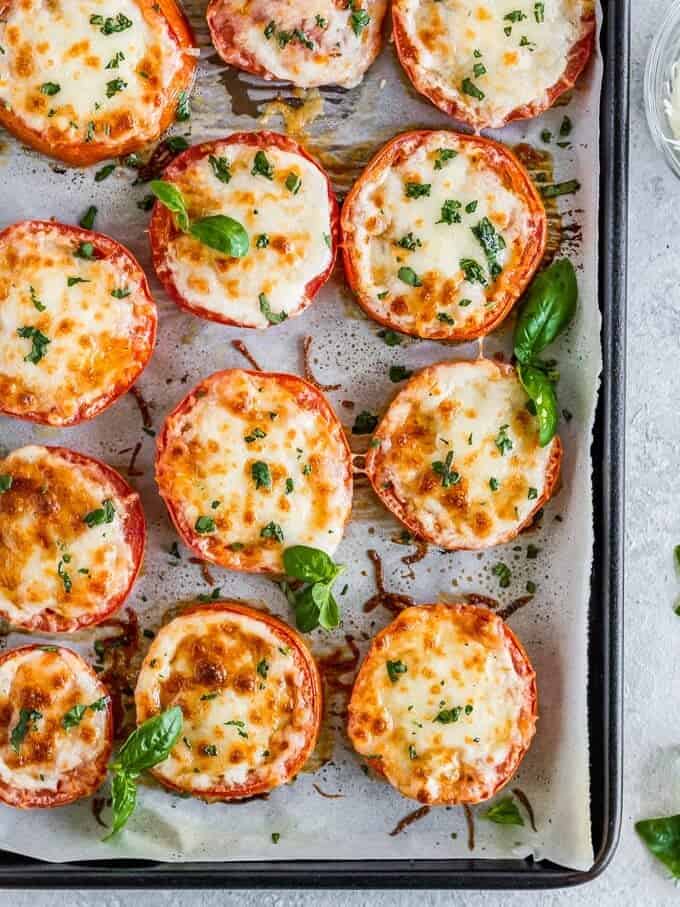 How to Store and Reheat
Store baked tomatoes with cheese in an airtight container in the refrigerator for up to 5 days. Reheat in the microwave until the tomatoes are just warmed through. I do not recommend freezing these tomatoes.
Serving Suggestions
You can never go wrong with ripe tomatoes, shredded cheese, and fresh herbs. And I really loaded the cheese on these bad boys (as if that's a surprise)! A little bit of homemade basil pesto and balsamic glaze on top would be sooo good!
Serve these tomatoes with grilled chicken breasts, baked pesto salmon, creamy garlic scallops, or pan seared ribeyes.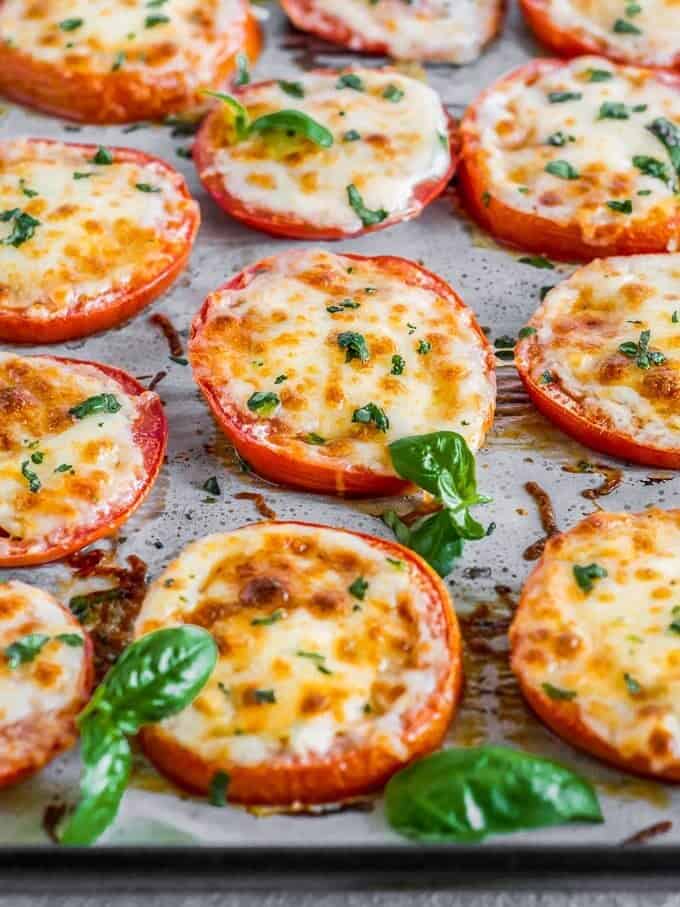 More Caprese-Inspired Recipes We Love