If you're looking for a delicious side dish to serve at your next dinner, potluck, or holiday meal, look no further! This Loaded Hash Brown Potato Casserole is always a hit. Shredded hash browns, bacon, green onions and lots of cheese combine to create the perfect crunchy, cheesy comfort-food goodness.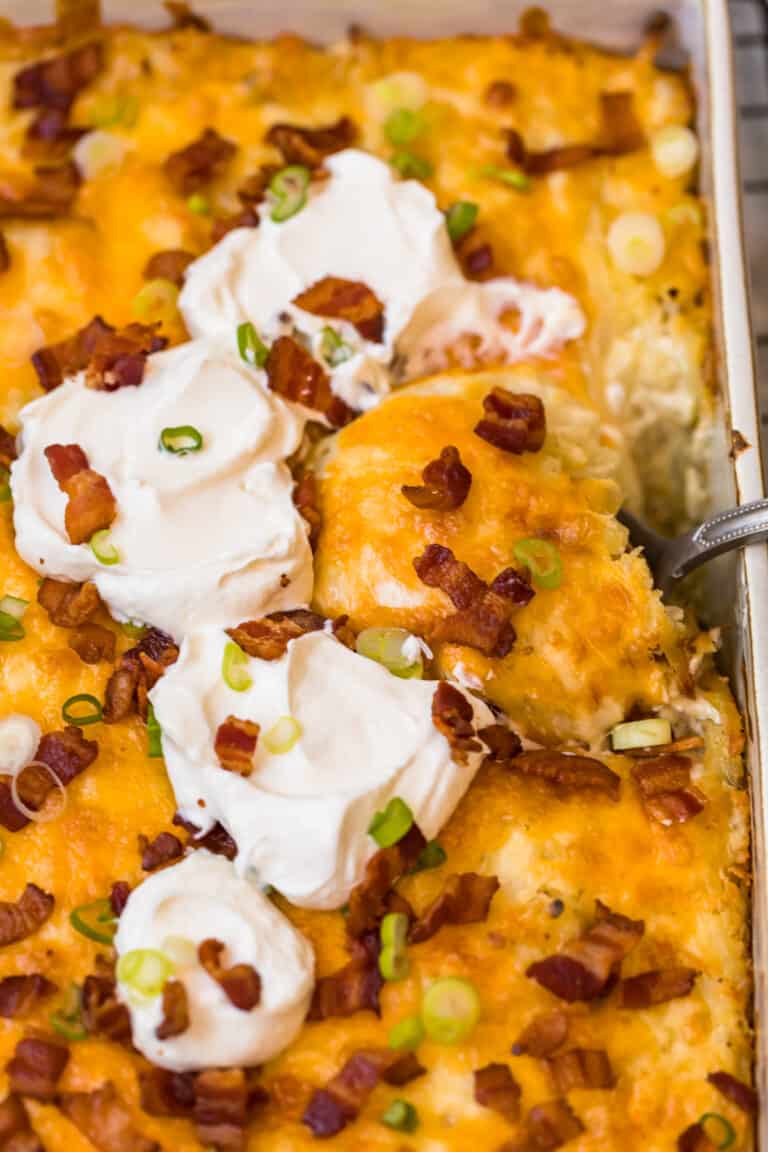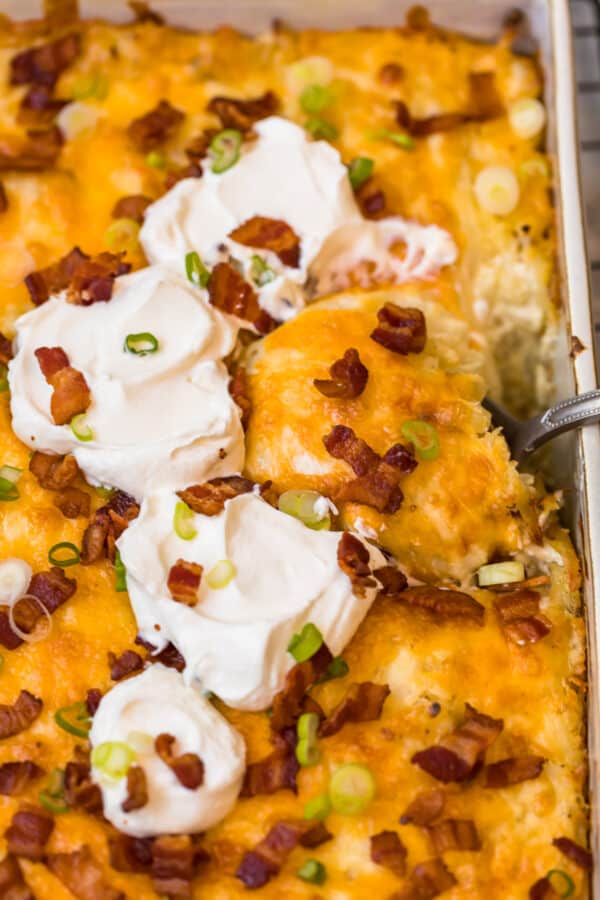 What's better than a crispy, savory hash brown potato casserole? A Loaded Hash Brown Potato Casserole! Topped with bacon, scallions, fried onions cheese and sour cream, this is an addictive side, perfect for the holidays or just when you want to indulge! Why not also try potato hashbrown soup while your are at it?
Why this is so good
The ultimate topping – cheese, bacon, sour cream and fried onions!
The perfect side for holiday dinners.
A hearty gameday dish.
A divine mix of fluffy and crunchy textures from the hash browns and cheese topping.
Versatile, load of with your favorite savory toppings
Ingredients
For The Casserole
Bacon – ideally go for nitrate free, if possible.
Hash Browns – your favorite brand of frozen.
Cream of chicken soup – or you can go for cream of mushroom. Both work great.
Cheese – shredded. Your favorite blend. If you want more spicy opt for the habanero cheese blend or if you want more Mexican flavors, go for the Mexican blend.
Sour Cream – load on top at the end!
For The Toppings (optional)
Bacon
Chopped tomatoes
Crushed crackers
Sliced scallions
Sour Cream
Shredded cheese
Fried Onions such as French's
How to make this Casserole
Be sure to scroll to the bottom for the full recipe
Cook the bacon then onions in a pan. Then, in a bowl, whisk together melted butter, soup, sour cream, milk, cooked onions, cheese and bacon. Add the potatoes to the mix and pour the whole thing into a casserole dish and bake for 60 mins.
Let sit for 10 mins and add your favorite toppings.
Enjoy!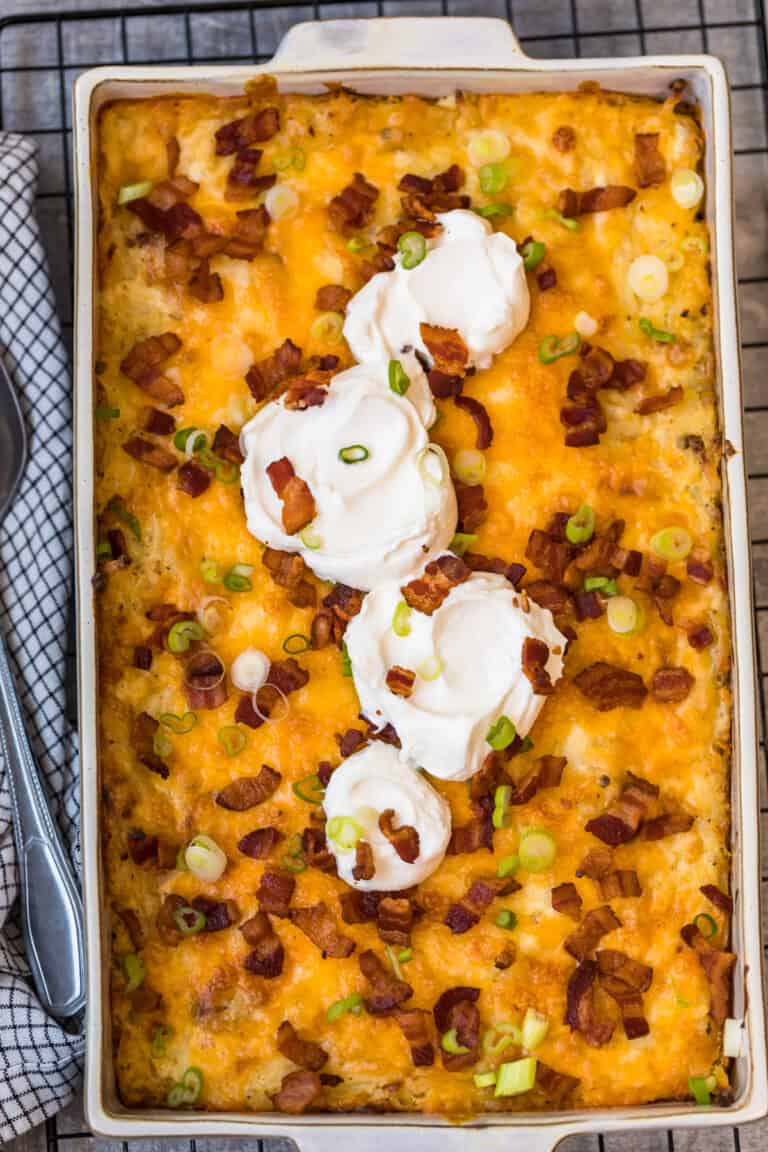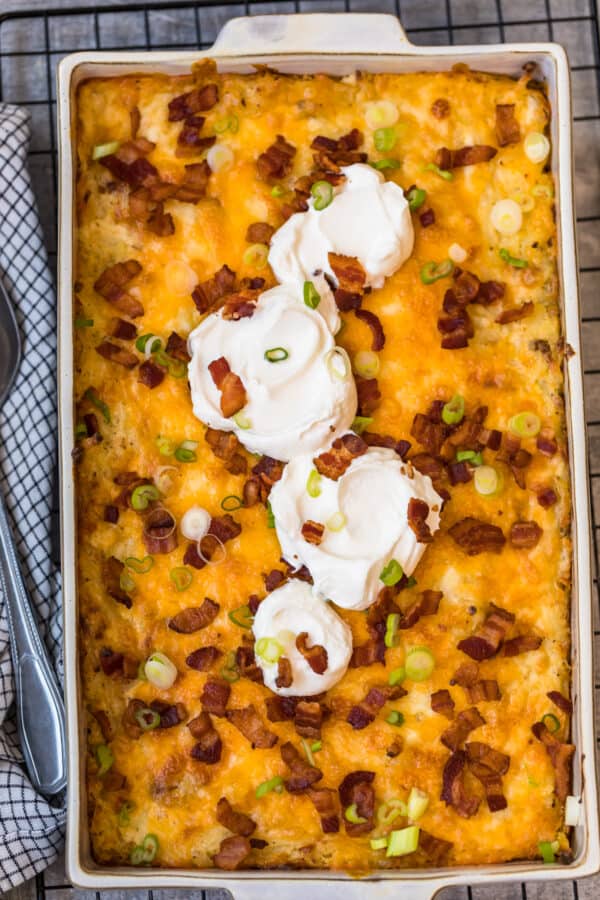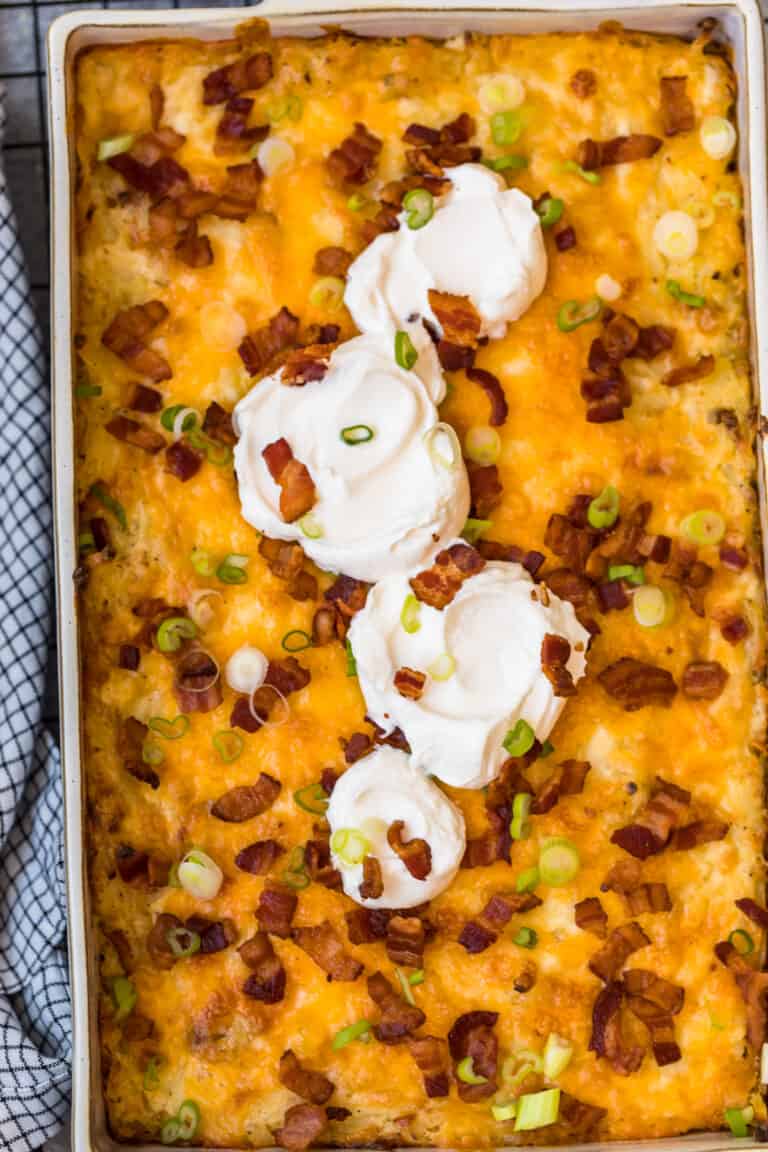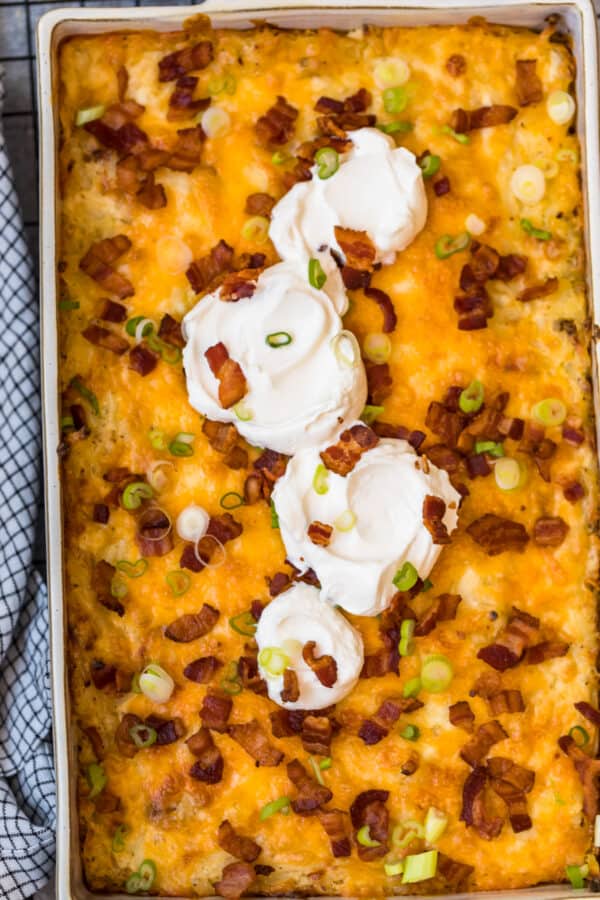 A great holiday side
This Loaded Hash Brown Potato Casserole is made for the holidays. Cheesy deliciousness, hash browns, and this creamy sauce make for one perfect side It's like loaded baked potatoes meet creamy, crunchy hash browns, joined by a plethora of savory toppings! It comes together so quickly and is super easy to make. It makes the perfect easy side dish for serving for Thanksgiving, Christmas, Easter and Sunday suppers!
A make ahead side dish
This is perfect for serving at holiday gatherings or weekend brunch because it's so easy to make ahead! You simply prepare your hash brown casserole without baking it, cover tightly and store in the refrigerator for up to 3 days. When ready to serve, bake as directed, add toppings, serve and enjoy.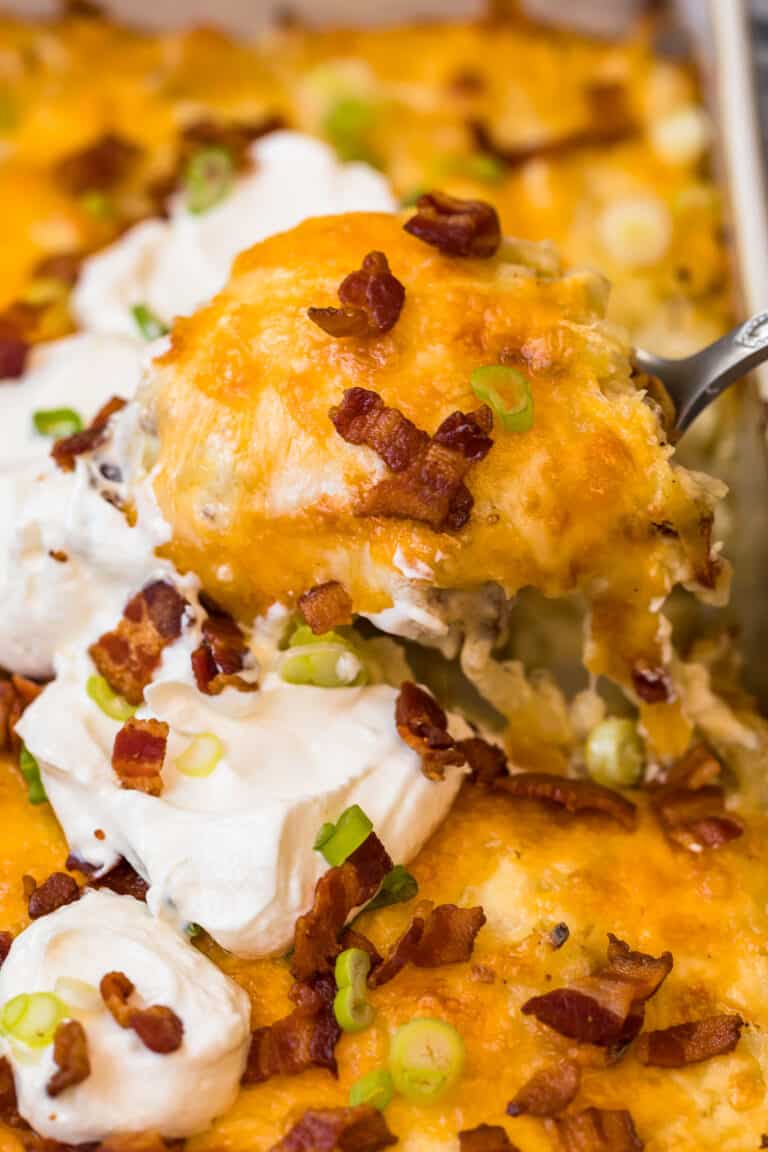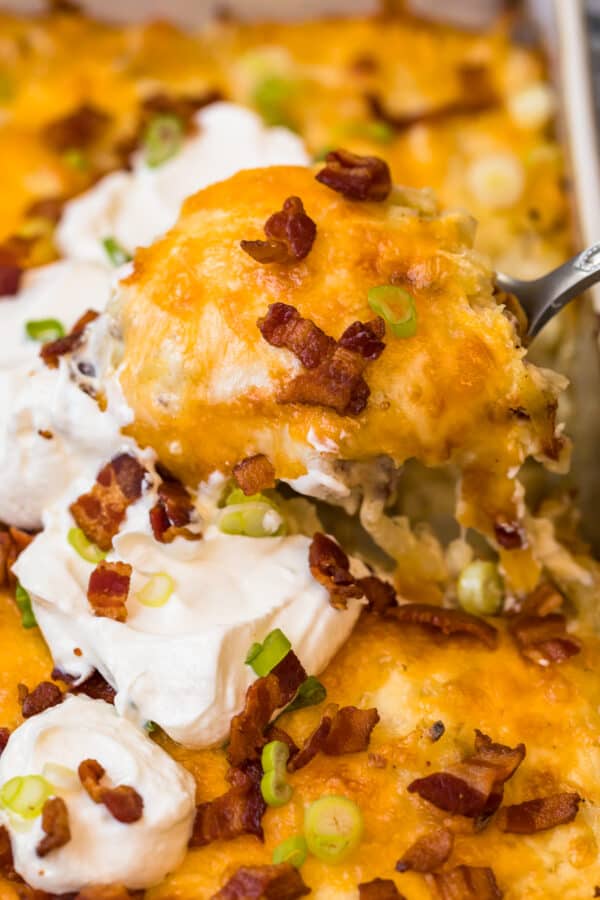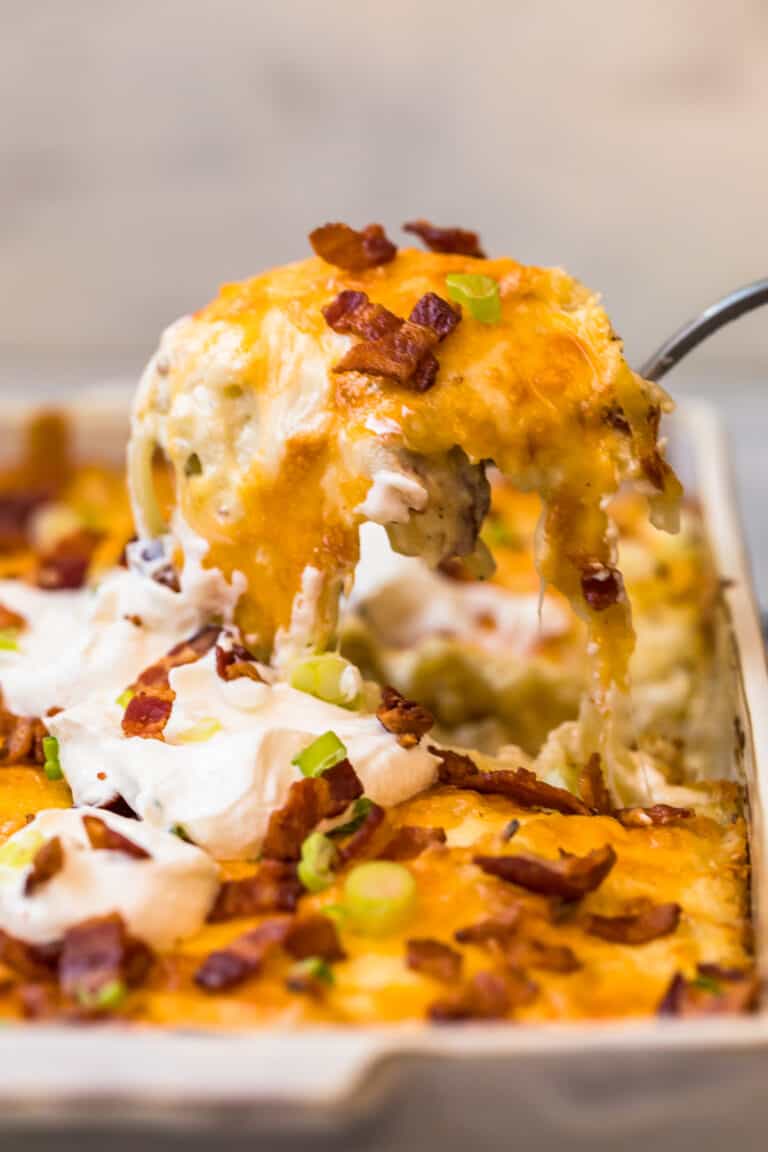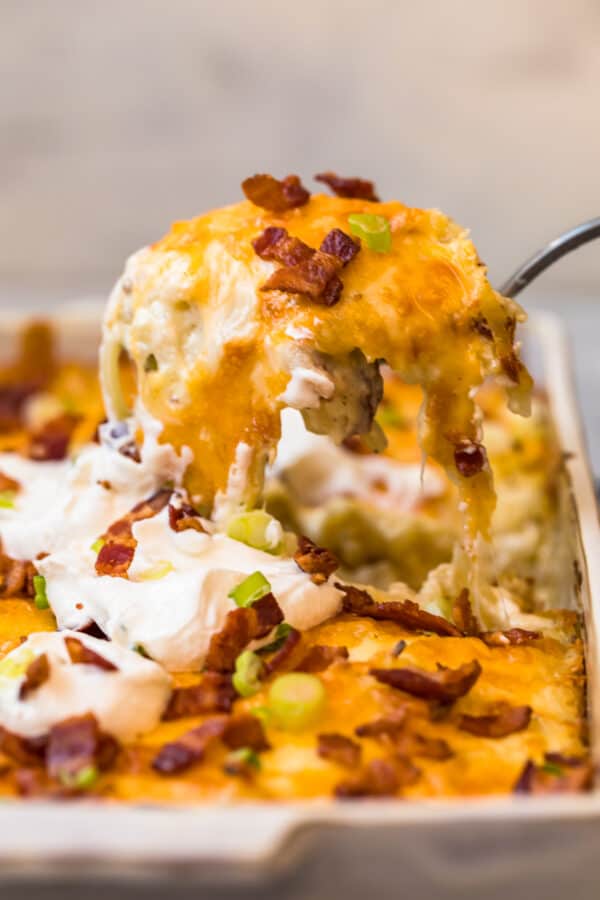 Can I freeze this casserole?
You can freeze this for later too! Just prepare the hashbrown casserole without baking, store in an airtight, freezer-safe container and keep in the freezer for up to 3 months. To serve, thaw in the refrigerator overnight and then bake as directed and serve.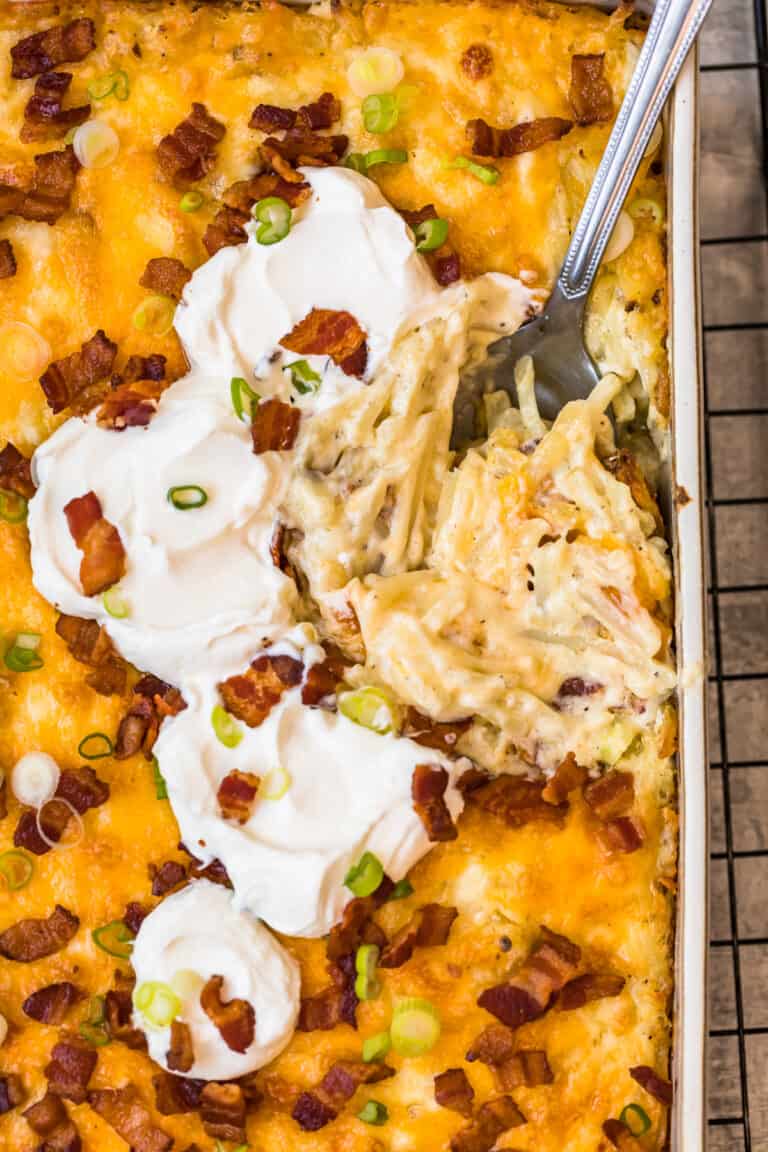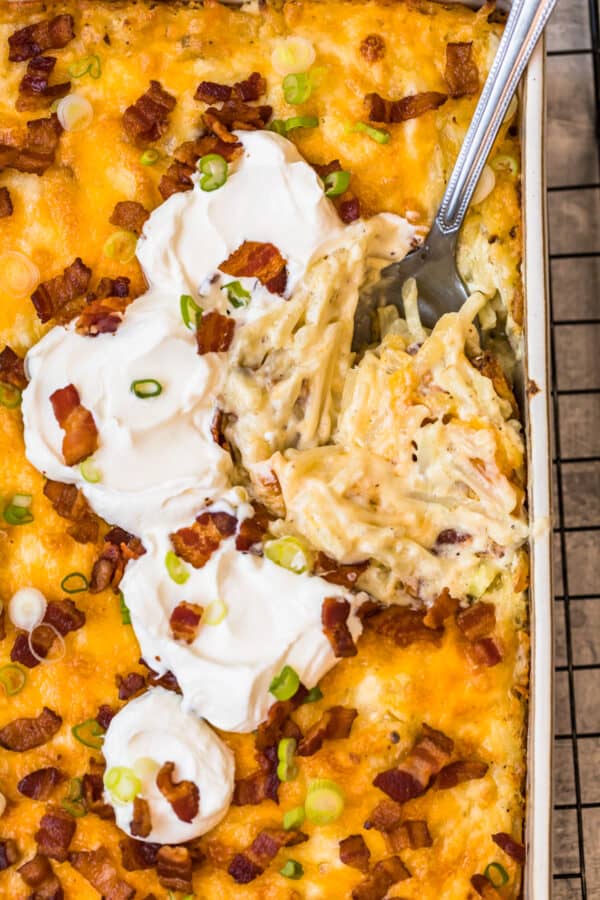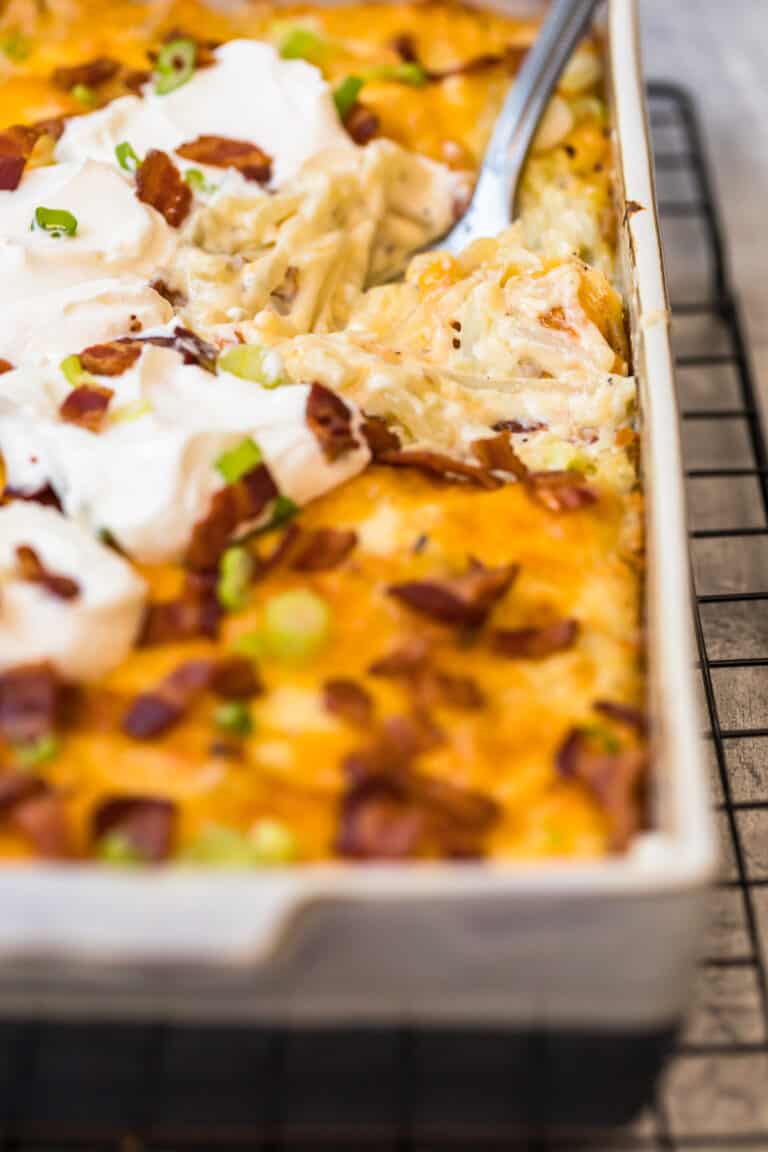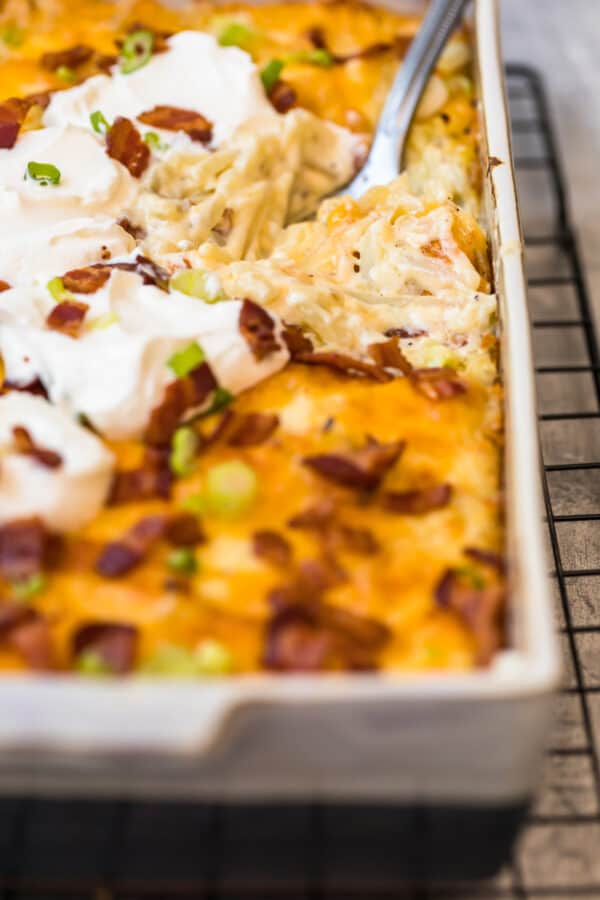 Top Tips
Use a preheated oven.
If the cheese is browning too quickly, tent with aluminum foil.
Let set for 10 minutes before serving.
Serve with your favorite toppings, you can amp it up further with some seasoned ground beef or sausage.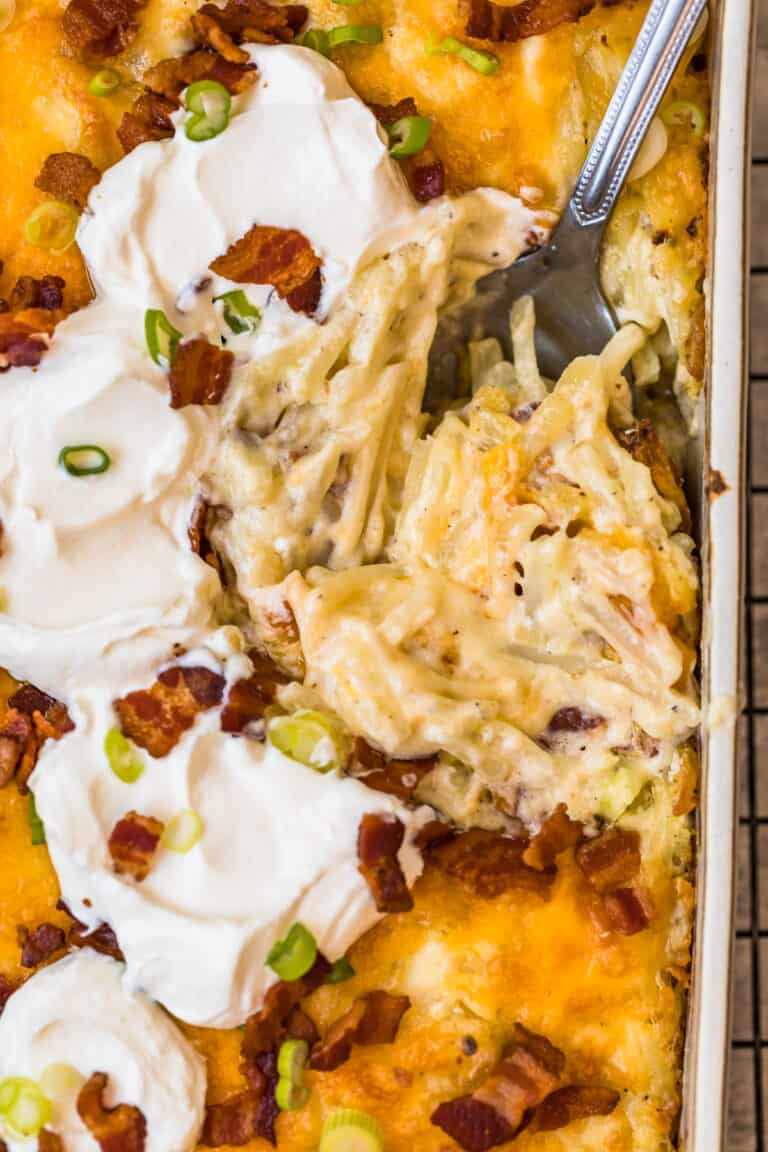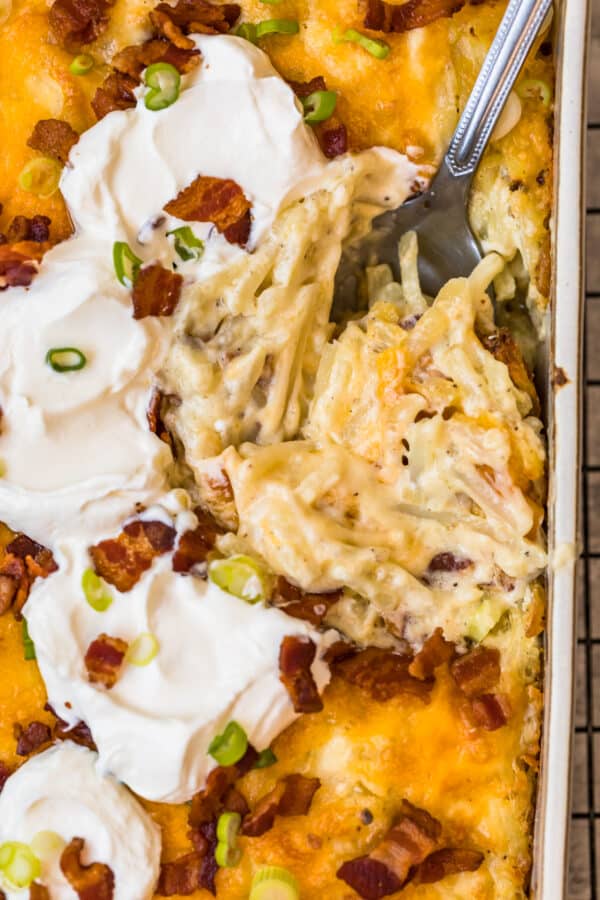 Check out these other delicious sides
Have you tried this Loaded Hash Brown Potato Casserole recipe? Feel free to leave a star rating and I'd love to hear from you in the comments below!