Hash Brown Potato Soup is an absolute must make for winter! It's the ultimate potato cheese soup recipe, made in minutes. It's loaded with cheese and made with frozen hash browns for convenience. It's the best comfort food soup for weeknights. Top with sautéed carrots and bacon for extra flavor!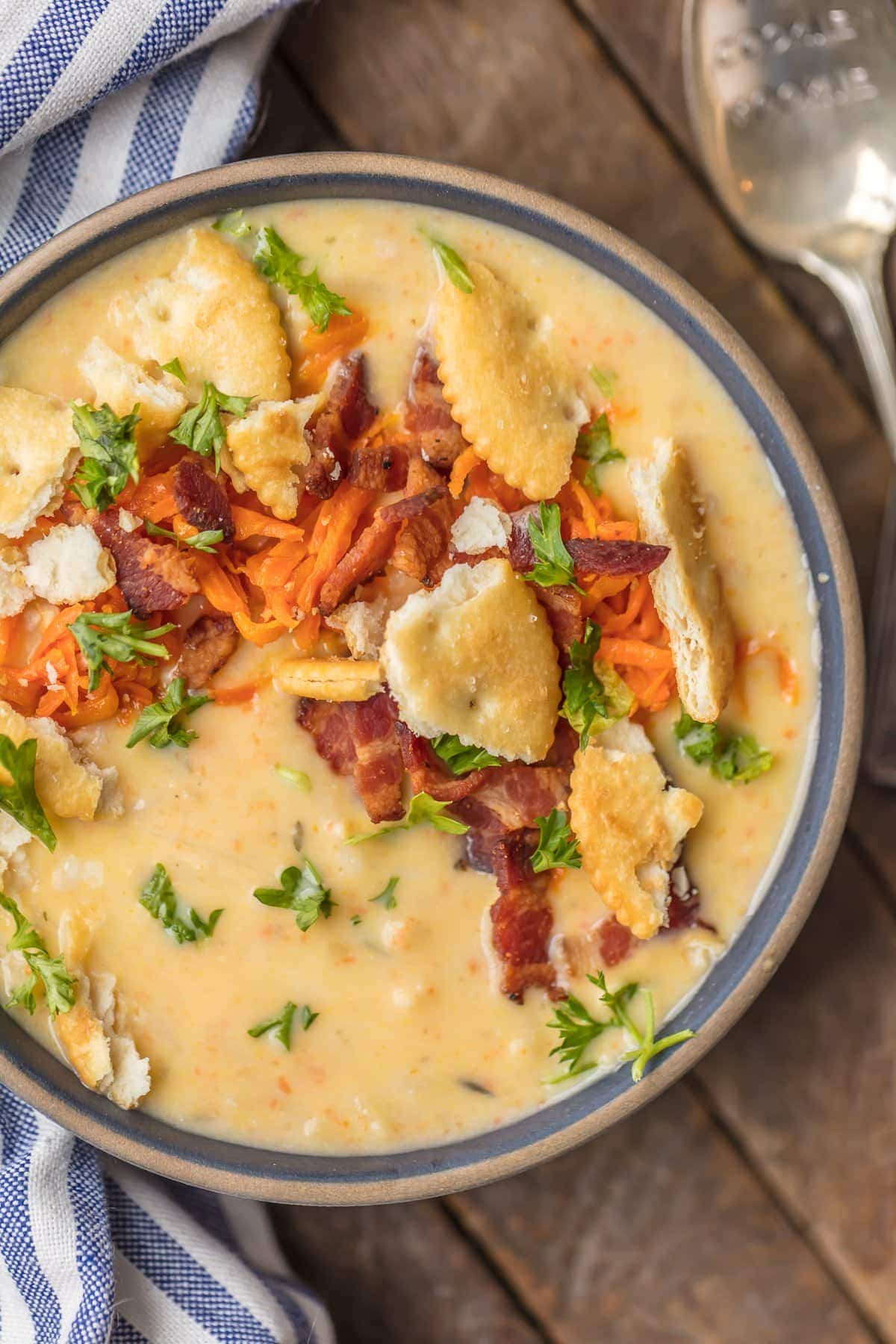 What's in this Potato Cheese Soup?
Making potato soup with hash browns is so easy, you'll never go back to using fresh potatoes. This recipe can be made in less than an hour, with minimal prep work.
Hash Browns: Using frozen shredded hash brown potatoes for this soup is what makes it so quick, easy, and convenient. Be sure to thaw them before starting the soup.
Chicken Broth: This is the base of the soup. I recommend using unsalted stock or broth, as there's enough salty ingredients in the recipe as is. You can also substitute a vegetable broth.
Cheese: Cheddar and gruyere tastes best, but you can use whatever you prefer. I recommend grating your own cheese, since it will melt best.
Bacon: Bacon adds so much flavor, especially while sauteing the onions. However, you can skip the bacon if you want a meat-free soup.
Vegetables: Carrots and onion add just the right amount of texture to this potato soup.
Heavy Cream: Heavy cream is the secret ingredient to super creamy soups. It creates a silky texture.
Seasonings: you'll need salt and pepper to taste, red pepper flakes for just a hint of heat, and a Fines Herbes blend (chervil, parsley, tarragon, and chives).
If you want to add more veggies into the soup, broccoli or cauliflower would be great additions. Use frozen for convenience, and add them in when you add the chicken stock.
Potato Soup Toppings
Whether you want to serve this cheesy hash brown soup simply, or load it up with toppings (what's better than loaded potato soup?), there are plenty of delicious ingredients to add.
Top each bowl of soup with more bacon crumbles, sour cream, sliced jalapenos, caramelized onions, or just some crumbled crackers.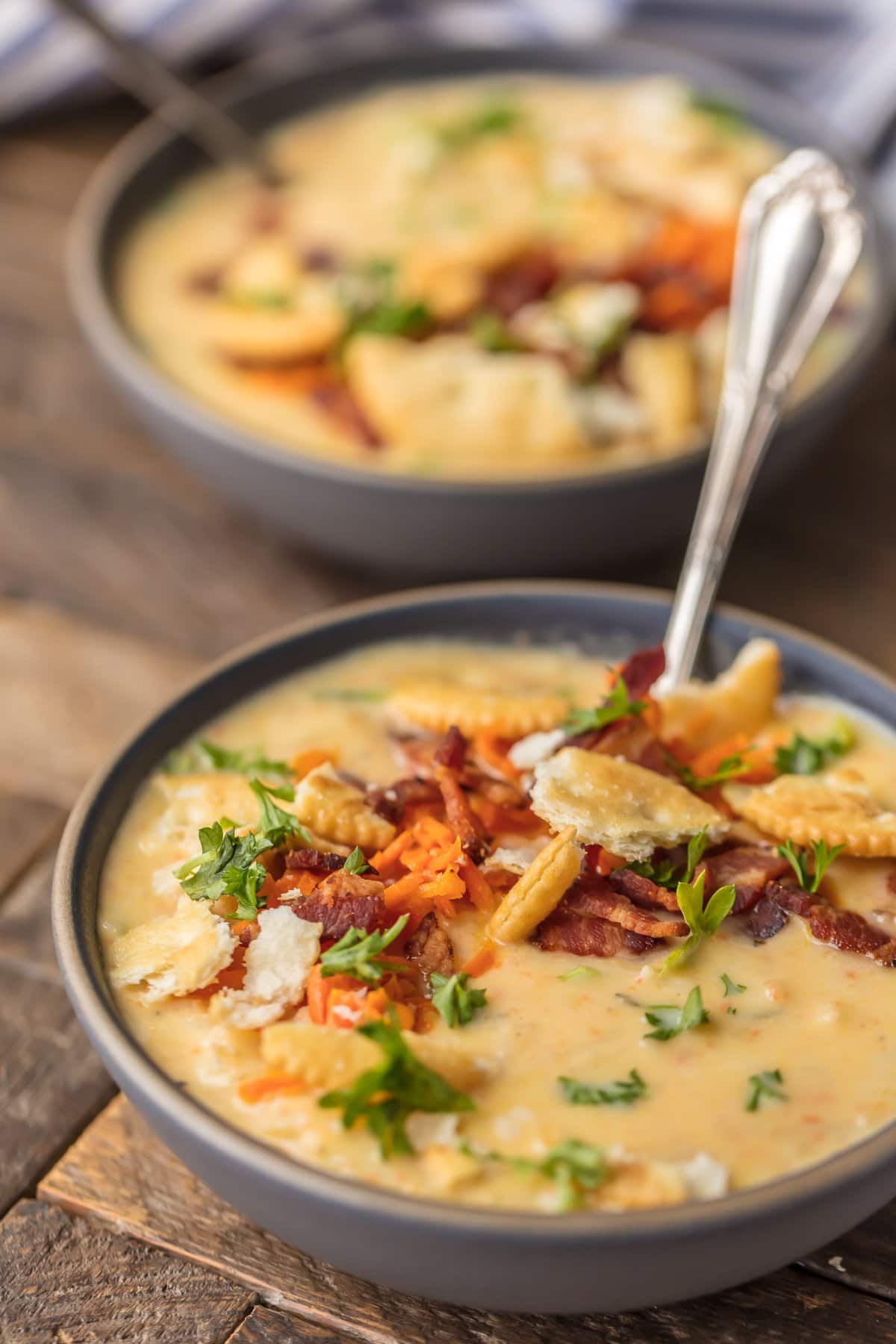 How can I make this soup smoother?
This potato soup is so creamy, but it does have texture form the hash browns and veggies. So if you want a really smooth texture, use a hand or immersion blender to puree the soup. Do this before adding in the milk and cream.
Can I use fresh potatoes instead?
This recipe is meant to be quick and easy, which is why I recommend hash browns. If you want to swap in fresh potatoes, it will add a lot of prep work, and you will need to increase the cooking time.
How can I thicken cheesy potato soup?
The soup comes out quite thick and creamy, but if it's too thin or runny, mix in a small amount of cornstarch.
Should I thaw frozen hash browns before cooking?
Yes! It's important that you fully thaw the potatoes before adding them into the soup. I recommend moving them to the fridge the night before you make this recipe. Otherwise you can set them out on the counter for about 1 hour. If they're still slightly frozen, just increase the cooking time slightly.
How to Store & Reheat Potato Soup with Hash Browns
Store leftover hash brown potato soup in an airtight container, and keep it in the refrigerator up to 4 days. Reheat on the stovetop for best results, gently heating and stirring until warmed through.
How to Freeze Hash Brown Soup
To freeze this soup, pour it into freeze-safe bags (if you'd like to freeze it flat) or containers. Freeze up to 3 months. Thaw in the fridge then reheat on the stove.
Because this soup contains potatoes, cheese, and heavy cream, the texture might change when it's frozen and reheated, so keep that in mind.
What to Serve with Hash Brown Potato Soup
A bowl of this cheesy hash brown potato soup doesn't need much, but it pairs well with homemade cornbread and our favorite Parker House rolls. Or make these roasted mushrooms to serve on the side, or on top. To add some greens, try this chopped salad.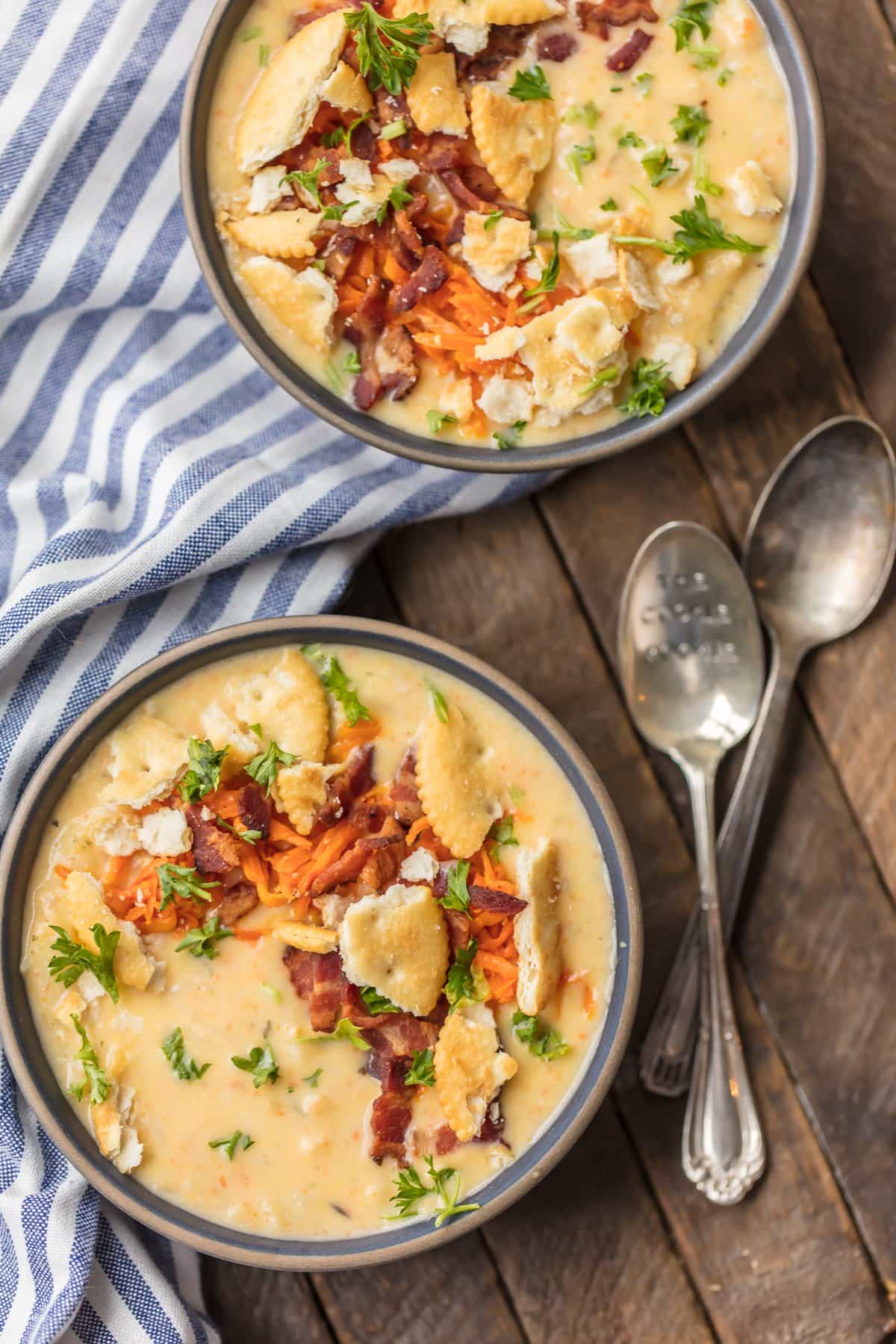 If you make this recipe be sure to upload a photo in the comment section below or leave a rating. Enjoy! You can also jump to recipe.
More Potato Soups We Love