Hash Brown Potato Soup is an absolute Winter MUST MAKE! The ultimate Potato Cheese soup made in minutes. This soup is loaded with cheese and made with frozen hash browns. It's a delicious twist on a classic recipe. So cheesy and delicious. Top with sautéed carrots and bacon for extra flavor.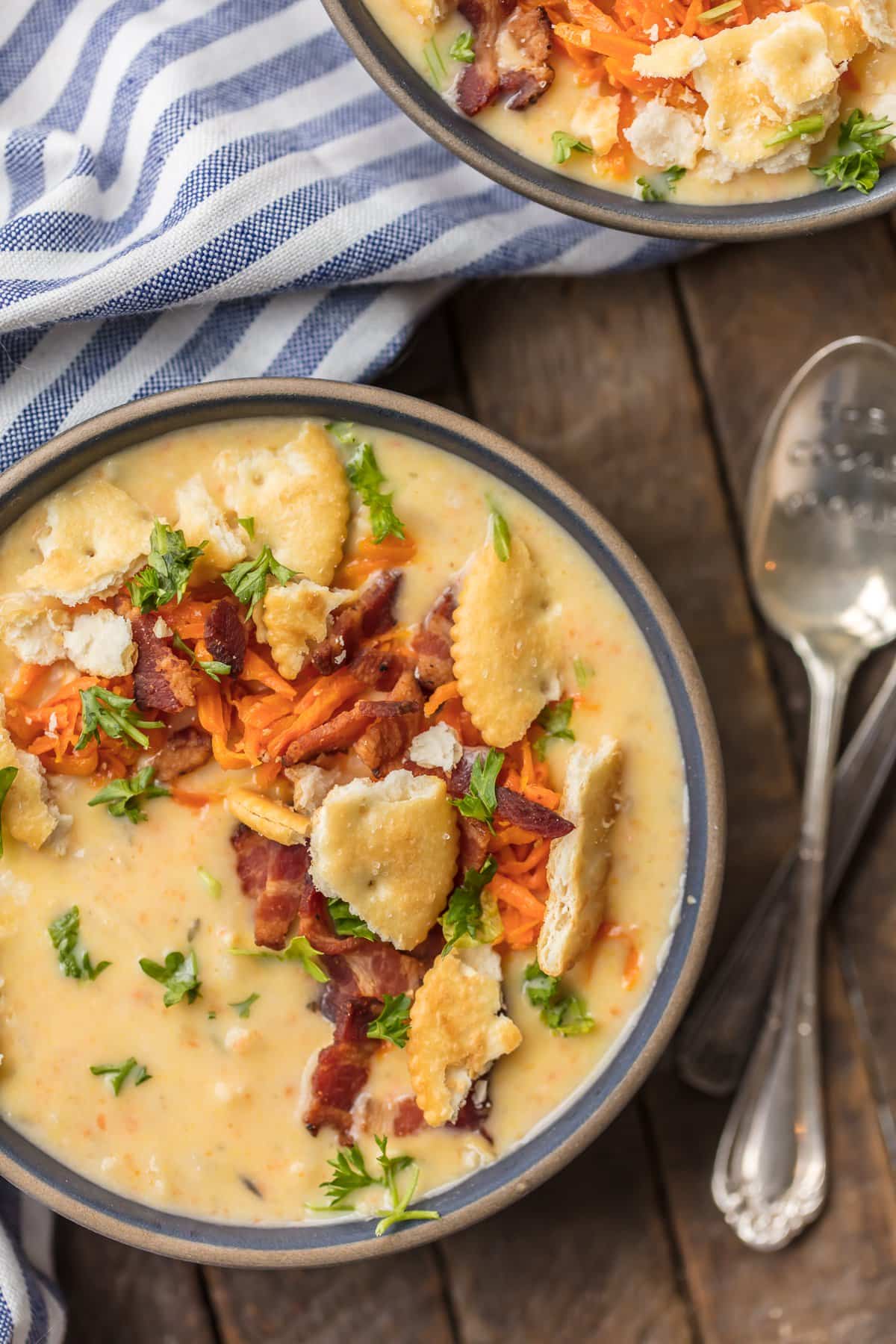 The Ultimate Potato Cheese Soup
Once I tasted this Hash Brown Potato Soup recipe, I knew it would be my favorite Potato Cheese Soup EVER!
I've been in the full swing of soup season for MONTHS! We have made so many favorites; Classic Ham and Bean, Beef Tortilla Soup, Chicken Noodle, and Meatball Parmesan Soup. So much flavor…so little time! This Hash Brown Potato Cheese Soup is one of the easiest and cheesiest of the season, and has quickly become a household favorite.
There are tons of potato cheese soup recipes out there, but this one is special. It's made with hash browns for a great consistency and simple prep…and includes sautéed carrots AND bacon for an extra dose of flavor. You've got to try it to believe it. You'll be addicted in no time!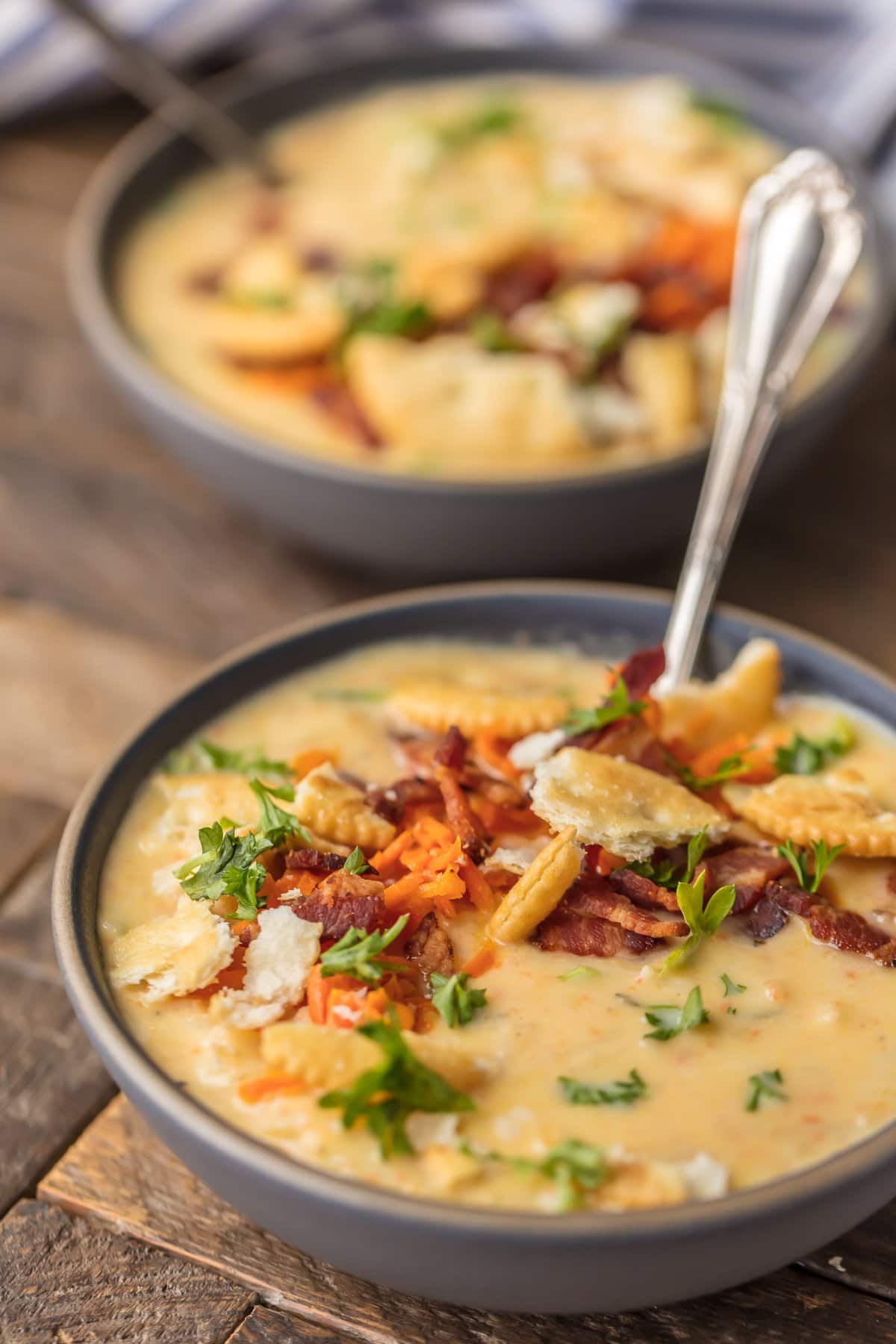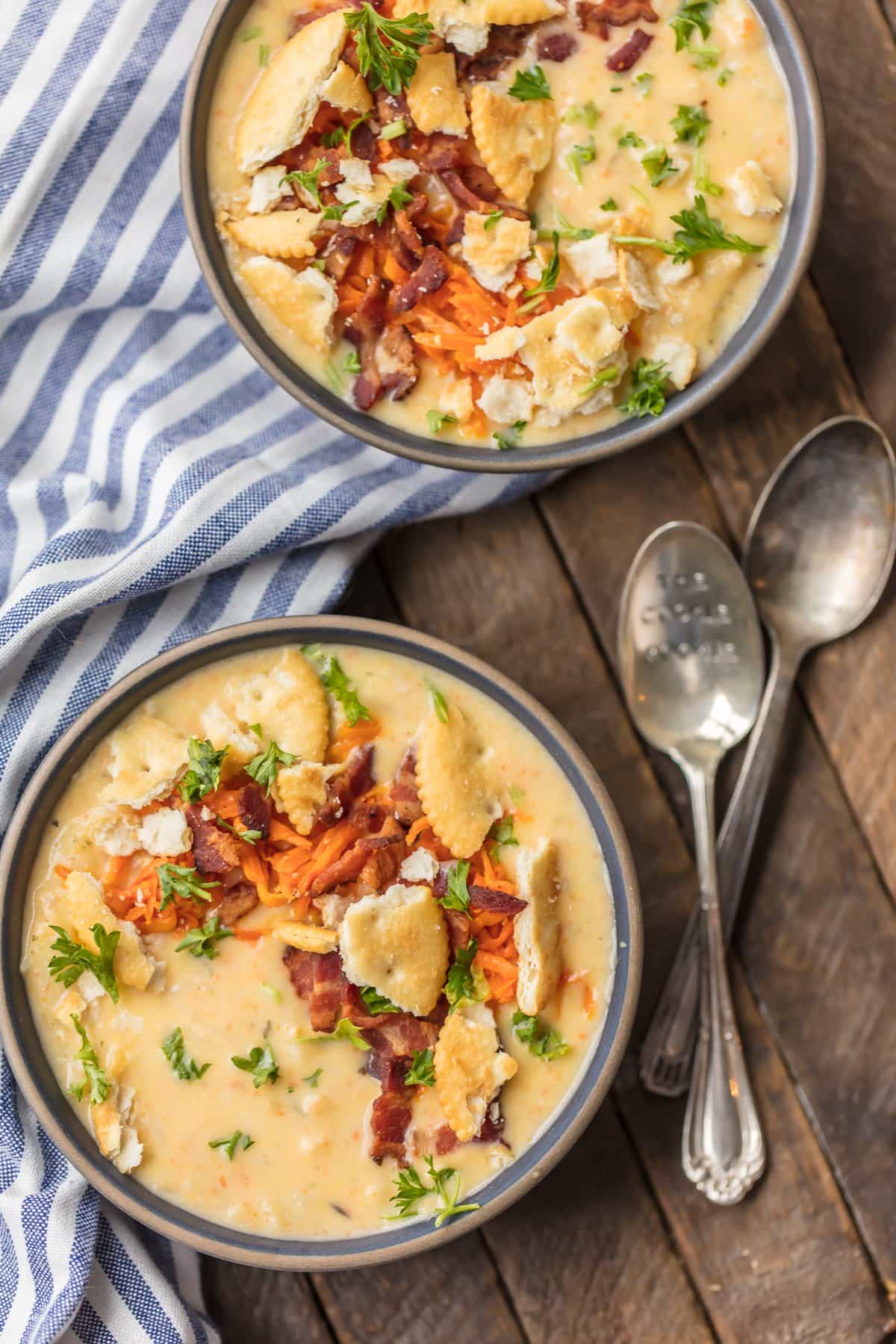 Comfort Food Soup for Winter
This recipe is extra EASY, because it's made with frozen hash browns! No washing, peeling, and cubing potatoes in this recipe. Winning.
You can make this easy potato soup even heartier by topping it off with crumbled bacon, more sautéed carrots, and some salty crackers. The salt from the bacon and the crackers means you don't need to add too much extra salt to the soup. The flavors just blend together so beautifully, the perfect soup for any chilly day.
I love soups of all types and flavors, but this one is special. Easy, delicious, and packed with unique flavors. I'm telling you, those carrots are the secret weapon!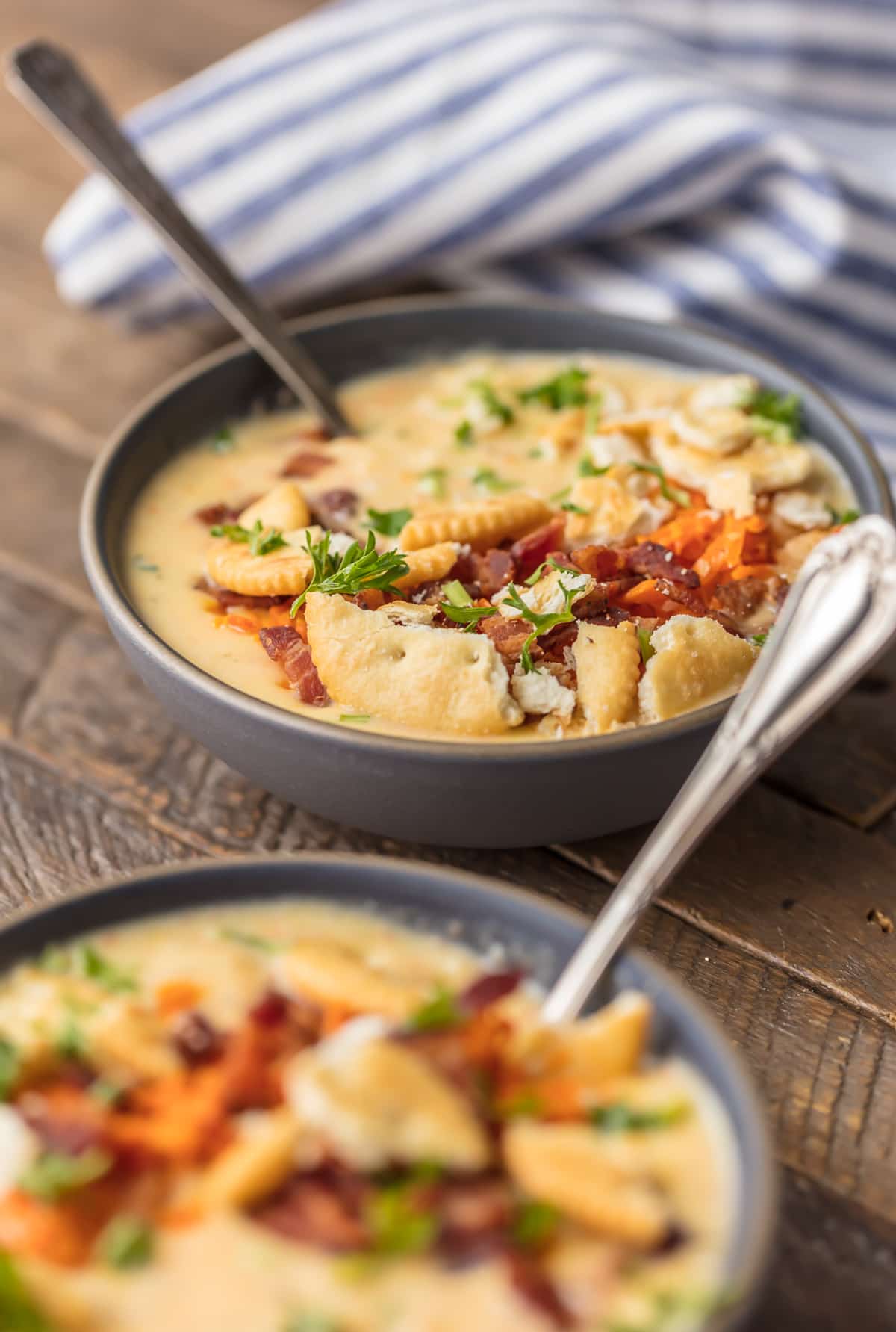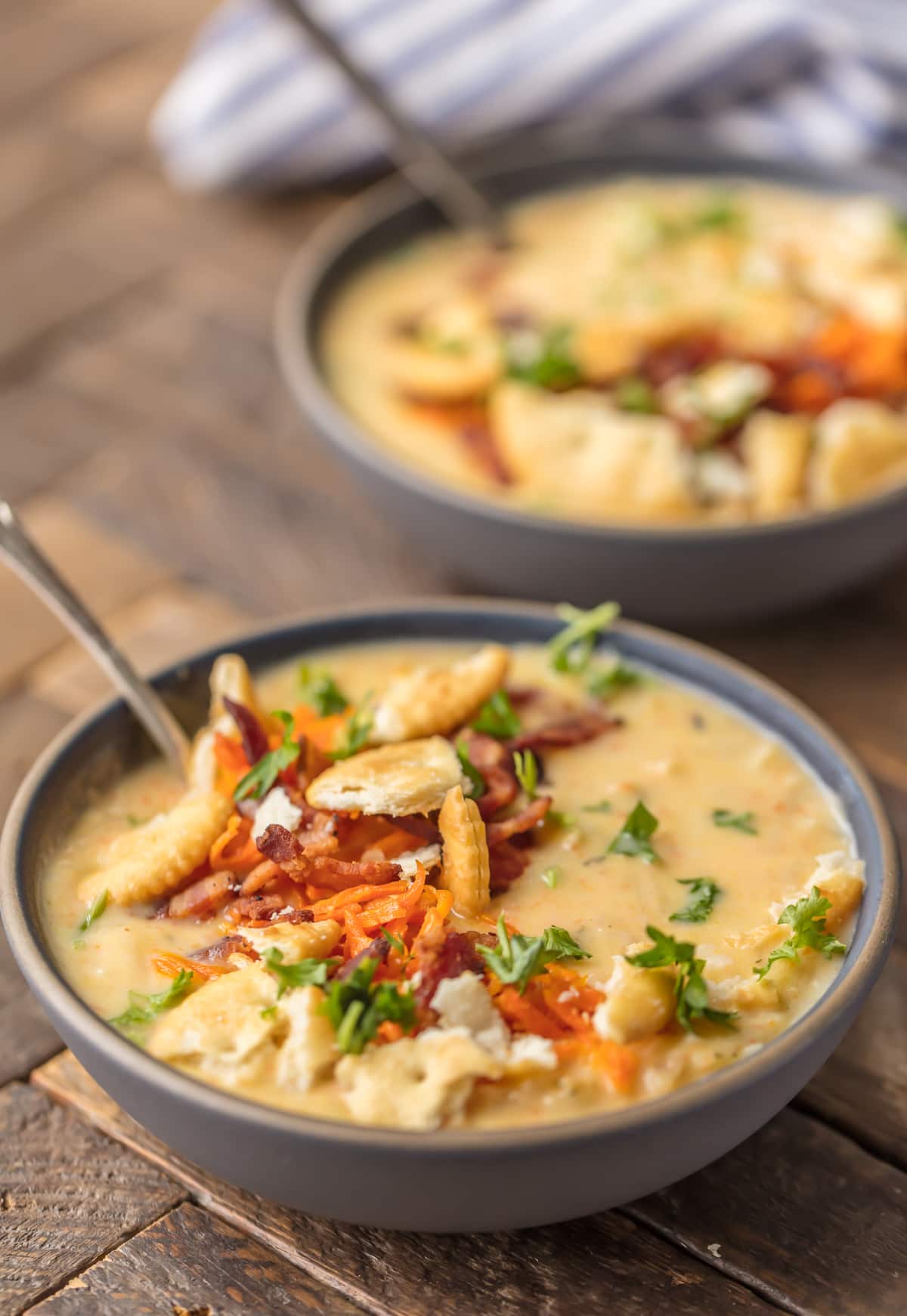 Top Tips for making Potato Soup
We have always found its easier to cook bacon crumbles by chopping the bacon while frozen! You can cut it into strips and then dice, and then toss in the hot skillet. So easy!
If you prefer a smoother soup, use a hand blender to blend all the ingredients quickly together. Hash Brown Potato Cheese Soup Bisque anyone??
This Potato Cheese Soup is SO easy to customize. It's great with added chicken, cauliflower, broccoli, or even spooned over baked potatoes. The sky is the limit.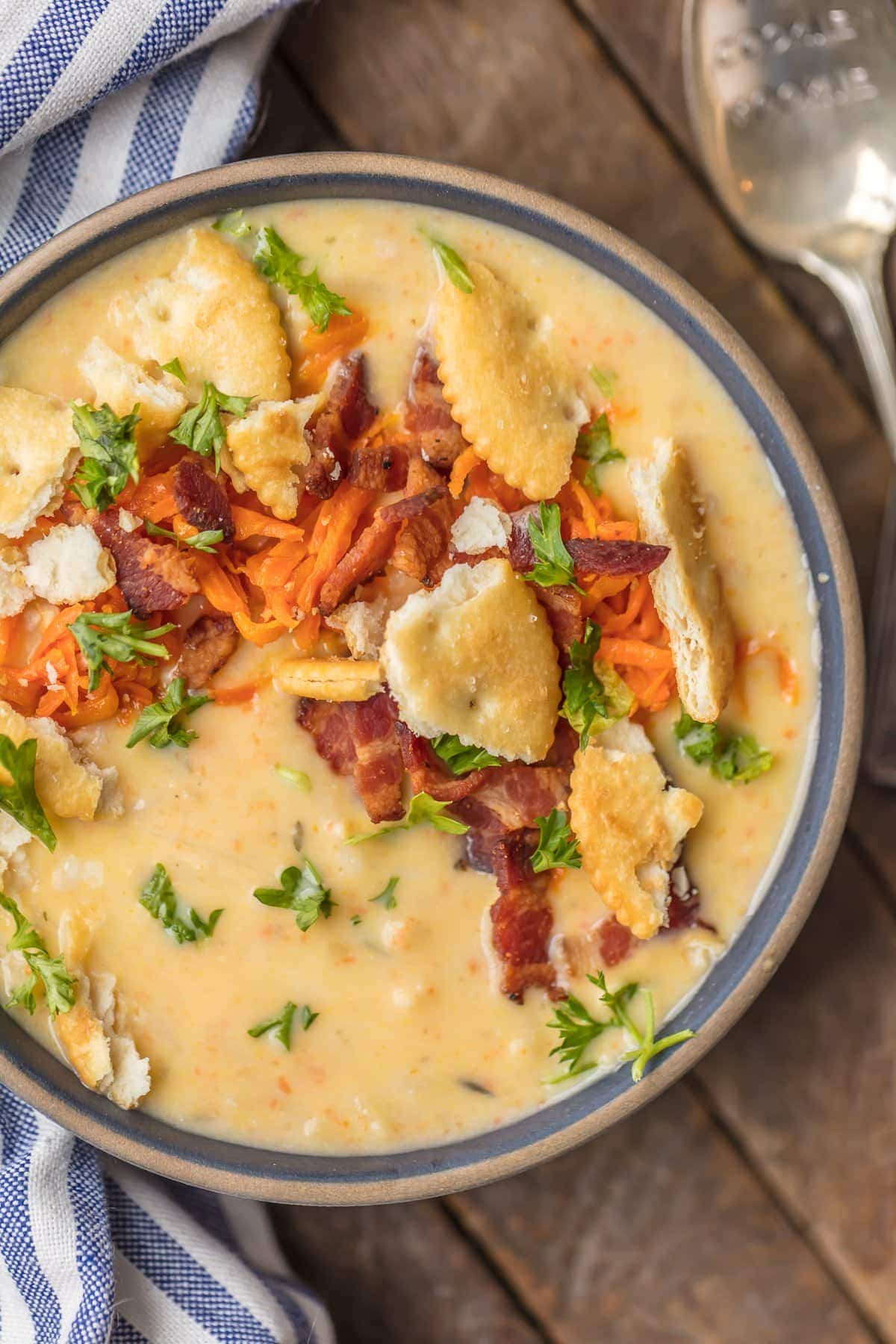 Cheesy Potato Soup is a must make for any soup lover
I can't wait for you to try this Potato Cheese Soup and let me know what you think! We have been eating it for days and I'm not even remotely sorry about it. Just so dang yummy! Easy comfort food?? My kind of recipe for sure. For more EASY classics check out our Easy Chicken Cordon Bleu and Easy Chicken Parmesan.
See the recipe card below to see how to make this recipe. Enjoy!
If you like this cheesy hash brown soup recipe, try these other tasty soup recipes too: