This classic ambrosia salad recipe is a sure fire hit that works as a sweet side dish or fruity dessert! Grapes, strawberries, pineapple, oranges, and marshmallows are tossed in a sweet and sour cream dressing for a marshmallow fruit salad that is too good to be missed!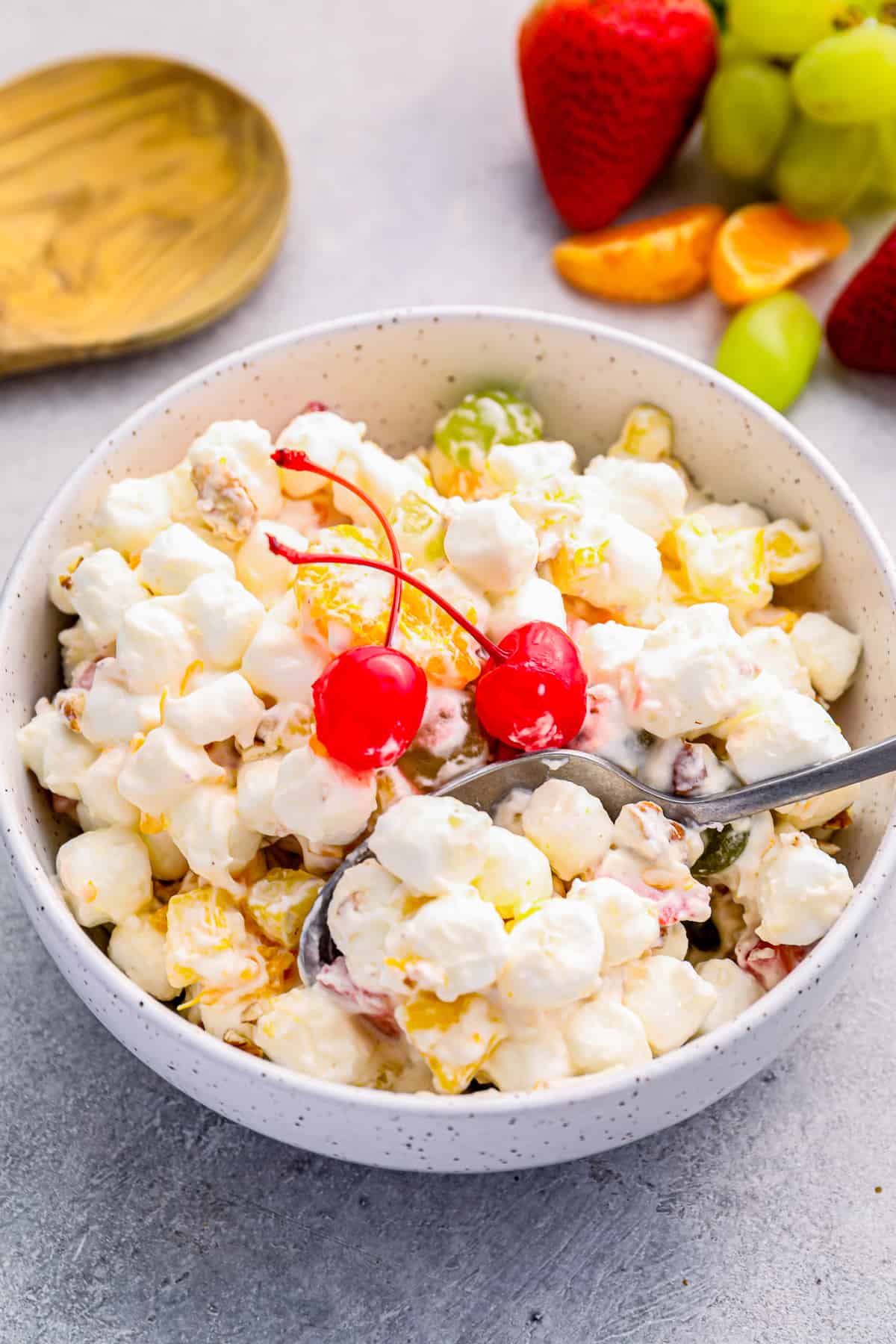 Marshmallow Fruit Salad
This ambrosia salad recipe is a classic for good reason! Sweet and full of texture and flavor, it's always a crowd pleaser! Bits of pineapple, oranges, marshmallows, and more are covered in a creamy dressing that makes for an irresistible bite.
An old-fashioned marshmallow fruit salad is perfect for a holiday dish, although I can enjoy it anytime of the year! It's fluffy, light and sweet, and it's a delicious way to enjoy your fruits.
This dish is light and refreshing and can be enjoyed as a dessert or side dish.
Be sure to try my Fruit and Feta Salad and Snickers Apple Salad too!
Why You'll Love this Classic Ambrosia Salad Recipe:
Quick and Easy: It takes no more than 20 minutes to make up this fruit salad recipe, and there's no cooking involved!
Kid Friendly: If you have picky eaters that don't like to eat fruit, they are going to love this! Whilst not exactly healthy, it's a great treat and a tasty way to get some vitamins in!
Make Ahead: This is a great make ahead option for the holidays. Make it a day or two ahead of time for easy entertaining. This recipe also makes enough for 12 servings, so it's perfect for a crowd.
This easy ambrosia salad recipe is more than irresistible! If marshmallows are on the menu then I'm all in!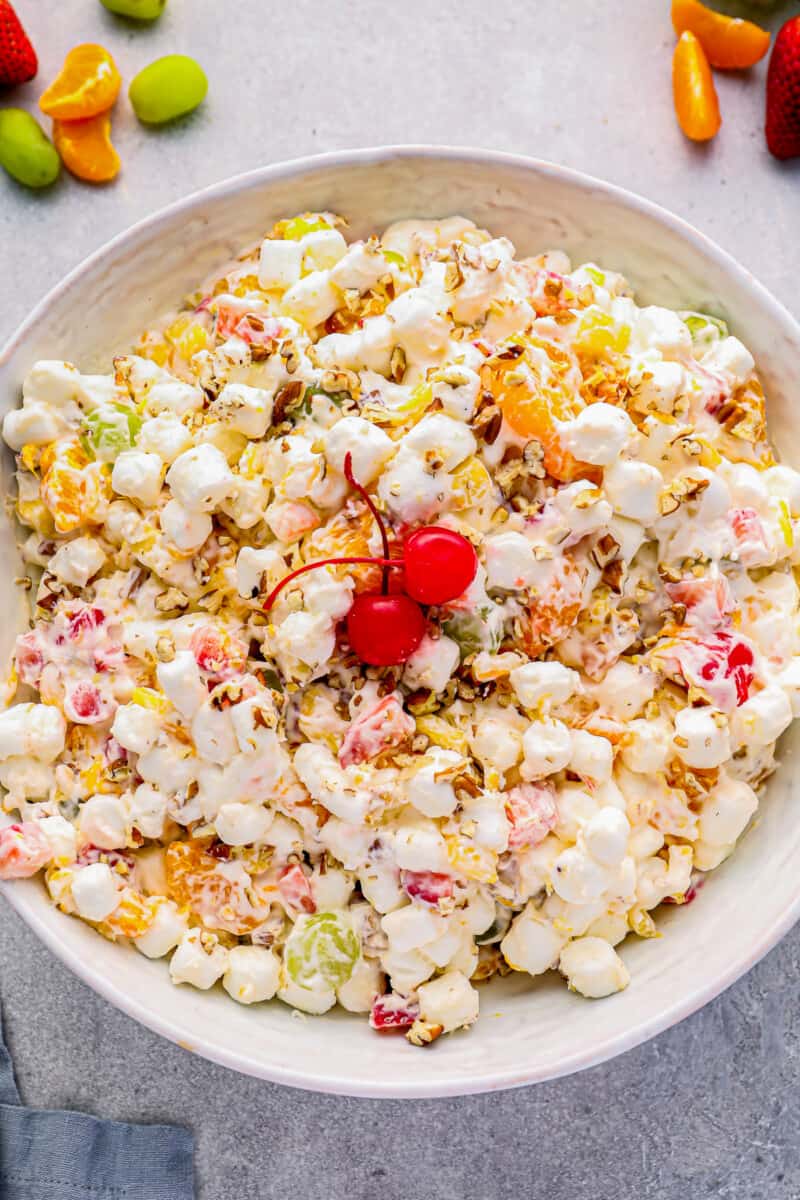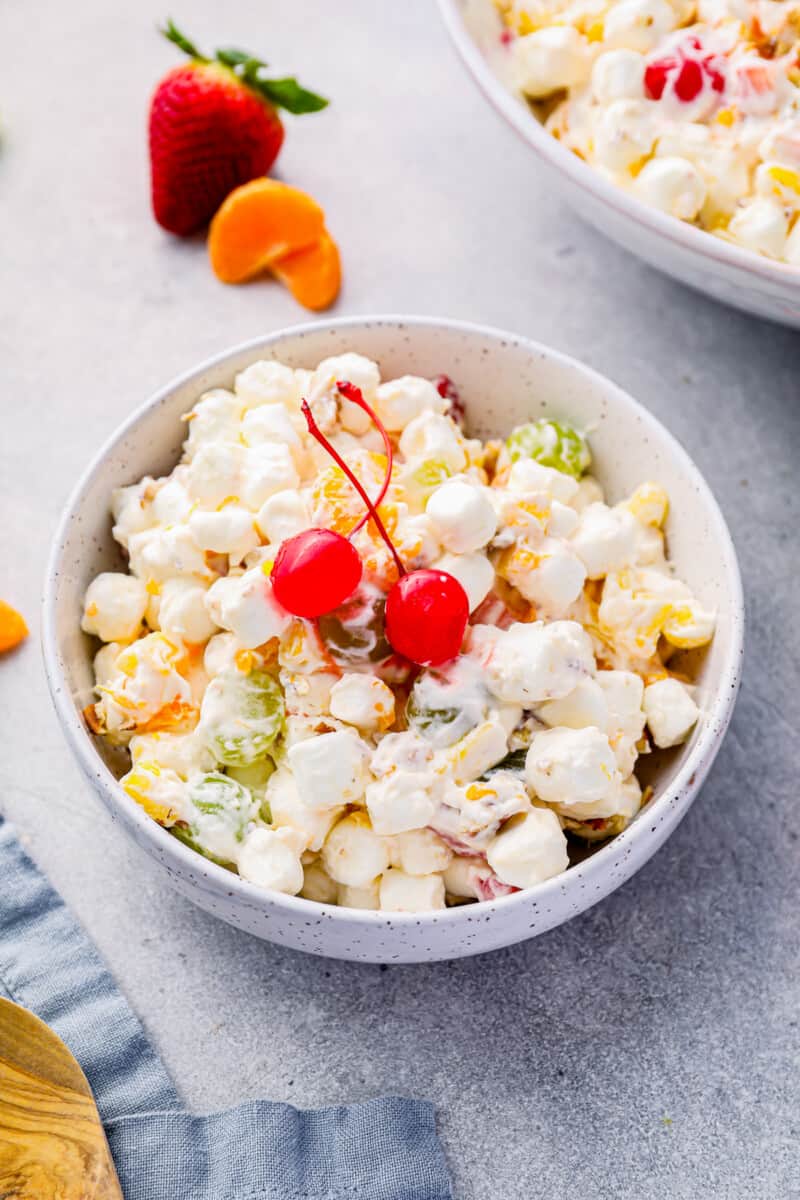 How to Make Ambrosia Salad
You can jump to the recipe card for full ingredients & instructions!
Whip together the heavy cream and powdered sugar until soft peaks form.
Fold in the sour cream.
Fold the fruits, marshmallows and pecans into the whipped cream.
Top with extra cherries and pecans to serve.
Ambrosia Salad Ingredients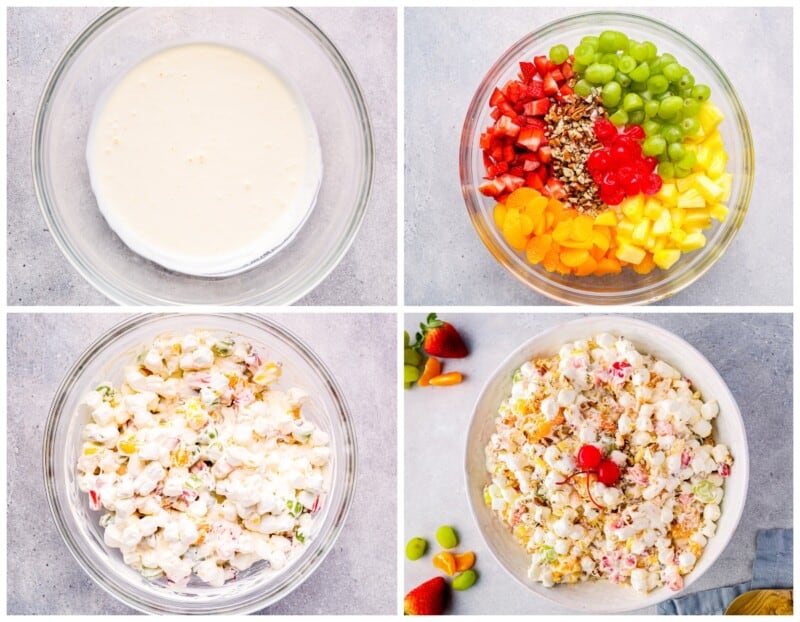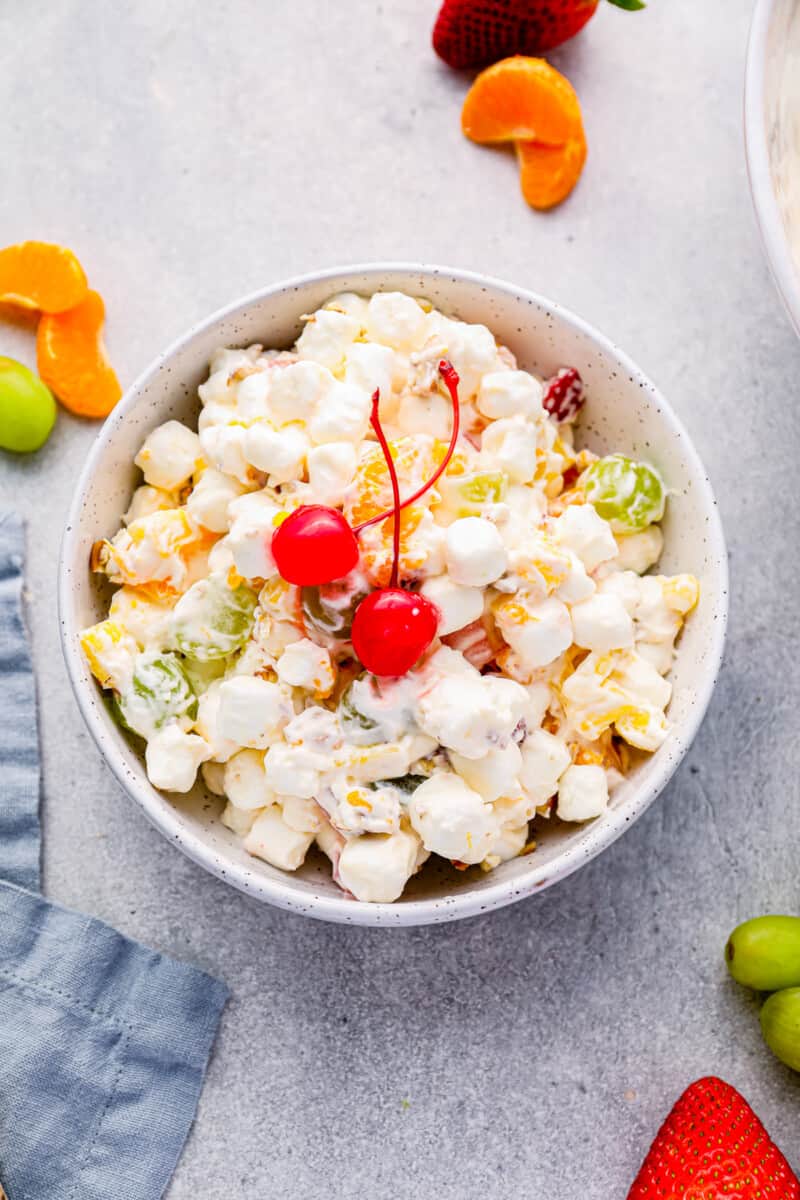 What is ambrosia salad?
Ambrosia salad is an old-fashioned marshmallow fruit salad, sometimes called 5 cup salad. It's a mix of fruit (usually pineapple and oranges), marshmallows, and a creamy dressing (sour cream and heavy cream).
Why is it called ambrosia salad?
It's often called ambrosia salad due to the fact that the ingredients used to be quite exotic and expensive. In Greek mythology, ambrosia was the magical fruit of the gods that gave them immortality.
What does ambrosia salad taste like?
Ambrosia is a very sweet fruit salad, with a bit of tanginess from the sour cream to balance things out. The bright citrus of the oranges and pineapple comes through beautifully. It's mainly sweet, fruity, and citrusy.
What's in marshmallow fruit salad?
Traditionally, this fruit salad includes pineapple and mandarin oranges, along with marshmallows. We also included some other fruits in this recipe, like grapes, cherries, and strawberries. Coconut is another common ingredient, which can easily be added to this recipe if you like.
Where does ambrosia salad originate?
Ambrosia fruit salad is a classic dish, mainly in the Southern and Midwestern United States. It's popularly served during the holiday season with Christmas or Thanksgiving dinner.
Is marshmallow salad a side dish or a dessert?
That's up for debate! Many people enjoy marshmallow salad as a traditional side dish at Thanksgiving or Easter, while others enjoy it as a sweet treat after a meal.
Can I make ambrosia salad with canned fruit cocktail?
Yes, you absolutely can use canned fruit cocktail to make this salad. It's a great shortcut! Use 2 15.5-ounce drained cans of fruit cocktail in place of all of the fruit ingredients.
Serving Suggestions
This ambrosia salad recipe is one delicious and crowd pleasing dessert, but it is also commonly served up as a side dish as part of a holiday meal. Try it with some of these favorite holiday mains.
However you decide to serve this fruity marshmallow salad, it's guaranteed to be a hit!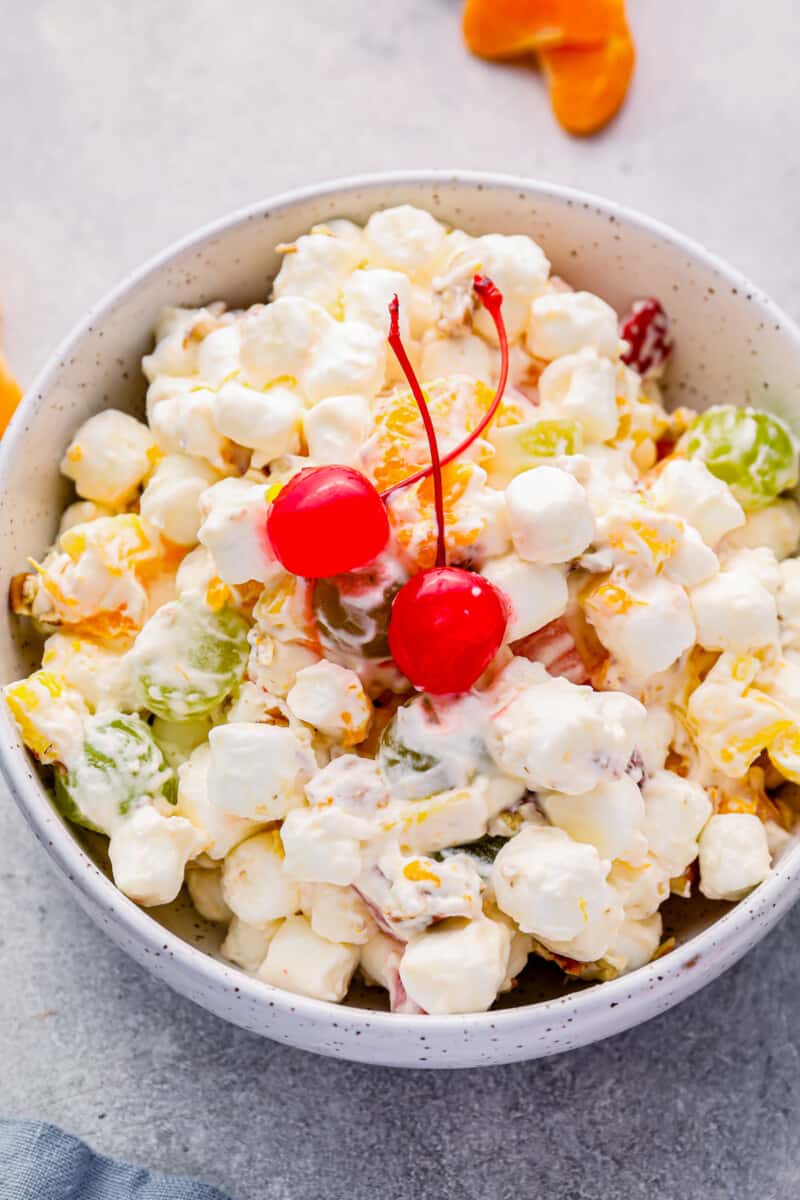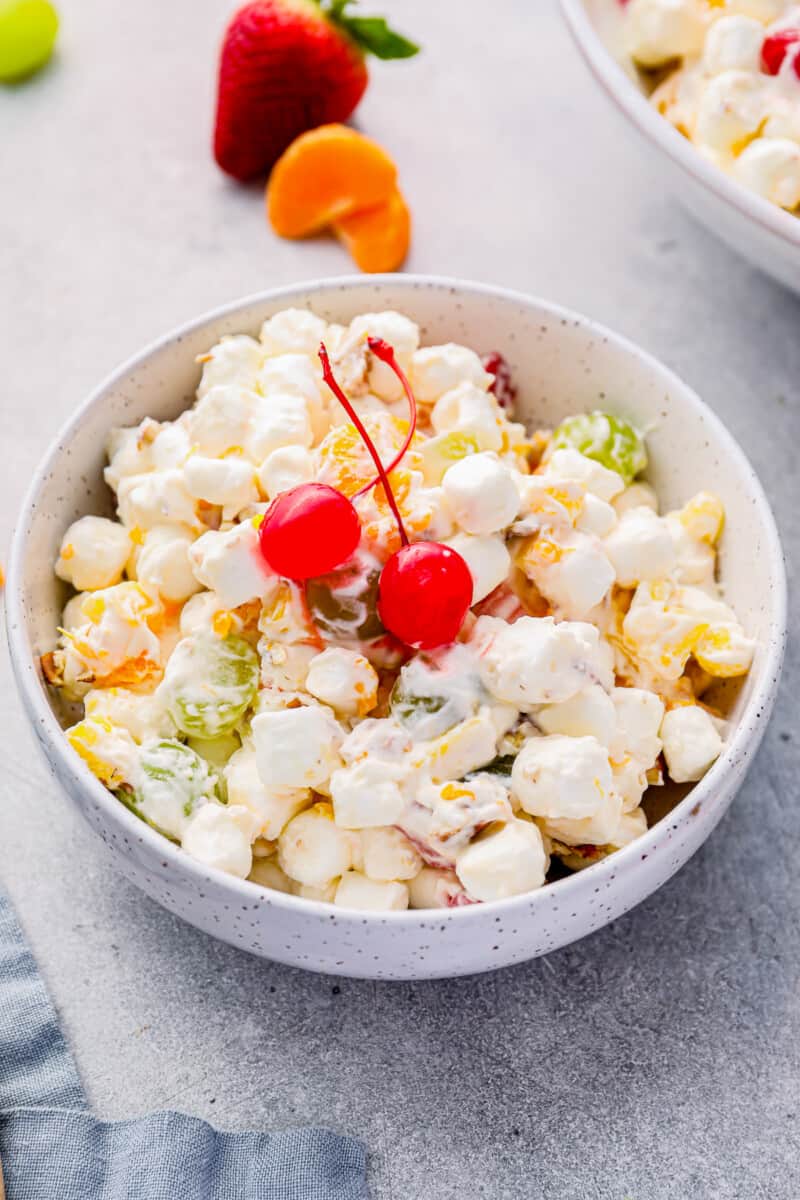 Make Ahead Instructions
This salad is a great make ahead dish. Prepare the entire salad, leaving off any nuts or cherries that you plan to use as garnish, up to 2 days in advance. Store it tightly wrapped in the refrigerator, and garnish with cherries and chopped nuts when ready to serve.
Storage Instructions
Store leftover ambrosia salad in an airtight container in the refrigerator for up to 3 days. I do not recommend freezing this salad.
Substitutions
You can use canned pineapple in place of the fresh pineapple.
You can use 1½ cups whipped topping in place of the heavy whipping cream, powdered sugar, and sour cream.
You can use 2 drained 15.5-ounce cans of fruit cocktail in place of all of the fruit in this recipe.
Tips for Perfect Ambrosia Salad
Do not over-mix the salad, as it will cause the whipped cream to deflate.
I recommend making marshmallow salad 4 hours before you plan to serve and letting it rest in the refrigerator. This allows the flavors to mingle and preserves the salad's structure!
Maraschino cherries will turn your whipped cream pink. I recommend adding them right before serving to avoid this.
Ambrosia salad can be left out of the refrigerator for up to 2 hours, but I recommend serving it cold because the whipped cream dressing will start to melt after just 30 minutes.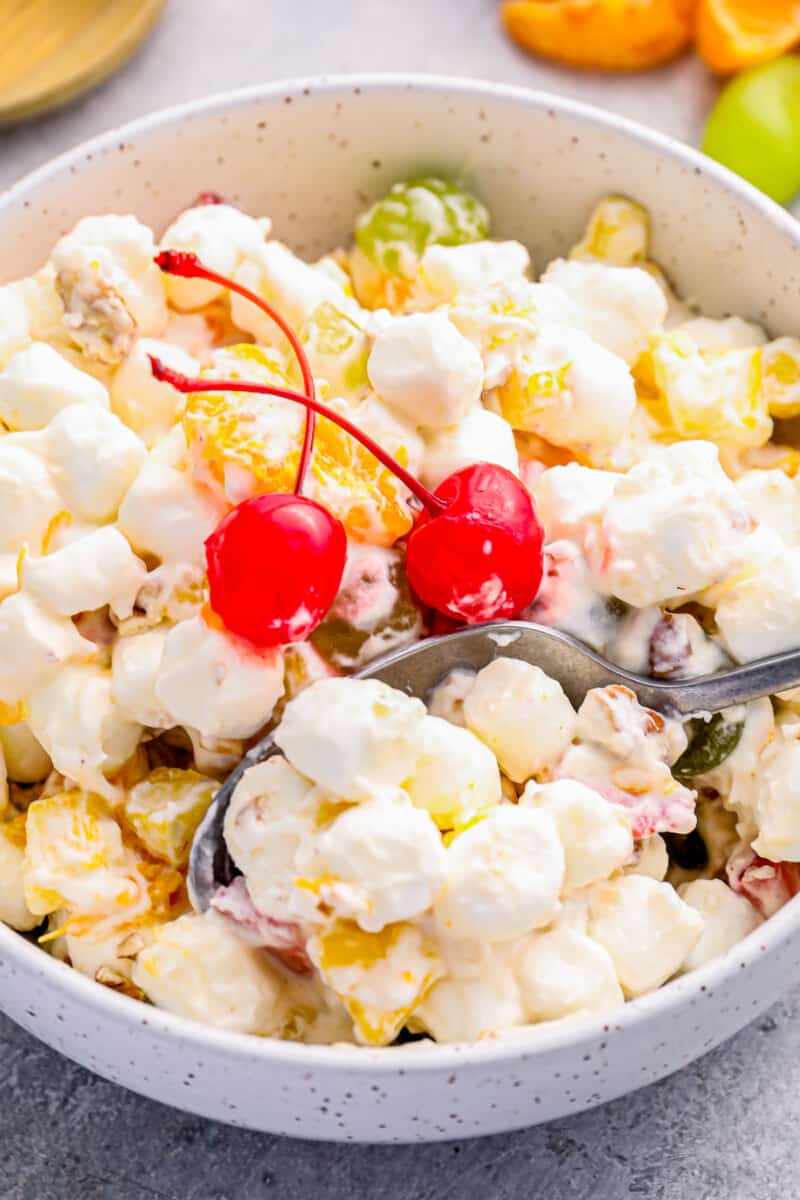 This classic ambrosia salad recipe is the perfect no bake dessert or side dish for the holidays. So simple and easy to make, the sweetness and texture is hard to resist. I'm pretty sure you won't have any leftovers of this marshmallow fruit salad!
If you make this recipe be sure to upload a photo in the comment section below or leave a rating. Enjoy! You can also jump to recipe.