If you are bored of oven roasted turkey at Thanksgiving, this deep fried turkey breast is sure to liven things up! Dry brined and then deep fried, this is one tasty way to cook your turkey this year!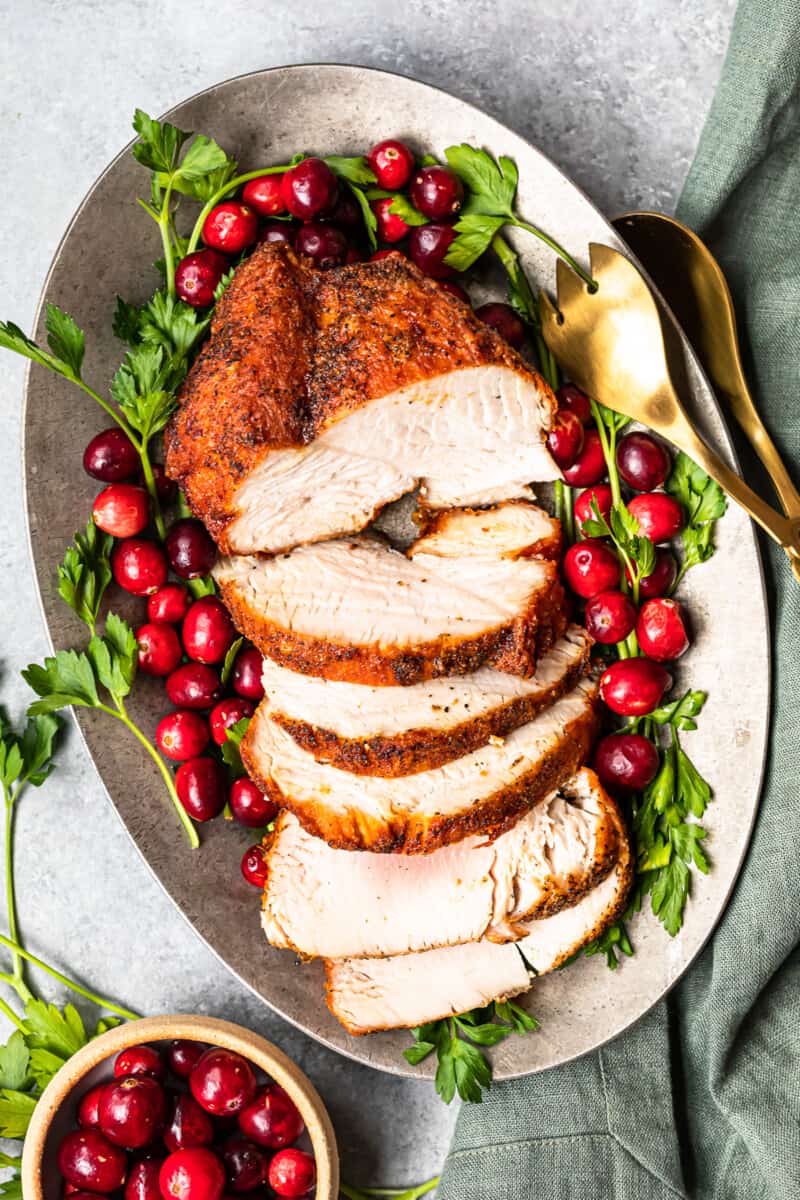 Easy Deep Fried Turkey Breast
Turkey breast is always a great option if you are having a smaller Thanksgiving or Christmas, and I'm always looking for new ways to jazz it up!
Let me tell you, deep frying is a REALLY good way to go! Just like fried chicken, it's a method that locks in fat and flavor, and the breast comes out wonderfully juicy.
Deep frying can be a little intimidating, but be sure to grab all my top tips and tricks to make this easy recipe, and you'll be sure to have a hassle-free feast on your hands in no time!
Be sure to try my Crockpot Turkey Breast and Air Fryer Turkey Breast too!
Why You'll Love this Deep Fried Turkey Recipe:
QUICK: Deep frying is a super quick cooking method and this recipe is also quick to prep.
PERFECT FOR A SMALLER DINNER: A 3 pound turkey breast will easily feed six people so it's a great option if you are having a smaller Thanksgiving meal and don't want to cook a whole turkey.
SIMPLE: Cooking Thanksgiving dinner doesn't have to mean you have to spend hours on in the kitchen. Made with a few simple ingredients, this requires very little effort on your part!
This deep fried turkey breast comes out so well! Juicy and tender and full of flavor, this MAY just be my favorite method!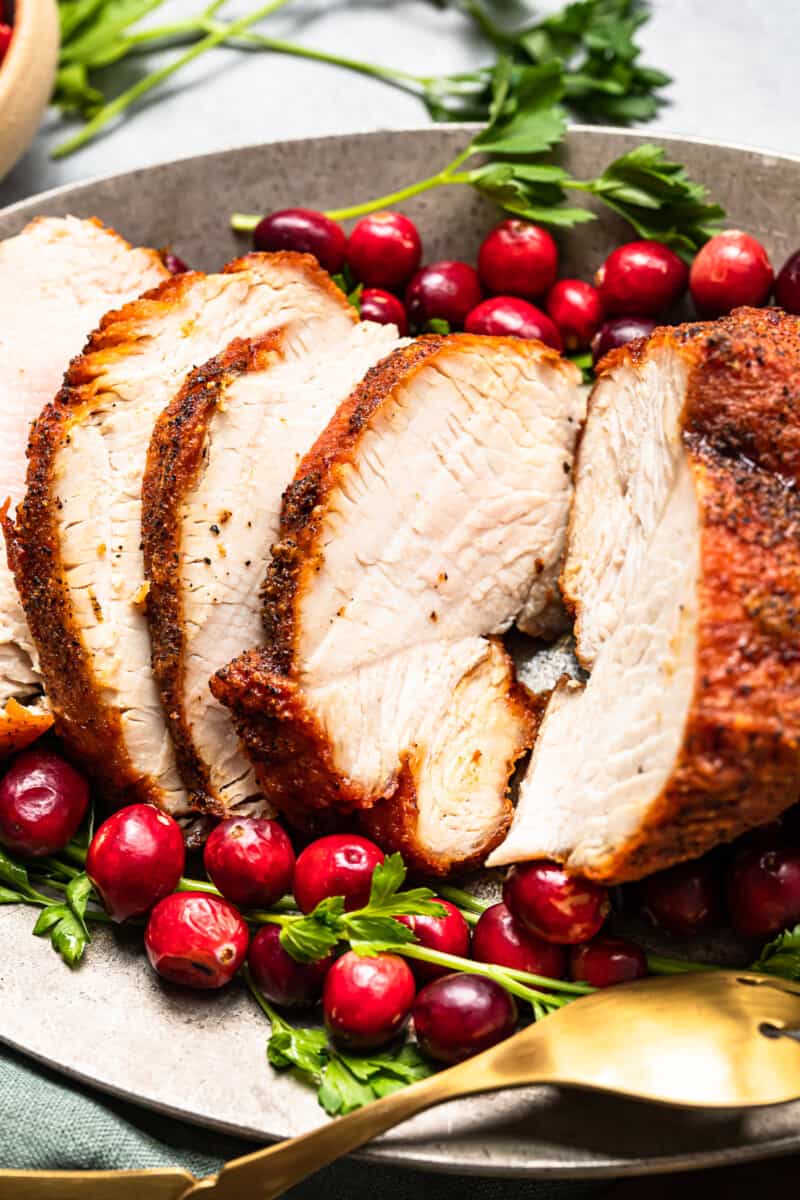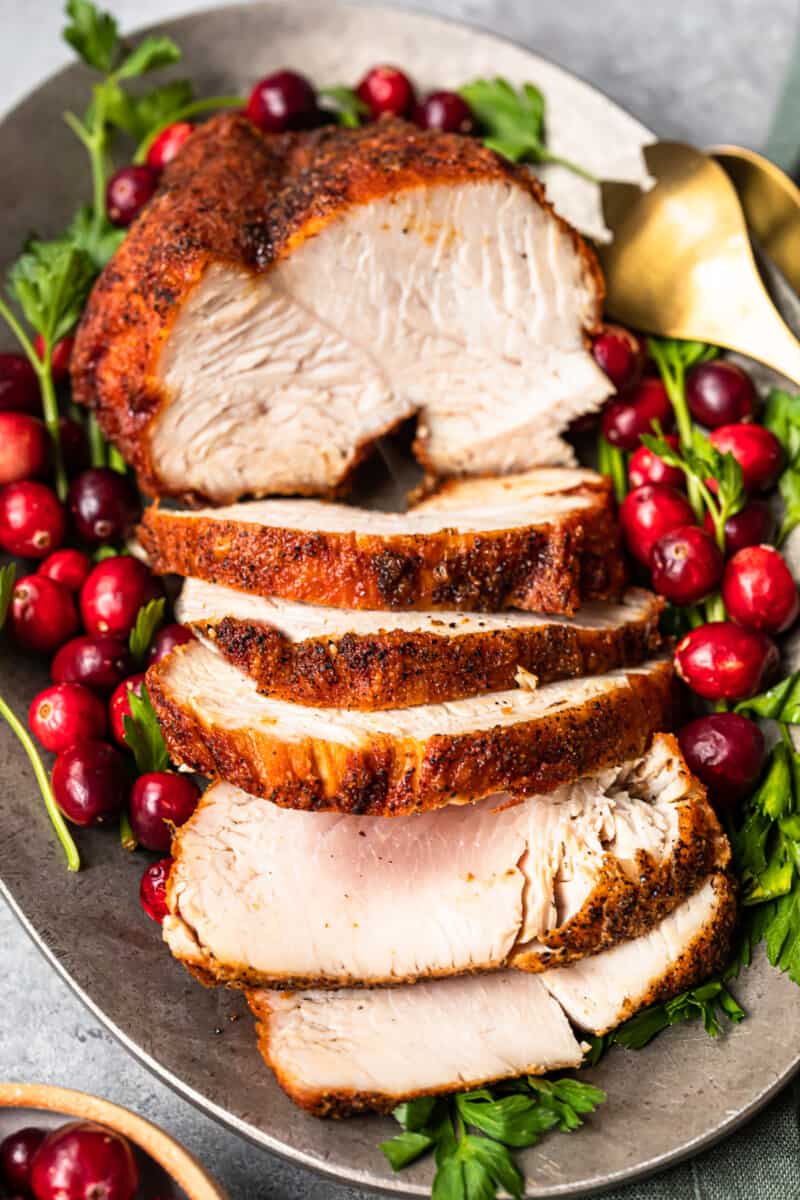 How to Make Deep Fried Turkey Breast
You can jump to the recipe card for full ingredients & instructions!
Pat the turkey breast dry and season with salt and pepper.
Let air dry for at least an our, or, for up to 1 day.
Add the oil to a large pot and heat.
Lower the turkey into the oil.
Fry til golden brown.
Remove, rest and slice!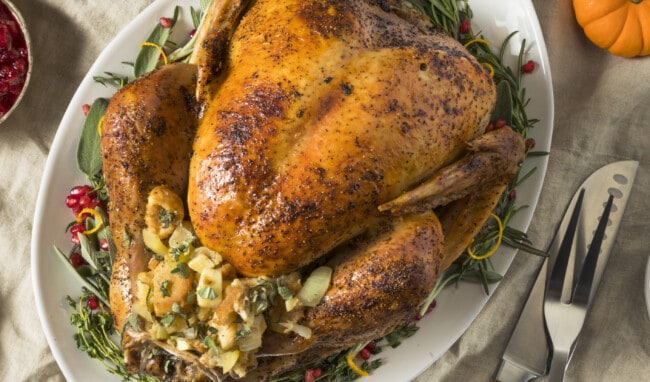 All the Tips and Tricks
How to Cook Thanksgiving Turkey!
Everything you need to know for Thanksgiving entertaining.
See Turkey Guide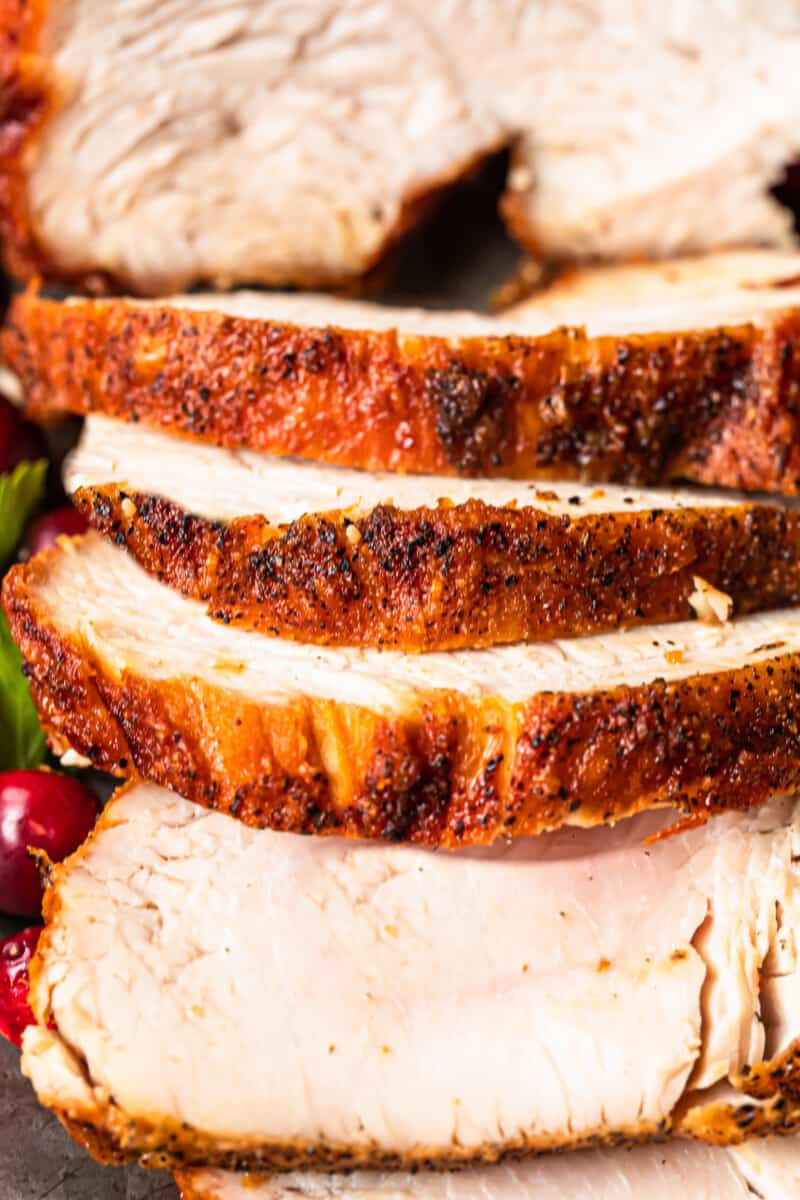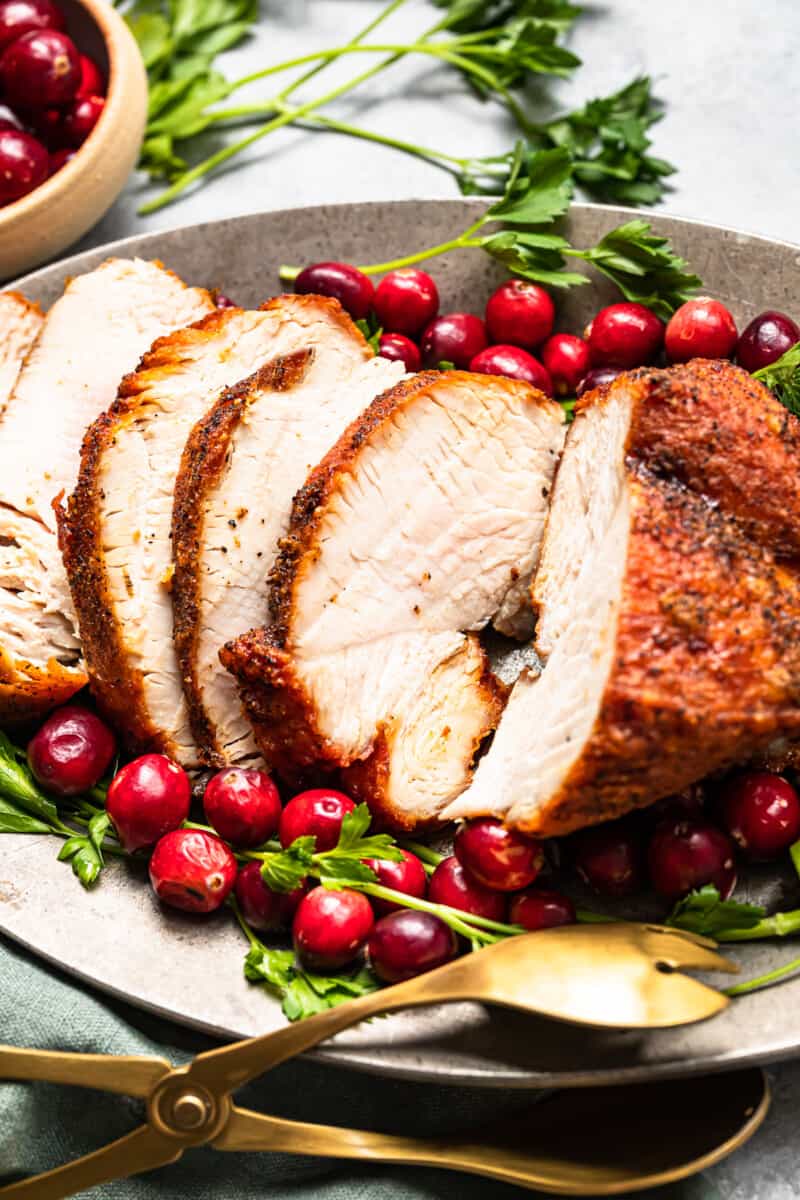 How long does it take to deep fry a turkey breast?
Deep frying a turkey breast is a really quick method, a good rule of thumb is 3-4 minutes per pound, plus 5 minutes. A 2 1/2 to 3 pound turkey breast will take 15 to 20 minutes.
What temperature should the oil be for deep frying turkey?
Make sure that you pre heat the oil before adding the turkey breast. It should reach 350°F, which you can check with a deep frying thermometer. Be sure to check the temperature of the oil during cooking and adjust the heat as necessary.
When is deep fried turkey fully cooked through?
Once the turkey registers at 165F, remove it from the oil and let it rest before slicing. Once rested, slice it and it should be an even white color throughout with no pink.
Can I add any seasonings to this turkey recipe?
I'm all for adding flavor, but honestly, the simplicity of this simply seasoned turkey breast is so perfect! If you like, you can easily add a spice rub to the breast.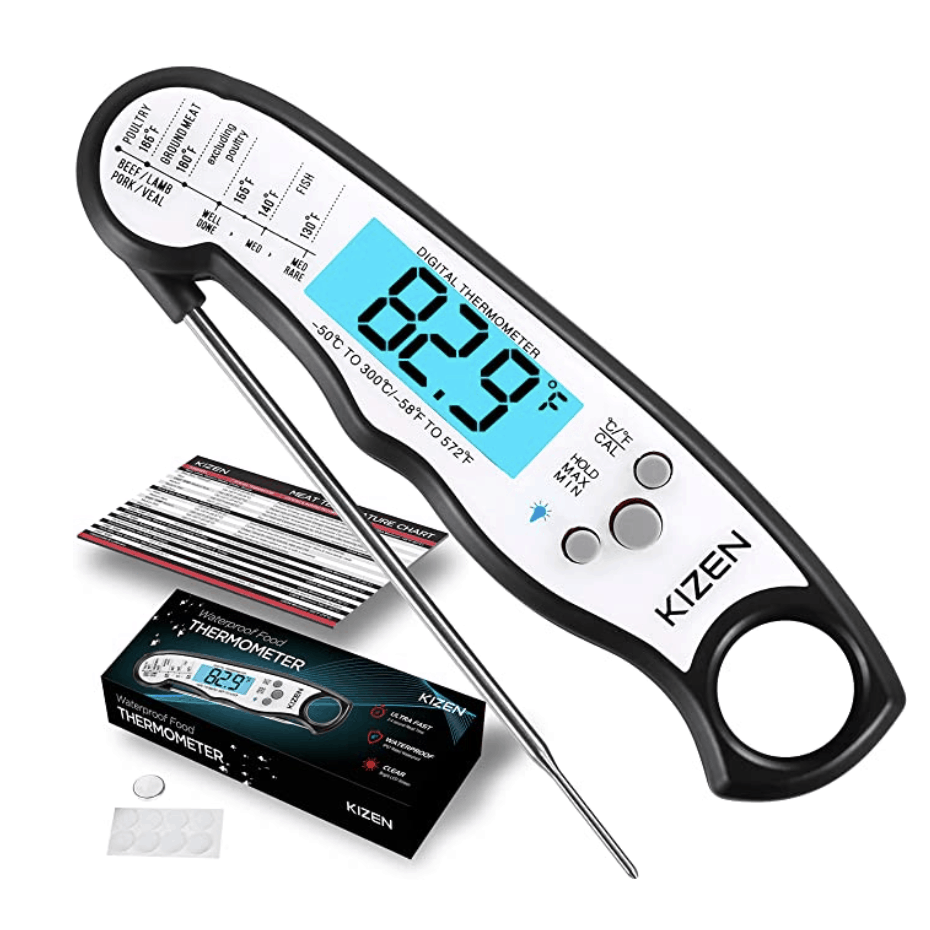 The Best meat thermometer!
I love using this meat thermometer for making sure the meat is at 165 degrees! Easy for beginners & totally worth the $10 cost!
Serving Suggestions
Serve this deep fried turkey breast alongside your favorite Thanksgiving sides like:
If you are looking to wow friends and family this year, I promise that you can not go wrong with this yummy turkey recipe!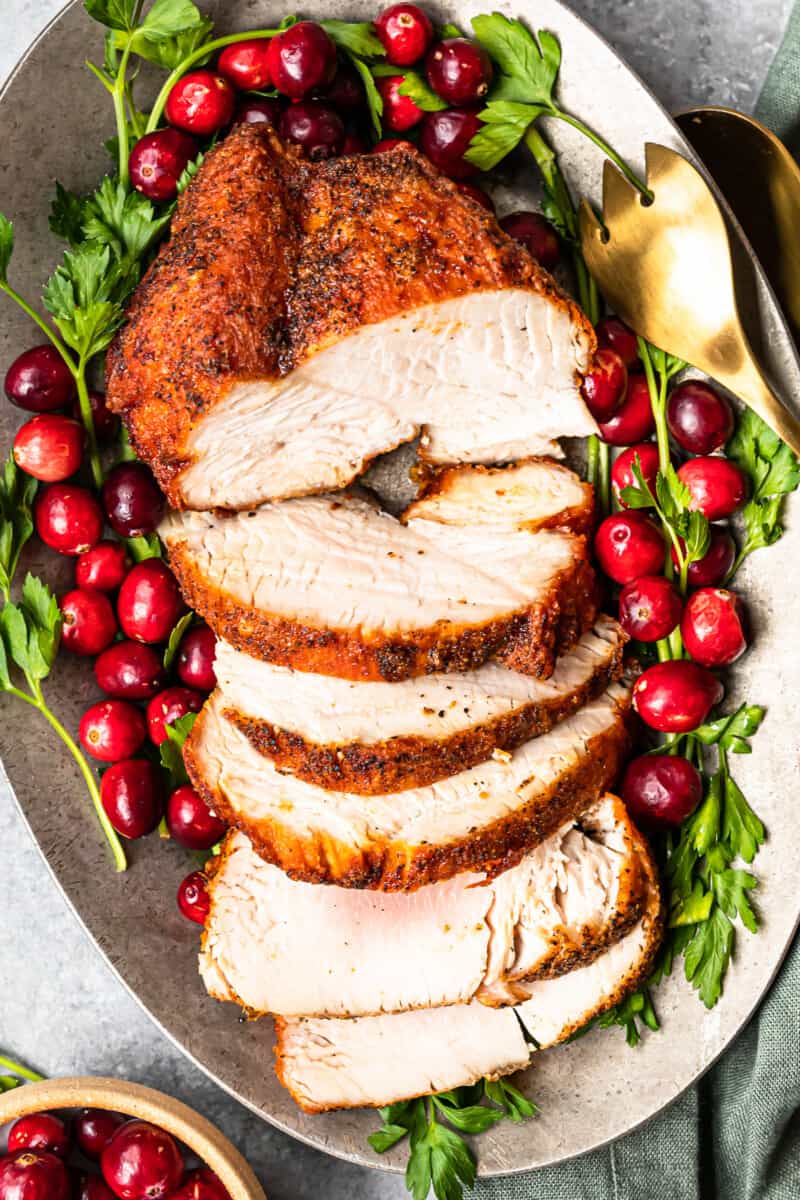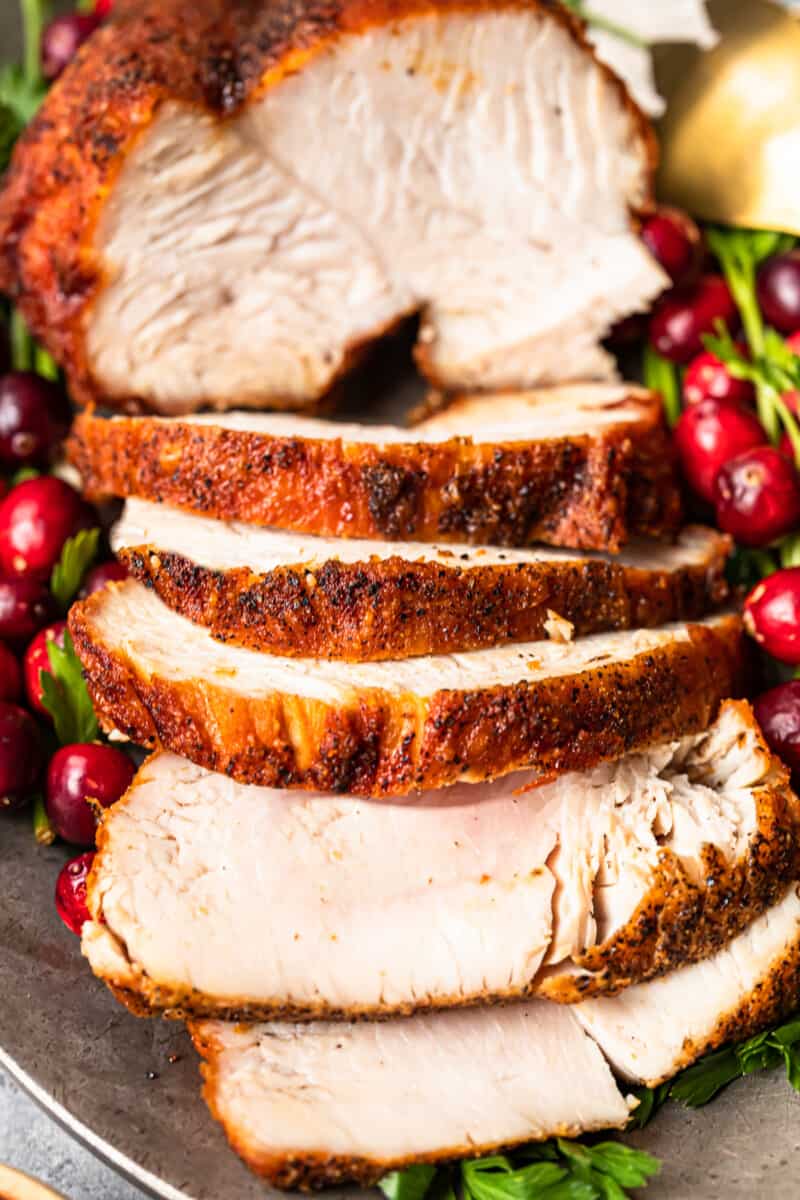 Tips!
Make sure that you use the largest pot you have. The pot should be large enough that the water/oil comes no more than halfway up the sides of the pot.
Once you measure the water level, be sure to dry the pot thoroughly. If there is any water left in the pot it can cause the oil to spit when it heats up.
Lower the turkey breast in VERY gently. You can use kitchen / heat proof gloves to protect yourself.
Once you know how, it's easy to deep fry a turkey breast, and you'll be SO glad you learnt!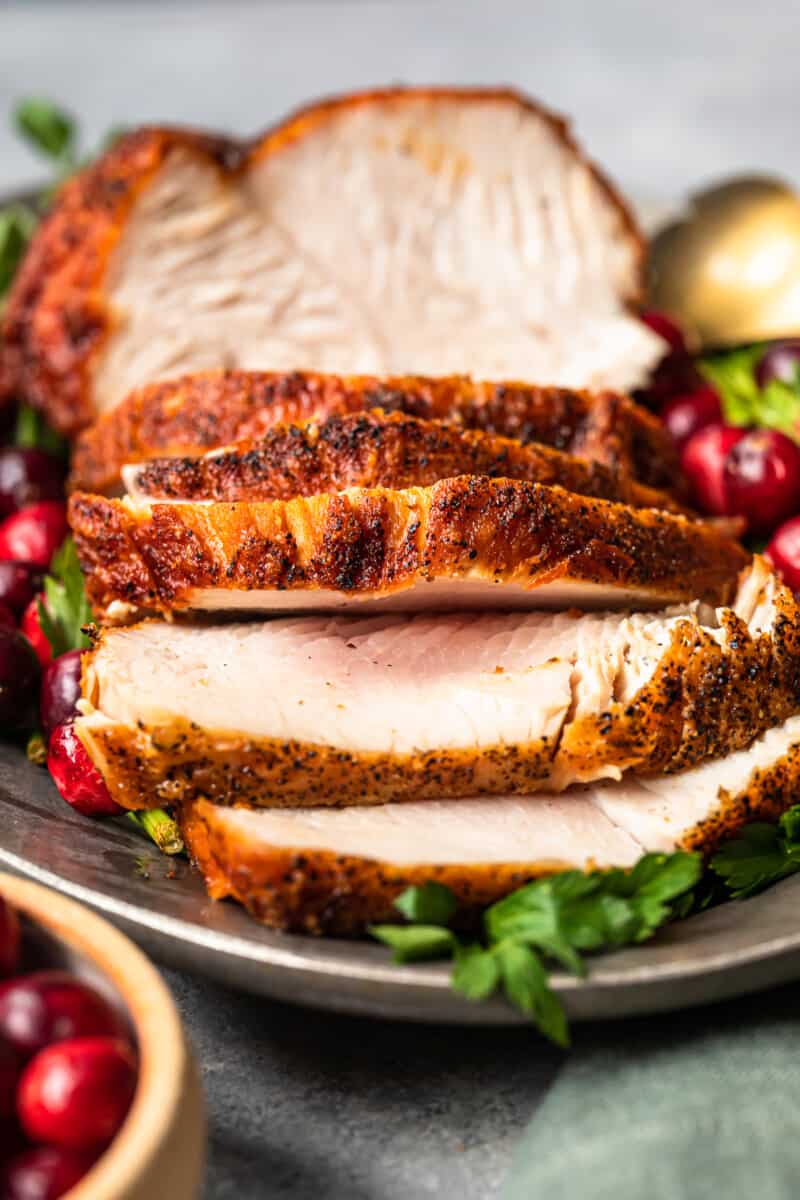 This deep fried turkey breast is so delicious, I just know you are going to love it! It's such a simple way to fancy up Thanksgiving, and it's so quick too!
If you make this recipe be sure to upload a photo in the comment section below or leave a rating. Enjoy! You can also jump to recipe.