Garlic butter prime rib is star of any holiday meal. It is juicy, tender and full of flavor. It's an easy to make beef dinner that everyone will love. Learn how to make this garlic herb prime rib for your next holiday.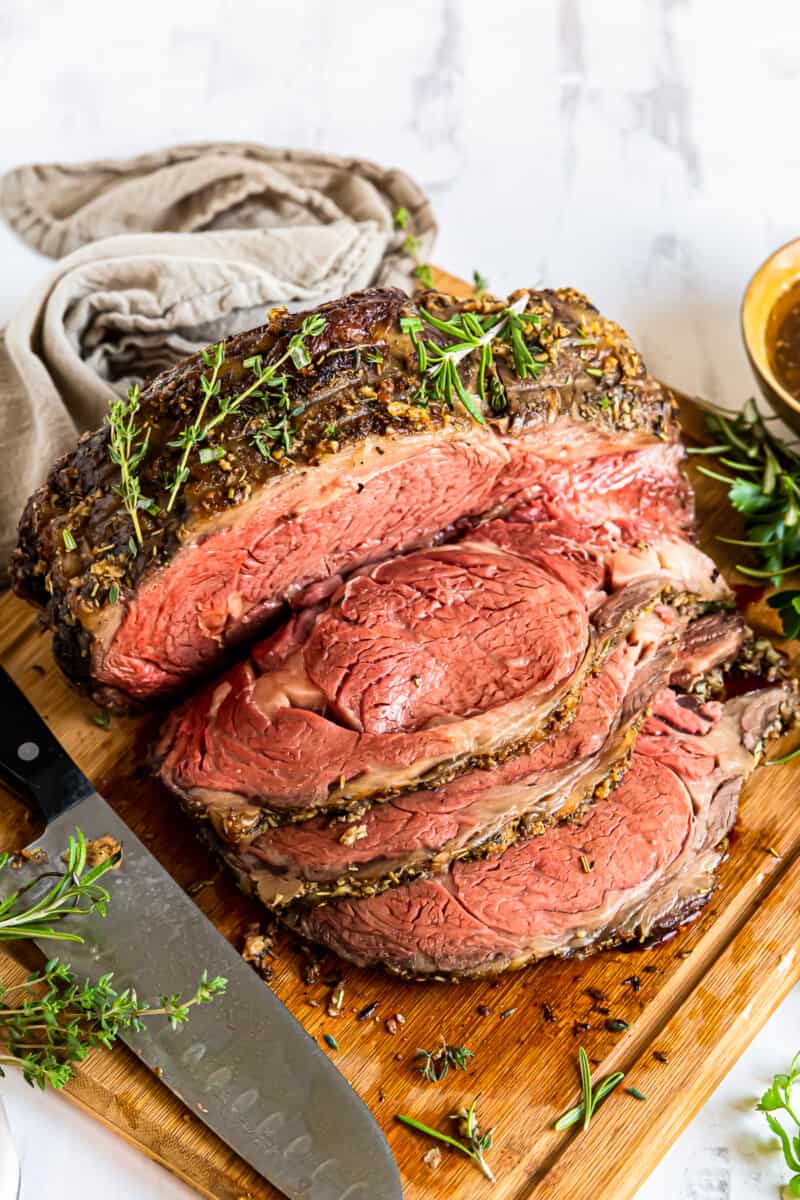 Prime Rib with Garlic Herb Butter Recipe
Prime rib is one of those dinners that people think is hard to make and takes a lot of time. In reality, this beef main dish is super easy to make and doesn't take much time at all to prepare and cook.
Prime rib is also called standing rib roast and is traditionally served during the holidays as an indulgent dinner. Many people tend to think of prime rib as being a fancy dinner option, but it's super simple to make and even newer cooks can master it easily.
Why you'll love this Garlic Butter Prime Rib recipe:
SIMPLE INGREDIENTS: Prime rib is a delicacy, but has a short list of ingredients. In fact, you only need 8 ingredients total, including spices.
EASY TO MAKE: There is minimal prep work needed before you let this prime rib cook to perfection.
HOLIDAY READY: This garlic herb prime rib is a real showstopper. It is a great centerpiece on any holiday table.
This prime rib recipe starts with a 4 pound piece of beef that is then coated in a garlic herb butter. The butter keeps the meat moist and infuses it with flavor.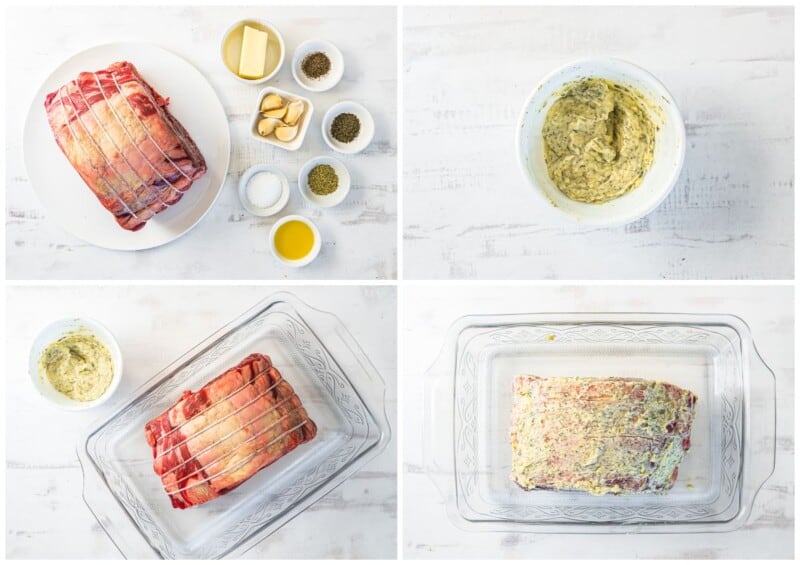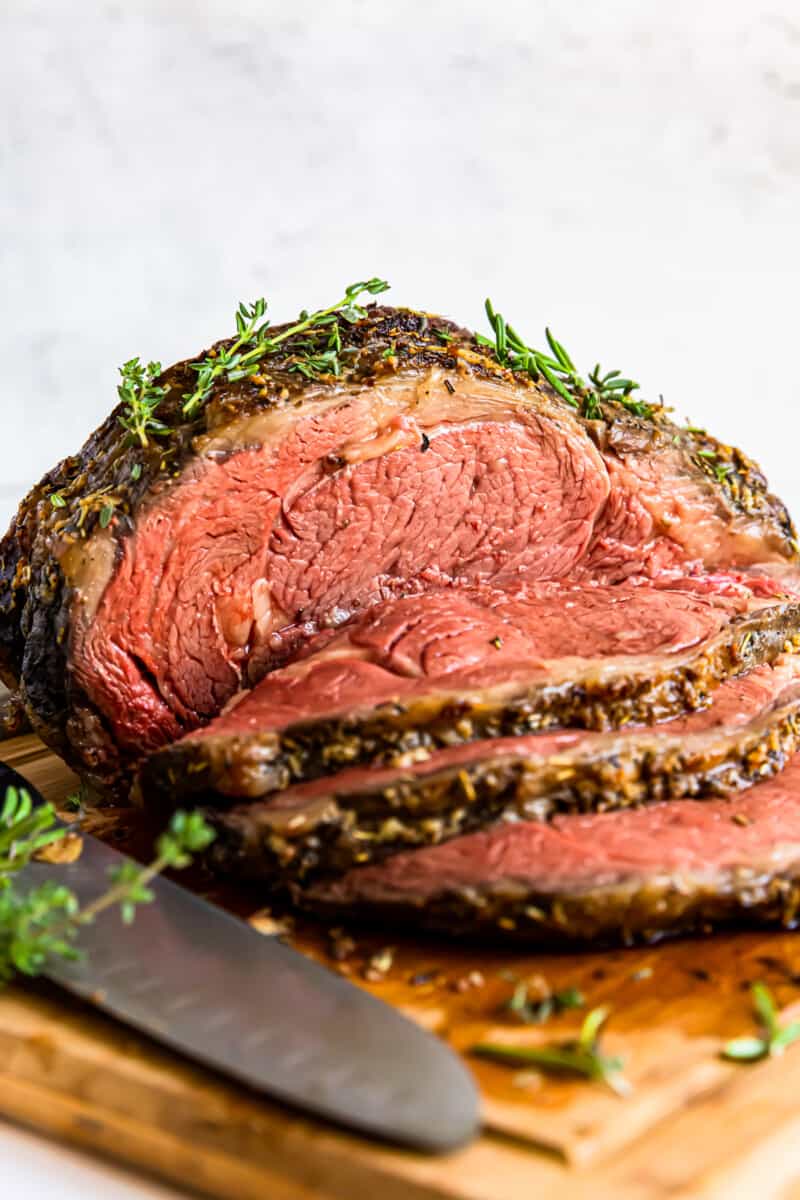 How to make Garlic Herb Prime Rib Roast
You can jump to the recipe card for full ingredients & instructions!
Preheat the oven.
Mix together the garlic, olive oil, butter, and all of the spices.
Rub the butter mixture over the outside of the prime rib.
Roast the beef for 25 minutes at 400 degrees.
Place foil over the meat and roast for an hour at 225 degrees.
Allow it to rest at least 20 minutes before cutting.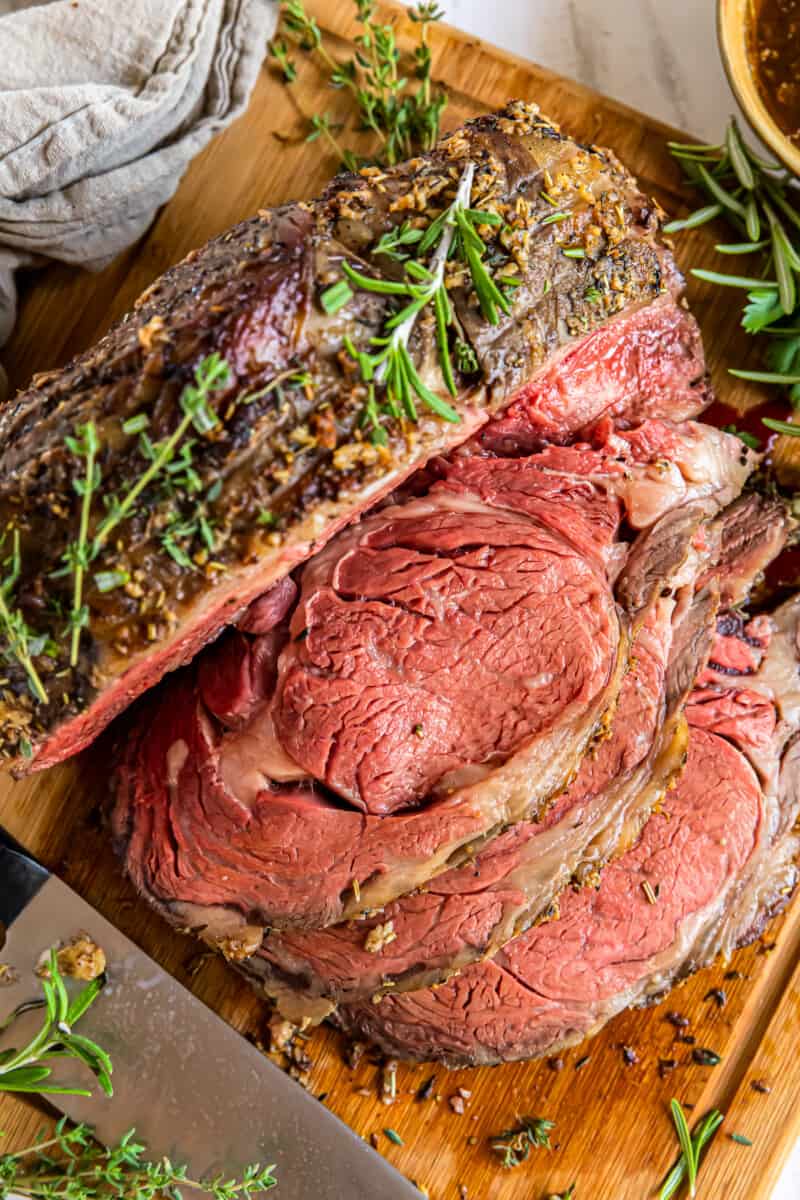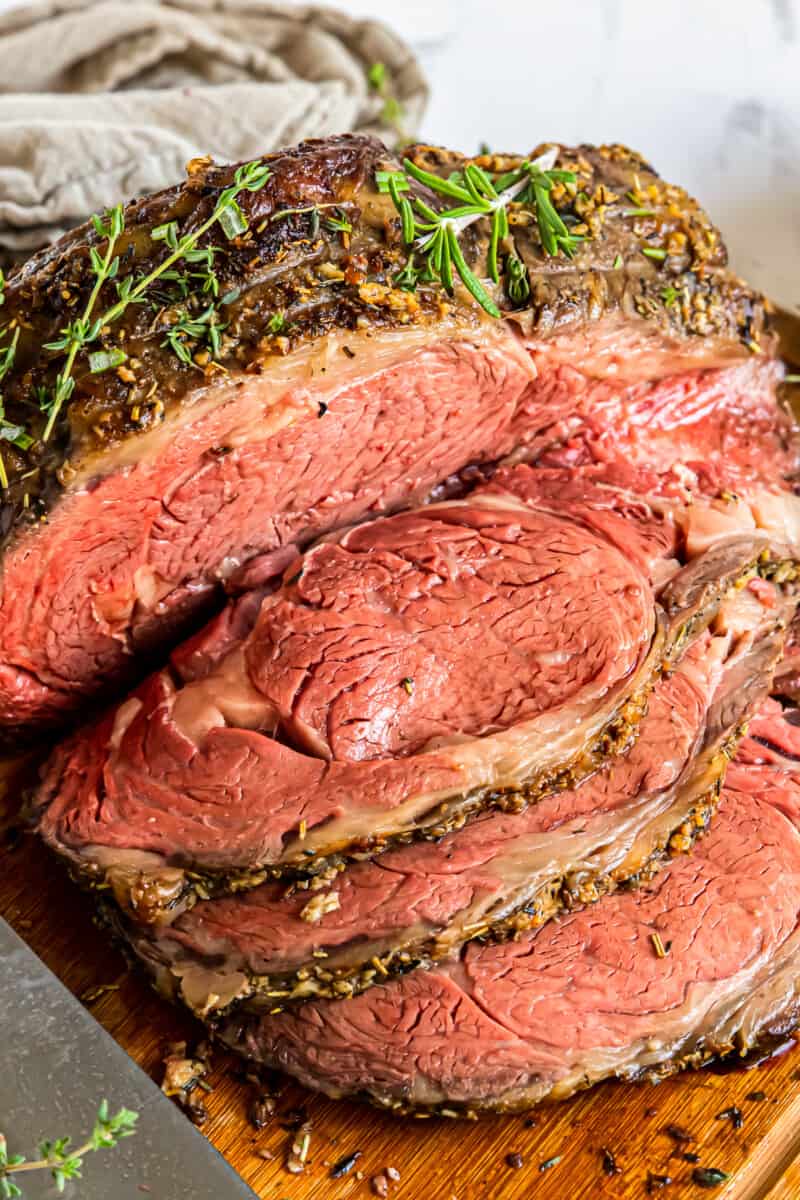 How do I know when prime rib is cooked through?
You can check the temperature of the prime rib to see if it's done. The internal temperature for prime rib should be between 120 degrees and 135 degrees at the center. Depending on how you like your prime rib will dictate
How much prime rib roast should I make per person?
The rule is to have 1 pound of prime rib per person. If you have a 4 pound prime rib roast, it will serve 4 people.
What is the best way to carve prime rib?
Carving a prime rib is simple! Start by placing the roast bone side down on a cutting board. Slice the bones away from the meat and discard. Remove any excess fat and then slice against the grain into slices.
How do I store and freeze prime rib?
Place any leftover prime rib in an airtight container in the refrigerator. You can also freeze cooked prime rib for later. Slice the prime rib and place the slices between parchment paper. Put the sliced prime rib in a Ziplock bag and keep in the freezer for 3 months.
Serving Suggestions
Rosemary garlic prime rib is an impressive main course that doesn't take much effort to make. It's a great addition to any holiday table.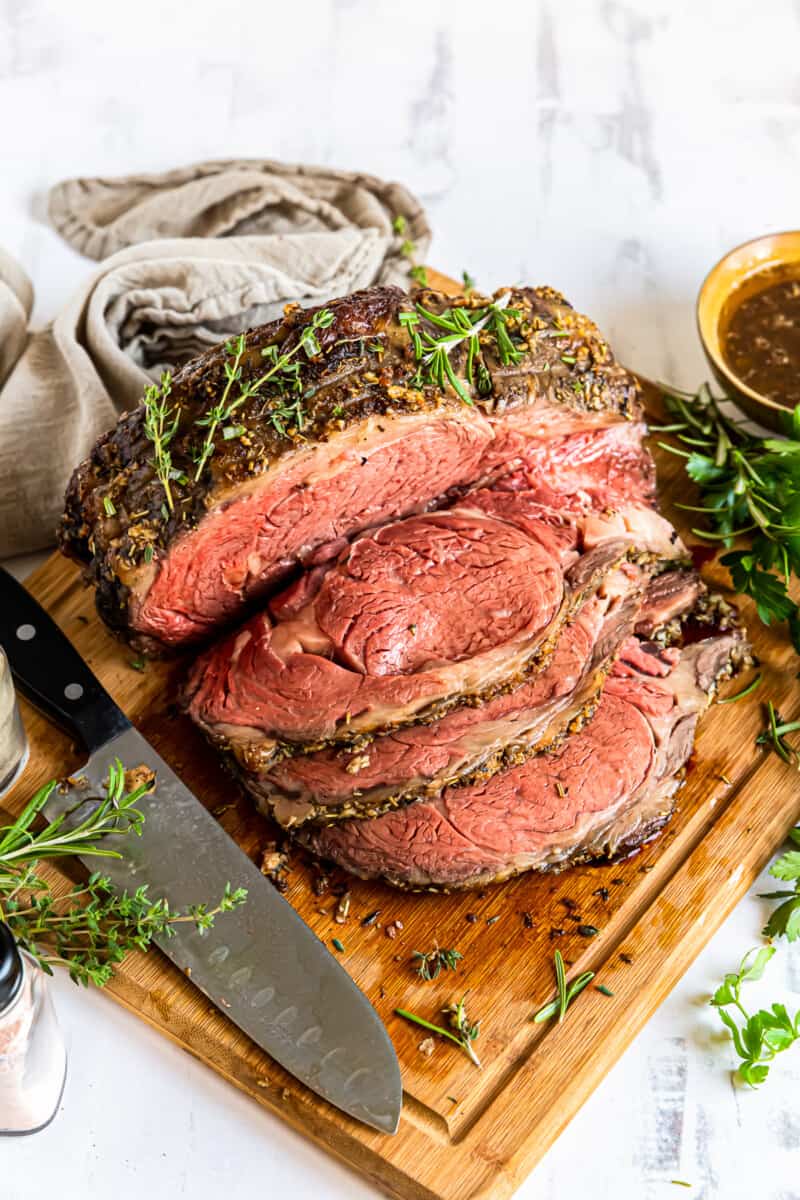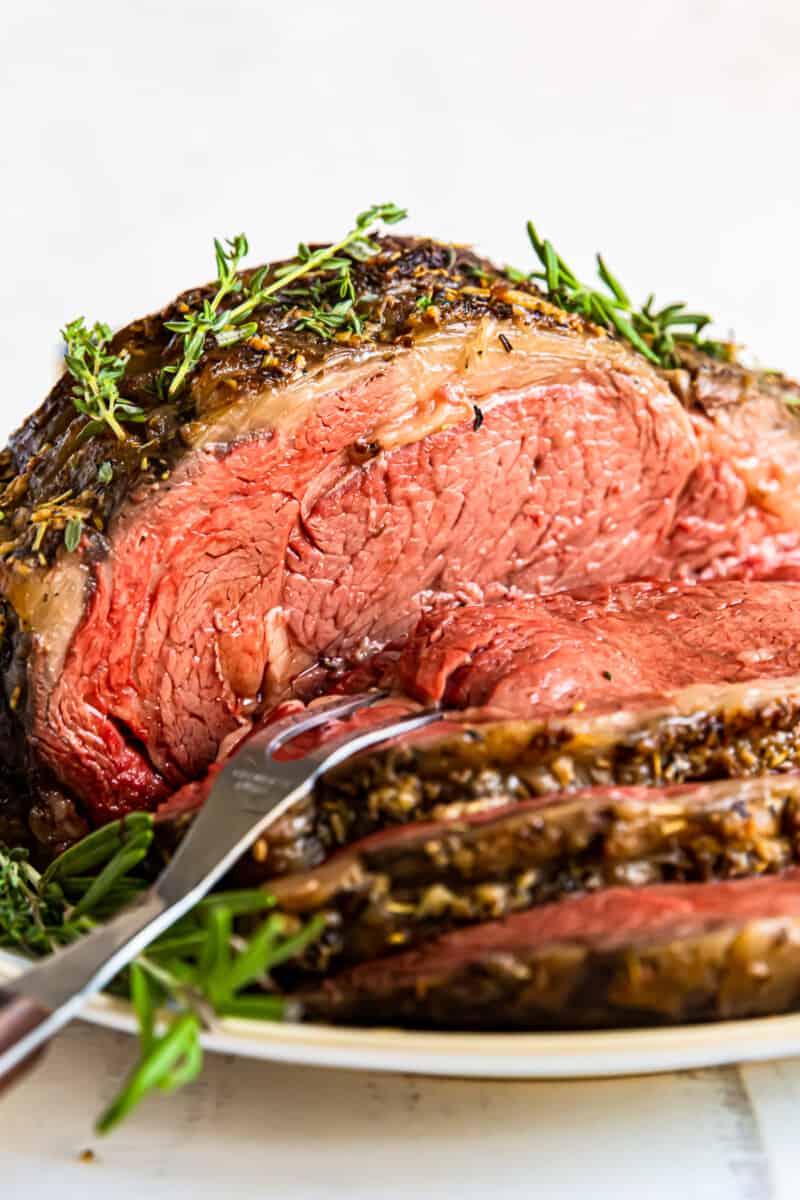 Tips!
Taking the prime rib out to raise it to room temperature is an important step. You will need to take it out at least 4 hours before adding the butter and baking it.
Make sure you butter is softened before mixing your herbs and spices. You want it to be soft but not melted.
You will need a sharp knife to cut the prime rib. Be careful when cutting it, but make sure you knife is sharp enough to go against the grain of the meat.
You can customize the herbs and spices in this recipe. Feel free to use your favorite herbs or spices on the prime rib.
You can make a dipping sauce from the leftover drippings of the cooked prime rib. You can leave it thin or use a little cornstarch to thicken it up. It's great for drizzling over the finished prime rib. Top with more fresh herbs and you have the perfect holiday centerpiece.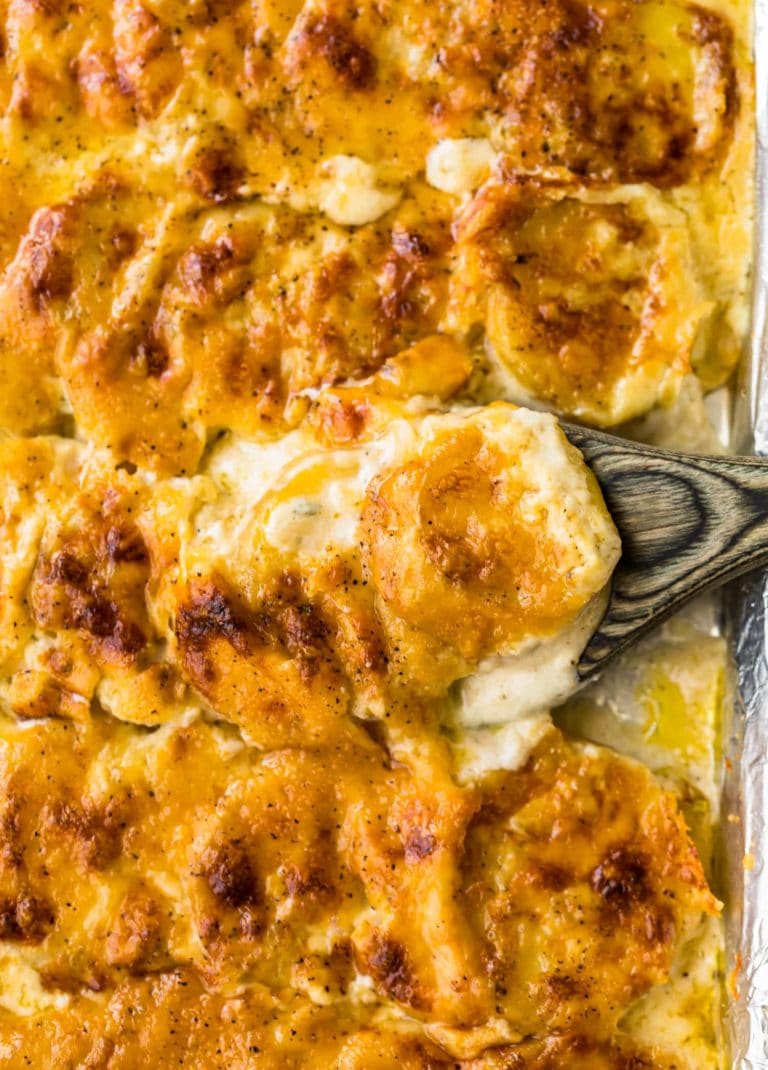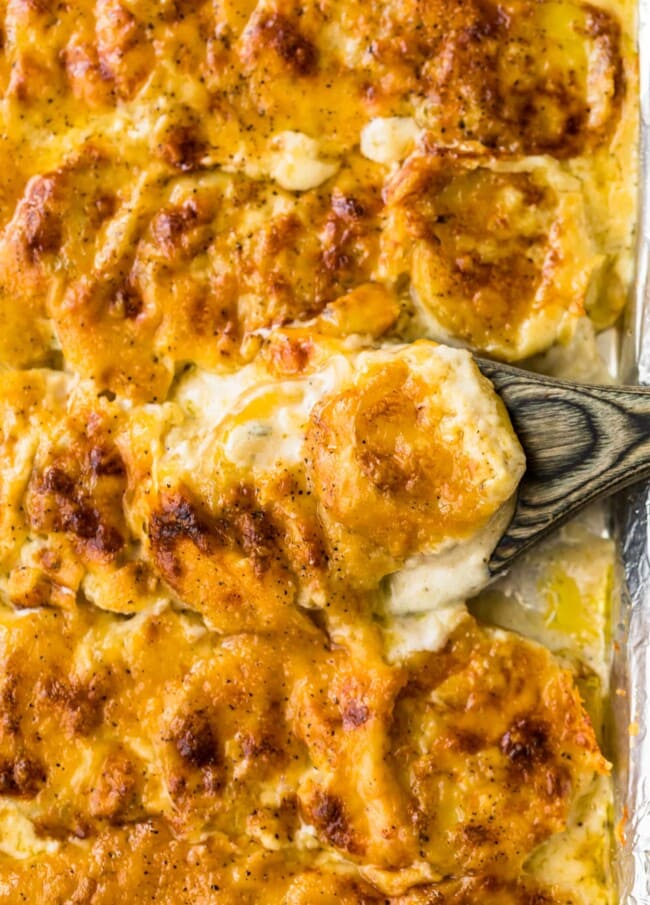 All the Holiday Sides
60+ Holiday Side Dish Recipes
This holiday season be sure to check out our sides guide for all the recipes plus tips and tricks for entertaining.
See Sides Guide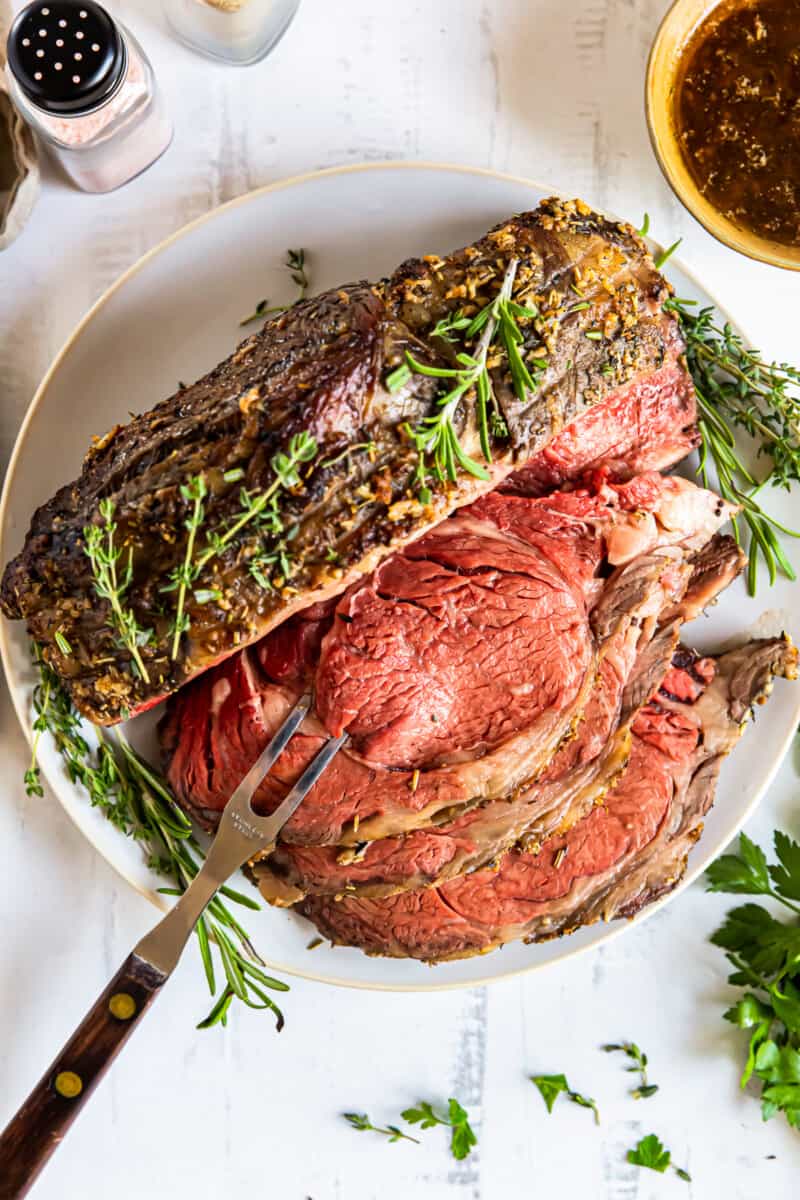 Make an impressive main dish for Christmas or any other holiday with this garlic herb prime rib. It is an easy to make dinner that everyone will love.
If you make this recipe be sure to upload a photo in the comment section below or leave a rating. Enjoy! You can also jump to recipe.