Garlic Butter Prime Rib is the star of any holiday meal. It is juicy, tender, and full of flavor. It's an easy-to-make beef dinner that everyone will love. Learn how to make this garlic herb rib roast for your next holiday.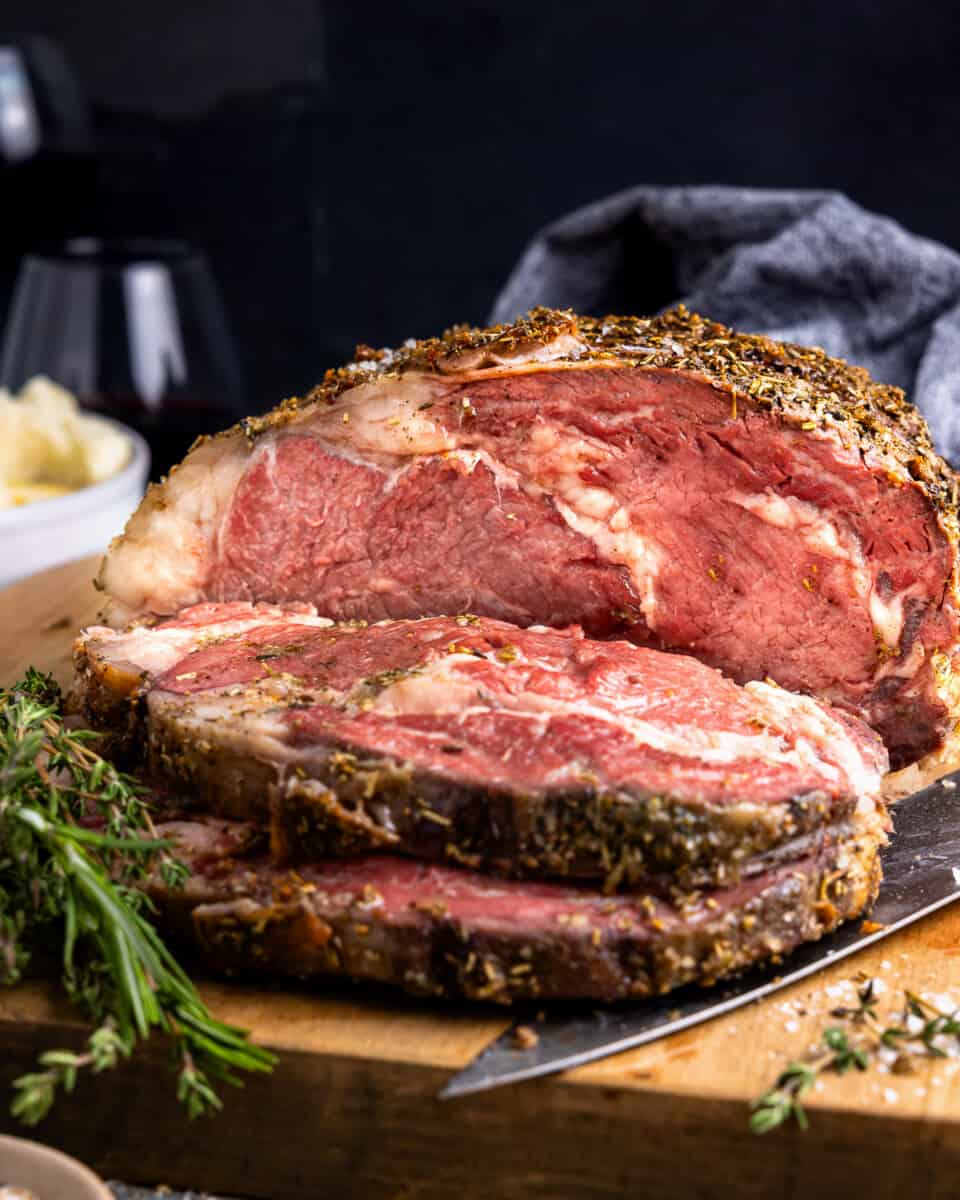 What's in this Garlic Butter Prime Rib Recipe?
This recipe starts with a 4-pound piece of beef that is then coated in garlic herb butter. The butter keeps the meat moist and infuses it with flavor.
Prime Rib: You'll want a boneless beef prime rib, also known as a standing rib roast. Make sure to let it come to room temperature so that it cooks evenly.
Unsalted Butter: Helps the spices stick and adds a rich, buttery flavor to the roast.
Garlic: Adds an earthy flavor and a pungent aroma.
Olive Oil: Helps the spices stick to the roast and helps prevent them from burning in the oven.
Spices: A combination of salt, pepper, dried thyme, and rosemary adds a mouthwatering herbal flavor.
Pro Tip: Make sure your butter is softened before mixing your herbs and spices. You want it to be soft but not melted.
Variations on Perfect Prime Rib
You can customize the herbs and spices in this recipe. Feel free to use your favorite herbs or spices on the prime rib. I like Italian seasoning or herbs de Provence. Check out my ultimate list of cooking herbs for more inspiration!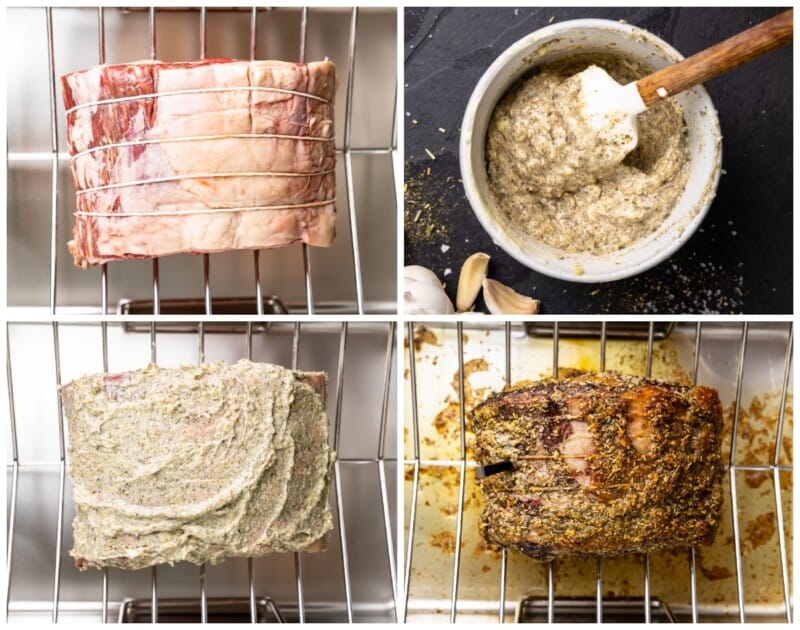 What is prime rib?
Also known as a standing rib roast, it is a cut of beef from the primal rib that is roasted and served with au jus. It refers to the entire rib roast, rather than individual cut steaks.
Is prime rib the same as ribeye?
Ribeye is cut from the rib roast. To be considered a ribeye, the steak must be cut before the roast has been cooked.
How much prime rib per person?
The rule is to have 1 pound per person. If you have a 4-pound prime rib roast, it will serve 4 people.
How long do you cook prime rib?
That depends on how you like your meat. For medium rare, I recommend 30-35 minutes per pound!
How do I know when prime rib is cooked through?
You can check the temperature with an instant-read thermometer. The internal temperature should be between 120°F and 135°F at the center.
What is the best way to carve this roast?
It's simple! Remove any excess fat and then slice against the grain into slices.
How to Store and Reheat
Place any leftover rib roast in an airtight container in the refrigerator for up to 4 days. To reheat, place the roast in an oven-safe pan covered with foil, add some leftover au jus or beef stock, and roast in a 300°F oven for 20-30 minutes, or until warmed through.
How to Freeze
Slice the roast and place the slices between parchment paper. Put slices in a Ziplock bag and keep it in the freezer for up to 3 months. Let thaw overnight in the refrigerator before reheating.
Serving Suggestions
I love to serve this roast with holiday classics, like green bean casserole, scalloped potatoes, asparagus almondine, or brown sugar glazed carrots.
Use leftovers to make beef stroganoff, French dip sandwiches, cottage pie, beef tacos, or open faced roast beef sandwiches. Yum!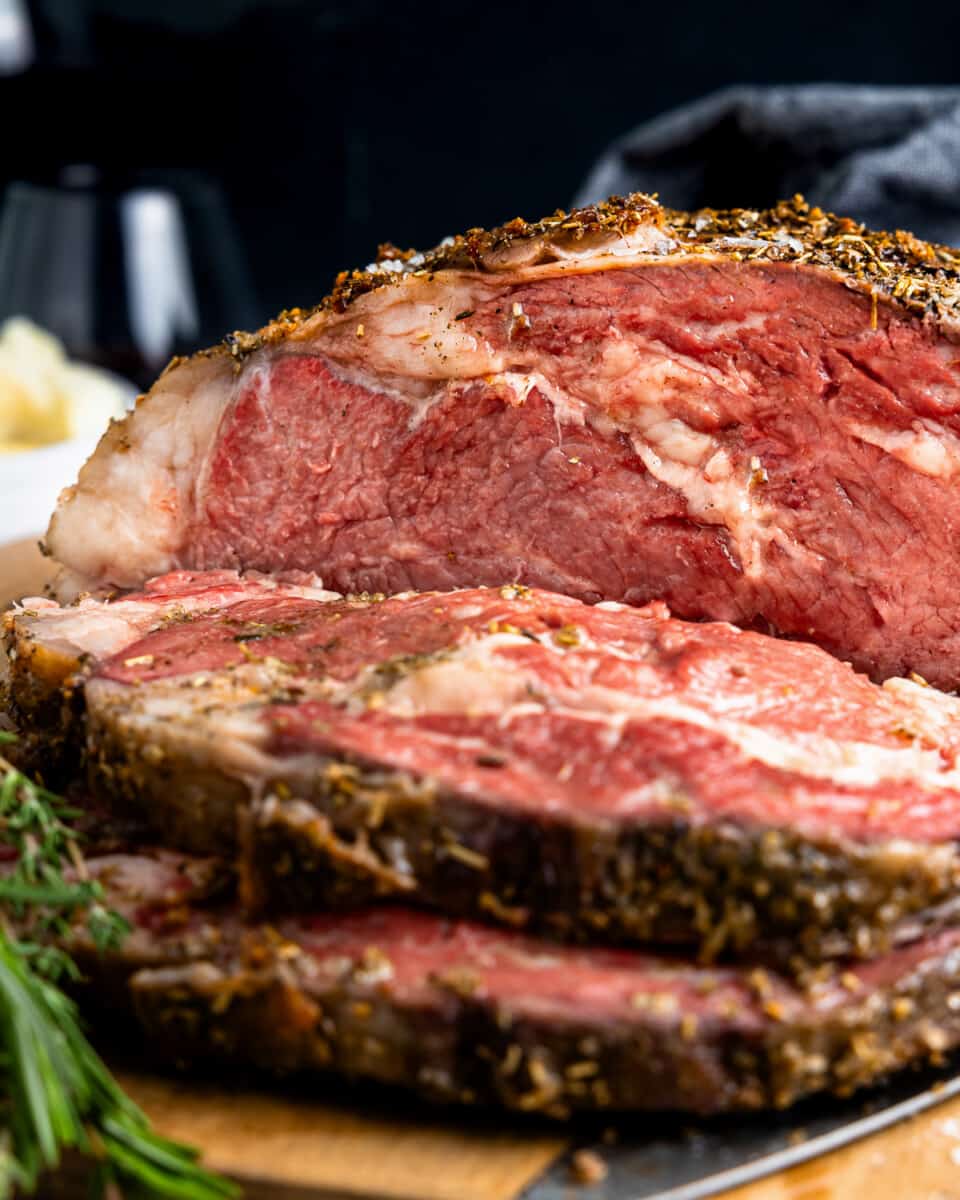 More Beef Roast Recipes We Love