Boursin Cheese is a soft, herb-filled creamy cheese that works as a dip or a spread. It's the perfect appetizer to serve with vegetables and crackers, or you can add it into salads, pasta, chicken recipes, or even bake with it. Homemade Boursin Cheese goes well with just about everything!
What's in Boursin Garlic and Herb Cheese?
Homemade Boursin Cheese is one of my new but great loves. This creamy cheese is simply amazing. The thing that makes this soft cheese so good is all of the fresh herbs! Mixing them in with the cream cheese creates the most amazing flavor.
Cream Cheese: Forms the base of this recipe. Use full-fat, brick-style cream cheese for the best results.
Unsalted Butter: Combines with the cream cheese to make this spread crumbly and unbelievably tasty. If using salted butter, omit the kosher salt.
Herbs: Kosher salt, garlic powder, dill, marjoram, basil, chives, black pepper, thyme, and parsley make up the herbs in this copycat recipe.
Parmesan Cheese: A bit of freshly grated Parmesan cheese adds salty and tangy flavor.
Boursin Cheese is the perfect party appetizer to serve with veggies and crackers. If you make it in advance, it can always be ready to pull out when unexpected company drops by.
Variations on Boursin Cheese Spread
By mixing in your favorite herbs, you can customize this cheese and even create your signature blend.
Add minced shallots and chives to recreate the Shallot & Chive flavor or basil and chives to recreate the Basil & Chive flavor. Add some caramelized onions to recreate the Caramelized Onion & Herbs flavor. Or use dried garlic, cilantro, red pepper flakes, and parsley to mimic their newer Chimichurri Style Cheese.
Create a custom blend using Italian seasoning, herbs de Provence, or everything bagel seasoning. For a sweet Boursin spread, try adding some pumpkin pie spice or cinnamon-sugar. Balsamic glaze would also make a wonderful addition! Don't be afraid to get creative!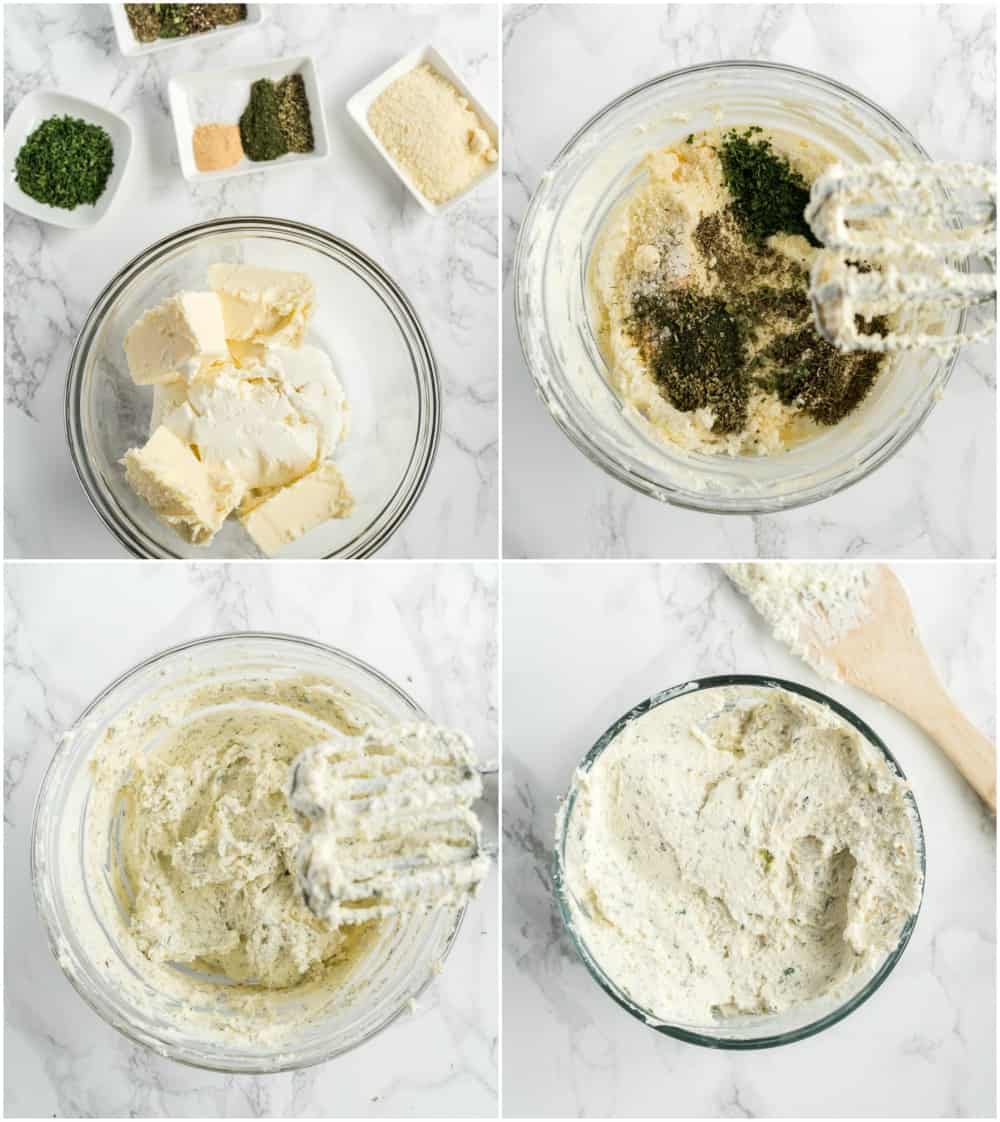 What is Boursin Cheese?
Boursin Cheese was first developed in the 1950s by François Boursin, in the Normandy region of France. It's a flavored cream cheese filled with all kinds of tasty herbs. This recipe can be used as a dip or a spread, and it's just so good–you'll wonder how you ever lived without it!
What kind of cheese is Boursin?
Authentic Boursin is made from Gournay cheese, which is similar to cream cheese but crumblier. We approximate that soft, crumbly, spreadable texture by mixing cream cheese and butter.
Is Boursin Cheese gluten free?
Yes! Both the actual brand-name product and this recipe are certified gluten-free!
How long does Boursin Cheese last?
This soft cheese recipe will keep in the refrigerator for up to 2 weeks. This cheese tastes best at room temperature, so let it sit out for a bit before serving.
Can you freeze Boursin Cheese?
I do not recommend freezing homemade Boursin Cheese, as the texture will change during the freeze/thaw process, leading to a grainy spread.
Is Boursin Cheese healthy?
Not particularly! Boursin is high in calories, saturated fats, and cholesterol. You can make it a bit healthier by using low-fat cream cheese, but it is still best to enjoy Boursin Cheese in moderation as part of a balanced diet.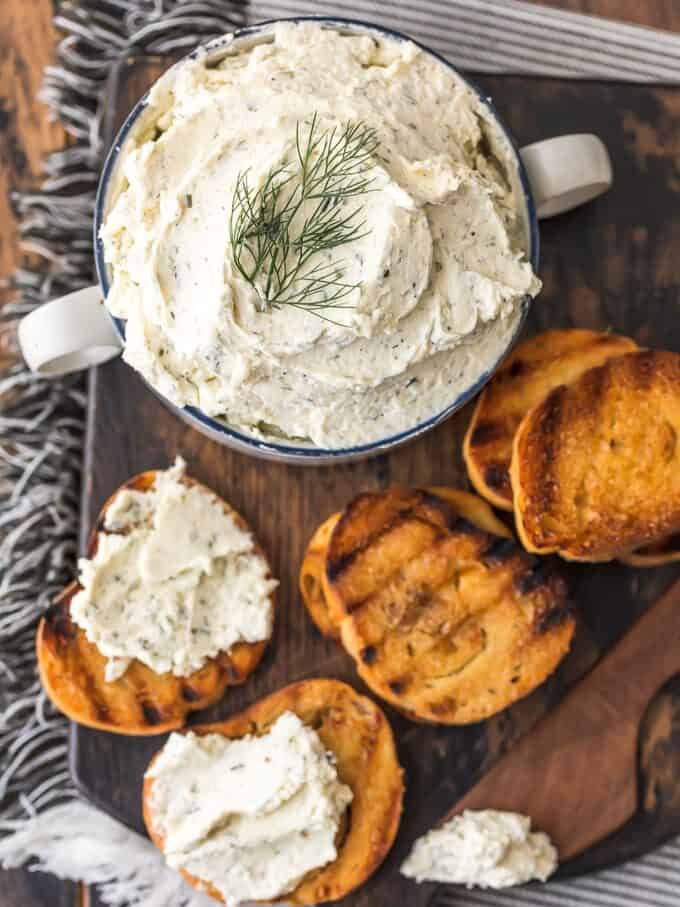 How to Store
Store leftover Boursin Cheese in an airtight container just large enough to hold the cheese. Squeeze out as much air as possible, then store in the refrigerator for up to 2 weeks. Boursin Cheese is best enjoyed at room temperature, so let the cheese sit at room temperature for at least 30 minutes before enjoying. I do not recommend freezing this cream cheese spread.
Serving Suggestions
Boursin Cheese shines as a dip, but that's not where it ends. It adds tremendous flavor to potatoes (baked potatoes, scalloped potatoes, mashed potatoes). Spread it onto crackers, crostini, or a bagel.
We use Boursin in so many of our favorite recipes. Here are a few to consider: Spinach-Stuffed Chicken Breast, Basil Cream Chicken Skillet, Hot Onion Dip, Cheesy Pancetta-Wrapped Chicken.
Mix it into these Tortilla Cream Cheese Roll-Ups for some extra flavor, or add it to your favorite pasta salad. Get creative, be daring, and find new ways to use Boursin.