Want to learn How to Make Pimento Cheese? You've come to the right place! This Homemade Pimento Cheese recipe is bold and full of flavor. The classic Southern spread is perfect to serve at parties, and of course it makes an amazing Pimento Cheese Sandwich. With tasty Colby cheese and sweet Pimento peppers, this is the Best Pimento Cheese recipe out there!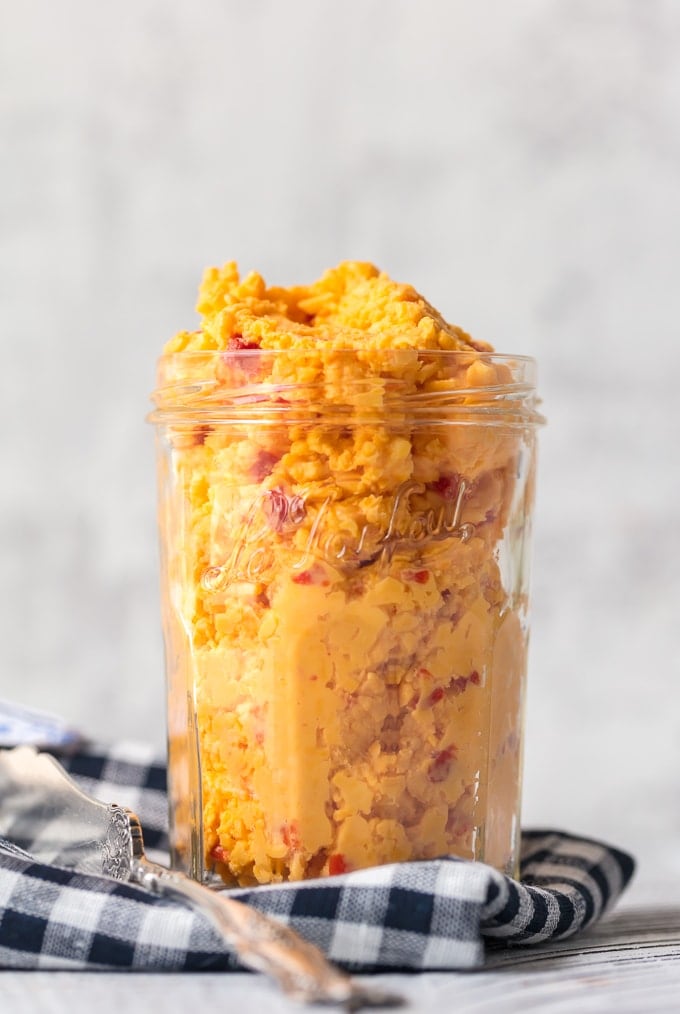 How to Make Pimento Cheese – Homemade Pimento Cheese Recipe
Find out how to make Pimento Cheese! This homemade pimento cheese recipe is a Southern classic.
Pimento Cheese was one of my favorite things growing up. It's something I can taste just thinking about it, because it's one of my favorite things my Grandma Gall would make and always had on hand.
When I was 12, my family went on a 5 week RV trip with my grandparents across the US and through part of Canada (to go to the National Barbershop Quartet Convention……you heard me), and the only thing I remember eating were pimento cheese sandwiches.
I know that's not true, but the memory is so clear in my mind. Making this Homemade Pimento Cheese makes me thing of my Grandma Gall and miss her so much!
If you're not from the South (or somewhere nearby), it's possible you've never had Pimento Cheese. If that's the case, you're missing out on something big! Don't worry though, you can learn how to make pimento cheese with this easy, delicious Homemade Pimento Cheese Recipe.
This cheese is generally used as a spread and it makes a really tasty sandwich. I love the bold flavor of the cheese and mayonnaise, with just that little hint of sweet pepper from the Pimentos. It's a fun thing to serve at parties, and it's good for a quick lunch recipe. This is the Best Pimento Cheese Recipe I've ever tasted!
Pimento Cheese Dip, Pimento Cheese Spread, or Pimento Cheese Sandwich…whatever you use it for, it's going to have that delicious bold taste it's known for!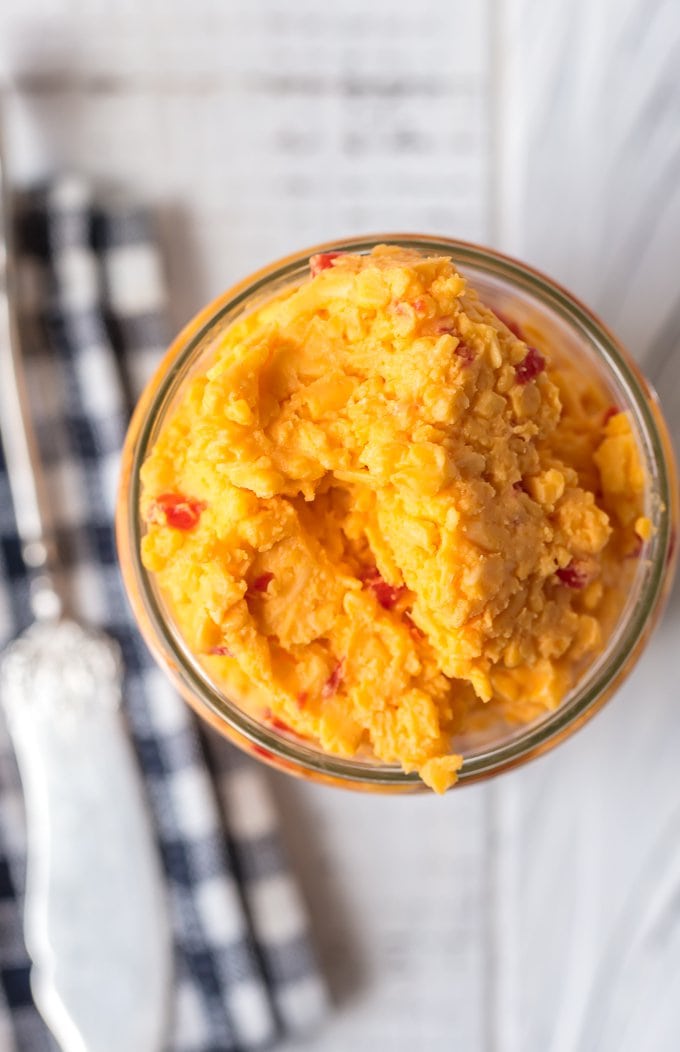 Best Pimento Cheese Recipe
I consider this the Best Pimento Cheese Recipe because it's perfectly balanced for my taste buds. Plus it's my Grandma's recipe…so you know it's great!
It's hard to mess up this recipe. It's easy to make and there's not that many ingredients in it. Plus all you have to do is mix–no cooking required!
People use all types of cheese for this spread, as long as there are Pimentos in it, it's called Pimento cheese. I like using Colby cheese because it has a great flavor but it's not overwhelming. I add in just the right amount of sugar and vinegar to get it the way I like it.
But the great thing about this homemade pimento cheese recipe is that you can change things up and make it how YOU like it.
Make it creamier by adding more mayonnaise.
Make it sweeter by adding a bit more sugar.
You can add more vinegar for a bolder taste.
And you can mix in other cheese along with the Colby for something different.
Start with this recipe to learn how to make pimento cheese, and then play around with it the next time you make it. Or you can stick to my recipe because, like I said, it's the best!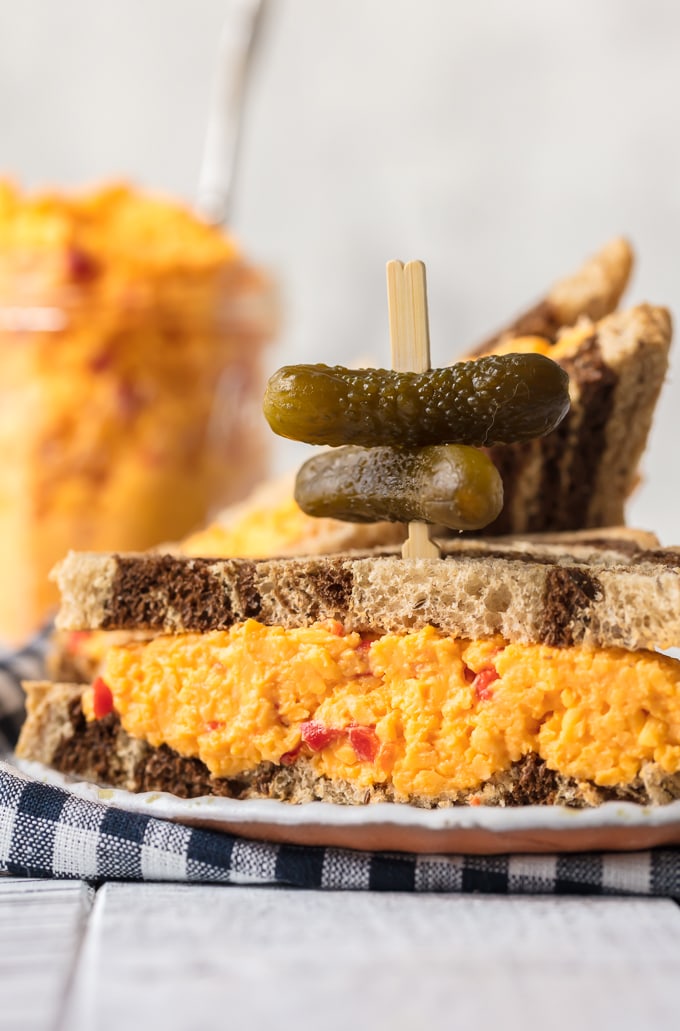 How to Make Pimento Cheese
Pimento Cheese kind of seems like a strange thing if you've never eaten it before. What is Pimento Cheese? What are PIMENTOS? So many questions to be answered! It's not all that mysterious, though.
Pimentos are a type of pepper. They are small, sweet, red peppers, and they're pretty low on the spice factor. They're the perfect pepper to mix with cheese!
Homemade Pimento Cheese is made out of a couple of things:
Colby cheese
Pimento peppers
Mayonnaise
White Sugar
Apple Cider Vinegar
You can use a different type of cheese (American, Pepper Jack, Cheddar), but I prefer Colby cheese for the best pimento cheese recipe.
Are Pimentos spicy?
No, Pimento peppers are not spicy! They are small and sweet and quite mild. Pimentos are a great pepper to add into dishes when you want a little flavor and no spice.
How long can you keep homemade Pimento cheese in the fridge?
This homemade Pimento cheese will last in the refrigerator for about 10 days. Be sure to store it in an airtight container to keep it fresh. After making this I popped the lid on, kept it in the fridge, and ate it all week.
I ate it on sandwiches, as a dip with crackers, and dug my spoon in on its own more times than I'd like to admit. IT'S SO TASTY!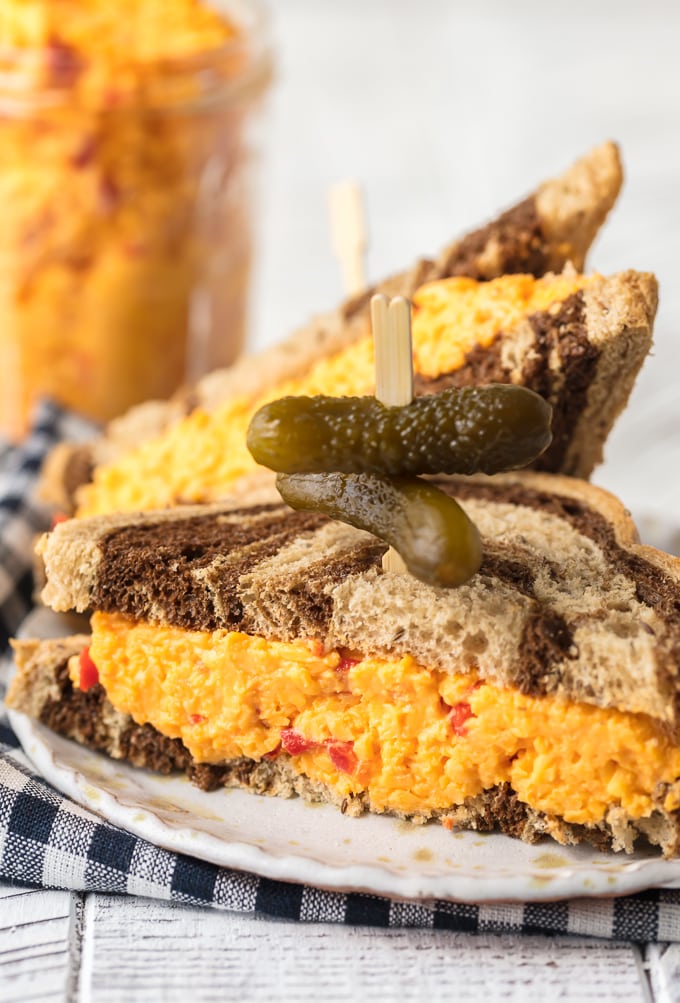 What do you serve with Pimento Cheese?
Pimento Cheese is the perfect thing to serve at parties! It adds flavor to all kinds of snacks and appetizers, like these Pimento Cheese Deviled Eggs. Serve it with a variety of crackers (get some hearty ones so you can pile on the cheese), fresh veggies (celery, carrots sticks , bell peppers), or make mini Pimento Cheese Sandwiches!
It's also amazing atop Stovetop Burgers or added into Grilled Cheese. And it's perfect for my Pimento Cheeseburgers!
Pimento Cheese Sandwich
A Pimento Cheese Sandwich is such a classic, nostalgic kind of food. It's simple, it's creamy, and it's absolutely delicious!
This homemade pimento cheese comes out as a nice chunky spread. It's the perfect texture! Grab your favorite bread and pile on as much cheese as you want.
It tastes AMAZING as is, but feel free to add other ingredients to your sandwich if you like. Try adding in some lettuce, tomato, and pickles. The flavor of pickles actually mixes perfectly with the pimento.
You can even make a GRILLED Pimento Cheese Sandwich. This makes the bread nice and toasty while the cheese gets warm and melty. Just another way to enjoy this tasty cheese spread.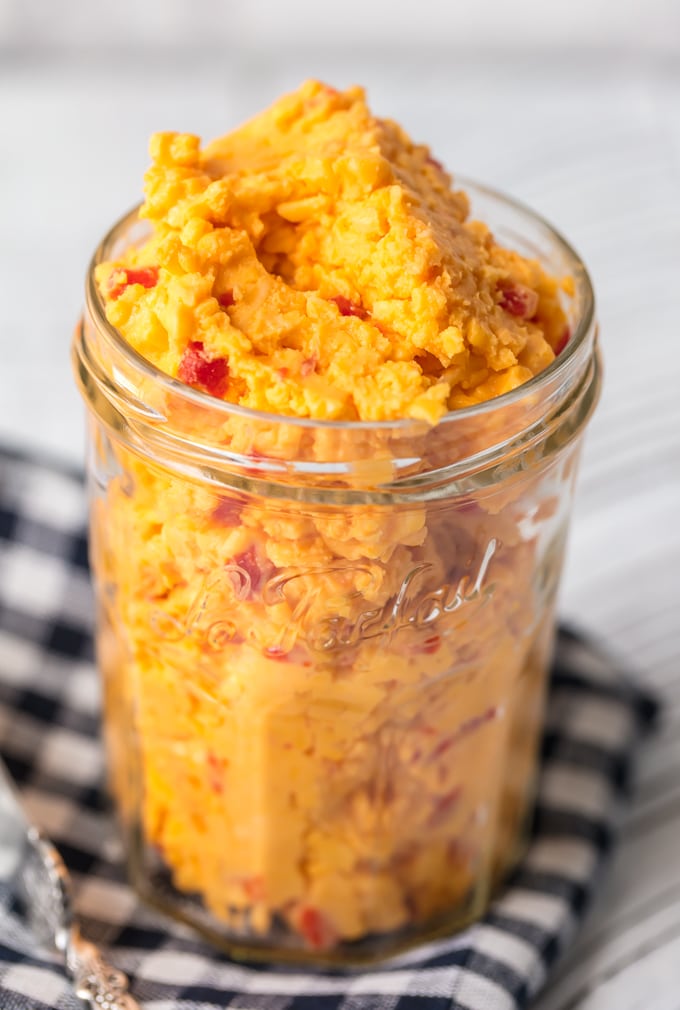 Learning how to make Pimento Cheese wasn't so hard! I really hope you like this Homemade Pimento Cheese as much as I do.
I love that at least one of my Grandma's favorite recipes is living on in this little space on the internet. If she was still living she'd be shocked I was actually cooking, and proud to see her Pimento Cheese being loved by all!
Try these other cheesy dips & spreads:
If you make this recipe be sure to upload a photo in the comment section below or leave a rating. Enjoy! You can also jump to recipe.