This crispy chicken sandwich is finger-lickin' good! Seasoned floured chicken breasts are fried before being placed in a bun and finished with your favorite toppings. The chicken is so perfectly tender and juicy and the coating is perfectly crispy and full of flavor!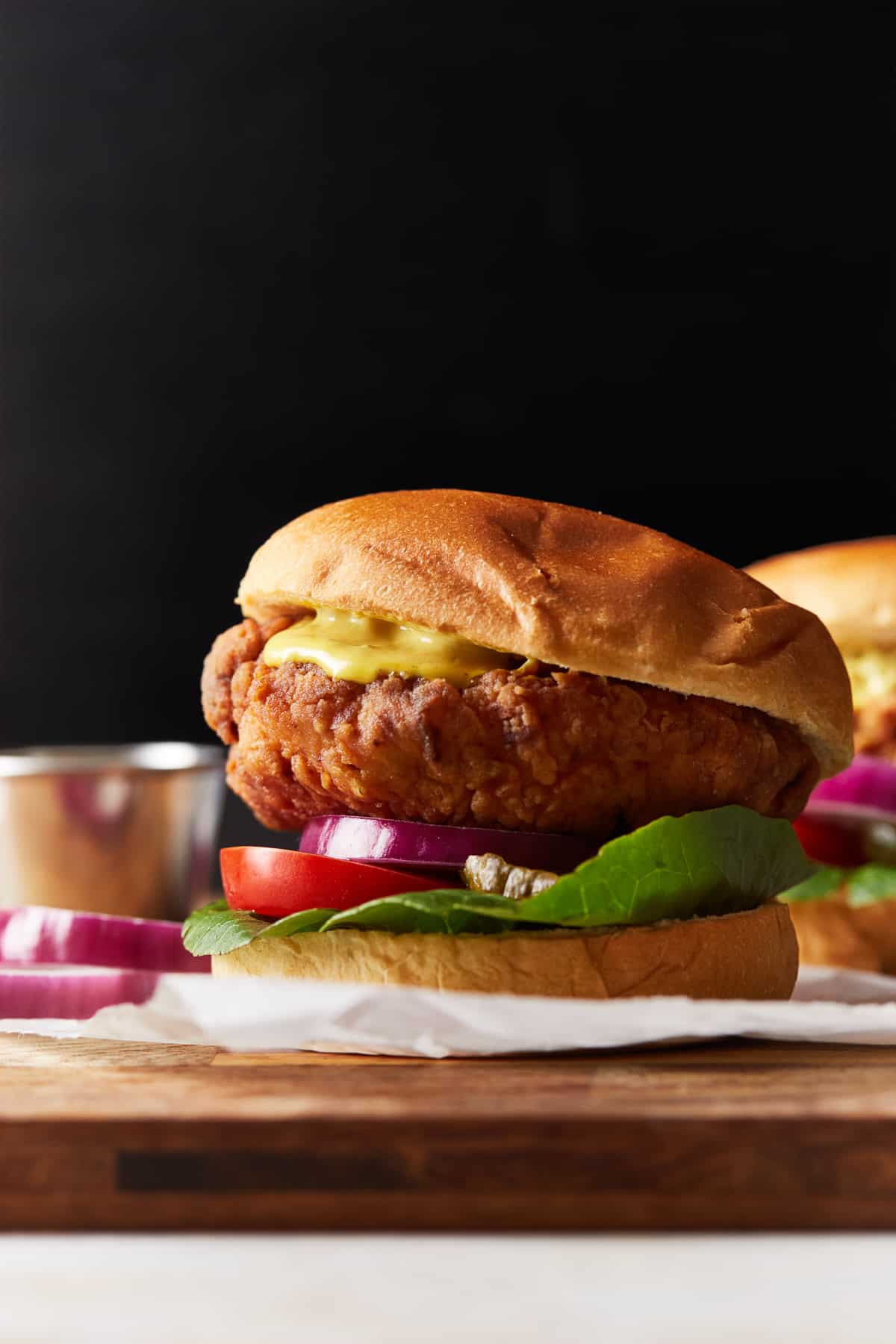 What's in a Fried Chicken Sandwich?
The key to a great crispy chicken sandwich is to get the chicken just right. Here are some tips on how to achieve the perfect crispy chicken:
Chicken: My favorite chicken for chicken sandwiches is boneless, skinless chicken breasts. You can also use boneless, skinless chicken thighs if you prefer.
Milk: Dipping the chicken breasts in milk helps to tenderize the meat. You can use regular milk or buttermilk for a bit more flavor.
Eggs: Dipping the chicken breasts in eggs helps the seasoned flour to adhere to the chicken, creating a crispy coating.
Flour: All-purpose flour quickly hydrates when added to the egg layer to create a crispy coating.
Seasonings: Salt, garlic salt, black pepper, chili powder, and garlic powder add flavor to the chicken breasts.
Oil: I like to use vegetable oil for frying, but you could use canola or avocado (or another oil with a high smoke point) if you prefer.
Pro Tip: Marinating the chicken breasts in the milk or buttermilk overnight can help make the chicken even more tender!
Spicy Crispy Chicken Sandwich
To make this crispy chicken sandwich spicy, add a few dashes of hot sauce to the milk, increase the amount of chili powder in the flour mixture (or try adding cayenne), and top with spicy, tangy Buffalo sauce!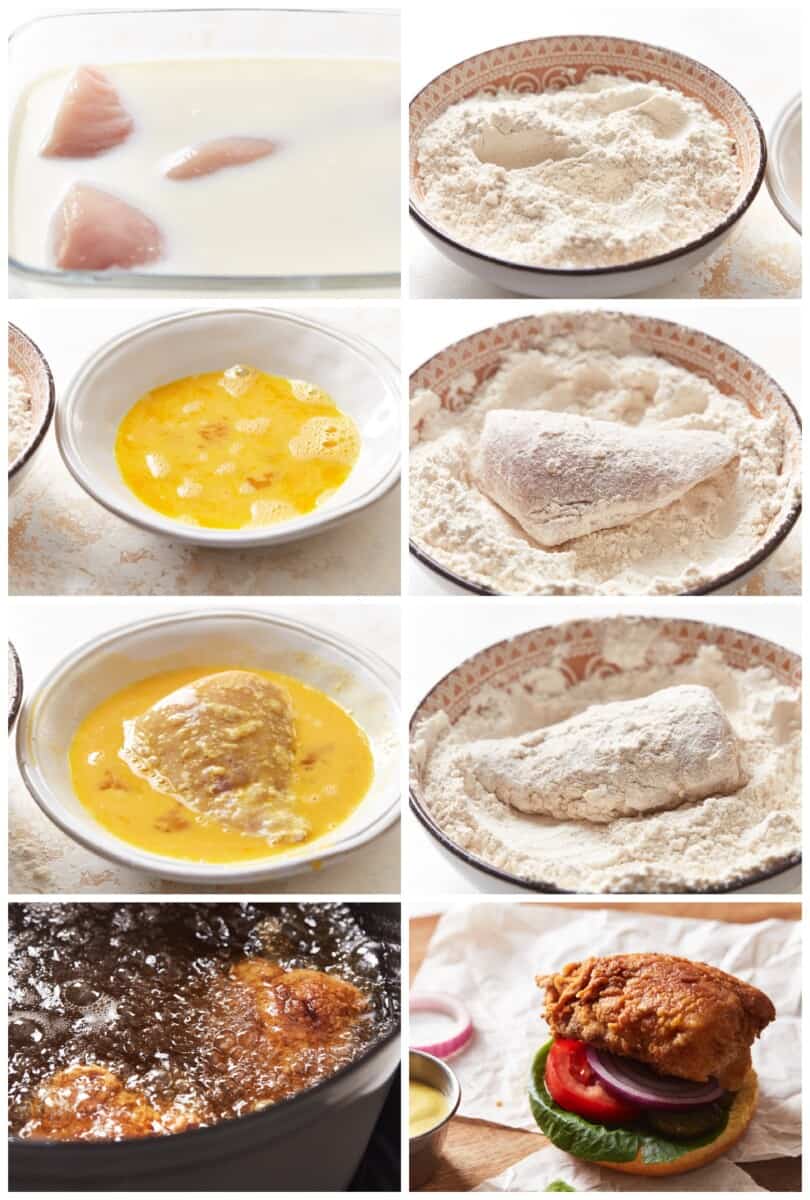 Can you make these with chicken thighs?
I prefer to make these with chicken breasts as they cook quicker than thighs and they stay nice and juicy. If you use thighs, it's better to use thin cuts to make sure they cook all the way through.
How do you know when the chicken is cooked?
The chicken pieces should be golden brown on both sides, and when you pull them apart, the chicken should be a solid and even white color throughout. The easiest way to check they are cooked all the way through is to use an instant-read thermometer, which should register at 165°F.
How do you know when the oil is hot enough?
The easiest way to check if the oil is ready to fry, is to drop a little of the flour mix into the pot. If it fizzes straight away then you are good to go. If you have an thermometer, it should register at 375°F.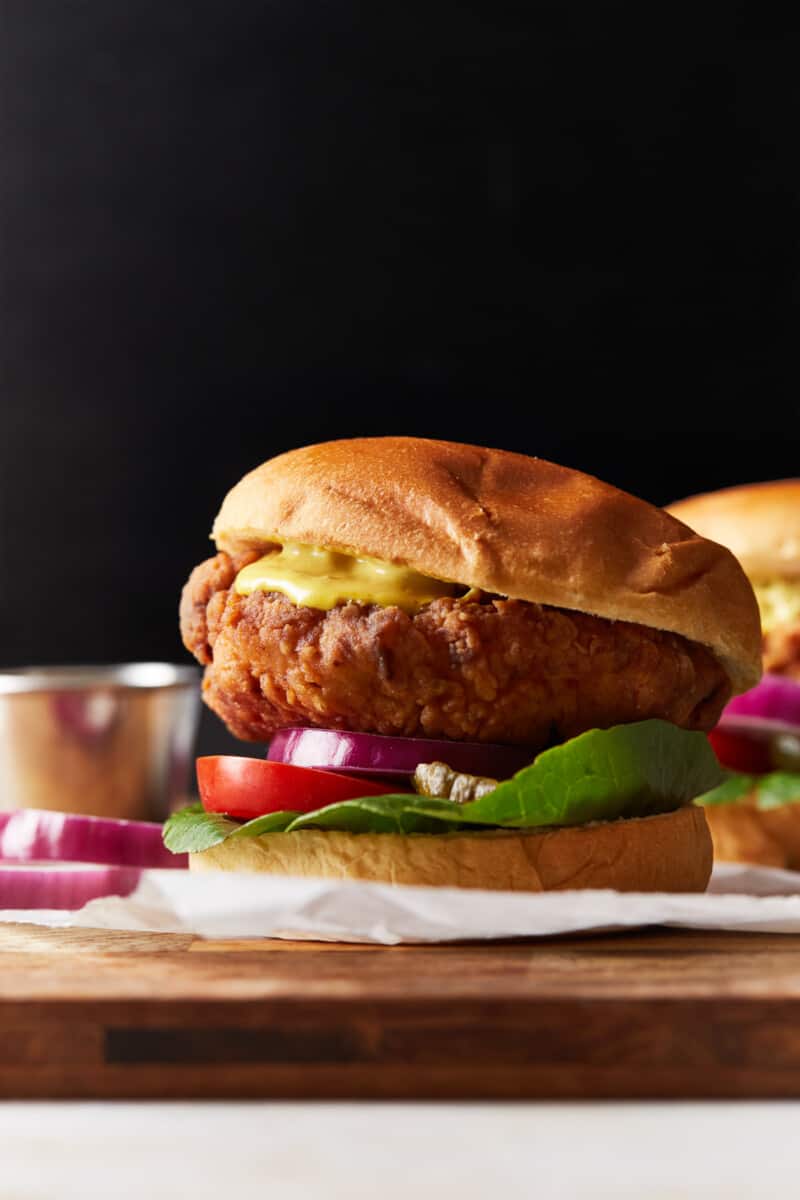 How to Store and Reheat Fried Chicken Sandwiches
I always recommend storing the chicken, buns, and toppings separately. Store the crispy chicken in an airtight container in the refrigerator for up to 3 days. Reheat in a 350°F oven for 10-15 minutes, until warmed through, then assemble the sandwiches as desired.
How to Freeze a Deluxe Crispy Chicken Sandwich
I do not recommend freezing crispy chicken sandwiches whole; however, you can absolutely freeze the fried chicken. Place the chicken in an airtight container to freeze for up to 3 months. Let thaw overnight in the refrigerator before reheating.
What to Serve with the Best Fried Chicken Sandwich
These chicken sandwiches are made to be smothered in sauce! Top them with Chick-Fil-A sauce, burger sauce, sweet and sour sauce, BBQ sauce, honey mustard, or Buffalo sauce. Turn them into chicken parm sandwiches by topping them with marinara sauce and mozzarella cheese, or make crack chicken sandwiches by adding ranch dressing, cheddar cheese, and crispy bacon!
They also go so well with all kinds of side dishes. Pair them with fast-food classics, like french fries or potato wedges, tater tots, creamed corn, coleslaw, pickles, mac and cheese, or a biscuit. Or, opt for something different like pickle chips, cucumber tomato salad, corn on the cob, ranch chicken pasta salad, or zucchini fries.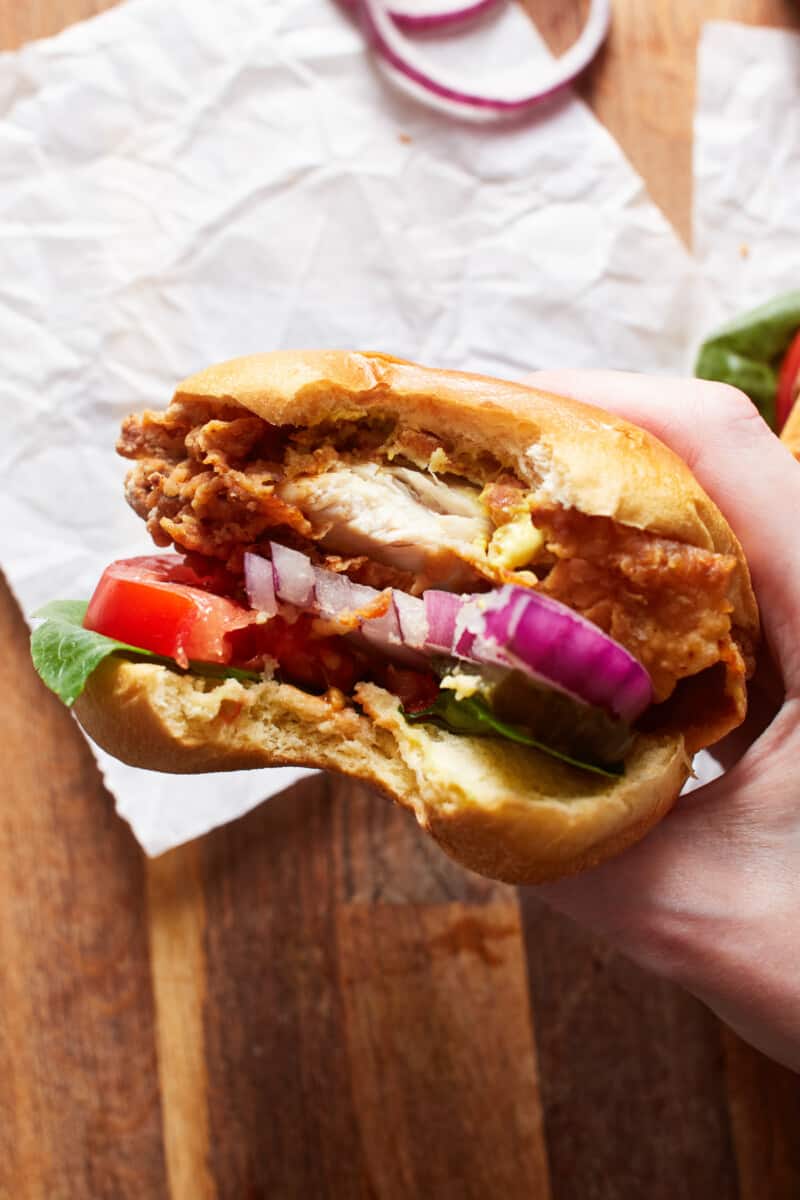 More Chicken Sandwich Recipes
More Fried Chicken Recipes We Love