These Air Fryer Baked Potatoes are made with Russet potatoes, olive oil, and salt to make the best side dish! Potatoes are one of my favorite foods, so I'm always looking for new ways to make them. And this recipe is easy enough to make any night, for any meal.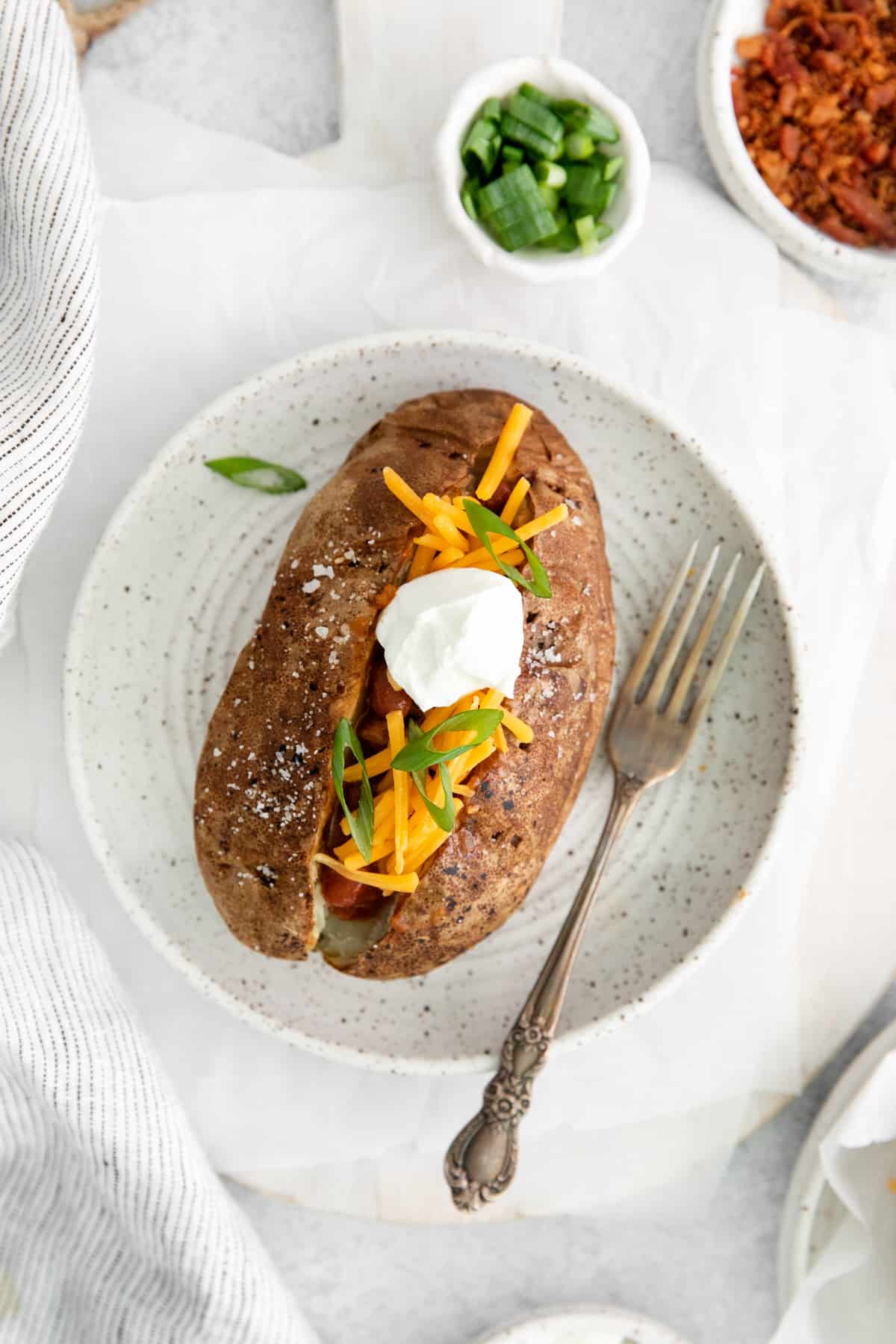 What's in Air Fried Baked Potatoes?
This easy baked potatoes recipe utilizes simple ingredients for a "wow" result. And you only need 3 ingredients and your Air Fryer!
Russet Potatoes: The classic "baking" potato. I'm using potatoes that are about 5 inches long and 2 inches wide. Be sure to scrub your potatoes well to remove all of the dirt, and poke the potatoes all over with a fork before air frying them to prevent them from accidentally bursting and creating a mess!
Olive Oil: Helps the skin on the potato crisp and helps the salt stick. Feel free to use your favorite neutral cooking oil.
Kosher Salt: Creates that crisp salty potato skin that we all love! I highly recommend kosher or sea salt, not table salt.
Pro Tip: Try rubbing these potatoes in avocado oil for a more neutral taste!
How to Spice Up Baked Potatoes in the Air Fryer
Feel free to add seasoning blends to the outside of your potatoes, such as Italian seasoning, Creole seasoning, or chili seasoning for a little extra flavor!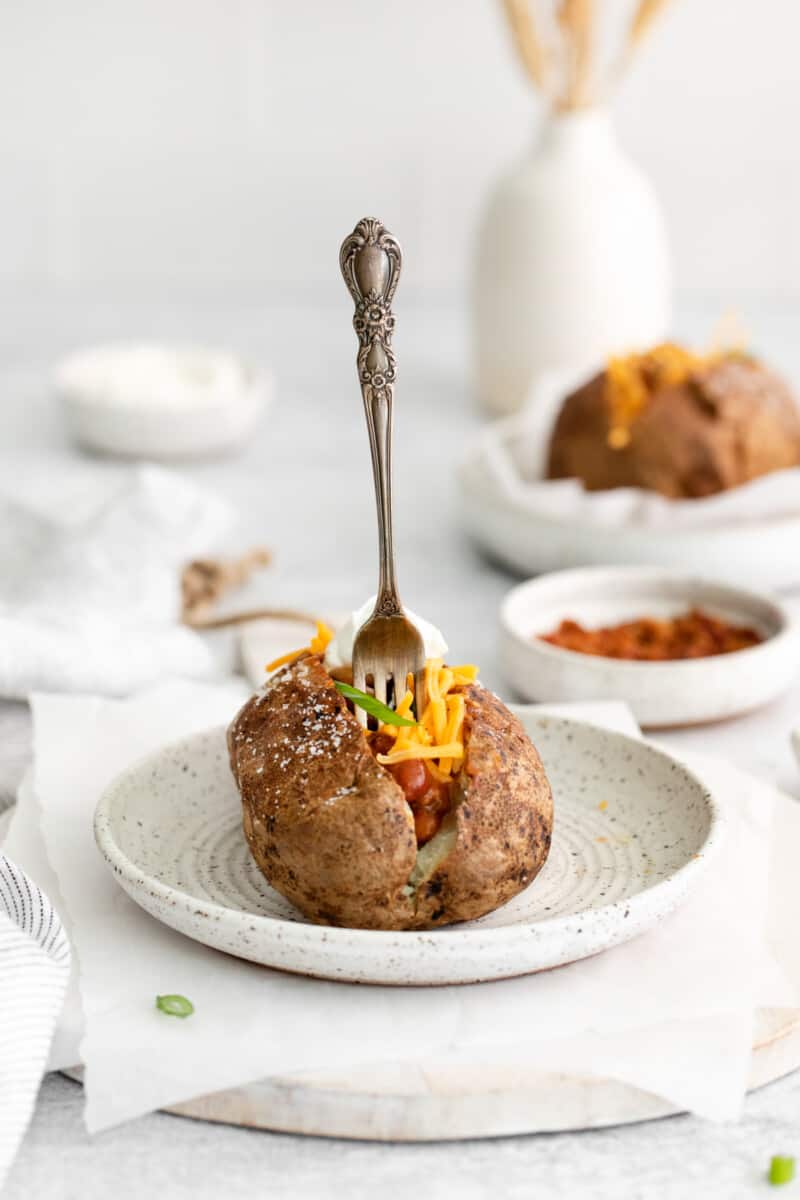 What kind of potatoes are best for making baked potatoes?
I like to use russet potatoes because they have a high starch content and a low moisture content. This leads to crispy skin and a fluffy interior!
Do I have to pierce potatoes before air frying them?
Yes, you should always pierce your potatoes before air frying them in order to let the steam release while cooking. Otherwise, the potatoes could explode, causing injury.
Should I wrap my potatoes in foil before air frying them?
No, there is no need to wrap them in foil. In fact, the foil will block the airflow and lead to soggy potatoes. Leave the potatoes unwrapped for crispier skin.
How can I tell when air fryer baked potatoes are done?
The cook time will vary depending on the size of the potatoes you select, so you should follow the timing as a guide. Check for doneness by piercing the potatoes with a knife. If the knife pierces easily, they are cooked; if not, they need more time.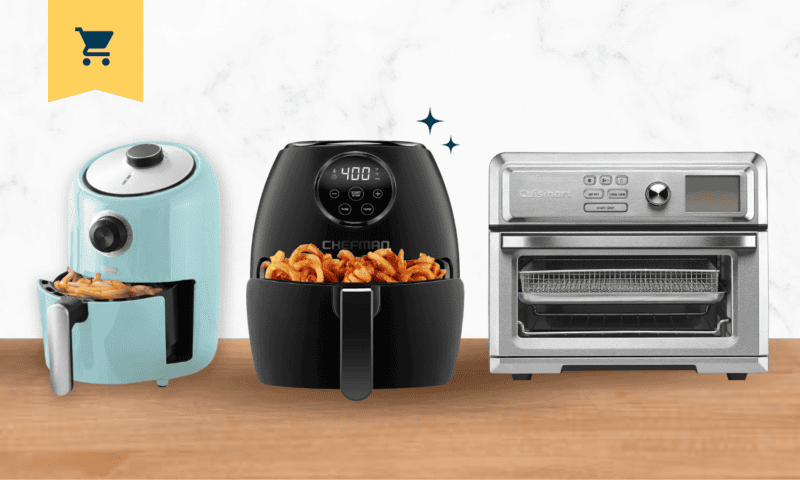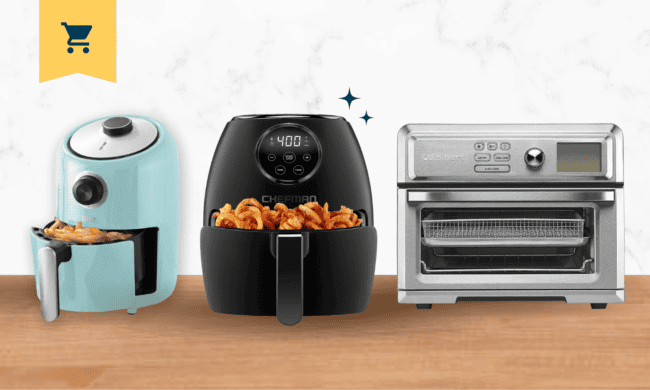 Best Small Air Fryers
We have reviewed our top 6 Small Air Fryers! Get reviews, pros, cons, and prices!
Top Small Air Fryers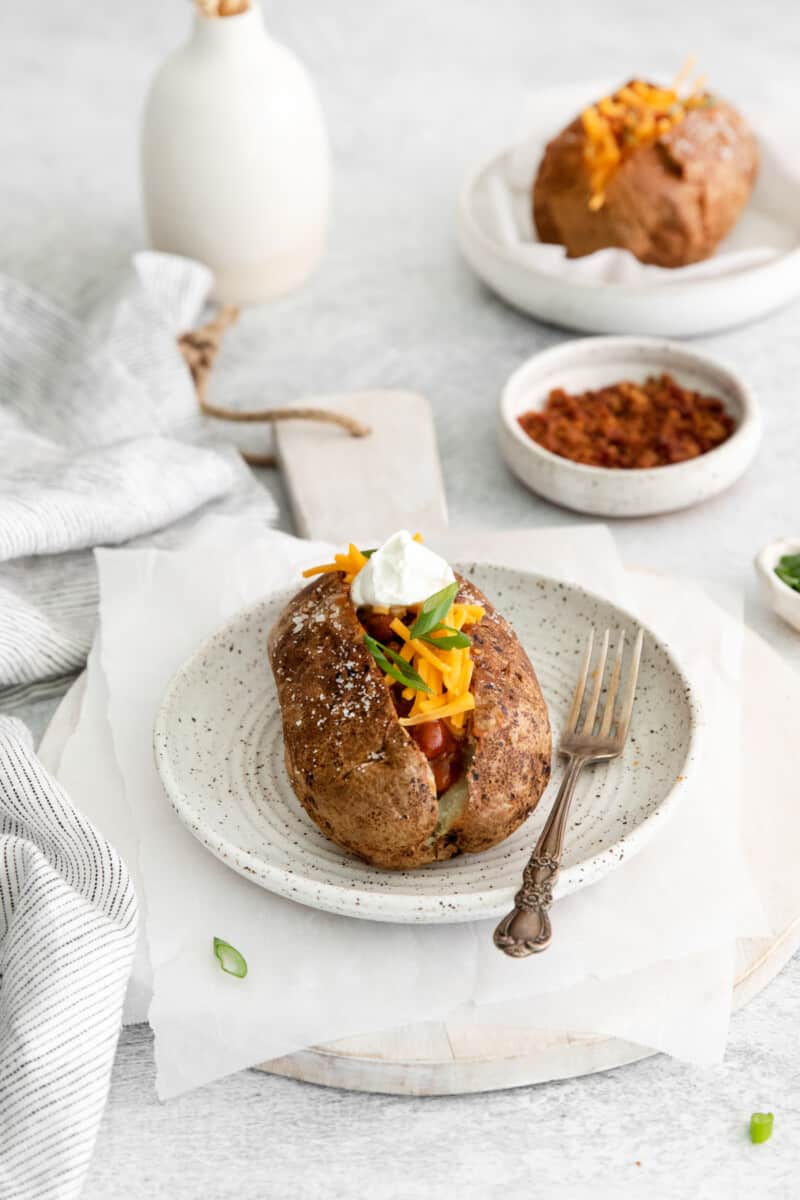 How to Store and Reheat Baked Potatoes
Store leftover air fryer baked potatoes in an airtight container in the refrigerator for up to 3 days. Reheat in a 400°F air fryer for 4-5 minutes or in a 350°F oven for 15-20 minutes.
How to Freeze Easy Baked Potatoes
Freeze air fryer baked potatoes wrapped in 2 layers of plastic wrap and 1 layer of aluminum foil for up to 6 months. Let thaw overnight in the refrigerator before reheating.
What to Serve with Air Fryer Baked Potatoes
Whether cooked in the oven or made in an Air Fryer, baked potatoes are best served with plenty of toppings. Add sour cream, shredded cheese, chopped bacon crumbles, chili, sliced green onion, butter, broccoli bits, and anything you desire.
Cooking baked potatoes in the air fryer frees up time and space for your main dish, and this side pairs well with anything you like, such as Grilled Chicken Breast, Crockpot Beef Tenderloin, Grilled Flank Steak with Cilantro Lime Butter, or Instant Pot Meatloaf.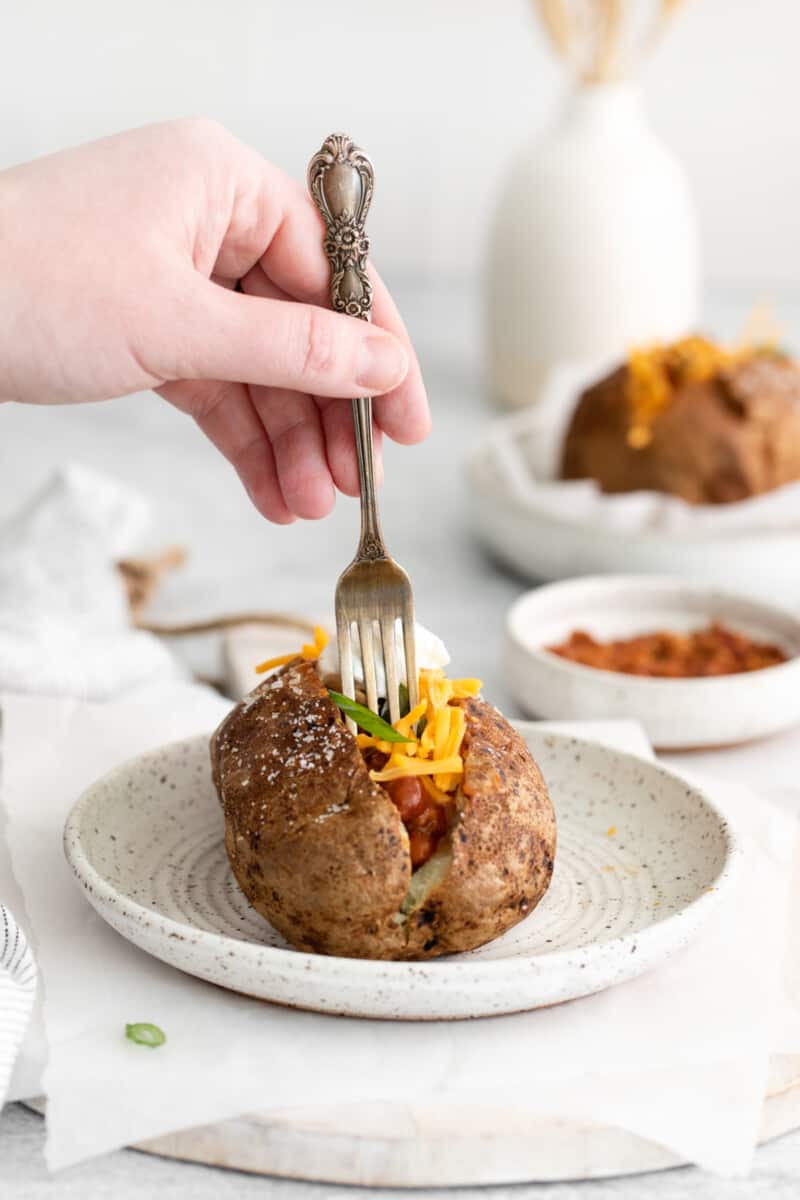 More Baked Potato Recipes We Love