This is one of my favorite recipes to reach for on a busy weeknight. One pan, bursting with bold color, and full of your favorite Mexican food flavors, this Mexican Street Corn Chicken can be served in a large bowl, as street tacos, or on top of leafy greens. Ready to dive into the perfect weeknight meal?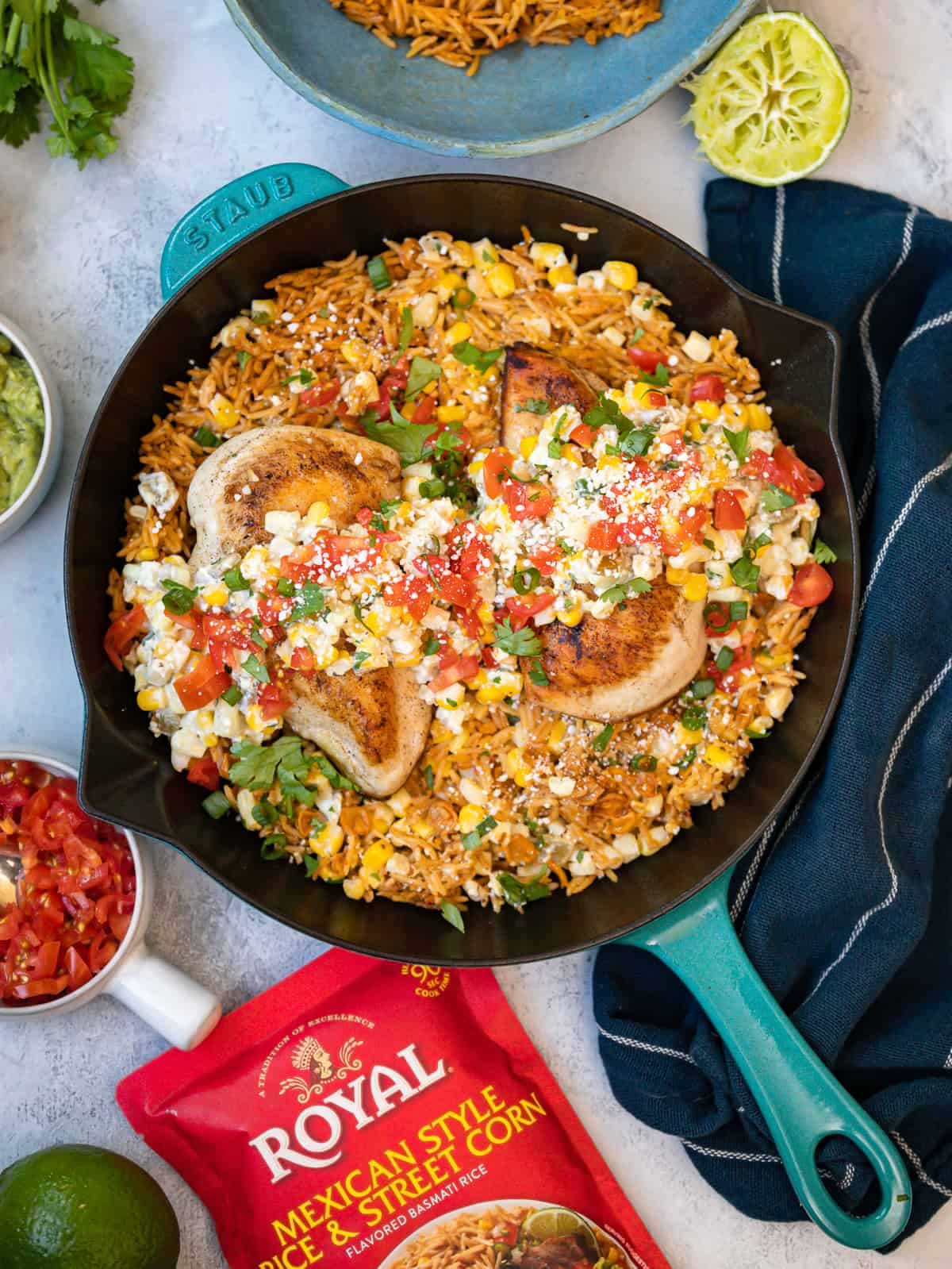 What's in Street Corn Chicken?
Full of simple ingredients, this flavorful chicken comes together in less than an hour.
Chicken Breasts: Thinly sliced chicken breasts work best.
Salt + Pepper: To taste!
Butter: I'm using unsalted for this recipe.
Royal Ready-to-Heat Mexican Style Rice & Street Corn: Packed with flavor and helps cut cooking time!
Frozen Corn: A few more corn kernels never hurt anyone.
Cilantro: Finely chopped fresh cilantro is a must!
Cotija Cheese: Feel free to use queso fresco too!
Diced Green Chiles: A mellow, yet nuanced flavor profile.
Garlic: Minced!
Jalapeño: Remove seeds and membrane if spice isn't your thing.
Lime Juice: Go fresh if you can!
Roma Tomatoes: I like Roma, but your favorite tomato is welcome too.
Pro Tips
For a less spicy dish, omit the jalapeño.
Serve with tortilla chips to scoop up leftover rice and corn salsa.
Top with fresh avocado slices for a pop of color and amazing flavor.
Reserve a lime or two to squeeze fresh lime juice on each plate before serving.
Variations on Elote Chicken
There are many ways to change up this street corn chicken skillet to suit your personal tastes!
To make it spicier, feel free to add some cayenne pepper, fajita seasoning, or adobo seasoning in step 6. To make it less spicy, reduce or omit the jalapeño.
For a loaded Mexican street corn chicken skillet, add a drained can of black beans and diced red bell peppers to the corn mixture.
You can also top your street corn chicken with a mixture of ½ cup of plain Greek yogurt or sour cream, 2 tablespoons of lime juice, and 1-2 tablespoons of hot sauce or taco sauce to get that classic street corn creaminess!
Have corn tortillas on hand? Taco Tuesday never looked so good.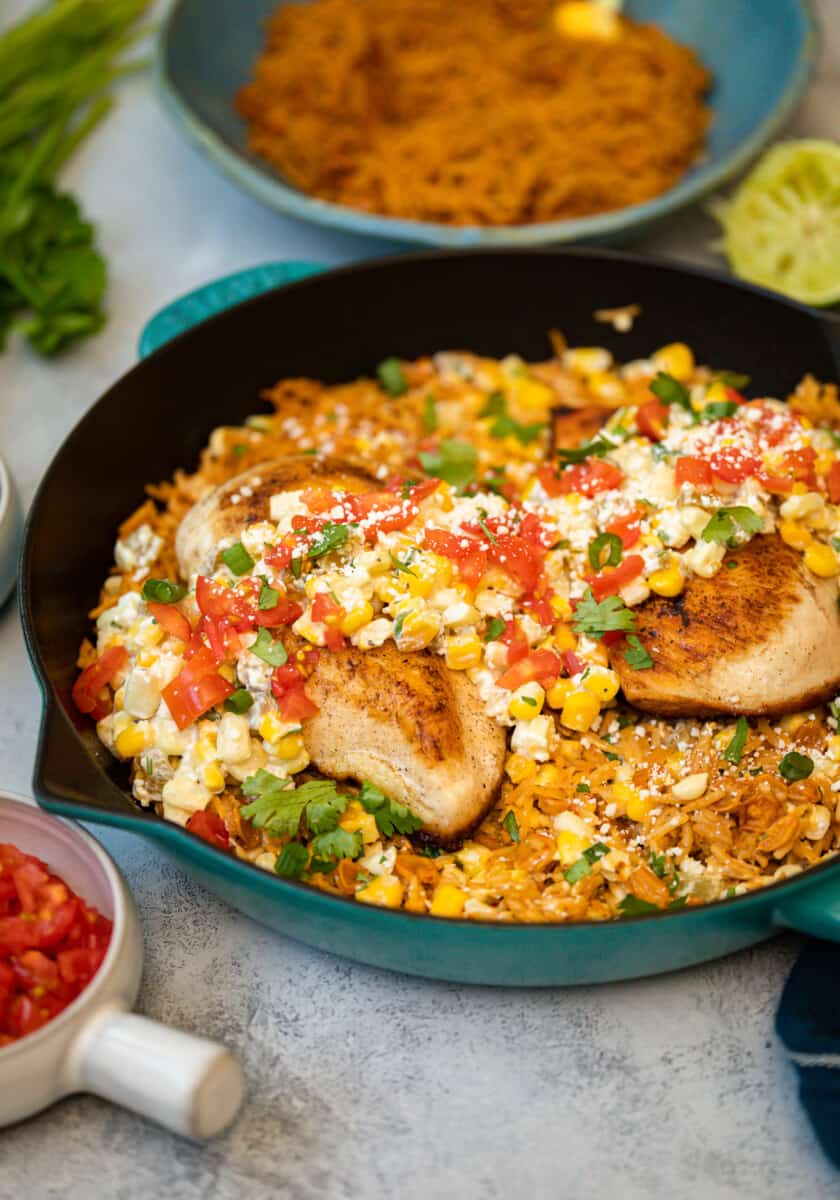 Trademark Note: In the spirit of transparency, I want to note that some of these ingredients are trademarked products. Authentic Royal is a proprietary brand that I want to acknowledge and give credit to.
What is street corn?
Mexican street corn, also known as Elote or Esquites, is a delicious street food that's now become a popular side dish, appetizer, and snack. It's grilled corn with a Mexican crema (mayo sauce), usually topped with chili powder, lime, and cheese.

Is Mexican street corn chicken gluten-free?
Yes, this dish is naturally gluten-free. According to the manufacturer, Royal Ready-to-Heat Mexican Style Rice & Street Corn is also gluten-free.
Can I make street corn chicken in a crockpot instead?
I don't recommend making this dish in a crockpot, as the rice will likely overcook.
Is this skillet spicy?
Between the jalapeño and green chiles, this dish is pretty spicy. Feel free to leave those out if you prefer! You can also add creamy avocado and use frozen sweet corn to help balance the spice level.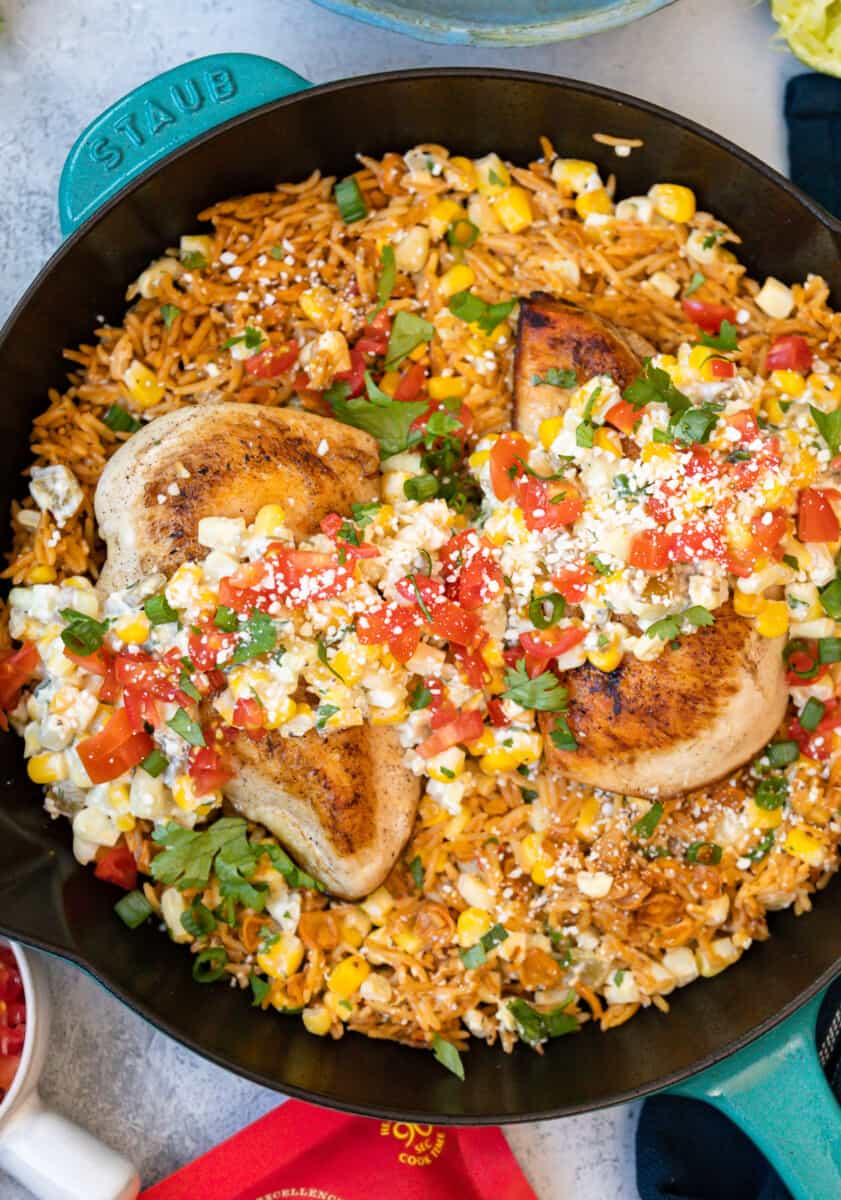 How to Store and Reheat Chicken Street Corn Skillet
Store leftover Mexican street corn chicken in an airtight container in the refrigerator for up to 3 days. Reheat in the microwave in 30-second bursts until warmed through.
How to Freeze Chicken Elote
Freeze Mexican street corn chicken in an airtight container or Ziplock bag for up to 1 month. Let thaw overnight in the refrigerator before reheating.
What to Serve with Mexican Street Corn Skillet Chicken
While this recipe brings a whole meal to the table in just one pan, that doesn't mean you have to skip the appetizers. As the chicken cooks, serve up these Foil Packet Nachos alongside a Pineapple Agua Fresca or Frozen Margarita to whet their appetite. Then finish the night with a slice of decadent Tres Leches Cake.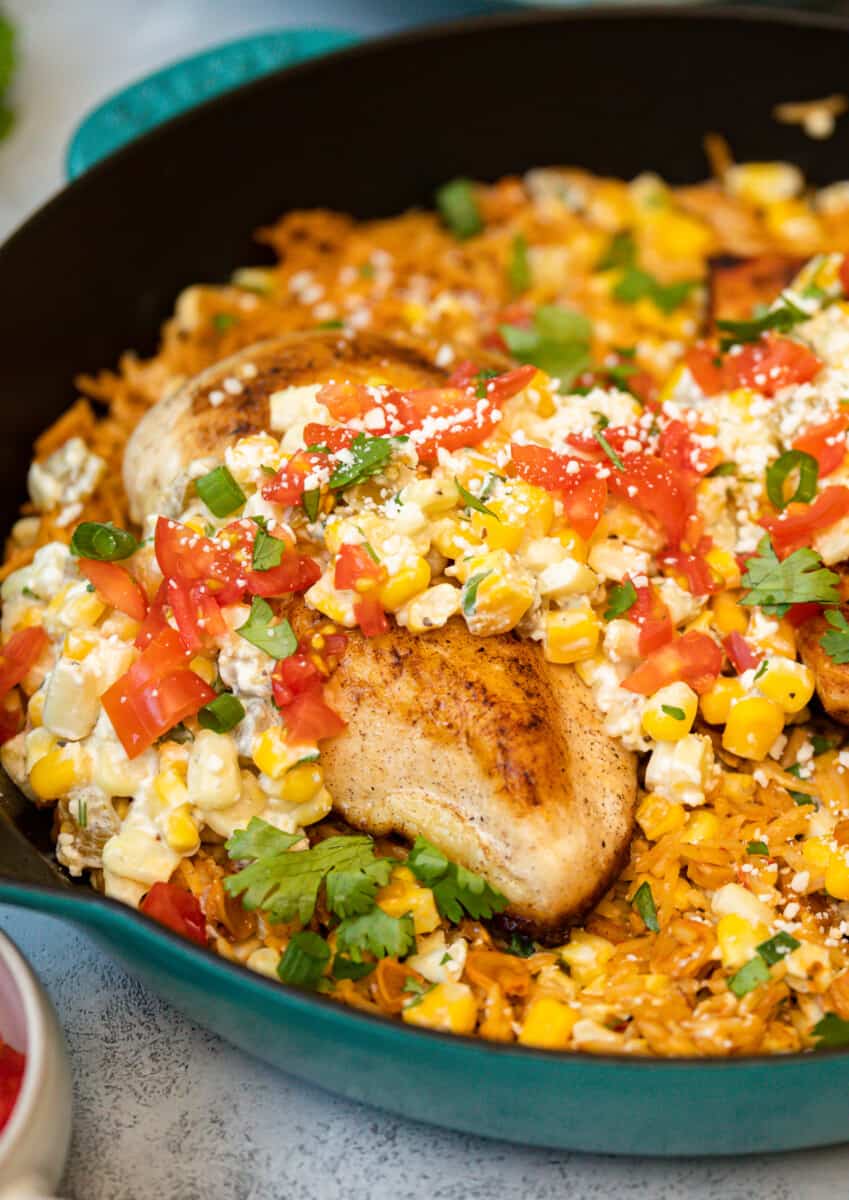 More Street Corn Recipes We Love