This post is sponsored by Bob's Red Mill. All opinions are my own.
Tres Leches cake is a beautifully-light sponge cake that is sure to please. Soaked in a sweet mixture of three milks, and topped with whipped cream, it's utterly delicious! This homemade dessert is so easy to make, and its perfect texture will make every bite a delight.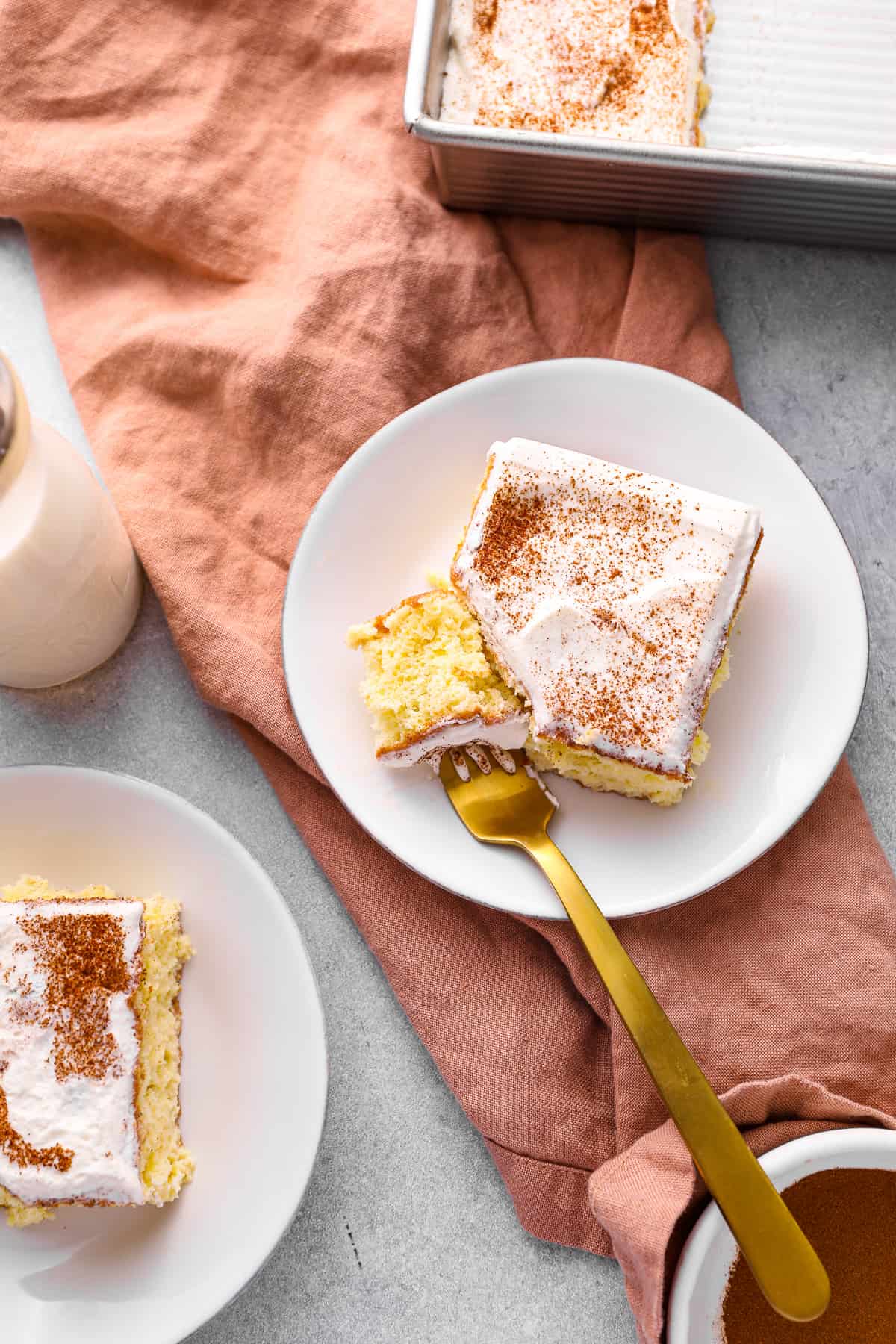 Best Tres Leches Cake Recipe
If you're looking for a simple yet delicious dessert to serve for any occasion, this easy tres leches cake will serve you well!
The light flavor, airy yet moist texture, and fluffy whipped topping make every bite just perfect. This is a great sheet cake to make ahead of time, for holidays, birthdays, or any day that needs a little celebration.
A dusting of cinnamon on top adds a beautiful twist of flavor, or serve it up with fresh berries.
Why You'll Love this Tres Leches Cake Recipe:
LIGHT & AIRY: This sponge cake is beautifully light, airy, and fluffy, while still being moist and creamy. It's truly the most delectable texture!
EASY: Making this dessert is so simple and straightforward. Just whip up the cake, let it soak in the three milk mixture, and it's ready to serve.
FAMILY FAVORITE: Everyone will love this delicious cake! It has such a simple flavor, yet it's so addicting. Serve it up on birthdays or holidays for a surefire hit.
This homemade tres leches cake is a favorite for Cinco de Mayo celebrations! As a traditional-style dessert from Latin America, it will be right at home.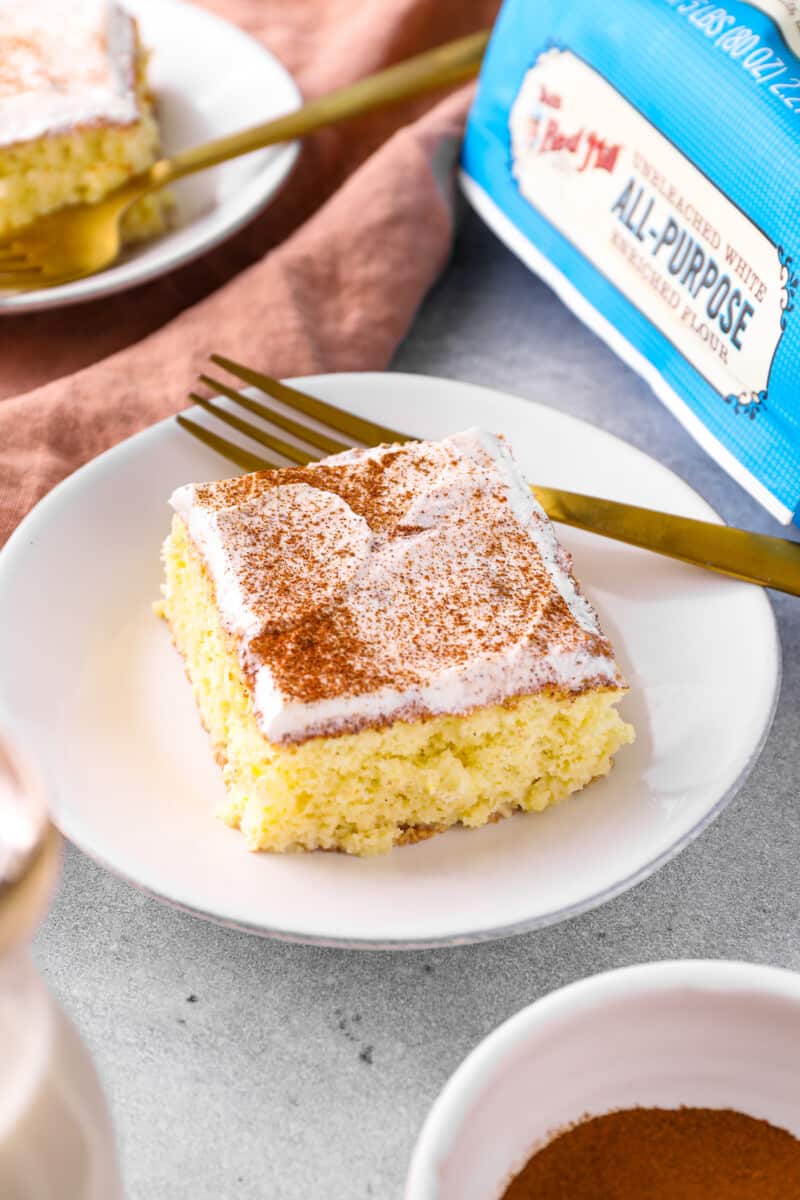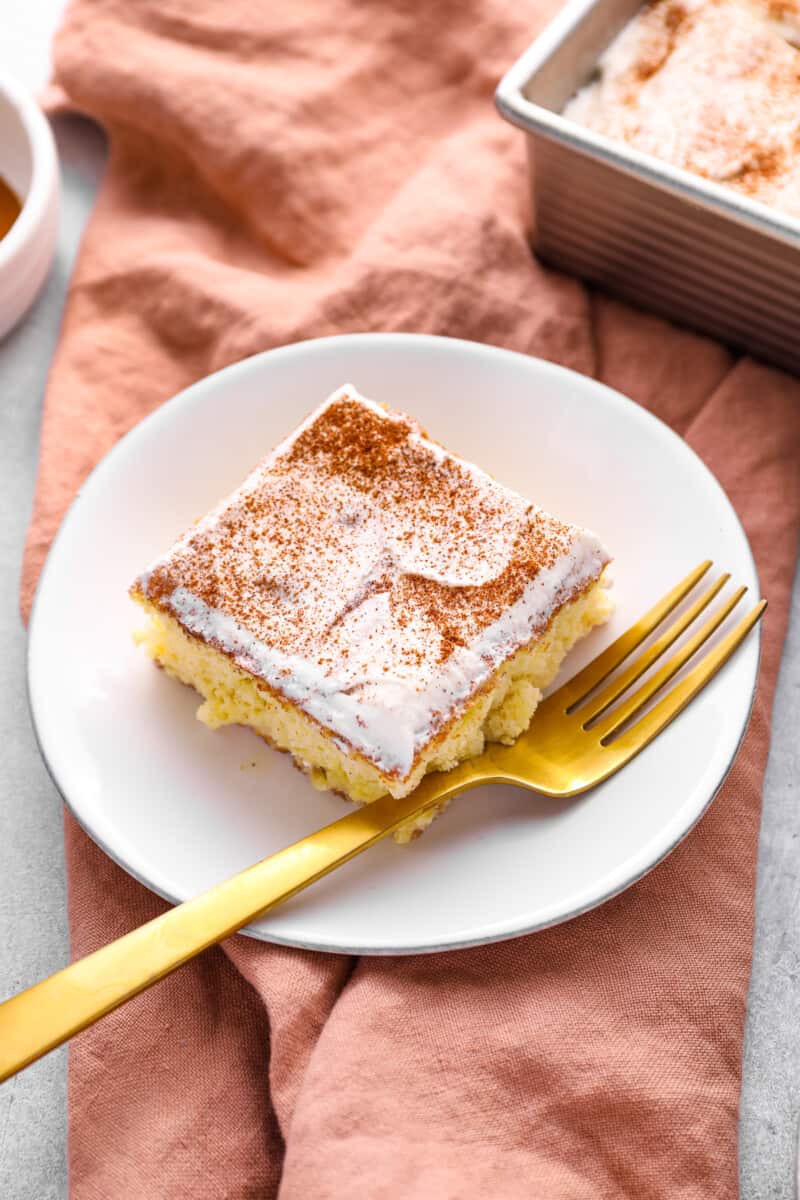 Quality Ingredients
For this recipe I used Bob's Red Mill's Unbleached White All Purpose Flour. We use this in every baking recipe that calls for all purpose flour and it has never let us down.
The ingredients when baking are so important. I trust Bob's Red Mill completely and cannot recommend them enough.
I love the resealable bag and trusted name. Bob's Red Mill prides itself on quality and it shows
Here are some of my favorite recipes using Bob's products: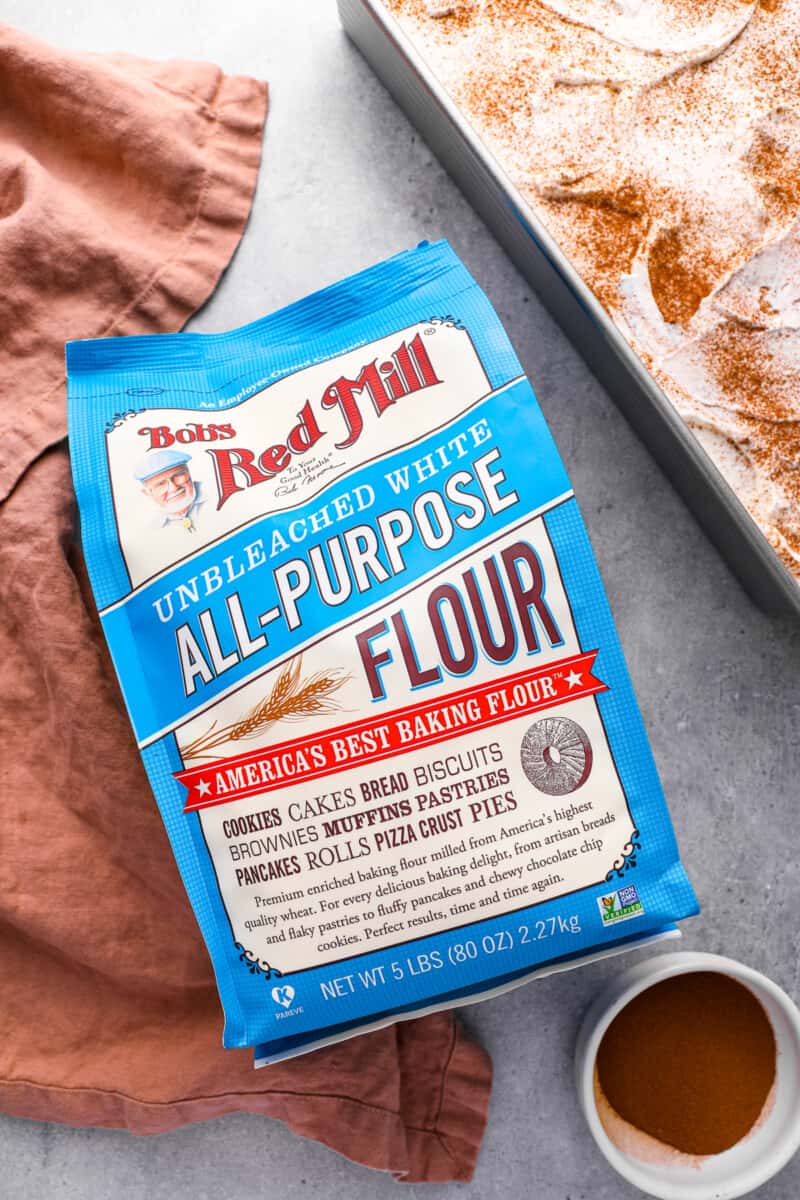 How to Make Tres Leches Cake
You can jump to the recipe card for full ingredients & instructions!
Preheat oven and prepare a baking pan.
Combine ingredients to make the cake batter, and pour into the pan.
Bake, and then let cool on a wire rack.
While the cake cools, combine the three milks.
Poke holes into the cooled cake, and pour the milk mixture over it.
Let the cake cool at room temp, then cover and refrigerate to chill.
Before serving, combine ingredients to make the whipped topping. Top, sprinkle with cinnamon, slice, and serve!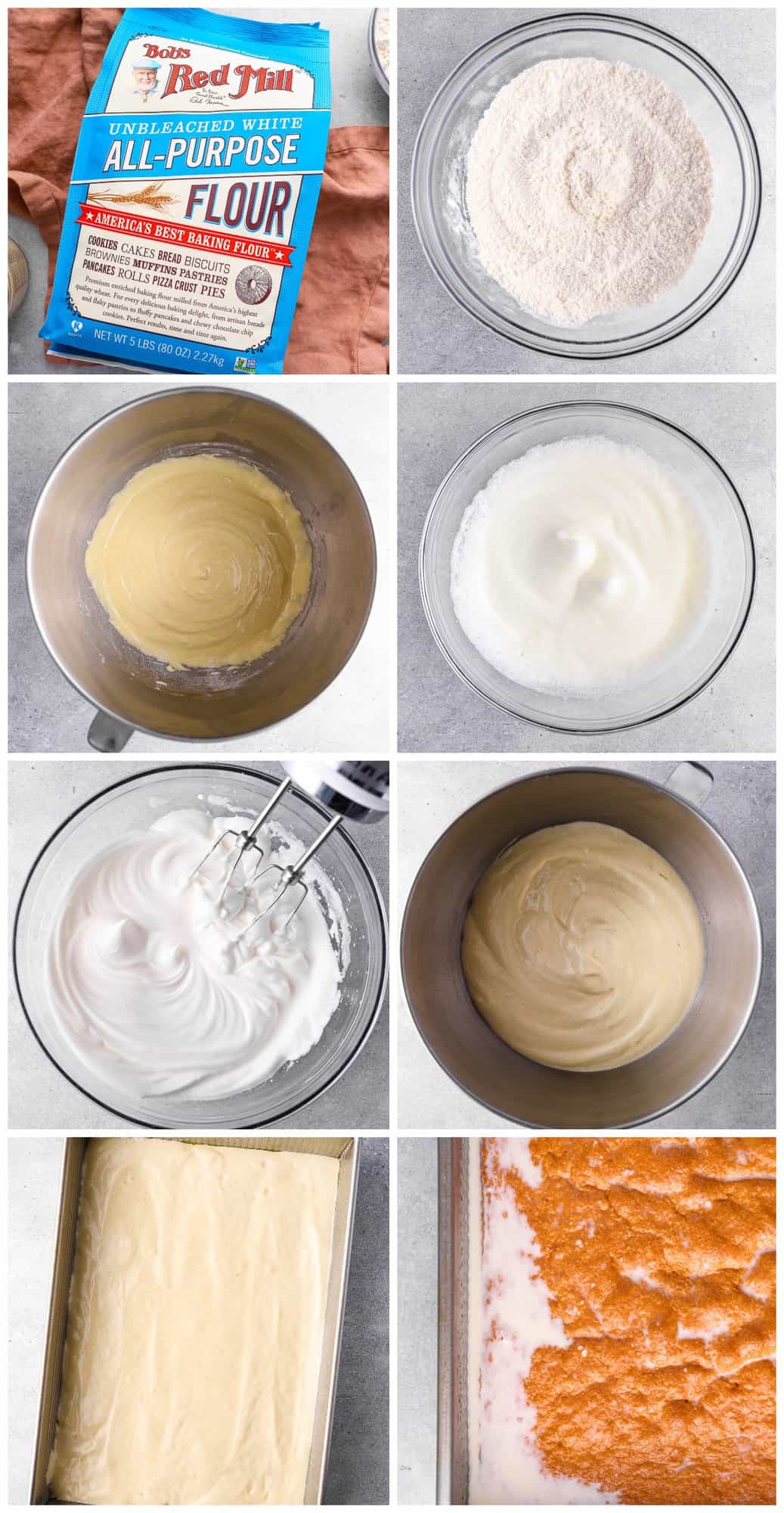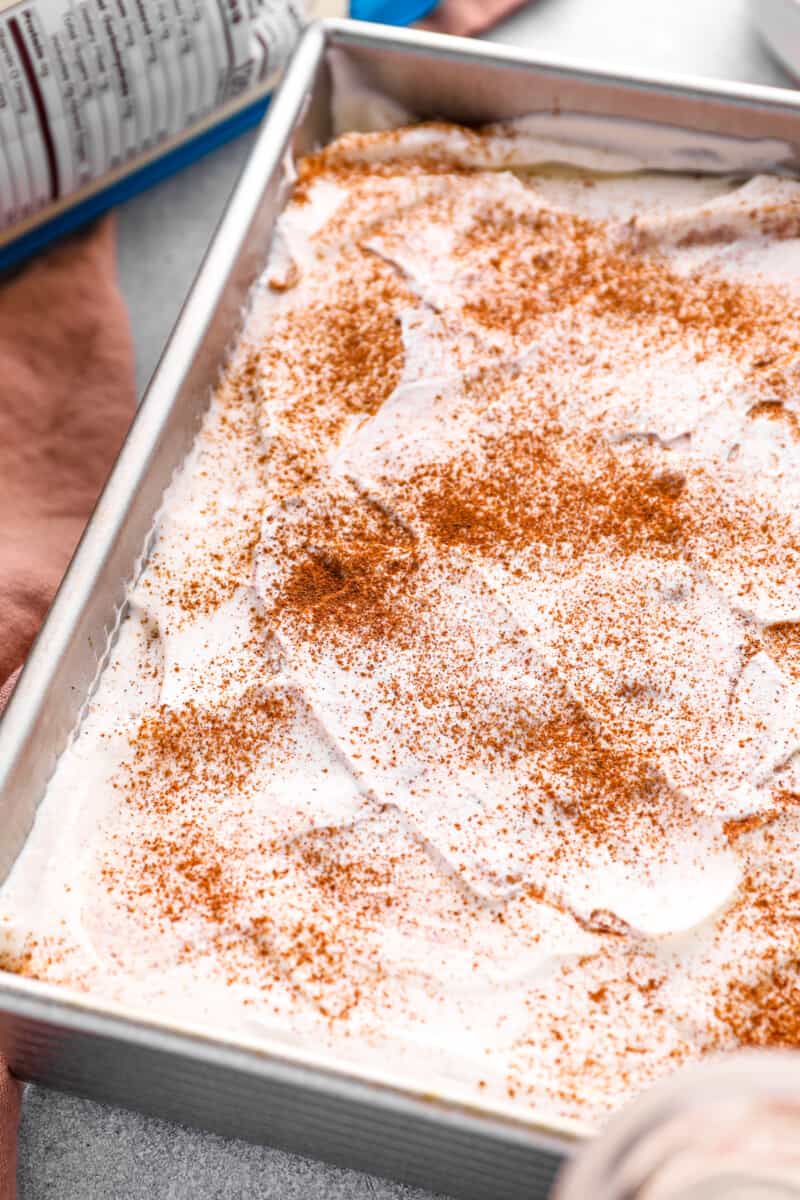 What is tres leches cake?
Tres leches cake is a light and airy Latin American sponge cake that is soaked in a sweet milk mixture and topped with a whipped cream frosting. "Tres leches" is Spanish for "three milks". The three milks in this recipe are sweetened condensed milk, evaporated milk, and heavy whipping cream.
Is there really no butter or oil in tres leches cake?
Yep! But I promise you won't miss it. The milk mixture makes this cake extremely moist without needing any butter or oil.
Why didn't my tres leches cake rise properly?
If your tres leches cake came out a bit flat, it is likely that the batter was overmixed. The main leavening agent in this cake is egg whites, so it is important to whip them well and gently fold them into the batter. If the batter is overmixed, the egg whites will deflate and the cake will end up dense and flat.
Why isn't my tres leches cake absorbing the milk mixture?
If your tres leches cake is not absorbing the milk after several hours, it is possible that the batter was overmixed. Overmixed batter loses its airy, spongey texture, which makes the cake heavy, dense, and non-absorbent. Be sure to poke the cake all over with the skewer to help it absorb the mixture.
Is tres leches cake supposed to be soggy?
No! Tres leches cake should be super moist, but not soggy. To prevent the milk mixture from pooling, be sure spread the cake batter evenly before baking. A level cake will absorb the mixture more evenly.
This cake is the perfect thing to serve up for any occasion, or for no occasion at all! It makes a great birthday cake, but would be just as welcome on Christmas or another holiday.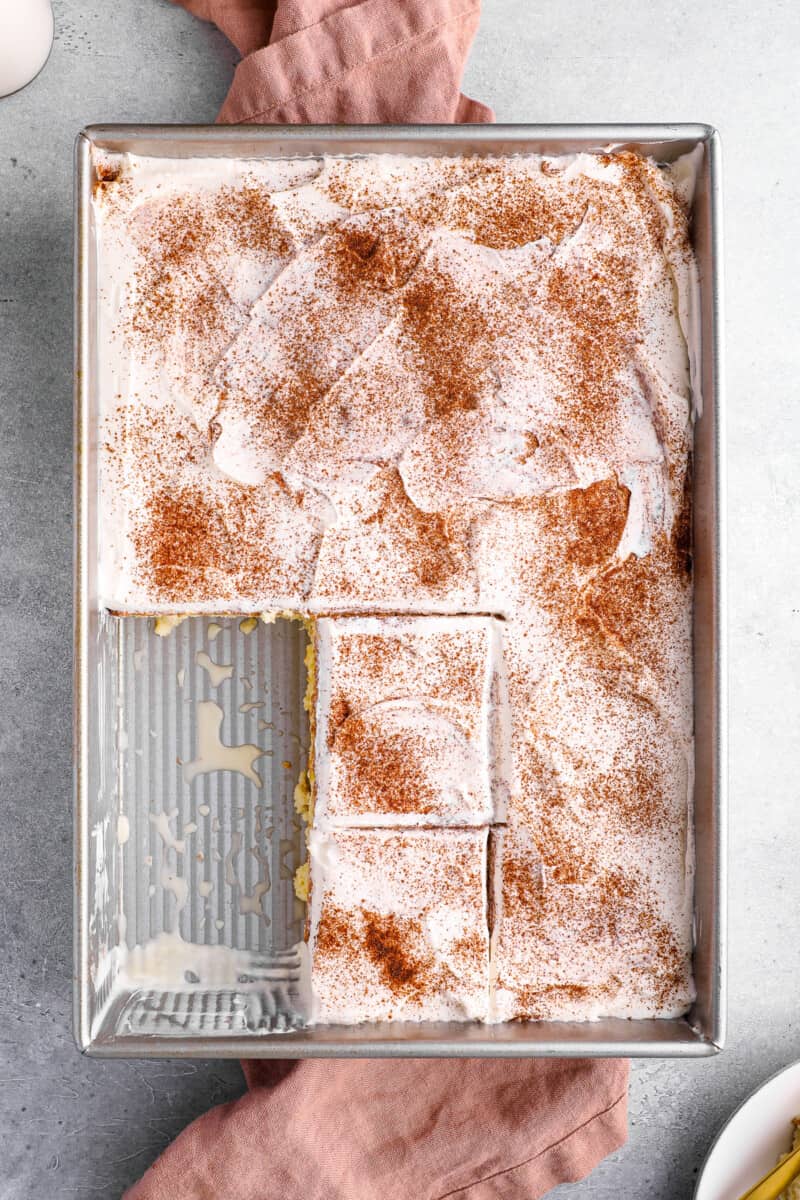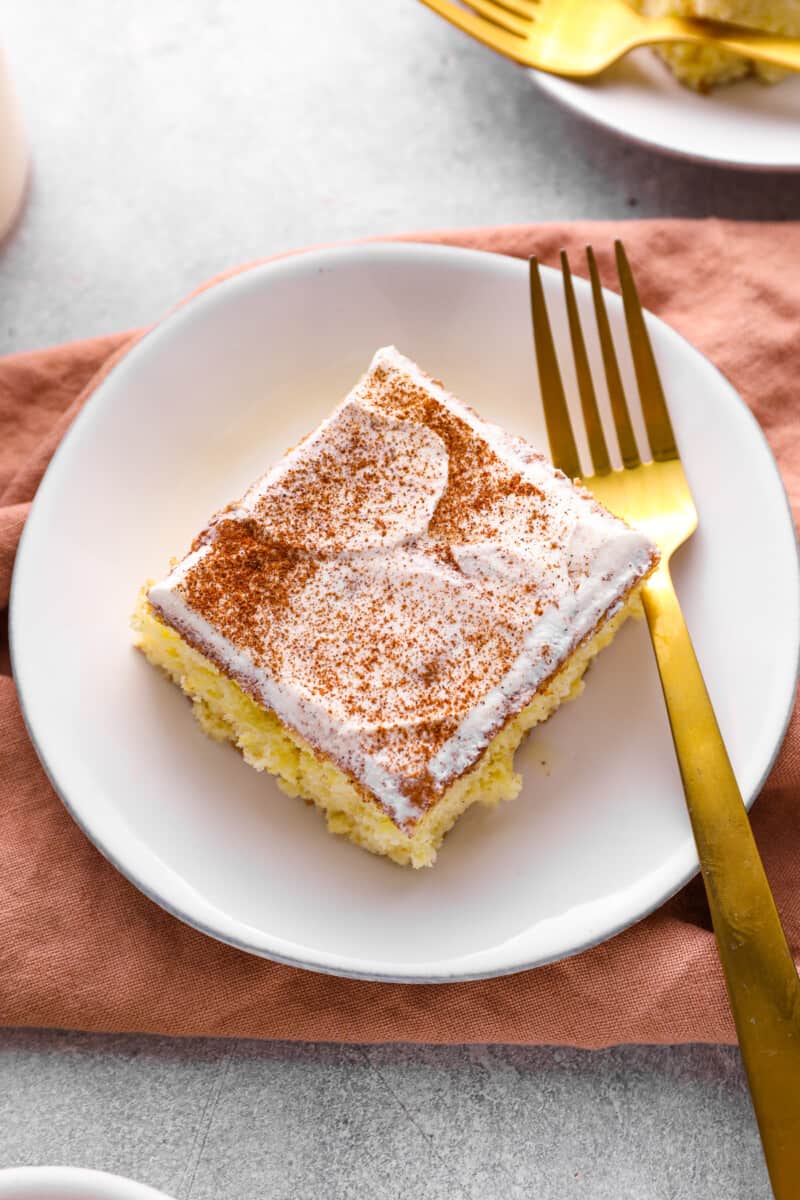 Make Ahead Instructions
Tres leches cake can be made up to 2 days in advance of when you plan to serve it. In fact, I find that this cake is best made the day before, as this gives it plenty of time to soak up the milk mixture! Store the cake tightly covered in the refrigerator until ready to serve.
Storage Instructions
Store leftover tres leches cake tightly covered in the refrigerator for up to 4 days. Keep in mind that after 2 days, the whipped cream topping will begin to deflate.
Freezing Instructions
The only part of tres leches cake that can successfully be frozen is the cake itself. Do not soak in the milk mixture or top with whipped cream before freezing. To freeze, tightly wrap the cake in 2 layers of plastic wrap and 1 layer of aluminum foil for up to 3 months. Let thaw overnight in the refrigerator before soaking and topping.
Decorating Tres Leches Cake
The traditional topping for tres leches cake is a whipped cream frosting and a dusting of ground cinnamon. However, you can also serve the cake with fresh berries! Strawberries are traditional, but blueberries, raspberries, or a mixture of all 3 would be delicious! You could also top this cake with a drizzle of caramel, chocolate sauce, or dulce de leche!
Tips for the Best Tres Leches Cake
Be sure to spoon and level the dry ingredients to prevent a dry, dense cake.
Cold eggs are easier to separate into whites and yolks than room temperature eggs.
To whip the egg whites, use a clean bowl and ensure there are no yolk remnants in the whites. Any fat will hinder the whipping.
Gently fold the egg whites into the batter to prevent deflating.
When pouring the cake into the baking pan, spread the batter evenly to create a level cake that will soak up the milk more evenly.
Let the cake soak in the milk mixture for at least 4 hours before serving. This will allow the cake ample time to soak in the milk evenly and become moist and tender.
Do not top the cake with whipped cream until it has fully chilled; otherwise, the whipped cream will melt into the cake.
I recommend waiting to top the cake with the whipped cream until just before you plan to serve it, especially if you are preparing it in advance.
If you plan to leave this cake out for an extended period of time in warm conditions, you may wish to use stabilized whipped cream to prevent deflating.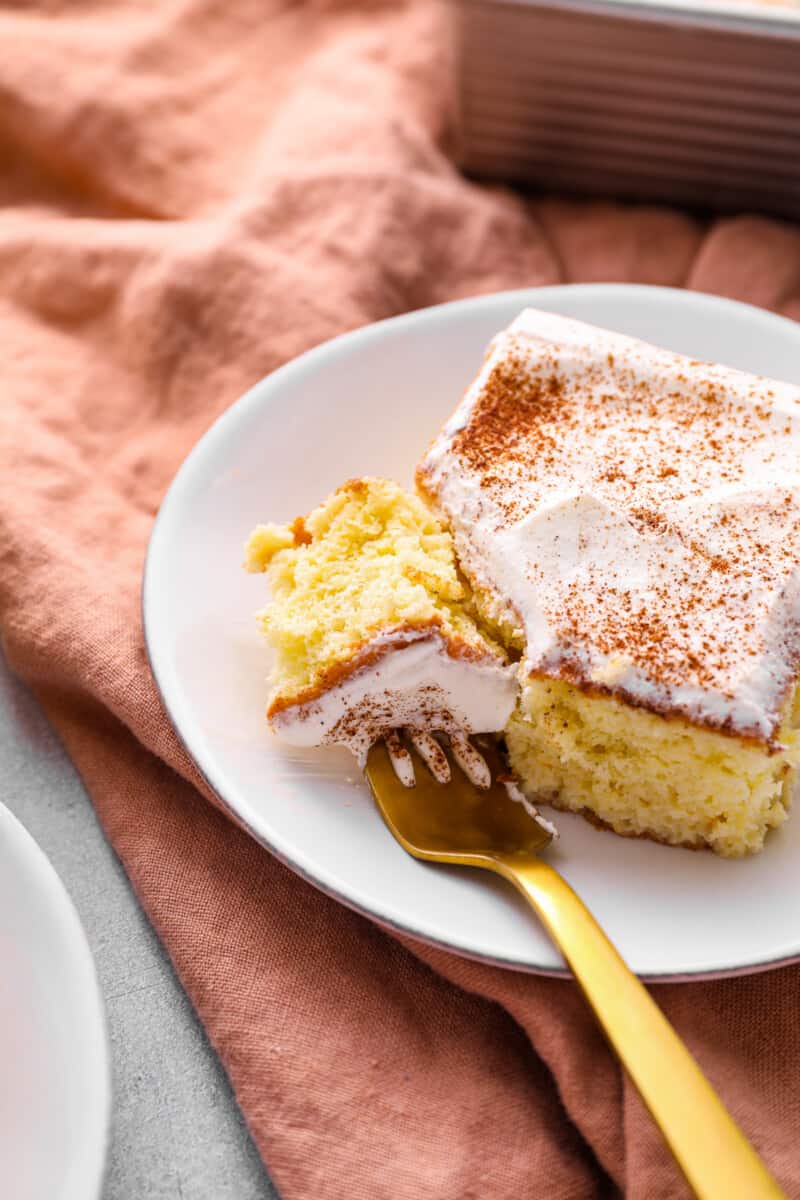 Everyone will be pleased when you whip up this tres leches cake! You can't beat the texture or the simple flavor. It's simply delicious!
If you make this recipe be sure to upload a photo in the comment section below or leave a rating. Enjoy! You can also jump to recipe.