This Cheesy Bacon Gnocchi Bake is the ultimate comfort food! It's easy, full of everything I love (gnocchi, bacon, and CHEESE), and it can be made in minutes. We are obsessed with this baked gnocchi casserole recipe. The entire family will love it!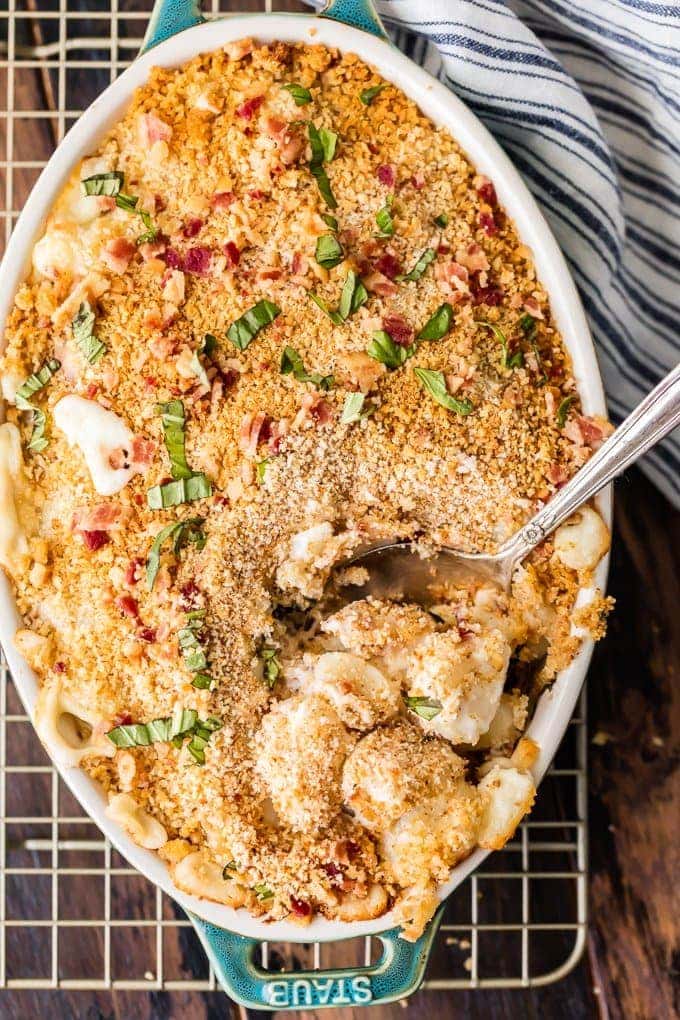 Gnocchi Bake with Cheese and Bacon
Cheesy Bacon Gnocchi Bake for the win win win! Sometimes you just need an easy cheesy recipe that you can pop in the oven, let everything melt and bake together, and take it out and enjoy. This baked gnocchi recipe is the perfect cheesy dinner.
This is not the blog for making gnocchi by hand…so don't you worry about that. This is the kind of blog where we take little shortcuts to get cooked meals on the table for your family, and this gnocchi bake is one of my recent favorites!
I love the flavor combination, I love the ease of the recipe, and I love the hearty comfort food feeling. Everyone loved it from my husband to my 10 month old…so it's a winner for us! Are you ready to enjoy?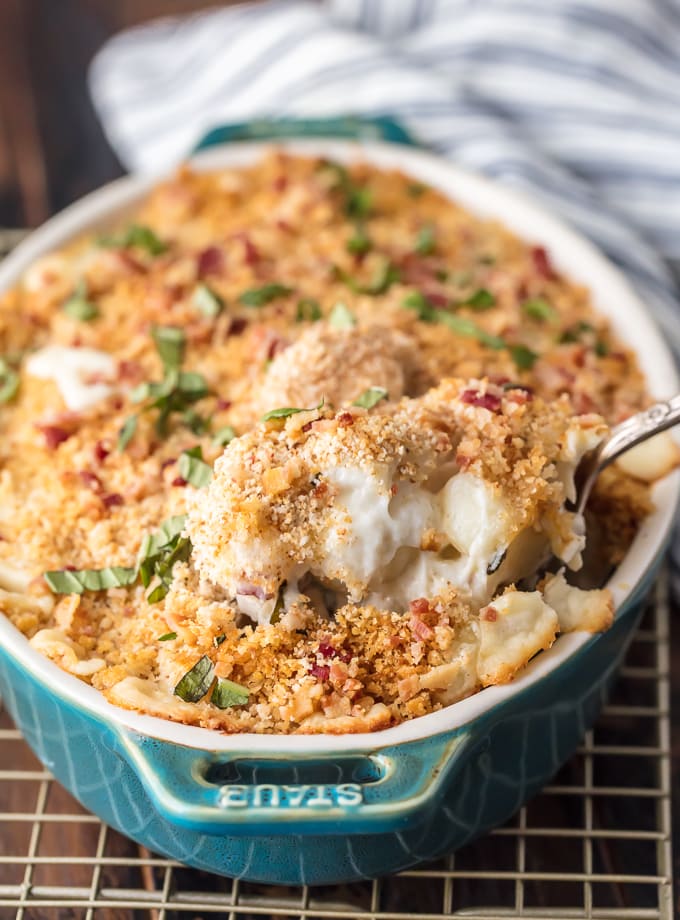 Baked Gnocchi Recipe
I've only ever eaten gnocchi one other time and I loved it that time as well. It's such a thick and delicious pasta. All the flavor soaks right in.
Gnocchi bakes are a great alternative to traditional pastas. You can even think of this as a baked gnocchi casserole, the way the ingredients and flavors all bake together in perfect harmony.
You guys…the flavor is insane!
If you've loved some of my other recipes, like Chicken Parmesan Pasta or Baked Mexican Macaroni and Cheese, I believe you'll love this recipe as well. Those are both so simple and tasty as well, and if you love those, you really get me.
Variations: Be sure to try our Chicken Alfredo Gnocchi Bake or Pepperoni Pizza Gnocchi Bake versions too!
Is Gnocchi considered a pasta?
In this gnocchi bake, we're using gnocchi the same way we might use a pasta. Gnocchi is considered a dumpling, as it's traditionally made out of dough or potatoes. While technically gnocchi is not pasta, it is used and eaten in the same manner. So often gnocchi is lumped in with pastas.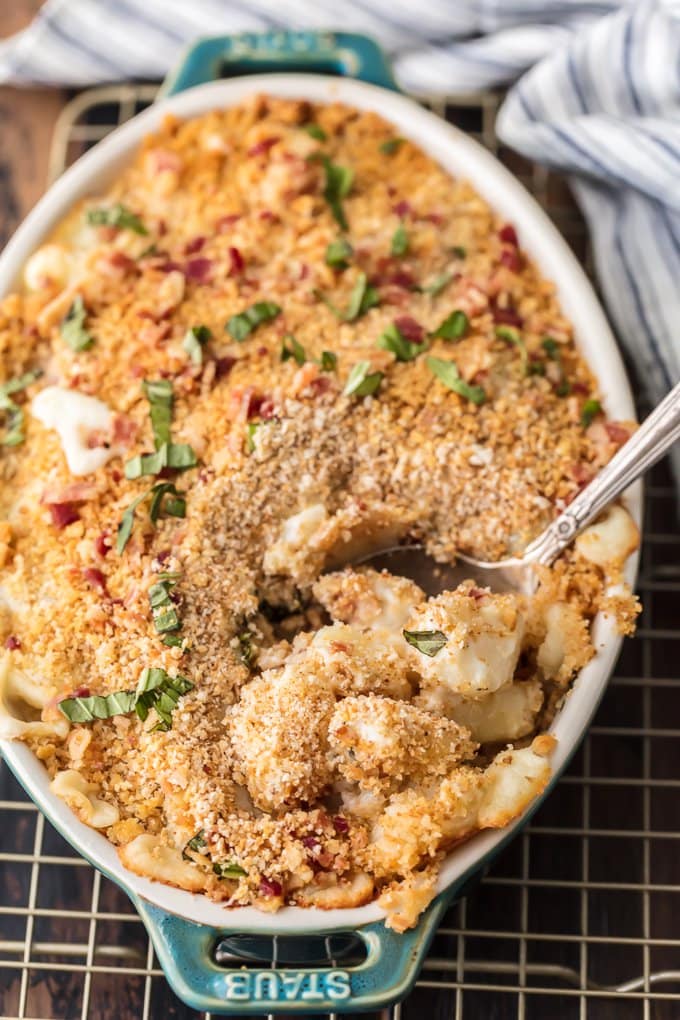 What to serve with gnocchi
Gnocchi is best served with sauces, cheese, and vegetables in the same way you would serve pasta. I can be served simply by pouring a fresh tomato sauce over the dumplings, or you can get more creative and serve them in a gnocchi bake or casserole.
This cheesy bacon gnocchi bake contains the most delicious ingredients
Fresh, melted mozzarella cheese
Fragrant basil
Savory bits of bacon
Grated Parmesan cheese
If that's got your mouth watering, then you absolutely need to try out this baked gnocchi recipe!
I cannot wait for you to try this amazing gnocchi bake. This would be an awesome romantic meal to make for your honey for Valentine's Day! We can keep it between us that it was SO DARN EASY to put together. No one needs to know that. Our little secret.
How do you cook gnocchi?
Gnocchi can be cooked in several ways. It really is so versatile! Making a gnocchi bake is just one of many ways to cook it.
You can also boil gnocchi the same way you boil pasta:
Bring salted water to a boil on high heat
Drop the gnocchi in and stir
Cook the gnocchi for just a few minutes (they don't take as long as pasta)
Gnocchi will float to the top when they're cooked
Don't overcook the gnocchi–make sure you keep an eye on them!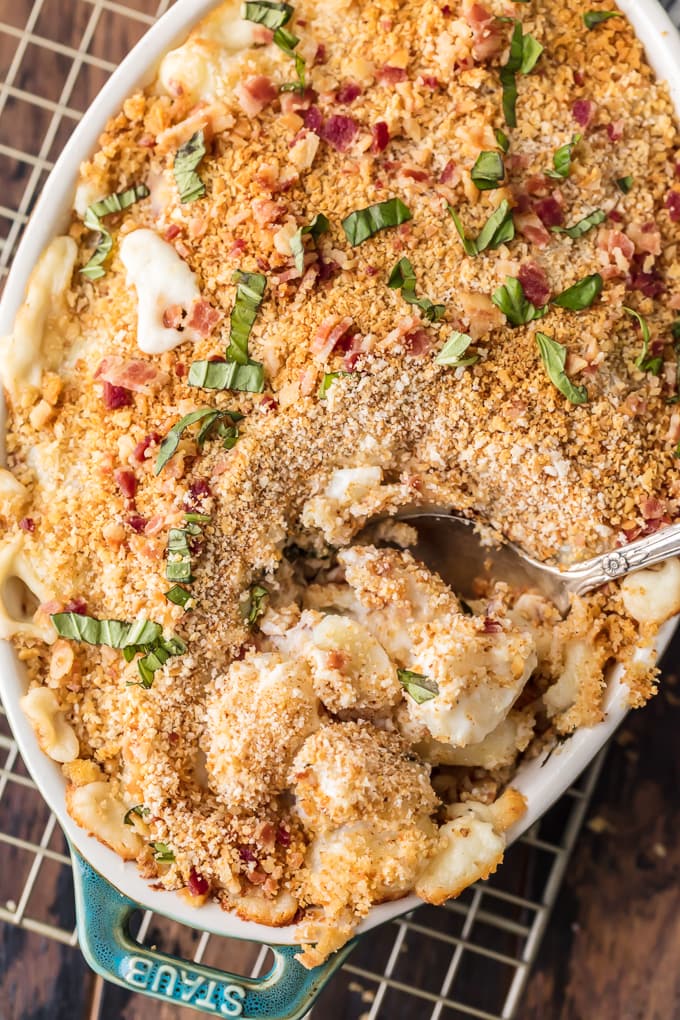 I hope you love this cheesy bacon gnocchi bake as much as we do! This baked gnocchi recipe is a great alternative to traditional casserole dish.
See recipe card for details on how to make this Cheesy Bacon Gnocchi Bake. Enjoy!
Try these other dinner recipes while you're here: