These Brown Sugar Chocolate Chip Cookies (our family calls them Cow Chip Cookies, you can guess why haha) are made with light brown sugar, butter, and chocolate chips. They're super easy to make and, without a doubt my favorite cookie ever. Big and crispy chocolate chip cookies are a tradition in our family.Trust me: they're very addictive!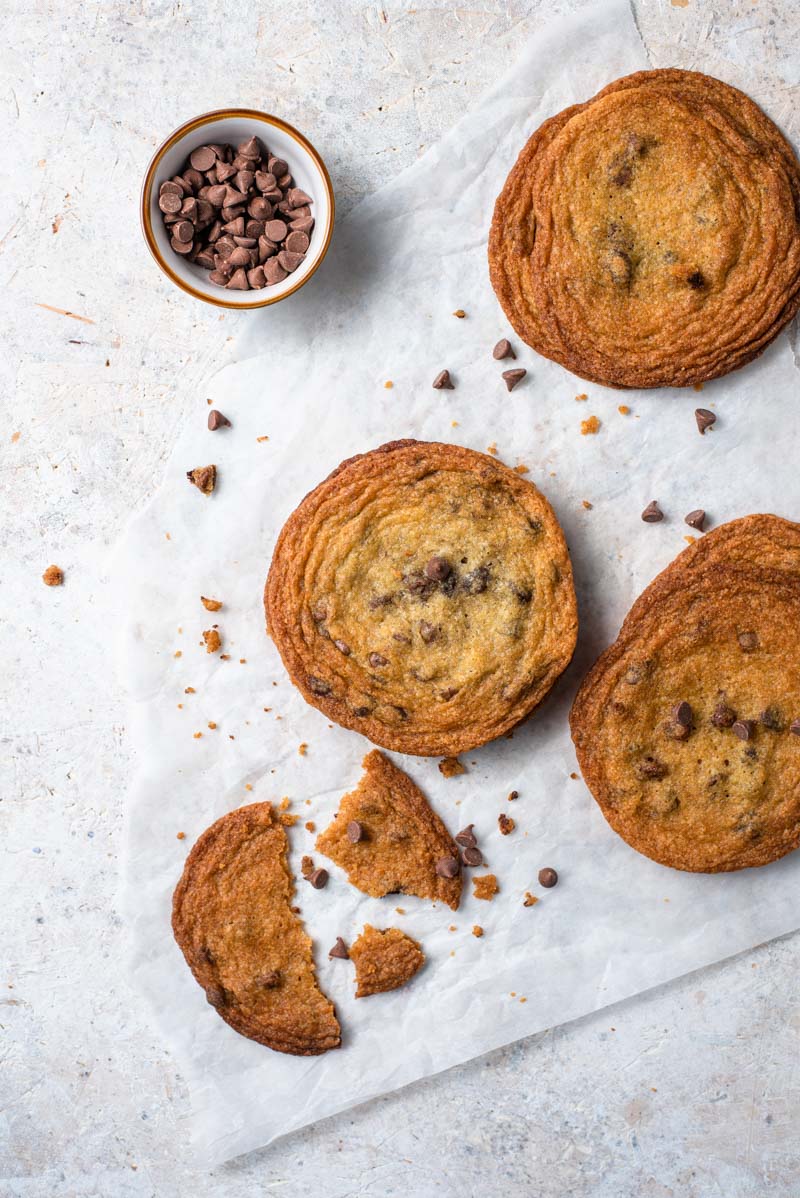 Crispy Chocolate Chip Cookies with Brown Sugar
These Chocolate chip brown sugar cookies are my favorite cookie of all time– and that's saying something. My mom used to own a cookie company, so when it comes to cookies, she knows a thing or two.
I'll be the first to admit that these cookies will never be mistaken for healthy food, but that's okay! There's nothing wrong with treats in moderation, and these are so delicious that I know you'll be won over. My mom adapted this recipe from Martha Stewart…so you know it's good.
Mom has always called these gems "Cow Chip Cookies," and I think you can figure out why. It always gave us a laugh growing up every time we requested them!
Why You'll Love Brown Sugar Chocolate Chip Cookies:
They're decadently delicious: Sugar, butter, and chocolate all come together to make the most outrageously scrumptious cookies you've ever tasted.
They're impressive: These giant chocolate-studded cookies will impress everyone who sees them. They're based on a cookie store recipe, after all!
They're quick and easy: No chilling time required, no rolling, no frosting needed. Just mix, scoop and bake.
How to Make Brown Sugar Cookies with Chocolate Chips
You can jump to the recipe card for full ingredients & instructions!
Cream butter until smooth; add sugars, and beat until smooth. Beat in eggs and vanilla.
Sift together dry ingredients into a large bowl. Slowly beat dry ingredients into the wet mixture. Fold in chocolate chips.
Drop spoonfuls of dough per cookie onto prepared baking sheets, allowing for spreading. Plan on approximately 6 cookies per sheet.
Bake until golden; remove cookies from the oven, but keep on the baking sheets for 10 minutes before removing to cooling racks.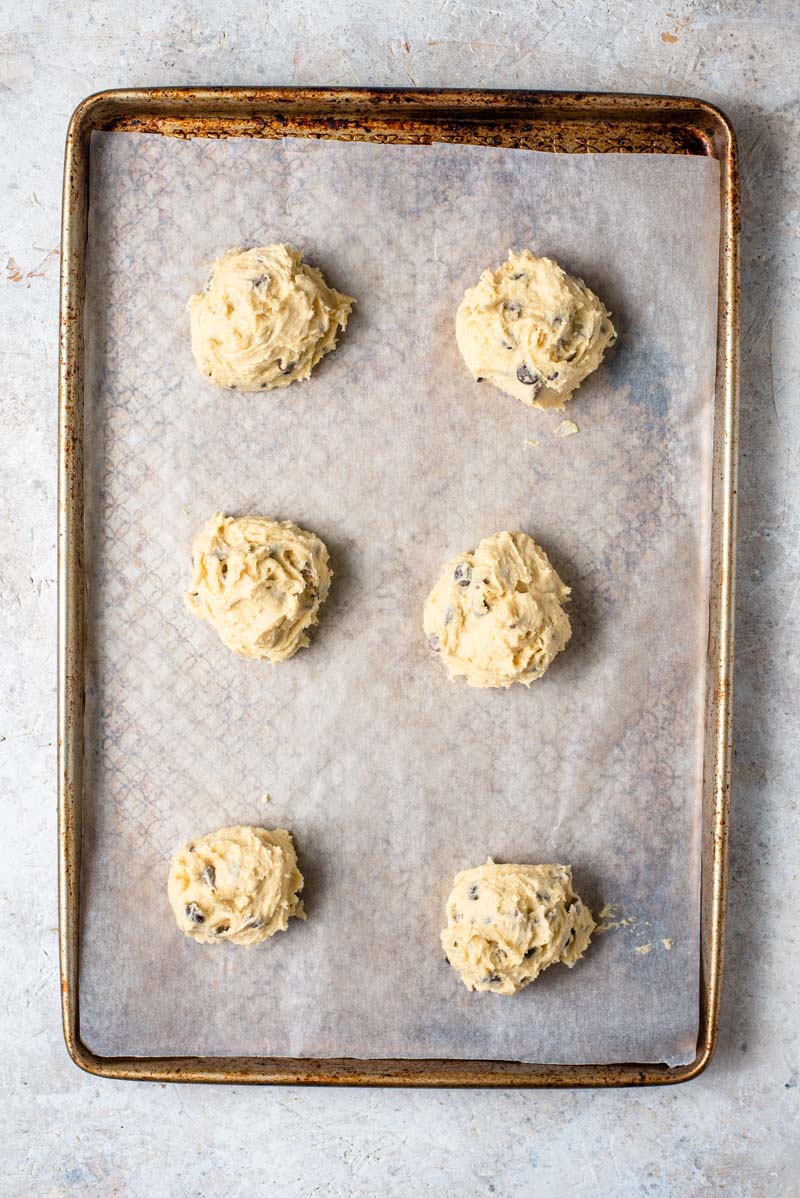 Brown Sugar Cookies with Chocolate Chips- Variations and Flavors
Why not try white chocolate chips or butterscotch chips?
You can add some citrus zest to the dough (lime, orange, or lemon).
How about using different extracts instead of vanilla? Rum or orange could be tasty.
You can also add colorful sprinkles instead of chocolate chips.
More Chocolate Chip Recipes we Love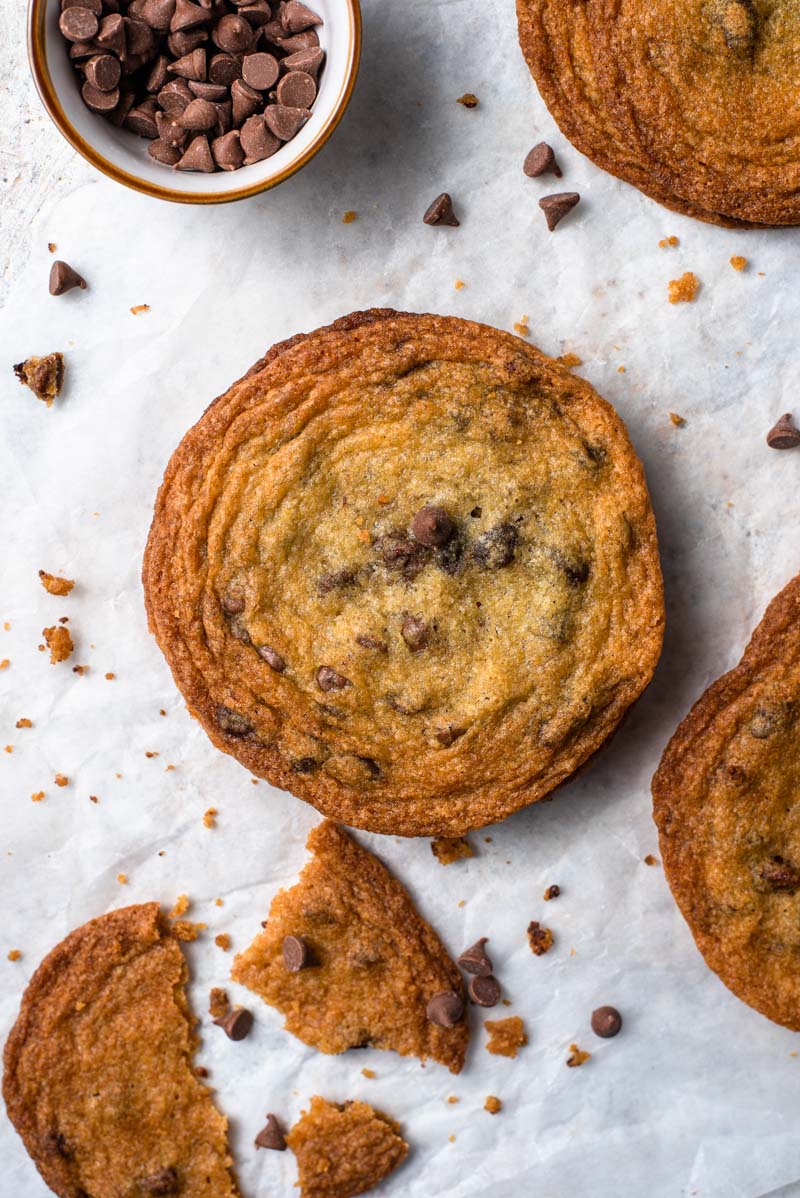 What type of chocolate chips work best in this recipe?
Use whatever type you prefer: milk chocolate, semi-sweet, dark, white, or a combination. What matters most is that the chips you use should be of high quality. Bargain chips may have a waxier consistency and inferior flavor.
Do I need a cookie scoop for this recipe?
No. A scoop ensures that each cookie is the same size, and you can achieve this by using a tablespoon measure to ensure evenly sized cookies.
What's the difference between light and dark brown sugar?
Darkness is achieved by adding molasses to white sugar. More molasses means cookies will come out darker, moister, and with a caramelized finish.
Tips!
Make sure your butter is at room temperature before mixing.
Use a tablespoon measure to scoop out the dough. This will help you get even-sized cookies.
You can use any type of chocolate chips you like for this recipe.
I use light brown sugar to make these cookies. Dark brown sugar will make the cookies look darker and have a richer caramelized flavor.
You can make these cookies immediately or cover the dough and refrigerate until you are ready to bake.
Make sure to line the baking tray with parchment paper, so the cookies don't stick.
More Cookie Recipes You Might Like:
If you make this recipe be sure to upload a photo in the comment section below or leave a rating. Enjoy! You can also jump to recipe.