ONE PAN CHICKEN AND VEGGIES is the ultimate weeknight meal. It's an easy go-to when you need something delicious and simple. The Honey Garlic Chicken with asparagus and potatoes is a full, well-balanced meal all in one pan. And bonus, there's only one sheet pan to clean!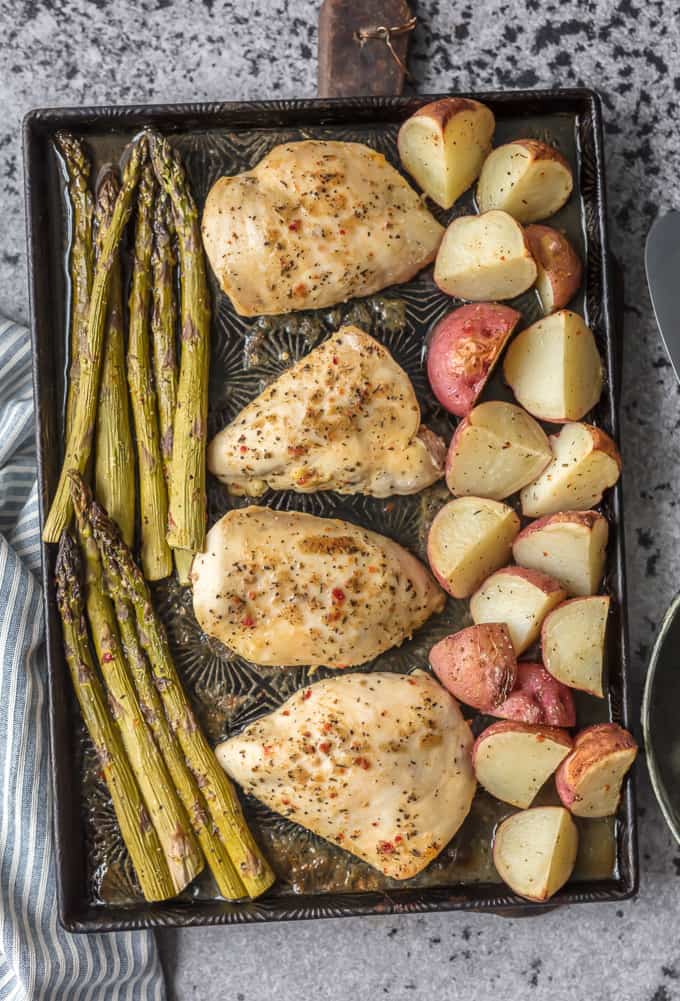 Honey Garlic Chicken and Veggies
One pan chicken and veggies is a simple go-to formula when you need something easy and delicious. This Honey Garlic Chicken with asparagus and potatoes is the perfect solution!
Do you ever get tired of a great chicken recipe? How about one with delicious roasted veggies? How about one made all in just ONE PAN?
That was kind of a rhetorical question, because who gets tired of easy and delicious dinner recipes?! This one pan chicken and veggies recipe is a life saver during a busy week!
This is one of those amazing recipes that only leaves ONE dish to clean up after cooking, has all the flavor and none of the fuss, and is actually quite healthy to boot…is this too good to be true? And it's the perfect meal prep dinner to help you with busy weeks.
This honey garlic chicken with asparagus and potatoes is a simple recipe you'll make again and again. It's sure to please the entire family and is also great reheated for lunch the next day. YUM! I love the ease of this meal.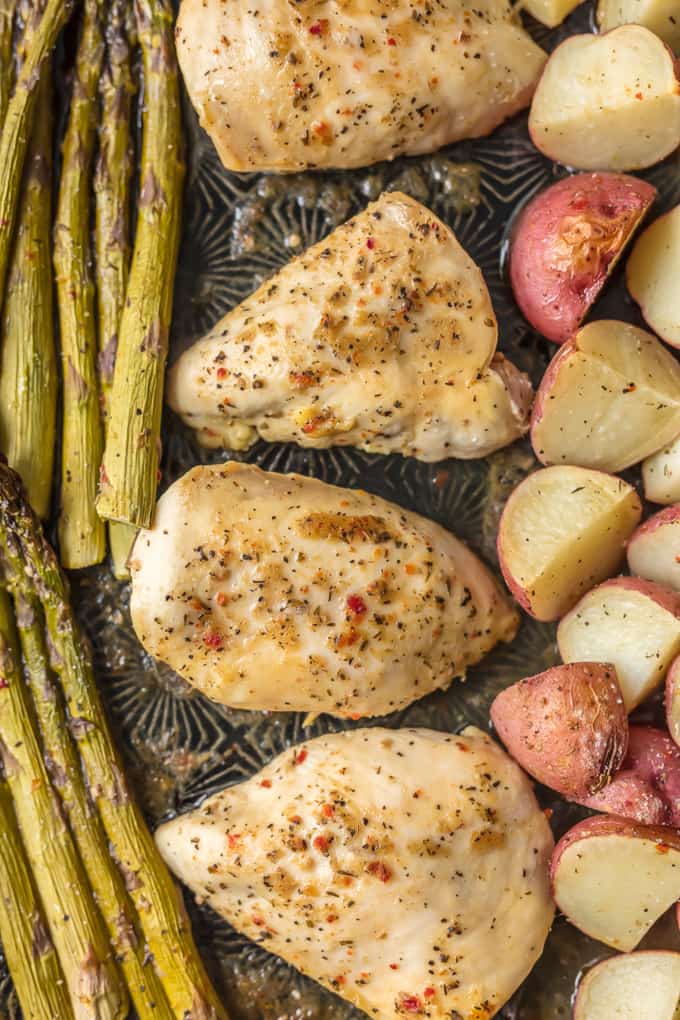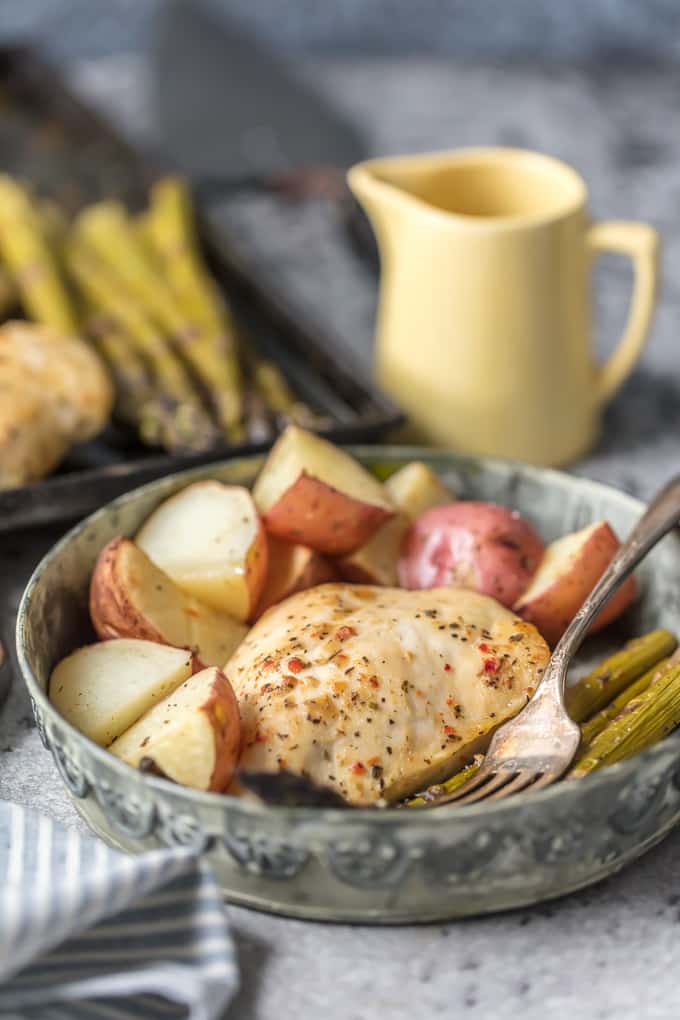 Easy One Pan Dinner with 5 Ingredients
Similar to our Melt in Your Mouth Caesar Chicken that only has 3 ingredients, this One Pan Chicken and Veggies recipe only has 5 ingredients!
Just the chicken breast, red potatoes, asparagus, the herb & garlic marinade, and honey. Don't let that fool you, the flavors still really pop. It's enough to make a simply flavorful dish!
You don't need a mile-long grocery list to cook a delicious meal at home. I used to think so, but it's just not true. Cooking can be easy, simple, AND tasty.
That's MY favorite kind of meal, especially on busy nights when I just need to put something good on the table, even though I've got a million other things to do!
Here are some other easy one pan/pot recipes: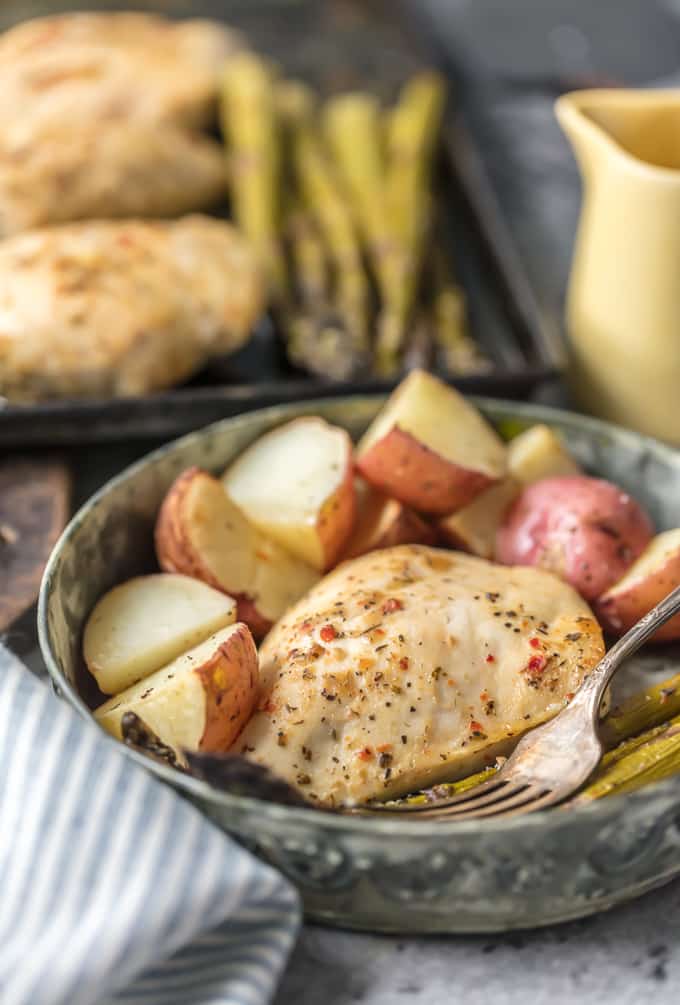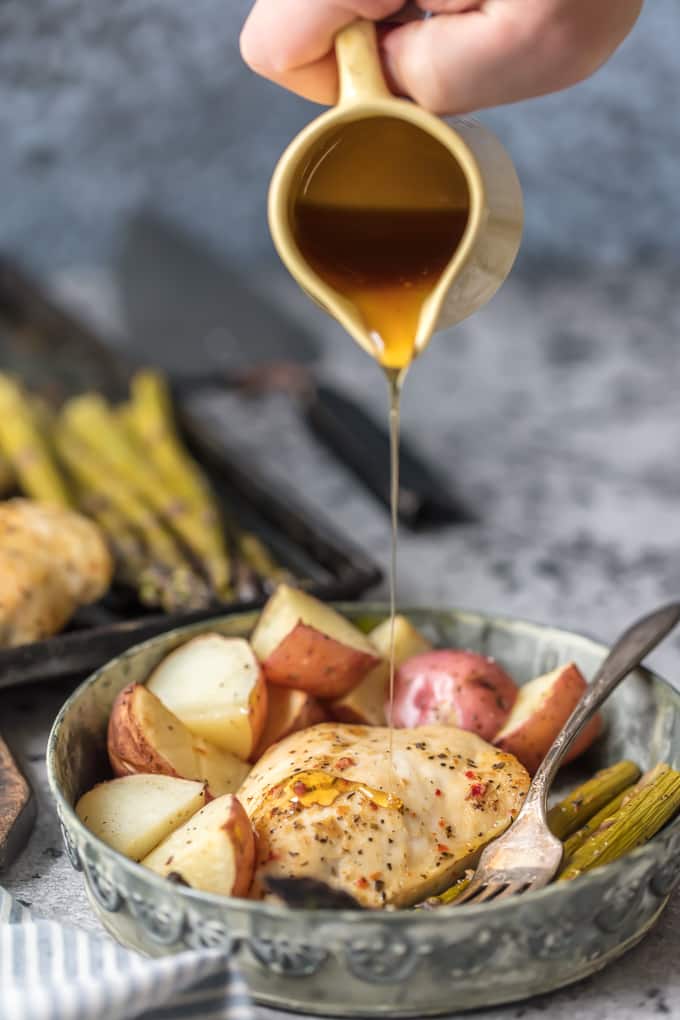 Delicious Honey Garlic Flavor
There's something about garlic and honey that just go together so well. The bold, savory flavor of garlic is balanced out perfectly by sweet honey. This honey garlic chicken is soooo yummy, the perfect feature to this one pan chicken and veggies recipe.
The asparagus and potatoes are just as awesome! They get covered in the garlic marinade too so they're not left out. You could even make honey garlic vegetables on their own as a side dish for another meal. They'd be great with salmon as well. The possibilities are endless!
This is a great recipe to keep in your back pocket for those busy weekday dinners. You shouldn't have to slave away in the kitchen to feed your family. One pan meals to the rescue!
How to Make One Pan Chicken and Veggies
Main dish and side dish all in one pan…clearly this recipe is easy to make! That's kind of the point, really. There's really no need to make complicated meals when you can make something like this instead, because it's so delicious and there's nothing missing. It's a full meal in one dish!
How to make one pan chicken and veggies:
Coat chicken in garlic marinade and lay on baking sheet
Toss vegetables in marinade and lay on sheet around chicken
Pour the rest of the marinade over the chicken and veggies
Pour honey over the chicken
Sprinkle the chicken and veggies with salt & pepper
Bake 25-30 minutes
Not much prep involved, and once it's all in the oven, you don't have to do anything until it's all ready!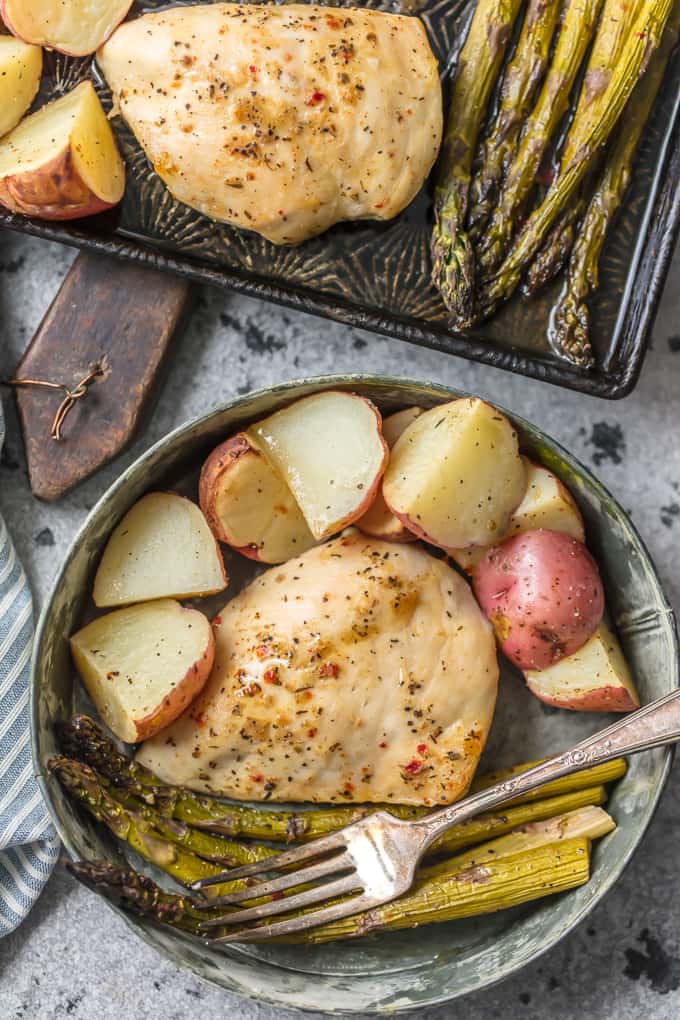 One Pan Chicken and Veggies will be your absolute life saver on busy nights! Cook everything on one pan, make a full, healthy, well-balanced meal for your family, and make clean up super easy. Honey Garlic Chicken with asparagus and potatoes is the perfect combination and SO DELICIOUS! Be sure to make this next time you need something simple without sacrificing flavor.
If you like this recipe, try these other easy chicken recipes:
And check out our Baked Chicken Guide for more easy baked chicken recipes to try out!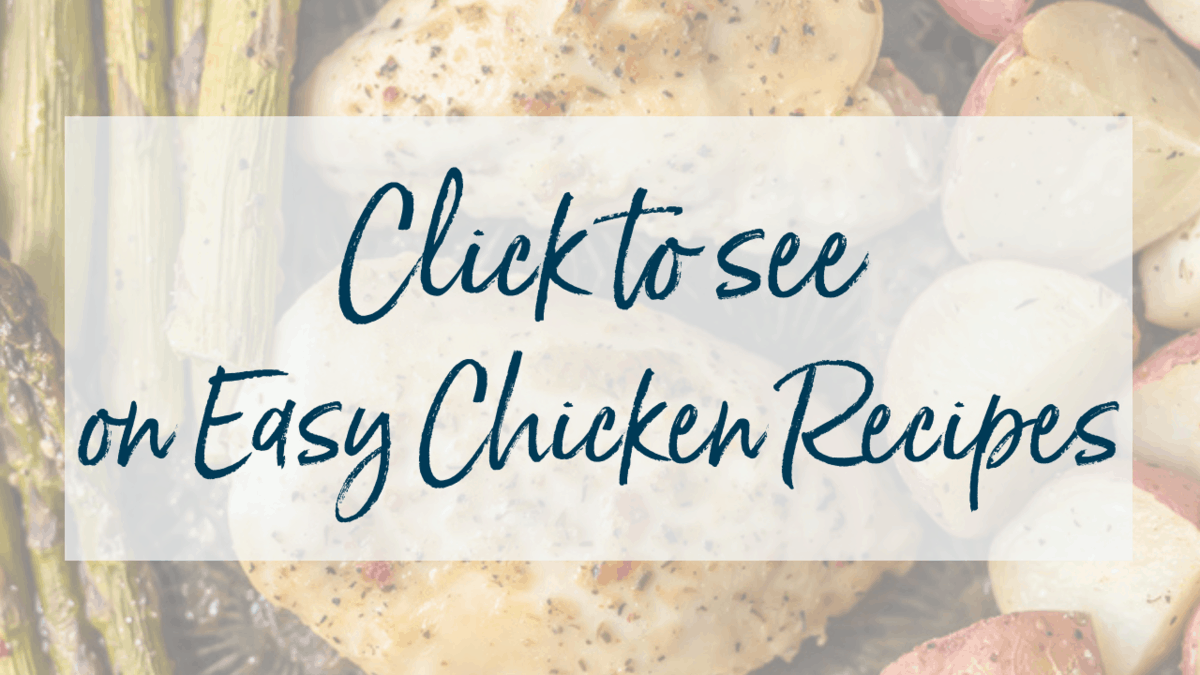 Click to see the full recipe on our sister site, Easy Chicken Recipes!