Cheesy and delicious, this baked Hamburger Casserole recipe is one delicious dinner that the whole family will love. Simple to make, and filled with ground beef, cheese, shell pasta and more, this hearty pasta bake is full of rich and delicious flavors. Itt's a great go-to for picky eaters!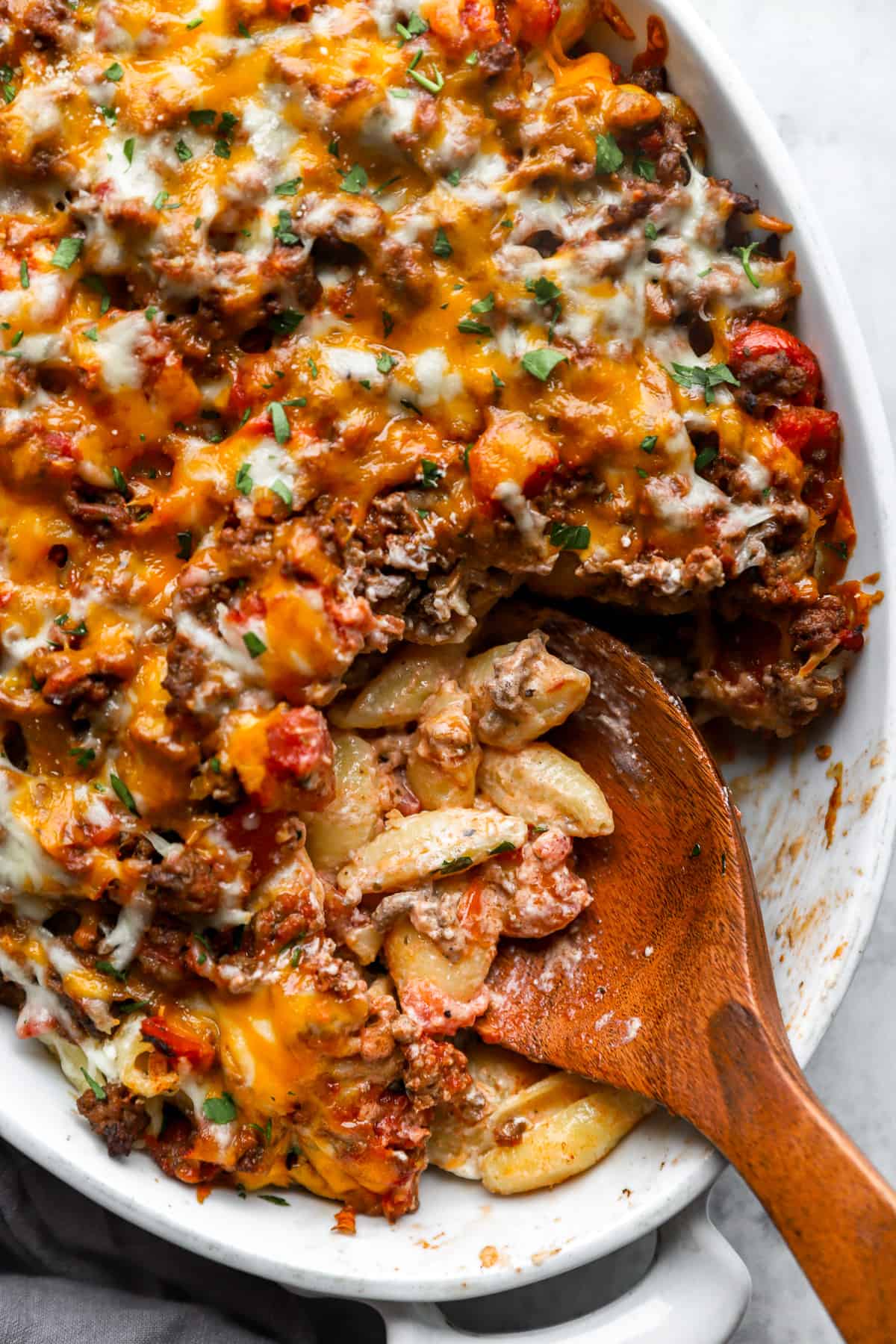 What's in this Hamburger Casserole Recipe?
Rich, creamy pasta and flavorful ground beef form the base of this classic Italian-inspired casserole.
Ground Beef: I like to use lean ground beef, but you can also use fattier ground beef and drain the fat before adding it back in.
Onion: Any kind of onion will work, though I like to use yellow onions. Follow my onion cutting guide for tips on how to properly dice an onion.
Bell Pepper: Any color bell pepper will work here, so choose your favorite. I went with red.
Garlic: Adds earthy flavor.
Diced Tomatoes: I like to use canned tomatoes for convenience, but you can also use diced fresh tomatoes.
Tomato Paste: Deepens the tomatoey flavor of this dish and adds umami.
Seasonings: Salt, pepper, and Italian seasoning bolster the flavor of this casserole.
Worcestershire Sauce: Adds rich umami flavor. In a pinch, you can use low-sodium soy sauce, coconut aminos, or tamari.
Pasta: Choose a smaller type of pasta, like shells, macaroni, or ditalini. Longer pasta shapes will not work well.
Cream Cheese: Adds rich creaminess to this hamburger casserole.
Sour Cream: Adds creaminess and tanginess.
Butter: Unsalted butter adds flavor and creaminess to the noodles.
Cheese: I like a mixture of freshly shredded cheddar and mozzarella cheese. Feel free to swap these out for your favorite cheeses.
Pro Tip: To reduce the fat and calories in this recipe, you can use low fat cheeses.
Hamburger Casserole with Potatoes
To make this hamburger casserole with potatoes instead of pasta, peel and cut 3 pounds of Yukon Gold potatoes into ¼-inch slices. Place the potatoes in a large saucepan set over medium-high heat, and cover them with cold water. Bring the water to a boil and reduce the heat to low. Cook, uncovered, for 8-10 minutes, or until the potatoes are just fork-tender. Drain the potatoes and place them in the prepared baking dish. Mix the butter, cream cheese, and sour cream together and spread it evenly over the potatoes before continuing with the recipe as written.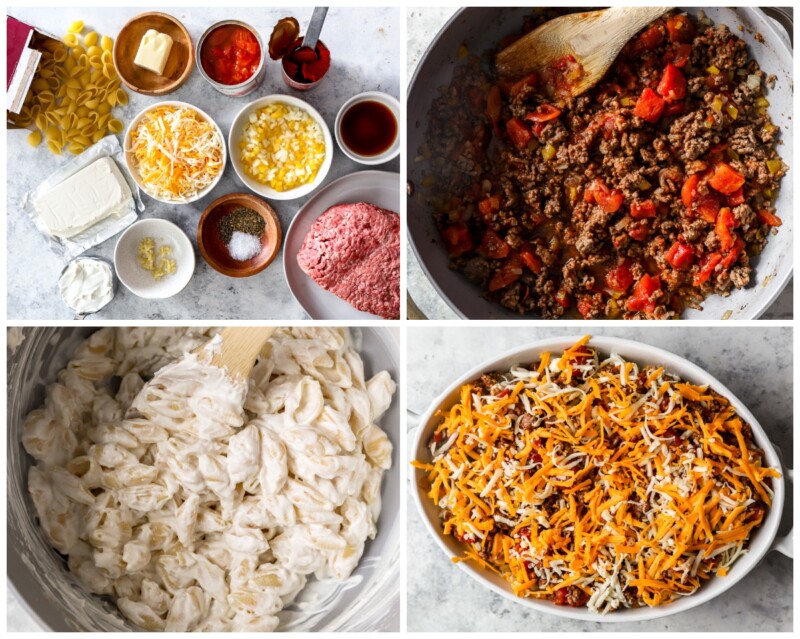 What noodles are best for hamburger casserole?
Use any smaller, bite-size noodle like shells, macaroni, or ditalini.
Can I use another kind of meat?
Absolutely! Instead of ground beef, use ground turkey or chicken, or a combination of your favorite ground meat.
Can you make it meat-free?
Yes! You can swap the ground beef for kidney or black beans to replace the protein. You could also use Beyond Meat for a vegetarian alternative.
How can I add spice?
In step 4, add a couple teaspoons of crushed red pepper flakes to the ground beef mixture if you prefer your dinners a little spicier.
Can I halve this recipe?
Absolutely! Halve all of the ingredients and bake uncovered in a 9×9-inch pan for 25-30 minutes, or until heated through. Broil the cheese for 1-2 minutes if desired.
Can I make hamburger casserole ahead of time?
Yes. Assemble the casserole through step 7, cover, and refrigerate for up to 1 day. When ready, bake as instructed.
How long does hamburger casserole last?
Store leftovers in an airtight container in the refrigerator for up to 4 days. I don't recommend freezing this cream-based casserole.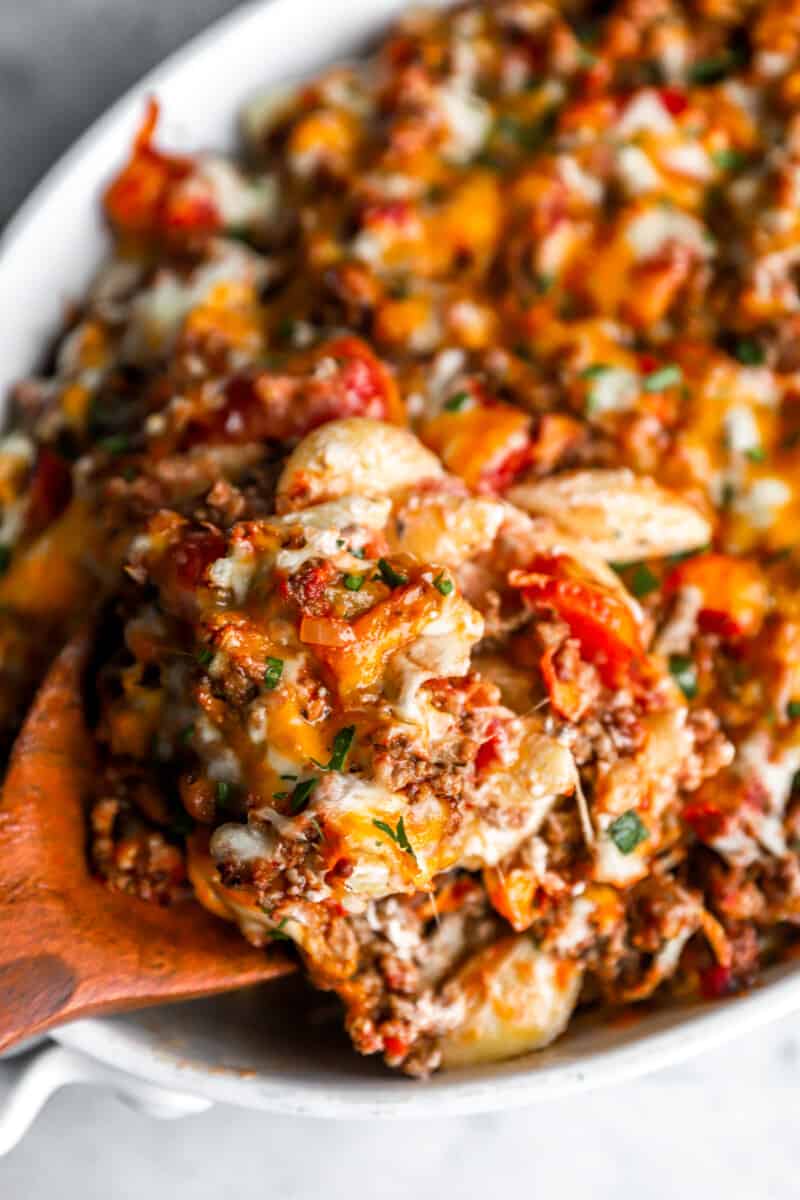 How to Store and Reheat
Store leftover hamburger casserole in an airtight container in the refrigerator for up to 4 days. Reheat in a 350°F oven for 30-35 minutes, until warmed through. I do not recommend freezing this casserole.
Serving Suggestions
This easy hamburger and pasta casserole is a hearty and filling ground beef dinner all by itself. If you like, you can serve it up with a vegetable side, such as Brown Sugar Glazed Carrots, Crispy Baked Green Beans, Creamy Garlic Mushrooms, or Roasted Veggies for extra goodness! However you decide to serve it, this recipe is guaranteed to be a surefire hit, even the kids will love it!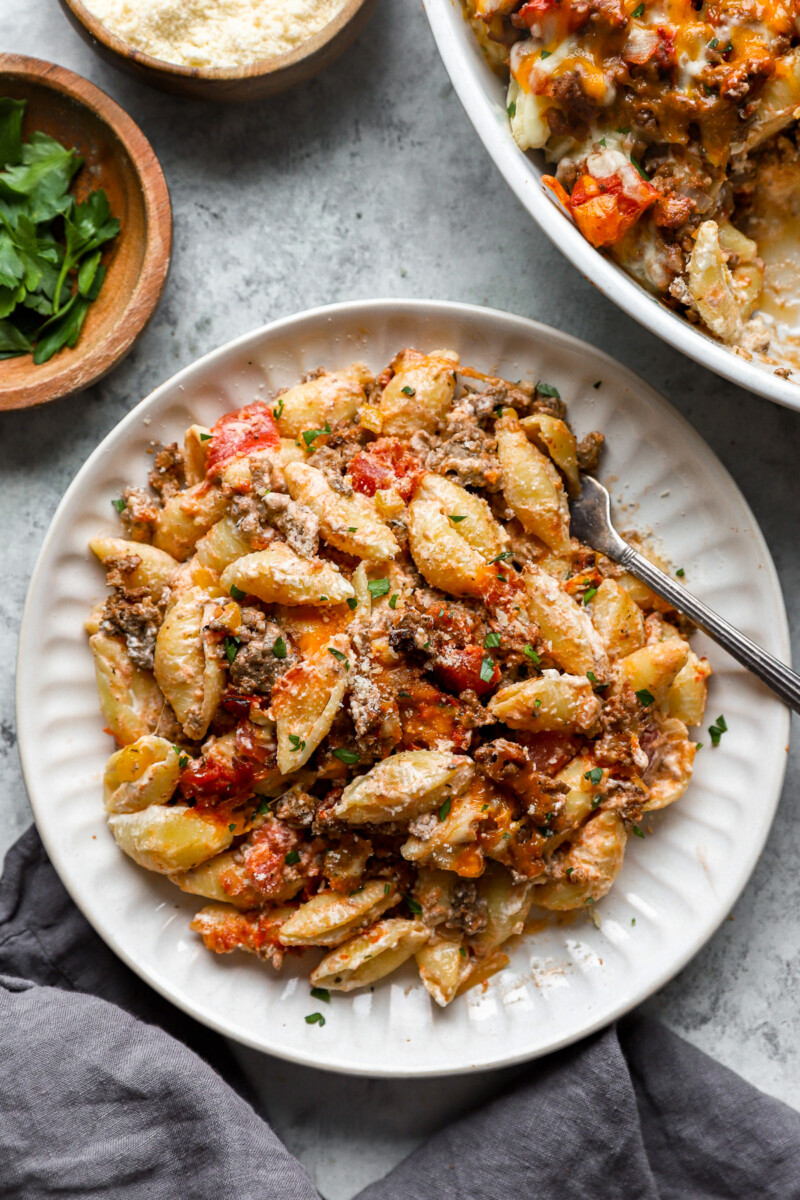 More Noodle Casserole Recipes We Love