Who doesn't love a chewy brownie? Fudgy brownies with peanut butter, peanut butter cups, and peanut butter chips are next-level decadent! This easy and delicious peanut butter brownie recipe is one of my all-time favorite chocolate and peanut butter desserts.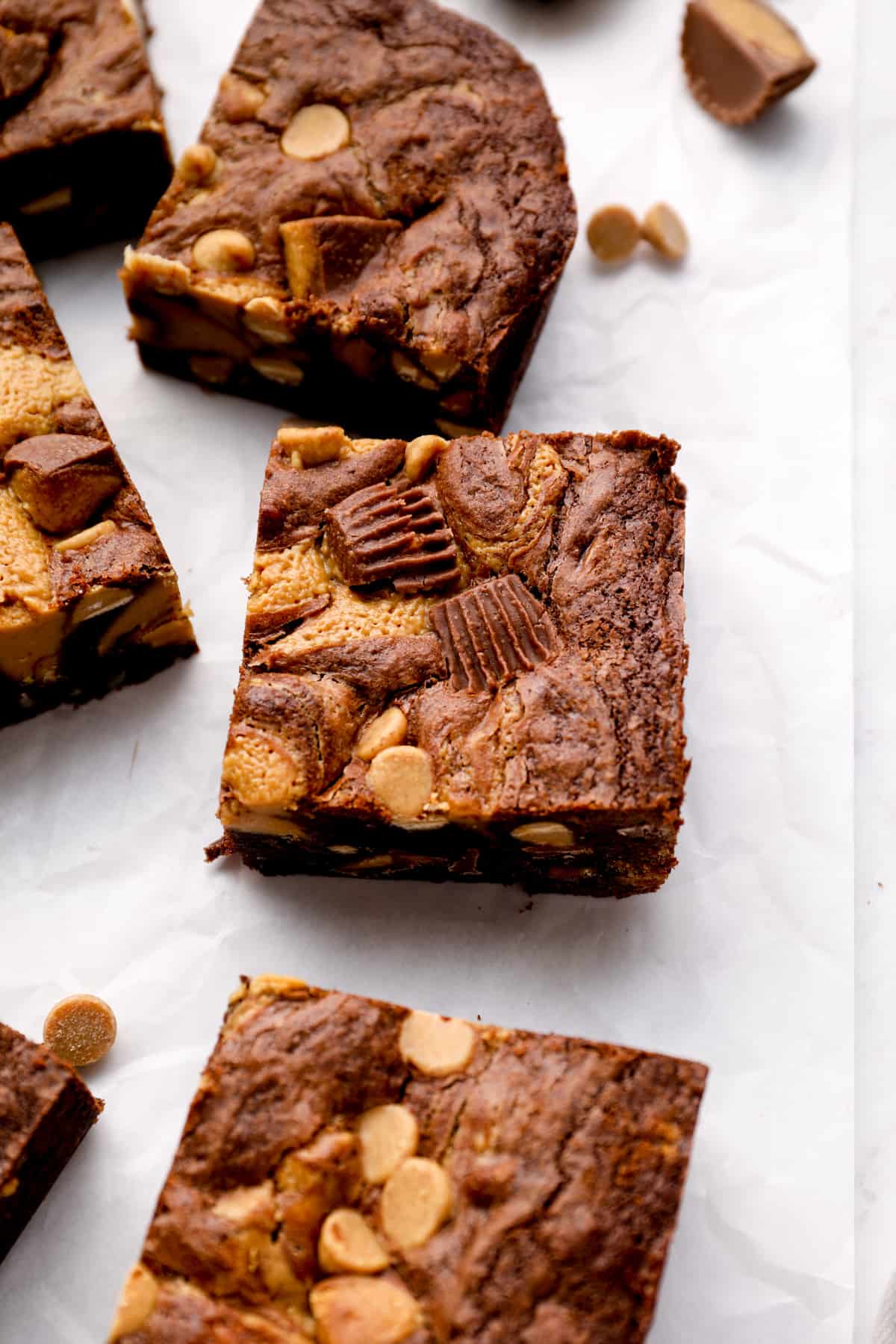 Brownies with Peanut Butter
Homemade peanut butter brownies are easy to pull together for the holidays or any night of the week. Your friends and family will LOVE devouring these killer brownies anytime you decide to make them. They are so good!
Why You'll Love this Peanut Butter Brownies Recipe:
Easy to Make: This chocolatey treat is so simple to make. Just mix, pour, and bake!
Simple Ingredients: All the ingredients in this recipe are simple and easy to find in any grocery store–you might even have them all in your pantry!
A Family Favorite: As soon as the batter starts rising in the oven, the irresistible aromas of chocolate and peanut butter will grab your family's full attention.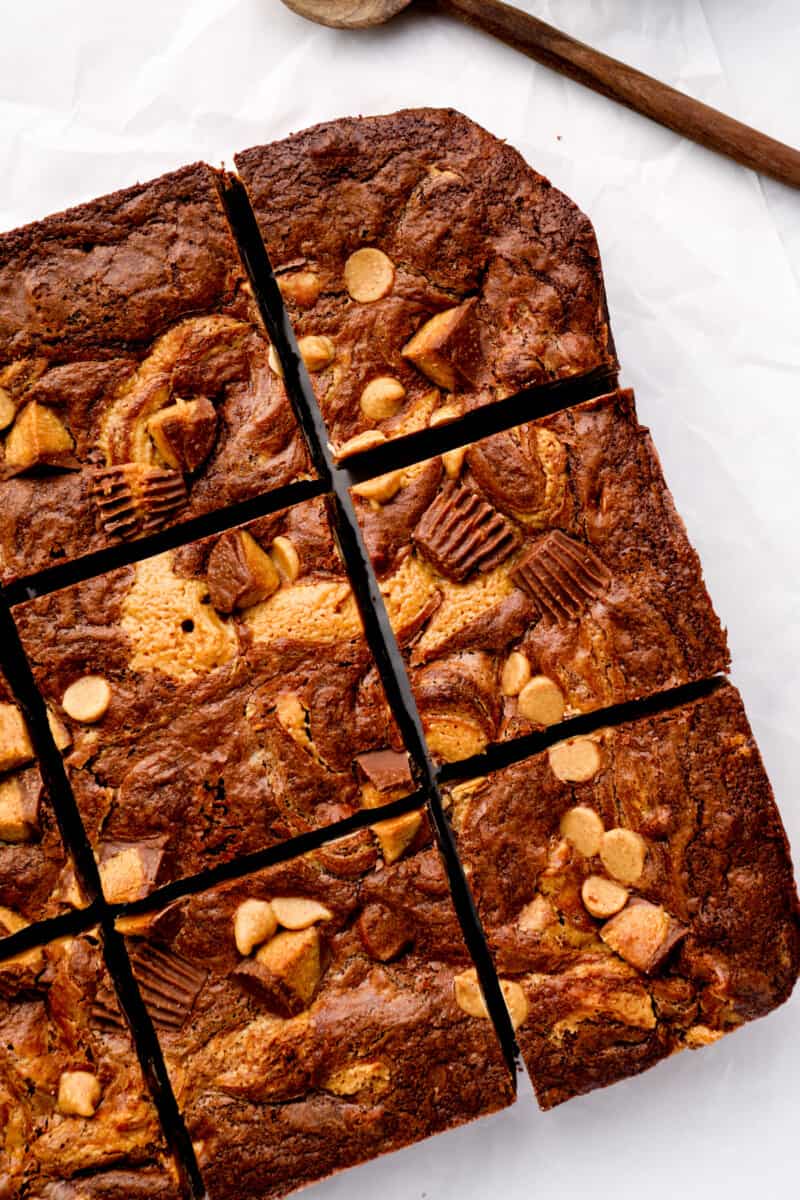 How to Make Peanut Butter Brownies
You can jump to the recipe card for full ingredients & instructions!
Preheat the oven and prepare the baking pan.
Melt the chocolate and butter in the microwave.
Whisk in the cocoa and sugars.
Stir in the remaining wet and dry ingredients.
Fold in the peanut butter cups and chips.
In a separate bowl, make the peanut butter swirl.
Inside the baking pan, swirl the peanut butter with the brownie batter.
Before baking, top with more peanut butter cups and chips.
Cool before slicing and serving, warm or at room temperature.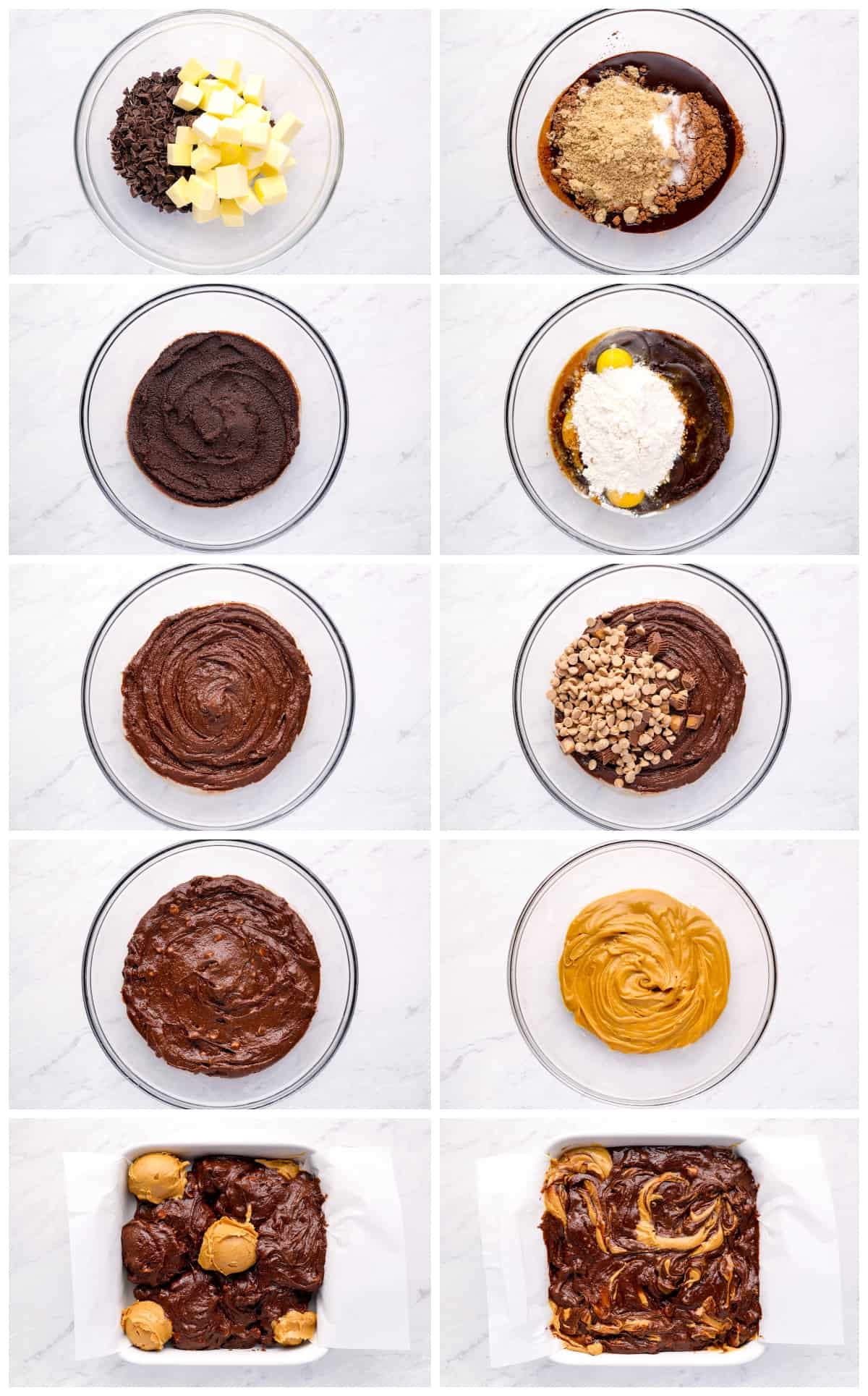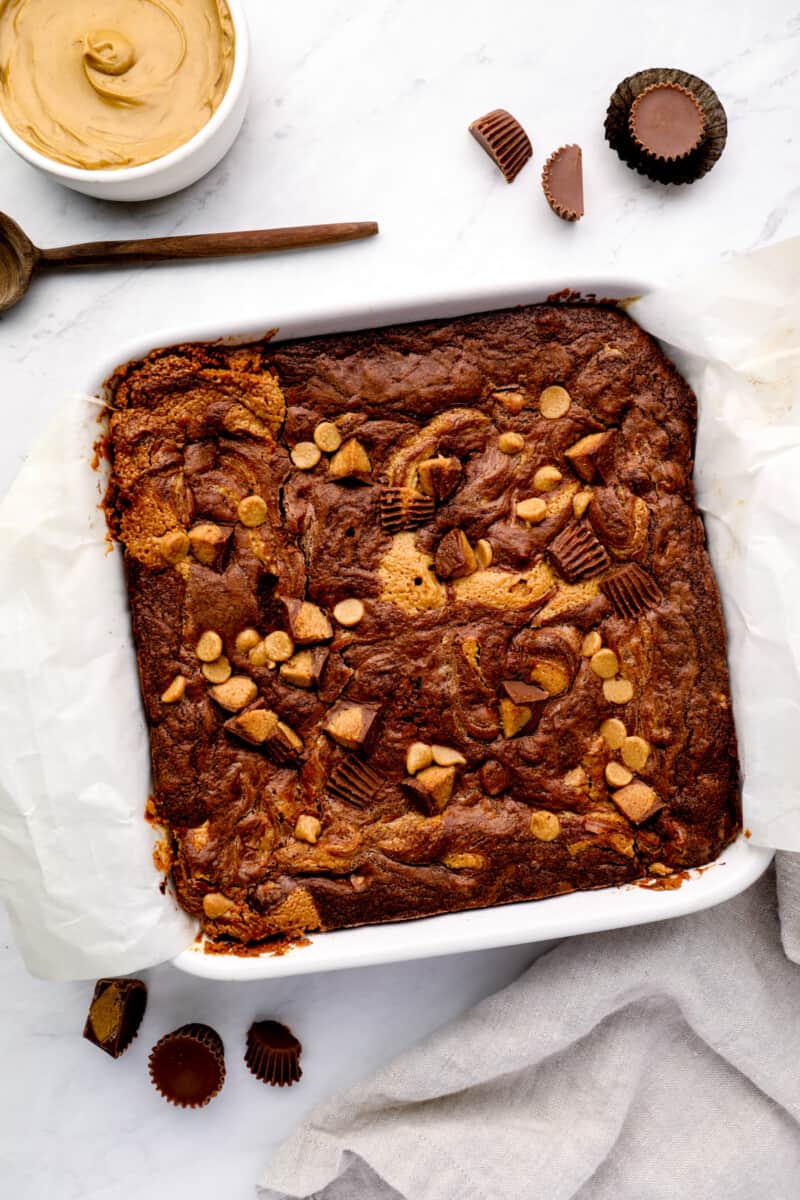 Are peanut butter brownies fudgy or cakey?
These brownies are definitely fudgy! They contain a mix of melted chocolate and cocoa powder for a rich chocolate flavor, and they have a high fat-to-flour ratio, which makes them ultra-fudgy. To make these brownies cakey instead, omit one of the eggs and whisk the wet ingredients more vigorously to incorporate more air into the batter.
What kind of cocoa powder should I use in peanut butter brownies?
You can use any cocoa powder you prefer, as long as it is unsweetened. Use natural cocoa powder for a more natural taste, and use Dutch-process cocoa powder for a smoother taste.
Should I use butter or oil in peanut butter brownies?
Butter gives these brownies a lot of flavor. Oil tends to make fudgier brownies, but there is so much delicious chocolate and fat in this recipe that they don't need oil!
How do I create a perfect swirl in peanut butter brownies?
To create a beautiful swirl, start by dolloping spoonfuls of the peanut butter randomly around the batter. Drag a skewer or chopstick through the peanut butter in a swirly pattern to distribute the mixture into an even swirl. Take care not to overmix, or you will lose that swirl.
Are peanut butter brownies supposed to be gooey in the middle?
The center of your brownies should be chewy and moist, but not necessarily gooey. You want to make sure that the batter is cooked and not still raw in the center before removing them from the oven.
Serving Suggestions
These brownies are good to go straight out of the oven but if you are feeling extra decadent, serve them with melty vanilla ice cream and drizzled with chocolate sauce.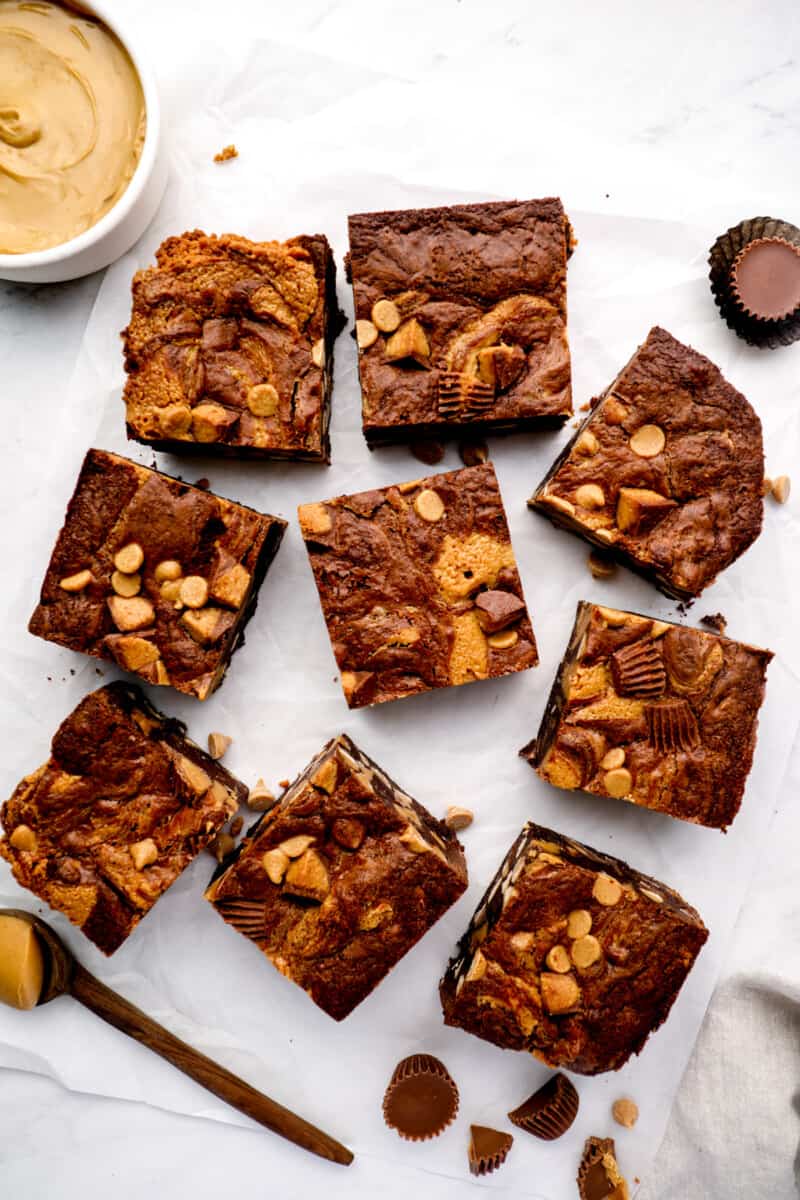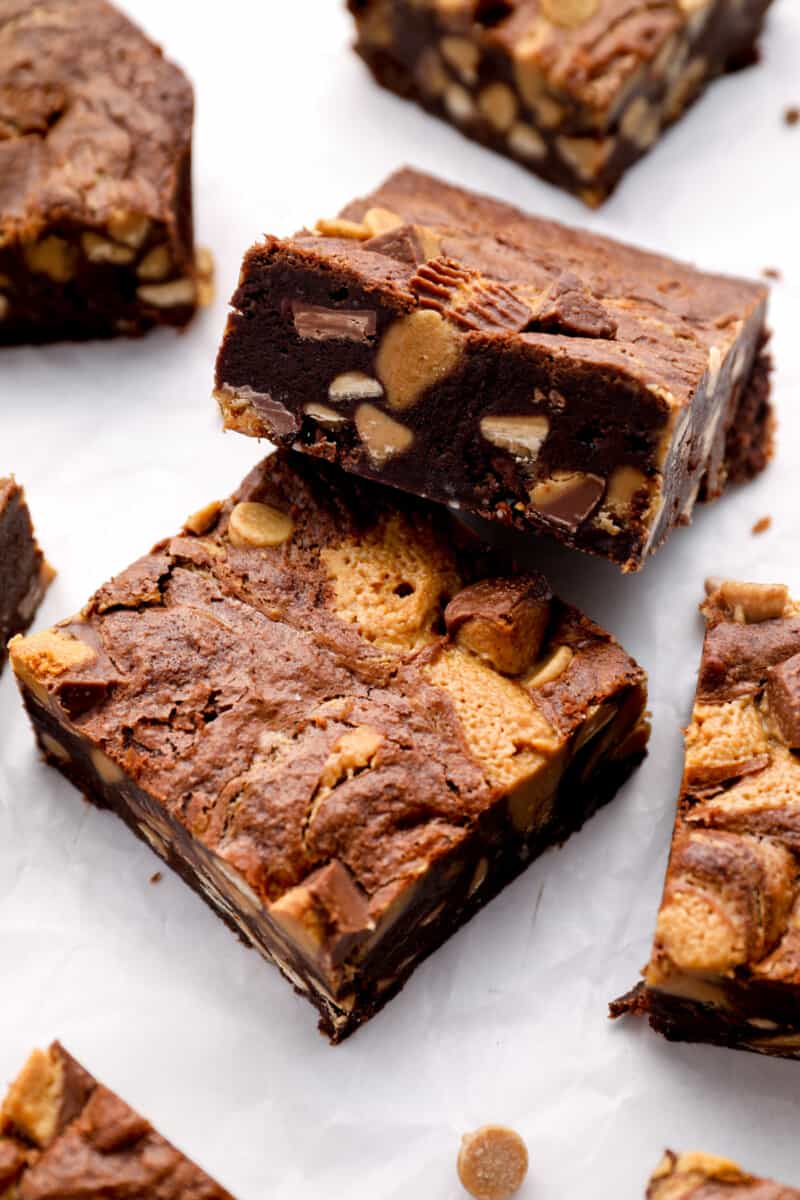 Make Ahead Instructions
Peanut butter brownies can be made up to 2 days in advance of when you plan to serve them. Store the brownies in an airtight container at room temperature until ready to serve.
Storage Instructions
Store leftover peanut butter brownies in an airtight container at room temperature for up to 3 days or in the refrigerator for up to 5 days. Serve room temperature or gently warmed in the microwave.
Freezing Instructions
Freeze peanut butter brownies whole or in individual slices tightly wrapped in 2 layers of plastic wrap and 1 layer of aluminum foil for up to 3 months. Let thaw at room temperature before serving.
Substitutions
Feel free to use your favorite high-quality chocolate in these brownies, such as milk, dark, or semisweet.
You can use an equal amount of neutral oil, such as vegetable, canola, or coconut, in place of the butter.
Feel free to use whatever cocoa powder you have on hand in these brownies.
For cakier brownies, omit 1 of the eggs and vigorously whisk the wet ingredients before stirring in the dry.
Feel free to omit the espresso powder.
For gluten-free peanut butter brownies, swap the all-purpose flour for an equal amount of gluten-free 1:1 baking flour.
Feel free to change up the mix-ins. Try chopped Snickers bars, Butterfingers, or Peanut M&Ms.
You can swap the peanut butter baking chips for a different flavor, such as chocolate, white chocolate, or caramel!
Try swapping the peanut butter for an equal amount of almond or sunflower seed butter.
Tips for the Best Peanut Butter Brownies
Use high-quality chocolate, such as Ghirardelli, for the best results.
When melting the chocolate, do not get any water into the mix or it could seize up.
Use room temperature eggs for the smoothest batter.
If your cocoa powder is lumpy, be sure to sift it.
Do NOT overmix the batter; otherwise, your brownies will come out tough.
I do not recommend using a natural peanut butter in this recipe, as it can separate and make your brownies oily.
Take care not to over-swirl the brownies, or the peanut butter will disappear.
Take care not to overbake these brownies. A toothpick inserted in the center should come out with moist crumbs.
For the cleanest cuts, let the brownies cool completely, then let them chill in the refrigerator for a few hours before cutting. Use a sharp knife and wipe it off between cuts.
More Decadent Brownie Recipes We Love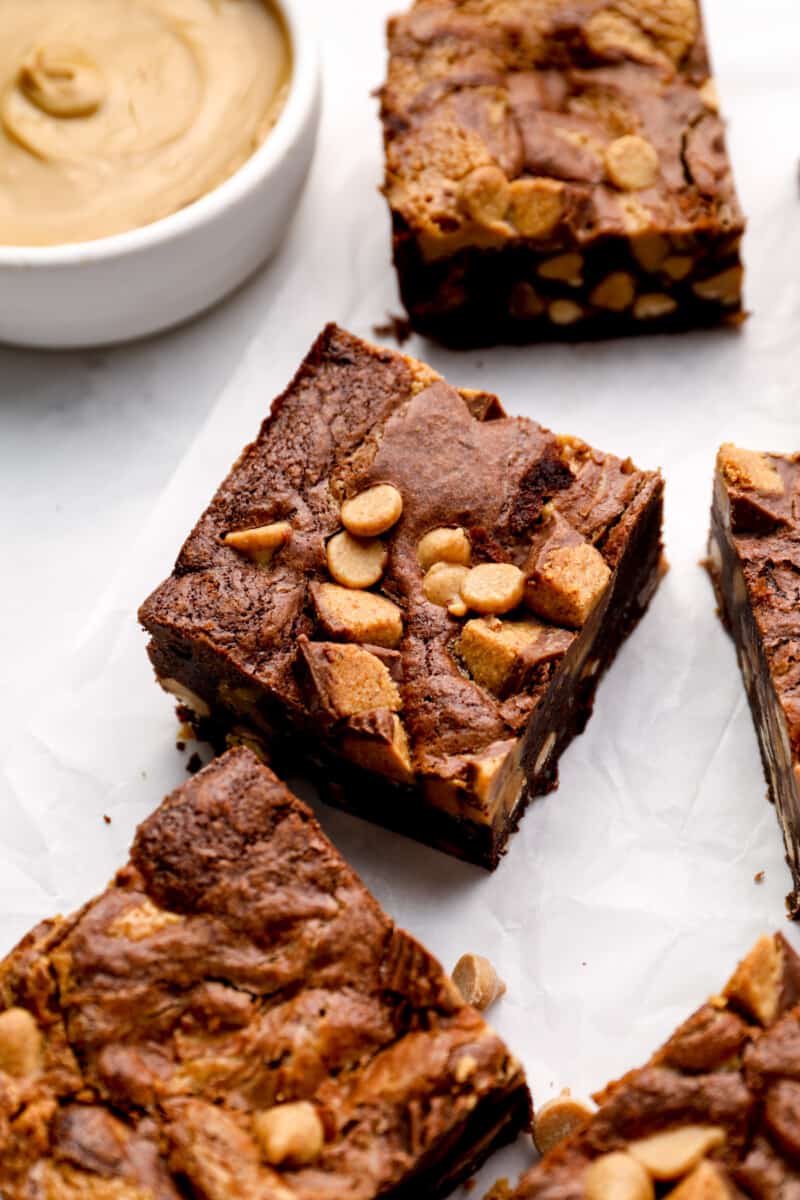 I hope you love making this peanut butter brownie recipe as much as I do. When marrying chocolate with peanut butter, these brownies are a match made in heaven!
More Chocolate Dessert Recipes to Try:
If you make this recipe be sure to upload a photo in the comment section below or leave a rating. Enjoy! You can also jump to recipe.