Brownie Pie is a rich, chocolaty dessert that's almost too good to be true! A homemade fudge brownie recipe baked straight into a pie crust gives you two desserts in one. A layer of toasted pecans is mixed in to add a bit of crunch, while the brownies stay soft and moist. Top a slice with ice cream and drizzle with chocolate syrup, and you've got the best brownie dessert ever!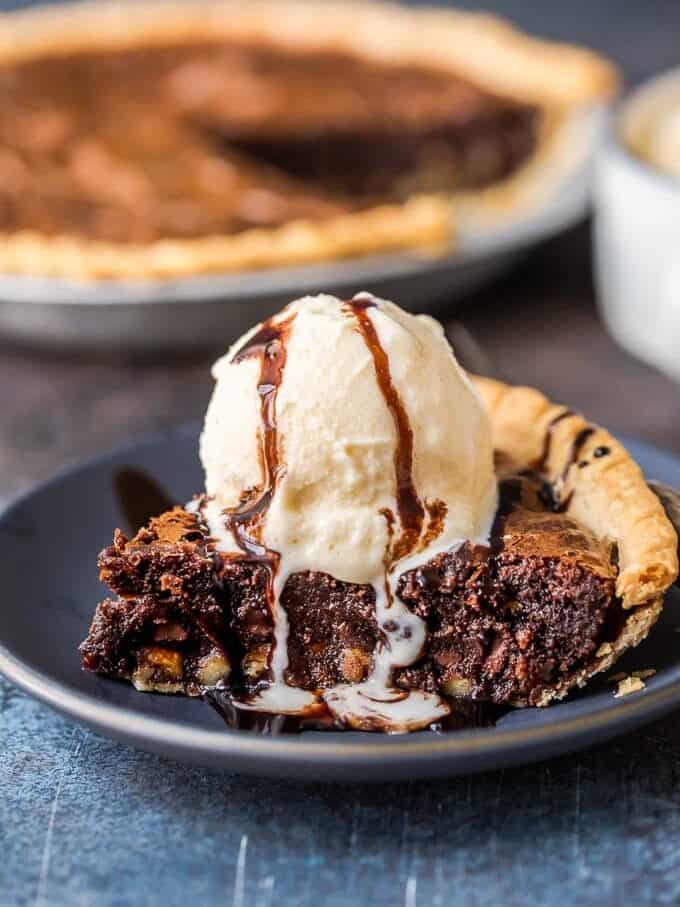 What's in this Brownie Pie Recipe?
Are you ready for this amazing brownie dessert? Fudge brownies baked into a pie crust… just let that sink in. Because one great dessert isn't enough, we mashed together two favorites to make something amazing. You're gonna love this fudge brownie pie!
Pie Crust: We're using a store-bought refrigerated pie crust to make things easier, but you can make your own if you prefer.
Chocolate Chips: I like semisweet for the best balance of flavor, but milk or dark also work.
Unsalted Butter: Makes the pie rich, moist, and tender.
Vegetable Oil: Adds extra moisture to the pie.
Cocoa Powder: You can use any cocoa powder you prefer, as long as it is unsweetened. Use natural cocoa powder for a more natural taste, and use Dutch-process cocoa powder for a smoother taste.
Dark Brown Sugar: Adds a rich and molasses-y sweetness to the brownies.
Eggs: Add richness and structure to the pie.
Vanilla Extract: Enhances the sweetness of the pie.
Kosher Salt: Enhances the rich chocolate flavor.
All-Purpose Flour: Gives the pie structure.
Honey Roasted Pecans: Add a bit of a nutty crunch to the pie. You can leave them out if you have an allergy.
Pro Tip: Be sure the pecans are toasted so they don't get soggy, or do as I do and buy toasted/roasted pecans or Honey Roasted Pecans.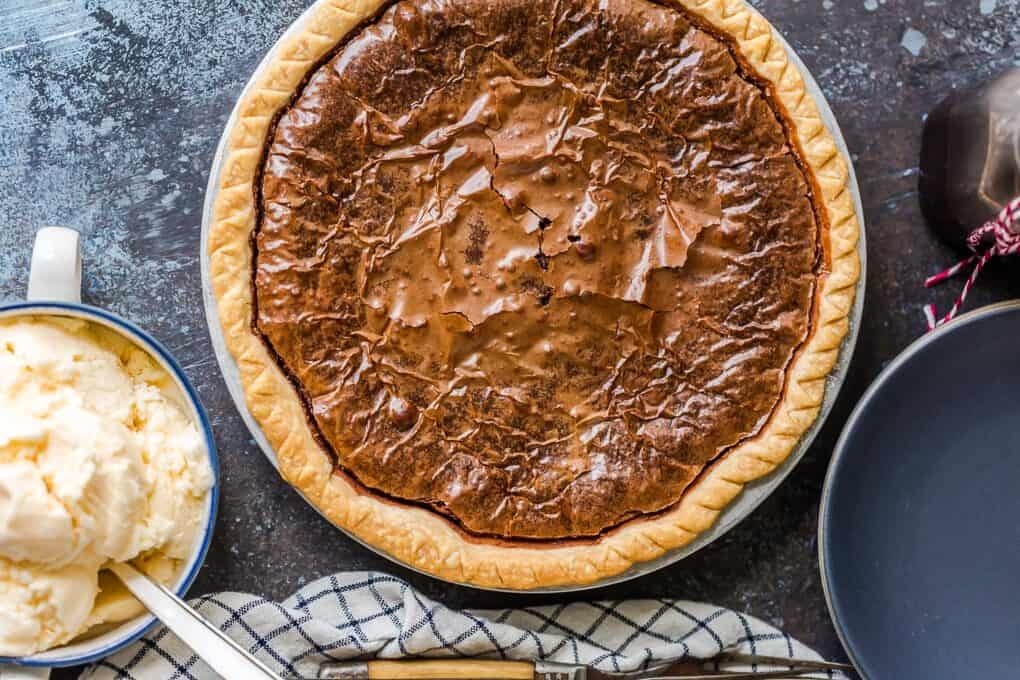 Variations on Brownie Pie
There are so many ways to make this chocolate brownie pie your own. You can swap the pecans for walnuts or peanuts or swirl some peanut butter into the mix for a different nutty flavor. Add some mint or peppermint extract to the batter and fold in Andes peppermint chips for a minty pie. Or fold in some caramel sauce for a turtle-inspired pie.
For a s'mores-inspired pie, use a graham cracker crust and toast some marshmallows or fluff on top after baking. Or spread a layer of edible cookie dough on top of the pie before baking to create a brookie pie. The possibilities are endless!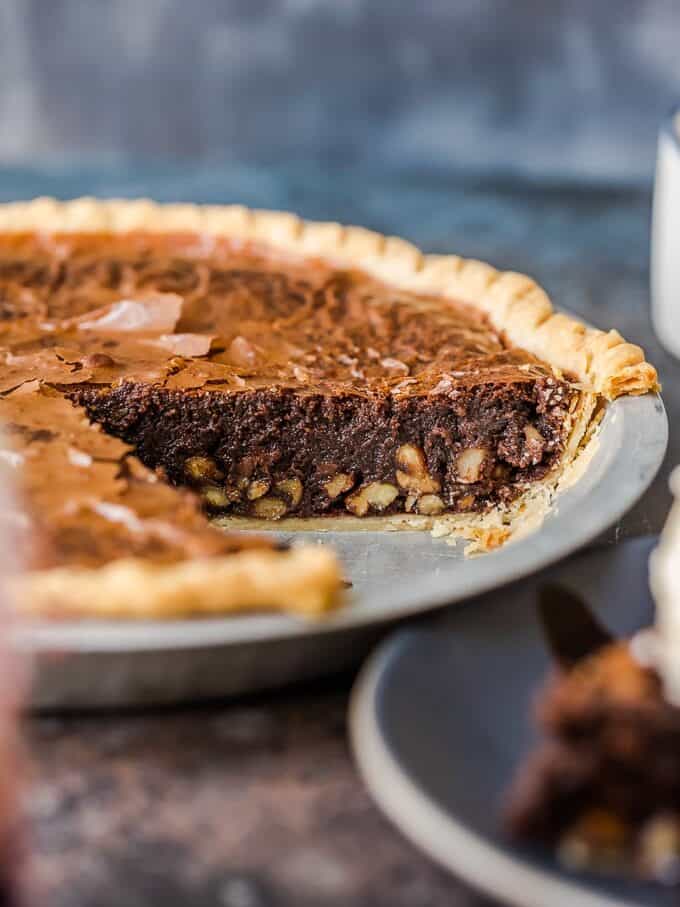 How to Store and Reheat
Store leftover brownie pie tightly covered in the refrigerator for up to 3 days or in the refrigerator for up to 1 week. To reheat the pie, place it in a 300°F oven, 10-15 minutes, or until warm throughout.
How to Freeze
Freeze brownie pie whole or cut into individual slices tightly wrapped in 2 layers of plastic wrap and 1 layer of aluminum foil for up to 3 months. Let thaw overnight in the refrigerator before reheating.
Serving Suggestions
Brownies aren't quite complete without some ice cream on the side. I just love the way cold ice cream melts on top of warm brownies. Everything mixes together so perfectly; hot and cold, chocolate and vanilla. So of course we need that same combo with this brownie pie. Grab a slice while it's warm, top it off with a scoop of ice cream, drizzle on some more chocolate sauce, and enjoy!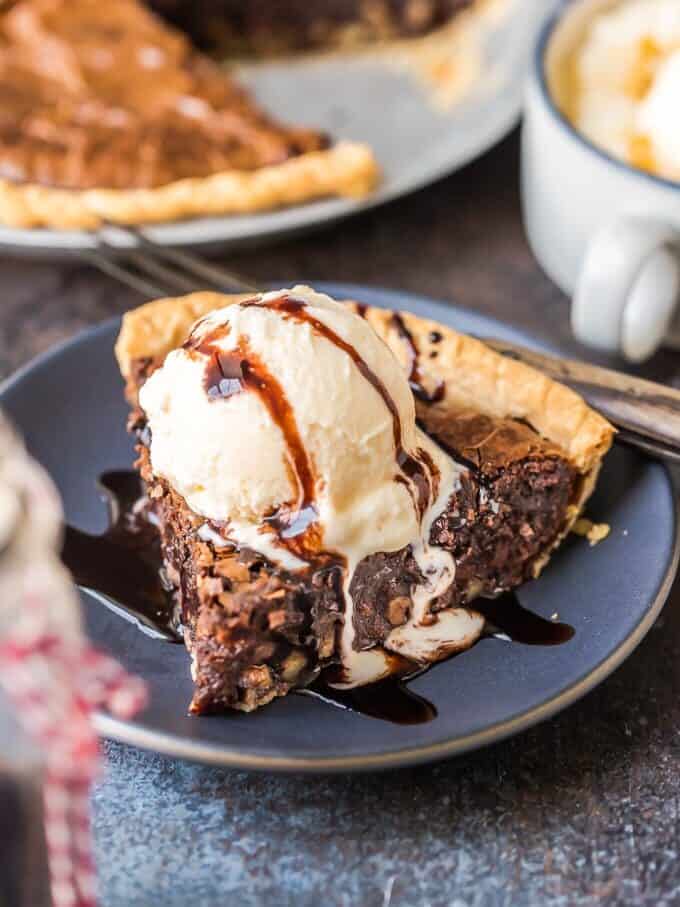 5-Star Review
"I have looked all over the internet for a good recipe for fudge pie. Yours is the best by far. Your video was great, and the recipe easy to follow. You have made my day!" – Renae Sims
More Brownie-Inspired Recipes We Love