Brownie Pie is a rich, chocolaty dessert that's almost too good to be true! A homemade fudge brownie recipe baked straight into a pie crust gives you two desserts in one. A layer of toasted pecans is mixed in to add a bit of crunch, while the brownies stays soft and moist. Top a slice with ice cream and drizzle with chocolate syrup, and you've got the best brownie dessert ever!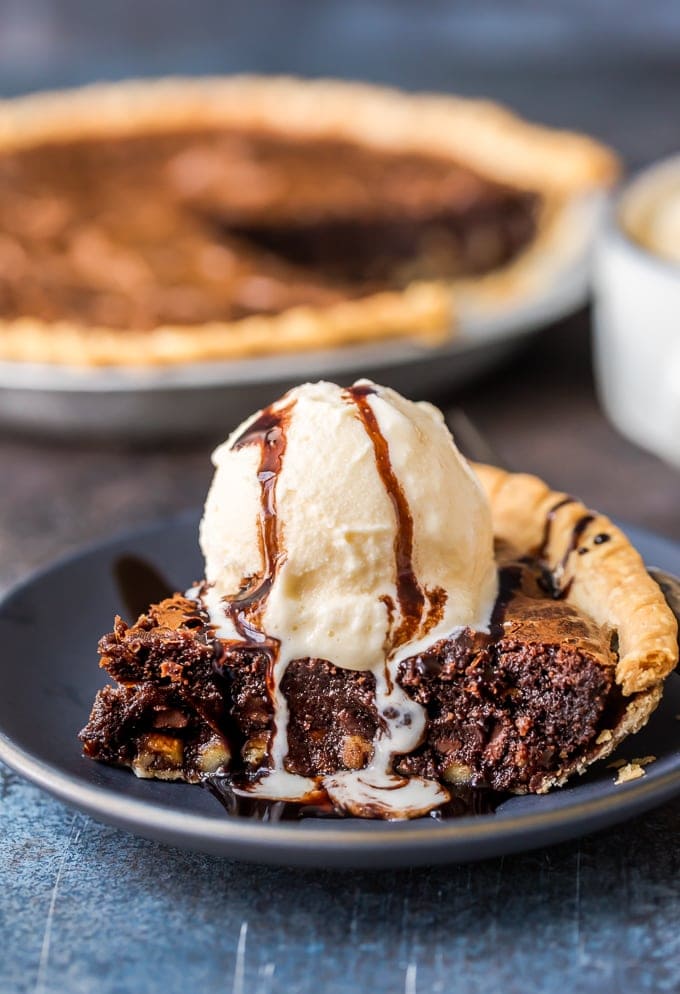 Brownie Pie Recipe
Brownie Pie is a chocolate-filled dessert that everyone will love. A homemade fudge brownie recipe baked into a pie crust…yum!
Are you ready for this amazing brownie dessert? Fudge brownies baked into a pie…just let that sink in. Because one great dessert isn't enough, we mashed together two favorites to make something amazing.
This Fudge Brownie Pie recipe is SO delicious, so chocolaty, and so fun to share.
Start with a pre-made pie crust to make this chocolaty dessert recipe easy peasy. Whip up an easy homemade fudge brownie recipe, but instead of baking it in a dish, you'll be baking it inside of a pie crust!
A layer of toasty, crunchy pecans is mixed in, and then you can top of this brownie dessert with some ice cream and chocolate syrup. Tell me you're drooling too, because I definitely am!
This brownie pie is a special treat that's perfect for just about any occasion. There's really never a bad time for chocolate pie. Make one for after dinner, serve it to guests, or make one up for a holiday party. Everyone will devour this pie!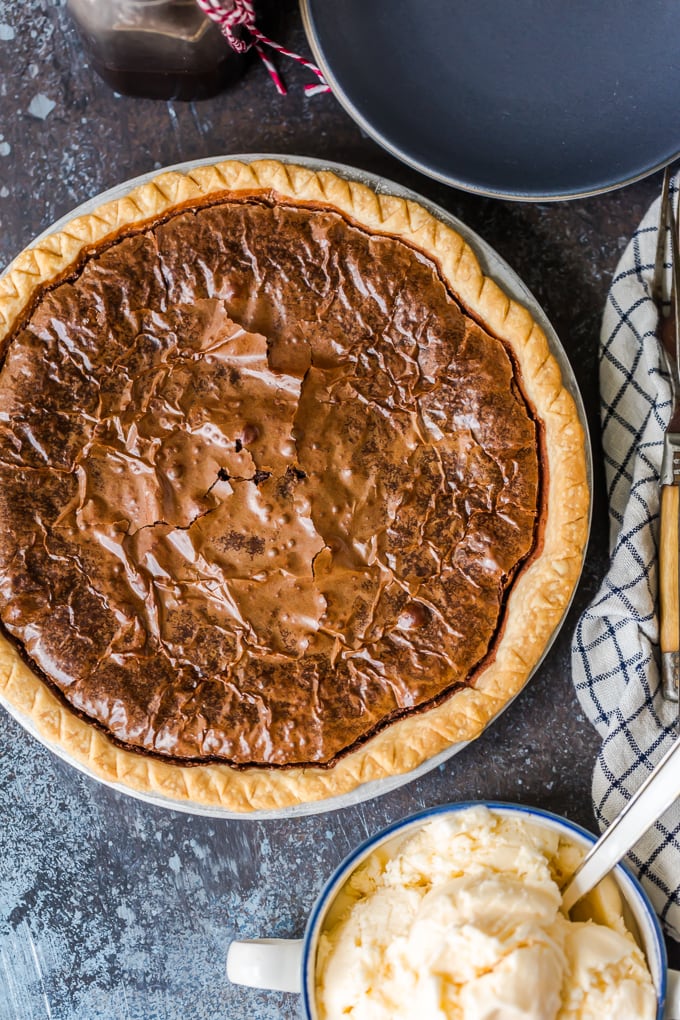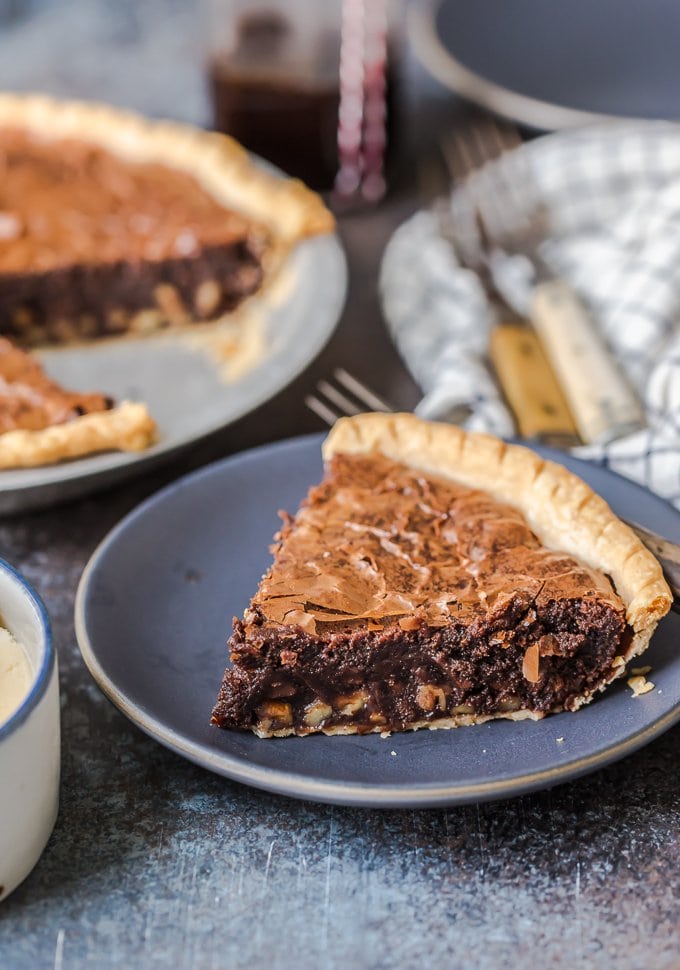 Fudge Brownie Recipe in a Pie
After making brownies from scratch a while ago, I realized that whipping up a fudge brownie recipe is no sweat! No need for boxed brownie mix here (although you can use it if you prefer), because this brownie dessert is simple.
We ARE using a pre-made pie crust to make things easy, and then you just pour the brownie batter straight in to bake. Brownies and Pie all in one. The best of both worlds!
Brownies and Ice Cream
Brownies aren't quite complete without some ice cream on the side. I just LOVE the way cold ice cream melts on top of warm brownies. Everything mixes together so perfectly; hot and cold, chocolate and vanilla.
So of course we need that same combo with this brownie pie. Grab a slice while it's warm, top it of with a scoop of ice cream, drizzle on some more chocolate, and enjoy!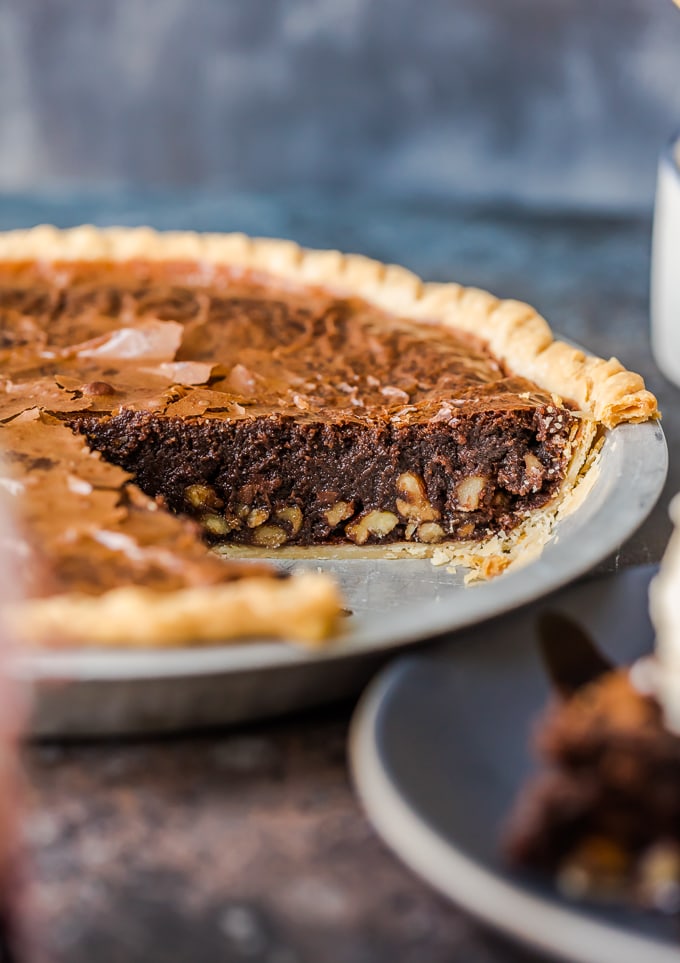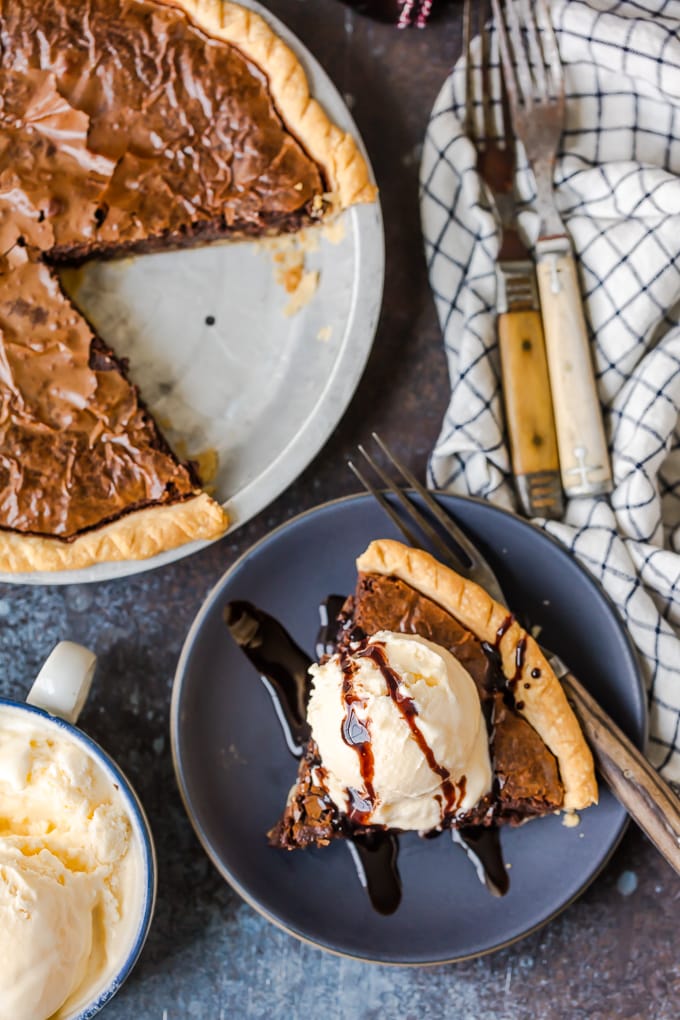 How to Make Brownie Pie
Since we're using a pre-made pie crust from the store, this brownie dessert recipe really just requires making the brownie batter and then baking.
Heat oven to 325°F and blind bake the pie crust according to package instructions (or read this article for more info), and let pie crust cool
Melt butter & 2/3 cups chocolate chips in microwave
Add in oil & cocoa powder, and whisk until smooth
In another bowl, whisk together eggs, vanilla, sugar, and salt
Whisk together egg mixture and chocolate mixture
Add in flour & the rest of the chocolate chips, and stir until flour is incorporated
Spread a layer of pecans on the bottom of the pie crust and pour the brownie batter on top
Bake at 325°F for 30-35 minutes
Let the brownie pie cool for an hour or two before serving. Top with ice cream and enjoy! See recipe card below for full instructions.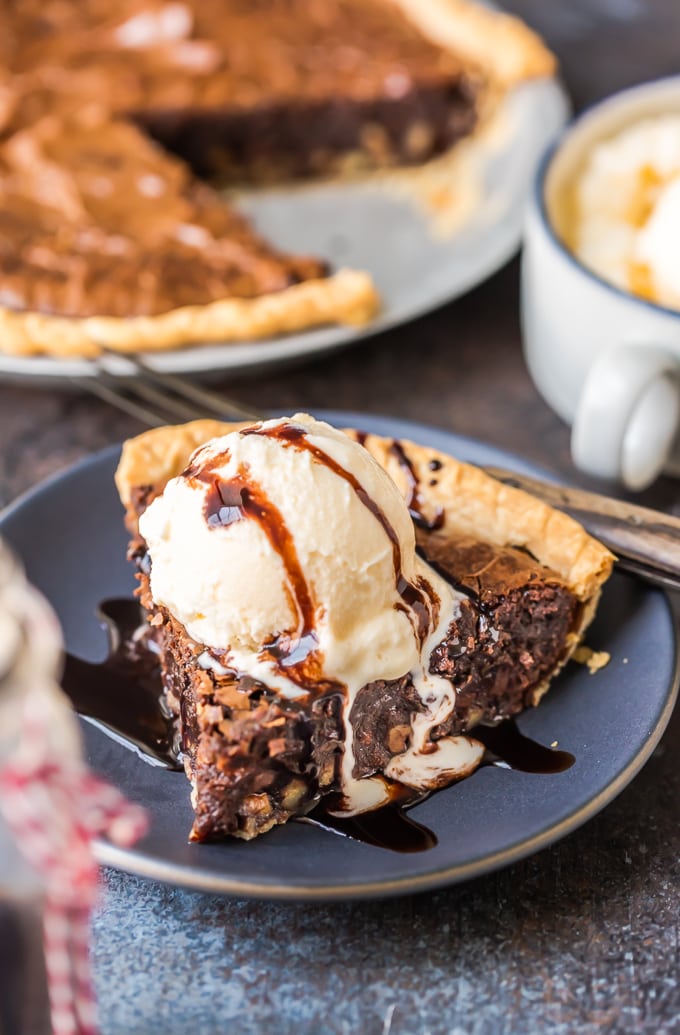 This chocolaty Fudge Brownie Pie will be a hit with anyone and everyone! No one can resist this amazing brownie dessert, especially once you add on that scoop of ice cream.
If you like this brownie dessert, you'll love these other dessert recipes too:
If you make this recipe be sure to upload a photo in the comment section below or leave a rating. Enjoy! You can also jump to recipe.