Pepper Jelly Dip is a quick and easy recipe for last-minute parties and get-togethers. And by last-minute, I mean, this dip takes less than 10 minutes to make. Pair it with some crackers, and you've got a super-tasty snack or appetizer! It's spicy, it's sweet, and it's creamy–how is that possible? Read on for details!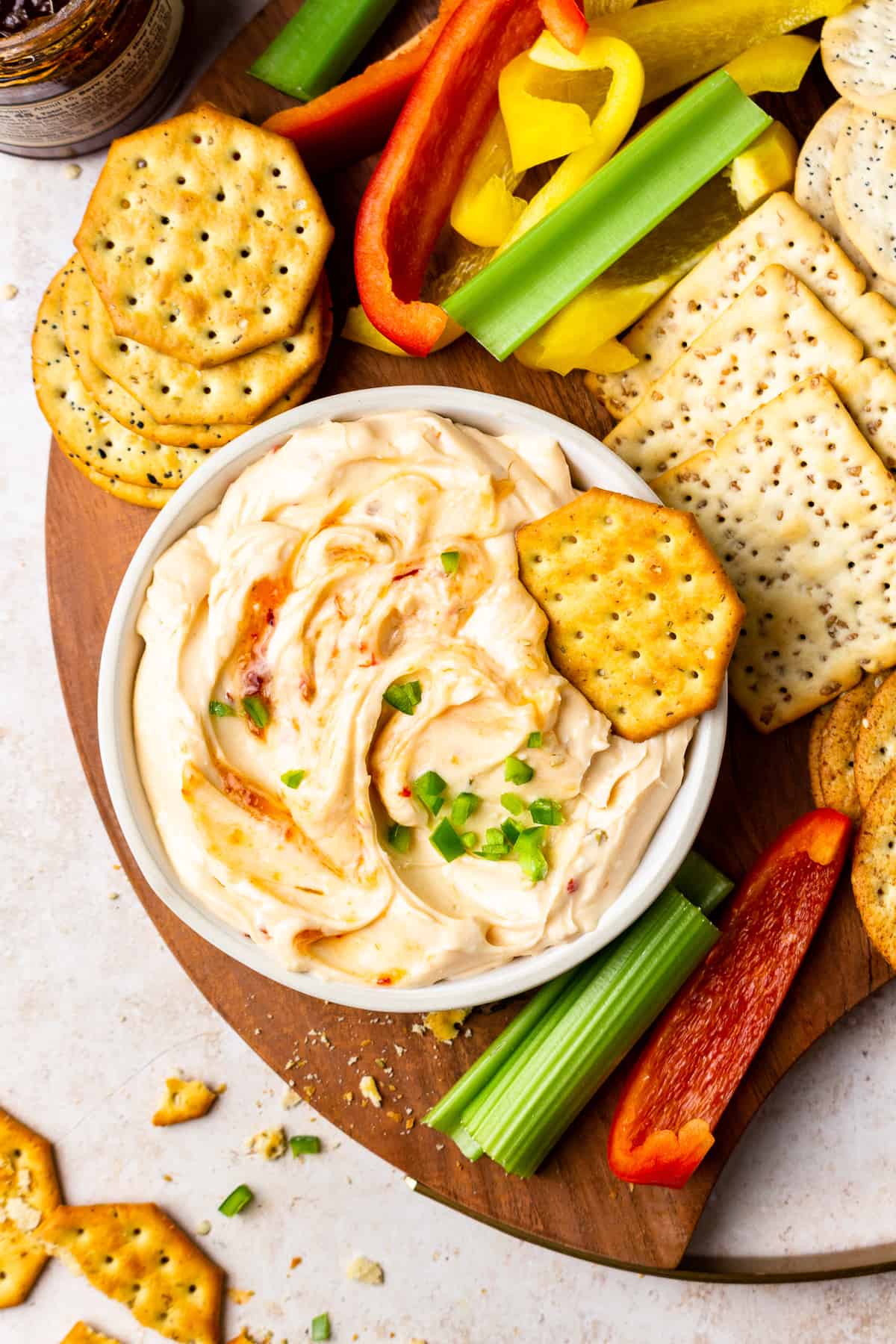 Pepper Jelly Cream Cheese Dip
Sometimes there just isn't enough time in the day, especially during this time of the year. You have a holiday party to attend at 6 pm, but you don't get home from work until 5:30! And you're supposed to bring an appetizer, somehow get ready, and get to the party on time and with a smile…it just seems impossible.
But this super-quick and easy dip is made for those days! If you're in the market for an incredibly easy appetizer for the lazy or crazy days, this Pepper Jelly Dip is just the thing.
Back in my "I can't even boil water" days, this dip was one of my favorite things, especially because it was one of the few things I could make. Fast forward a few years and it's still one of my favorites, even now that I can successfully crack an egg.
Why you'll love this Spicy Pepper Jelly Dip Recipe:
It's Unusual: The flavor is a unique blend of spicy, sweet, savory, and creamy. Spicy jalapeño pepper jelly plus cool cream cheese equals the perfect simple yet delicious taste. And it makes a great conversation starter as people try to figure out what's in the dip.
It's Quick: Next time you're in a rush and you need to bring a snack, make Pepper Jelly Dip and you're set. Sometimes simple is simply the best way to go!
It's Good for beginners: This is one of those recipes that you can't ruin; it's a stir-and-go crowd-pleaser that enhances your reputation as a good person to invite to parties.
This Pepper Jelly Dip is the perfect thing to bring to parties when you're short on time and running late!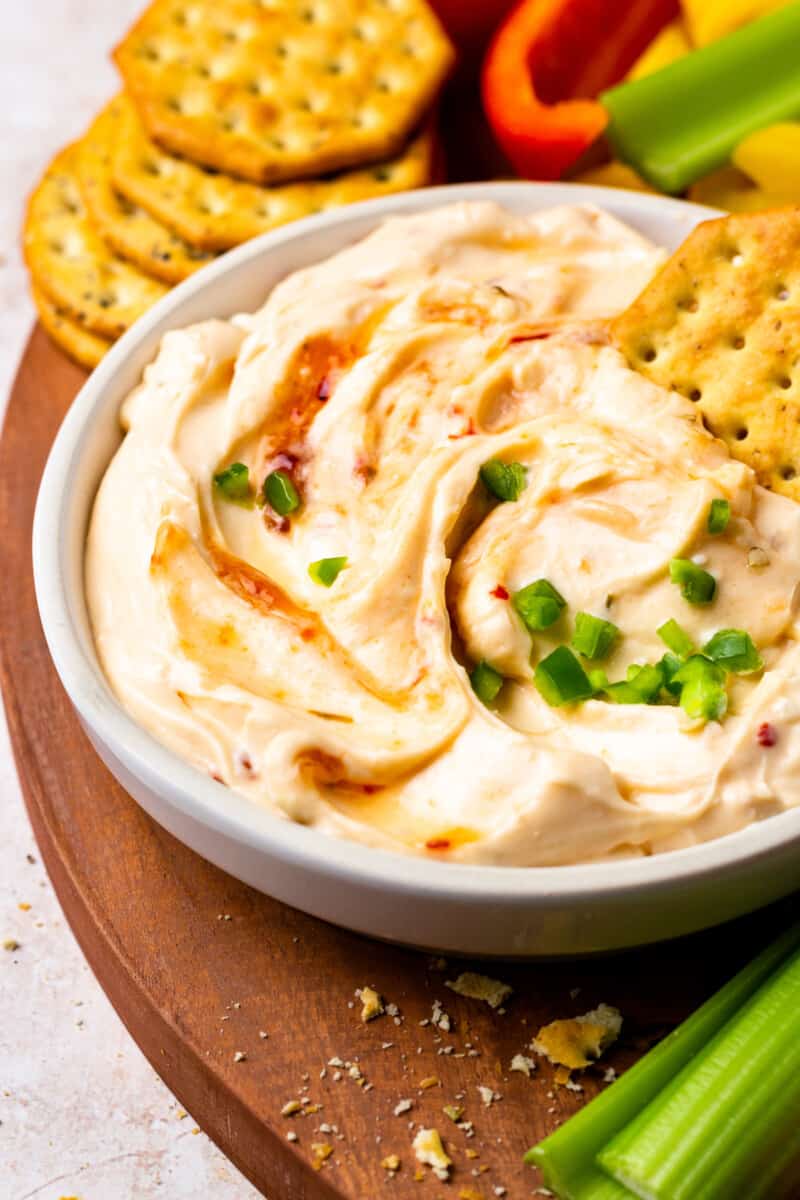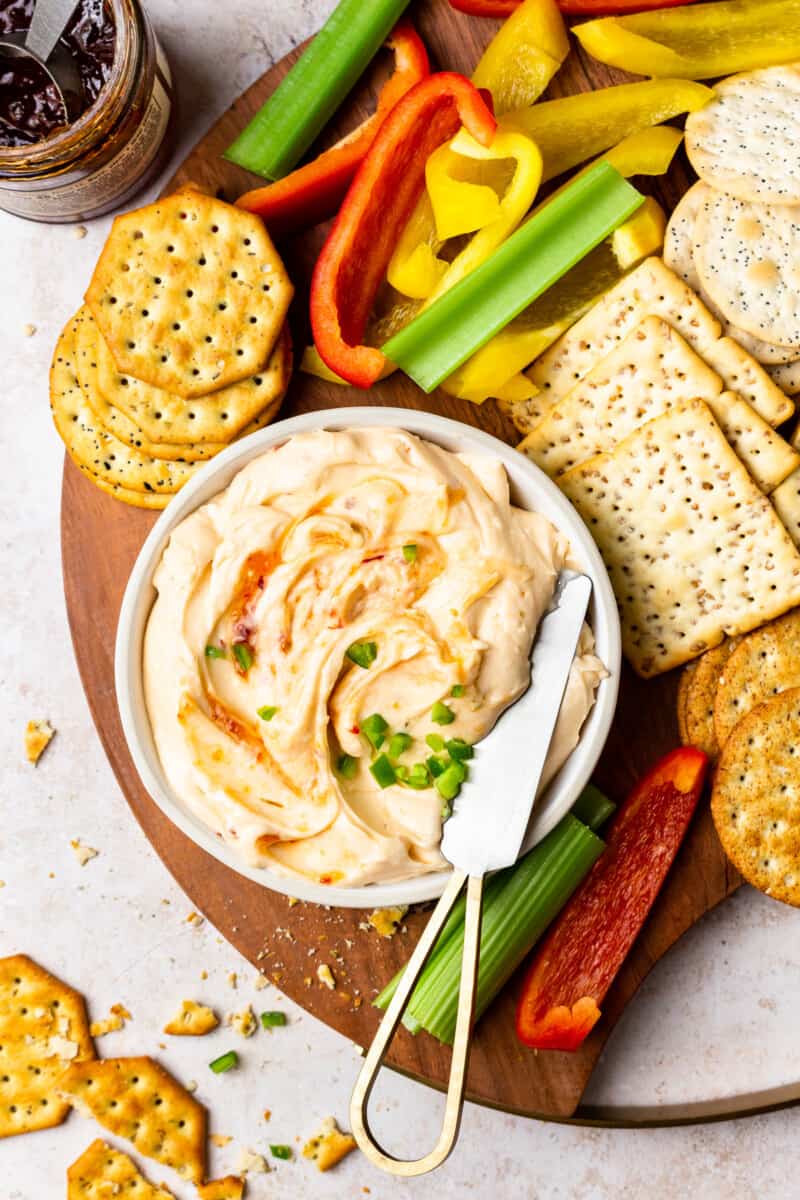 We had this on our appetizer table at Thanksgiving, and it was the only one requested by my father-in-law when we came over the next week! The instructions are so simple, it's almost a joke. Blend and…done!
How to Make Pepper Jelly Dip
Be sure to see the recipe card below for full ingredients & instructions!
Put the softened cream cheese and jalapeño pepper jelly in a mixer.
Beat the mixture until it's smooth.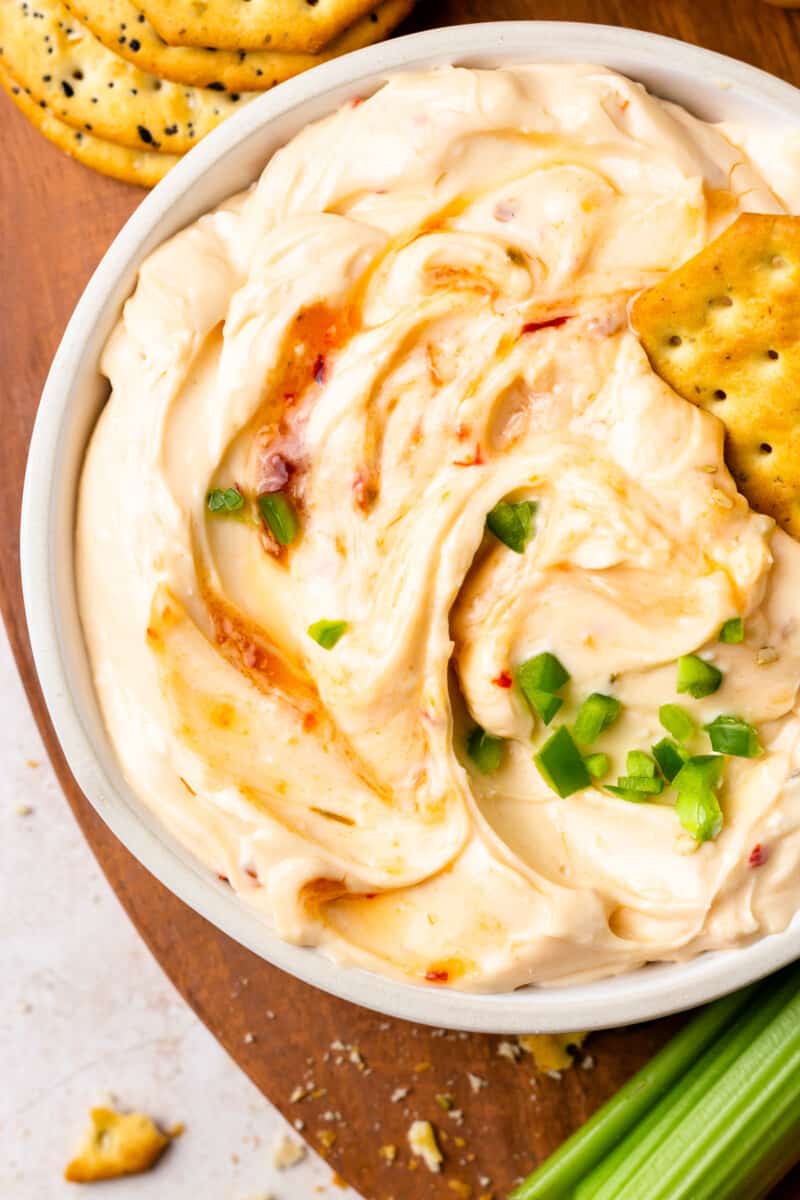 What is Pepper Jelly?
Pepper jelly, as the name implies, is made with peppers–bell peppers, jalapeño peppers, habaneros or any other pepper (or combination of peppers).
It's thickened with pectin, and often also includes sugar and vinegar. Pepper jelly can be red hot and spicy, or mild with just a small hit of heat, so read the label to get an idea of what to expect.
What Do I Serve with Pepper Jelly Dip?
You can serve anything you like with this dip. I like to keep it simple with simple crackers when I'm in a rush, but you serve whatever crackers you have on hand–whole-grain hearty crackers, or fancy, buttery crackers, or even pretzels.
It's great paired with raw veggies too! It's a great way to spice up the typical party vegetable tray.
Can I Make Pepper Jelly Dip Without a Mixer?
A mixer helps create a velvety smooth dip, but if you're good with a whisk or a spatula, you can get pretty close. Just make sure the cream cheese is quite soft, so that it mixes easily.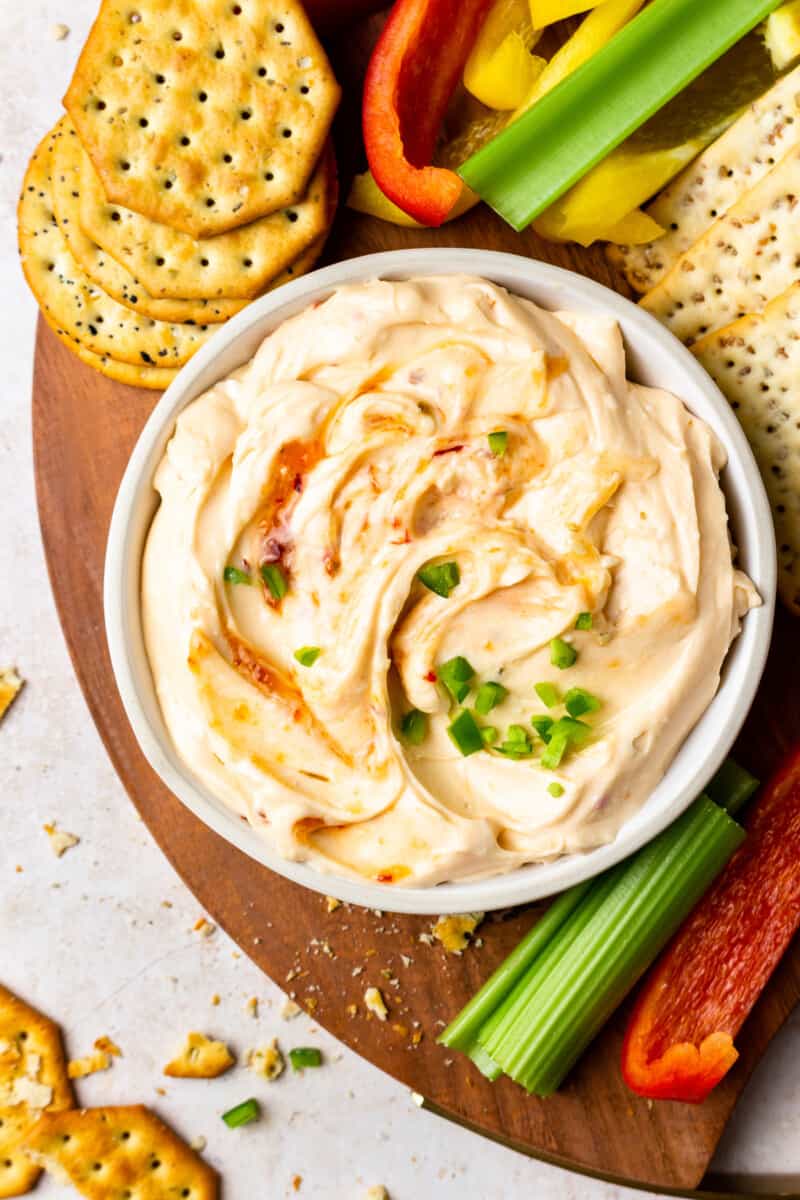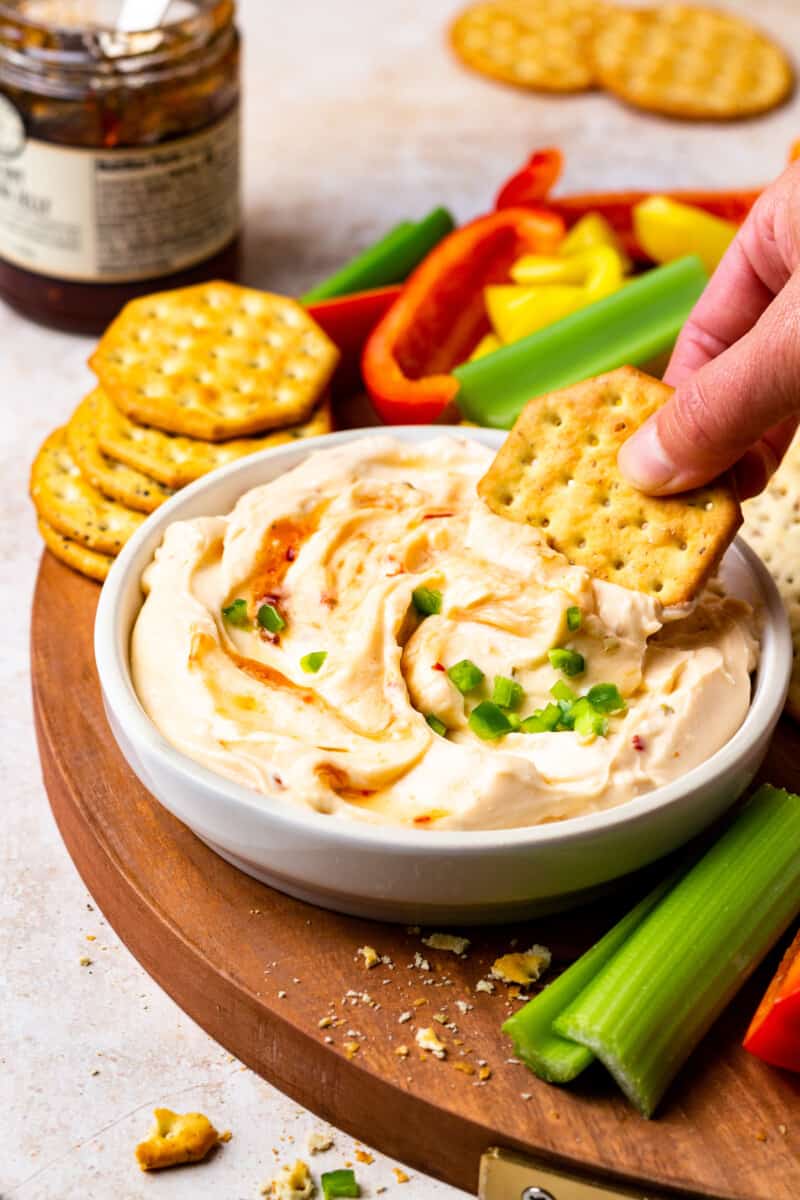 Be sure to try these other quick and easy party dips:
If you make this recipe be sure to upload a photo in the comment section below or leave a rating. Enjoy! You can also jump to recipe.