This deliciously creamy Veggie Dip recipe only takes 10 minutes to make! Combine mayo, sour cream, ranch seasoning, dill, and a couple other simple ingredients to make the best dip for veggies. It's perfect for your veggie tray at any party, served with carrots, broccoli, or any vegetables you love.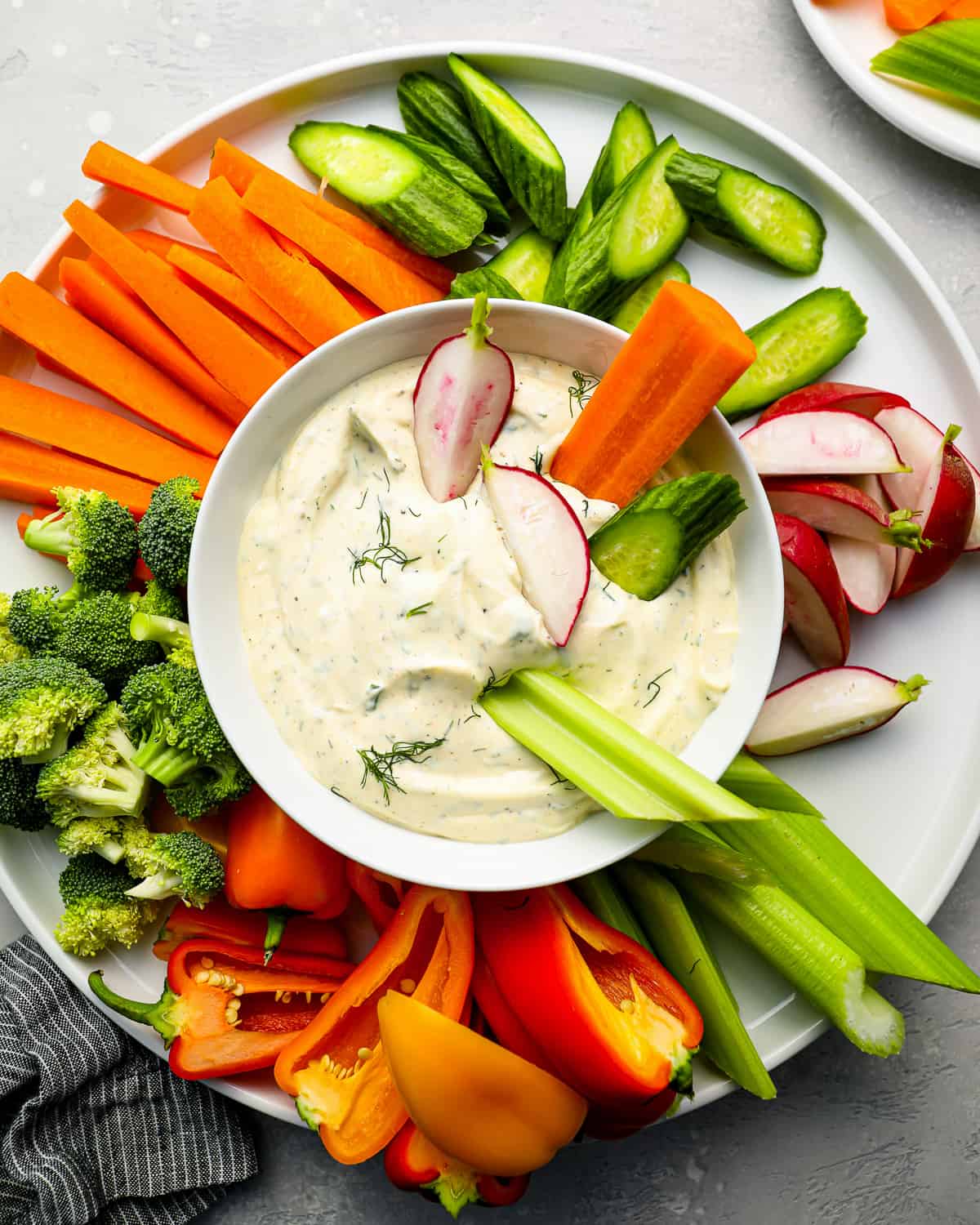 What's in this Veggie Dip Recipe?
Tangy, herbaceous, and full of flavor, this veggie dip is a versatile addition to any snack spread! Any time I host a party, you can bet I'm making this easy dip to serve with a vegetable tray.
Sour Cream: Provides a creamy and tangy base for the dip, adding richness and a smooth texture.
Mayonnaise: Adds creaminess and depth of flavor to the dip, complementing the sour cream.
Ranch Seasoning: This mix of herbs and spices (often including garlic, onion, dill, parsley, and other seasonings), imparts a classic ranch flavor to this vegetable dip.
Fresh Herbs: A combination of parsley and dill enhances the flavor and freshness of the dip, providing a light and herbaceous flavor.
Seasoned Salt: Enhances the overall flavor profile of the dish.
Black Pepper: Adds a mild spiciness to the dip.
Pro Tip: If you're cutting calories, you can swap out the sour cream for plain Greek yogurt.
Variations on Vegetable Dip
This homemade veggie dip is easy to customize to suit your preferences. Try a few of these modifications for your next batch!
Add freshly squeezed lemon juice for a pop of freshness.
Stir in a mashed ripe avocado to make this dip ultra-creamy.
Swap the ranch for French onion soup mix for a more savory take. You could also stir in some caramelized onions to really make the flavor pop.
Add chopped fresh cilantro and lime juice for a Tex-Mex take.
Stir in some Buffalo sauce for game day. This dip is great with grilled chicken wings!
Drizzle in some balsamic glaze for a Mediterranean take. It's great with blistered sweet peppers!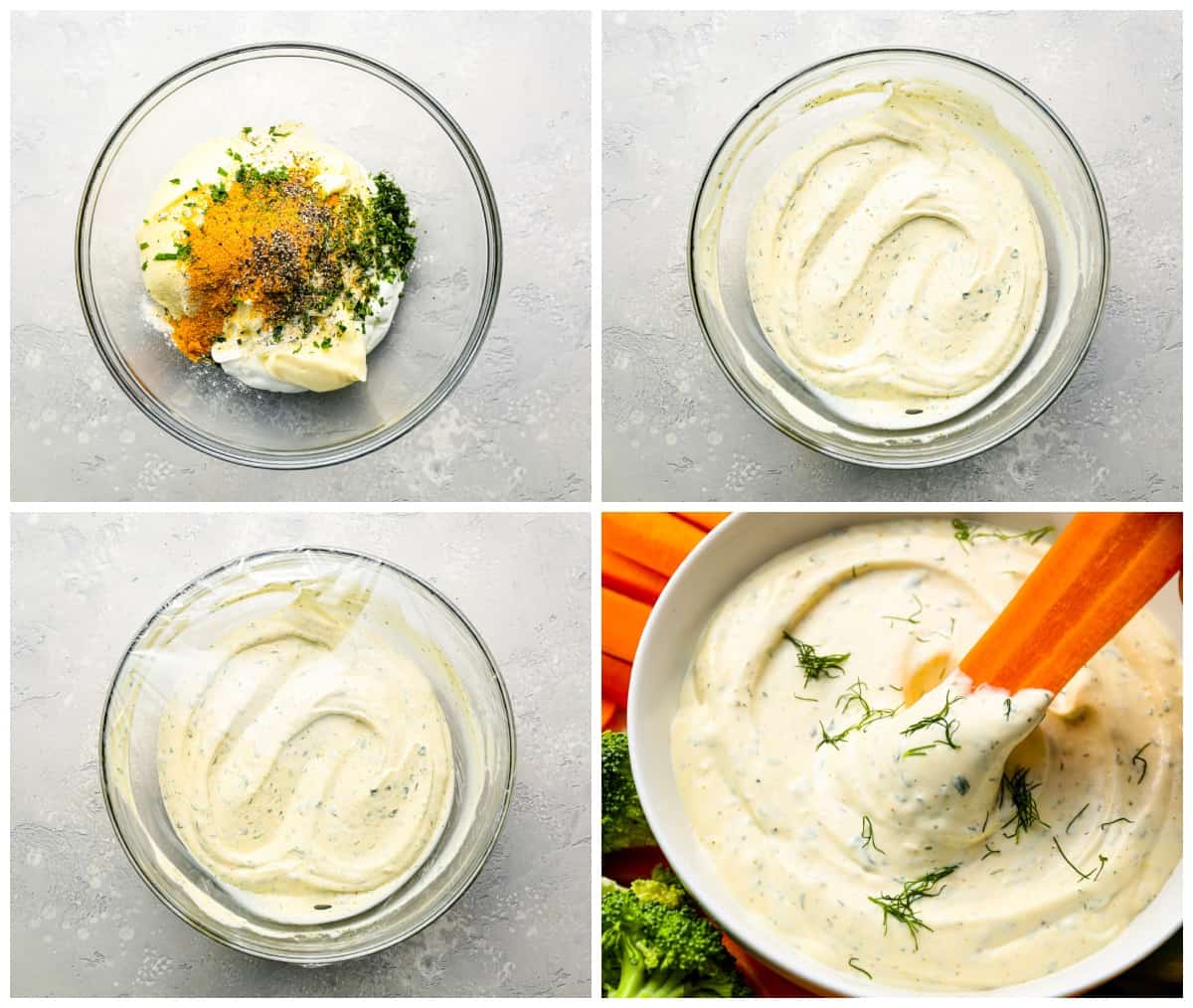 What is veggie dip made of?
This flavorful dip is made from a mix of sour cream, mayonnaise, fresh herbs, and seasonings. It's so tangy and tasty!
What veggies go on a veggie tray?
You can put just about anything on a veggie tray. Some of my favorites are cherry tomatoes, celery, baby carrots, bell peppers, radishes, cucumbers, and broccoli.
How can you make this dip healthier?
For a healthier swap, try using Greek yogurt in place of the sour cream.
Can you freeze veggie dip?
While it is technically safe to freeze this dip, I don't recommend it, since the texture changes significantly once thawed.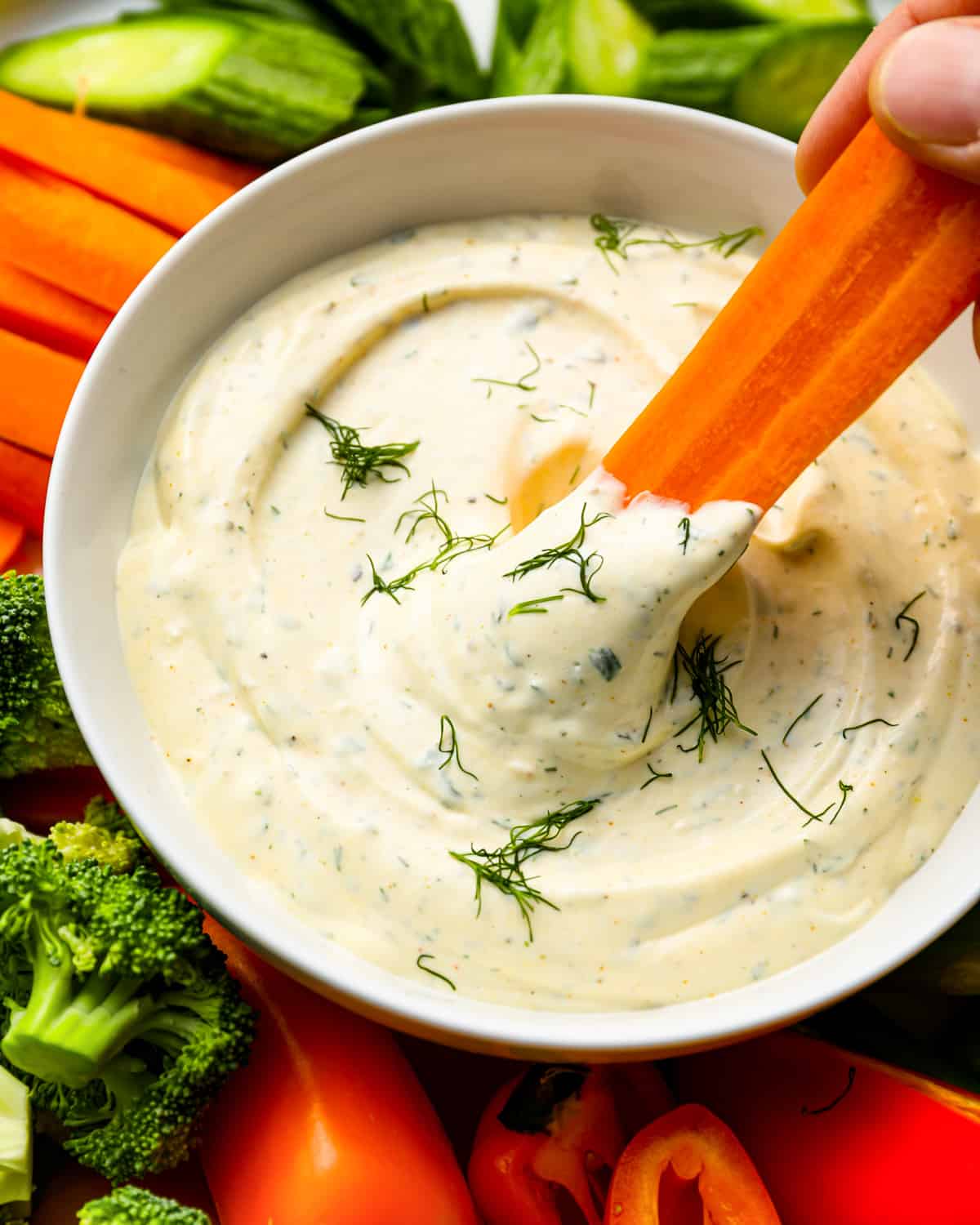 How to Store
Store leftover veggie dip in an airtight container in the refrigerator for up to 4 days. I do not recommend freezing this dip.
Serving Suggestions
Serve this delicious dip with a platter of fresh veggies, Mexican spice cheese crackers, tortilla chips, wonton chips, or sweet potato chips.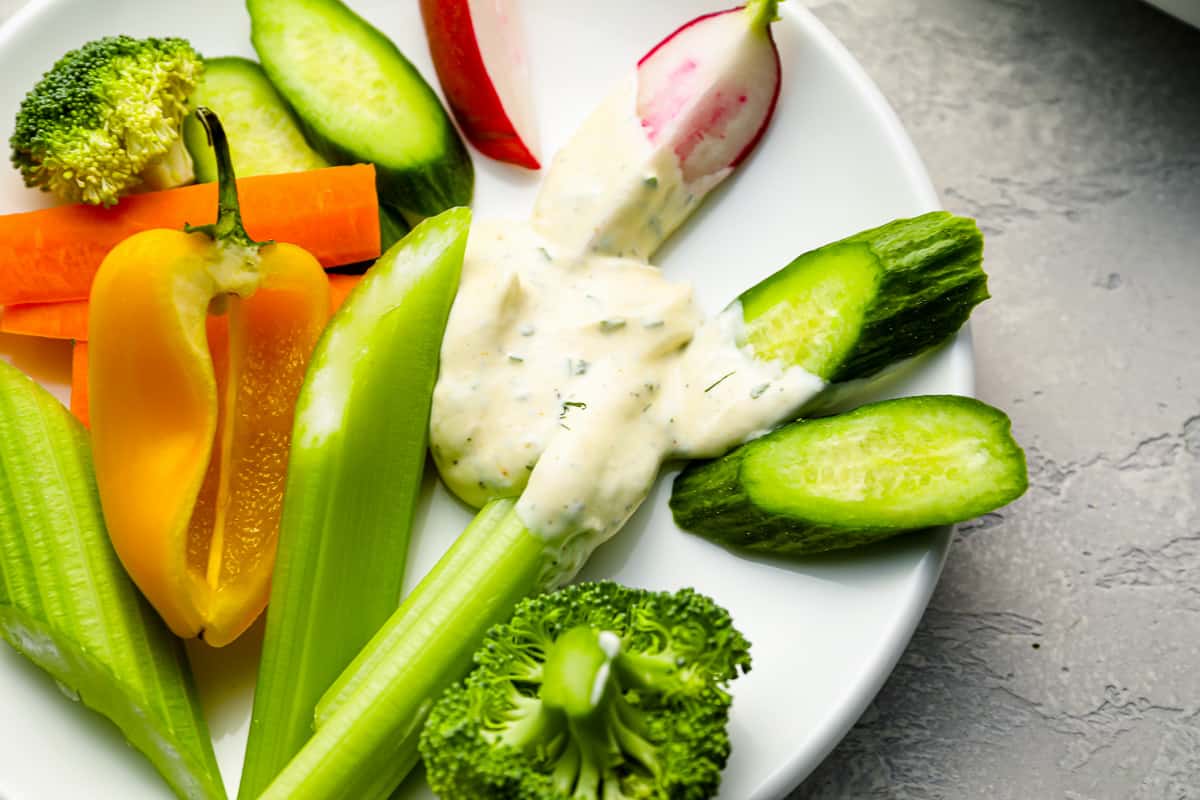 More Sour Cream Dip Recipes We Love