Delicious layers of tangy sour cream, savory beans and cheese, chunky salsa, and more make these 7 Layer Dip Cups the perfect appetizer for any dinner party, event, or everyday snack! Try this dip with store-bought or homemade tortilla chips.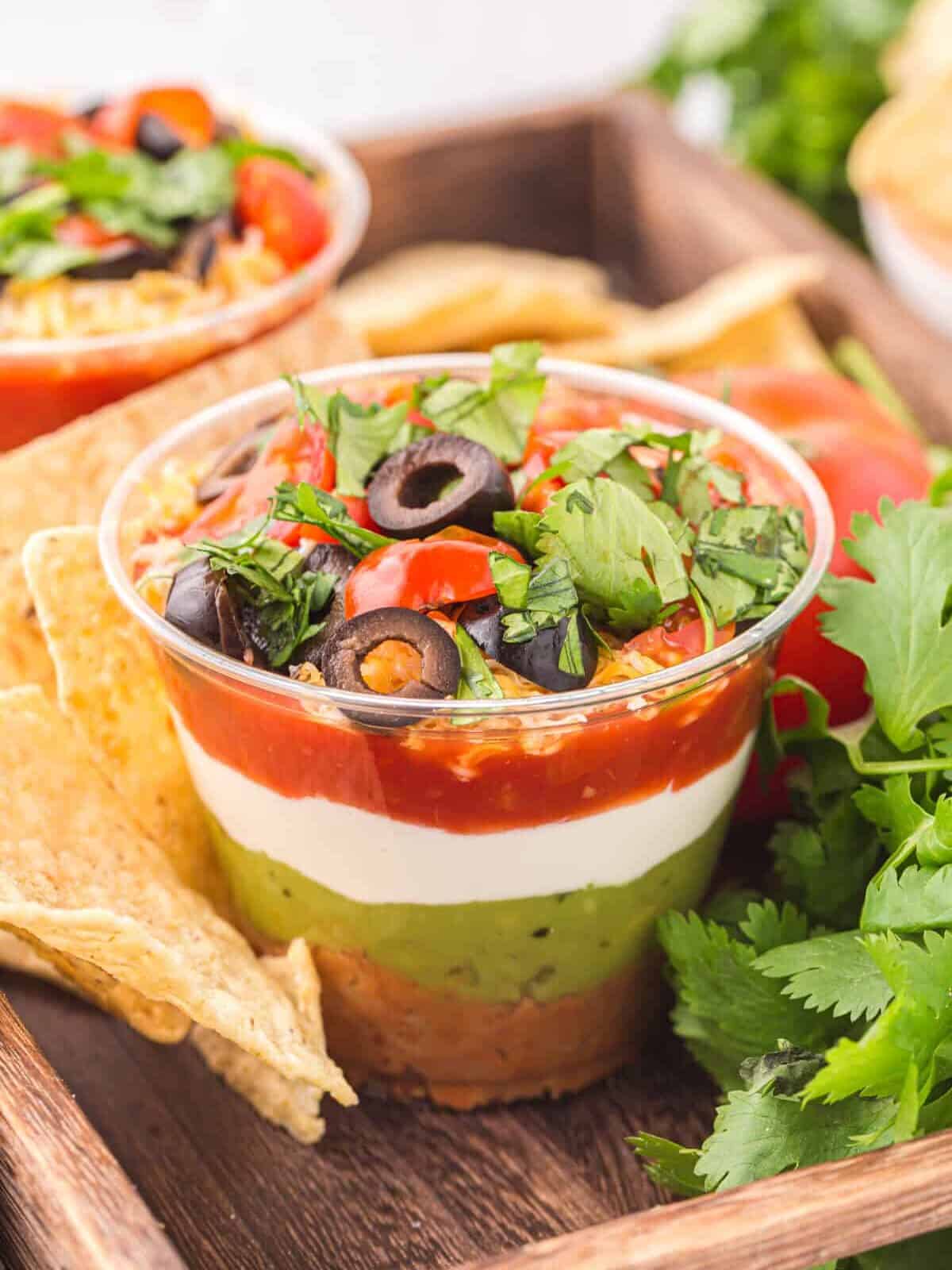 What's in Individual 7 Layer Dip Cups
Turn a traditional 7 layer dip into individual-sized appetizers. Layers of beans, cheese, sour cream, guacamole, salsa, and more are combined into a single dip that is just irresistible!
Refried Beans: I used a simple can of refried beans but you can use your favorite brand or flavor, or even use homemade refried beans if you have some.
Taco Seasoning: A store-bought packet works, but I highly recommend trying my favorite homemade taco seasoning!
Heavy Cream: You can use half and half instead, but note that the consistency will be thinner.
Fiesta Blend Shredded Cheese: You can use a combination of cheeses if you don't want to get a pre-blended bag. A few cheeses that go well in this dip are cheddar, mozzarella, Colby jack, and Monterey. You can also use a pepper jack for a bit more spice.
Guacamole: If you want an incredible homemade recipe, try my best guacamole recipe!
Sour Cream: In a pinch, you can substitute plain Greek yogurt for the sour cream. It will taste similar but not exactly the same.
Chunky Salsa: You can use a smooth salsa, but it may be watery. You can also use homemade salsa.
Black Olives: I used water-packed. If you use oil-packed olives, rinse them before using.
Cherry Tomatoes: You can substitute your favorite fresh tomatoes and chop them instead of using cherry tomatoes.
Fresh Cilantro: While I prefer extra cilantro in my dip cups, you may not like this herb – and that's okay! Add more or omit entirely.
Tortilla Chips: Use your favorite chips, or make some baked tortilla chips!
Pro tip: If your salsa is runny, drain the liquid out before adding it to the cups.
Can I make 7 layer dip cups spicy?
Change up the spice level to match your preferences. If you like things hot and spicy, use a hot salsa, spicy guacamole, and add a bit more chili powder to your beans.
If you like a nice dip without heat, use mild ingredients and omit the taco seasoning from the beans. Or play around with something in the middle until you get just the right heat level for you and your guests.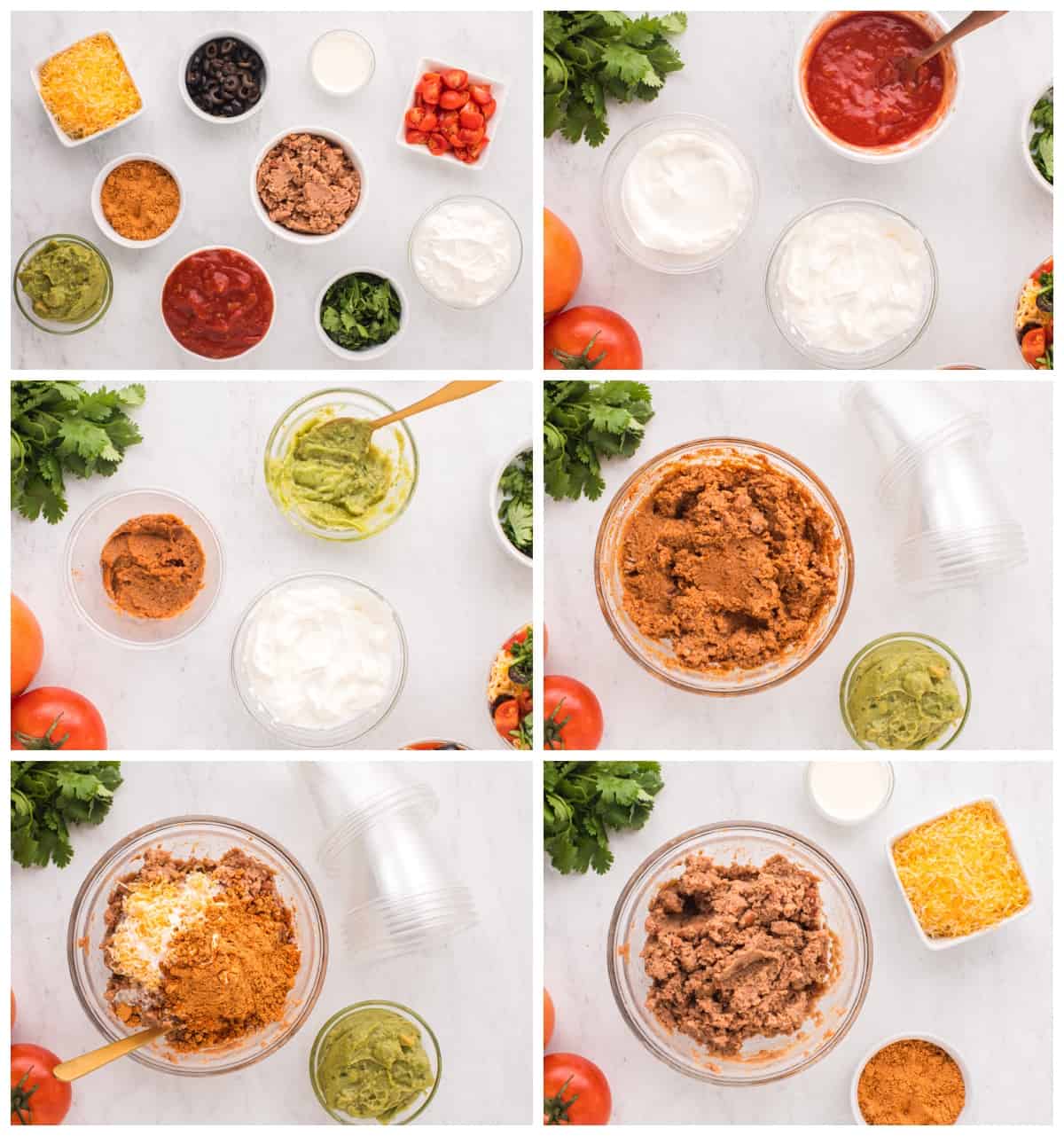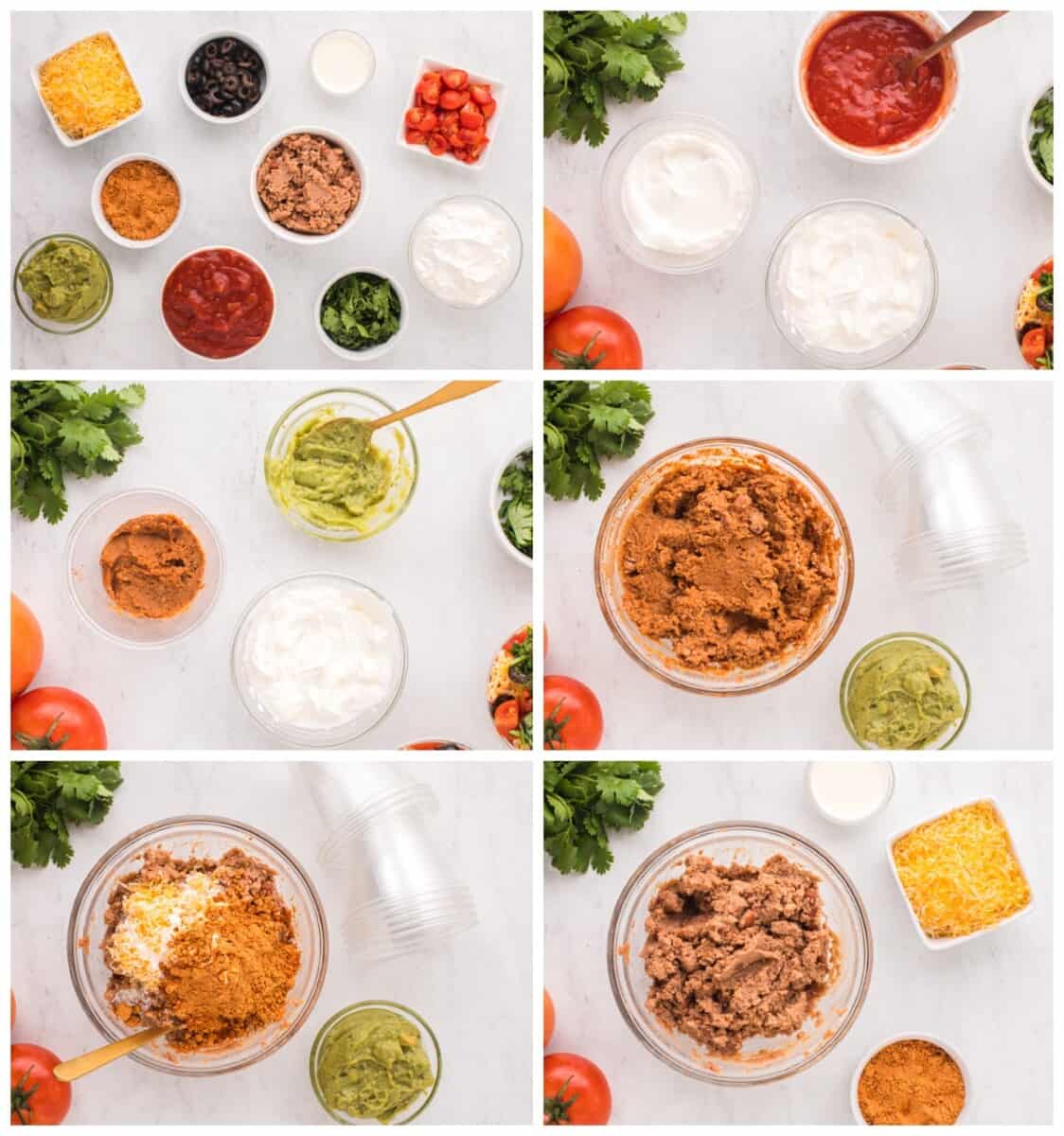 How do I know how much to layer of each ingredient?
Start with less and add more. You don't want to run out of any ingredients before all the cups have some so don't assemble one cup at a time. Do each layer in each cup and add slightly less than you think you need. You can always come back and add more afterwards if you have extra. It is easy to overload the first few cups and then not have enough for the last ones or even to overfill the first few cups and not have enough room for the last layers!
Can I make this 7 layer dip in a casserole dish instead?
Absolutely! You can spread out the dip layers in an 8×8 or 9×9-inch casserole dish instead for a larger, shareable dip.
What kind of cups should I use?
Be sure to use wide-mouth cups when assembling these dip cups. Tall, skinny cups will be difficult to assemble and difficult to eat from! I like to use clear disposable plastic cups so you can see the layers and for easy cleanup. You can also use ramekins or small bowls.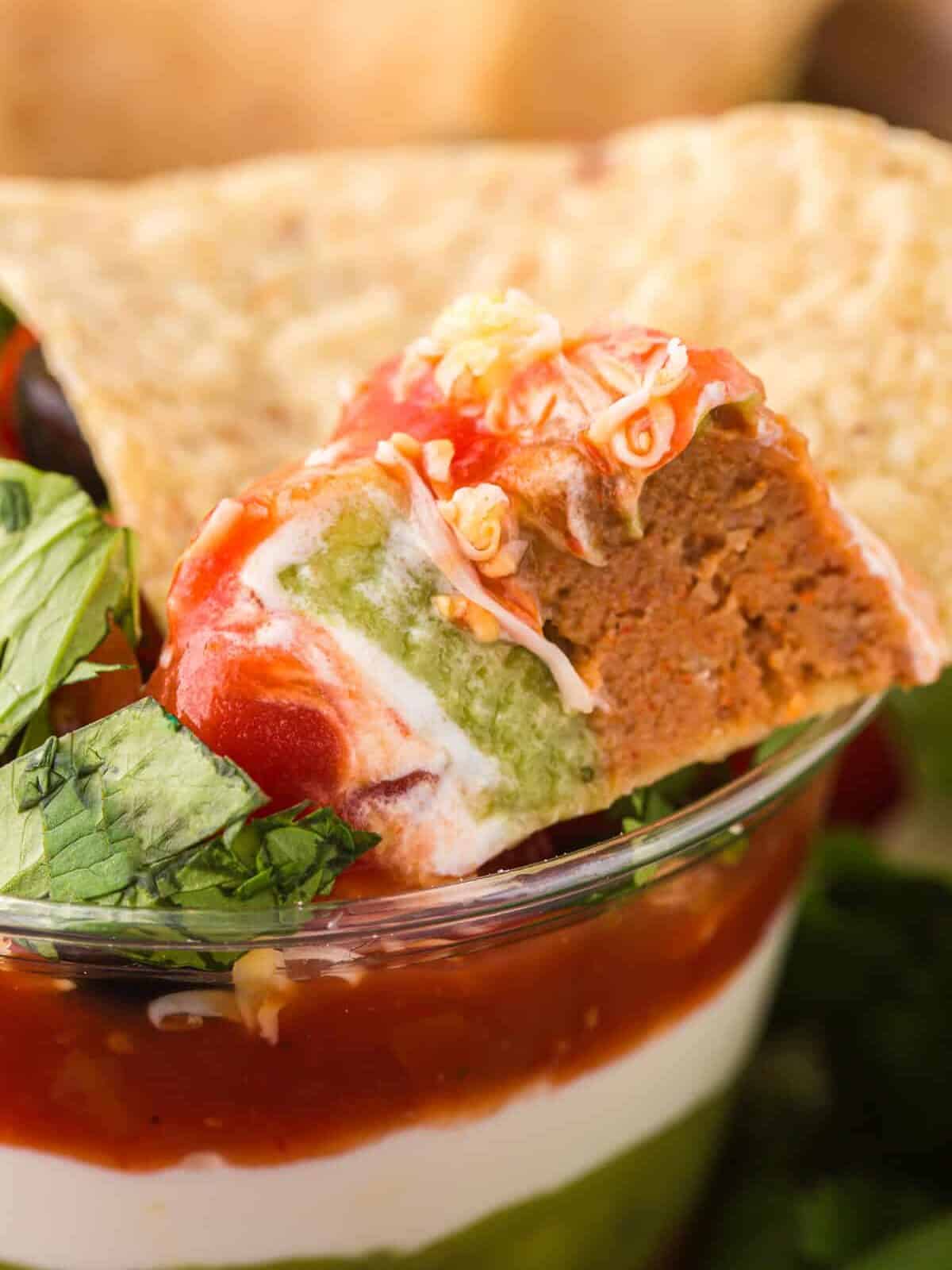 How to Store Individual Dip Cups
Store 7 layer dip cups in an airtight container in the refrigerator for up to 4 days. Enjoy cold, at room temperature, or gently microwaved until warmed through. I don't recommend freezing these.
What to Serve with 7 Layer Bean Dip
These cups are ready to go all on their own! Serve them with tortilla chips or any other dippers of your choice to get the party started. It's a great appetizer to serve on taco night, or at Cinco de Mayo parties. And of course they taste even better when served with margaritas!