This creamy Fiesta Ranch Dip recipe is made up of just 5 ingredients, including sour cream, corn, ranch seasoning, Rotel, and cheese. This cold party dip comes together in minutes, and can be served straight out of the fridge with potato chips, veggies, and crackers.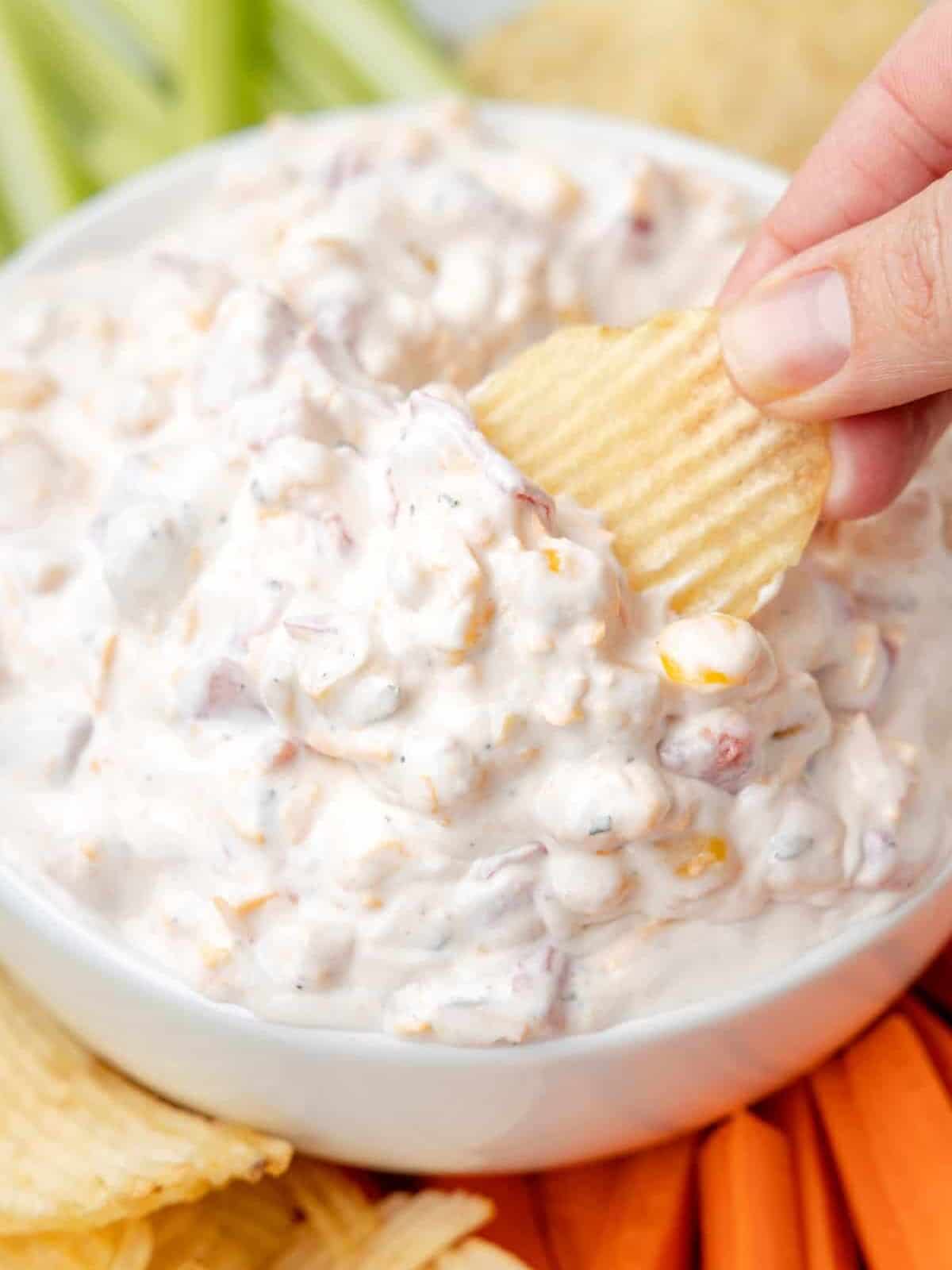 What's in Fiesta Ranch Dip?
Creamy and cheesy with just a hint of spice, what more could you want? Just a handful of ingredients come together to make this super simple crowd-pleasing dip.
Sour Cream: This forms the base of our dip, making it creamy and tangy! I highly recommend using full-fat sour cream for the best flavor, but low-fat will also work.
Cheddar Cheese: Shredded cheese makes this dip even better. Feel free to swap in a different cheese, like Colby or pepper jack.
Canned Corn: Adds a hint of sweetness and a nice crunch.
Rotel: Adds that fiesta flavor with tomatoes and spicy green chilies.
Ranch Seasoning: Puts the "ranch" in fiesta ranch dip and adds a tangy, fresh flavor.
Pro Tip: Freshly shred the cheddar cheese for the freshest flavor!
Variations on Fiesta Ranch Corn Dip
In my opinion, this recipe is just about perfect as is! However, you can adjust the spice level to better suit your individual tastes. For a less spicy dip, swap the Rotel for a can of plain diced tomatoes. For a spicier dip, try using pepper jack cheese and/or Hot Rotel, or feel free to add some cayenne pepper or a drained can of diced jalapeños.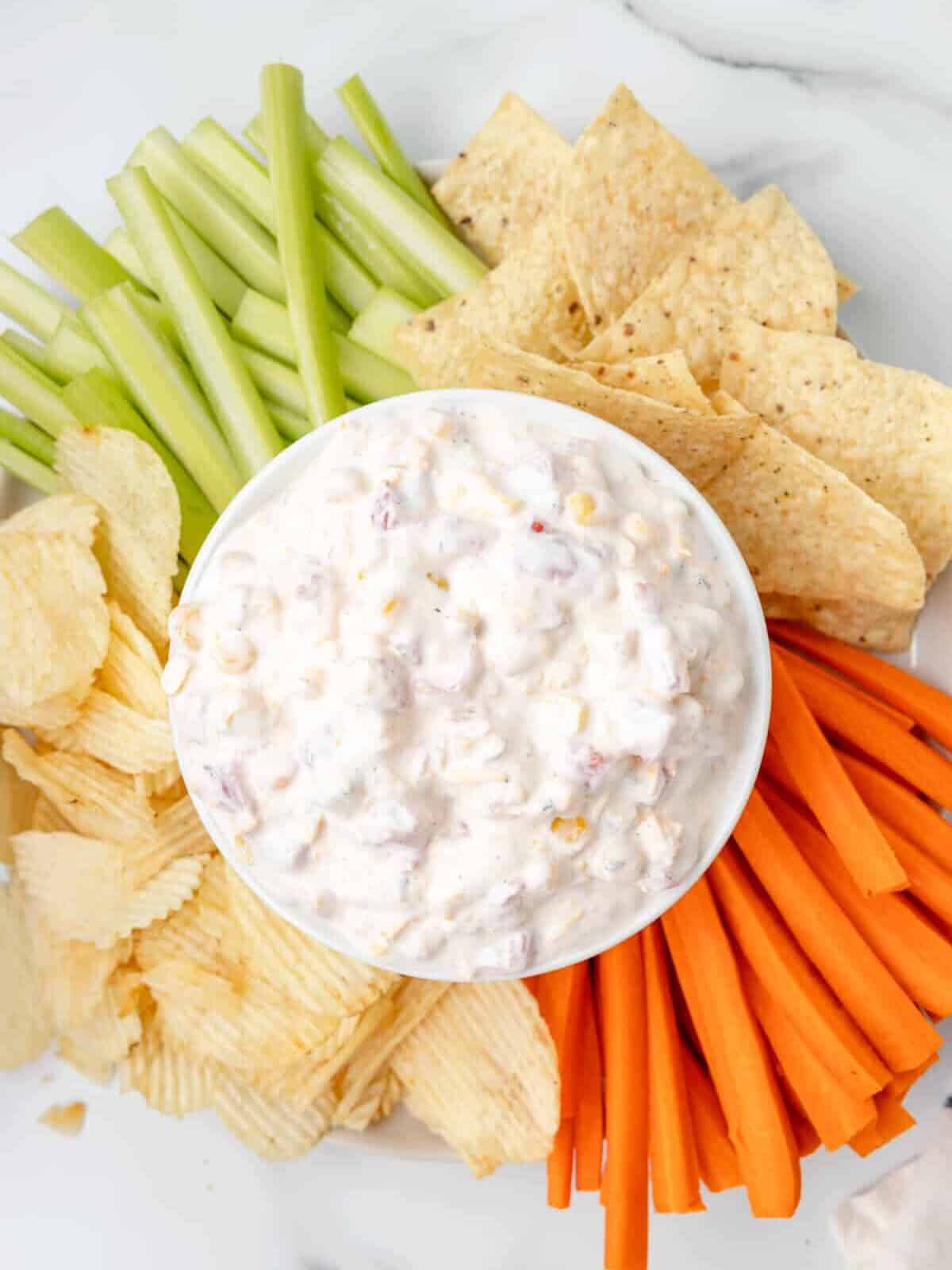 Trademark Note: In the spirit of transparency, I want to note that some of these ingredients are trademarked products. Ro-Tel is a proprietary brand that I want to acknowledge and give credit to.
Can this be made up in advance?
Yes, this recipe is great to make up in advance. It needs at least an hour to chill, and the flavor continues to deepen as it chills, so feel free to make it up to 2 days ahead of when you plan to serve it.
How long does this dip last?
This dip will keep well in the refrigerator for up to 3 days.
Can I use diced tomatoes instead of Rotel?
You can swap out the can of Rotel for diced tomatoes. If you can't find Rotel, I recommend using one small can of green chilies and one can of diced tomatoes.
Should this be served with tortilla chips or potato chips?
This is going to be a personal preference. I feel like it goes well with potato chips or tortilla chips, so I'd consider serving up both!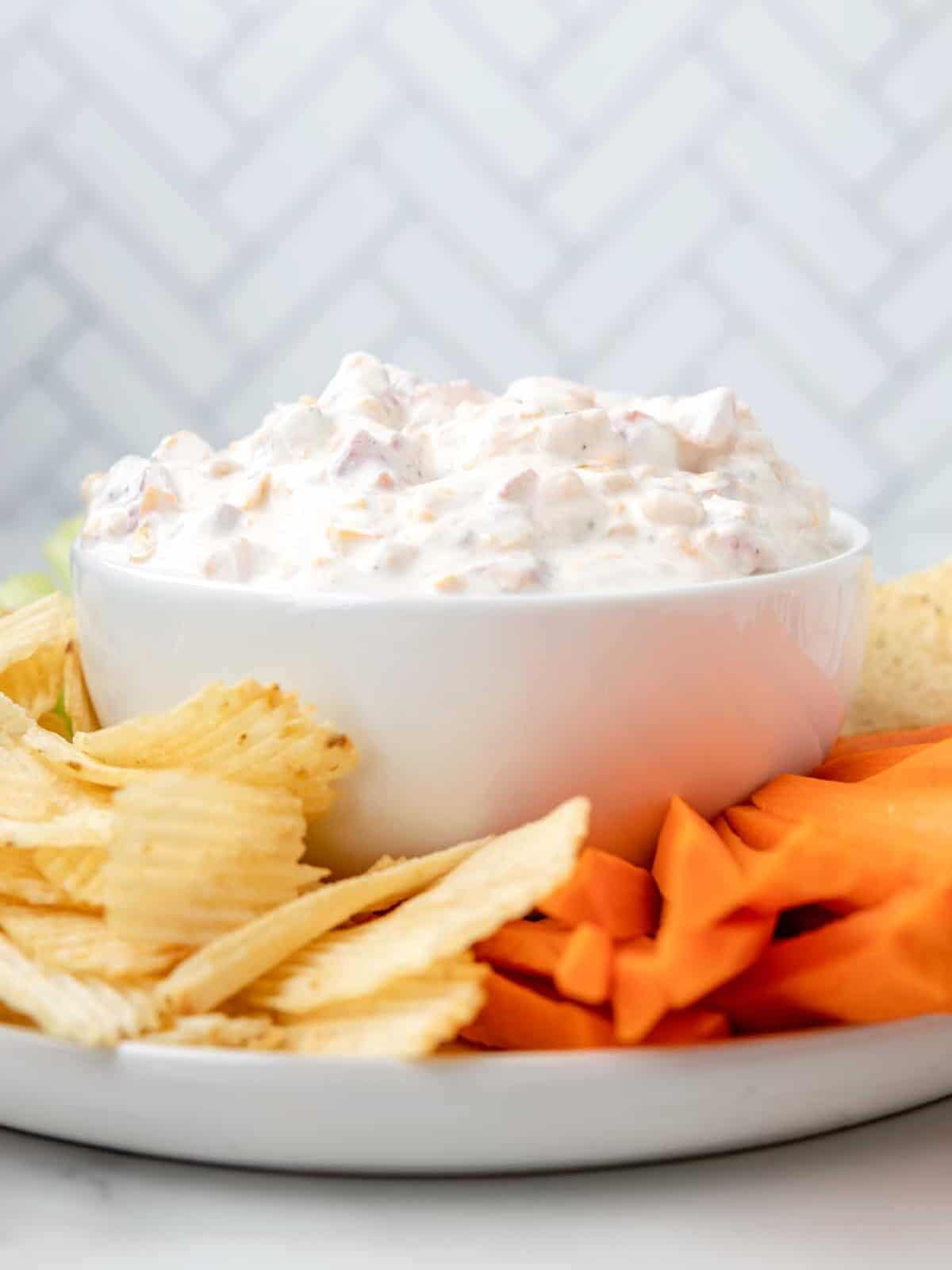 How to Store
Store leftover fiesta ranch dip in an airtight container in the refrigerator for up to 3 days. Give it a good stir before serving cold. I do not recommend freezing this dip.
Serving Suggestions
Serve this creamy cold dip with crudites, potato chips, sweet potato chips, Mexican spice cheese crackers, tortilla chips, or even wonton chips.
I like to add leftover fiesta ranch dip to a Cobb salad for lunch or use it as the base for ranch chicken pasta salad or bacon ranch chicken salad in place of the ranch dressing.
More Ranch Dip Recipes We Love