Chicken Tortellini Soup is the ultimate healthy comfort food! This Chicken Pesto Tortellini Soup is made with BUITONI Herb Chicken Tortellini, BUITONI Pesto, chicken breast, white beans, and lots of other delicious ingredients. There is so much flavor in this easy tortellini soup recipe!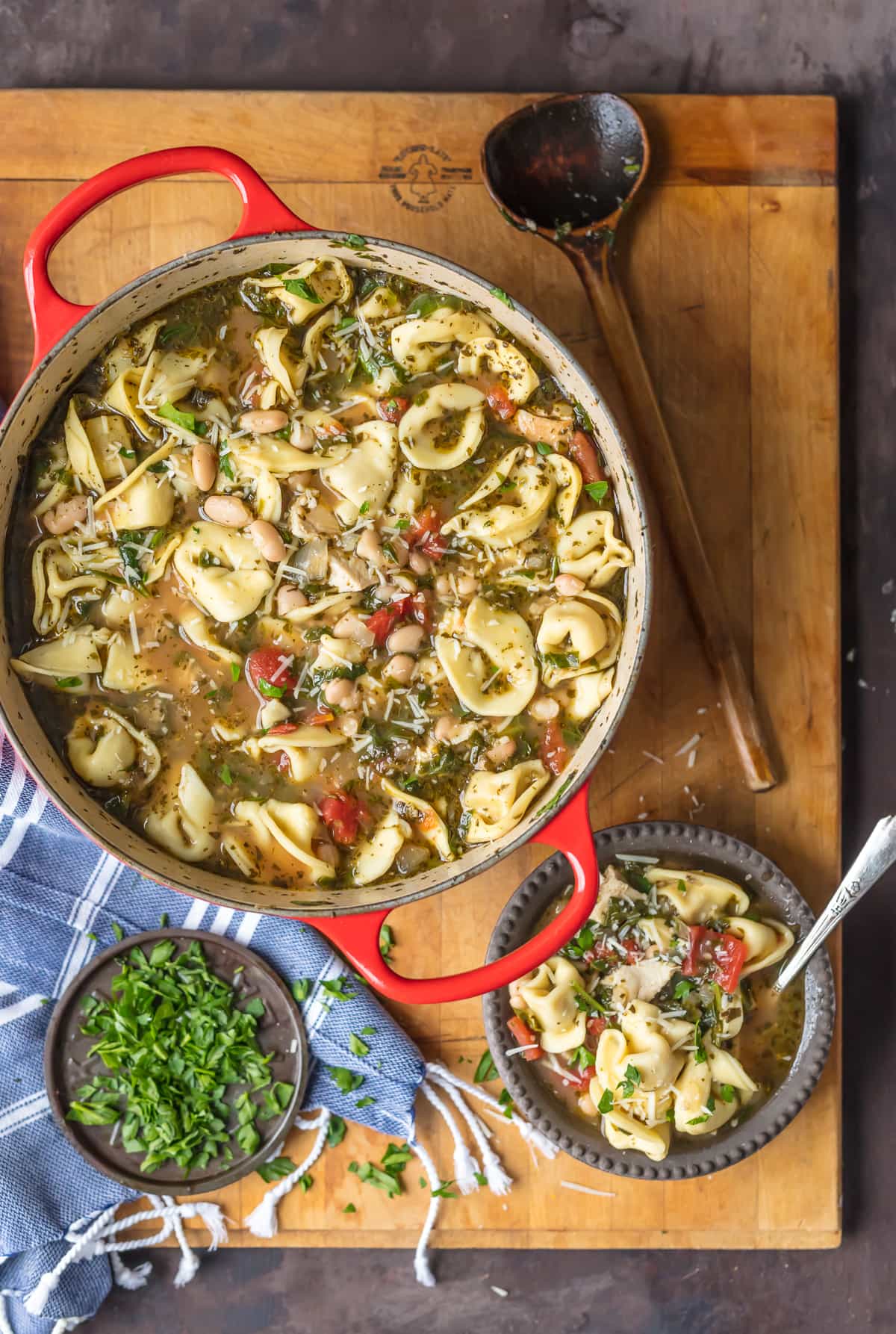 Chicken Tortellini Soup
Chicken Tortellini Soup is one of the most comforting foods. This tortellini soup is filled with amazing ingredients like pesto and chicken, and it's easy to make!
This Pesto Chicken Tortellini Soup is my absolute favorite! It's filled with some of the best ingredients I can think of: chicken breast, tortellini, pesto, cheese, basil, tomatoes, white beans…it's so rustic and tasty.
There's nothing better than a comfort food that you can feel good about, and this chicken pesto tortellini soup is just that! It's loaded with flavors that will make you feel warm and fuzzy, and it comes together in minutes. There's no sense in slaving over the stove when the weather has turned cool and nice and the holidays are approaching. This soup is our new favorite by a landslide!
Make a big pot of this delicious soup and eat it throughout the week. Keep warm all fall/winter long with these incredible flavors! Serve it along with some three cheese focaccia bread!
Pesto Chicken Tortellini Soup is an easy, tasty soup filled with tons of amazing ingredients!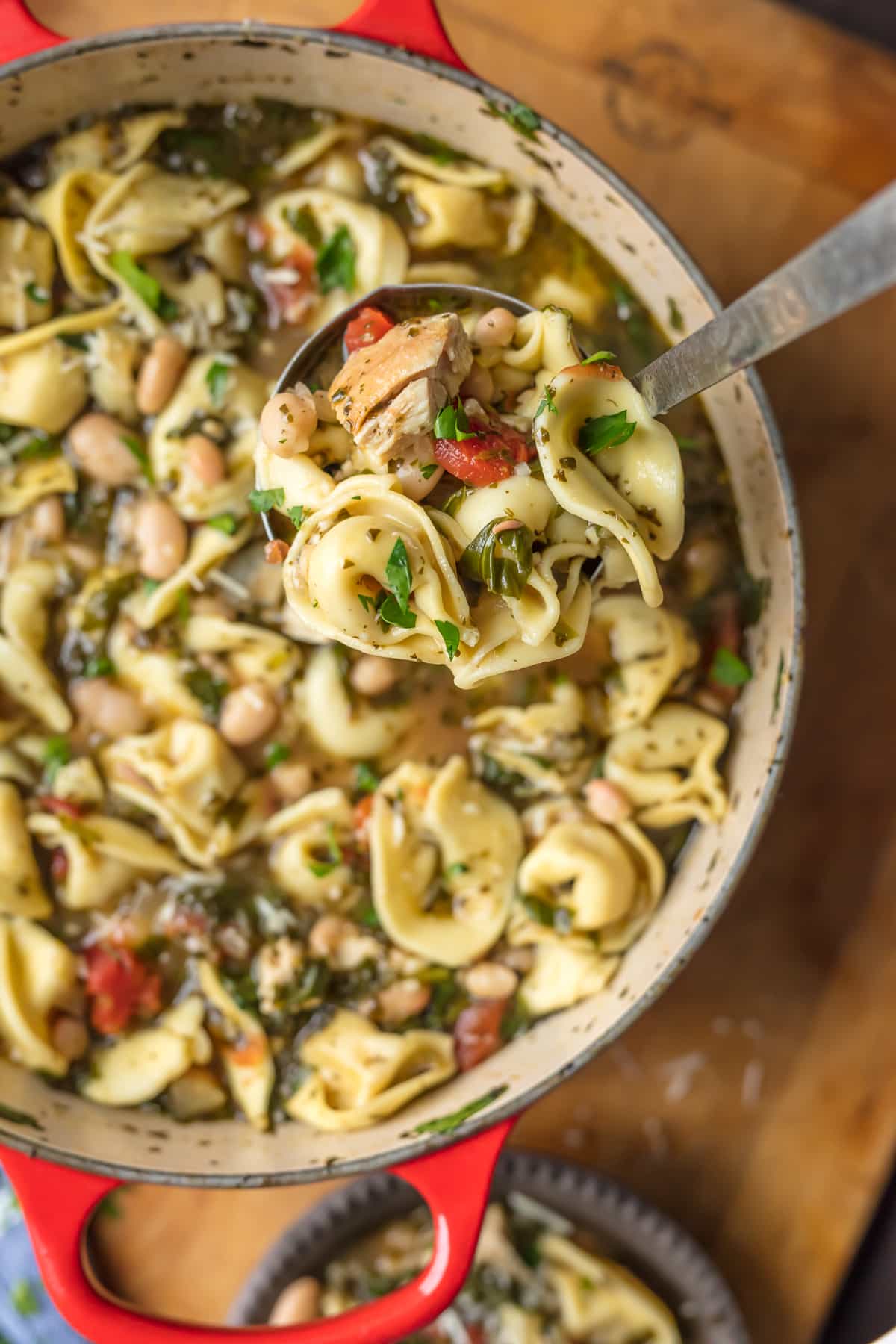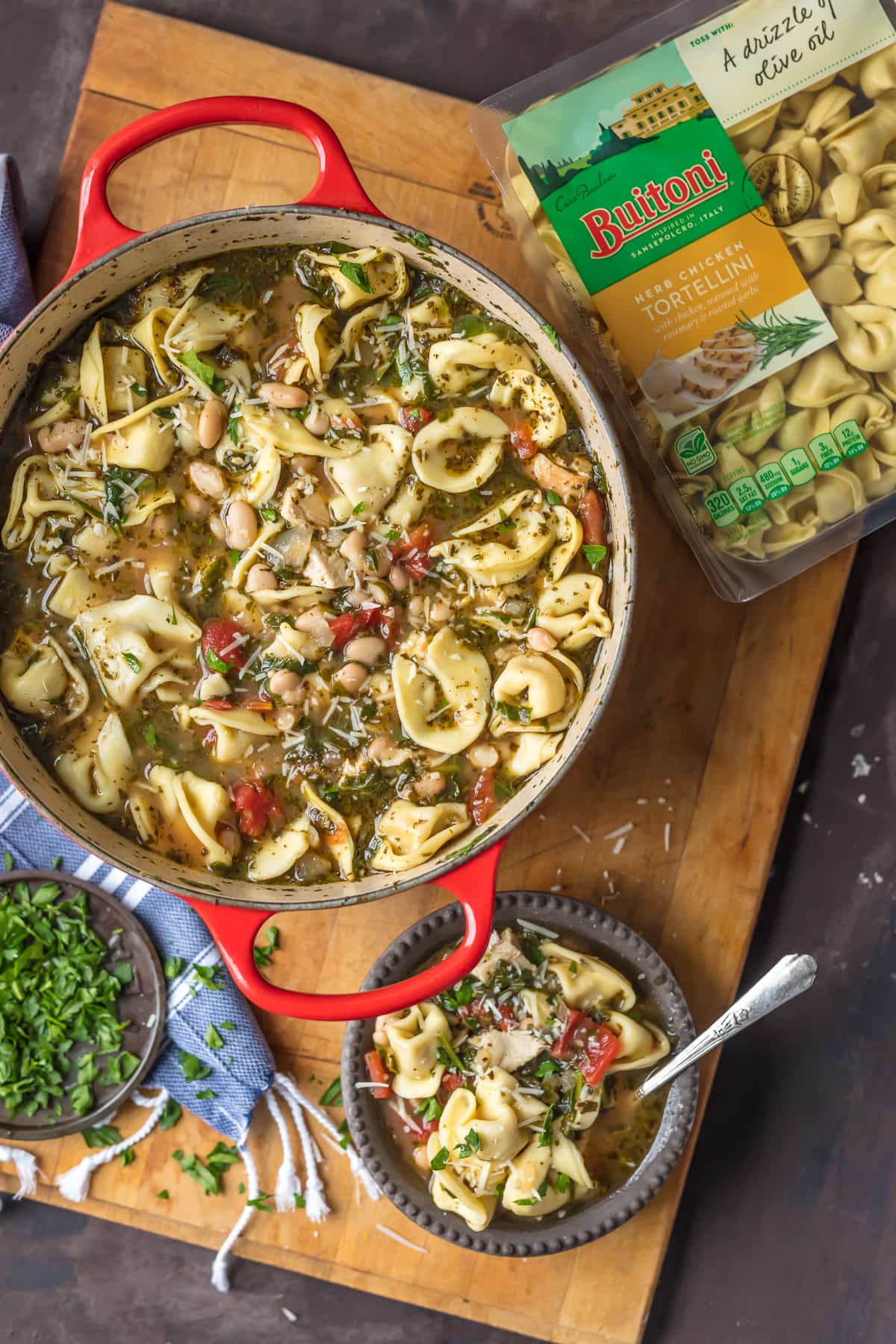 Pesto Tortellini
I recently found out about Buitoni pastas and I haven't looked back since. I have a couple of amazing recipes coming your way, with this delicious Pesto Chicken Tortellini Soup being first up. For this recipe, I used Buitoni Herb Chicken Tortellini and Buitoni Pesto, and I was SO impressed. The flavor of the tortellini really shines, and it's just a bonus that it's so easy to prepare.
I found it refrigerated in the deli section (sometimes it's in the dairy section) of my local grocery store, and I so hope you check it out. They have lots of varieties and flavors, but you can't go wrong. The Herb Chicken just might be my favorite!! The pasta is filled with tender chicken breast, lightly seasoned with rosemary, roasted garlic and a touch of Grana Padano cheese.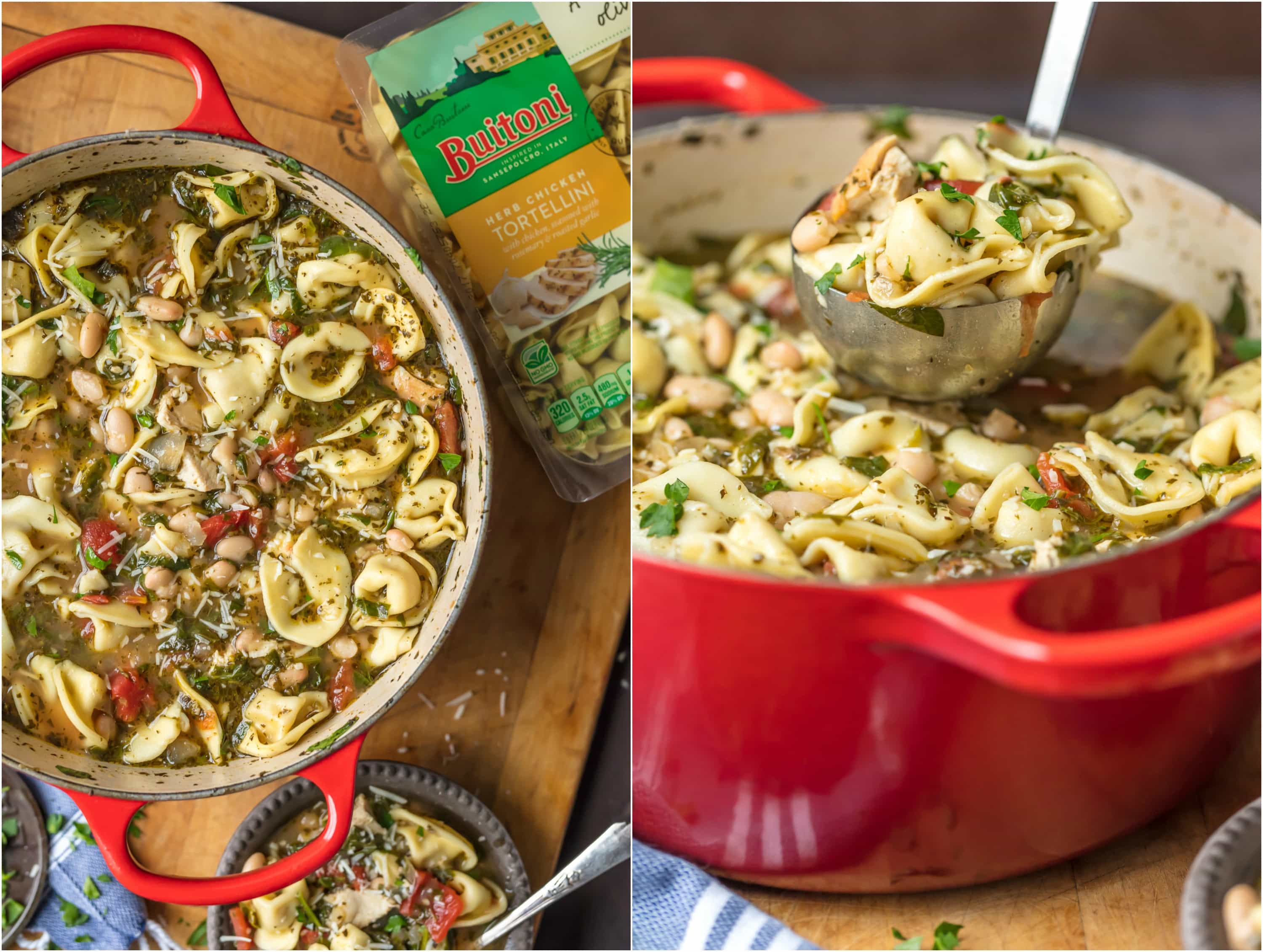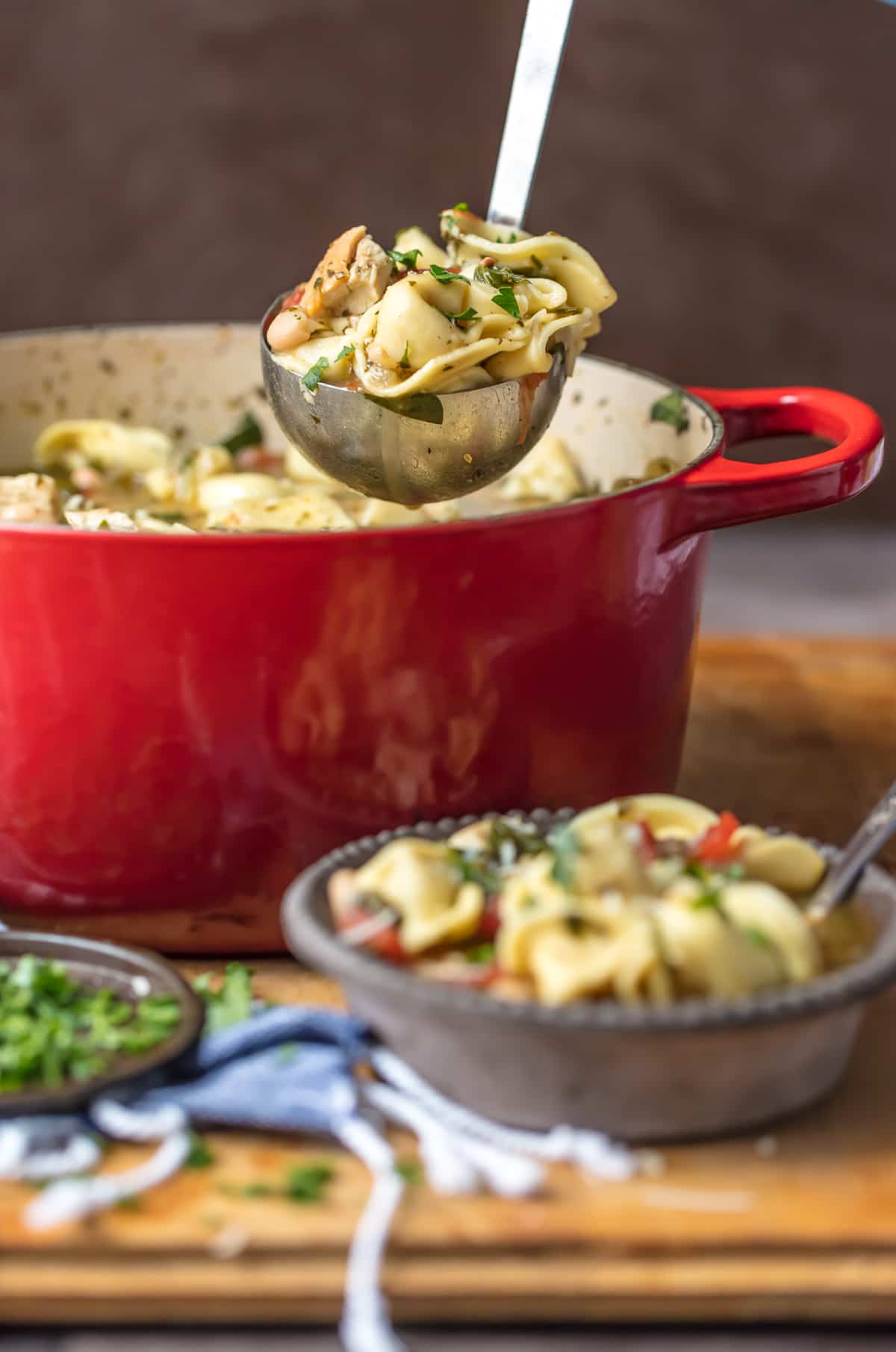 Chicken Pesto Tortellini Soup
I love making big pots of soup like this chicken tortellini soup in the fall and winter. You can just throw all kinds of amazing ingredients into the pot, cook it up without much hassle, and you've got the perfect dinner! This soup is FILLED with the best ingredients, and they all mixed together so well.
Pesto Chicken Tortellini Soup Ingredients:
Chicken Broth
Buitoni Tortellini
Buitoni Pesto sauce
Chicken Breast
Onion
Garlic
White Beans
Spinach
Diced tomatoes
Tell me that ingredient list didn't make your mouth water! Just imagine all the flavor in one warm and delicious soup…so comforting!
This pesto chicken tortellini soup is delicious AND it reheats like a dream. I ate this tortellini soup several days in a row and loved it more every time. It just tasted like home. I know you'll love it as much as we do!
How to Make Chicken Tortellini Soup
With all those ingredients, this soup might seem complicated. But this delicious Pesto Chicken Tortellini Soup recipe is so easy to make! Just combine your ingredients into a stock pot, heat it up, and you're done.
Heat butter, onion, & garlic in stock pot
Stir in chicken broth, tomatoes, & pesto
Bring soup to a boil, then reduce to low heat
Add in chicken tortellini & simmer for about 7 minutes
Stir in cooked chicken breast, spinach, & white beans
Let simmer until spinach begins to wilt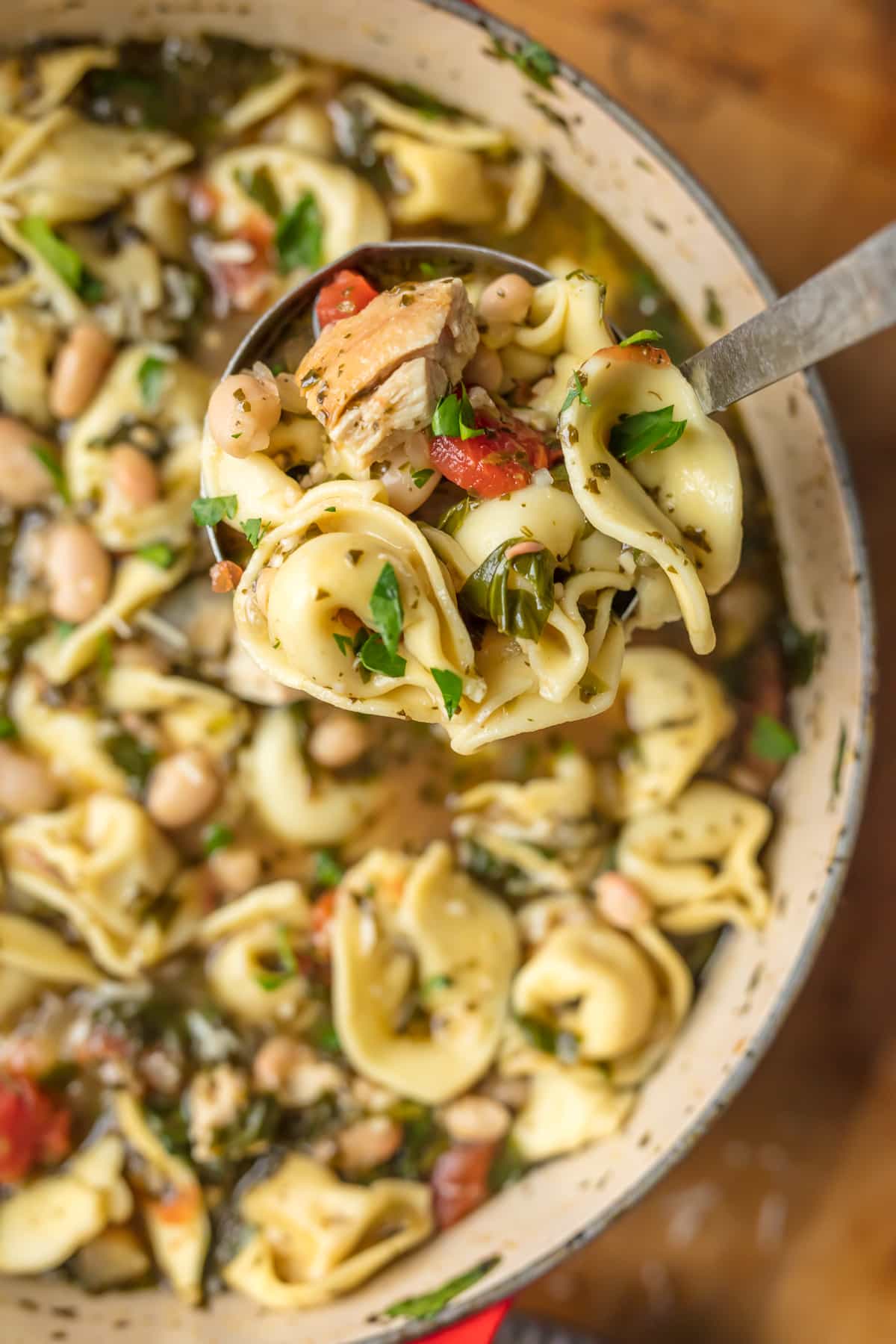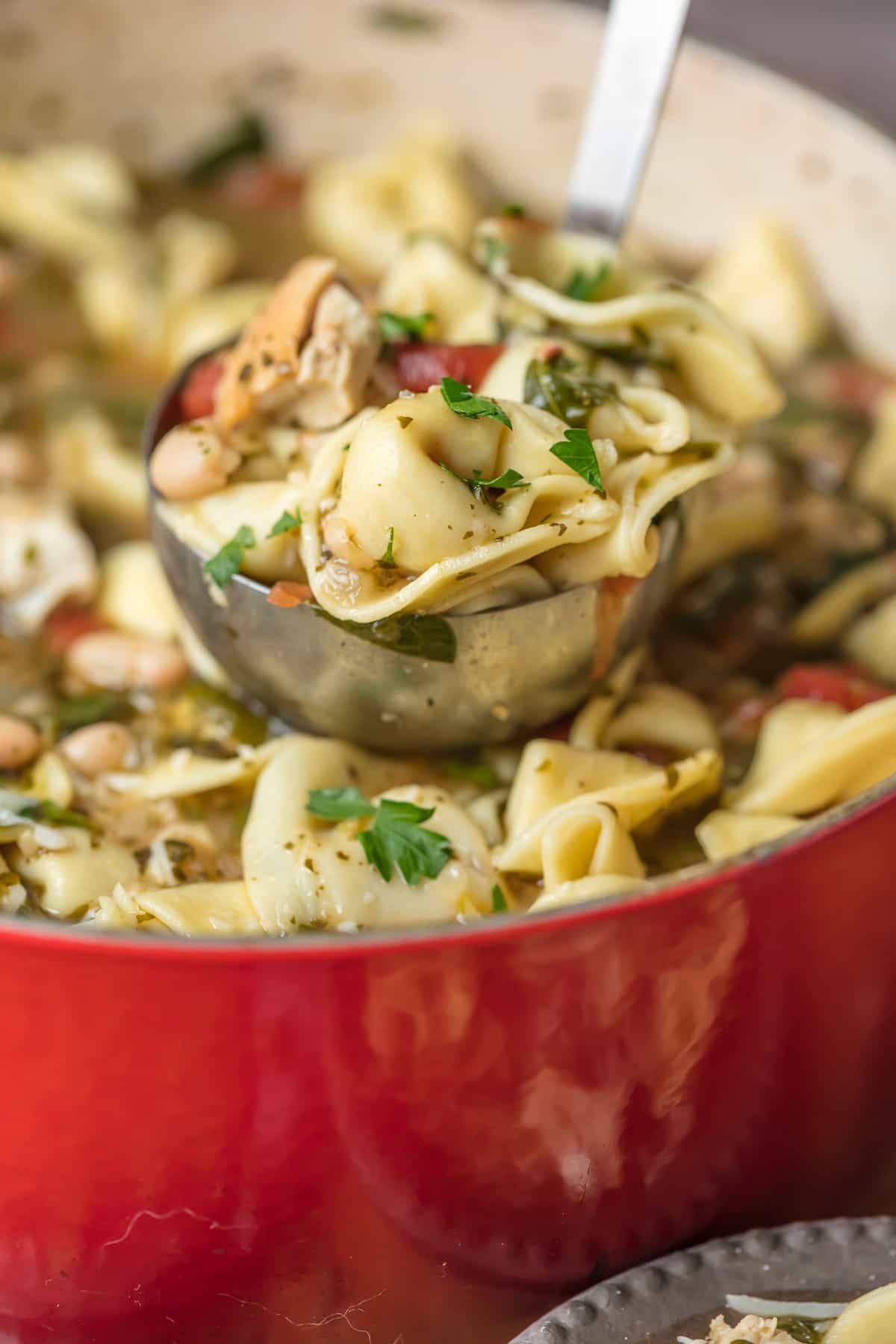 This Pesto Chicken Tortellini Soup is one of my favorite hearty and flavorful soups for fall. How can you go wrong with a soup filled with chicken, tortellini, pesto, beans, spinach, and more? This chicken pest tortellini soup recipe is sure to fill your stomach with joy!
Watch the video & see the recipe card to see how to make Pesto Chicken Tortellini Soup. Enjoy!
If you like this chicken pesto tortellini soup, you'll love these other soup recipes too: