These easy to make Pumpkin Pancakes are my favorite way to start a fall morning! Soft and fluffy homemade pancakes are made with the perfect amount of pumpkin puree, and a medley of warm fall spices like cinnamon and nutmeg. They're fall flavored, have the best consistency, and pair perfectly with a drizzle of sweet maple syrup!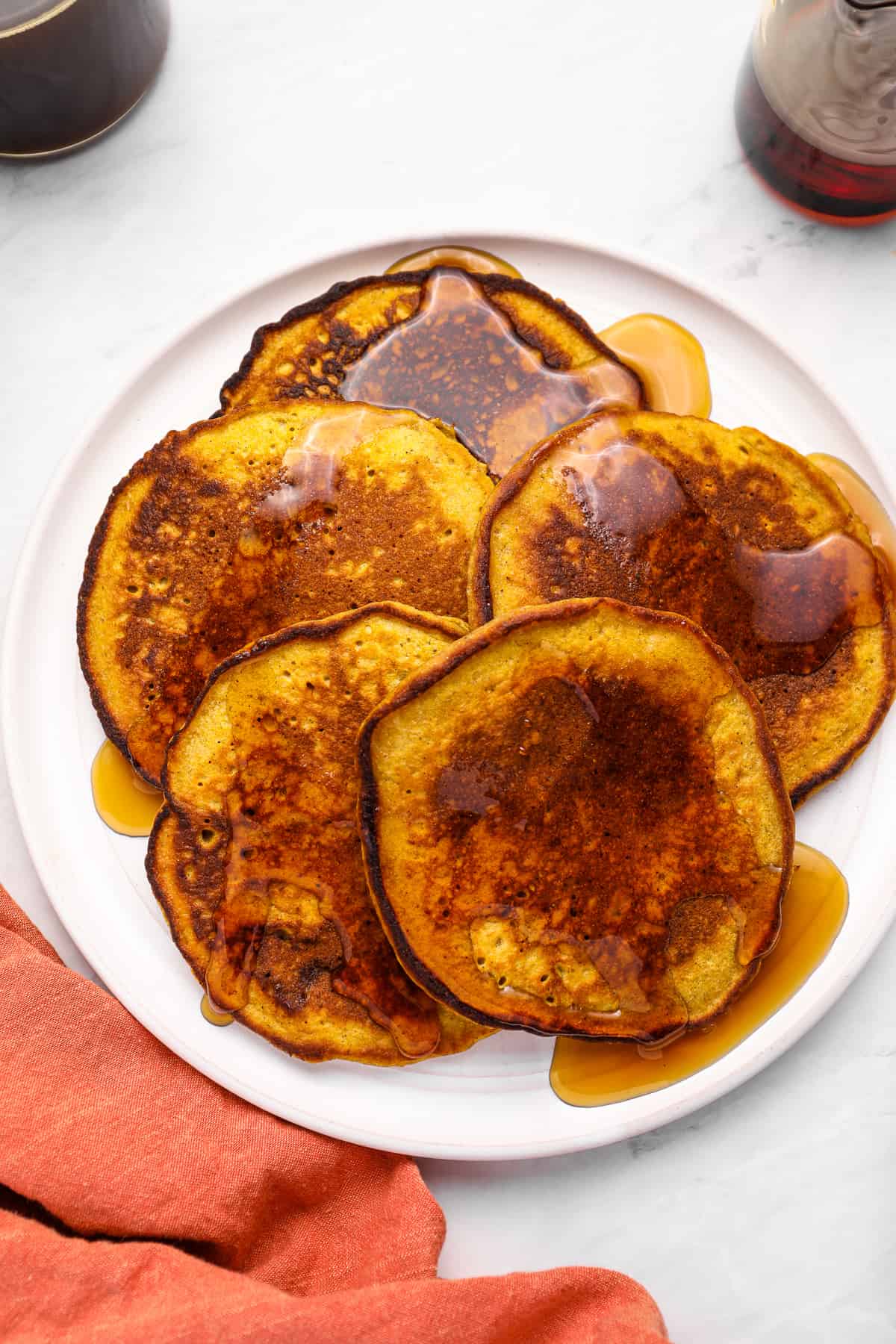 What are Pumpkin Pancakes Made of?
Just like any simple pancake recipe, these pumpkin pancakes are a quick and easy breakfast! They're made from pantry staples such as flour, brown sugar, baking powder, baking soda, ground spices, milk, pumpkin purée, eggs, butter, and vanilla. These are ingredients many people always have on hand! Plus, the batter only takes a few minutes to stir together, so what are you waiting for?!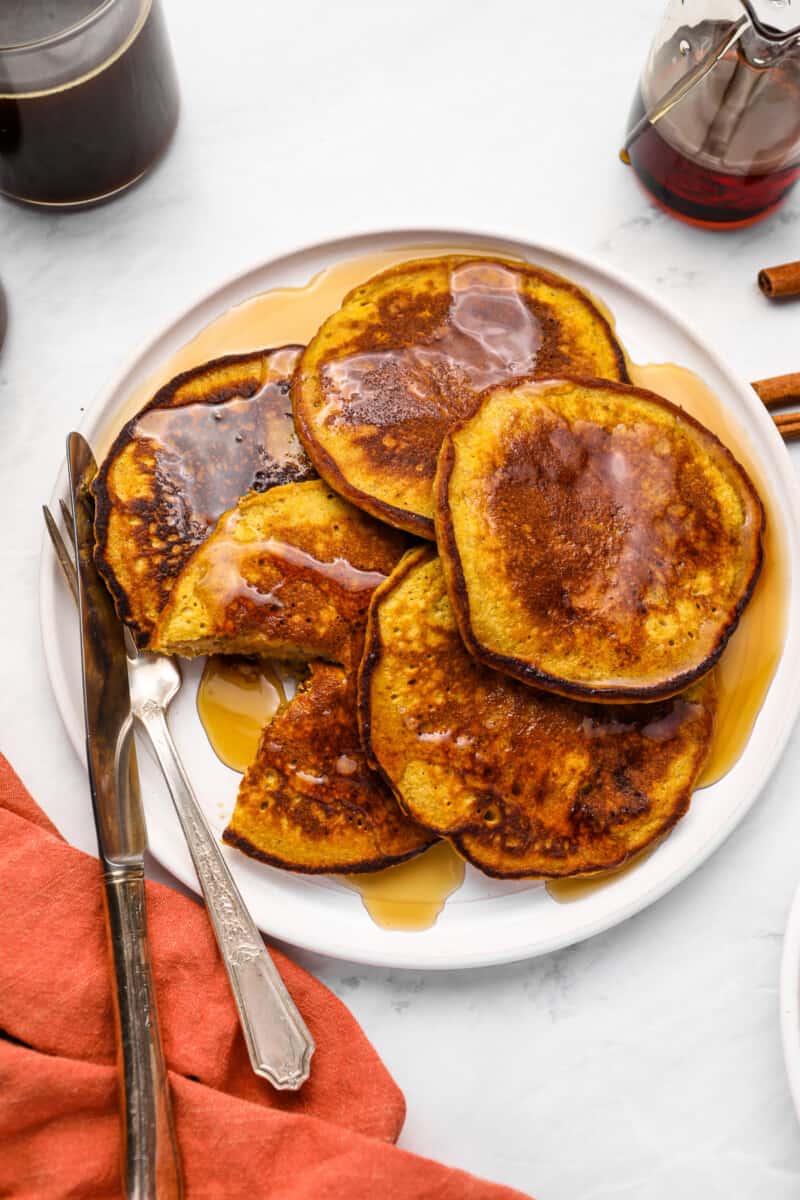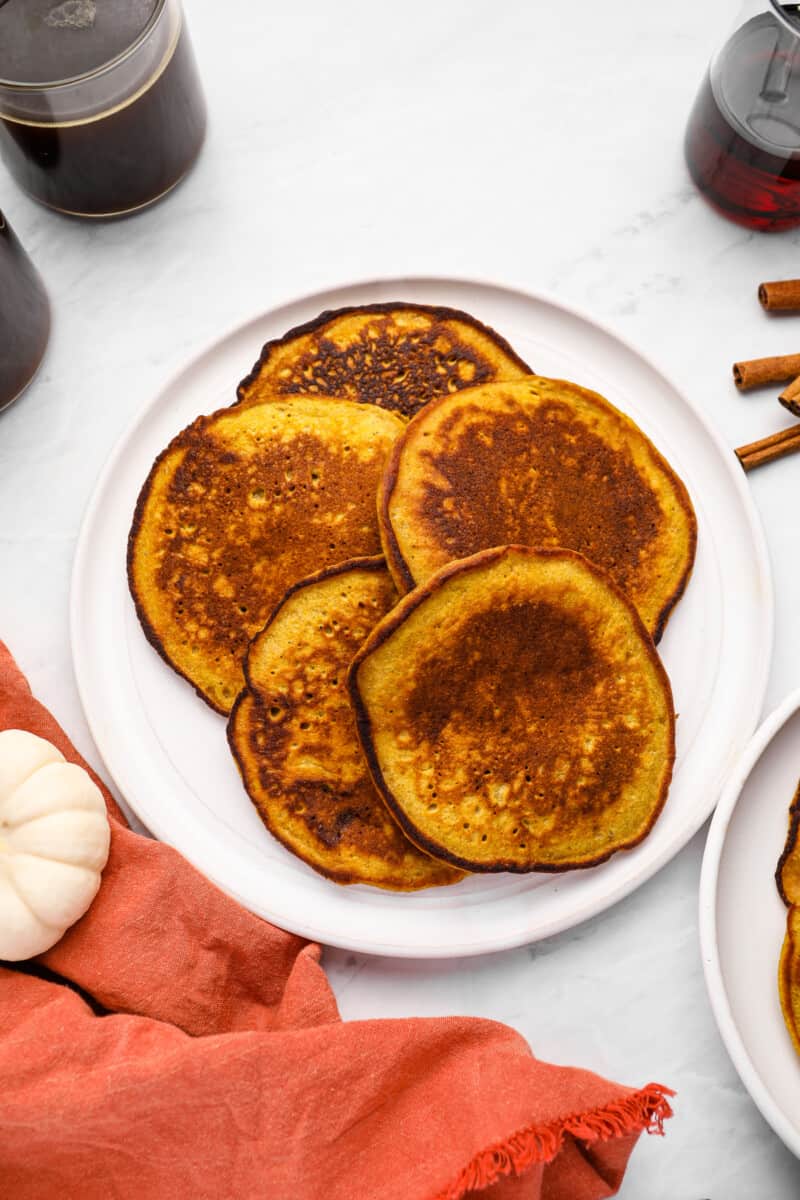 What Makes Fluffy Pumpkin Pancakes?
Pumpkin pancakes are made fluffy through the addition of baking powder and baking soda, both of which are leavening agents. For the fluffiest pancakes, follow these tips:
Make sure to use fresh, in-date baking powder and soda. If either is expired, toss it and grab a new box.
Don't overmix the batter. It's okay if the batter is a bit lumpy! Overmixing will develop too much gluten, leading to tough, rubbery pancakes.
Ensure that the batter is thick but still pourable. Batter that is too runny will lead to thin pancakes, and batter that is too thick will lead to dry pancakes.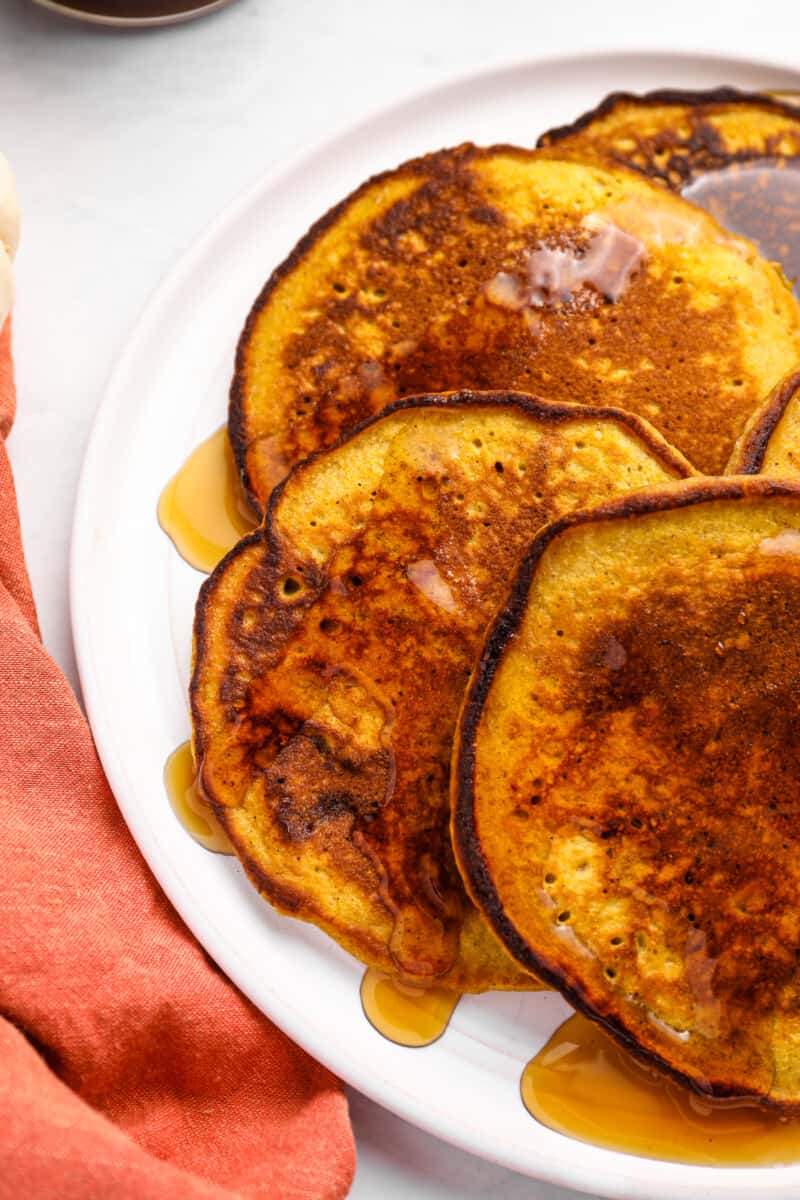 Pumpkin Pancake Toppings
There are so many delicious toppings you can add to your pumpkin pancakes! Try these:
Maple syrup
Chocolate chips
Sprinkles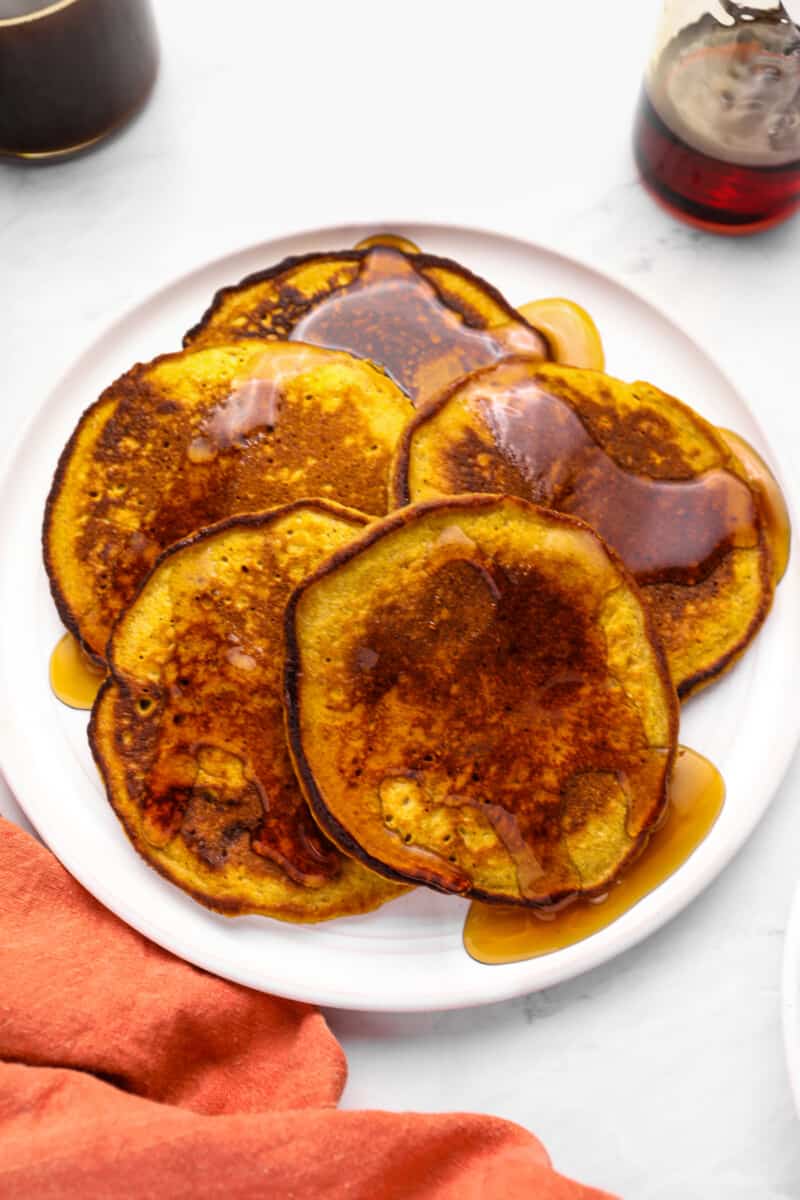 How to Store Pumpkin Pancakes
Make Ahead: You can prepare pumpkin pancake batter up to 2 days in advance of when you plan to make pancakes. Store the batter in an airtight container in the refrigerator until ready to use.
Storage: Store leftover pumpkin pancakes in an airtight container in the refrigerator for up to 5 days. Reheat on a sheet pan covered with aluminum foil in a 350°F oven for 5-7 minutes.
Freezing: Freeze pumpkin pancakes in a single layer on a lined baking sheet until solid, about 1-2 hours. Transfer to an airtight container or Ziplock bag to store for up to 3 months. Bake directly from frozen in a 350°F oven for about 10 minutes, or until warmed through.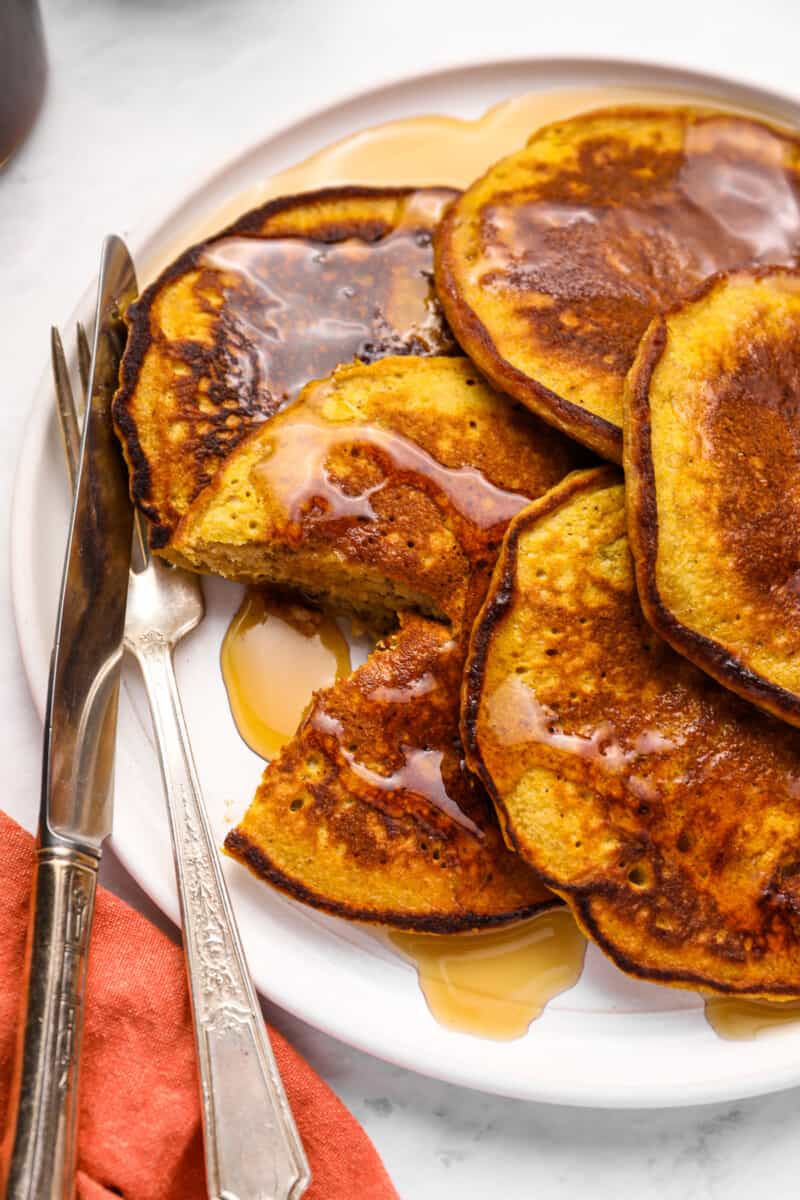 Serving a big stack of freshly made pumpkin pancakes is a surefire way to get everyone up and out of bed in the morning! If you're looking for the best way to kickstart your Thanksgiving day, this is the breakfast recipe to make. These homemade pancakes take just about half an hour to whip up from start to finish and are oh so perfectly filled with the best fall flavors like real pumpkin and warm cinnamon.
If you make this recipe be sure to upload a photo in the comment section below or leave a rating. Enjoy! You can also jump to recipe.