Pumpkin Cinnamon Rolls are the perfect holiday breakfast recipe for fall! It's super easy to make cinnamon rolls from scratch with this recipe. I love these for Thanksgiving, Christmas, or any weekend morning that calls for a special breakfast. And of course they're amazing for dessert too!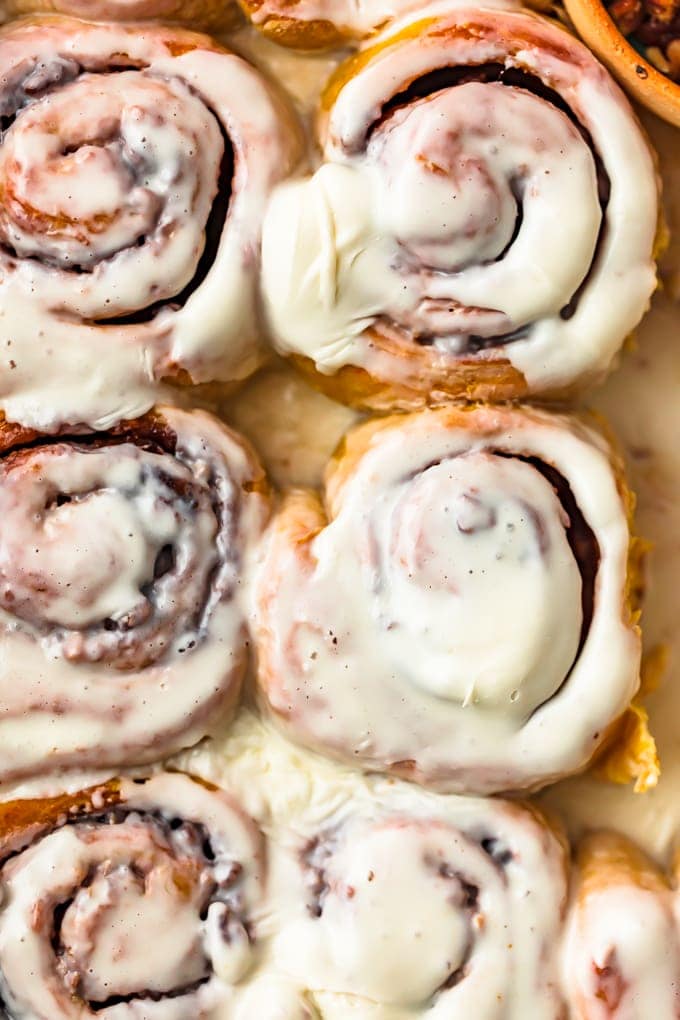 Pumpkin Cinnamon Rolls
Pumpkin Cinnamon Rolls are the only breakfast you should be making on Thanksgiving morning. Christmas gets all the best holiday breakfast recipes, but pumpkin was made for Thanksgiving. Make cinnamon rolls from scratch for the fall season!
Did you guys know I like pumpkin? After sharing a No Bake Pumpkin Cheesecake, Pumpkin Muffins, Pumpkin Brownies, Pumpkin Bars, and a million other pumpkin recipes this fall, you probably noticed that I'm a little obsessed. How could I not be?
These Pumpkin Cinnamon Rolls are one of my favorite recipes. There are plenty of pumpkin desserts for the holiday season, but I needed an easy pumpkin breakfast recipe too. You have to start those big days off with something delicious, so why not make it pumpkin? This cinnamon roll recipe was MADE for Thanksgiving I'm telling ya! I made these cinnamon rolls from scratch and it was still really simple. That's a good recipe!
I can't wait to make these for my next holiday breakfast. I know everyone will devour them, especially since they're topped with cream cheese frosting. YUM!
Pumpkin Cinnamon Rolls are the perfect Thanksgiving breakfast or dessert recipe. But I'd eat these any time of year!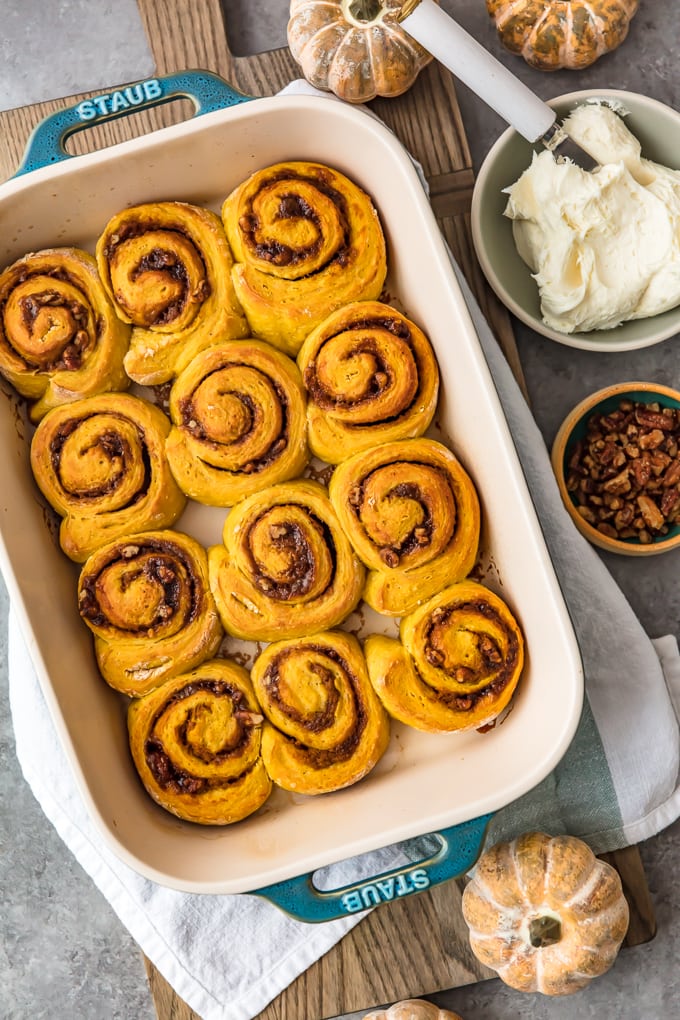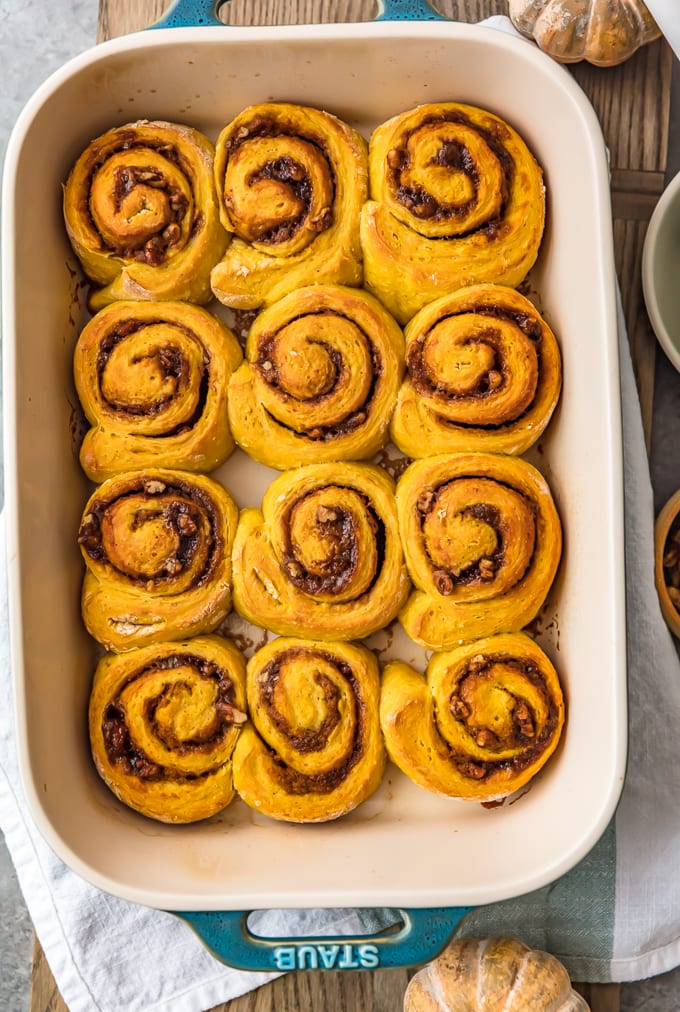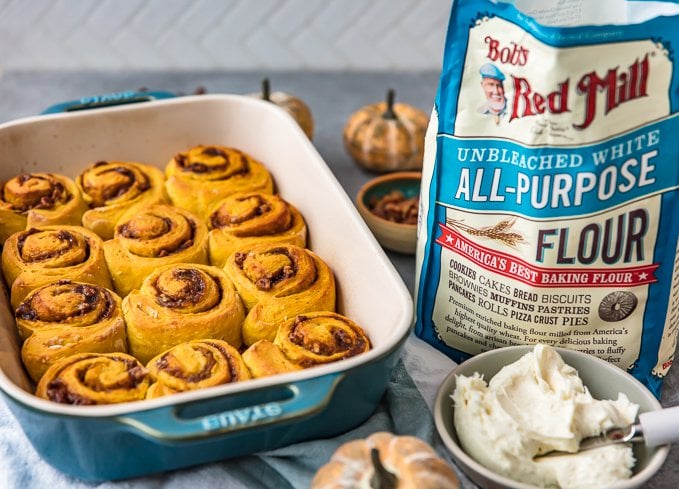 Cinnamon Rolls From Scratch
Making cinnamon rolls from scratch has never been easier! I'm still surprised by how simple it was to make these amazing pumpkin cinnamon rolls. Making anything from scratch seems complicated, but if I can make these, you can too. Prep time is relatively short, as is baking time. The most time-consuming part is letting the dough rise, but that's a totally hands-off part of the process.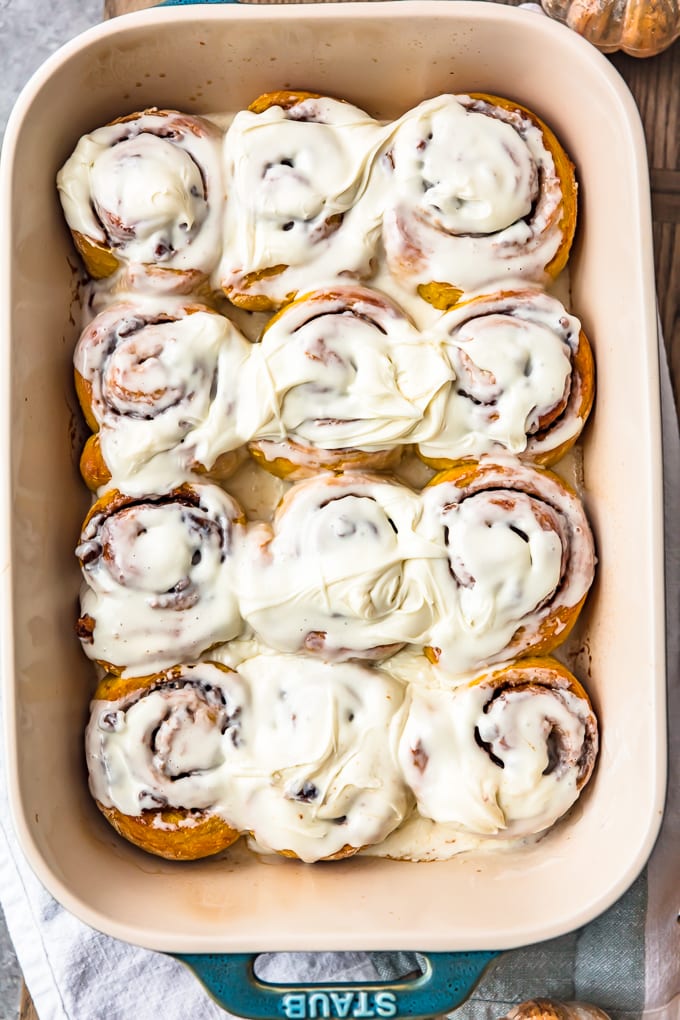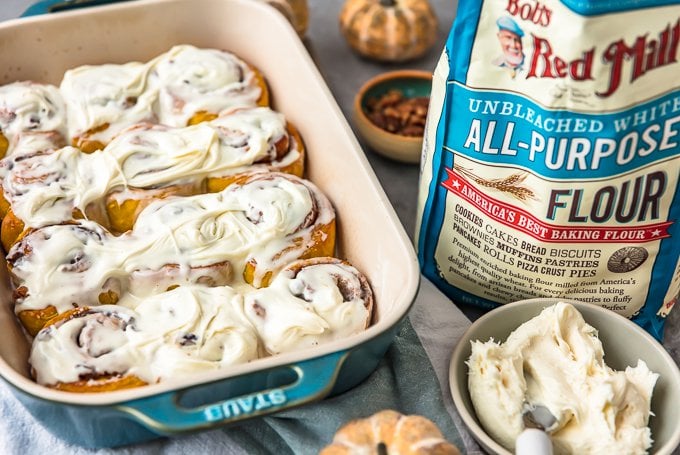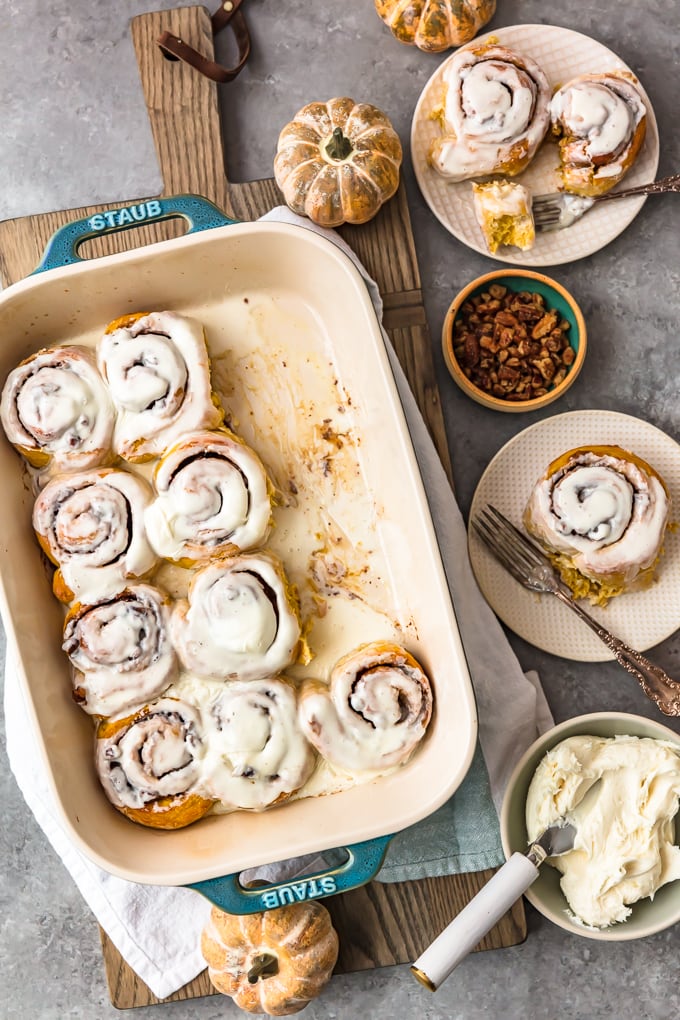 Pumpkin Cinnamon Roll Ingredients
These tasty pumpkin cinnamon rolls are made with some amazing ingredients! Of course, you can expect everything pumpkin (pumpkin pie spice & pumpkin puree) and all of the typical baking ingredients. And then there's the pumpkin filling: canned pumpkin, dark brown sugar, honey roasted pecans, pumpkin pie spice, and butter.
Yum! Basically, there's pumpkin in every part of this cinnamon roll recipe. You're going to love it.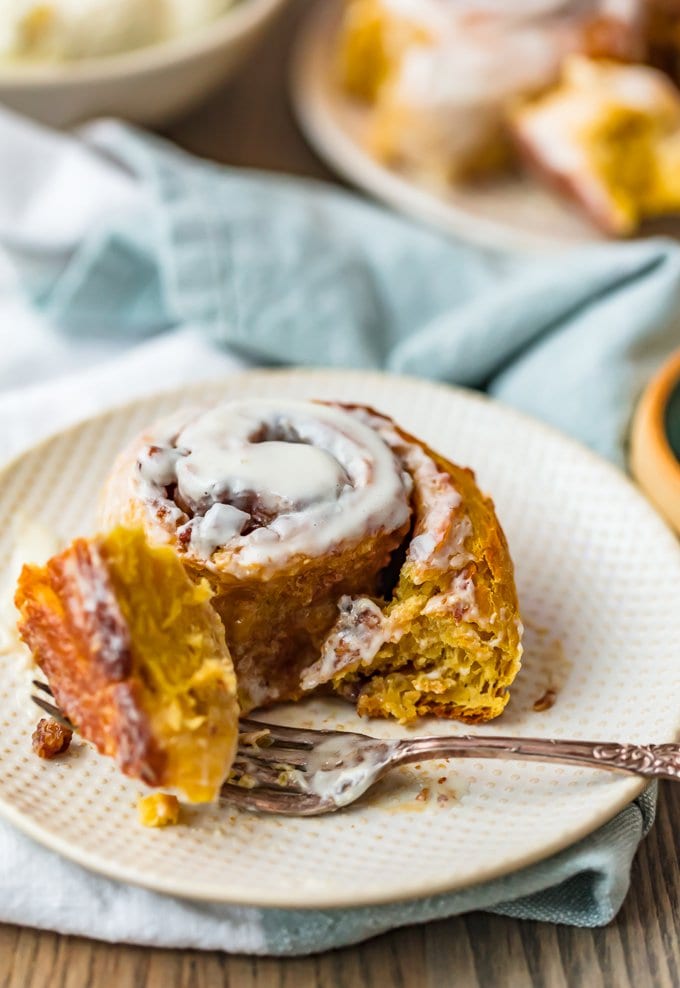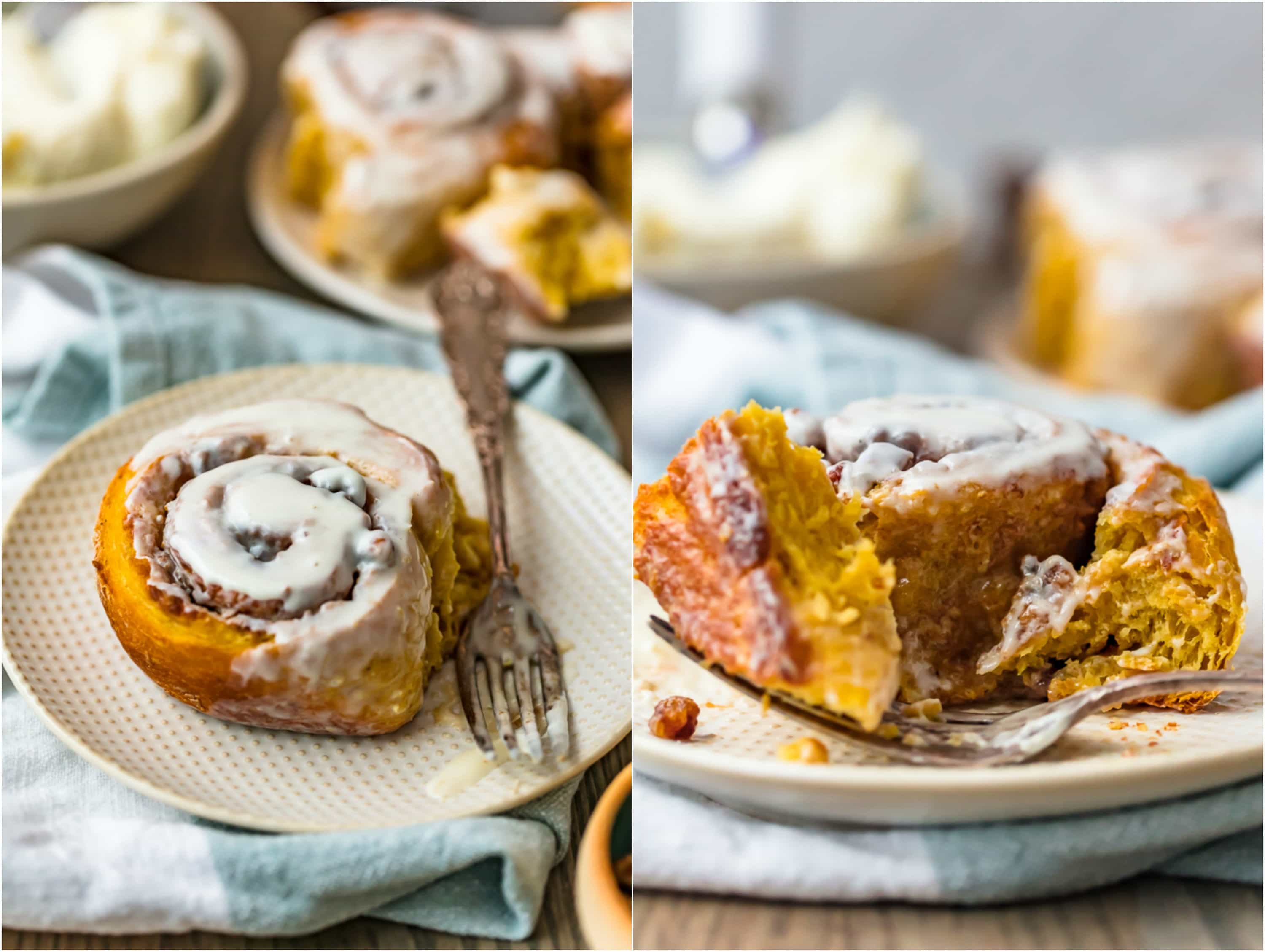 How to Make Pumpkin Cinnamon Rolls
Making pumpkin cinnamon rolls from scratch is going to be a breeze, I promise! Start by making the dough, give it some time to rise, make the pumpkin filling, then assemble it all and bake. Top them off with your favorite cream cheese frosting and you've got the perfect holiday breakfast!
Here's a quick overview of the recipe (full recipe is in the card below):
Combine the dough ingredients to create the cinnamon roll dough.
Shape the dough into one large ball and place it in a greased bowl. Then cover the bowl with a dish towel, place it somewhere warm, and let the dough rise for about an hour.
While the dough rises, make the pumpkin filling by combining ingredients in a bowl. Set aside.
Once the dough has had time to rise, roll it out on a floured surface into a rectangle.
Spread the pumpkin filling over the dough and sprinkle on brown sugar and pecans.
Now roll up the dough into a jelly roll shape, and cut it into 12 slices.
Place the rolls on a prepared baking pan, cover with a towel, and let them rise for 30-60 minutes.
Bake pumpkin cinnamon rolls for 20-25 minutes at 375°F.
Once they are finished baking, let them cool and then top them with cream cheese frosting.
These things are so good. They're going to take any morning from good to great in no time!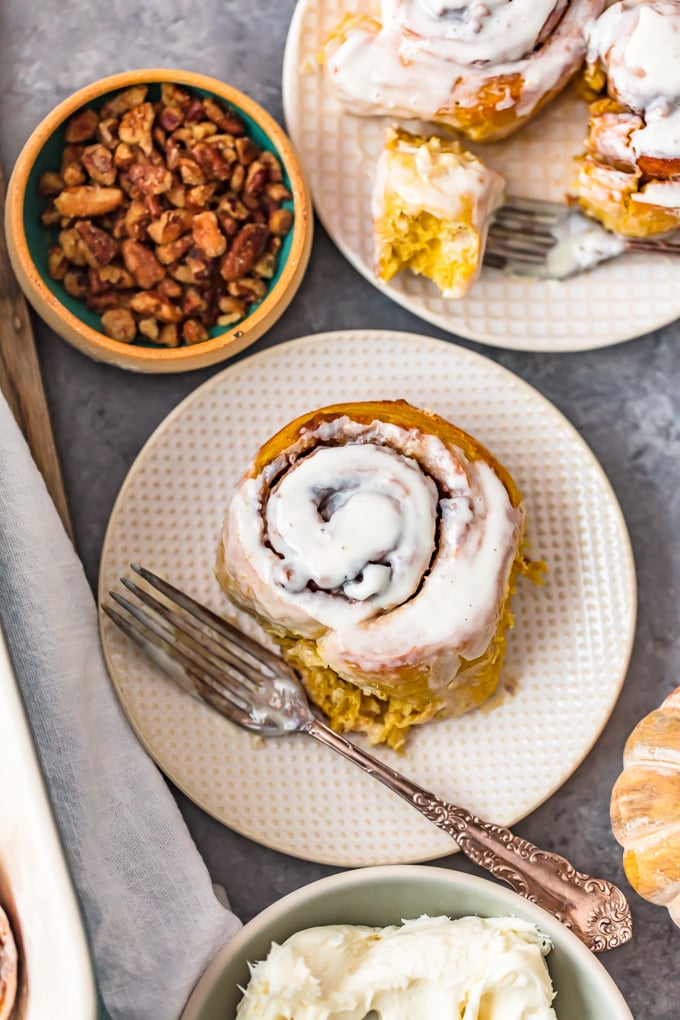 I told you making pumpkin cinnamon rolls from scratch would be easy enough! I'm a little bit obsessed with these, and I know you'll love them too. Make your Thanksgiving and Christmas mornings extra special with this holiday breakfast recipe.
See the recipe card below for details on how to make Pumpkin Cinnamon Rolls. Enjoy!
If you like this recipe, try these other tasty breakfast recipes: