Pumpkin Pie Dessert Lasagna is a fun twist on a Thanksgiving classic! This sweet pumpkin lasagna recipe is made up of layers of pumpkin pie, whipped cream, and lady fingers. Utterly delicious! Add this easy Thanksgiving dessert recipe to your holiday table.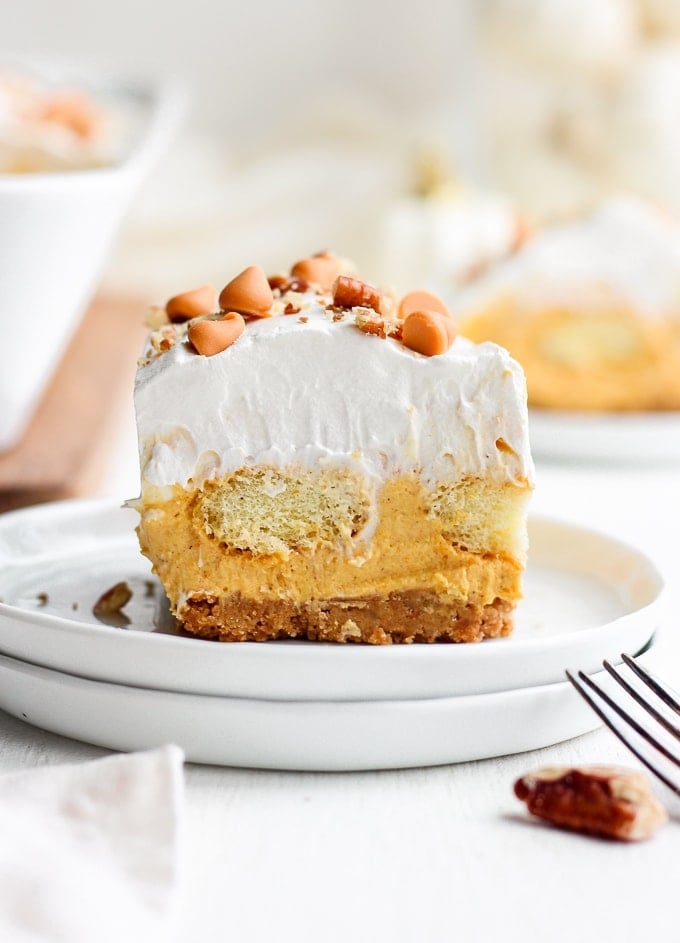 Pumpkin Dessert Lasagna
This dessert lasagna is the perfect thing to serve this holiday season. Combine layers of pumpkin, whipped cream, and lady fingers to make this sweet pumpkin lasagna!
It's not Thanksgiving without something pumpkin on the table. Pumpkin Pie is the go-to pumpkin dessert for most people (including me–I love pumpkin pie!). But this Pumpkin Pie Dessert Lasagna is the perfect thing make for something a little different. I mean, make the traditional pie too, because you can never have enough pumpkin!
This sweet and creamy Pumpkin Lasagna is such a fun and easy dessert for the holidays. It's made up of cream cheese, pumpkin puree, graham crackers, whipped cream, and more, all layered together with lady fingers for the perfect crunch. Topped off with pumpkin spice chips, it's the most delicious thing ever!
Add this easy Thanksgiving dessert recipe to your holiday table and watch everyone be blown away. It's THAT good.
Pumpkin Pie Dessert Lasagna is a delicious and easy Thanksgiving dessert recipe that everyone is sure to love!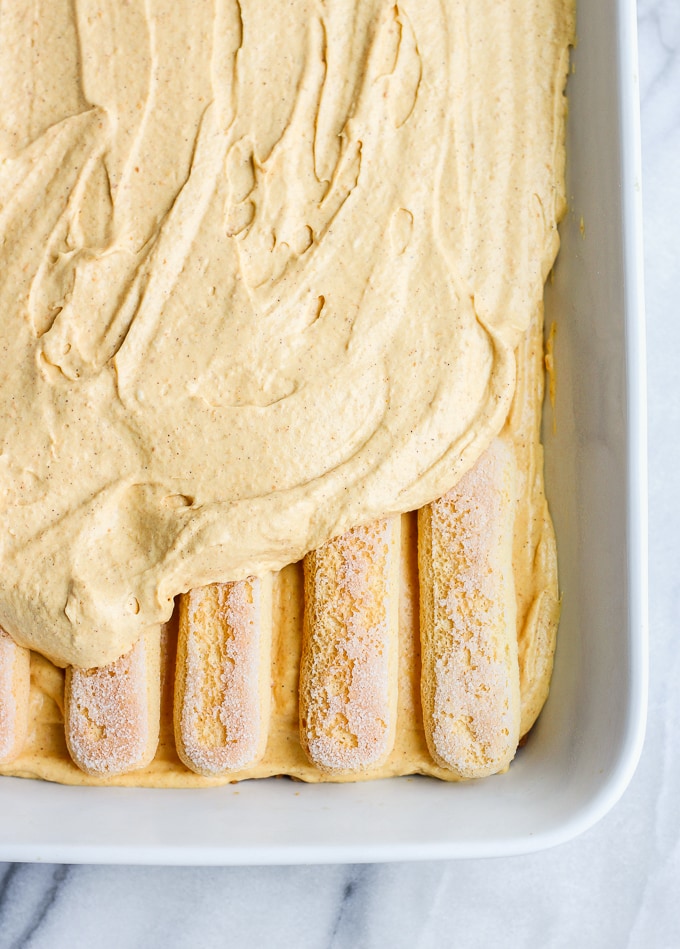 Pumpkin Lasagna
I saw different versions of this pumpkin pie dessert lasagna on Pinterest and my mouth immediately began watering! I knew I just had to put my own spin on it and it turned out soooo good. I think I'll be making this pumpkin lasagna every holiday from now on (along with homemade pumpkin pie, of course).
The icing on the cake (sort of literally) to this delicious dessert are the pumpkin pie baking chips. I am OBSESSED with these things. I searched high and low for them and couldn't find them anywhere, but I finally found them on a random lunch trip to Target. If you can't find them, white chocolate chips would be a delicious substitute.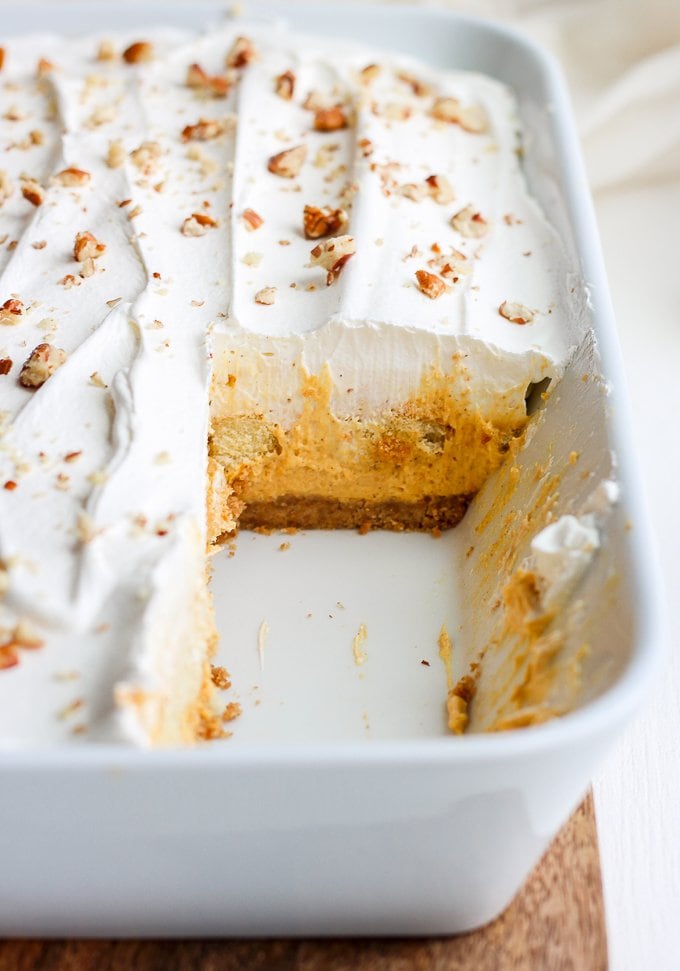 How to Make Pumpkin Pie Dessert Lasagna
This Pumpkin Dessert Lasagna is so easy to make, which is just one of many reasons that I love it so much. It has the perfect creamy texture, and everything blends together so well to create the most amazing flavor!
Here's a quick overview of the recipe:
Make the crust: Place graham crackers in a resealable bag & use a rolling pin to crush them up. Pour in melted butter & knead it into the crackers. Then press the graham cracker mixture into the bottom of a baking dish. Bake 6-8 minutes.
Make pumpkin pie mousse: Beat cream cheese until smooth and fluffy, then add in heavy cream and whisk together. Mix in powdered sugar, pumpkin pie spice, and pumpkin puree, then add 1 container of Cool Whip and whisk together.
Make whipped topping: Combine 1 container of Cool Whip with melted white chocolate and whisk together.
Assemble: Spread 1/2 the pumpkin mousse mixture in an even layer on top of the graham crackers crust. Place rows of lady fingers, and then spread the rest of the mousse in an even layer. Spread on the white chocolate whipped topping, a thin layer of cool whip, and then sprinkle on the pumpkin spice chips.
Let the pumpkin pie dessert lasagna chill in the refrigerator at least 2 hours before serving. See the recipe card below for more detailed instructions.
How to Store this Dessert Lasagna
Since it's only the two of us in the house, we froze this dessert lasagna to make it last longer. I was tempted to eat it all in one sitting, but freezing it and eating a little at a time was a better choice! You can freeze it in an airtight container for 4-5 days. Just take it out about 30 minutes before eating for maximum deliciousness! (hint: make it a couple days before Thanksgiving and wow your guests!)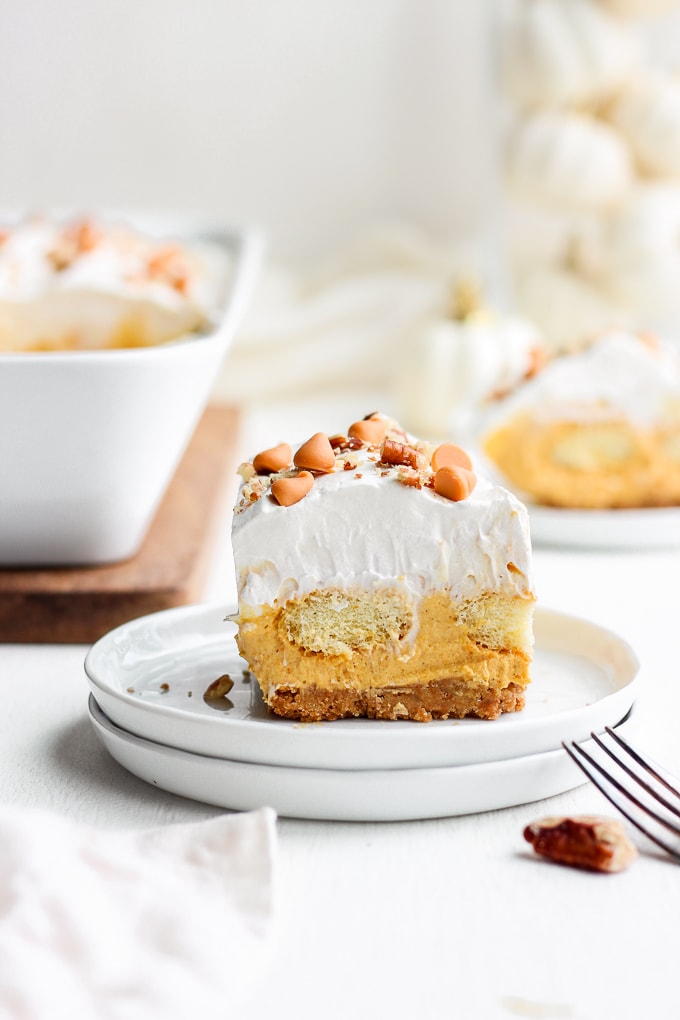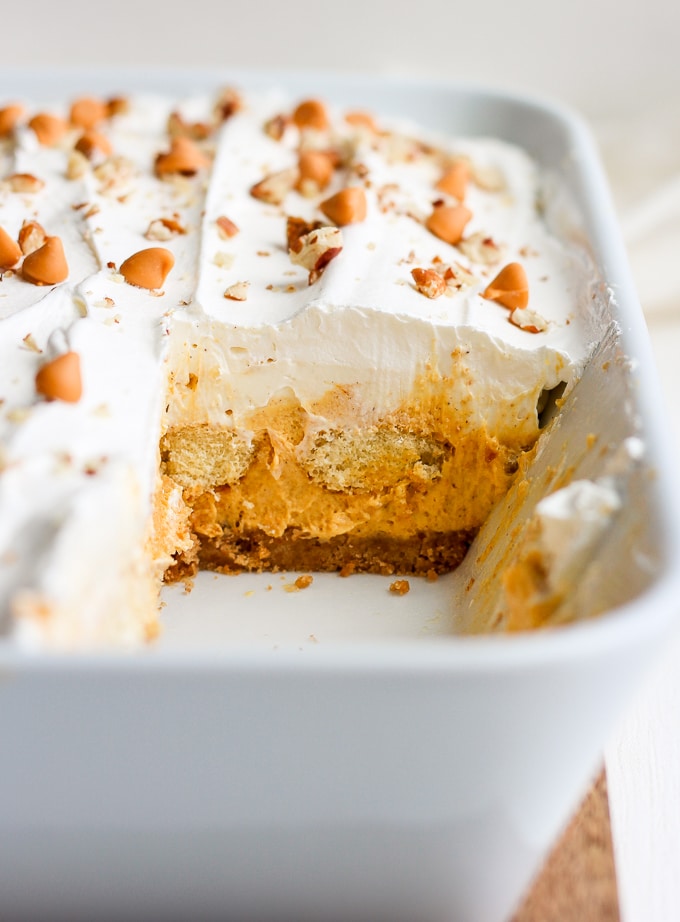 Easy Thanksgiving Dessert Recipes
Thanksgiving wouldn't be complete without the desserts, so I'm always in need of more easy Thanksgiving dessert recipes. This Pumpkin Pie Dessert Lasagna is so perfect for the holidays, and it fits in nicely with all of the other desserts!
Try our other favorite Thanksgiving Desserts: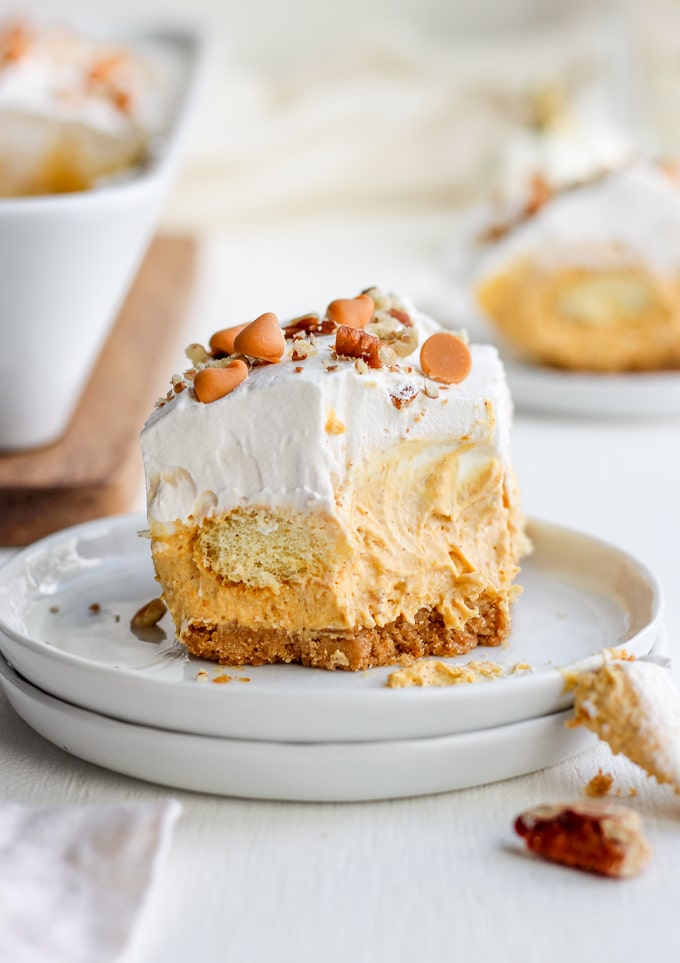 Traditional Pumpkin Pie is still my favorite way to enjoy pumpkin during the holidays, but this Pumpkin Lasagna is a close second! If you want more dessert lasagnas, try this Chocolate Lasagna and Red Velvet Cheesecake Lasagna.
See the recipe card below for details on how to make Pumpkin Pie Dessert Lasagna. Enjoy!
If you like this pumpkin dessert lasagna, try these other easy pumpkin recipes: