Pumpkin Pie Dessert Lasagna is a fun twist on a Thanksgiving classic! Layers of pumpkin pie, whipped cream, and lady fingers. Utterly delicious!
At the beginning of September I had Pumpkin Week here on The Cookie Rookie.  I was just so excited for the return of Pumpkin Spice Season…I couldn't wait any longer! 7 consecutive days of the best of pumpkin later…I still haven't had enough! I still have so many recipes I want to make.  Brace yourselves.  It probably won't stop until well after Thanksgiving.  Sorry, not sorry.
I saw versions of this dessert lasagna on pinterest and my mouth immediately began watering! This version from Beyond Frosting looked sooo amazing and I knew I just had to put my spin on it! Oh so good.  I think I'll be making this every holiday from now on! (along with traditional pumpkin pie, of course)
The icing on the cake, sort of literally, to this delicious dessert are the pumpkin pie baking chips.  Not a sponsored post or anything, but I'm OBSESSED with these.  I searched high and low for them and couldn't find them anywhere.  I finally found them on a random lunch trip to Target.  So worth the hassle! If you can't find them, white chocolate chips would also be delicious :)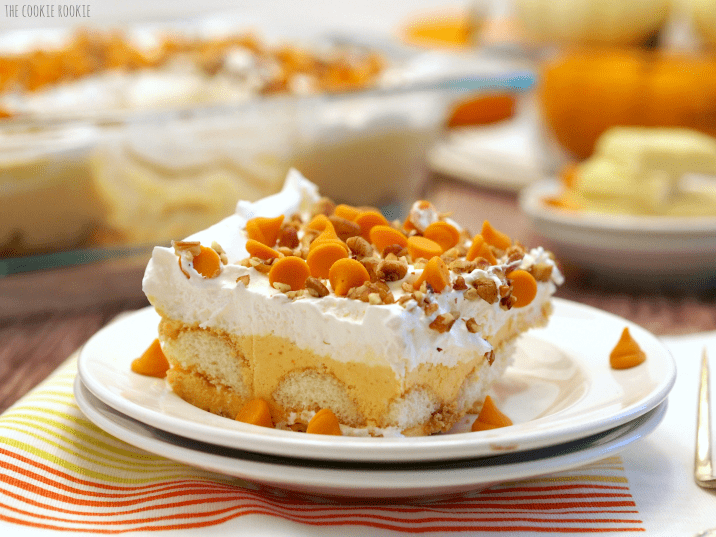 Since it's only the two of us in the house, we froze this dessert lasagna to make it last longer.  I was tempted to eat it all in one sitting, but freezing it and eating a little at a time was a better choice! You can freeze in an airtight container for 4-5 days.  Just take it out about 30 minutes before eating for maximum deliciousness! (hint: make it a couple days before Thanksgiving and wow your guests!)
Traditional Pumpkin Pie is still my favorite way to enjoy pumpkin, but this is a close second.  Be sure to check out all of my other twists on Thanksgiving classics over at Celebrations.com! Enjoy!
Ingredients
1 sleeve graham crackers
6 ounces melted butter
8 ounces low fat cream cheese
1/4 cup heavy cream
1 cup powdered sugar
3/4 can pumpkin puree (not pumpkin pie filling)
1/2 Tablespoon pumpkin pie spice
2 8 ounce containers of lite Cool Whip plus another 1/2 container (4 ounces) cool whip
15 ladyfinger cookies
6 ounces good quality white chocolate, melted
1 cup pumpkin spice chips (if you canâ??t find these, white chocolate chips would also be delicious!)
1 cup chopped pecans (optional)
Instructions
Preheat oven to 350F
Place the graham crackers in a gallon ziplock bag (sealed) and crush using a rolling pin. Crush into as small of pieces as possible. Pour melted butter into bag and reseal, then knead the butter into the grahams until well combined. Pour graham mixture into the bottom of a 9x13 baking dish and press firmly into the bottom of the pan. This will be your crust. Bake for 6-8 minutes or until golden brown. Allow to cool.
Using an electric mixer, beat the cream cheese until smooth and fluffy. Add heavy cream and whisk until well combined. Add powdered sugar, pumpkin, and pumpkin pie spice. Mix until well combined. Add one container of cool whip and whisk on high for 1-2 minutes until fluffy and completely smooth. Set aside.
In a separate bowl, combine the other 8 ounce container of cool whip with the melted white chocolate. Whisk until completely combined and smooth. Set aside.
Once your crust is cooled, top with half of the pumpkin mousse and spread it around to form an even layer. Top with lady fingers (put them into even rows) and then top with the rest of the pumpkin mousse. Top the mousse with the white chocolate whip cream and spread out evenly. Spread a thin layer of regular cool whip (the half a container from above) over everything and sprinkle on pumpkin spice chips and pecans.
Chill in fridge for at least 2 hours before serving. You can also freeze if you prefer it to be less creamy. If freezing, take out of freezer 30 minutes before serving.
7.6.4
1729
https://www.thecookierookie.com/pumpkin-pie-dessert-lasagna/

JOIN OUR MAILING LIST
TO GET COOKING!
Subscibe to recieve all the latest, greatest, and EASIEST recipes sent straight to your email inbox. If we post something yummy, you'll be the first to know.