Fried Pickles are the perfect snack, appetizer, or sandwich topper. This easy fried pickles recipe is crispy and crunchy, with a tangy ranch flavor. So addicting and great for game day!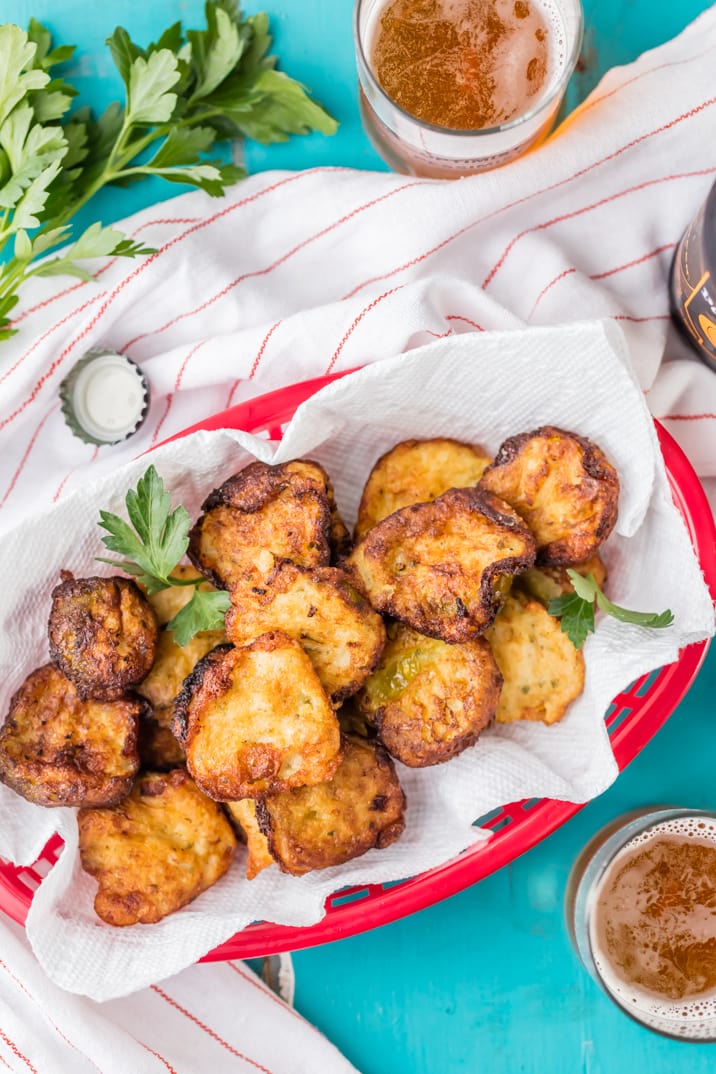 Homemade Fried Pickles
Crispy fried pickles are the absolute best! This recipe takes simple pickles and kicks them up a notch by adding ranch right into the batter for a tangy flavor.
Learn how to make fried pickles at home for an easy appetizer! Or add them to your favorite burgers and sandwiches. You won't believe how much of a game changer it is! You'll never go back to regular ol' pickles again.
Why you'll love this fried pickles recipe
EASY: This recipe is so simple and quick. You can whip up a batch of these in no time.
CRISPY: These fried pickle chips are super crispy and crunchy. The perfect texture!
GAME DAY READY: I love serving these as an extra little snack on game day. They're addicting and pair well with all the other appetizers.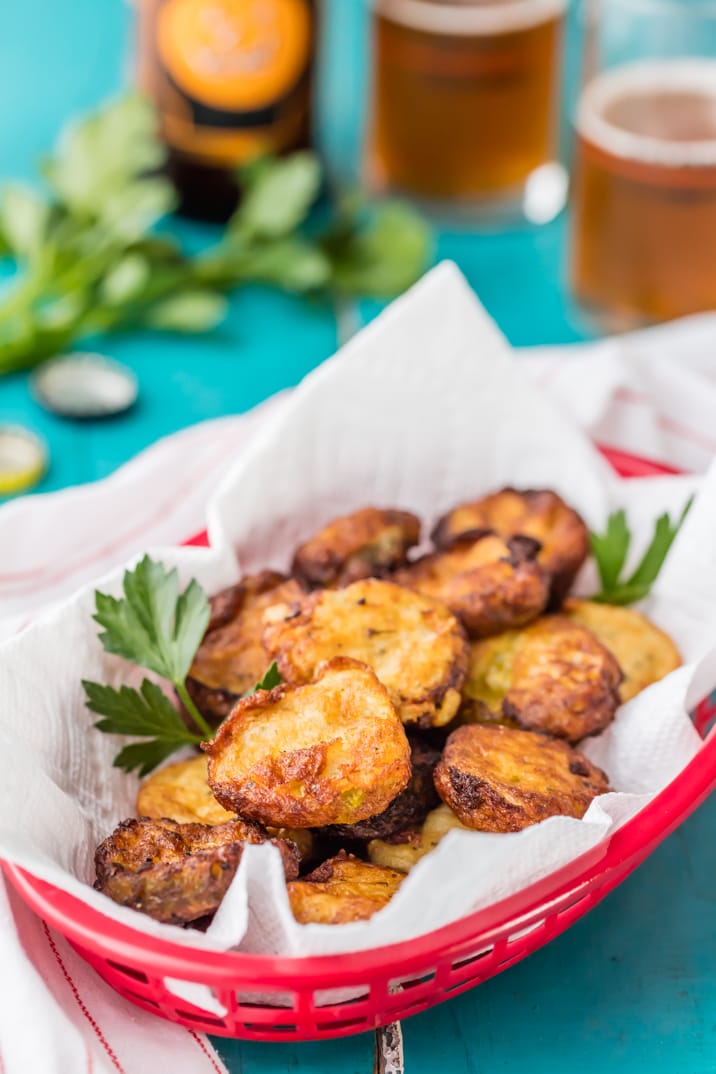 Tools and Ingredients
You don't need much to make these deep fried pickles. Just a few ingredients and a couple of basic kitchen tools. You don't need any extra equipment to fry these pickles.
Tools:
Skillet – Use a deep skillet for frying. You'll need to be able to fit 2 inches of oil.
Slotted Spoon – Use a slotted spoon to remove the pickles from the oil.
Ingredients:
Pickles – You can use any kind of pickles you like, but I recommend dill or bread and butter pickle chips.
Pickle Juice – Use juice from the pickle jar for the batter.
Oil – Vegetable oil is best for frying.
Flour – I used whole wheat flour for the batter but you can use another kind.
Milk – I used skim milk.
Ranch Seasoning – Buy a packet or make your own ranch seasoning. You can also use different seasonings if you prefer.
How to Make Fried Pickles from Scratch
*Check the recipe card for the full instructions.
Whisk together flour, milk, pickle juice, and ranch seasoning until it forms a sticky batter.
In a skillet over medium-high heat, heat 2 inches of oil to 375F.
Place pickle chips in the batter and fully coat both sides.
When oil is heated, place pickles in the oil and let them fry about 1-2 minutes.
Use a slotted spoon to remove them and place them on a paper towel to cool.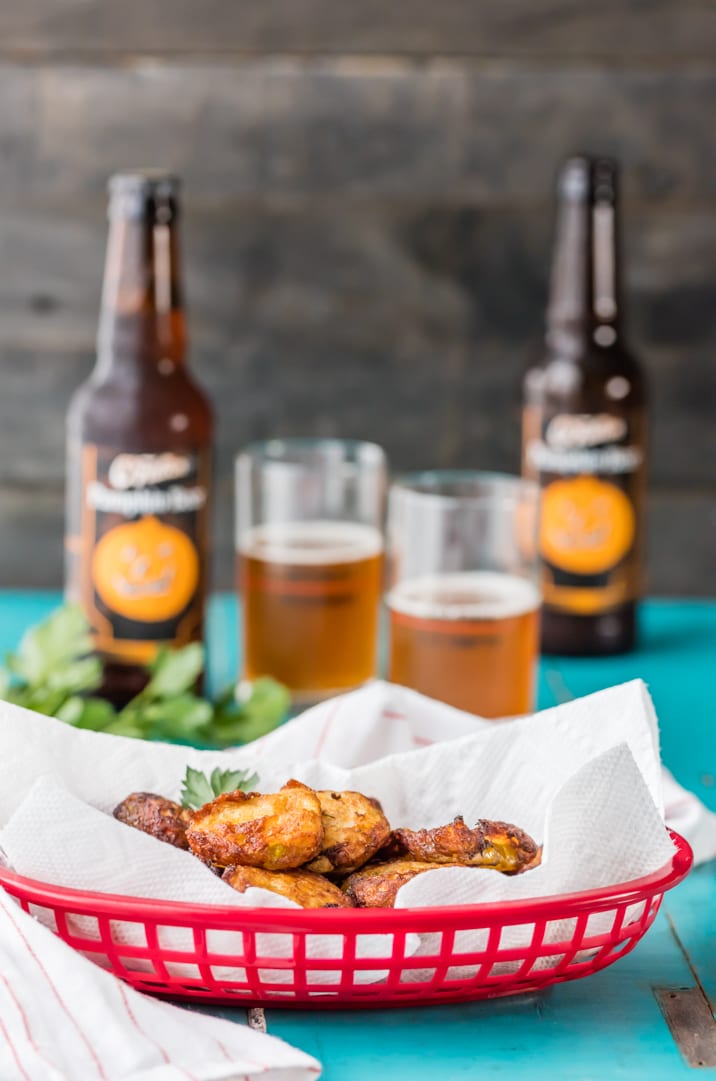 What are the best dipping sauces for fried pickles?
Be sure to serve some dipping sauces along with these pickles! They go great with ranch, BBQ, honey mustard, aioli, or fry sauce. Or drizzle them with hot sauce! And of course they're perfect for eating with this Ranch Dill Pickle Dip.
Can you reheat fried pickles?
The best way to reheat leftover fried pickles is to use the oven. This will give them their crispy texture back so they aren't soggy.
Place leftovers on a cookie sheet and bake at 350F until they're hot and crispy.
Can you make fried pickles in the oven?
You can bake these instead of frying if you prefer.
Follow the instructions below to make the batter and coat them. Then bake at 450F until golden and crispy, about 15 minutes.
Baking will be slightly healthier, but I still recommend frying for the crispiest, tastiest result.
How do you make fried pickles so crispy?
The trick to getting extra crispy pickles is to blot out any excess juice from the pickles with a paper towel. But the frying is what really does the trick. Guaranteed crispiness!
What to serve them with
I love serving these as a little snack along with some dips. You can also use them as a topping on your favorite sandwiches, burgers, hot dogs or salads.
Try them with a few of these favorite recipes: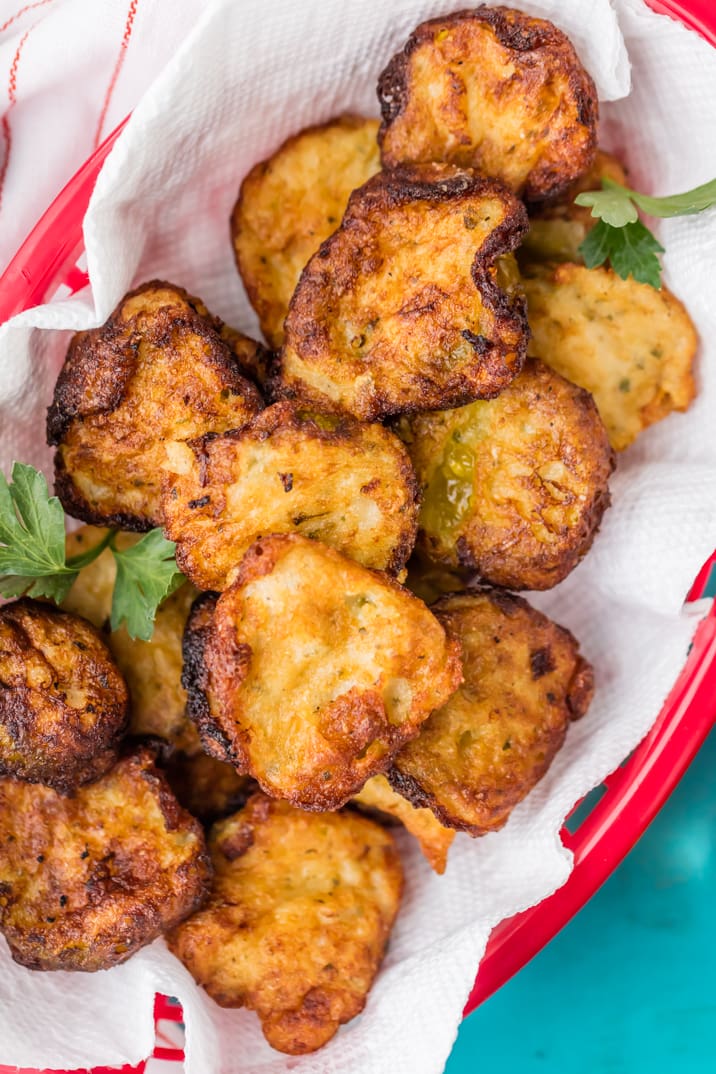 Flavor Variations
I personally think the ranch flavor makes for the BEST fried pickles, but it's easy to change up the flavor. When making the batter, just switch out the ranch seasoning for whichever spices you prefer.
Here are a few ideas:
Make them spicy with chili powder, cayenne, and/or paprika.
Use taco spices or fajita seasoning.
Try them with Creole seasoning or a Chili Lime mix.
Recipe Tips and Tricks
I love these deep fried pickle chips but you can use pickle spears if you prefer. Just follow the same steps to fry them up!
Work in batches when frying. I usually do about 4-6 pickles at a time.
Make sure the oil is heated to 375F before you start frying.
Set up some paper towels next to the stove where you can place the pickles after frying. Give them 5-10 minutes to cool before serving.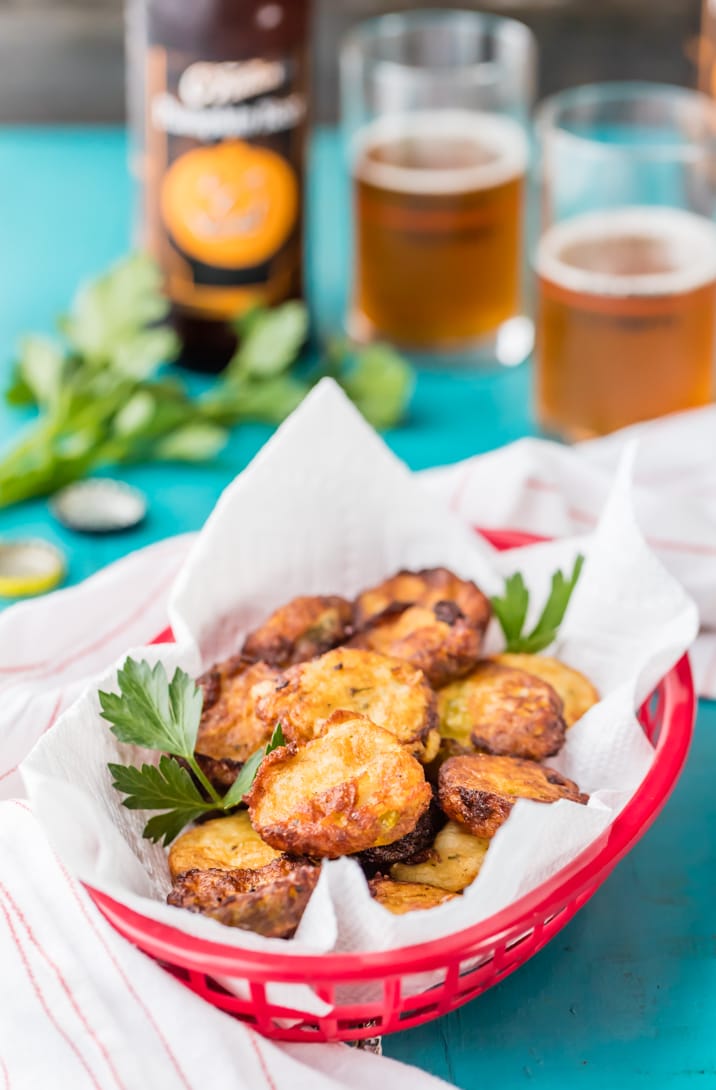 These homemade fried pickles are such an easy snack to make for a crowd. Game day, BBQs, just about any occasion is the right occasion for a batch of these ranch pickles. Enjoy!
If you make this recipe be sure to upload a photo in the comment section below or leave a rating. Enjoy!