Blue Cheese Dip is the perfect veggie dip for parties, holidays, and game day. This yogurt and cream cheese dip recipe is smoky, cheesy, and full of flavor. You need this cold dip recipe for crackers, veggies, and more. It's easy to make and super tasty!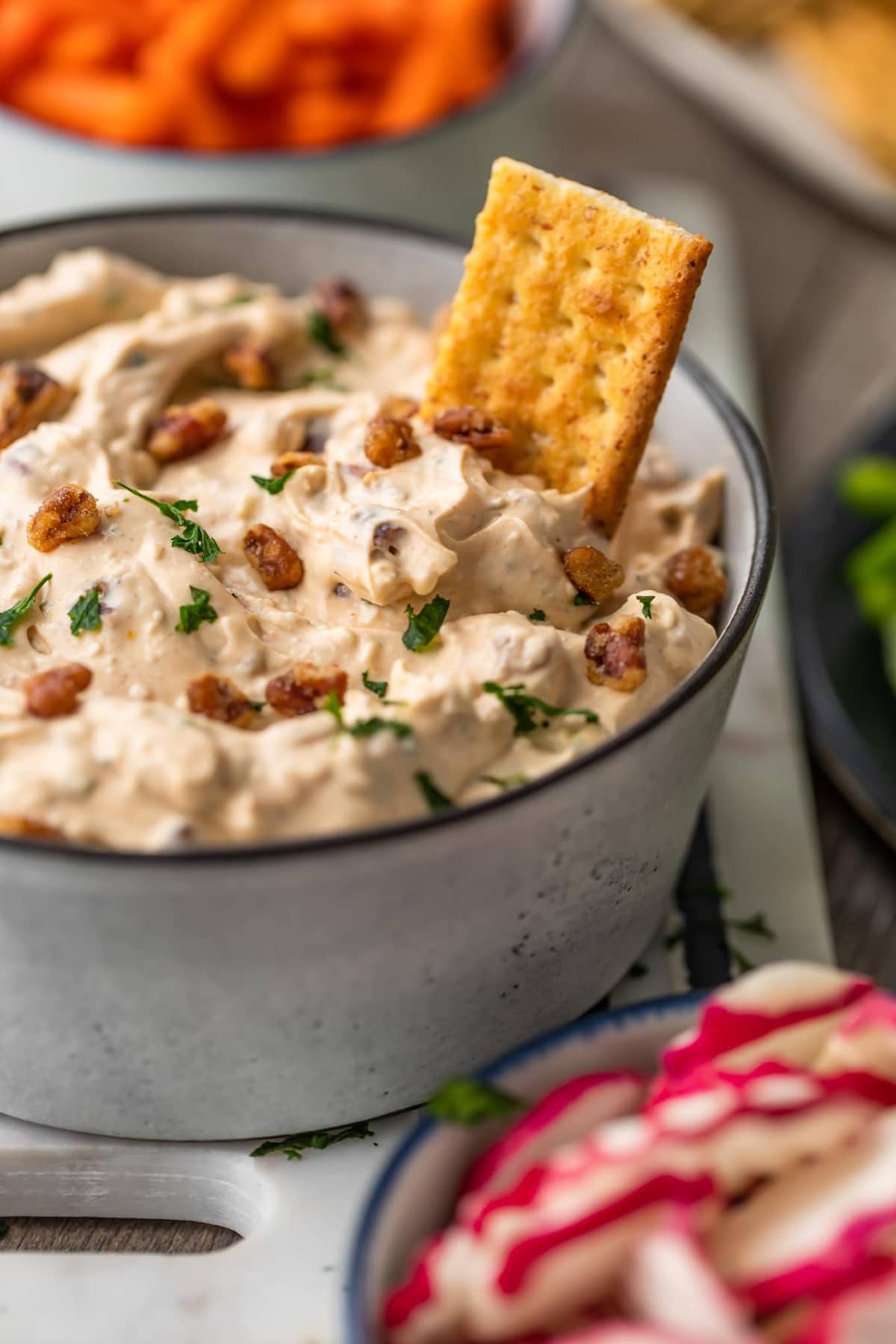 Blue Cheese Dip
Blue Cheese Dip is just what you need for your next party or game day! This delicious recipe makes the perfect veggie dip, but you'll be dipping everything in this stuff once you taste it!
Some people look forward to the holiday season, I look forward to dip season! Luckily dips are something you can eat all year round, for any occasion.
But I feel like December and January are the official months for all things dip thanks to holidays and football season. No party or get together is complete without a few easy dip recipes!
This Blue Cheese Dip is a current front runner. I love hot dips, but I think every occasion needs a delicious cold dip recipe too. They're easy to make and easy to store, plus they taste just as good!
This smoky blue cheese dip makes the perfect veggie dip for parties…eat it with crackers, carrots, peppers, celery…anything you want!
Make this flavorful cream cheese dip recipe for Christmas parties, New Year's Eve, or game day. I guarantee everyone will eat it in a flash, so make plenty!
This Blue Cheese Dip is an easy and delicious veggie dip for holidays and parties!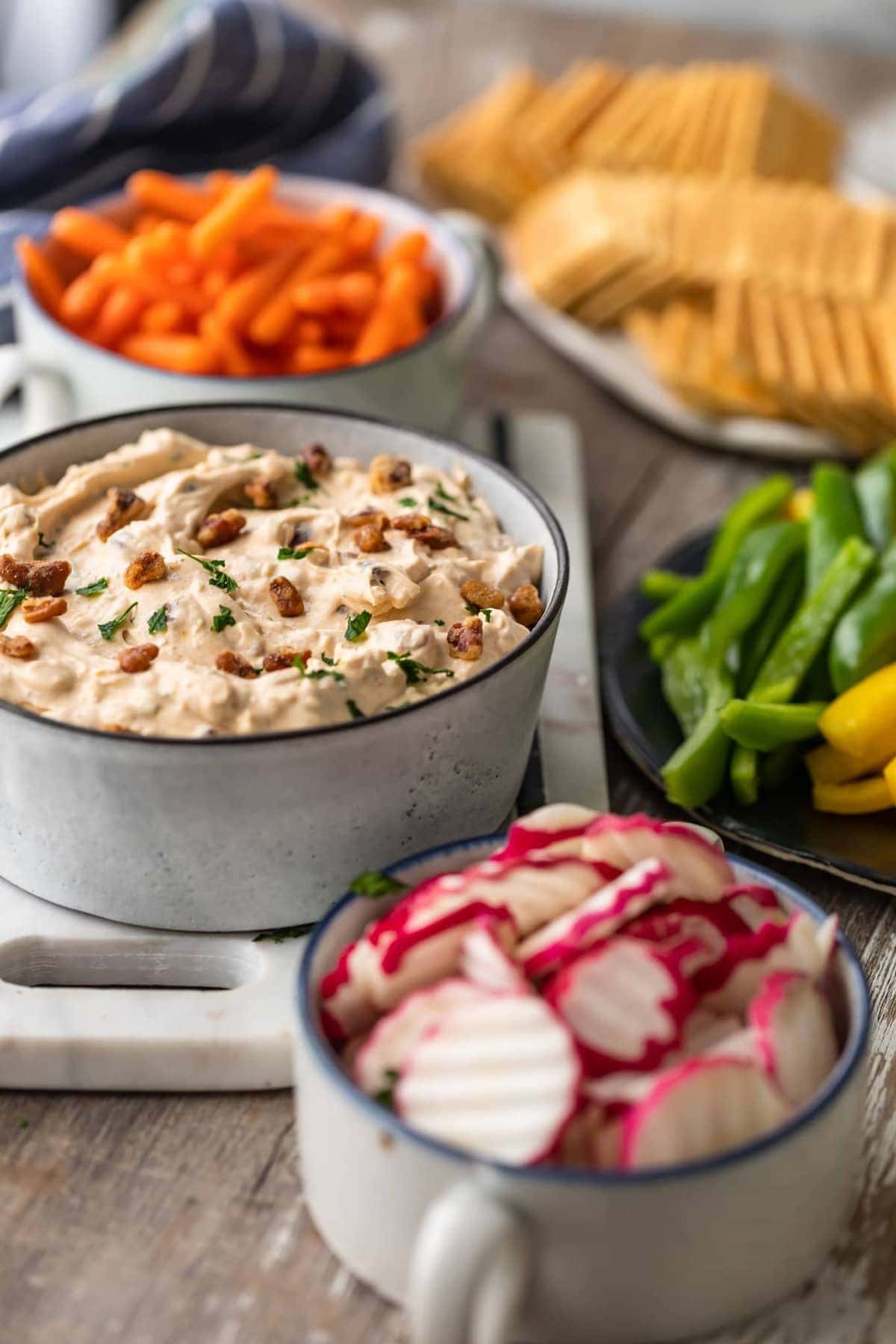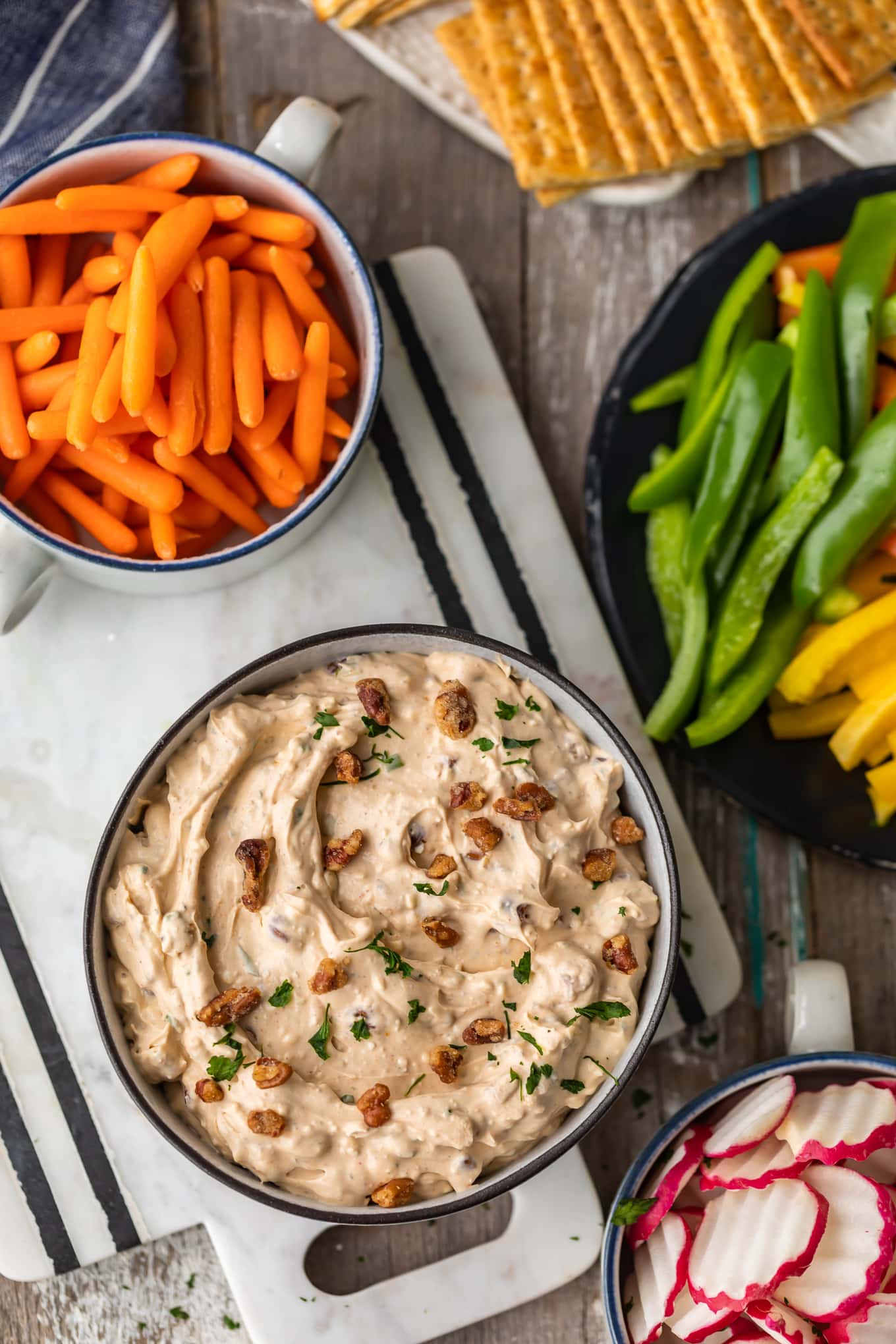 Easy Veggie Dip Recipe
Vegetable trays are a mainstay for parties of all kinds. It's such a simple thing, but very necessary. We all want to pretend we're being a little bit healthy while eating all the other snacks and appetizers.
But I get really tired of serving vegetables with ranch dressing and nothing else…why not make the vegetable tray FUN by making a delicious veggie dip to go with it?
This Blue Cheese Dip is really perfect for veggies because it's creamy and flavorful on its own. Crisp radish chips or carrot sticks are a great vehicle for this smoky dip!
This Hummus and Vegetable Board will give you more veggie tray inspiration!
What's in Blue Cheese Dip?
Cream Cheese
Greek Yogurt
Blue Cheese Crumbles
White or Black Pepper
Hot Sauce
Smoky Paprika
Lemon Juice
Chives
Honey Roasted Pecans
(Milk if needed)
These ingredients make the dip creamy, tangy, smoky, and oh so delicious. The perfect veggie dip with lots of flavor!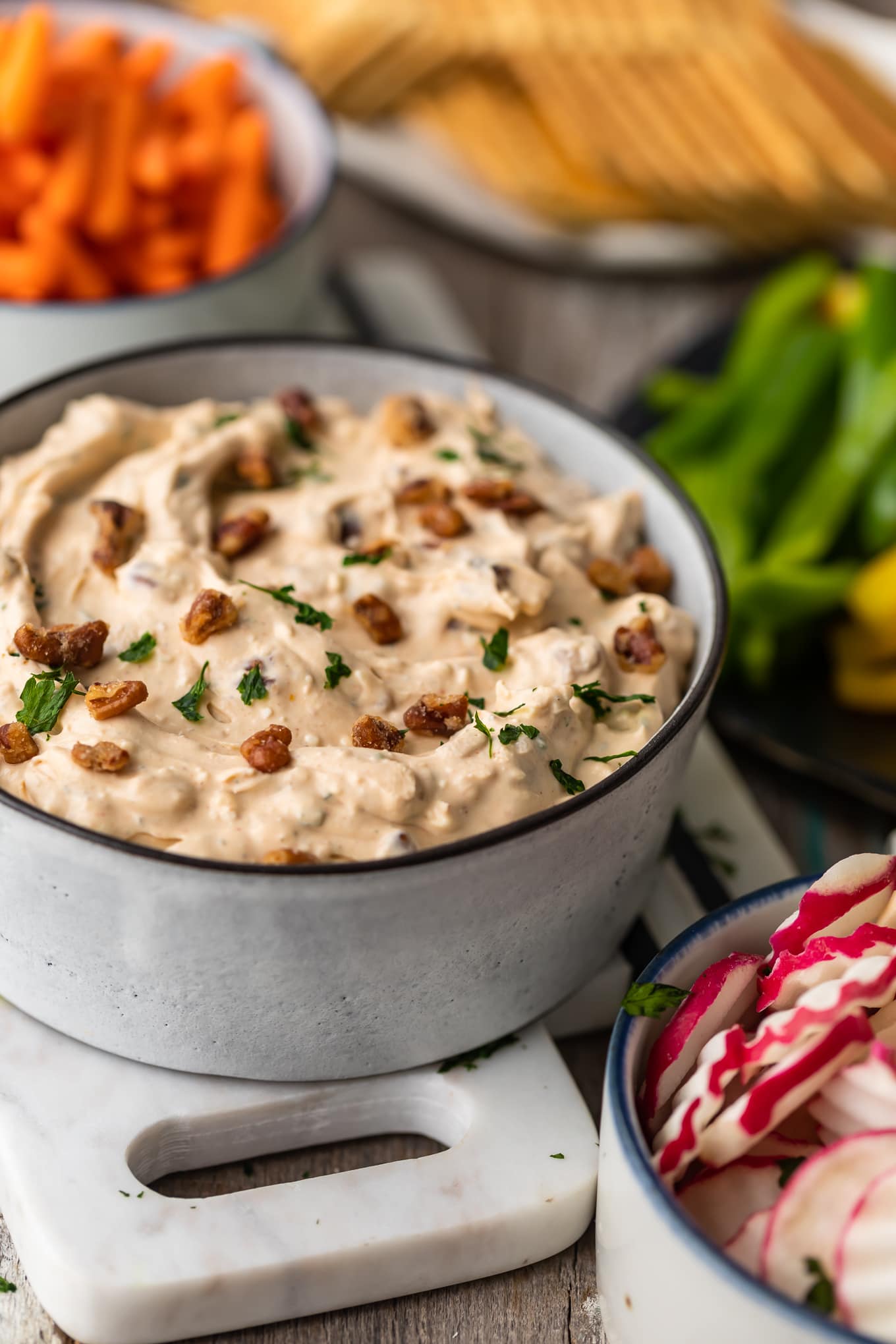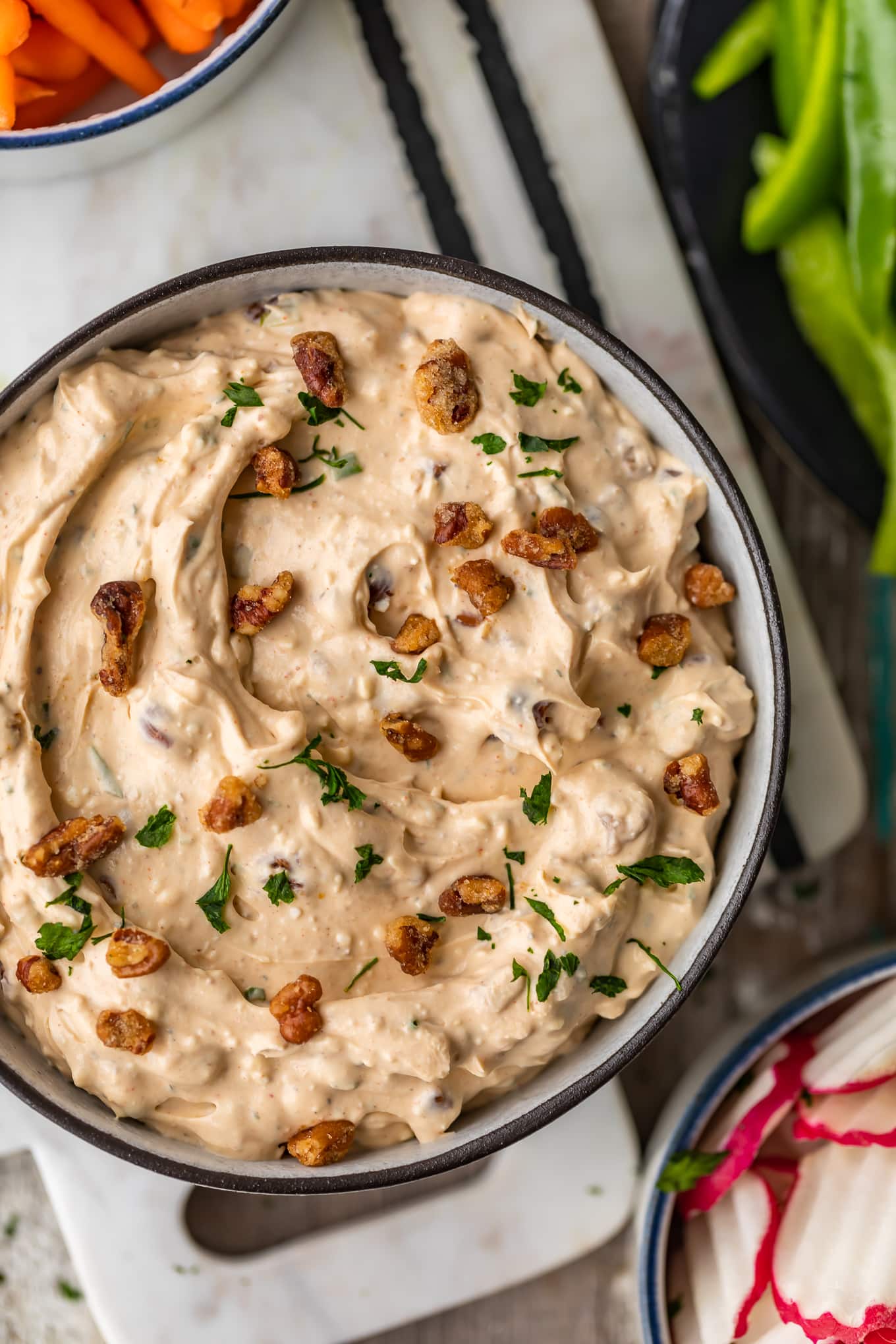 How to Make Blue Cheese Dip
Another great thing about cold dip recipes is the fact that they're do easy to make. No cooking or heating things up on the stove. No worrying about keeping them warm while they sit out at the party. Just mix your ingredients, refrigerate, and serve!
Beat cream cheese, yogurt, hot sauce, lemon juice, pepper, & paprika in a mixing bowl.
Then stir in the blue cheese crumbles, 3/4 of the pecans, and 1/2 of the chives.
Put the dip in a serving bowl and sprinkle the rest of the pecans and chives on top.
Serve immediately, or cover the bowl with plastic wrap and refrigerate until ready to serve.
Stir in a bit of milk ( tablespoon at a time) if the dip seems too thick when serving.
This blue cheese dip tastes best with an array of vegetables and crackers, or try serving it with some sliced apples. The dip will keep in the refrigerator up to 1 week, just be sure to keep it in an airtight container.
How do you make blue cheese dip without sour cream?
A lot of blue cheese dressings and dips are made with a base of sour cream and/or mayonnaise. We're using Greek yogurt instead of sour cream for this recipe, which gives it that same tangy, creamy base…but healthier!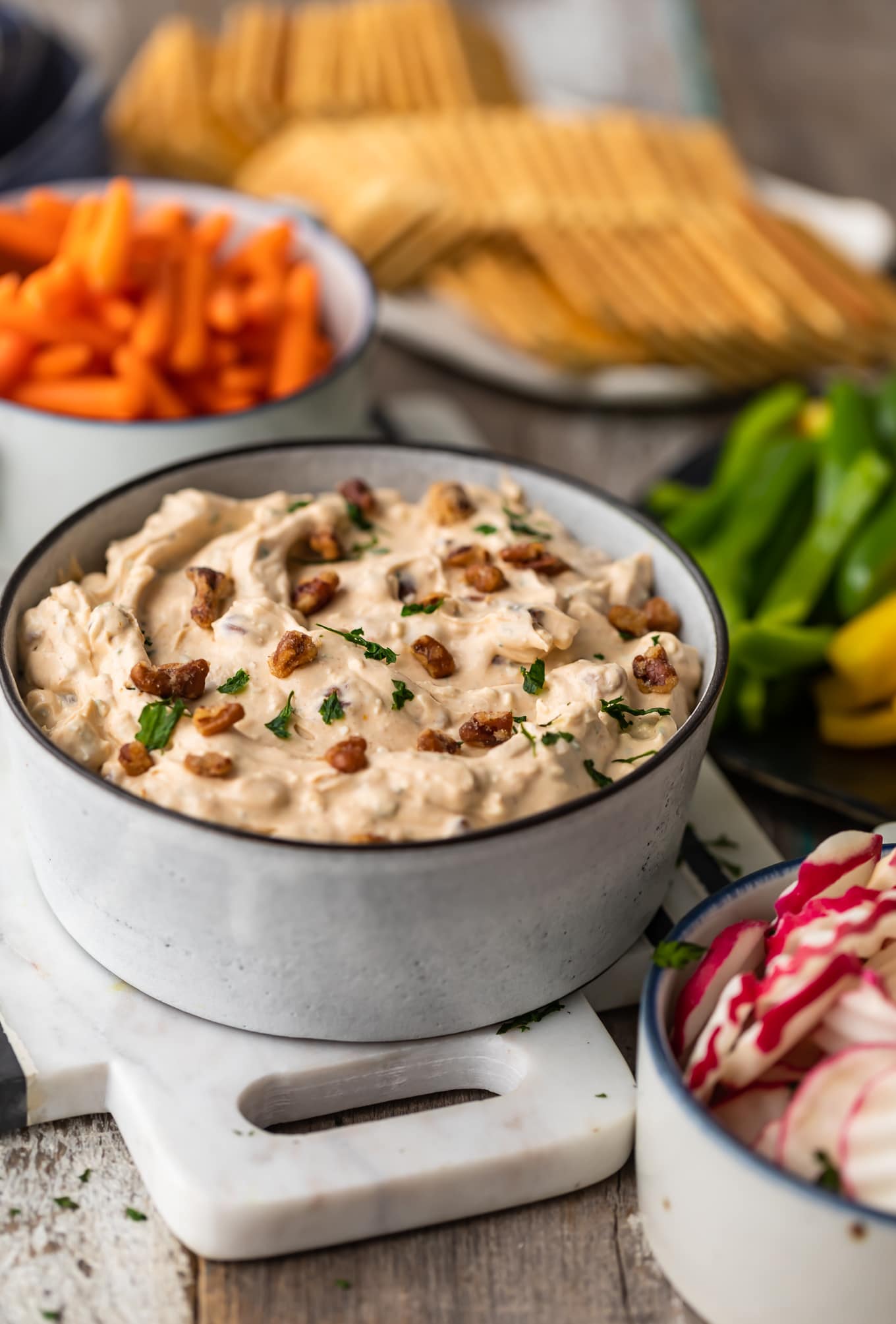 Cold Dip Recipes
Cheesy hot dips are probably my favorite food group, but every party and gathering needs some cold dip recipes too. You need something tasty that's easy to whip up to serve with all of the vegetables and crackers.
This blue cheese dip is the perfect addition to the dip rotation, quite possibly my new favorite veggie dip!
Here are some other cold dip recipes to serve: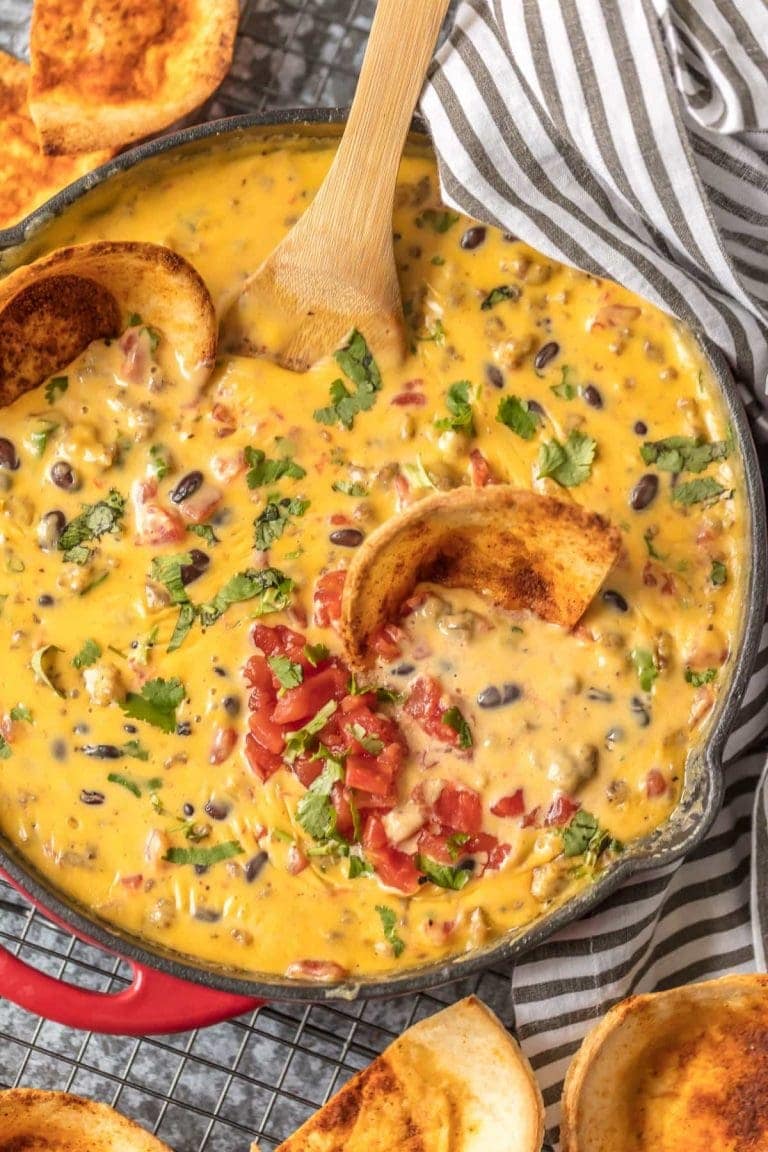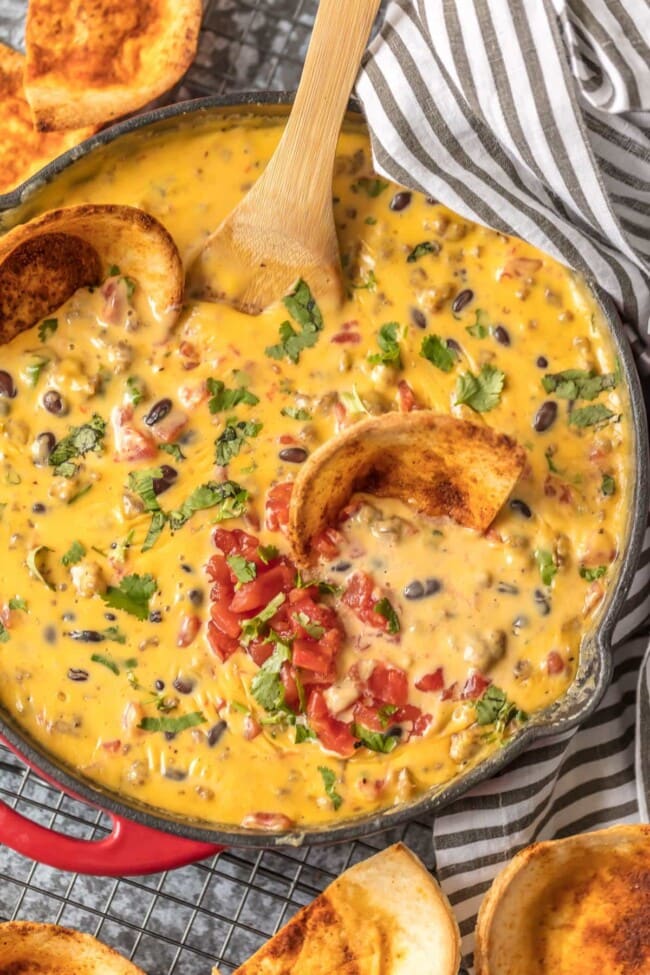 Game Day is covered!
101+ Super Bowl Appetizer Recipes
If its game day grub you crave, we have all the recipes you need to win big! Check out our easy Super Bowl recipes (or World Series, March Madness, National Championship, you get the idea!)
Game Day Guide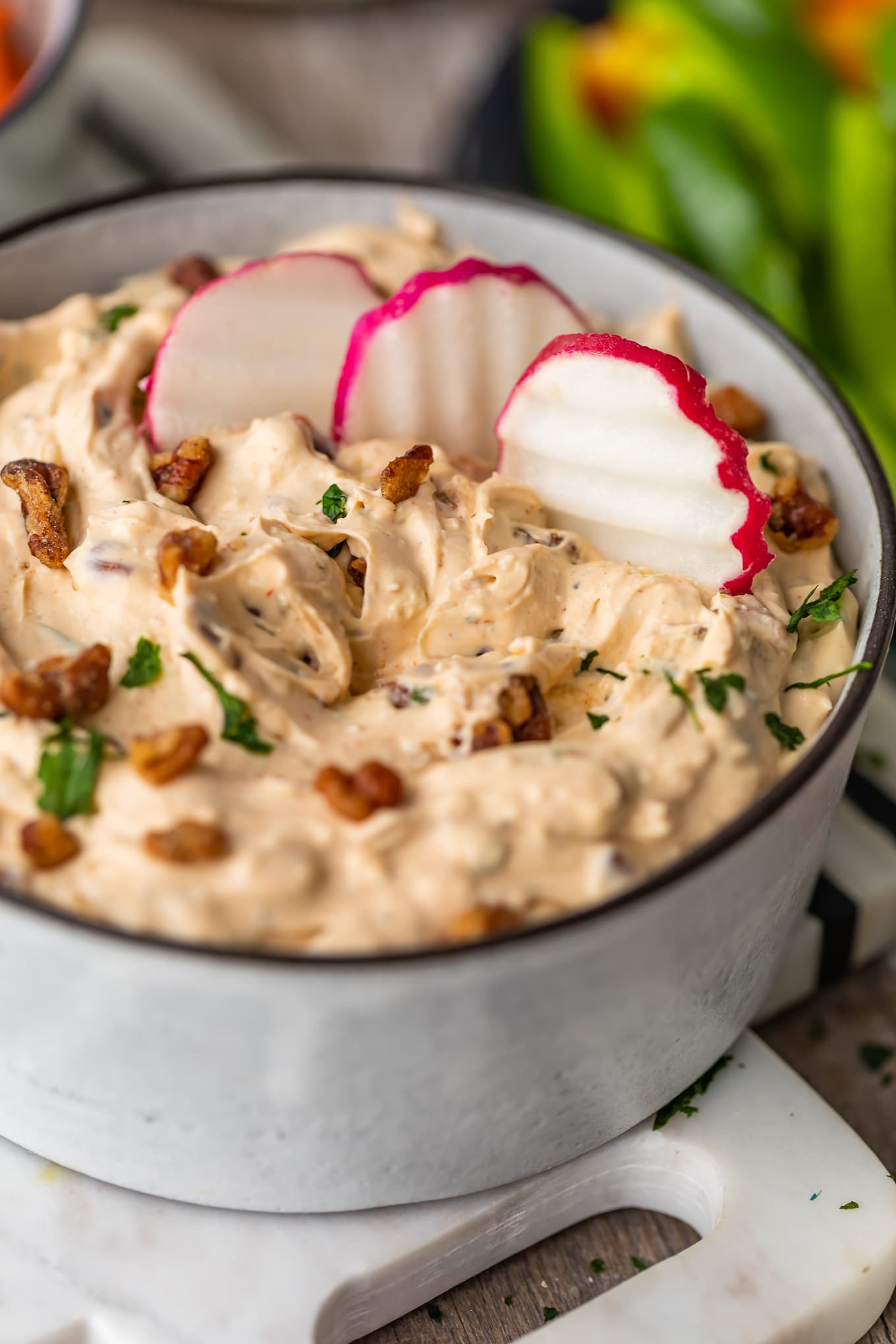 Make sure you add this blue cheese dip to the appetizer table for your next party. It's a real crowd pleaser!
If you like this blue cheese dip recipes, try these other delicious dressing and dip recipes:
If you make this recipe be sure to upload a photo in the comment section below or leave a rating. Enjoy! You can also jump to recipe.