Briny and tangy homemade Refrigerator Pickles are easy to make and delicious to eat. Using a method that's quicker than traditional canning, enjoy these pickles with just about anything!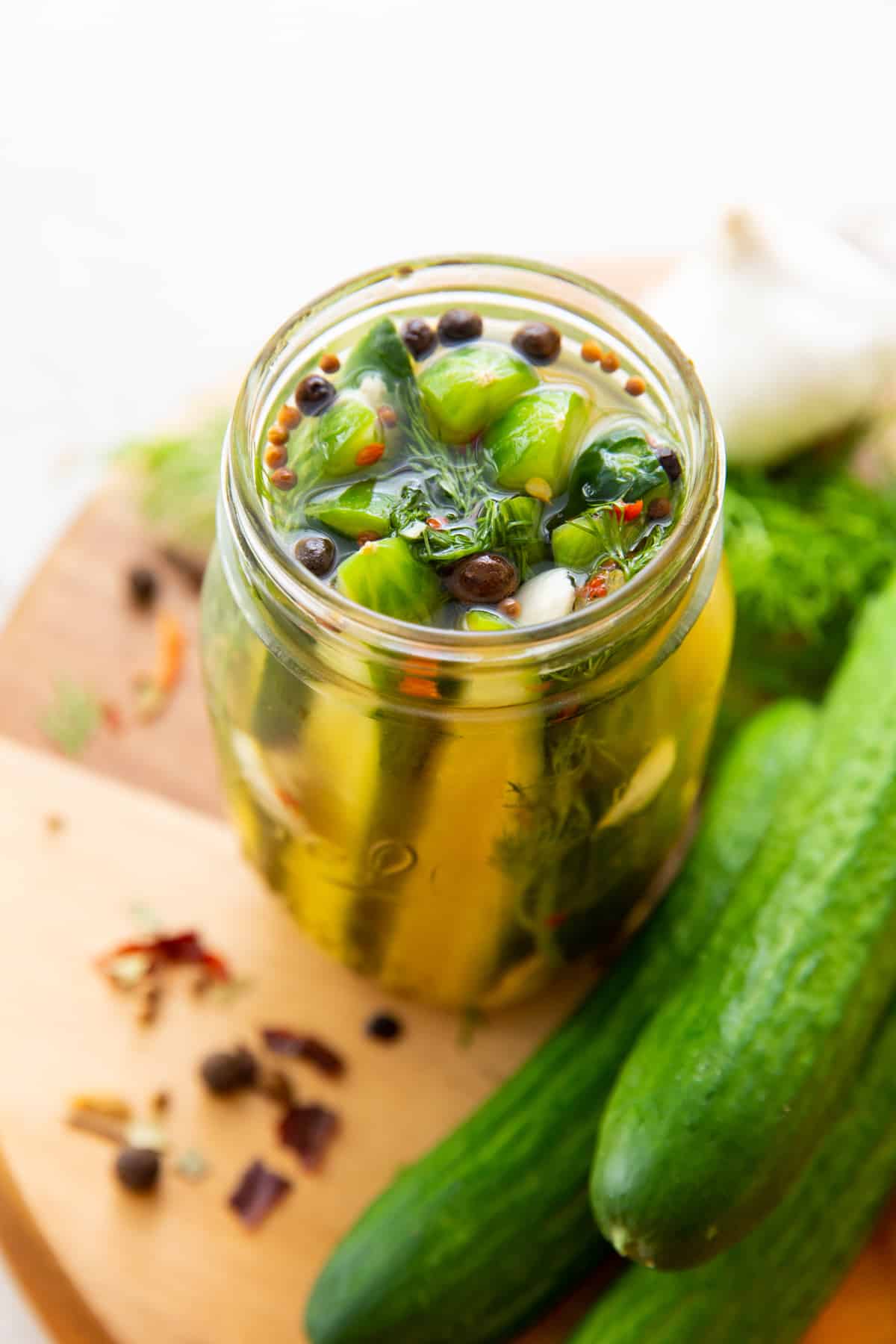 Easy Refrigerator Pickles
I love a good pickle! Straight from the refrigerator, on burgers, with salads, and more, pickles are always a good idea.
Instead of traditional canning, this recipe follows a quick-brine method, requiring just 24 hours in the refrigerator. It's never been easier to whip up a batch of homemade pickles! You'll have a big batch of tangy, crunchy pickles in no time.
Be sure to try my Ranch Fried Pickles and Sweet Pickle Relish too!
Why You'll Love this Dill Pickle Recipe:
HEALTHY: Pickles are a tasty way to eat your veggies. This recipe is also naturally gluten-free and vegan.
SIMPLE: With minimal ingredients and only 10 minutes of hands-on time, these pickles couldn't be easier to make.
QUICK: These refrigerator pickles are ready in just 24 hours – fast compared to traditional pickles which take about 3 weeks to soak up the flavorful brine.
Chilled, crunchy, and perfectly seasoned, what's not to love about homemade pickles?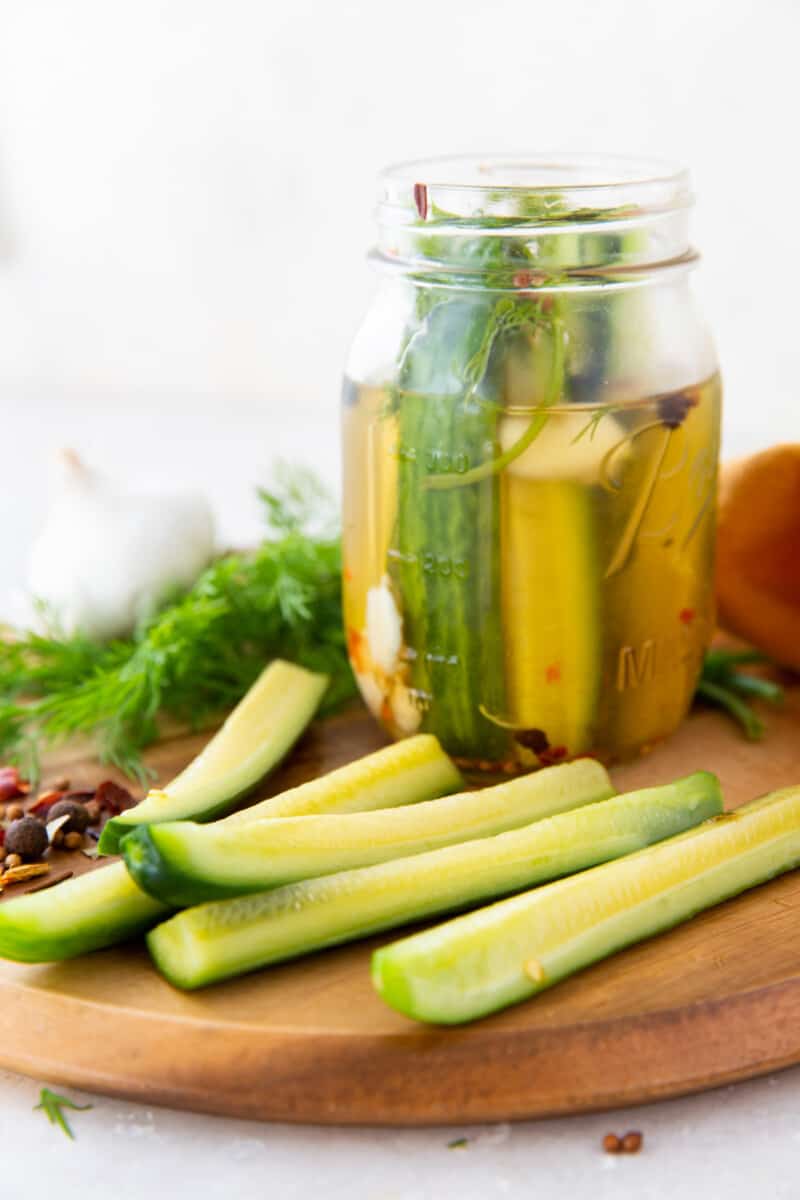 How to Make Refrigerator Pickles
You can jump to the recipe card for full ingredients & instructions!
Add the cucumbers, dill, and garlic to a mason jar.
Make the brine and let it cool.
Pour the brine into the jar.
Seal and refrigerate.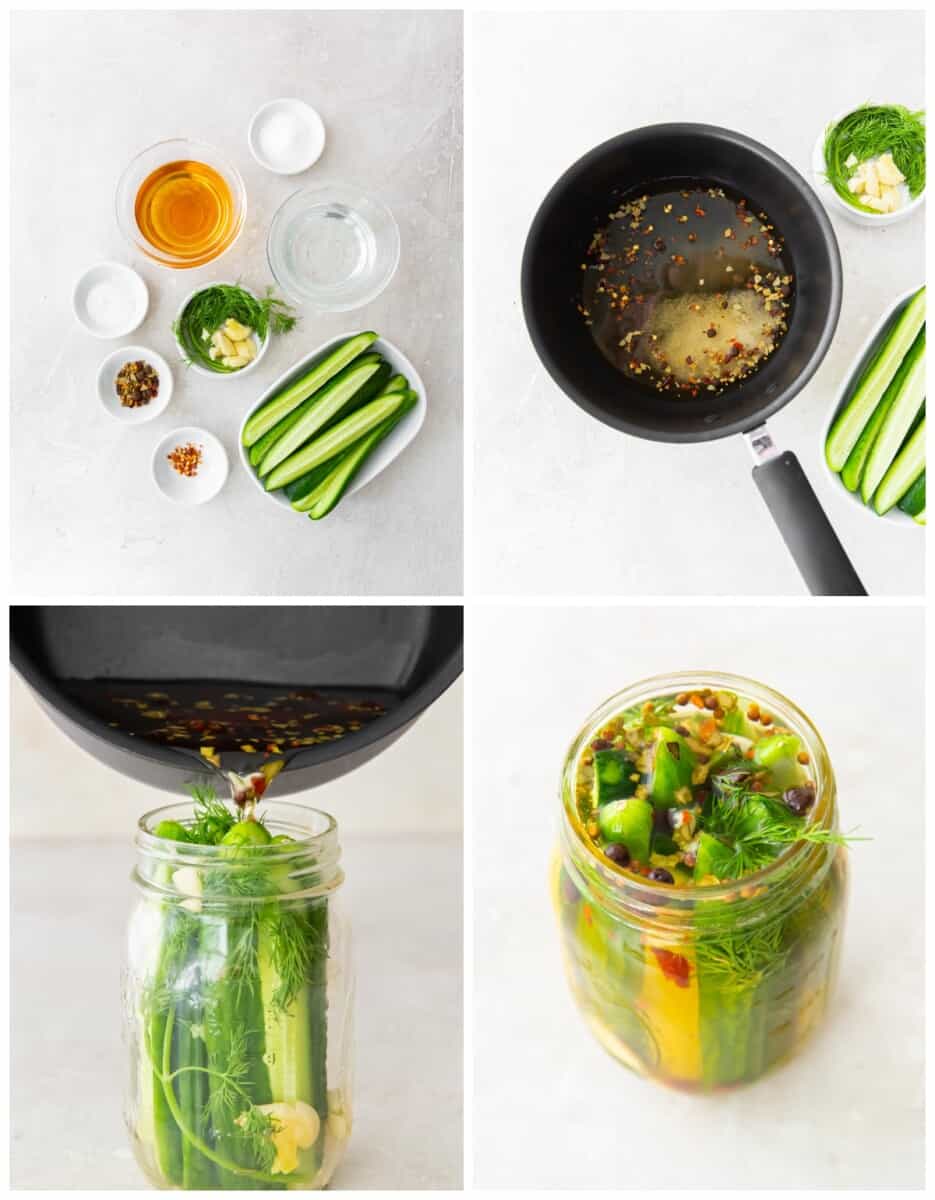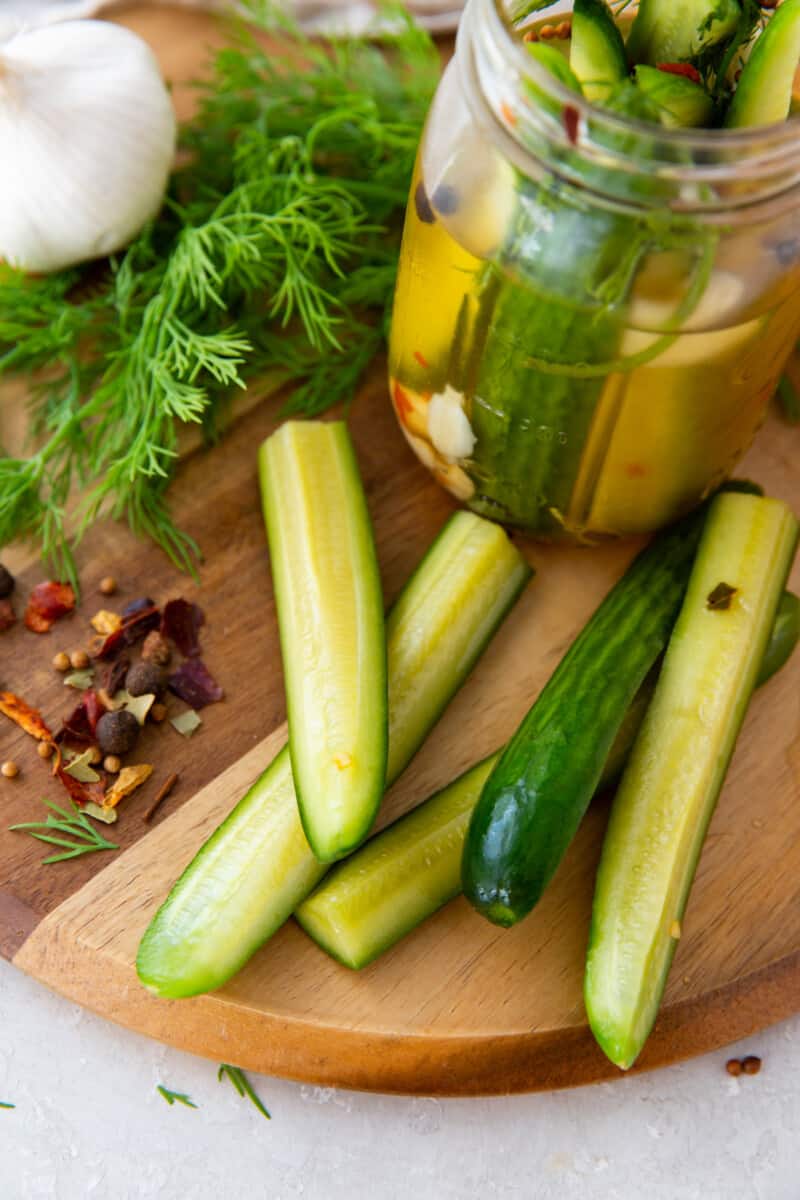 What are pickling cucumbers?
Pickling cucumbers are shorter than regular English cucumbers with thinner skins and a firmer texture. You can certainly pickle regular cucumbers, but they contain more water so have less of a crunch.
Can I cut the cucumbers into any shape?
Absolutely! Cut the cucumbers into spears, rounds, or even use a crinkle cutter to mix things up.
What size mason jar should I use for these pickles?
I used a 1-quart mason jar for this recipe. Any jar around that size should work! Or, use smaller jars and divide up the cucumbers and brine as needed.
Can I reuse the pickle brine?
Yes! Once you've enjoyed these refrigerator pickles, keep the brine in the jar. Simply add fresh dill weed (if desired) and more cucumbers. Refrigerate for at least 24 hours and enjoy.
Can I use this recipe to pickle other veggies?
Definitely. Replace the cucumbers with sliced carrots or cauliflower florets for a little something different.
These refrigerator pickles are a must-try! They add a flavorful crunch to burgers and sandwiches and are refreshing on hot summer days.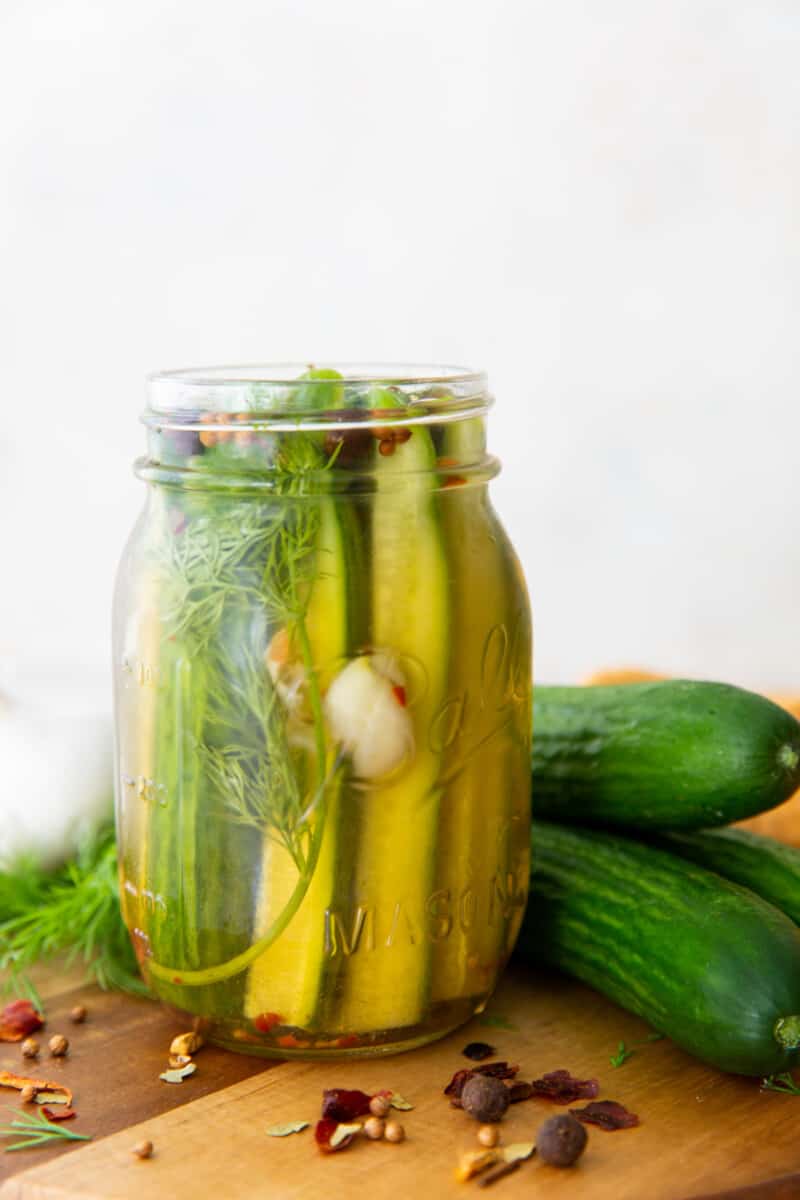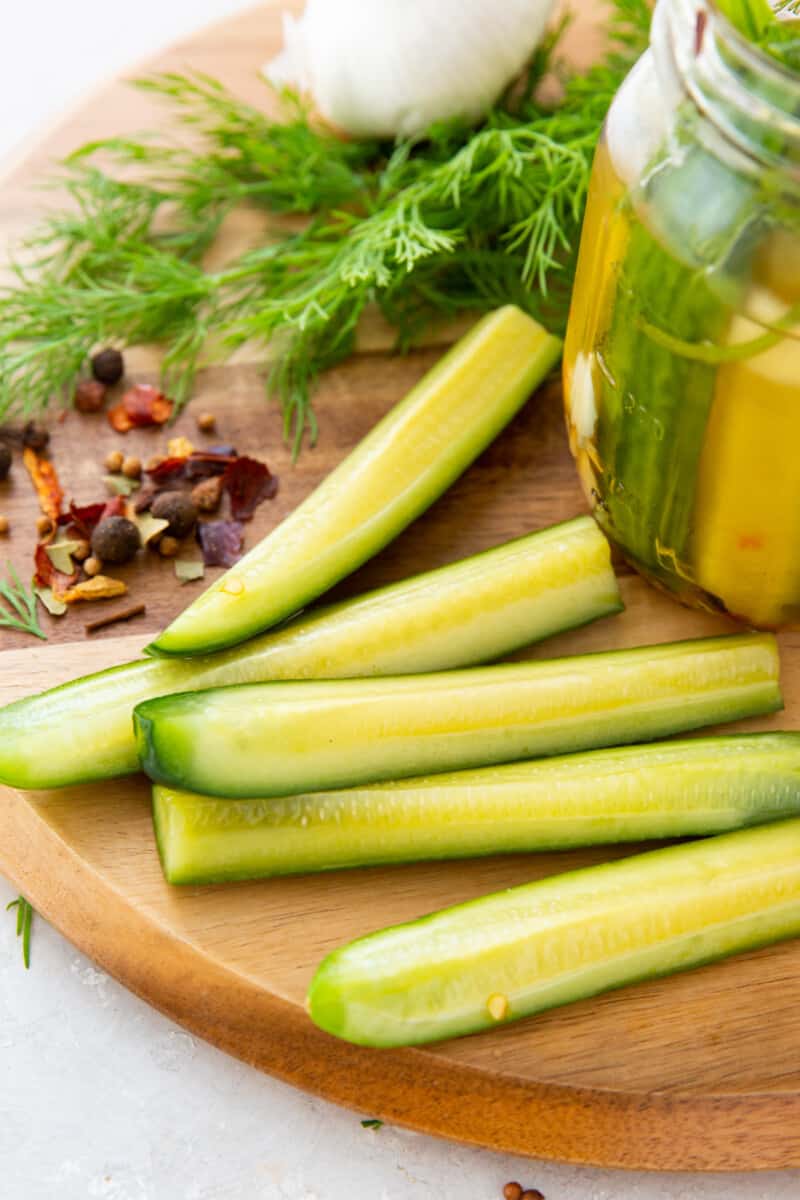 Once you realize how easy it is to make pickles at home, you'll never buy them from the store again! Have fun customizing the brine to your taste preferences – make it spicier, sweeter, or more herby depending on what you love.
Storage Instructions
Store pickles in an airtight jar in the refrigerator for up to 1 month. They'll become less crunchy the longer they stay in the refrigerator, but they'll still be tasty!
Double Batch
If making a double batch of refrigerator pickles, make sure to use a large enough mason jar (or a couple smaller jars) to fit the cucumbers and the brine.
Tips for Refrigerator Pickles
For milder, sweeter pickles, add another teaspoon of granulated sugar in step 2.
For spicier pickles, add extra hot pepper flakes in step 2.
Let the brine cool for 15 minutes before adding to the mason jar.
Make sure the cucumbers are fully submerged in brine before refrigerating.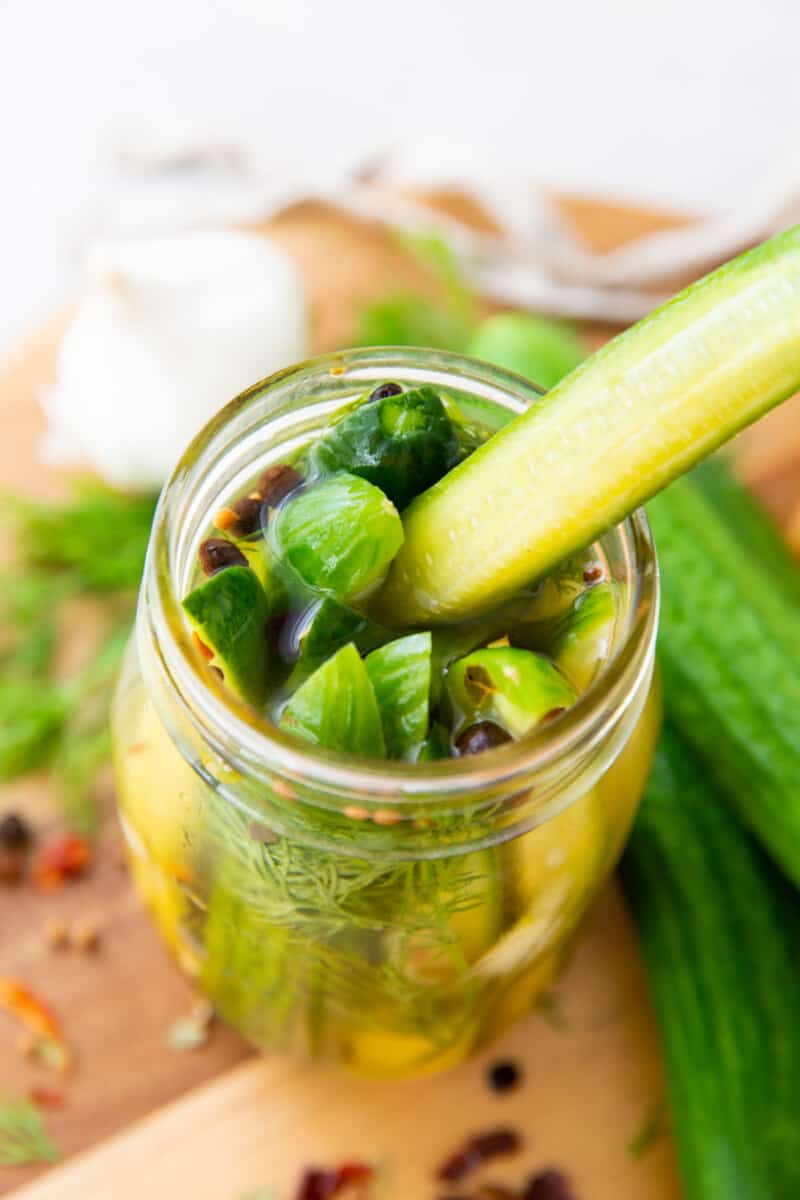 One bite of these crunchy pickles and you'll be hooked!
If you make this recipe be sure to upload a photo in the comment section below or leave a rating. Enjoy! You can also jump to recipe.