This REALLY GOOD VEGETARIAN CHILI will knock your meat loving socks off. This healthy chili has all the flavor and is made entirely of vegetables. SO GOOD.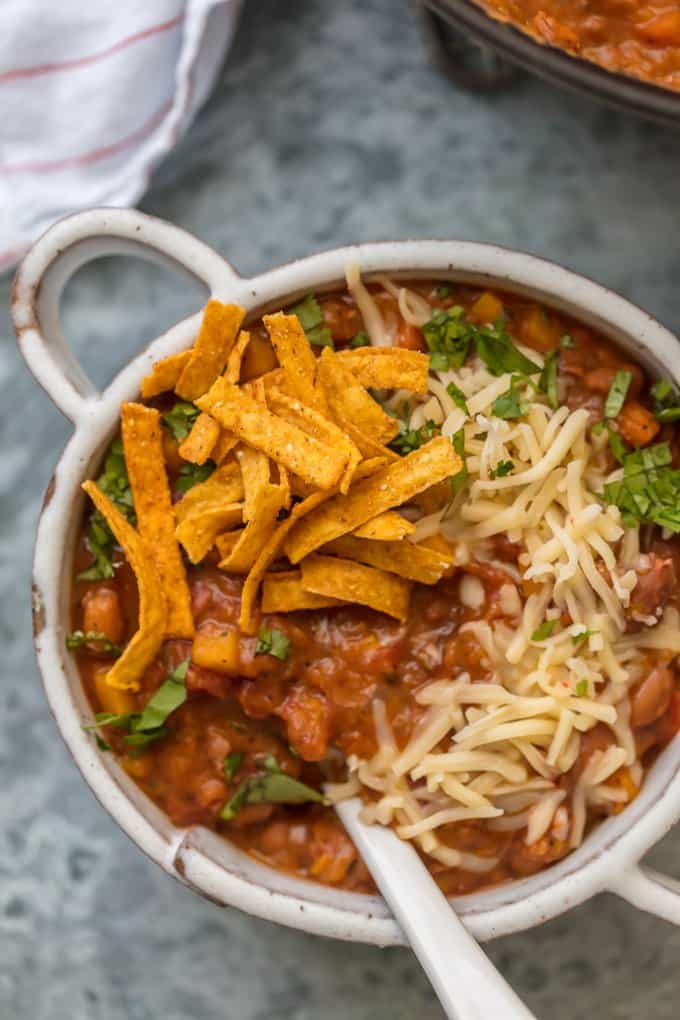 I gotta be honest…I love a good hearty chili made with meat. I love White Chicken Chili (with CREAM CHEESE) and love our chili with both sausage and beef. I even love Spicy Turkey Chili. I'm not usually one to make things with just veggies, but I wanted to see if I could find a recipe that I love just as much as the traditional carnivore style. It is possible that the veggie lovers can have the same level of comfort food goodness that I've always enjoyed with my chilis? YES!
Mom helped me come up with this ammmmmazing REALLY GOOD VEGETARIAN CHILI and it knocked my socks off. The combination of beans, tomatoes, carrots, and butternut squash created such a great flavor and texture that you'll never miss the beef, sausage, turkey, or chicken. A little bit spicy, a touch sweet (we used cinnamon!), and a lot bit perfect. I might just learn to love my veggies after all.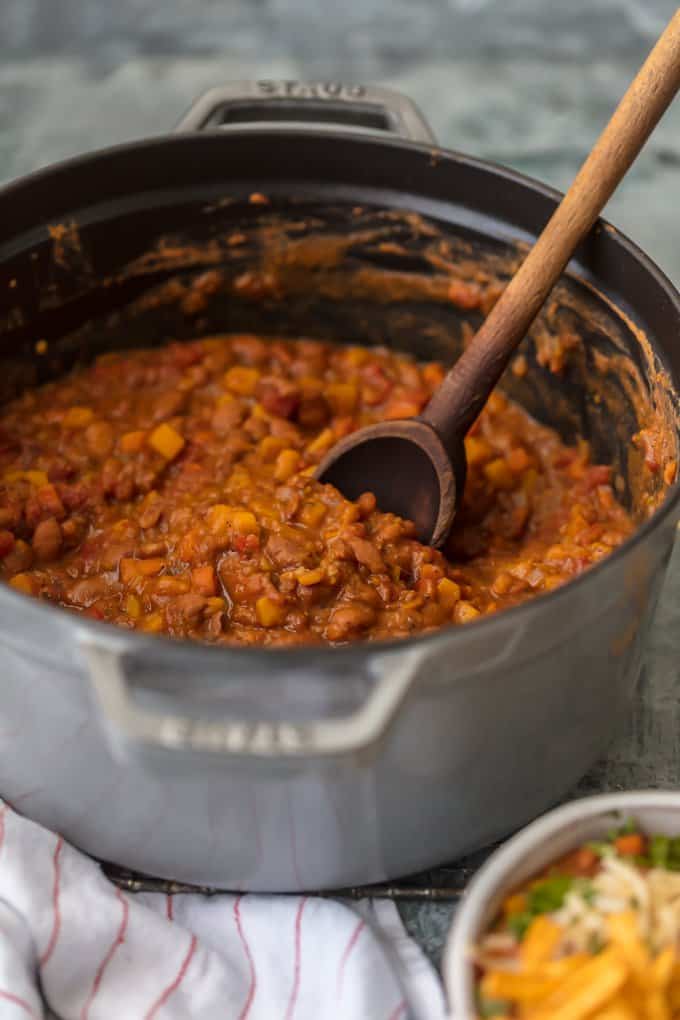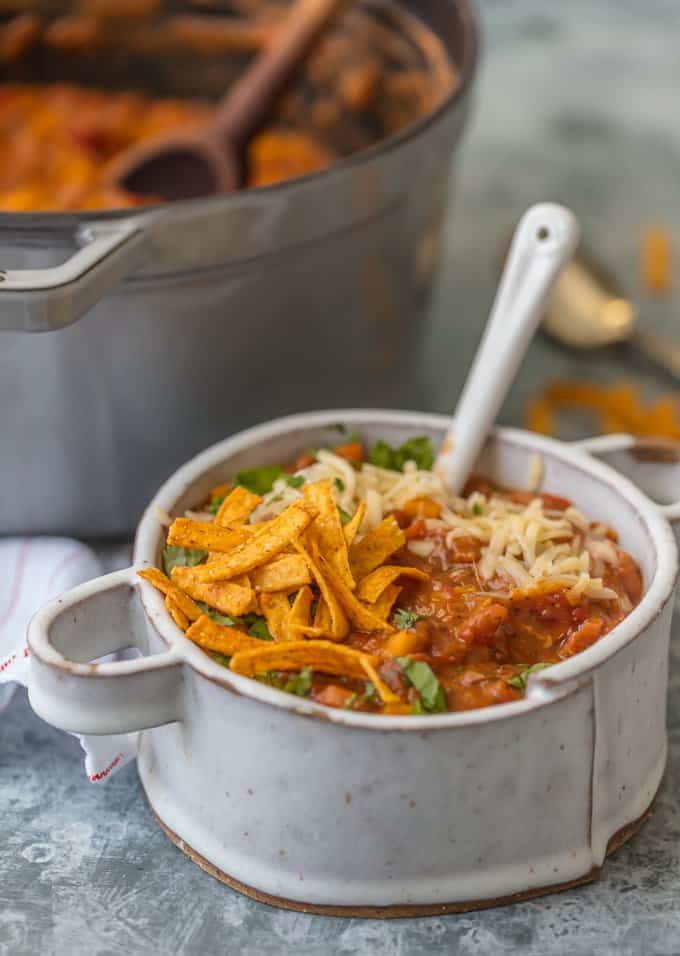 Every chili needs a great garnish, so we packed our Really Good Veggie Chili with shredded queso, fresh cilantro, and spicy tortilla strips. I could have eaten bowl after bowl. We took a bunch of it and froze some for my brother and his family (they just had baby #3 and he is DIVINE). It should reheat like a dream which is always such a bonus. I just love a great chili recipe…and now I especially love a great vegetarian chili recipe!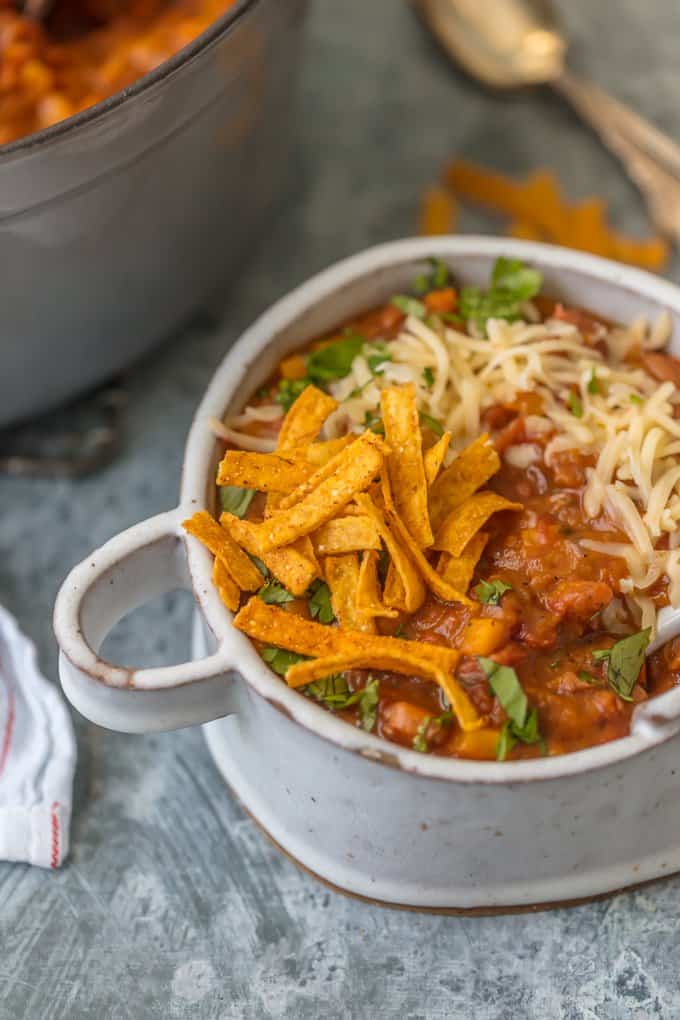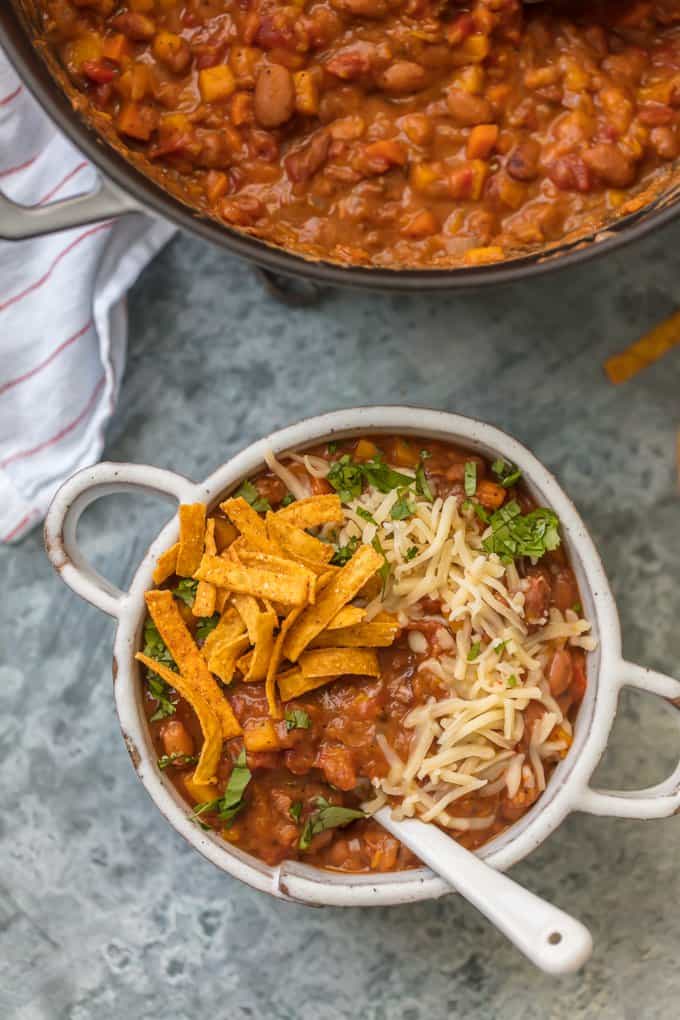 With the weather (FINALLY) getting chillier, you're in need of this Really Good Vegetarian Chili. A steaming pot of this deliciousness is certainly good for the soul. You won't even miss the traditional ingredients.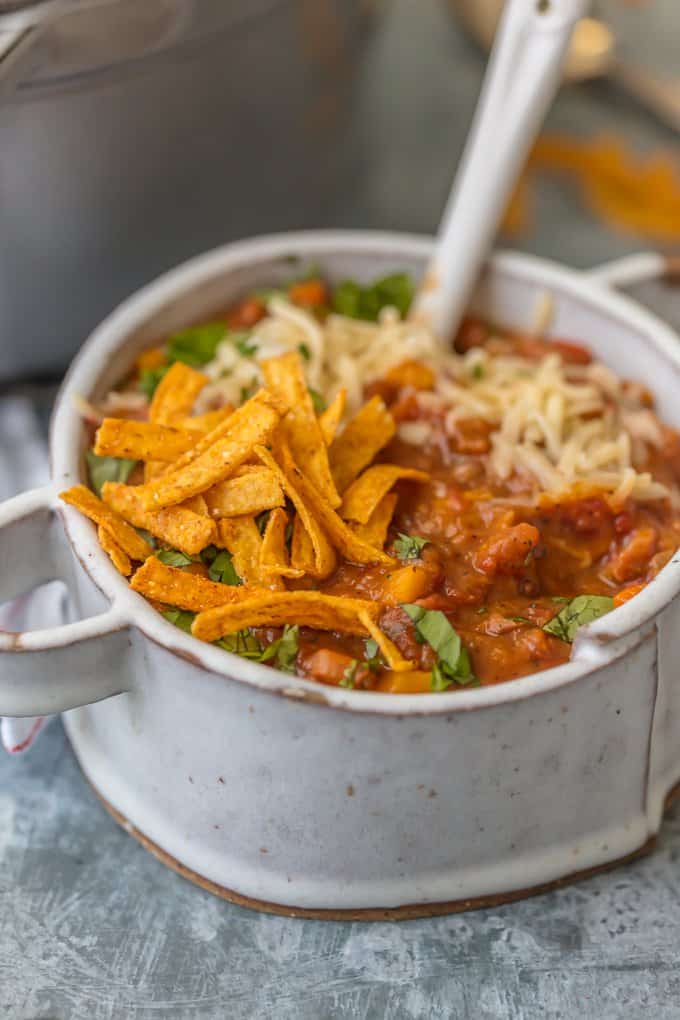 Muah! Enjoy :)
Really Good Vegetarian Chili
This REALLY GOOD VEGETARIAN CHILI will knock your meat loving socks off. This healthy chili has all the flavor and is made entirely of vegetables. SO GOOD.
20 minPrep Time
30 minCook Time
50 minTotal Time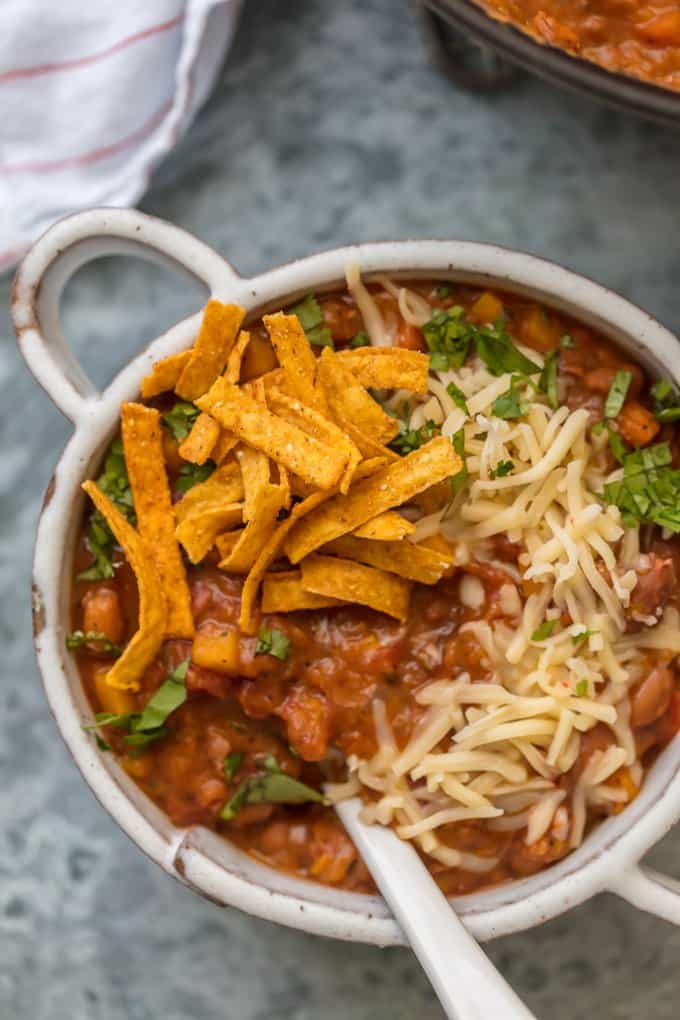 4.8 based on 5 review(s)
Ingredients
3 cups winter squash, diced (I used Butternut squash)
2 tablespoons canola or olive oil
1 onion, diced
2 medium carrots, diced
1 sweet red pepper, diced
2 cloves garlic, minced
2 tablespoons chili powder
1 tablespoon ground cumin
1 28-ounce can diced tomatoes
1 teaspoon dried oregano
2 tablespoons tomato paste dissolved in 1-cup water
Salt to taste
3 (14.5 ounce) cans pinto beans, drained
½ cup fresh cilantro, chopped
Garnish: Grated vegetarian cheese, cheddar, Monterey Jack or crumbled Queso Fresco.
Instructions
Heat oven to 400°F and cover a half baking sheet with aluminum foil.
Place the diced squash on the foil-covered baking sheet and drizzle with 1-2 tablespoons olive oil. Roast the squash 10 minutes, and remove from the oven. Set the squash aside until ready to use.
Meanwhile, in a heavy nonstick skillet, heat the oil over medium heat and add the onion, carrots and sweet red pepper. Cook (stirring often) until vegetables are tender and begin to turn golden brown, approximately 8 minutes. Add the garlic, stir and cook another 30 seconds. Add the chili powder and ground cumin and cook another 2-3 minutes, until mixture begins to stick to the pan, stirring often.
Add tomatoes and dried oregano and salt (to taste). Bring mixture to a boil, reduce heat to simmer and cook down just until mixture begins to stick to the pan, about 10 minutes. Stir often.
Stir in tomato paste & water mixture and bring the mixture back to a low boil. Season, to taste, with salt, and simmer, stirring often, 10 minutes or until mixture is fragrant and thickens.
Add the drained canned beans and the roasted squash. Bring to a boil. Keep temperature to a simmer over low heat, stirring often, for 30-45 minutes. The chili should NOT stick to the bottom of the pot. It will be thick, but if you prefer a thinner chili, add more water, stir and simmer to blend the flavors. Salt, to taste.
Add the chopped fresh cilantro 5 minutes before turning off the heat. Simmer for 5 minutes.
Spoon into individual bowls and top with shredded cheese.
Enjoy!
7.6.7
2455
https://www.thecookierookie.com/really-good-vegetarian-chili/