Vegetarian Chili is the best way to enjoy a delicious and healthy Vegan Chili Recipe! This is the BEST VEGETARIAN CHILI and it will knock your socks off. I never knew I could not only make an Easy Vegetarian Chili recipe but also LOVE it. Buckle up because this is the best Vegan Chili Ever!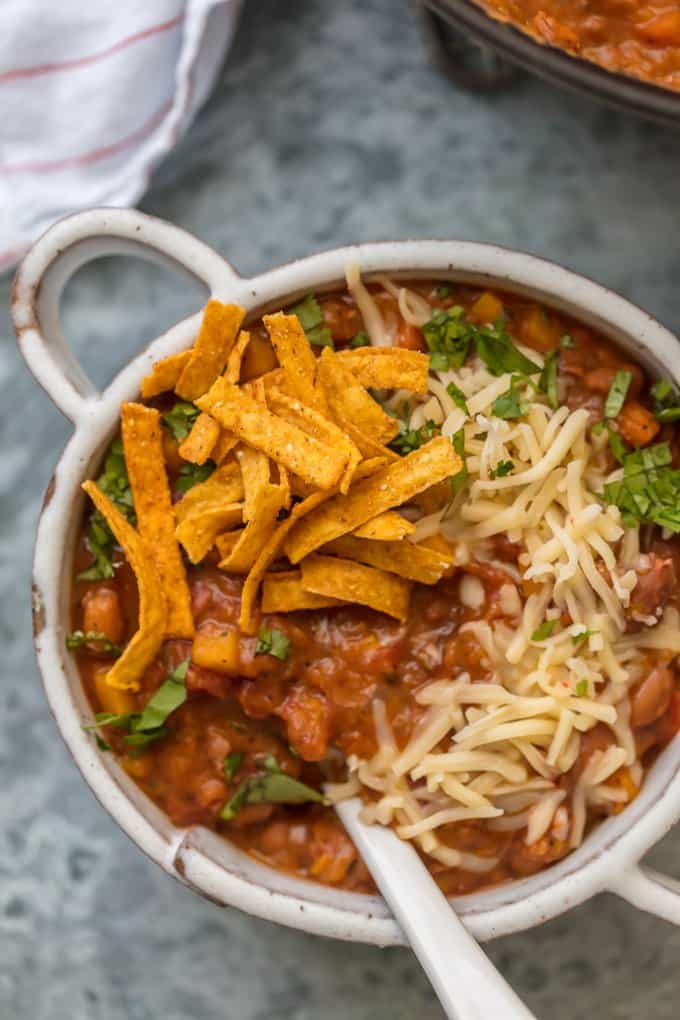 Easy Vegetarian Chili Recipe (Vegan Chili)
This is the Best Vegetarian Chili Recipe AND it's an Easy Vegan Chili Recipe too! You will love this healthy vegetarian chili whether you're a meat eater or not.
This turned out to be the Best Vegetarian Chili Recipe! I was scared to try my hand at a meat-free, Vegan Chili Recipe at first, but I'm glad I did. It's delicious, easy to make, and totally free from meat and dairy.
I gotta be honest…I love a good hearty, meaty chili. I love White Chicken Chili (with CREAM CHEESE) and I love our Best Ever Chili. I even love Turkey Chili. I'm not usually one to make things with just veggies, but I wanted to see if I could find an easy vegan chili recipe that I love just as much as the traditional carnivore style.
With this Healthy Vegetarian Chili, I found that it IS possible that the veggie lovers out there can have the same level of comfort food goodness that I've always enjoyed with my chilis. YES! I'm just so excited for you to try the best Vegan Chili!
Mom helped me come up with this amazing vegetarian chili recipe and it knocked my socks off. The combination of beans, tomatoes, carrots, and butternut squash created such a great flavor and texture that you'll never miss the beef, sausage, turkey, or chicken. A little bit spicy, a touch sweet (we used cinnamon!), and a lot bit perfect. I might just learn to love my veggies after all.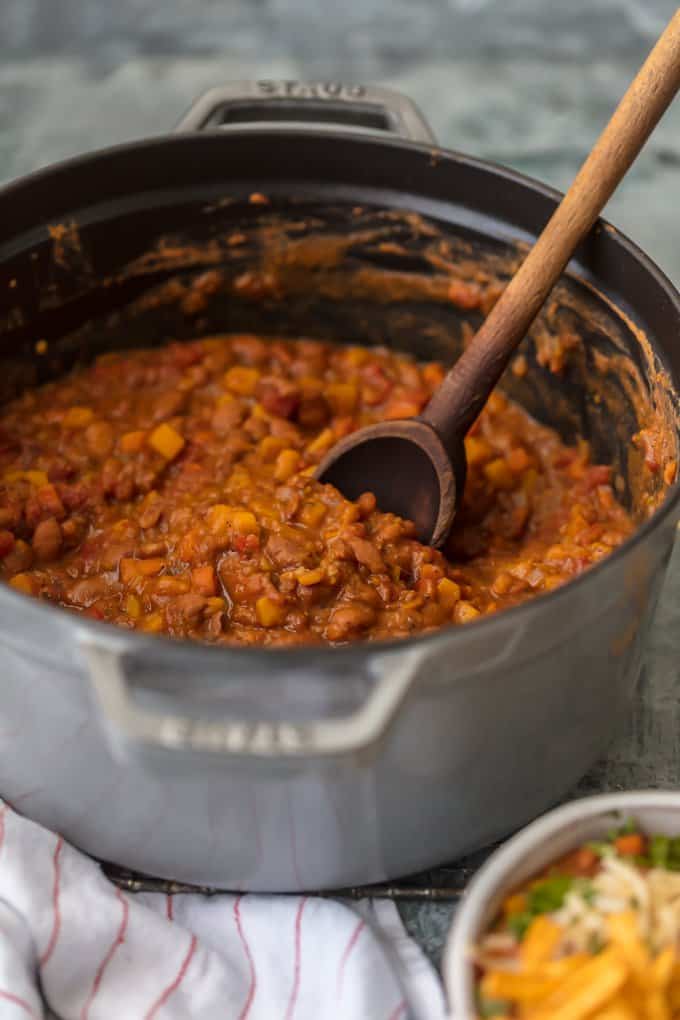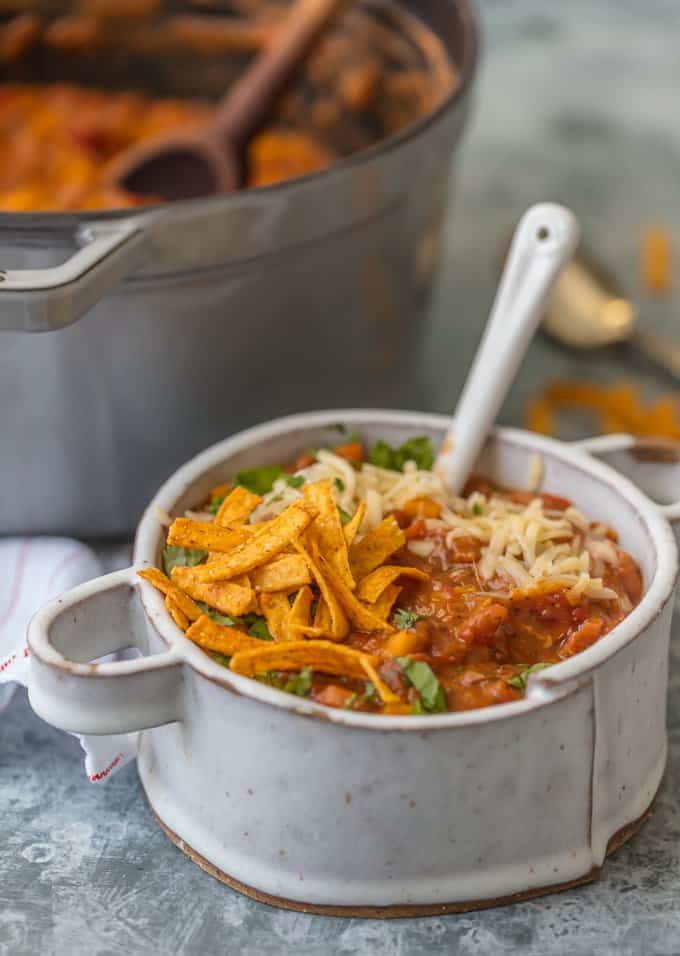 How to Make the BEST Vegetarian Chili
I'm used to having some meat in my chili, but I'm so excited about this easy vegan chili! You can make a healthy vegetarian chili without missing any flavor.
Every chili needs a great garnish, so we packed our tasty vegetarian chili with shredded queso, fresh cilantro, and spicy tortilla strips. If you're vegan, you can buy some vegan cheese to shred and put on top. I could have eaten bowl after bowl of this stuff. We took a bunch of it and froze some for my brother and his family (they just had baby #3 and he is DIVINE).
This Vegan Chili Recipe should reheat like a dream which is always such a bonus. I just love a great chili recipe…and now I especially love a great vegetarian chili recipe! This is the BEST Vegetarian Chili Recipe we have ever tasted!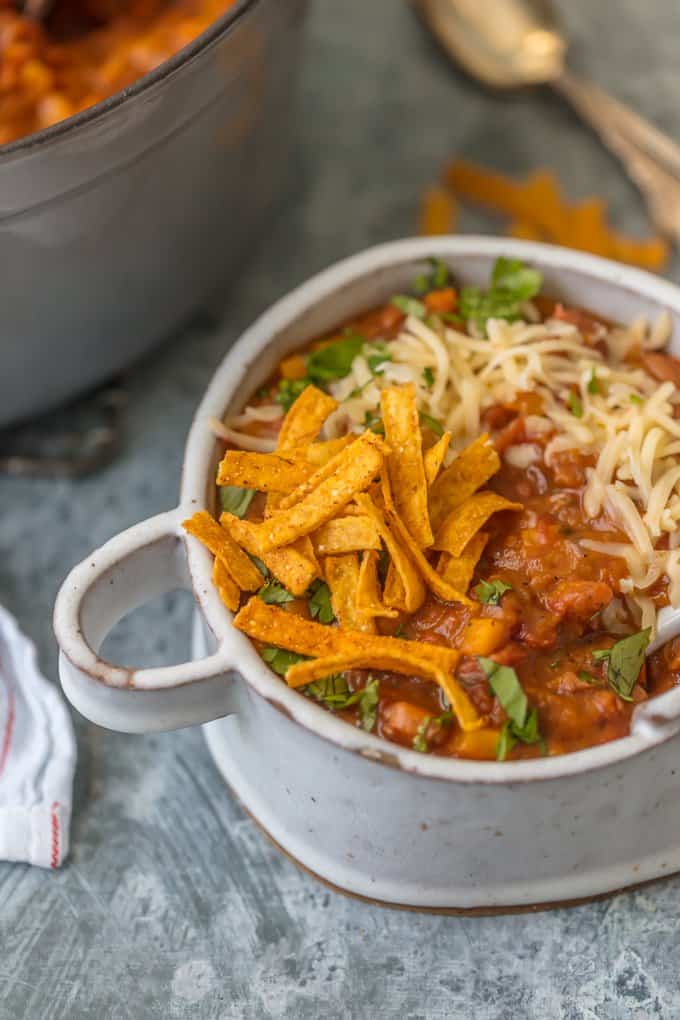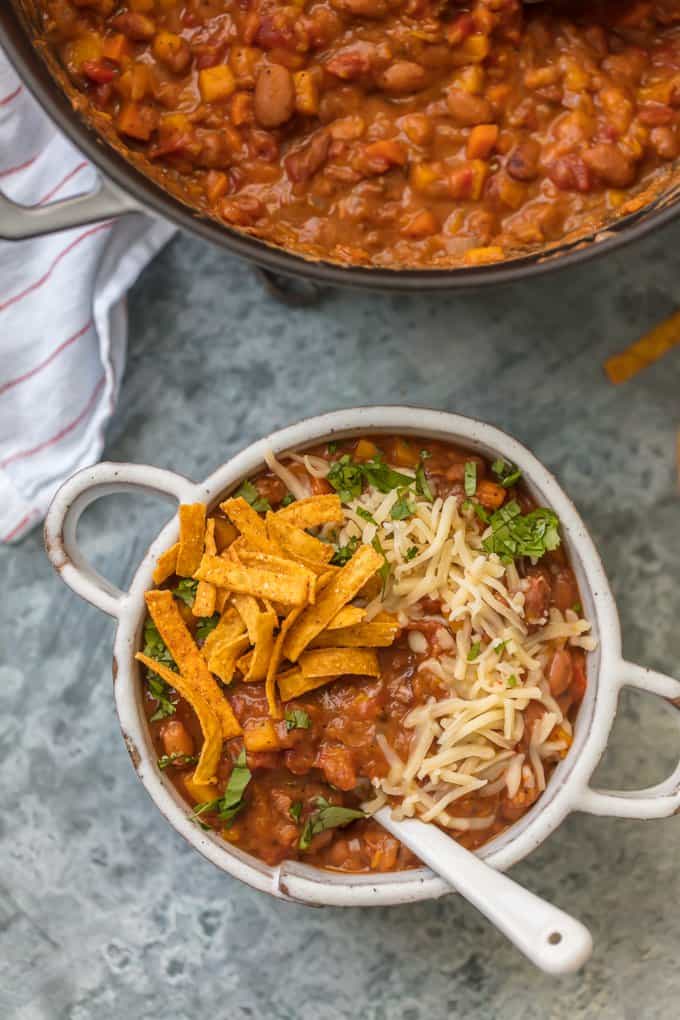 Easy Vegan Chili (That Tastes Real)
I don't want any of you meat-eaters to turn away from this awesome chili recipe. It's SO GOOD regardless of your diet. You have to try out this easy vegan chili, and I promise you won't be disappointed!
With the weather (FINALLY) getting chillier, you're in need of the perfect chili recipe, and this healthy vegetarian chili is it. A steaming pot of this deliciousness is certainly good for the soul. You won't even miss the traditional ingredients.
I love that this Vegetarian Chili Recipe is light on calories but big on flavor. You really can't ask for more than that from a recipe! You'll never miss the meat (and that's coming from a meat lover).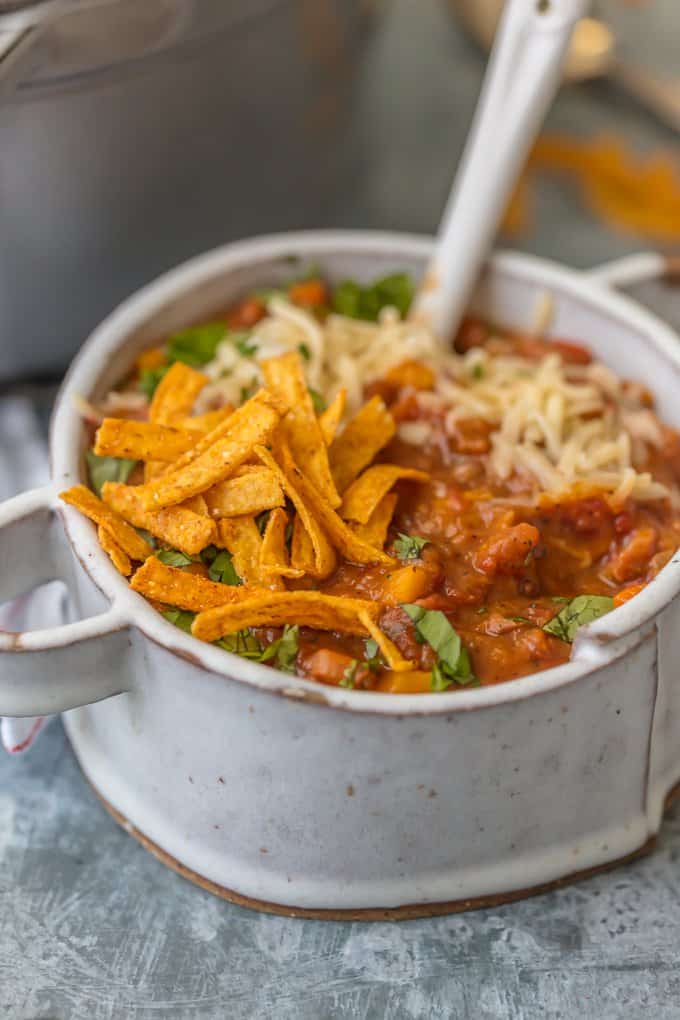 The Best Vegetarian Chili Recipe is hearty, delicious, easy, and good for you! This easy vegan chili is the ultimate healthy comfort food recipe.
If you're looking for other easy vegetarian recipes, be sure to check out some of our favorites: