This STOVETOP CAPRESE PASTA BAKE is a one pot wonder! So simple, easy, and full of flavor. Our entire family loves this delicious Easy Pasta Bakeand it couldn't be easier! It's loaded with tomatoes, fresh mozzarella, and basil.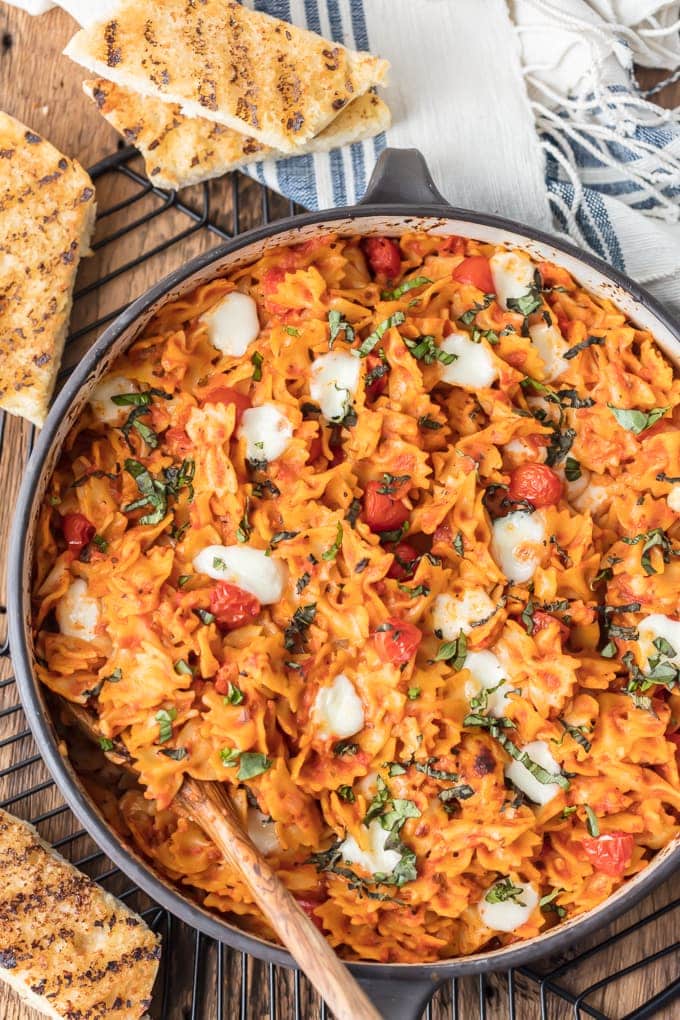 Easy Caprese Pasta Bake
I've always had a thing for caprese. There's something magical about basil, tomato, mozzarella, and balsamic. It's a flavor combination that I never seem to tire. Some of my favorite recipes have been composed of these ingredients. Chopped Caprese Salad, Stuffed Caprese Salmon, and Cheesy Caprese Dip just to name a few. I never got tired of the simple way the flavors go together like Henry and poofy hair. They just fit.
This delicious Caprese Pasta recipe is cheesy and chock-full of flavor!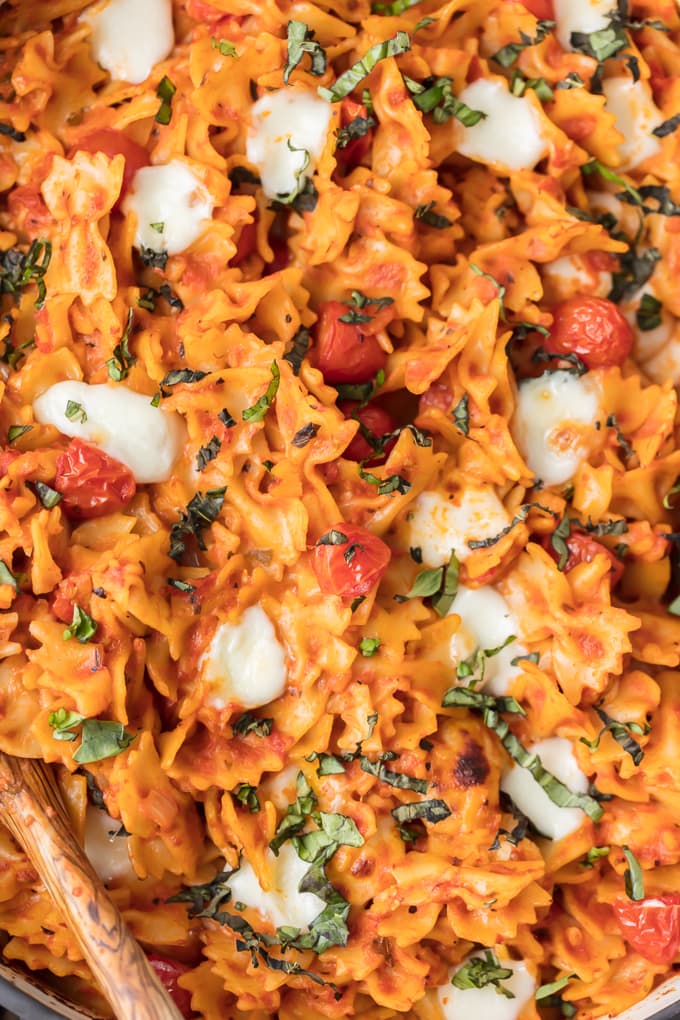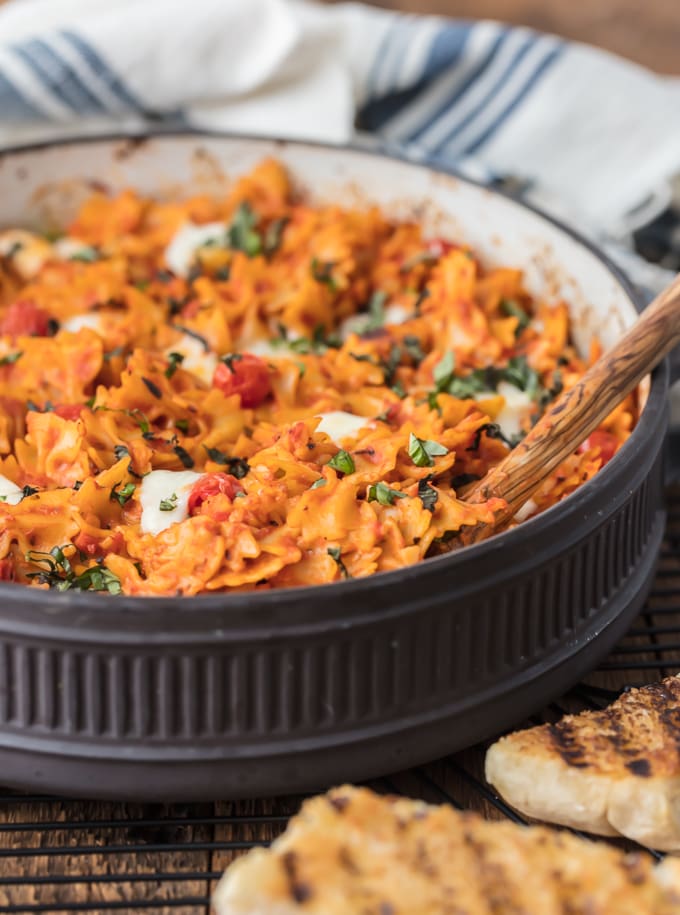 Stovetop Caprese Pasta Casserole
This is one of those meals that you can keep as simple as you want, or dress up with add-ons. Chicken would be a great protein to toss in for a chicken caprese pastsa, or try adding sausage for a dressier dinner. You can serve this pasta caprese on its own in small portions or as a tasty side dish. It's even great served cold as more of a caprese pasta salad.
It's just so versatile and delicious! I am really in love with this Caprese Pasta Bake if you can't tell! I love how everything melts together to create such a burst of flavor. Yum yum yum!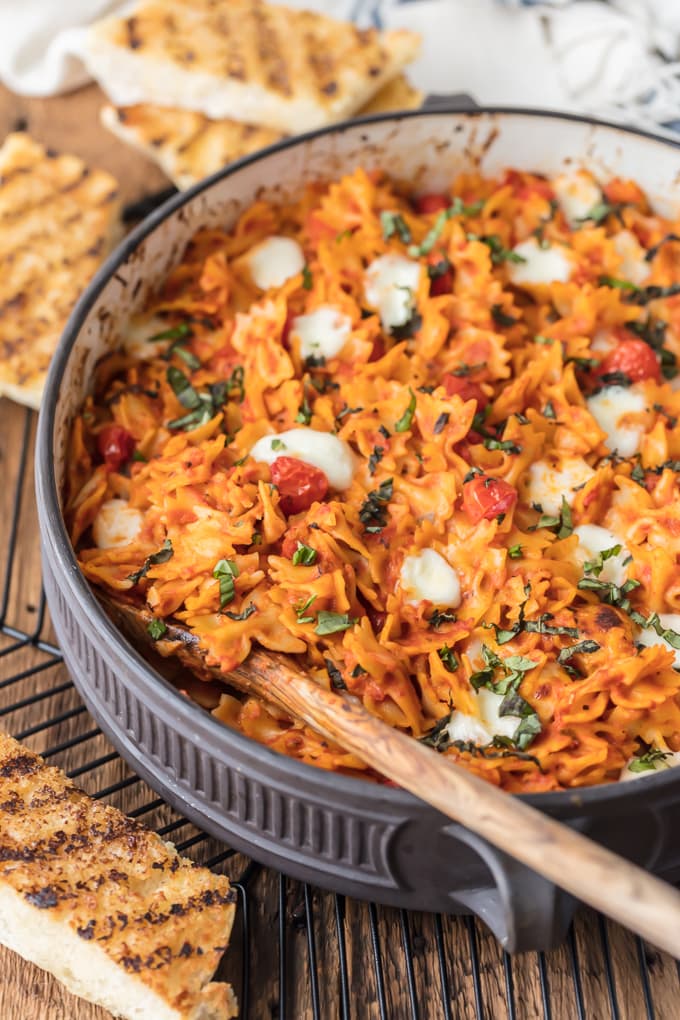 An Easy Pasta Bake recipe the whole family will love!
This rustic Stovetop Caprese Pasta Bake recipe is such an easy way to feed your family and make sure everyone is happy. Henry (who is 11 months) ate this up and could pick it up with his hands which was great. My picky eater husband (much pickier than my baby) even loved it and went back for seconds. That's the true test of a good recipe. I LOVE the fresh basil. I can never decide if I love basil or cilantro more. If you ask me today…it's basil.
How Do You Make Caprese Salad?
Caprese salad is a traditional and simple Italian dish made up of fresh mozzarella, juicy tomatoes, and fragrant basil leaves, usually dressed in olive oil. It's easy to make and it's such a simple dish to serve. It is a great side dish for any Italian meal, or a fun appetizer to serve in the summer or at parties. Try our Chopped Caprese Salad if you want a taste of this flavorful dish.
What is Caprese Pasta?
While a fresh caprese salad is delicious all on its own, mixing it up to create a caprese pasta bake really takes it up a notch. It's a different spin on the traditional caprese salad. By adding in pasta, you can create a new dish, which makes a great family dinner. The mozzarella melts and all of the flavors intensify as they cook and that's why I love this caprese pasta bake for the perfect meal!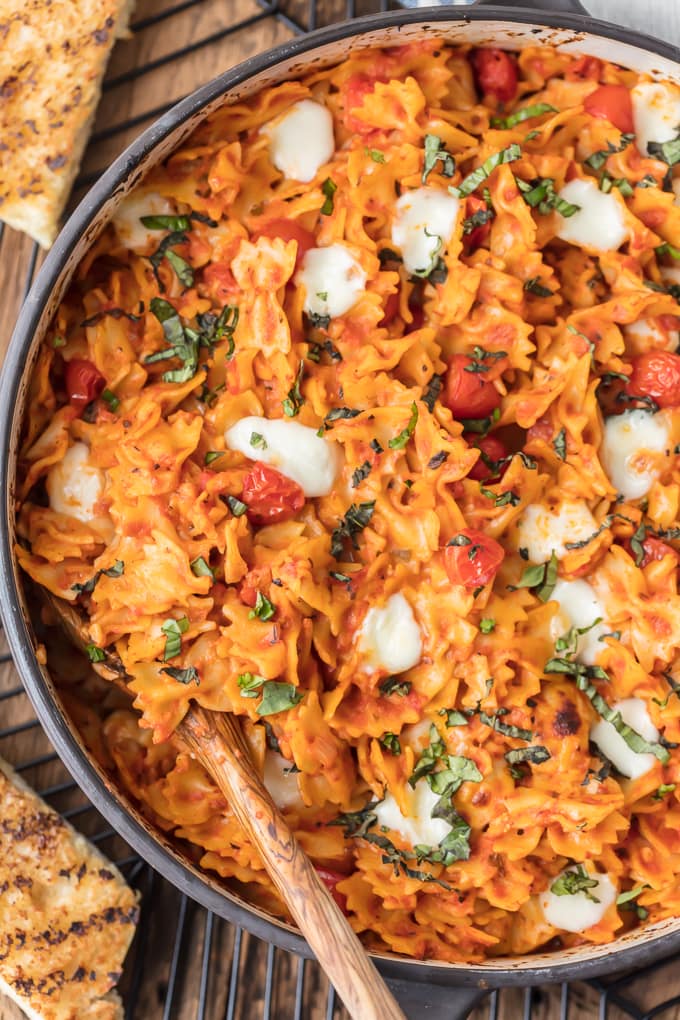 I hope you give this easy pasta bake recipe a try. It's sure to please and is completely fool proof. That's my kind of recipe! The simple yet delicious flavors in this caprese pasta bake are perfect for the whole family or any dinner guests you might have. Save any leftovers for a cold caprese pasta salad to switch it up and make this dish last even longer.
More Pasta Recipes We Love
See the recipe card for details on how to make this Stovetop Caprese Pasta recipe. Enjoy!
More caprese recipes too