CAULIFLOWER STEAK is a flavorful vegetarian alternative. These THAI PEANUT ROASTED CAULIFLOWER STEAKS are just the right amount of creamy, spicy, and tasty. This easy vegetarian meal or side is always a hit. You'll be surprised by how flavorful this Roasted Cauliflower Steak Recipe is.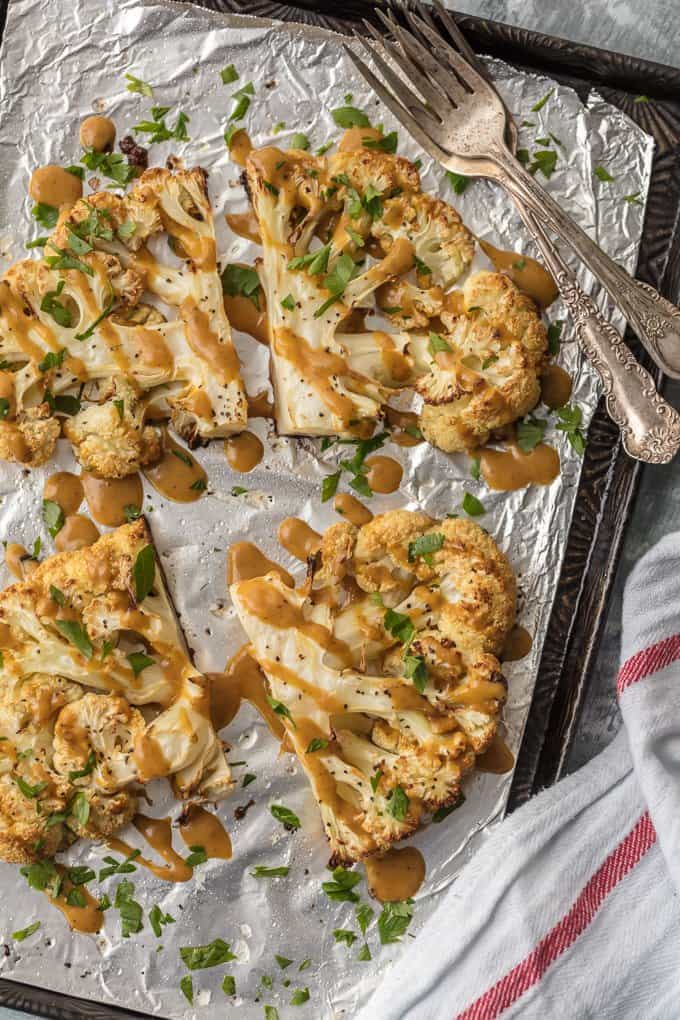 Cauliflower Steak Recipe with Thai Peanut Sauce
This Thai Peanut Roasted Cauliflower Steak Recipe is a simple yet delicious vegetarian dish!
Cauliflower Steaks are a super healthy option for the New Year. It's January 3rd and I have New Years Resolutions on the brain! The Cookie Rookie has never been known for all heathy or diet recipes. But every once in a while, I love to find healthy, easy, super flavorful recipes to share with you guys.
Over the years I have found a few healthy favorites:
That Salmon with Avocado Salsa also happens to be the #3 most popular recipe on this site…so you guys must love a little dose of skinny once in a while as well! Today I'm bringing you another light, healthy, vegetarian-friendly recipe to try.
Sometimes I forget that I love food that doesn't include cheese, but these AMAZING THAI PEANUT BUTTER ROASTED CAULIFLOWER STEAKS are the perfect reminder that healthy can also be tasty. They're the ultimate in both ease and flavor, and you don't have to feel guilty about eating more than one. Serve it as a side to any dinner recipe OR a as main course. This sauce you guys…you're going to love it!
Learn How to Make Cauliflower Steaks with this delicious Thai Peanut Roasted Cauliflower Steaks Recipe!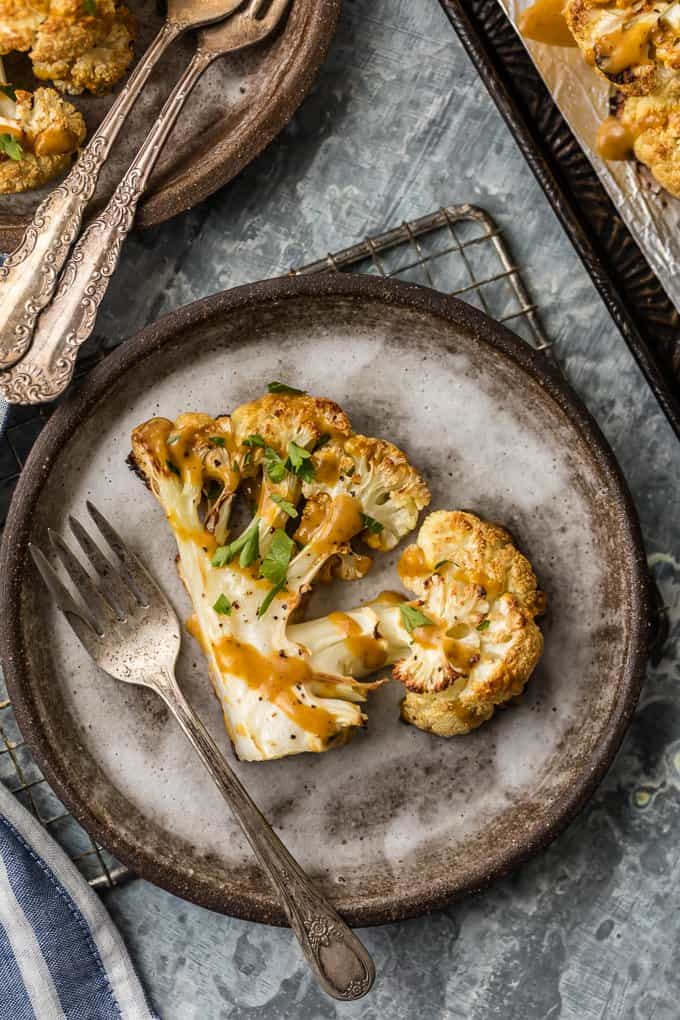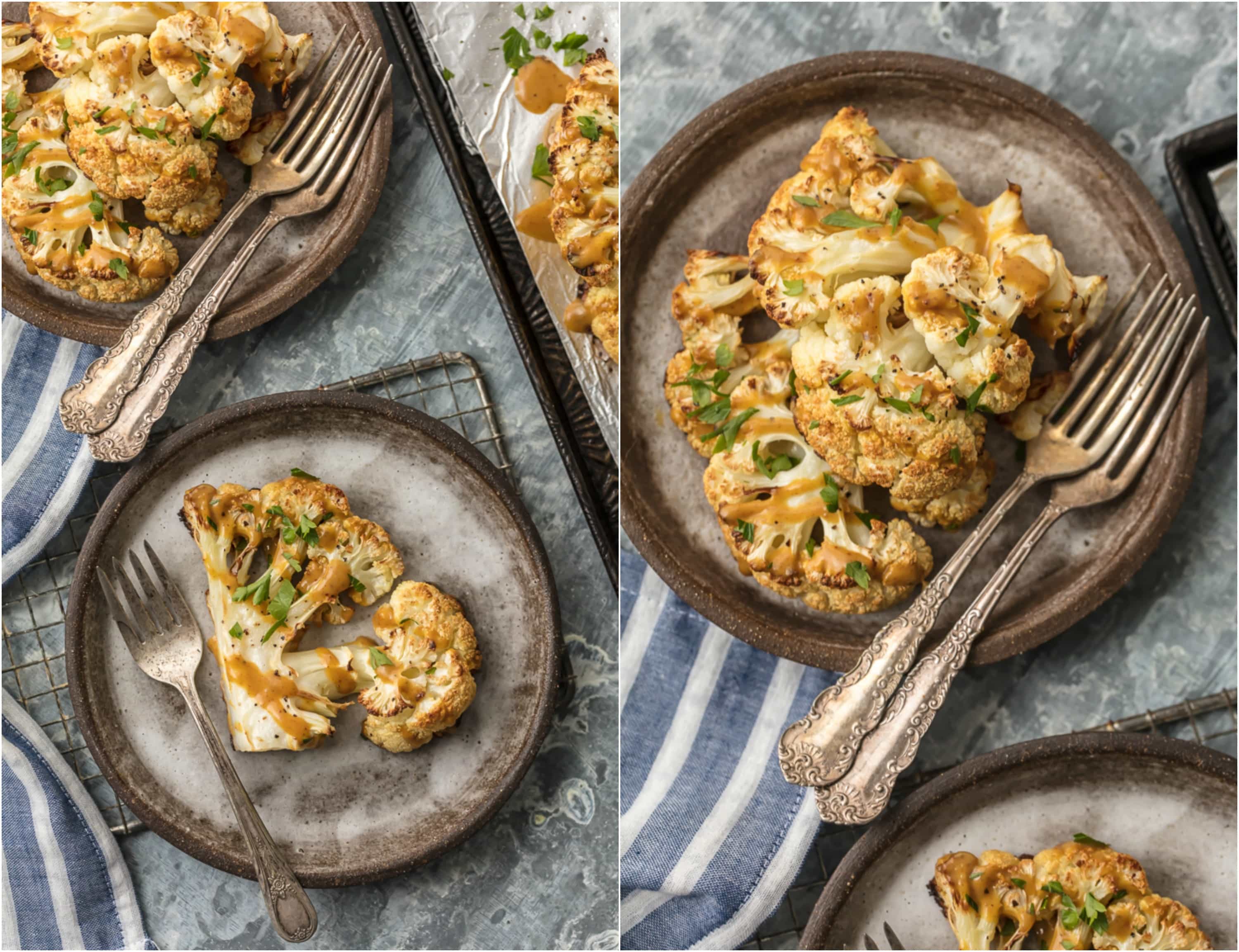 Healthy Roasted Cauliflower Steaks Recipe
I actually made these cauliflower steaks last Spring after I had Henry and was trying really hard to eat healthy and lose the baby weight. Let's be honest, I didn't quite get there and need to get my butt in gear again.
Healthy dishes like these Roasted Cauliflower Steaks help me to remember that making smart choices with eating can be just as delicious as layering on the cheese and carbs. As much as I love those two things, they're not always necessary to make a good meal. I think I could get used to meals like this! Pat even approved of these Thai Peanut Cauliflower Steaks. That should be a good gauge for an awesome recipe.
How to Make Cauliflower Steaks
I'm gonna show you how to make cauliflower steaks and you'll be surprised by how easy it is! Nothing better than an EASY and HEALTHY recipe.
How to make Roasted Cauliflower Steaks:
Cut a head of cauliflower into large pieces (the "steaks")
Brush them with this delicious Thai Peanut Sauce
Then roast the cauliflower steaks for about 30 minutes at 400 degrees
And that's it! I told you it was easy. You'll be chowing down on these creamy, spicy Thai Peanut Cauliflower Steaks in no time, and I guarantee you'll want to keep making them over and over again.
See recipe card below for full instructions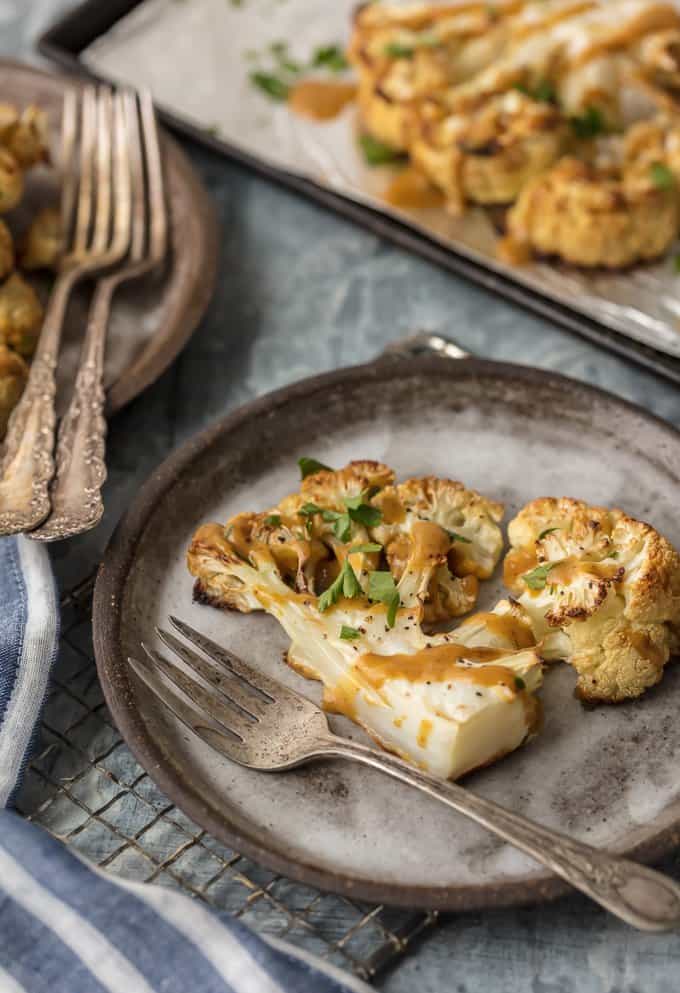 How do you cut cauliflower into steaks?
To create cauliflower "steaks", start with a large head of cauliflower (the bigger, the better). Trim the stem just a little bit and remove any leaves. Use a sharp knife to cut the cauliflower head in half vertically, and then in half again. This will create 4 cauliflower steaks.
What to Serve with Cauliflower Steaks
Not sure what to serve these with? This is a super versatile dish, so the options are endless. You can serve these roasted cauliflower steak recipe as a main dish (great idea for vegetarians or anyone trying to be a little healthier) and add in a side of these Herb Roasted Potatoes. Or you can make these as a side dish and pair it with this Oven Fried Chicken Breast or Parmesan Crusted Lemon Pepper Tilapia.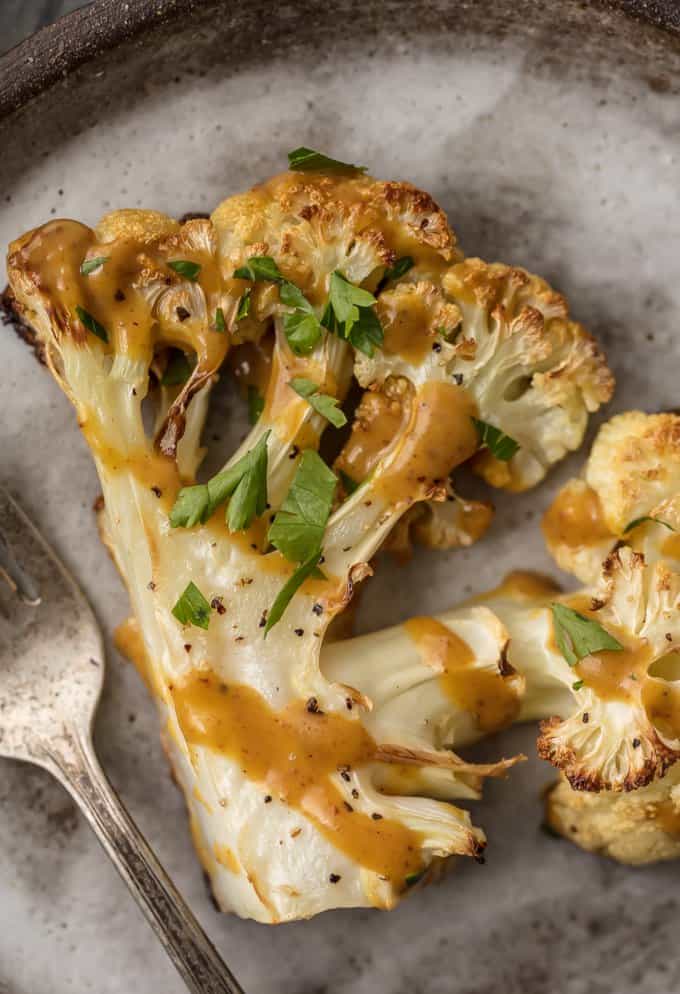 What are your New Years Resolutions? Some of mine include eating cheese and chocolate in moderation, keep my studio/office CLEAN and organized, to quit waking sweet Henry up in the middle of the night to cuddle him for my own selfish gain, and to eat more of these Thai Peanut Roasted Cauliflower Steaks! Join me :)
See the recipe card below for details on how to make this healthy Thai Peanut Cauliflower Steak Recipe. Enjoy!
If you liked these cauliflower steaks, try these other healthy recipes: