This WINTER VEGETABLE CURRY is the perfect fresh and light vegetarian meal for these cooler temps! Just the right amount of spice and all the colors of the rainbow make up this meal inspired by Indian flavors that the entire family will devour. Great for meal planning!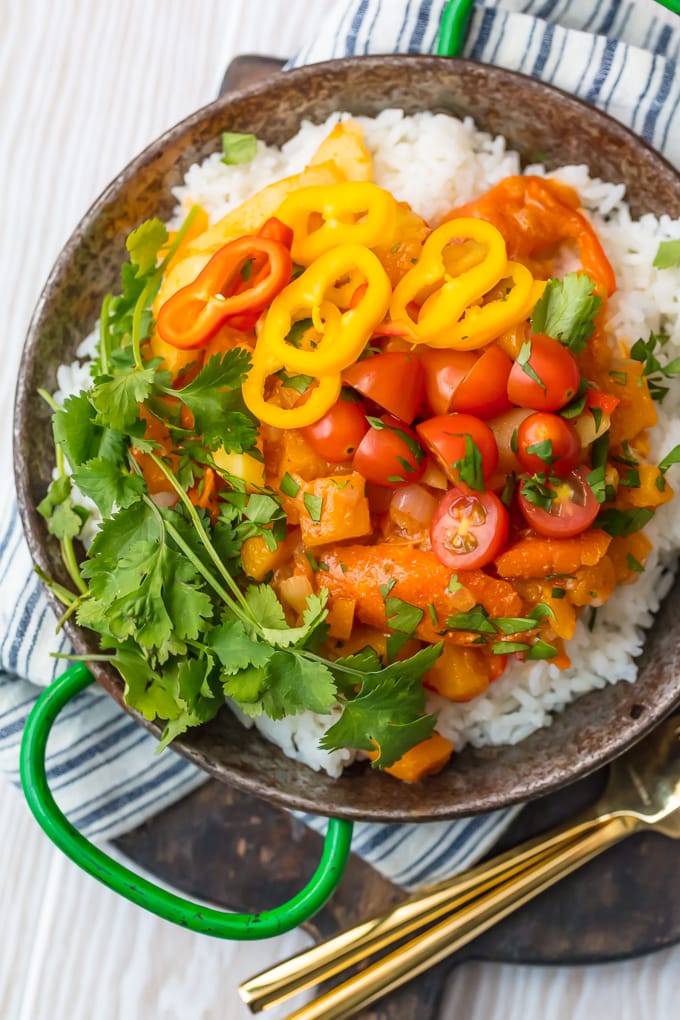 I've always been a protein lover. If I have a choice for a meal I could eat every day for the rest of my life, it'd be a juicy steak. But lately Pat and I are trying to be healthier and expand our horizons, so I tried this beautiful Winter Vegetable Curry. I was blown away at the ease of the recipe as well as ALL THE FLAVOR!
I mean it when I say you won't miss the chicken or beef in this vegetarian dish. There is plenty of spice, sustenance, crunch, and sauce to go around. Pile on the cilantro and you're really in business (Don't even tell me if you're not a cilantro fan. My heart can't take it)!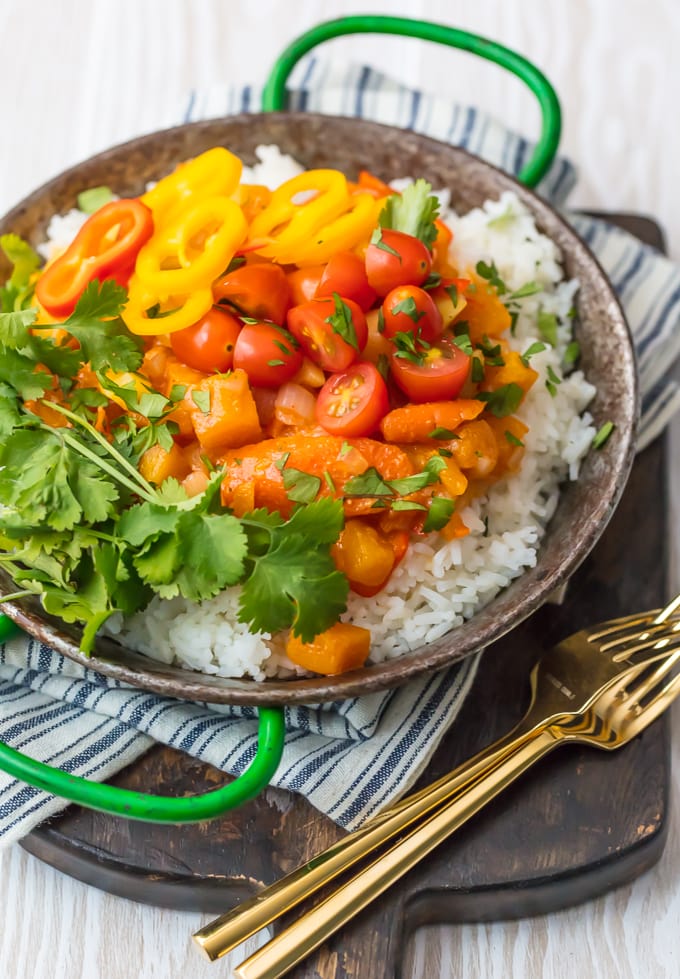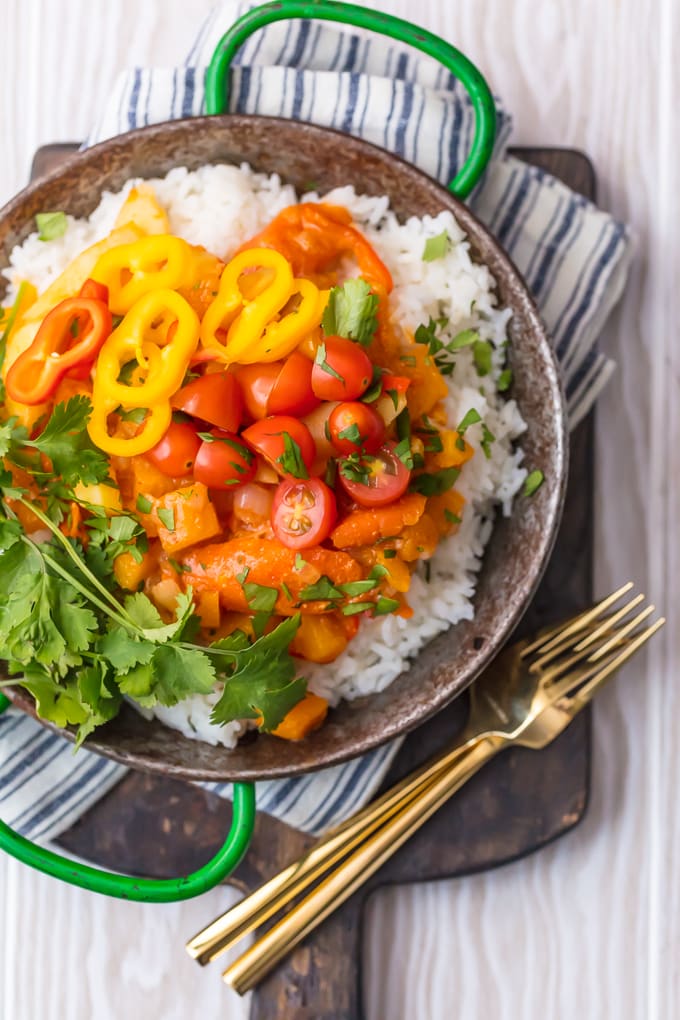 For the veggies, I chopped up some butternut squash, carrots, parsnips (who knew I loved parsnips!), onion, and sweet peppers. You could really add any of your favorite vegetables, and even make this throughout the year with whatever's in season. It couldn't be easier! Don't let anything about this dish intimidate you. SO EASY! It's so fun to eat all the colors of the rainbow. Gorgeous and delicious, just like all the best recipes.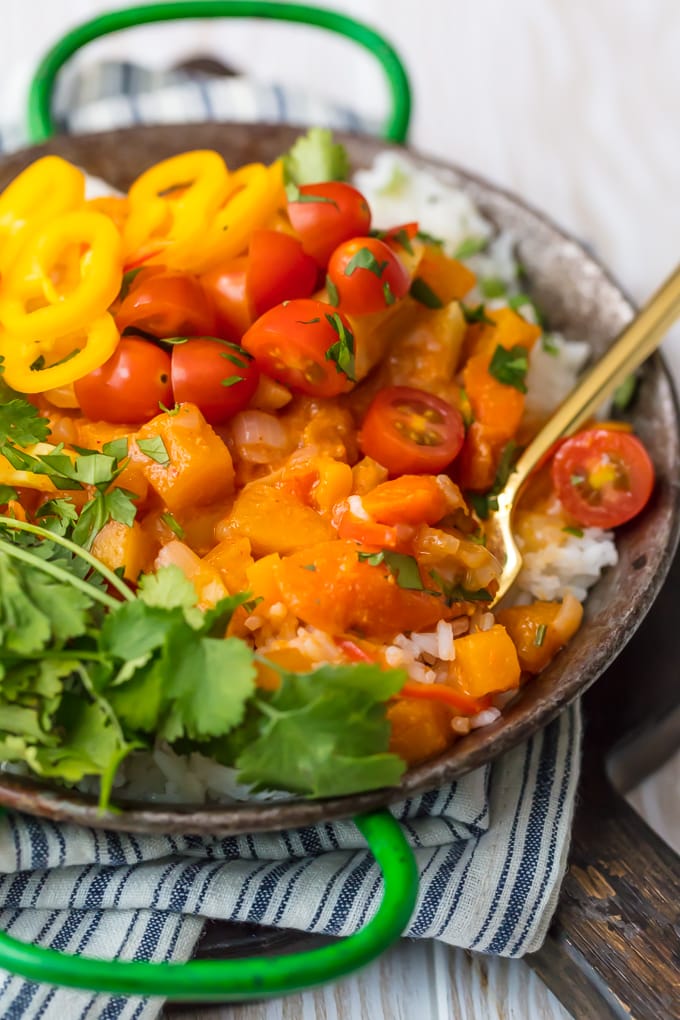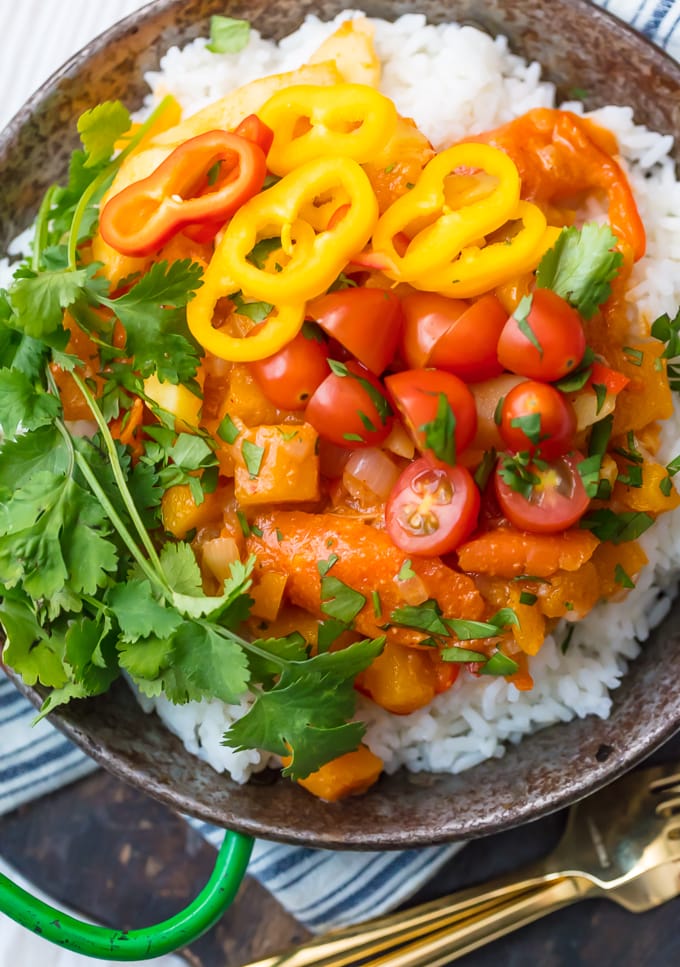 We served this Winter Vegetable Curry over rice and devoured it in a snap. Next time I plan to make a double batch and send leftovers with Pat to work. It heats up like a dream and is so filling…it's perfect for a healthy weekday lunch. That combined with his stand up treadmill desk his office just got…he's really going to be Mr. Fit. For real, every time I call him, he's out of breath (insert eye roll here).
I hope you love this flavorful, beautiful, and good for you Winter Vegetable Curry! Something different, but still easy and amazing. Give it a try!
Enjoy.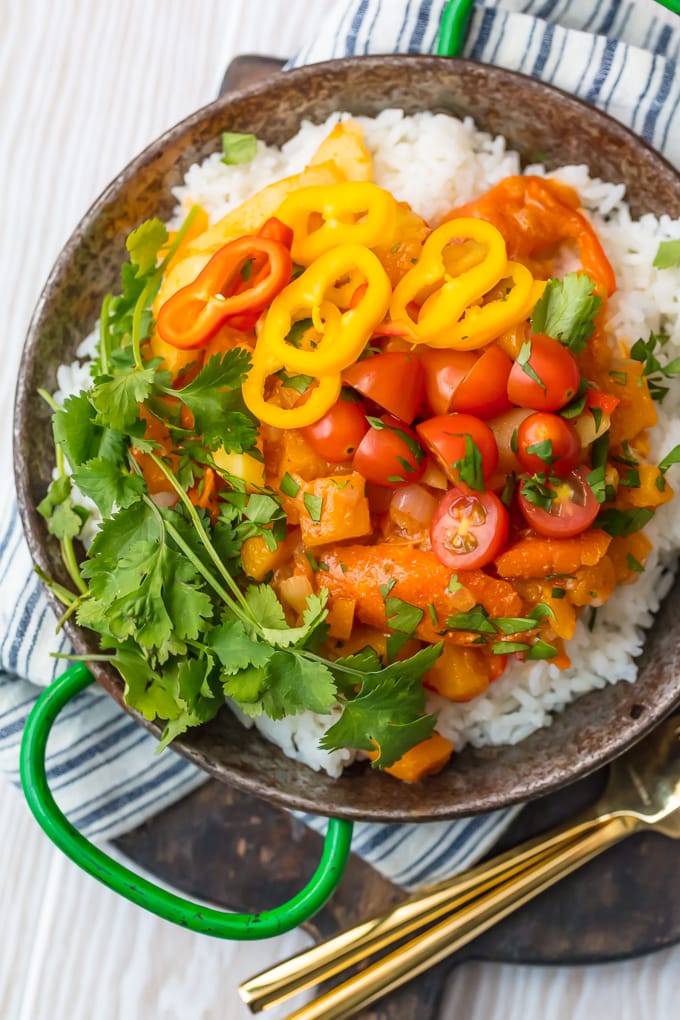 Ingredients
2 tablespoons vegetable oil
2 white or yellow onions, diced or sliced to your liking
1/3 cup red curry paste
1 butternut squash, cubed (about 5 cups)
2 parsnips, chopped into bite-sized pieces
6 medium carrots, chopped into bite-sized pieces
2 cups sliced mini sweet peppers
salt to taste
2 (13.5 ounce) cans lite coconut milk (unsweetened)
red pepper flakes (optional)
cooked white rice
optional garnishes: sliced grape tomatoes, fresh cilantro, more sliced sweet peppers
Instructions
Heat oil in a dutch oven over medium high heat. Add onion and cook until fragrant and transluscent, about 5 minutes.
Stir in the curry paste, squash, parsnips, peppers, and carrots and stir to combine. Season with salt to taste. Cook until you can start to smell all the flavors, about 4-5 minutes.
Stir in the coconut milk and bring to a boil. If you want your curry a bit spicy, add a dash of red pepper flakes. Once boiling, reduce to a simmer and heat, uncovered for 30 minutes. Taste again and add more salt if desired.
Serve over rice and garnish with cherry tomatoes, fresh cilantro, and fresh sweet peppers.
Enjoy!
7.6.7
2542
https://www.thecookierookie.com/winter-vegetable-curry/