VEGETABLE CURRY is the perfect fresh and light vegetarian meal for these cooler temps! This Thai Curry Recipe has just the right amount of spice and all the colors of the rainbow make up this meal inspired by Indian flavors that the entire family will devour. If you've wondered how to make vegetable curry, it's so much easier than you might have thought. This recipe is great for meal planning!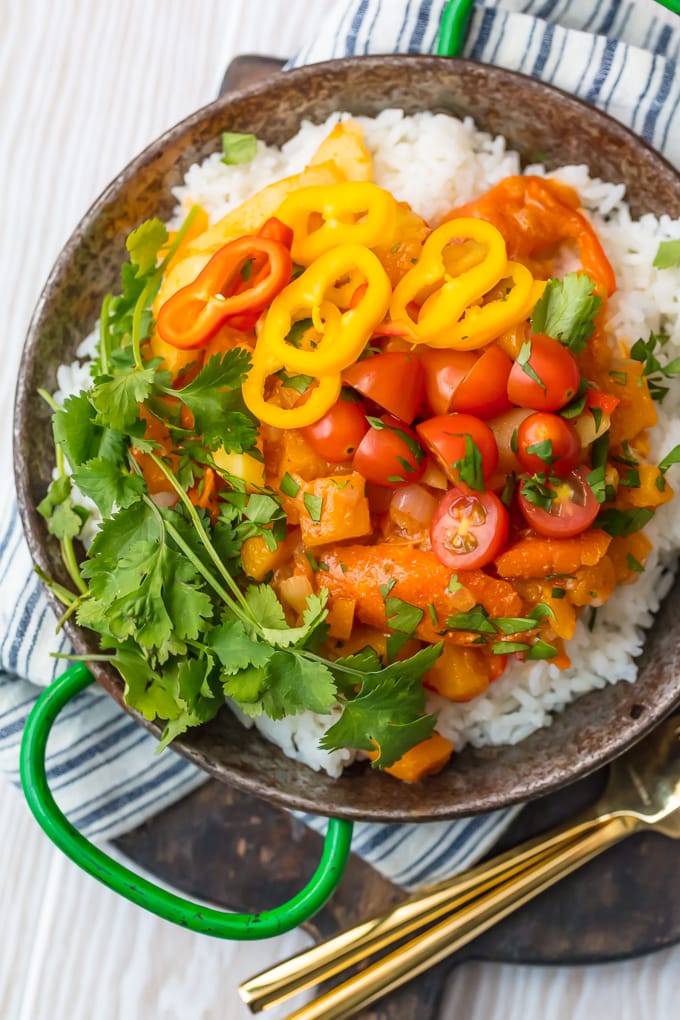 Vegetable Curry is one of our go-to EASY weeknight meals.
Vegetable Curry has quickly become one of my favorite vegetarian meals. I've always been a protein lover. If I have a choice for a meal I could eat every day for the rest of my life, it'd be a juicy steak. But lately Pat and I are trying to be healthier and expand our horizons, so I tried this beautiful Winter Vegetable Curry. I was blown away at the ease of the recipe as well as ALL THE FLAVOR!
I mean it when I say you won't miss the chicken or beef in this vegetarian dish. There is plenty of spice, sustenance, crunch, and sauce to go around. Pile on the cilantro and you're really in business (Don't even tell me if you're not a cilantro fan. My heart can't take it)!
This Winter Vegetable Curry recipe is one our favorite vegetarian dishes!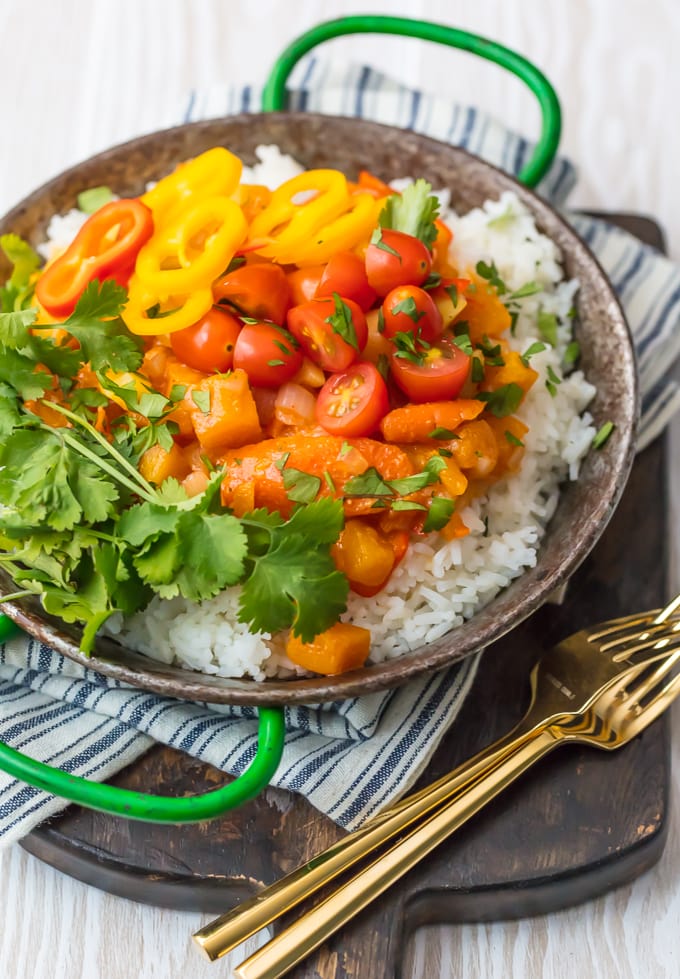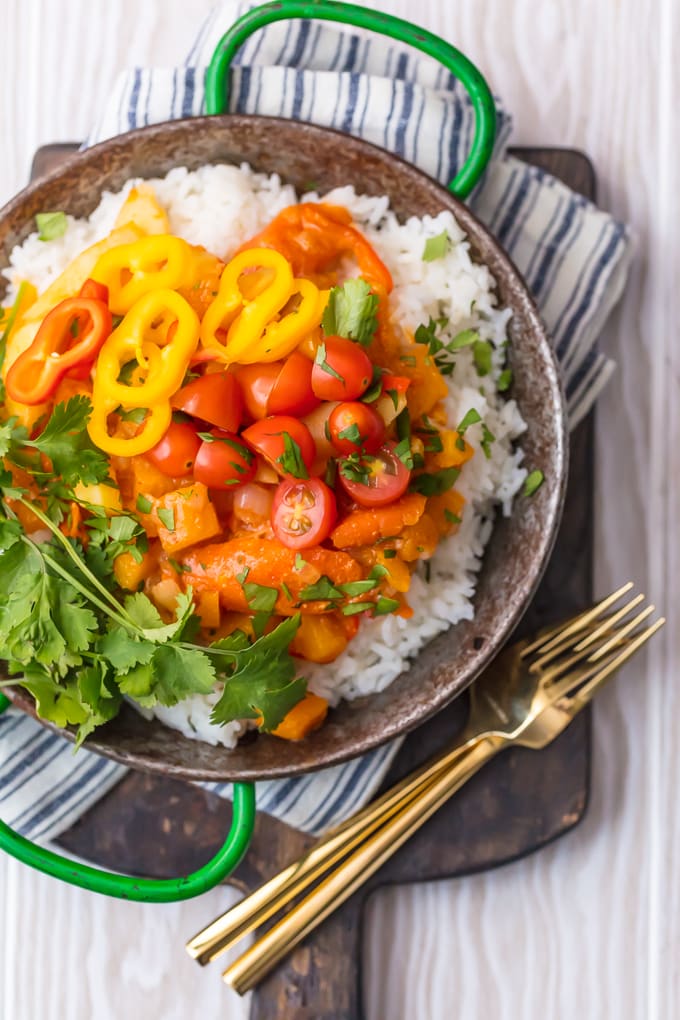 What vegetables go into this Thai Vegetable Curry Recipe?
For the veggies, I chopped up some butternut squash, carrots, parsnips (who knew I loved parsnips!), onion, and sweet peppers. You could really add any of your favorite vegetables, and even make this throughout the year with whatever's in season. It couldn't be easier!
Don't let anything about this dish intimidate you. SO EASY! It's so fun to eat all the colors of the rainbow. Gorgeous and delicious, just like all the best recipes.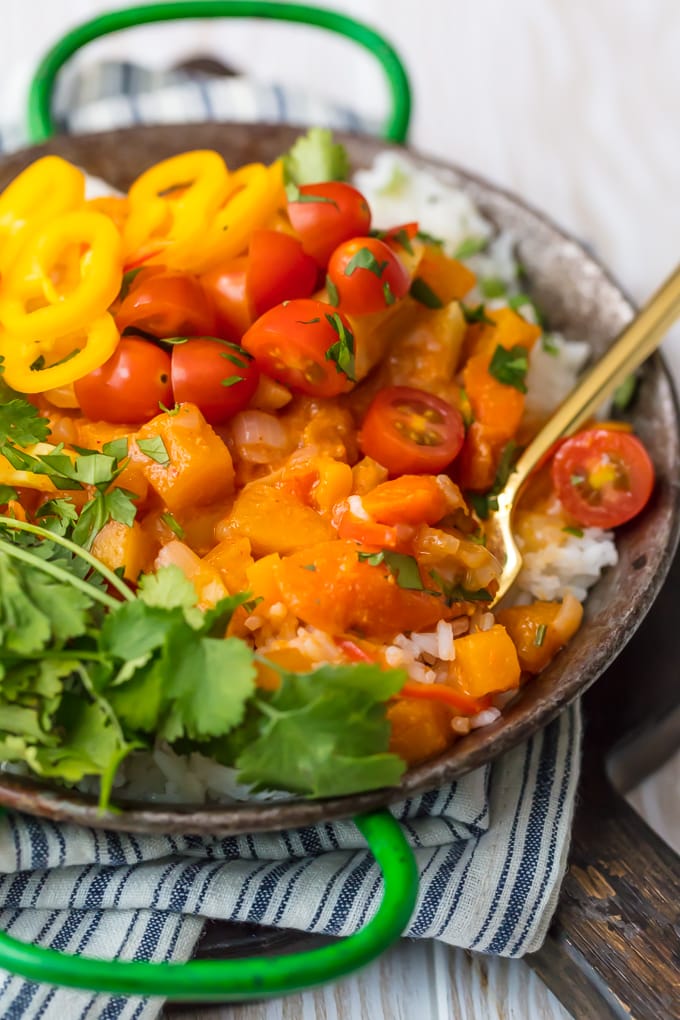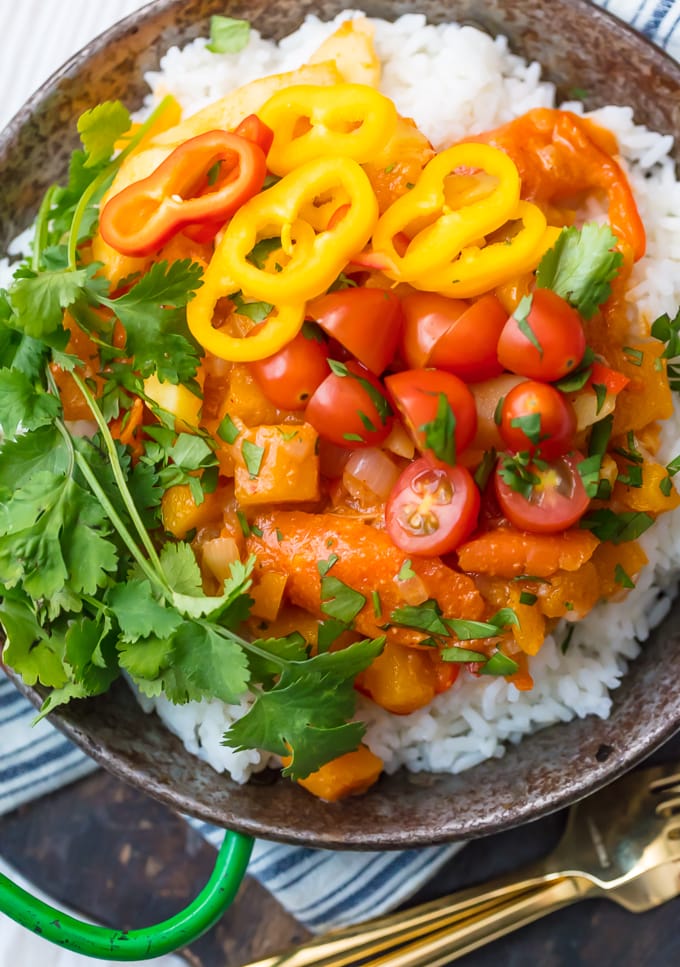 We served this Winter Vegetable Curry over rice and devoured it in a snap. Next time I plan to make a double batch and send leftovers with Pat to work. It heats up like a dream and is so filling…it's perfect for a healthy weekday lunch. That combined with his stand up treadmill desk his office just got…he's really going to be Mr. Fit. For real, every time I call him, he's out of breath (insert eye roll here).
If you would love to see more vegetarian dishes, we have some delicious options! Be sure to check out our Pepper Hummus Dip, Cauliflower Steaks, or Melting Potatoes! You can see all of our Dinner Recipes, or see all of our Vegetarian Recipes.
I hope you love this flavorful, beautiful, and good for you Winter Vegetable Curry! Something different, but still easy and amazing. Give it a try!
See the recipe card for How to Make Vegetable Curry. Enjoy!