Turkey Chili is tasty way to make a healthy chili recipe. This Healthy Turkey Chili Recipe is such a delicious and flavorful one pot recipe. This Southwest Turkey Chili recipe packs so much flavor with so little effort. I just love the flavors in this Healthy Turkey Chili and love that you can feel great about this good for you comfort food!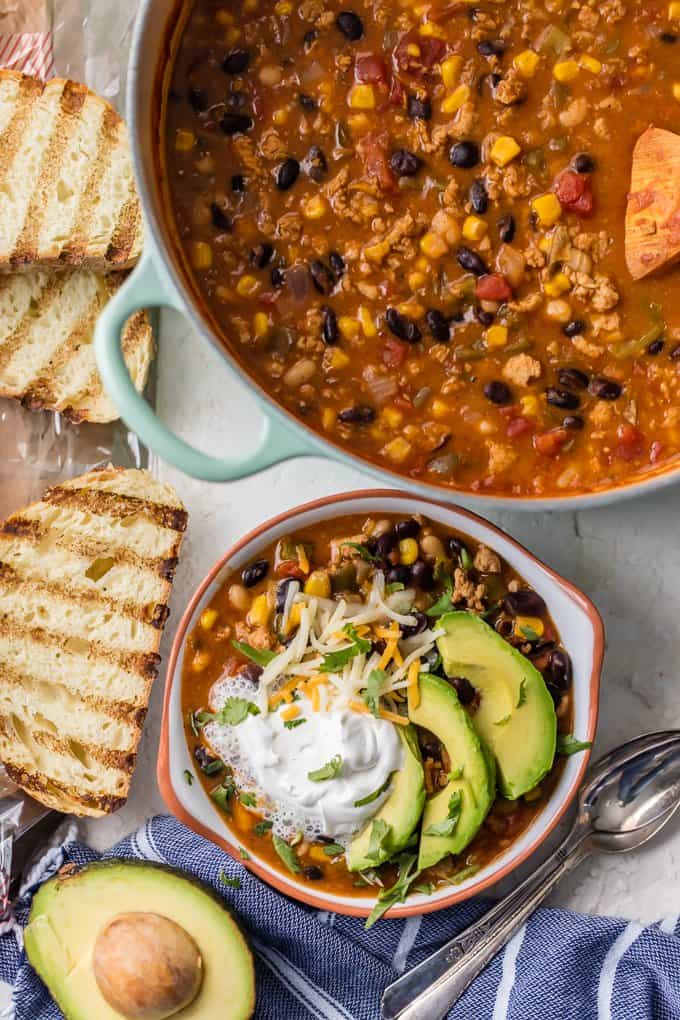 Easy Turkey Chili Recipe
This Healthy Turkey Chili recipe is an easy way to enjoy a comforting bowl of chili and a healthy meal at the same time!
Healthy Turkey Chili is the type of healthy chili recipe I've been waiting for. I'm obsessed with Fall and Winter and all the comfort food that the cooler weather brings to the table. What I don't like is that so many of those fall recipes aren't so great for the waistline.
So many cold weather foods are filled with carbs, cheese (you guys know I can't say no to cheese!), and all the things that may taste amazing but aren't the healthiest. Luckily for us, this Healthy Turkey Chili recipe is around 500 calories for a heaping bowl of Southwest Chili goodness!
I'm all about balance…I will indulge on the indulgent from time to time, but I also like to find recipes that taste amazing, are comforting, but also have little tweaks to make them lighter. This healthy turkey chili recipe is oh so flavorful, OH so easy, and BONUS…healthy(er). Are you as excited as I am?
This Southwest HEALTHY Turkey Chili Recipe will change your life. A healthy chili recipe perfect to fulfill those fall & winter comfort food cravings!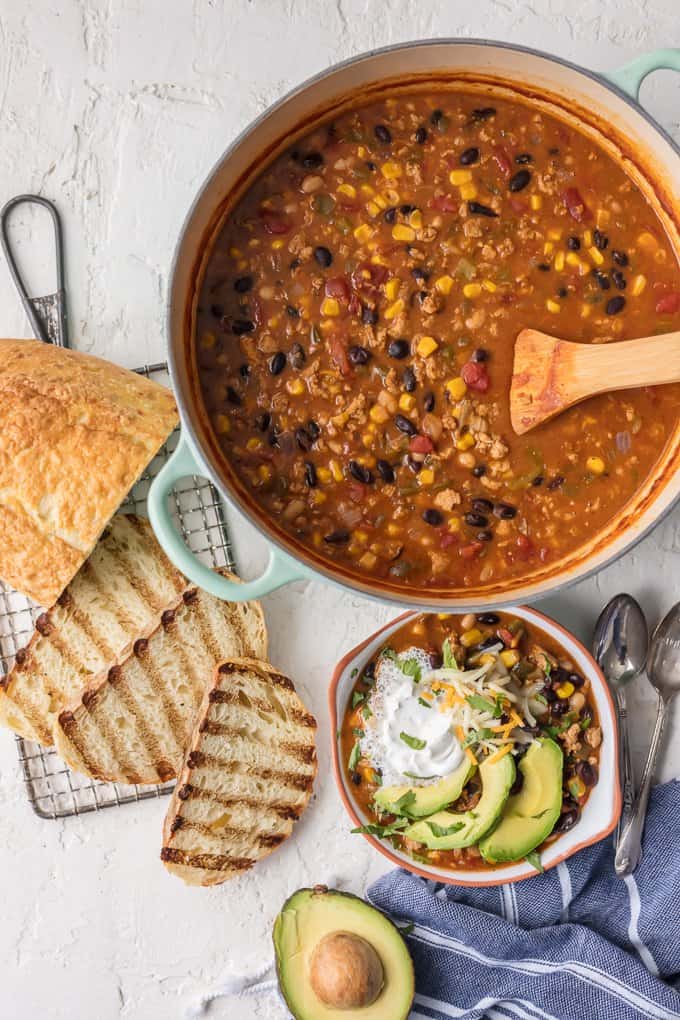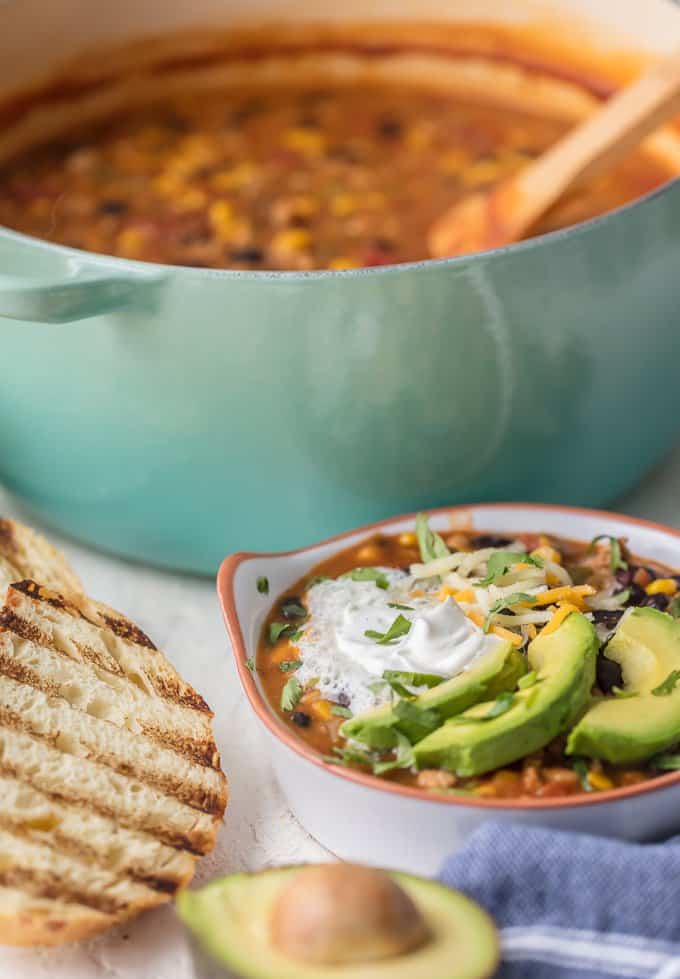 Tips for Making Healthy Turkey Chili Recipe
Here are a few tips to make this healthy turkey chili recipe while still maintaining all the flavor of your favorite comfort food recipes!
This Healthy Turkey Chili might be lightened up, but its not light on flavor! It's just the right amount of spicy and I just know you'll love it. As you all know, I'm a HUGE fan of Old El Paso and will shout it from the rooftops any chance I get. I used their Low Sodium Taco Seasoning as well as their Chopped Green Chiles (MY FAVORITE) and I think they make all the difference. Save time, money, and bulk up on flavor with Old El Paso. I'm obsessed.
By bulking this Southwest Turkey Chili recipe up with lean meats and lots of veggies, it still feels hearty while not being heavy. Such a great combination. This is a healthy chili recipe you will make again and again!
Healthy Chili Recipe
This Healthy Chili Recipe has been gracing our table all year and we love it!
I've loaded this Southwest Turkey Chili with black and pinto beans, corn, turkey, green peppers, green chiles, diced tomatoes, and onion. SO MUCH GOOD STUFF. You're gonna love it. We love to top it with greek yogurt (you'll never miss the sour cream), avocado, a little cheese (I can't go without cheese), and fresh cilantro. It heats up great for lunch the next day and just keeps getting spicier and tastier.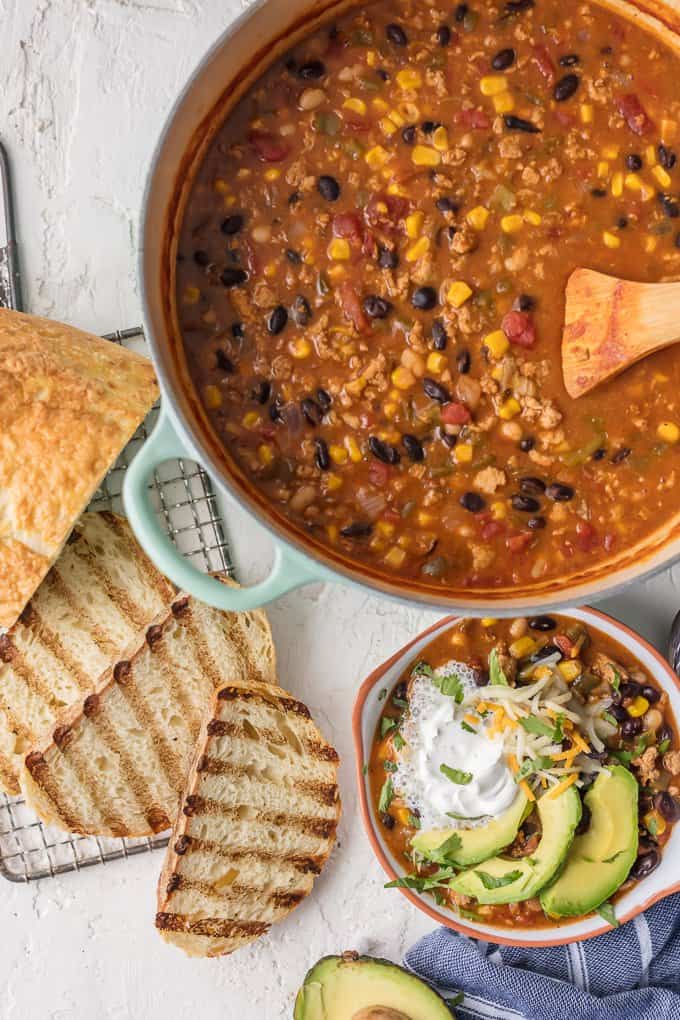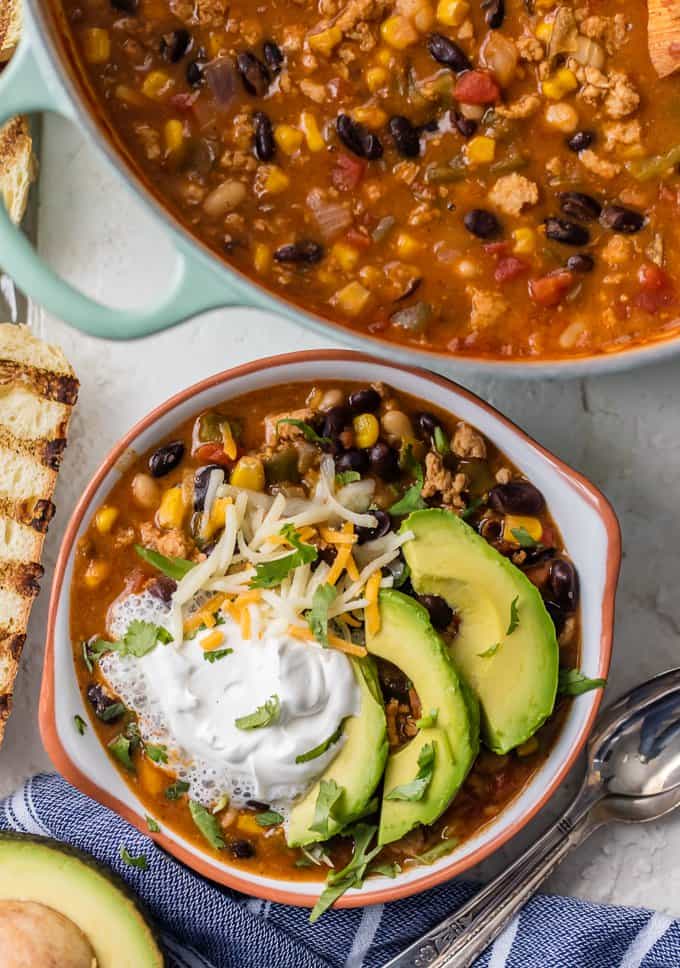 You guys are going to love this Healthy Turkey Chili Recipe! It's filled with flavor, and it's just as comforting while still being good for you. Make this healthy chili recipe on a cold night to warm you up!
See the recipe card below for details on how to make this Healthy Turkey Chili recipe. Enjoy!
If you like this turkey chili recipe, check out these other chili recipes: