On Valentine's Day, this classic red velvet cake makes everyone swoon and fall in love. Chocolatey layers with a velvety red crumb and the smoothest cream cheese frosting ever make for a heavenly match. While it may look intimidating at first, if you follow the simple steps, you will find that making the perfect layer cake is easy!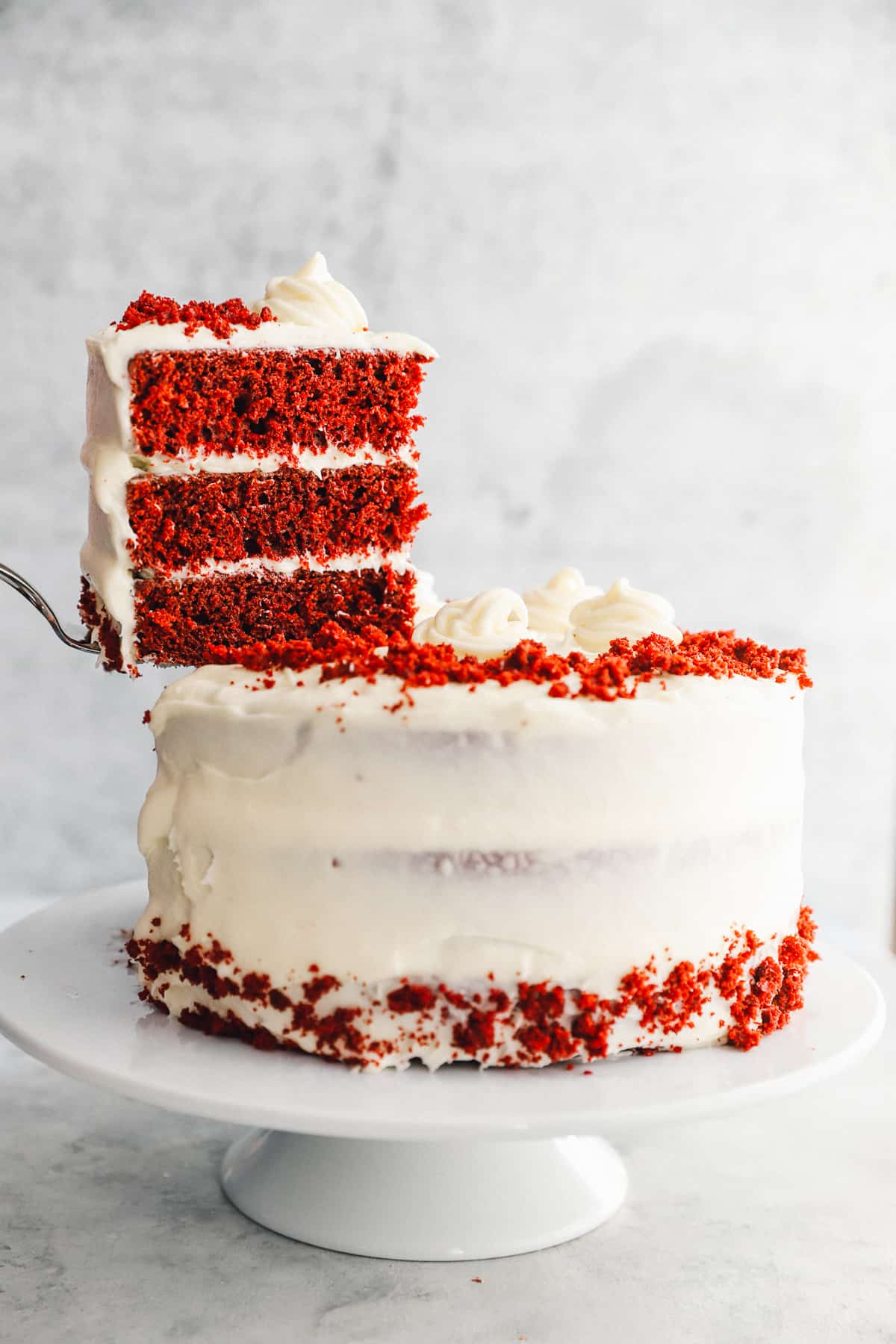 What's in Homemade Red Velvet Cake?
Red velvet cake may be a chocolate cake with red food coloring, but its specialness is so much more than that! It has an amazing balance of acidity from the sour cream, and added richness thanks to the cocoa powder. The addition of red food coloring makes the cake more vibrant and gorgeous when layered with the pale, creamy frosting.
Flour: All-purpose flour forms the base of our red velvet cake. For a lighter, fluffier cake, try using cake flour instead! Measure your flour using the spoon-and-level method to prevent a dense, dry cake.
Cocoa Powder: Unsweetened cocoa powder gives red velvet cake its signature light chocolate flavor. You can use any unsweetened cocoa powder in this recipe, but I find that natural works best.
Baking Soda: The primary leavening agent in this cake. Do not swap it for baking powder, as it just won't work!
Salt: Enhances the chocolate and vanilla flavors in the cake and the cream cheese frosting.
Butter: Unsalted butter adds moisture and flavor to the cake and gives body to the frosting. If using salted butter, omit the kosher salt.
Oil: Vegetable oil adds moisture to the cake without contributing any flavor. You could also use a different neutral oil, such as canola, or swap the oil for more butter.
Sugar: Granulated sugar adds sweetness to the cake, while powdered sugar sweetens the frosting without making it grainy. Sift the powdered sugar to avoid a lumpy frosting.
Sour Cream: Sour cream is the secret ingredient in this red velvet cake recipe! It adds moisture and tang, and it combines with baking soda to give the cake lift! You can use plain Greek yogurt or buttermilk, if you prefer.
Milk: Milk adds moisture and fat to the cake. You can use any milk in this recipe, including non-dairy milk.
Eggs: Eggs provide structure to the cake so that it doesn't sink after being baked.
Vanilla: Pure vanilla extract adds a classic vanilla cake flavor, enhancing the chocolate and cream cheese flavors.
Food Coloring: Red food coloring helps to enhance the color of this cake, making it bright and beautiful red. If using gel food coloring, reduce the amount to 2 teaspoons.
Cream Cheese: Brick-style cream cheese provides structure to the frosting and a rich, tangy flavor that helps to offset the sweetness of the cake.
Pro Tip: For a more natural red color, you can use beet powder to color this cake! Start with 1 tablespoon and adjust until you reach the desired color.
How to Make Red Velvet Cake Gluten-Free
To make this red velvet cake gluten-free, swap the all-purpose flour for an equal amount of gluten-free 1:1 baking flour, such as Bob's Red Mill 1:1 Baking Flour or King Arthur Measure for Measure Flour. I do not recommend using almond, buckwheat, or oat flour in this recipe.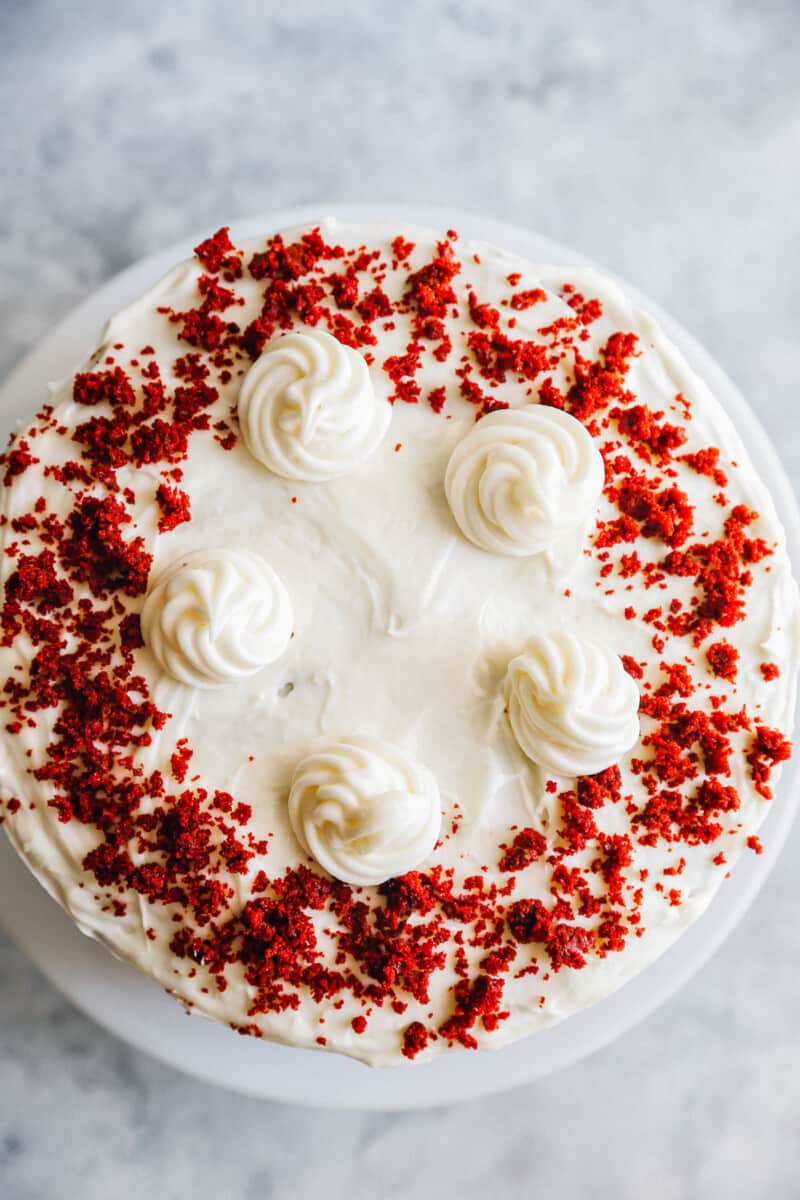 Is red velvet cake chocolate cake?
Red velvet cake is flavored with cocoa for a rich chocolate flavor, but it is so much more than that! The sour cream and cream cheese frosting gives it a slight acidic taste that balances out wonderfully with the sugar.
What makes the cake red?
Traditionally, red velvet cake got its color from the reaction of non-dutched cocoa powder with the acidic ingredients in the batter. It was more of a dull red color in those days. Nowadays, we achieve a brighter red color with food coloring!
What kind of cocoa powder should I use?
While you can use any unsweetened cocoa powder you prefer, I like to use natural cocoa powder here because the baking soda helps to neutralize the acidity of natural cocoa powder, letting its rich flavor shine.
What does sour cream do in red velvet cake?
Sour cream is one of those secret ingredients for great cakes you might not know about. We're using it here to help add moisture to the cake, so it doesn't end up dry (no one likes a dry cake). Because of the high fat content, sour cream creates a rich and delicious texture.
Why is my red velvet cake dry?
A dry cake can be caused by 2 things. You may have measured the ingredients incorrectly, or you might have overmixed the batter. It's important to spoon and level your ingredients if you're not using a scale, and it's important to have a light hand when mixing the batter.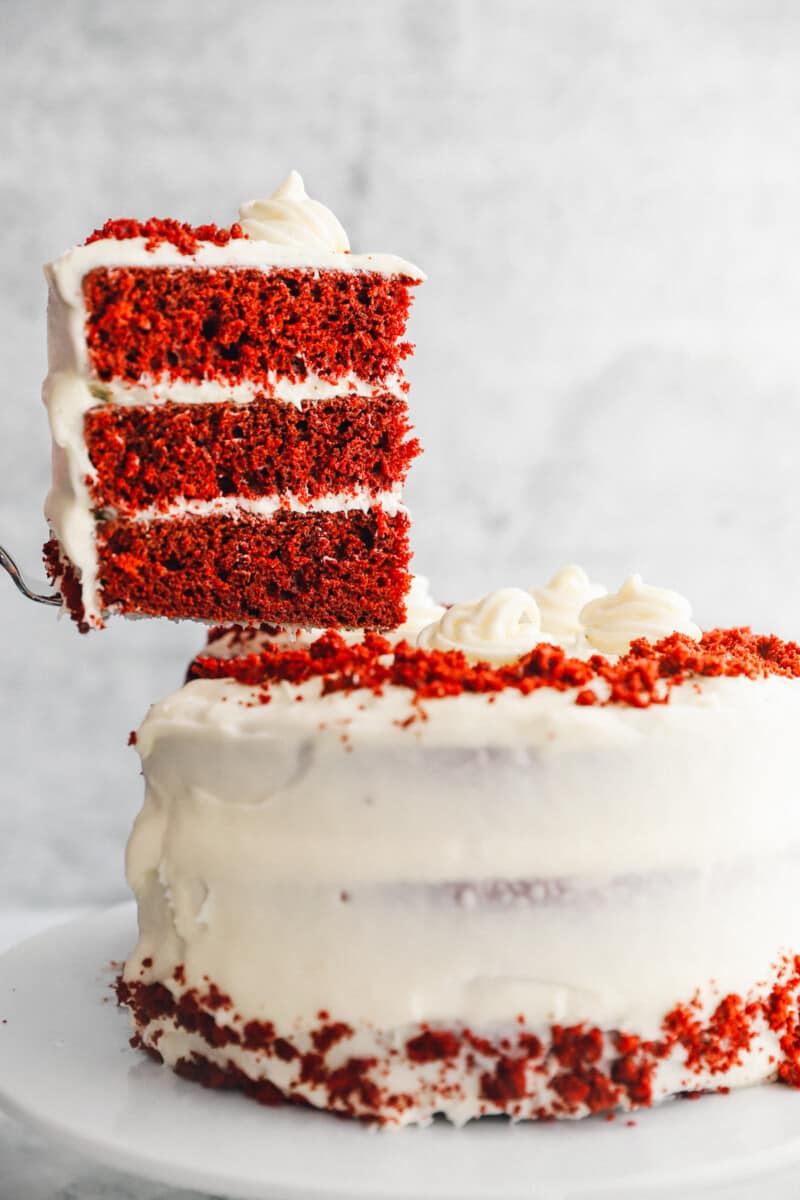 How to Store Red Velvet Birthday Cake
Store leftover red velvet cake in an airtight container or cake dome in the refrigerator for up to 3 days.
How to Make Ahead and Freeze Red Velvet Cake with Cheesecake Frosting
The red velvet cake layers can be stored tightly wrapped in plastic wrap in the refrigerator for up to 2 days or in the freezer for up to 3 months. Let the layers thaw before frosting. The cream cheese frosting can be made ahead and stored in an airtight container in the refrigerator for up to 2 days or in the freezer for up to 1 month. Let thaw before using.
Freeze fully assembled red velvet cake whole or in individual slices tightly wrapped in 2 layers of plastic wrap and 1 layer of aluminum foil for up to 3 months. Let thaw overnight in the refrigerator before enjoying.
What to Serve with Southern Red Velvet Cake
This delicious red velvet cake is so indulgent! It's wonderful served topped with sprinkles, cake crumbs, or a drizzle of chocolate syrup. Serve slices with a hefty scoop of vanilla or red velvet ice cream! Switch it up and frost this ruby red cake with chocolate cream cheese frosting for a fun twist!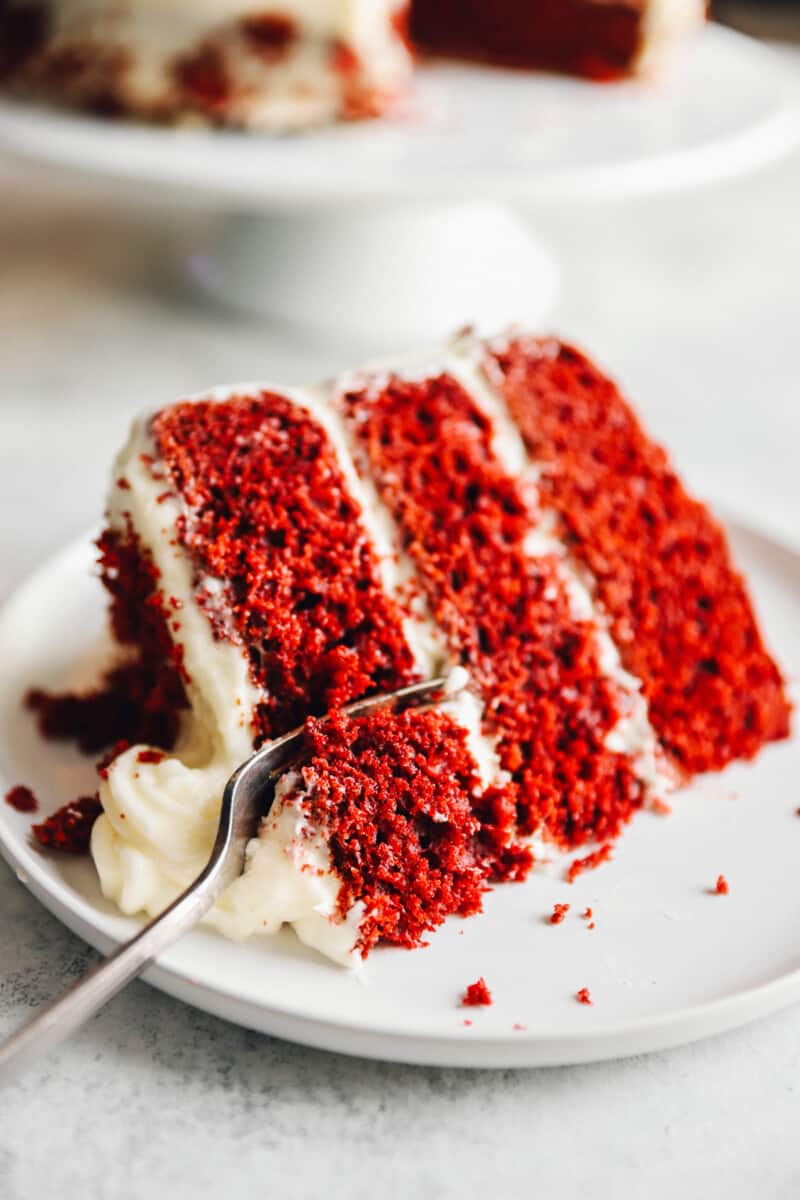 More Red Velvet Dessert Recipes We Love