Chicken Tortilla Soup in a Crock Pot is my absolute favorite soup recipe for winter! This HEALTHY Chicken Tortilla Soup recipe is spicy, easy, and delicious. Slow Cooker Chicken Tortilla Soup is loaded with spices, chicken, tomatoes, green chiles, corn, and more. This crockpot tortilla soup is so simple and delicious!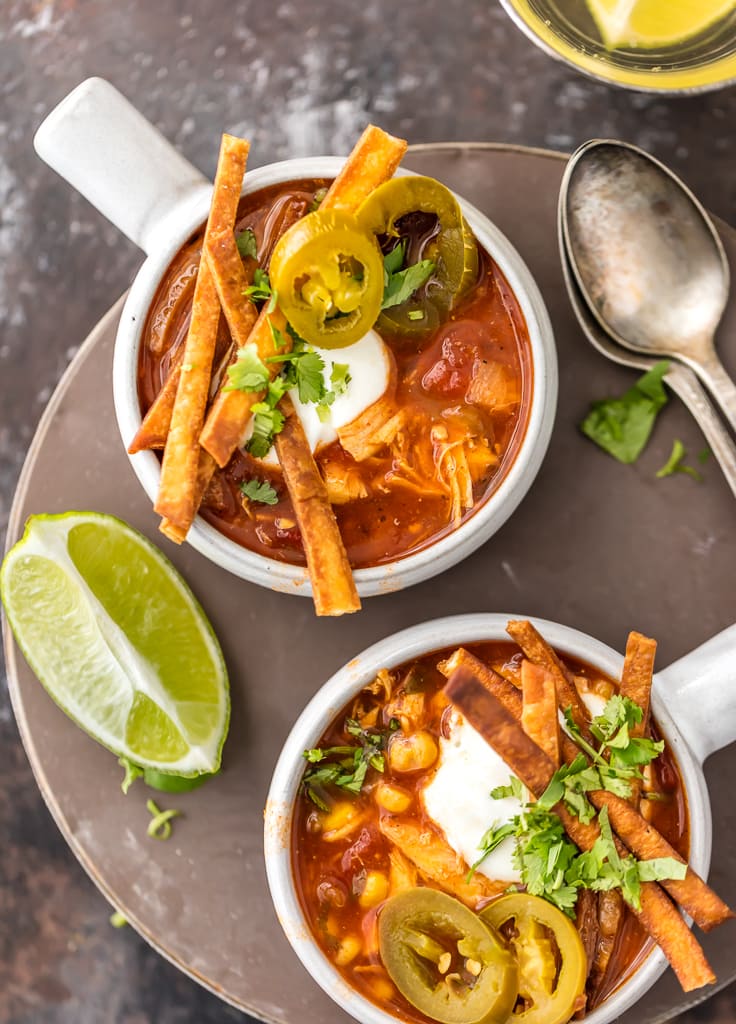 Crock Pot Chicken Tortilla Soup (Healthy!)
Crockpot Chicken Tortilla Soup is essential if you're craving easy comfort food! This healthy chicken tortilla soup recipe is so easy, AND it's good for you!
It's January. New Years Resolutions are alive and well…and still terrorizing my thoughts. But not every healthy recipe has to be blah. Some healthy recipes can be full of flavor, completely comforting, and SUPER EASY. This healthy chicken tortilla soup is all of the above!
Slow Cooker Chicken Tortilla Soup is one of my absolute favorite recipes I have EVER made. I know that's saying a lot, since there are thousands of recipes on this site. But it's just SO good. Being able to make chicken tortilla soup in a crock pot just makes it so much easier!
I can't wait for you to try this crockpot tortilla soup. It's filled with so many amazing ingredients, and it's the perfect soup to help you kick off those healthy goals!
This healthier chicken tortilla soup recipe keeps me on track with my ambitions of eating better, without sacrificing taste. Win win!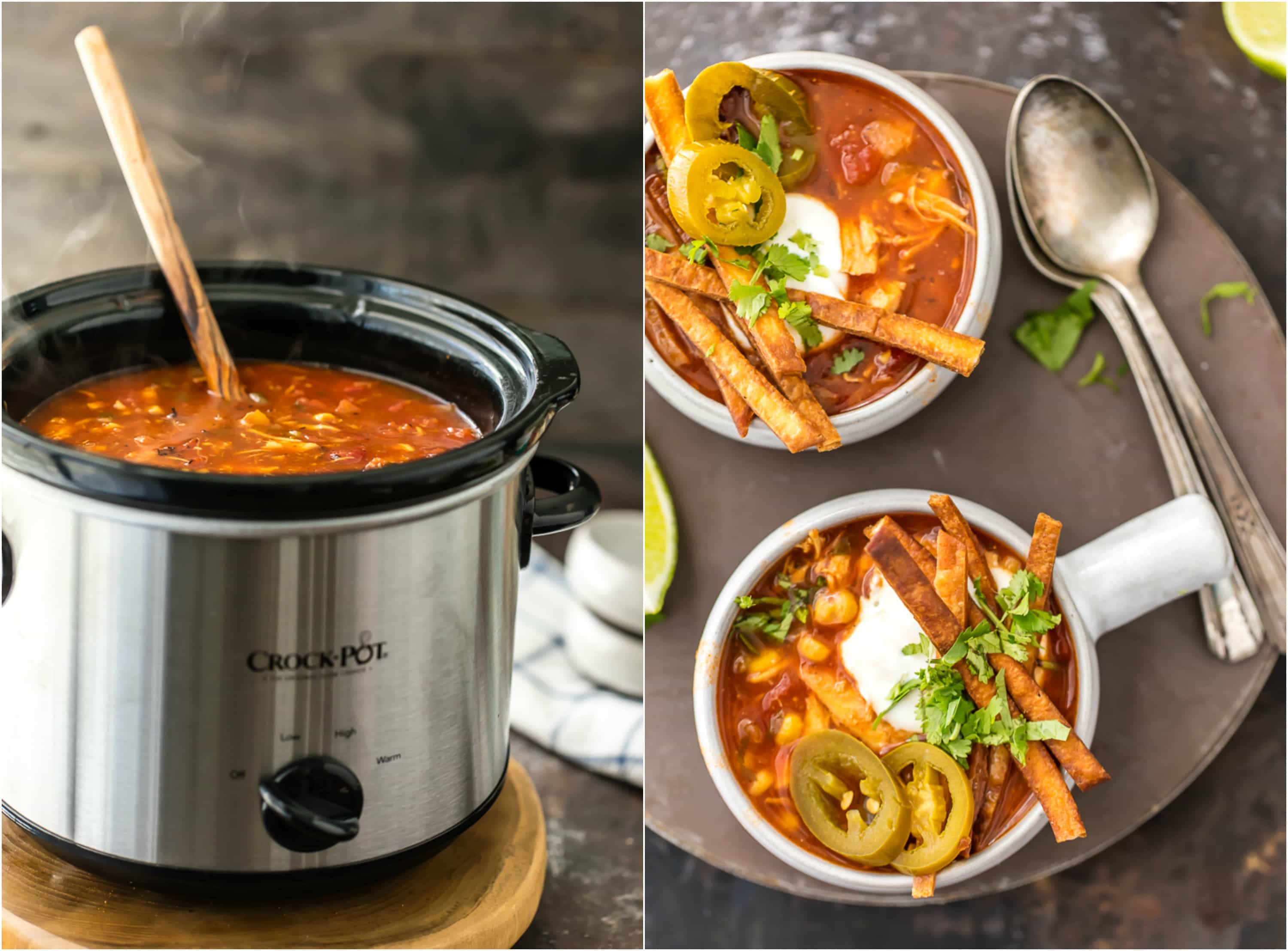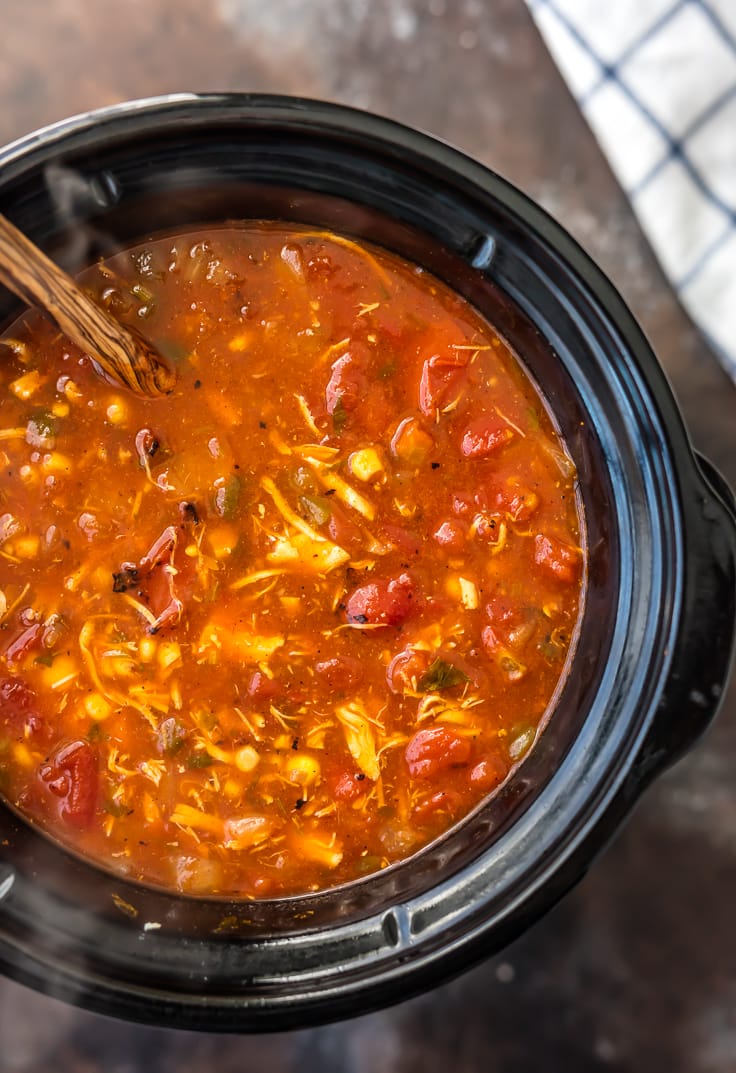 Slow Cooker Chicken Tortilla Soup Recipe
This Chicken Tortilla Soup Recipe is made in a crockpot. Isn't that AWESOME?
I adapted this crockpot soup recipe from one of my FAVORITE soups we had while growing up, so this slow cooker chicken tortilla soup just feels like home. I dare say it's so flavorful, it doesn't even need cheese. CAN YOU BELIEVE I JUST SAID THAT?!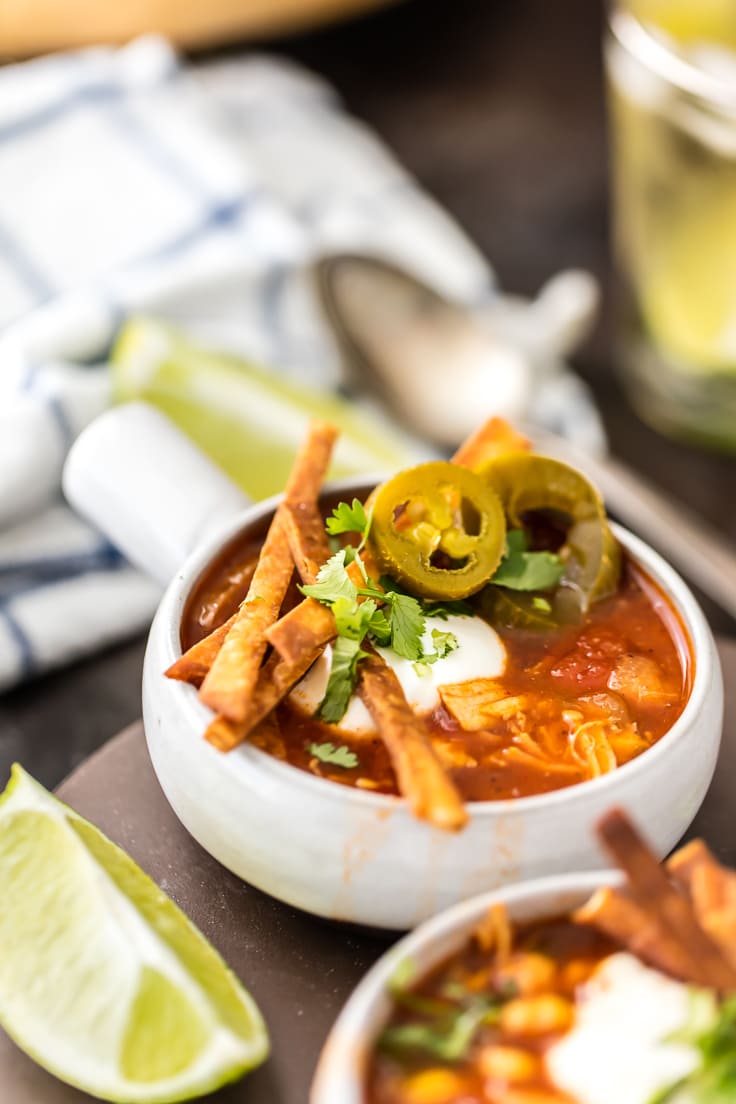 Healthy Chicken Tortilla Soup
Healthy Chicken Tortilla Soup is such a flavorful and easy recipe with simple ingredients!
If you've been following along, you know that I'm honored to be an ambassador for Old El Paso this year. It has been so fun to get creative with their amazing products. I took it old school this month with this Skinny Slow Cooker Chicken Tortilla Soup. I used their Green Chiles to make it a tad spicy, their Taco Seasoning to give it some extra (easy) flair, and garnished with Crispy Fried Tortilla Strips for some needed crunch. SO much Old El Paso to love in this one little recipe!
How to Make Homemade Fried Tortilla Strips
Making the fried tortilla strips for this crockpot tortilla soup really made it perfect. And making them is super simple! I just brushed some flour tortillas with oil and taco seasoning, and then fried them in oil. You could also fry the thin strips, and then while still hot and before they dry, sprinkle on the taco seasoning. These homemade tortilla strips are an easy way to add some character to this Healthy Chicken Tortilla Soup!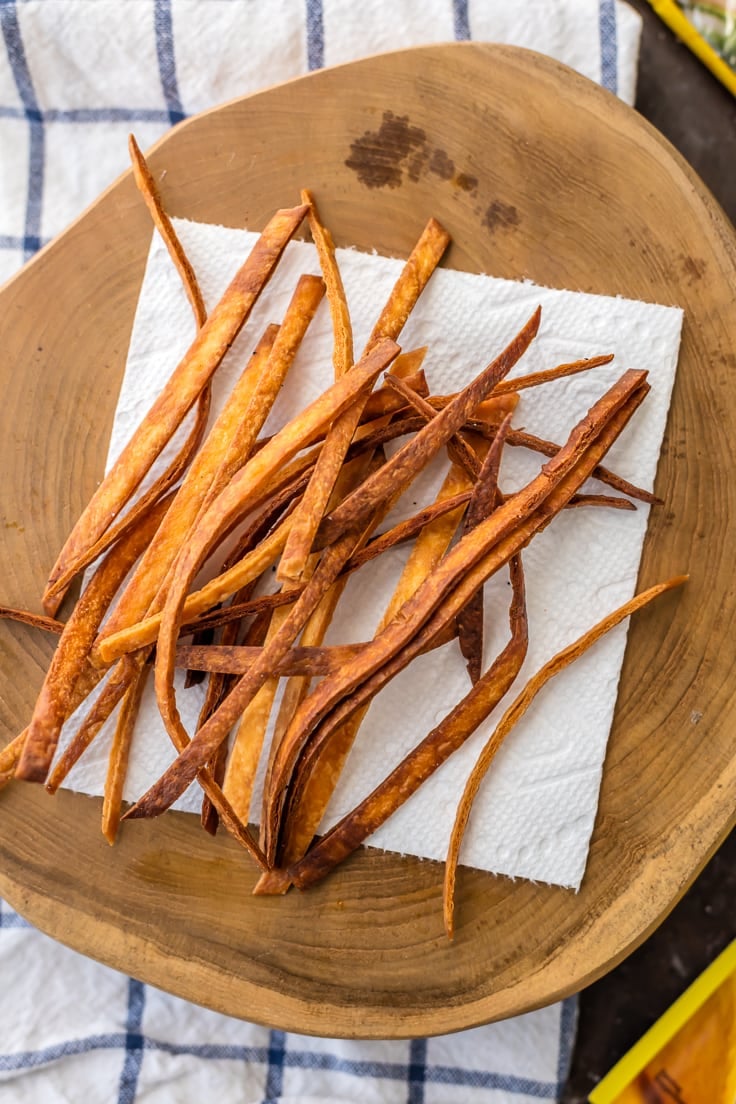 What to serve with Crock Pot Chicken Tortilla Soup
This slow cooker tortilla soup is perfect for the chilly days of winter, and you won't believe just how simple it is to make. Throw the ingredients in a slow cooker, stir to combine, and let the crockpot do all the work. Spoon and serve. Perfection!
We love to serve this healthy crockpot tortilla soup recipe with our Garlic Butter Hawaiian Rolls, Cheddar Drop Biscuits, Dinner Rolls, Red Beans and Rice, or some Mexican Rice. Can't go wrong!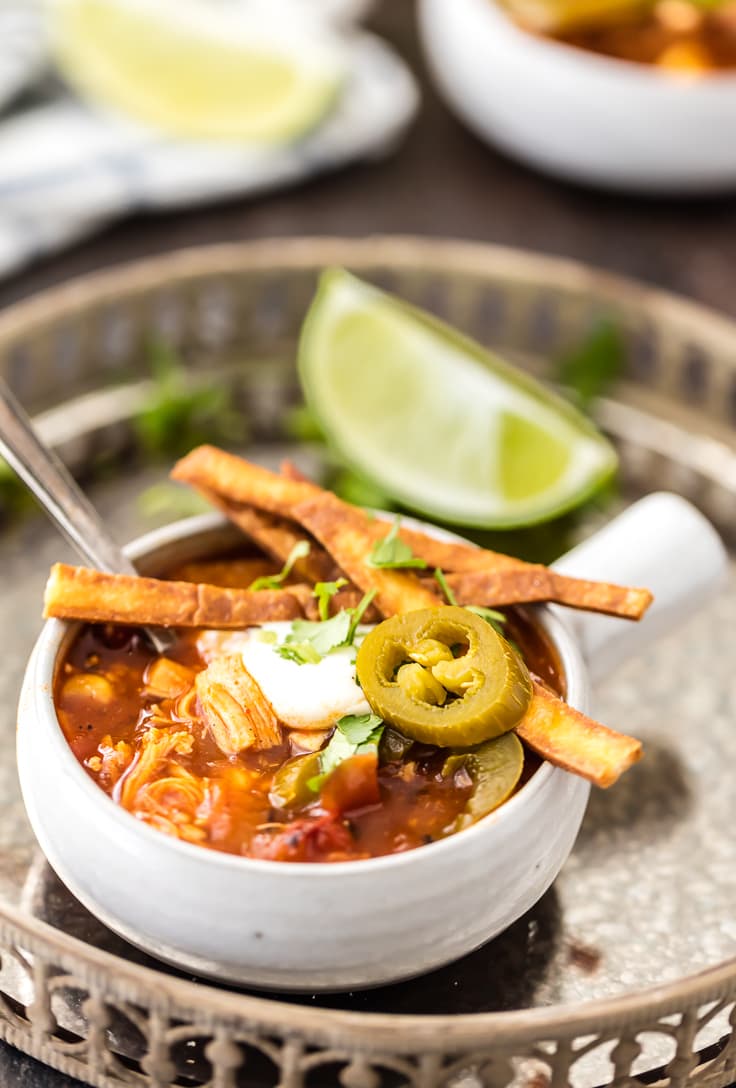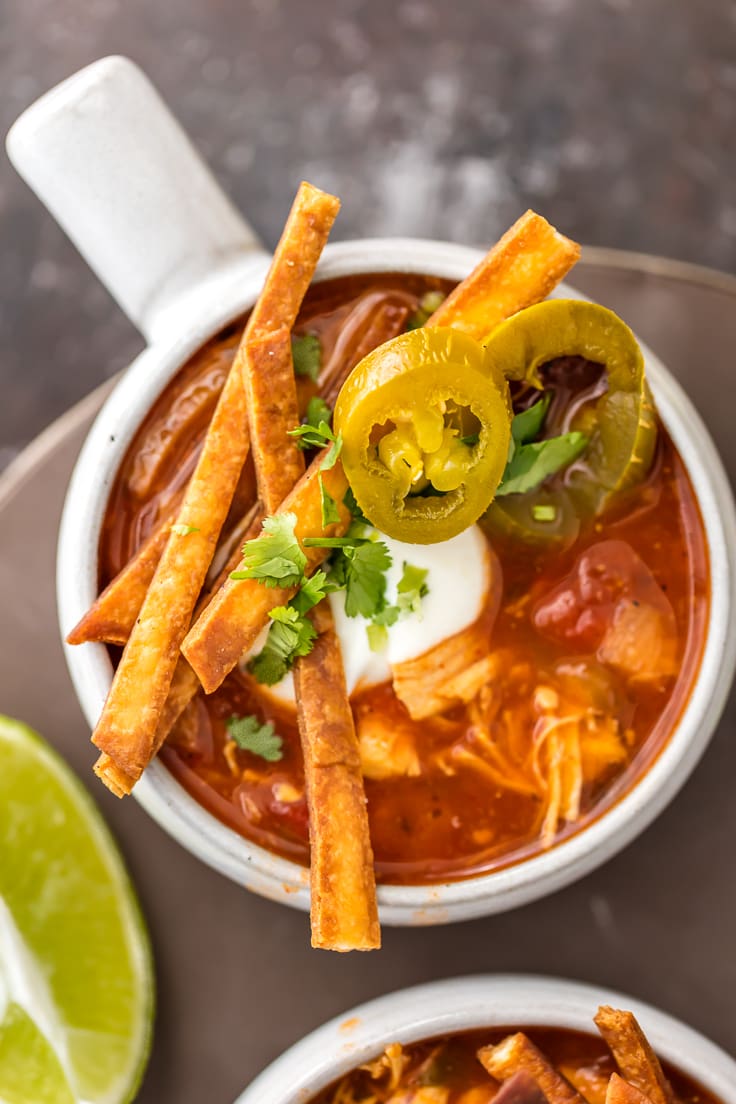 FAQ for making Healthy Chicken Tortilla Soup
Can you freeze Chicken Tortilla Soup?
Yes, you can absolutely freeze any leftovers you have of this slow cooker chicken tortilla soup. Let the soup cool completely, and then pour it in a freezer safe bag or container. Keep the tortilla strips separate from the soup if you plan to freeze. Thaw it out in the fridge before serving and then reheat on the stovetop. Easy peasy!
How would you thicken this crock pot Chicken Tortilla Soup in a pinch?
If you need to thicken this crockpot tortilla Soup, take one cup of the soup broth and mix with 1 tablespoon flour. Stir together until a paste forms. Slowly pour it back into the soup, stirring while you combine. Works like a charm!
Is Chicken Tortilla Soup Healthy?
This one is! We have made little tweaks to make this recipe a little healthier than the typical recipe. If you take care in what garnishes you include, you're in business. Now it's one of our favorite healthy crockpot recipes!
See the recipe card below for How to Make Chicken Tortilla Soup in a Crockpot. Enjoy!
If you like this healthy slow cooker chicken tortilla soup, try these other easy soups!
AROUND THE WEB: If you're looking for other great slow cooker soups, check out these recipes from some of our friends! Slow Cooker Sausage and White Bean Soup, Slow Cooker Chicken Broccoli Cheese Soup, Crockpot Corn Chowder