Enjoy the flavor of this delicious, comforting Crock Pot Chicken Tortilla Soup. It's easy to prepare with several ingredients, including minced garlic, chicken broth, corn, chicken breast, and a few extras. It's the kind of soup that keeps you coming back for more!
Slow Cooker Chicken Tortilla Soup
The Slow Cooker Chicken Tortilla Soup works great as an appetizer or the main meal. It's perfect for when you're in the mood for comfort food that will soothe your soul and keep you feeling warm and comfortable. If you want this light, zesty soup, be sure to give this recipe a try. It's far better than any of the canned stuff!
Why You'll Love this Chicken Tortilla Soup Recipe:
EASY: This is such an easy recipe. You're adding ingredients to your slow cooker and allowing them to cook together until you're left with an amazing meal.
DELICIOUS: You can expect to enjoy the delicious taste of this homemade soup with its fresh, flavorful ingredients.
PERFECT FOR LUNCH OR DINNER: You can have this soup for lunch or dinner. In all honesty, it's good to have at any time of the day!
The Crock Pot Chicken Tortilla Soup's flavor will blow you away. It's wholesome, zesty, and full of good-for-you ingredients, such as fire-roasted tomatoes, chicken, black beans, and jalapeno peppers.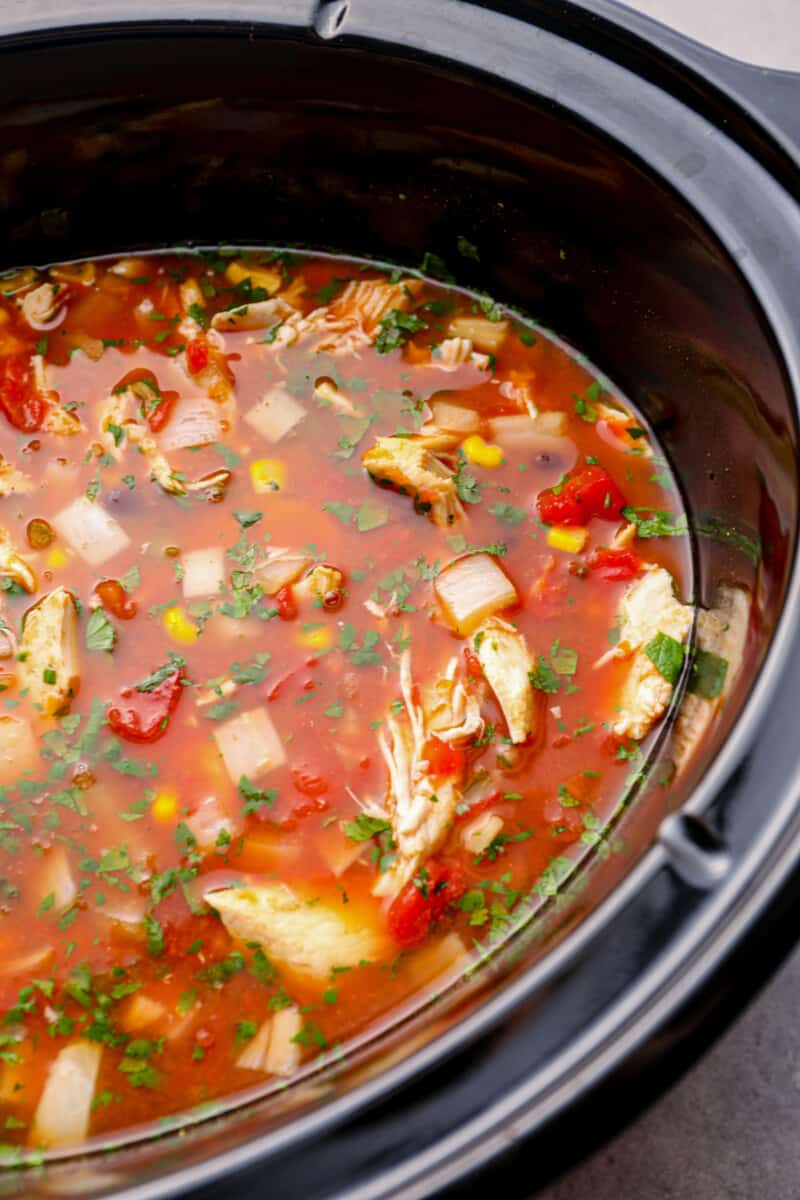 How to Make Crockpot Chicken Tortilla Soup
You can jump to the recipe card for full ingredients & instructions!
Spray your crockpot insert with non-stick cooking spray.
Toss in your onion, jalapeno, chili powder, garlic, tomatoes, chicken broth, and Worcestershire sauce, mixing well.
Throw your black beans and corn into the mix.
Place the chicken breasts in the center of the mixture, placing the lid back on your crockpot.
Set on high for up to four hours or on low for up to six hours, giving the chicken time to cook through.
Remove chicken, shred, add back to the slow cooker, and serve.
Recipe Notes
You can add additional ingredients to this recipe, such as noodles or other types of beans, depending on what you like.
When serving this soup, consider garnishing with shredded cheddar cheese and crispy tortilla strips.
Both avocado and sour cream are great additions to pair with this flavorful soup.
If you want the soup to have more of a kick, sprinkle some cayenne pepper into the mix.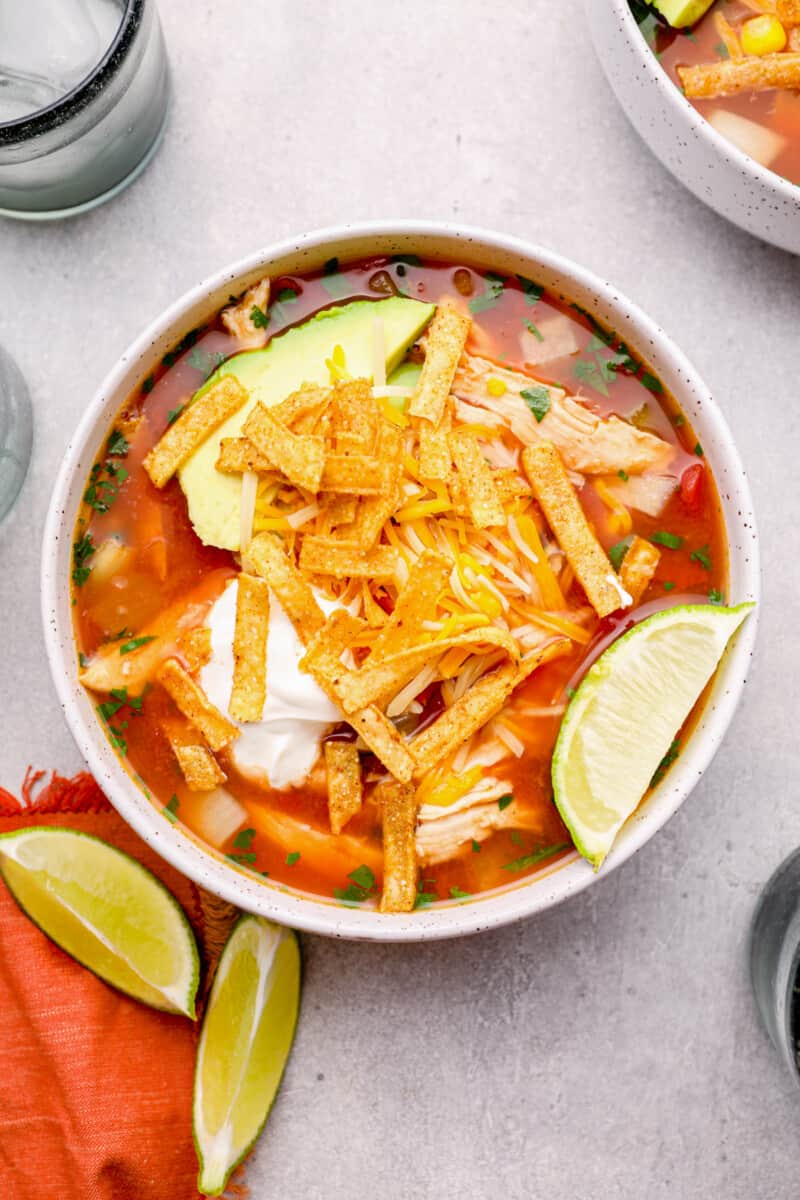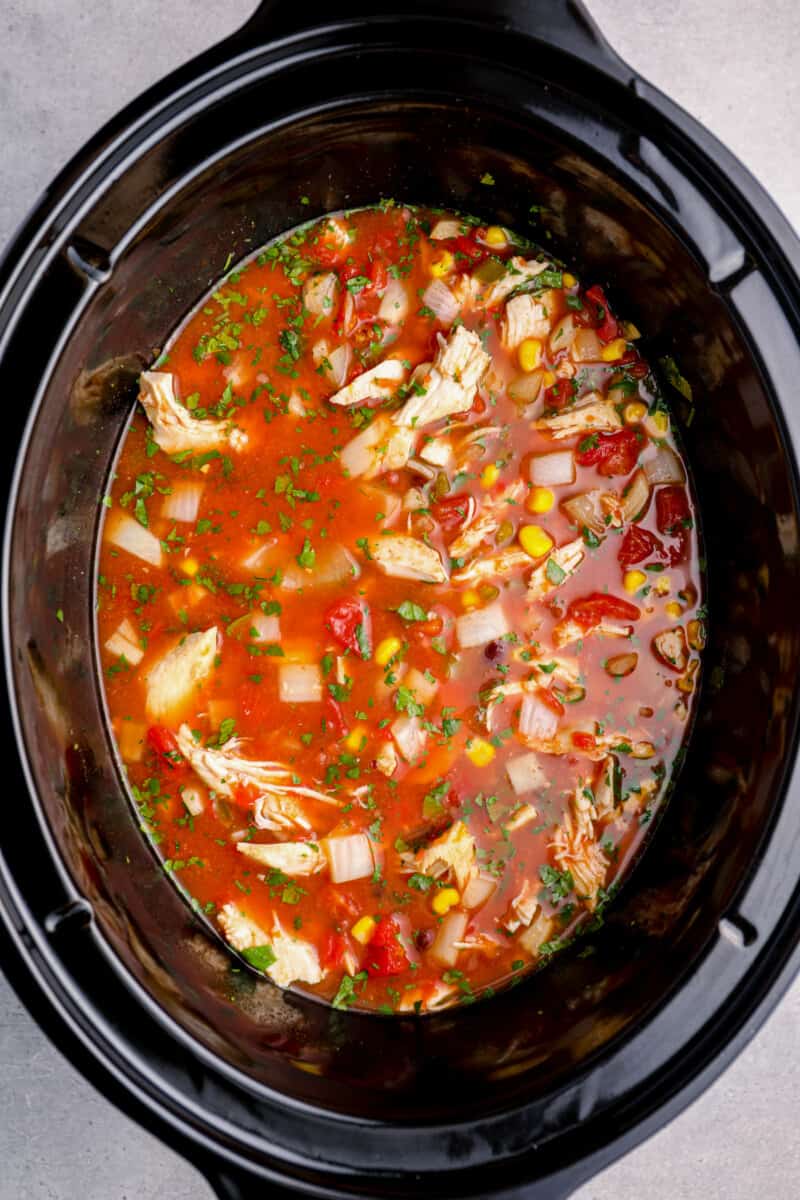 What kind of chicken should I use?
I recommend using boneless, skinless chicken breasts in this soup recipe.
Can I use frozen chicken?
If using frozen chicken, let it thaw in the refrigerator before adding to the slow cooker.
Can I use cooked chicken?
Yes! This is a delicious way to use up leftover chicken or save time and use a rotisserie chicken. Skip step 3 and add 3 cups of shredded cooked chicken to the crockpot about an hour before serving. Cook until warmed through.
Serving Suggestions
This soup is a meal in itself, but sometimes a side dish or item is needed.
Tortilla strips
Sliced avocado
Rice and beans
Crackers
The Crock Pot Chicken Tortilla Soup is as easy as it gets. Not only does it require minimal effort, but it's good for you!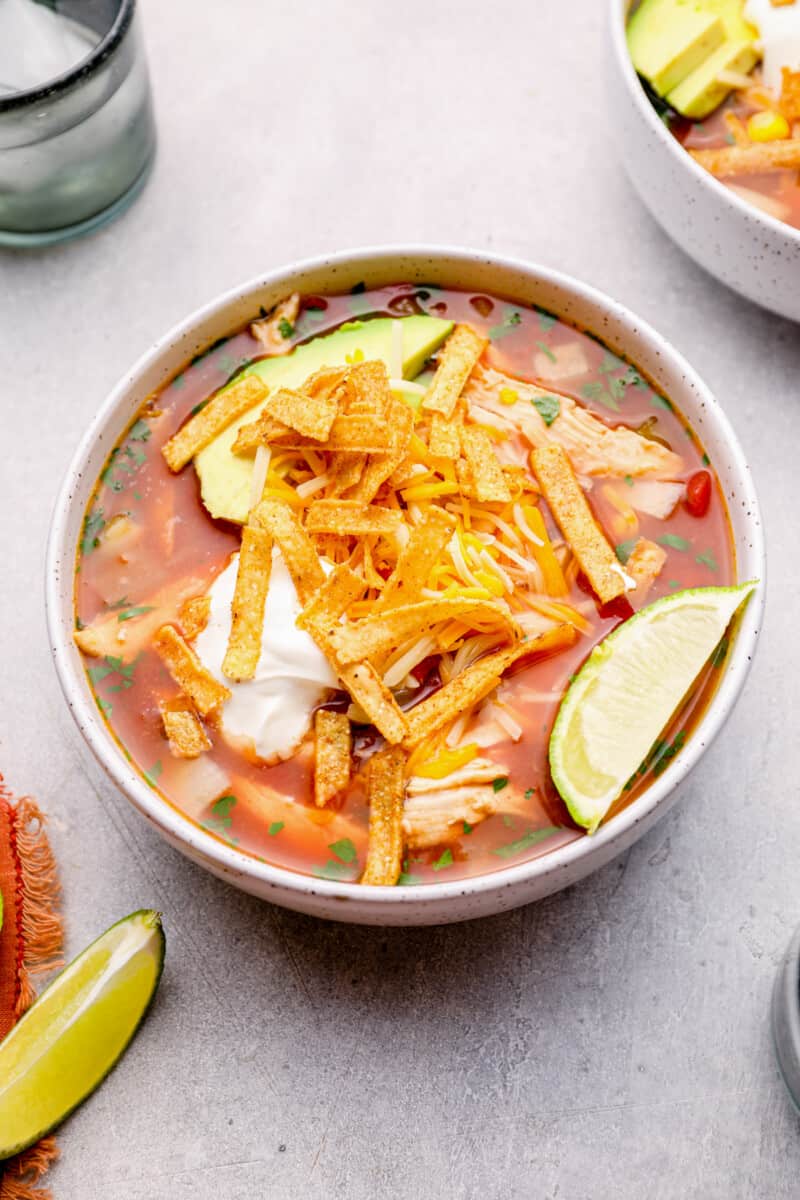 Tips!
If you don't have chicken breast, you can use chicken thighs. Be sure to use boneless, skinless thighs.
If you don't have black beans or don't like them, feel free to use other beans, such as pink kidney beans or pinto beans!
You can store this soup in an airtight container in the fridge for up to five days to keep it fresh.
Why waste time eating canned soup full of sodium? Instead of eating something unhealthy and flavorless, prepare this delicious soup with ease.
How do I know when the chicken is done cooking?
The chicken is cooked through when the internal temperature of the thickest part reaches 165°F. In this soup, it will become really tender and begin to fall apart!
How can I make this soup spicier?
To increase the spice, add 2-3 teaspoons of chili powder, a pinch of cayenne pepper, and a can of green chiles (do not drain) to the recipe in step 2.
What toppings go well with chicken tortilla soup?
Anything you love on tacos is great with this soup! I love piling my bowl high with tortilla strips, shredded cheese, sour cream, guacamole, and a squeeze of fresh lime juice.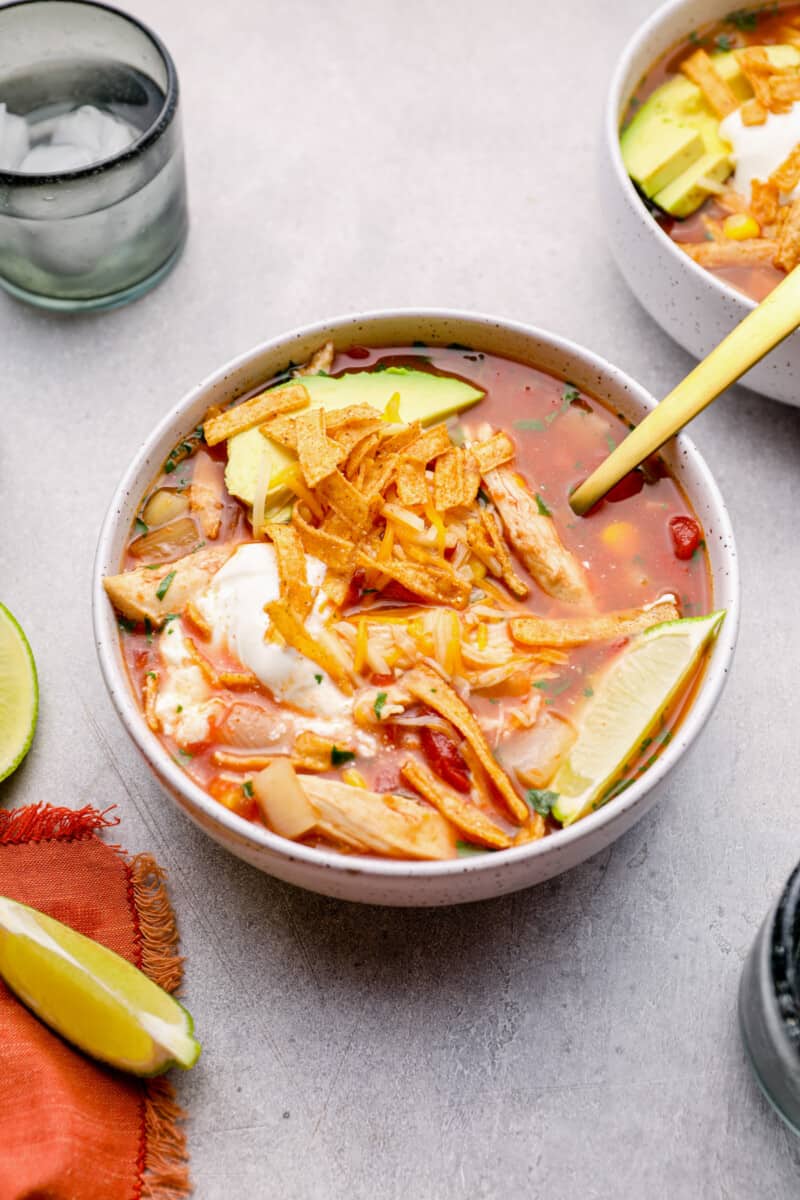 If you love this soup, you're going to love some of these other incredible recipes. Be sure to give them a try!
If you make this recipe be sure to upload a photo in the comment section below or leave a rating. Enjoy! You can also jump to recipe.