Dinner Rolls are a must make for any family get together, especially the holidays! This homemade dinner roll recipe can be made ahead of time and stored in the fridge until ready to bake. These yeast rolls are the perfect easy bread recipe for Thanksgiving, or for any occasion!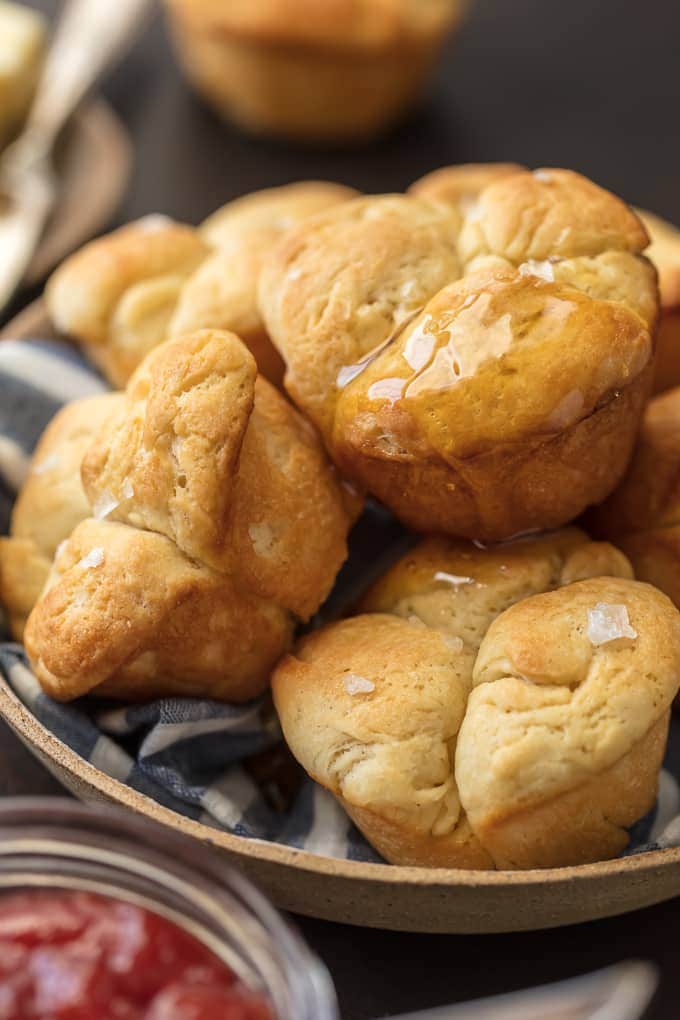 Dinner Rolls
This homemade dinner rolls recipe is the perfect recipe for holidays. You can make these yeast rolls ahead of time so they're ready to bake before dinner!
Dinner Rolls are a must for every dinner…it's in the name! They need to be served with every meal! This easy yeast rolls recipe is so simple, you just can't go wrong.
These homemade dinner rolls are my absolute favorite bread to make for Thanksgiving and Christmas. You don't have time to be slaving away on breads in the kitchen during the holidays, so these make ahead rolls are perfect.
Make the dough the day before, store it in the refrigerator, and then pop them in the oven whenever you're ready to bake. They are super convenient for the busy holiday season! They're fluffy, pretty, and begging to be doused in butter and jam. Yum!
These Make Ahead Dinner Rolls will be a lifesaver this holiday season!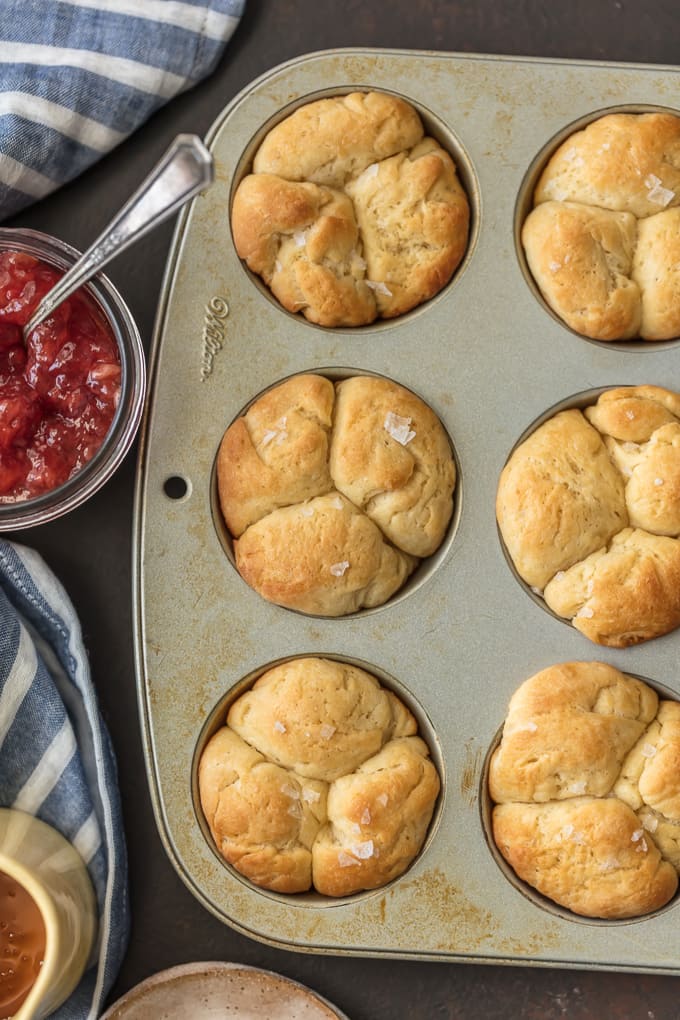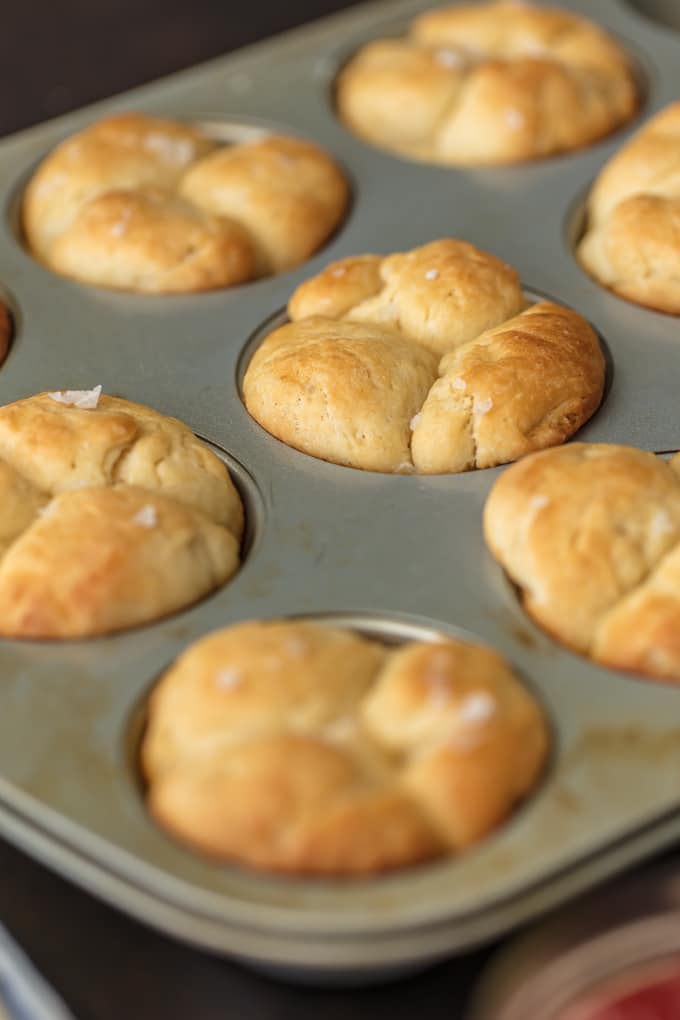 Easy Yeast Rolls Recipe
Homemade Dinner Rolls have a way of making you feel like a chef. No other recipes make you feel as accomplished as a great bread recipe. I was always too nervous to make breads before and didn't even register for a bread maker at my wedding because I thought it was way too hard for me.
But these yeast rolls are so easy, anyone can make them! You can really impress your guests with homemade rolls!
How to Make Homemade Dinner Rolls
Place the shortening, sugar and salt in the bowl of a stand mixer. Pour the boiling water over all. Stir on low until shortening melts and the sugar and salt have dissolved. Let stand until the mixture registers 110°F.

In a 1-cup measuring cup, combine yeast and warm water. Be sure water is between 105°F-115°F. Stir with a fork approximately 10 times and let stand 5 minutes.

Add the yeast mixture and lightly beaten eggs to the shortening mixture, and beat on low until combined. Add the flour, ¼ cup at-a-time, while mixer is on low speed. This should take 2-3 minutes. Dough is ready when it begins to pull away from the sides of the bowl. Dough should be very soft and smooth.

Place the dough in a large, lightly greased mixing bowl. Turn the dough over in the bowl, so all sides are greased. Cover the bowl with plastic wrap and refrigerate 8-24 hours.

When ready to use, place the amount of dough needed on a floured surface. (Cover any remaining dough with plastic wrap and keep refrigerated up to 24 hours, total.) Knead the removed dough until smooth and elastic, approximately 2 minutes.

Lightly grease a muffin pan. Shape dough into 1-inch balls. Dip each ball into melted butter then place in a muffin cups. Place three balls, side-by-side, into each muffin cup.

Cover rolls loosely with plastic wrap or clean (lightweight) dishtowel. Allow dough to rise in a warm place (85°F-100°F works best), until double in size (approximately 45-60 minutes).

Preheat oven to 400°F. If desired, sprinkle rolls very lightly with flake sea salt (like Maldon's). Bake rolls 8-12 minutes or until golden brown. Brush with remaining butter and serve immediately.
Make Ahead Dinner Rolls
These make ahead dinner rolls make life so much easier! You can make the dough up to 24 hours ahead of time, so you can be prepared for the holiday feast or big dinner.
Make the dough, place it in a greased bowl, cover it with plastic wrap, then store in the refrigerator for 8-24 hours. Easy!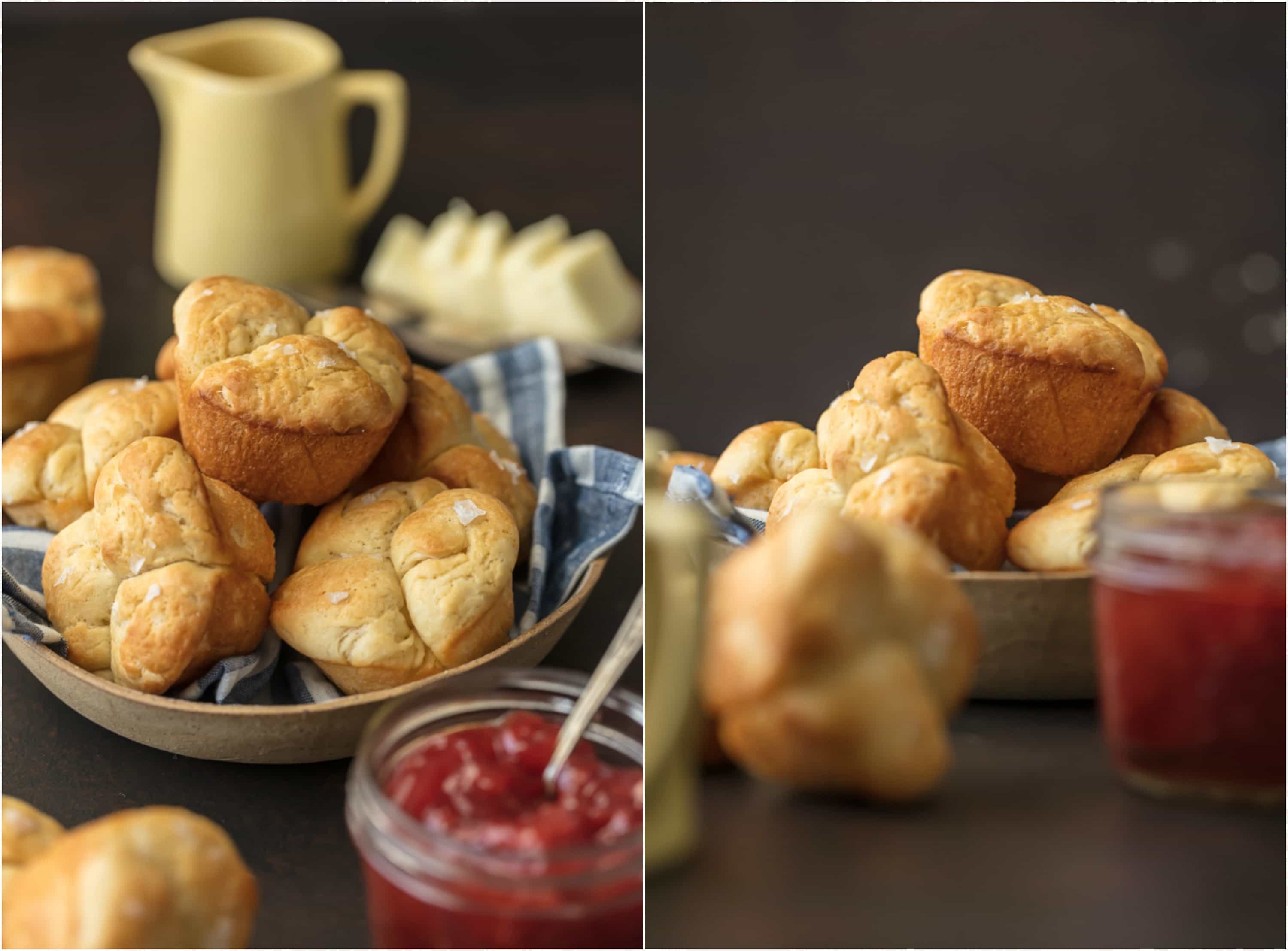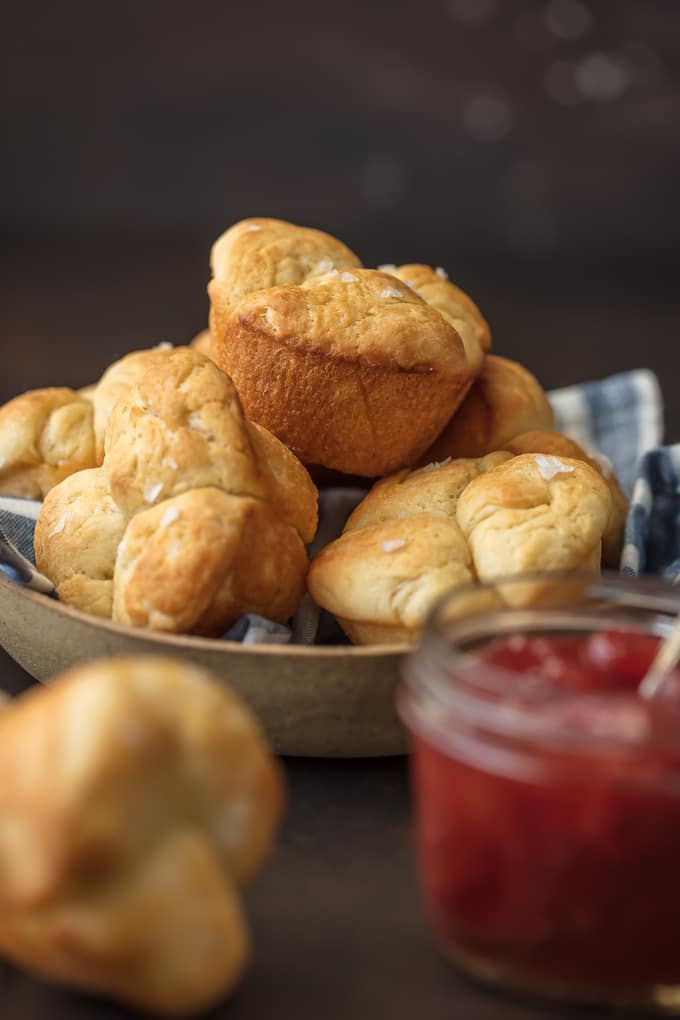 Homemade Rolls for the Holidays
There's nothing quite like homemade dinner rolls for the big holiday feast. No matter how much food is on the table, you always need a good dinner roll recipe to finish things off. These are perfect for Thanksgiving, because you can get them started the day before, then bake right before eating.
Some of my other favorite holiday breads are these Homemade Crescent Rolls (with Homemade Honey Butter!), and these Oatmeal Bread Rolls. Both are easy, and perfect for the holiday table.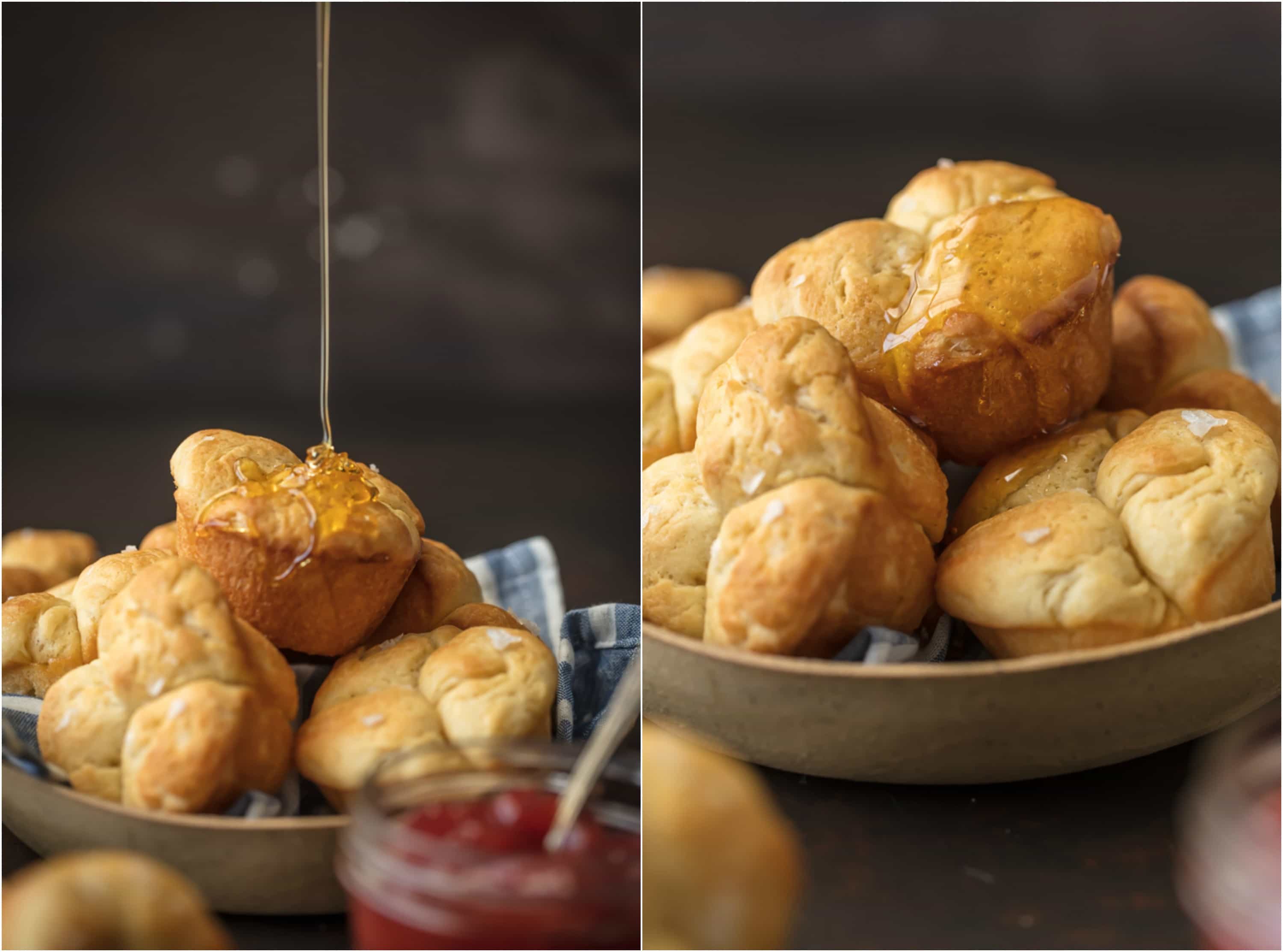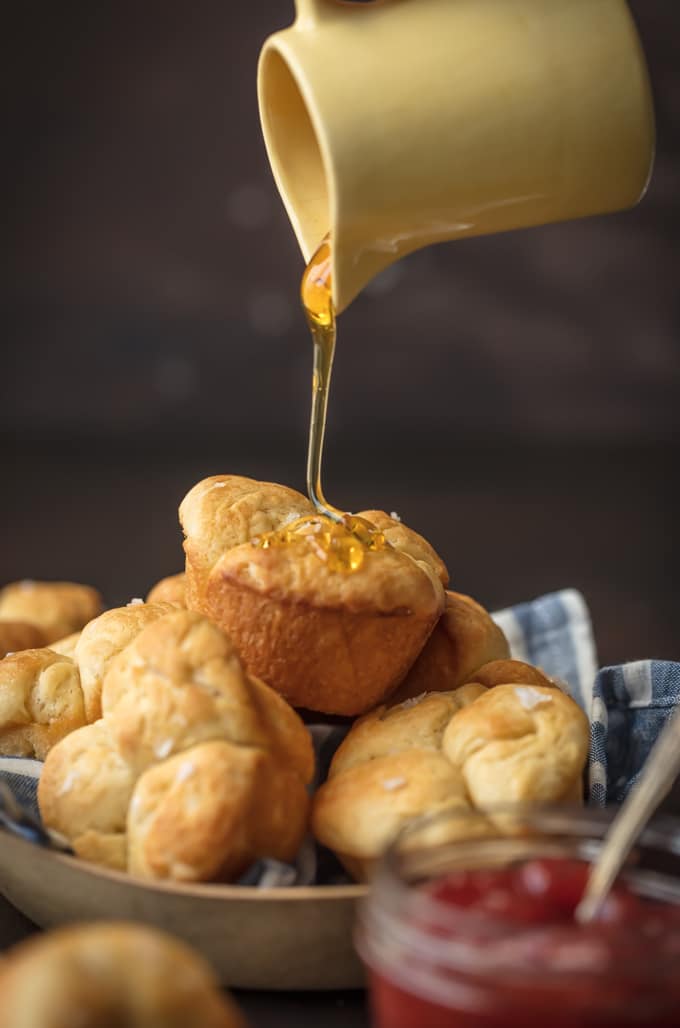 How do you know if yeast is still good/active?
A great thing to do with every bread recipe is test the yeast before starting. An easy way to check that the yeast is still active is to dissolve the yeast into 1/2 cup of the liquid you'll be using for your recipe. Sprinkle with a touch of sugar and let sit for about 10 minutes. If the yeast dissolves completely and is bubbling, its still good. Better safe than sorry!
How much is in a packet of yeast?
If using bulk yeast, but a recipe calls for a "packet", you might be confused about how much to use. Each packet of yeast contains about 1/4 ounce or 2 1/4 teaspoons of yeast.
What are your favorite recipes to serve with dinner rolls?
Since this Homemade Dinner Roll recipe is a favorite for Thanksgiving and Christmas, we love serving them with recipes such as Honey Baked Ham, Instant Pot Turkey Breast, or even Pork Tenderloin! But they truly go with anything and everything. That's what makes them the perfect dinner roll! They work with any meal.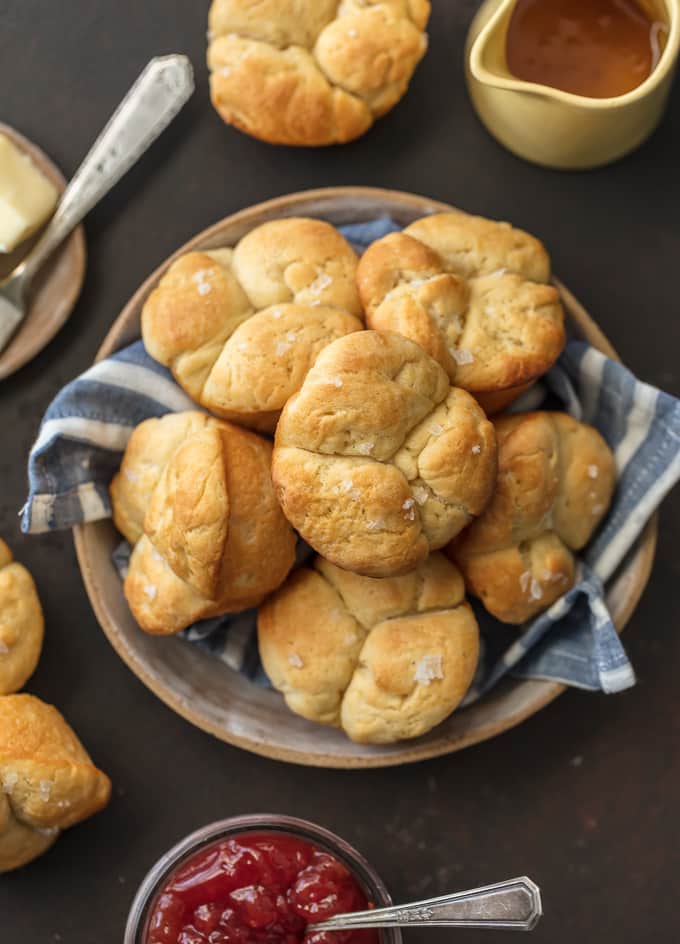 The holidays will be here before we know it! Luckily we have easy and convenient make ahead recipes like these homemade dinner rolls! We've also got Make Ahead Mashed Potatoes and Make Ahead Gravy to help you get those sides ready before the feast. I'm here to make cooking easy, after all!
See the recipe card below for details on How to Make Dinner Rolls. Enjoy!
Be sure to try these other homemade bread recipes: