Hawaiian Rolls are just begging to be smothered in Homemade Garlic Butter! These EASY Garlic Butter Hawaiian Rolls are literally the best rolls I have EVER TASTED! This fun King's Hawaiian Rolls Recipe is made in just minutes and SO easy; the perfect bread side for Thanksgiving, Christmas, Easter, or any gathering!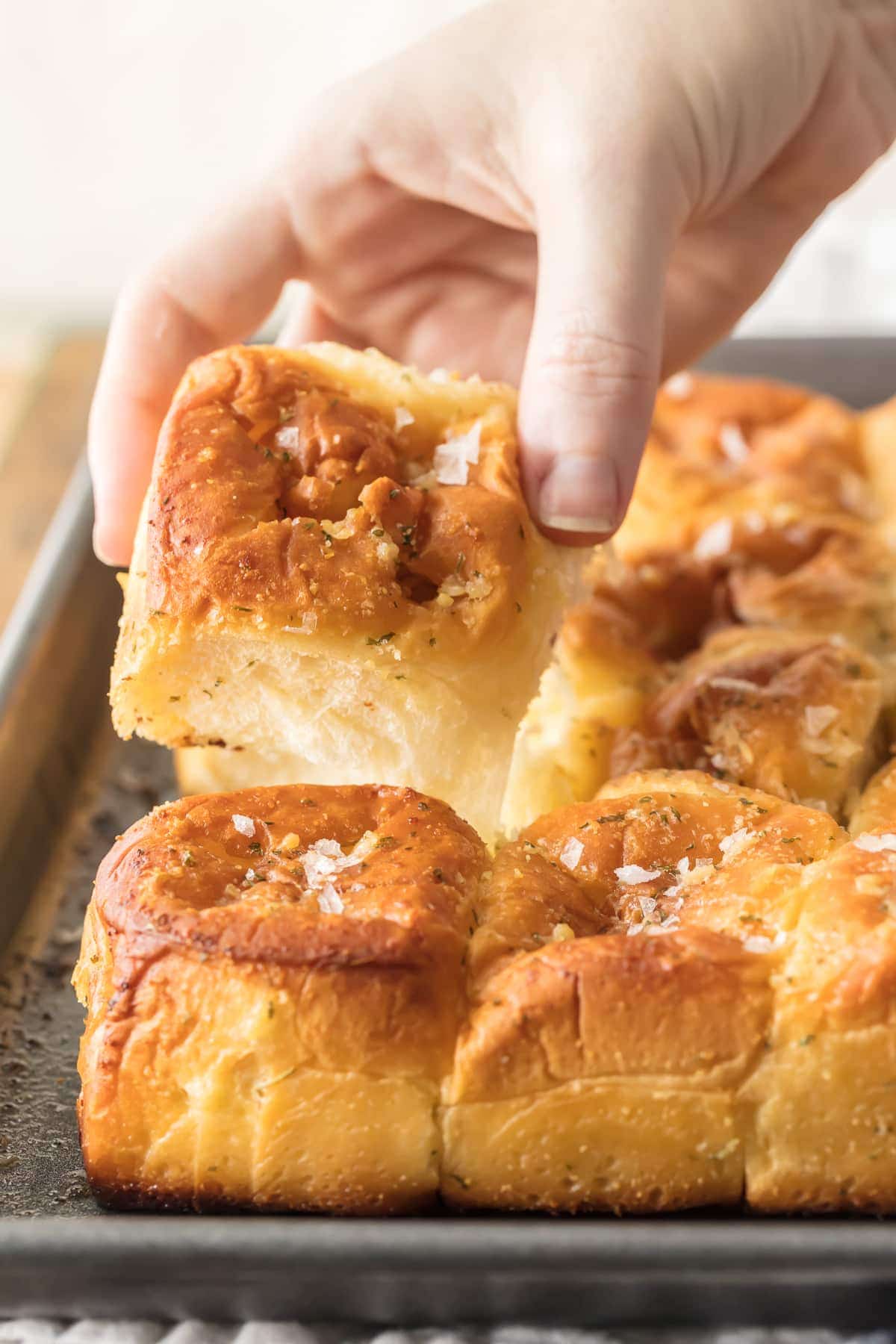 Easy Hawaiian Rolls Recipe
This EASY Hawaiian Rolls recipe with Homemade Garlic Butter is my favorite bread recipe for any holiday or family get together!
This King's Hawaiian Rolls Recipe is absolutely off the chain! Are you guys ready for the absolute BEST ROLLS I'VE EVER TASTED! I mean, they're so simple it's almost embarrassing, but they are SO delicious. (Yes this is a recipe hack…and NO I'm not ashamed!)
Made with a base of King's Hawaiian Rolls (not sponsored, I just love them!), these SUPER EASY GARLIC BUTTER HAWAIIAN ROLLS are going to be my very favorite thing at this year's Thanksgiving. I'm not exaggerating. I tasted them, was blown away, and then proceeded to eat 4 more. Sorry, not sorry!
When mom had the idea to simply dress up Hawaiian rolls with the most amazing Homemade Garlic Butter, I knew I would love it. I love easy recipes, and it doesn't get easier than this. The rolls soak up so much of the garlic, butter, and salt, to make the ULTIMATE dinner rolls, you won't be disappointed! I just wish I had about 3 more pans of these to eat for dinner tonight! You're only 20 minutes and 4 ingredients away from the BEST HOLIDAY ROLLS EVER!
Use this easy recipe hack to make the best Hawaiian Rolls recipe ever. They're covered in a homemade garlic butter that is to die for!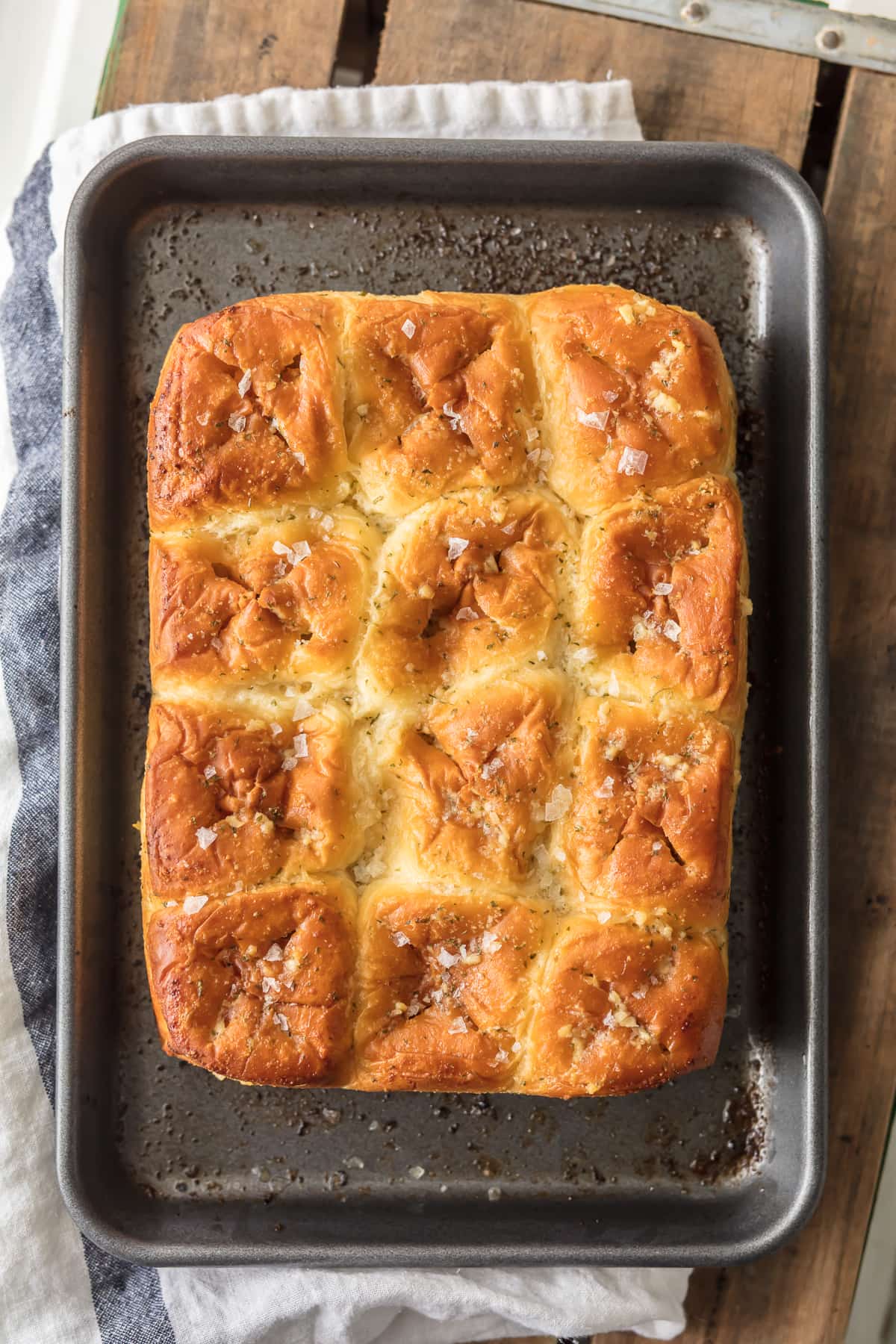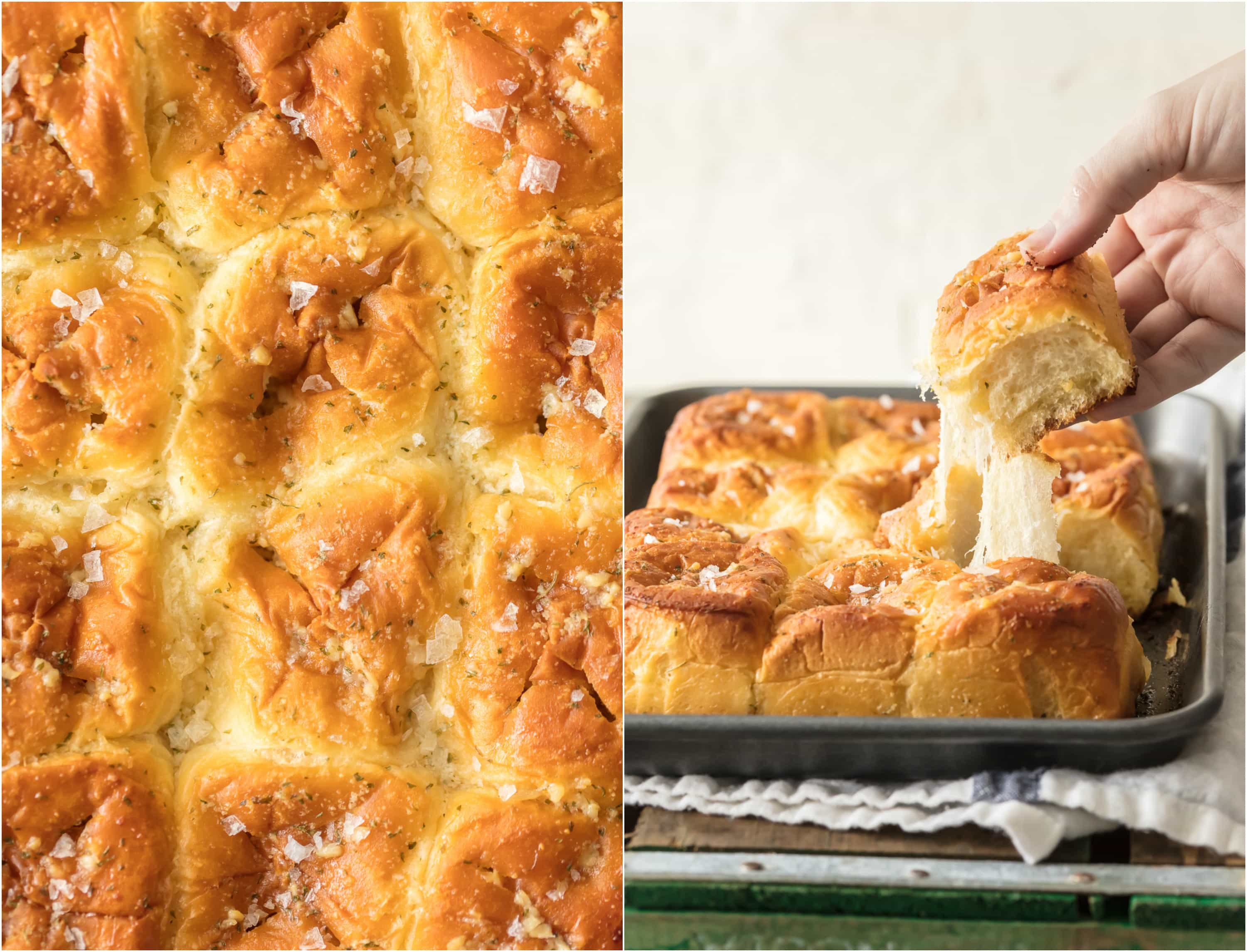 How to make Hawaiian Rolls with Homemade Garlic Butter
This Hawaiian Rolls Recipe is so simple…it's a little embarrassing. You've all seen those baked sandwich sliders with the top of the rolls doused in butter and herbs? This is the same idea, and it's a great one!
Butter the bottom of the pan.
Place the rolls (still connected, as little work as possible!) onto the pan.
Using scissors, cut an X into the top of each roll. We wanna soak up ALL THAT HOMEMADE GARLIC BUTTER!
Brush with gobs and gobs of garlic butter and sea salt. Only the good stuff.
You guys…this Hawaiian Rolls recipe is perfection. I really don't even know how to fill this post with words because of just how simple it all is, but trust me, its delicious. Or don't trust me and try it for yourself. You won't regret it! Making this for Thanksgiving, Christmas, Easter, or the 4th of July is a big YES.
How to make the Homemade Garlic Butter
Luckily its truly as simple as melting together minced garlic and butter. SHHH…no one needs to know its that simple. This recipe is as fool proof as it gets!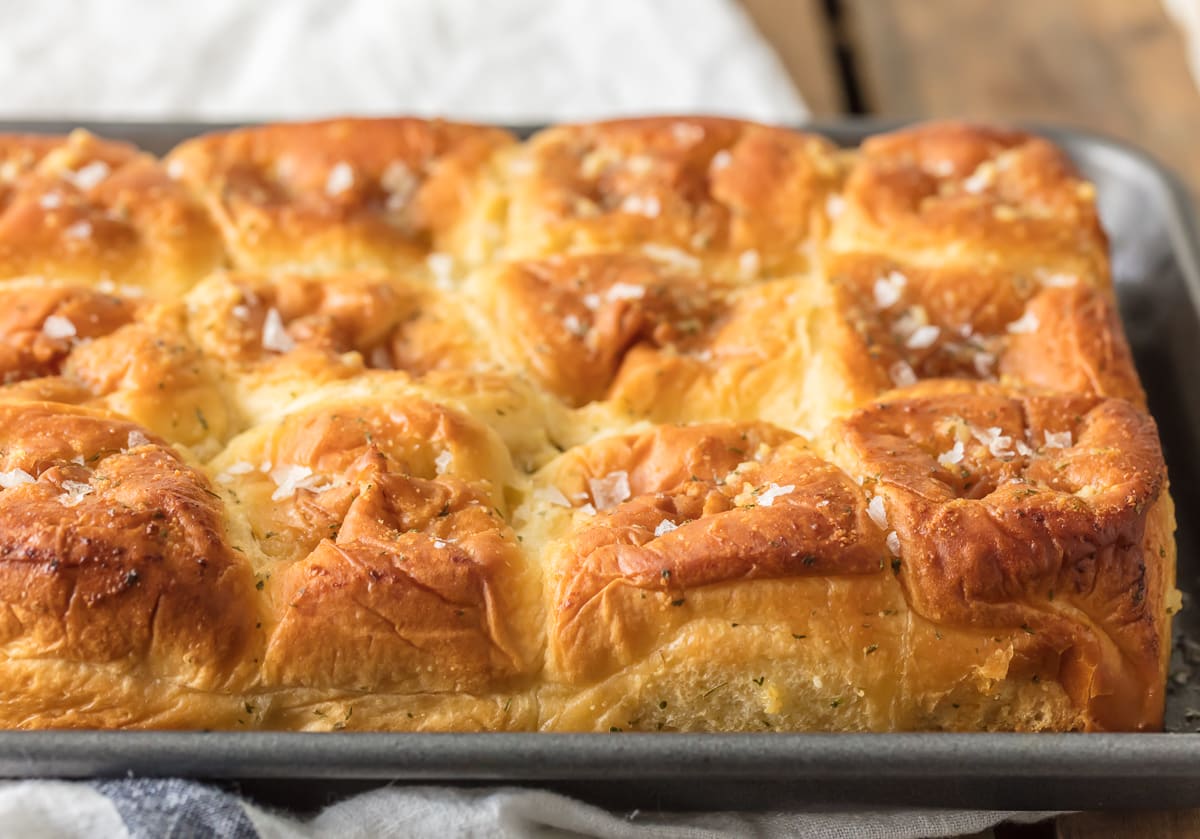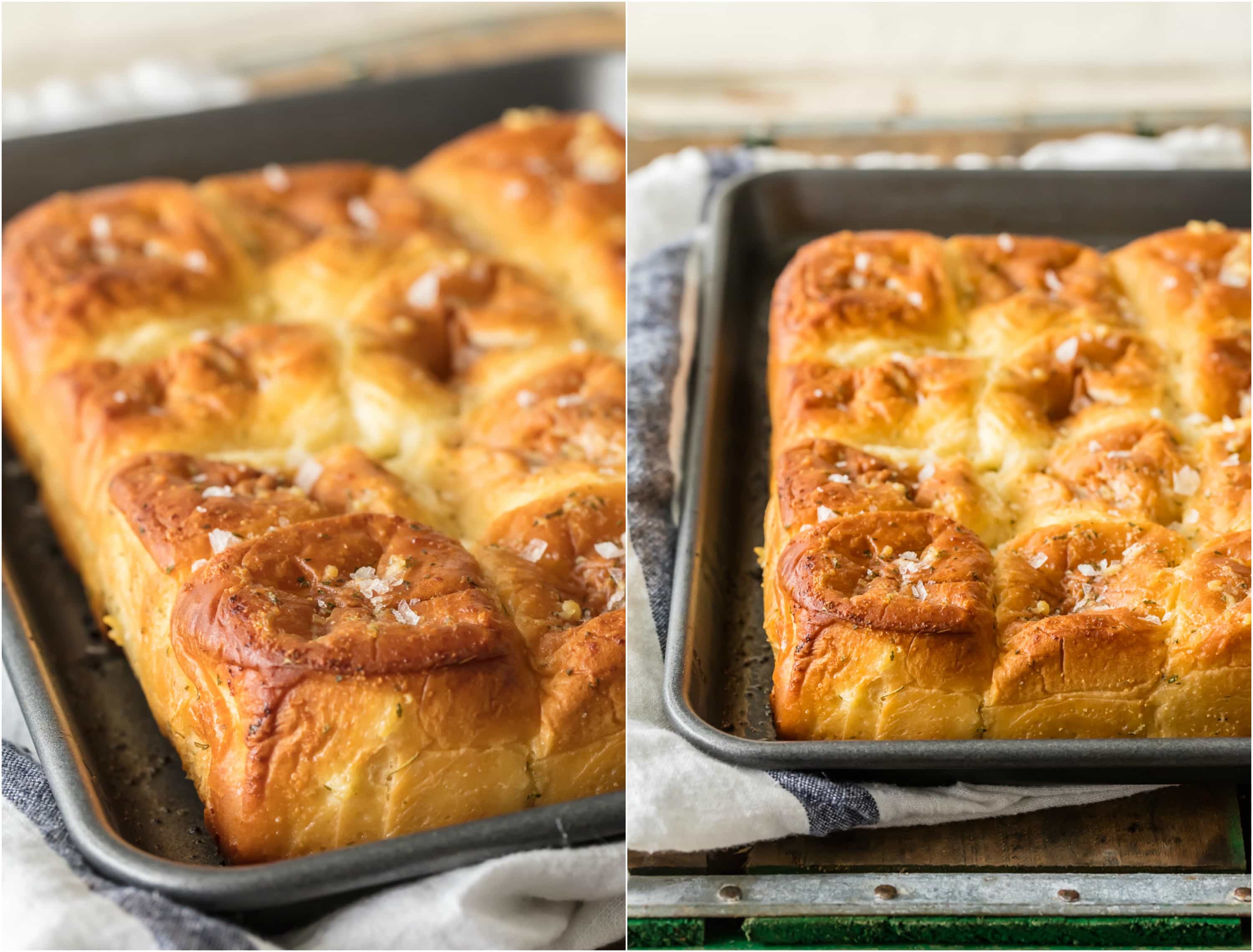 Easy Hawaiian Rolls Recipe Hack
This idea for these Easy Garlic Butter Hawaiian Rolls was all my mom's, so I can't take credit. But I CAN eat my weight in them and share the recipe with you! It's the season of giving! I just cannot wait for you all to try these! I hope they make it to your Thanksgiving AND Christmas tables this year!
Why do they call them Hawaiian Rolls?
These amazing soft dinner rolls with just the right amount of sweetness originated in Hawaii in the 1950s. That's how they got their name. They're now famous all around the world and I love them so!
What are some good recipes to pair with these Garlic Butter Rolls?
OOOH honey I have tons of ideas for you! We love these Rolls with Homemade Garlic Butter with our Copycat Honey Baked Ham, Instant Pot Pot Roast, Chicken Parmesan Pasta, or as the bread for our Chicken Salad Sliders!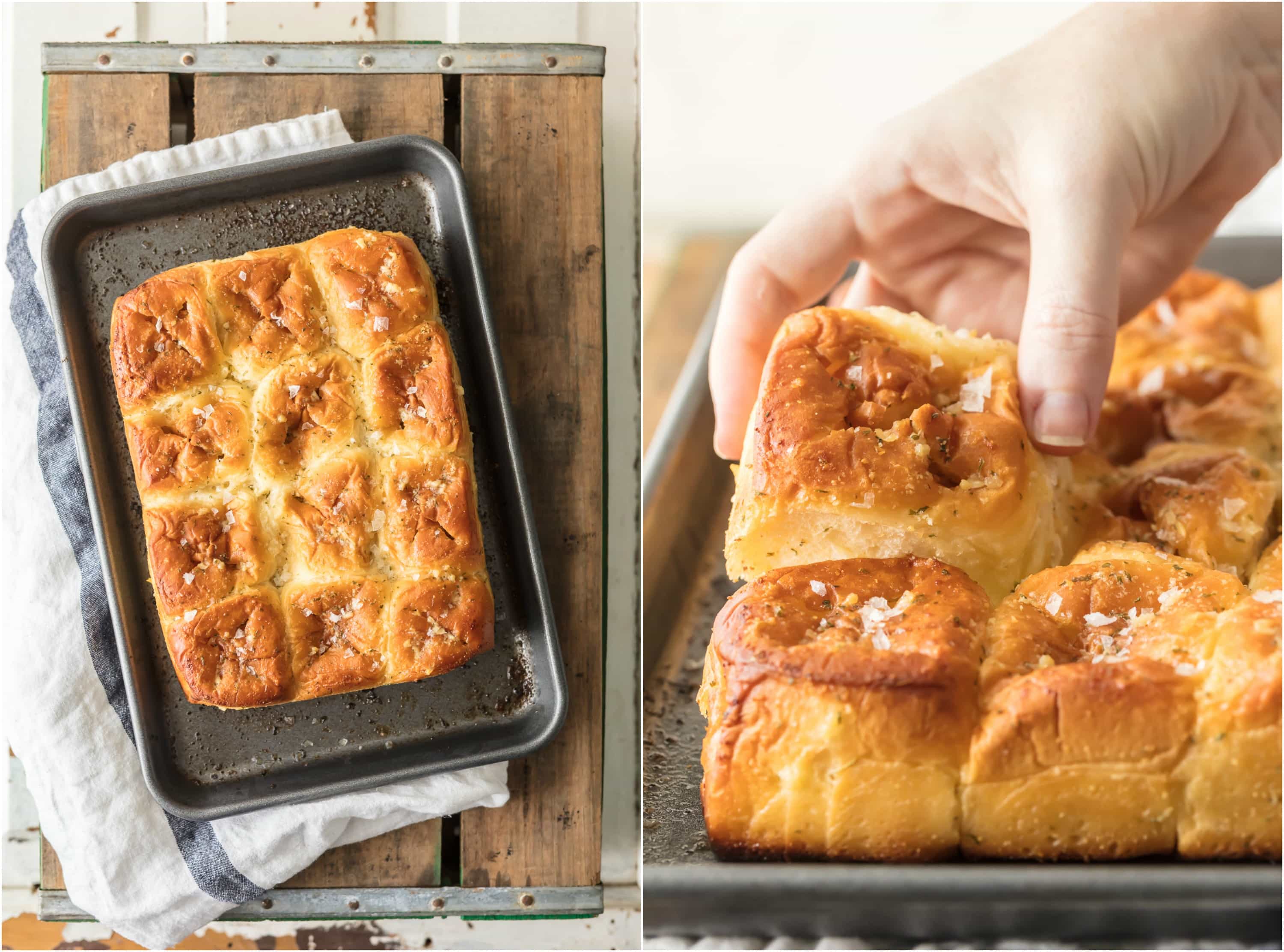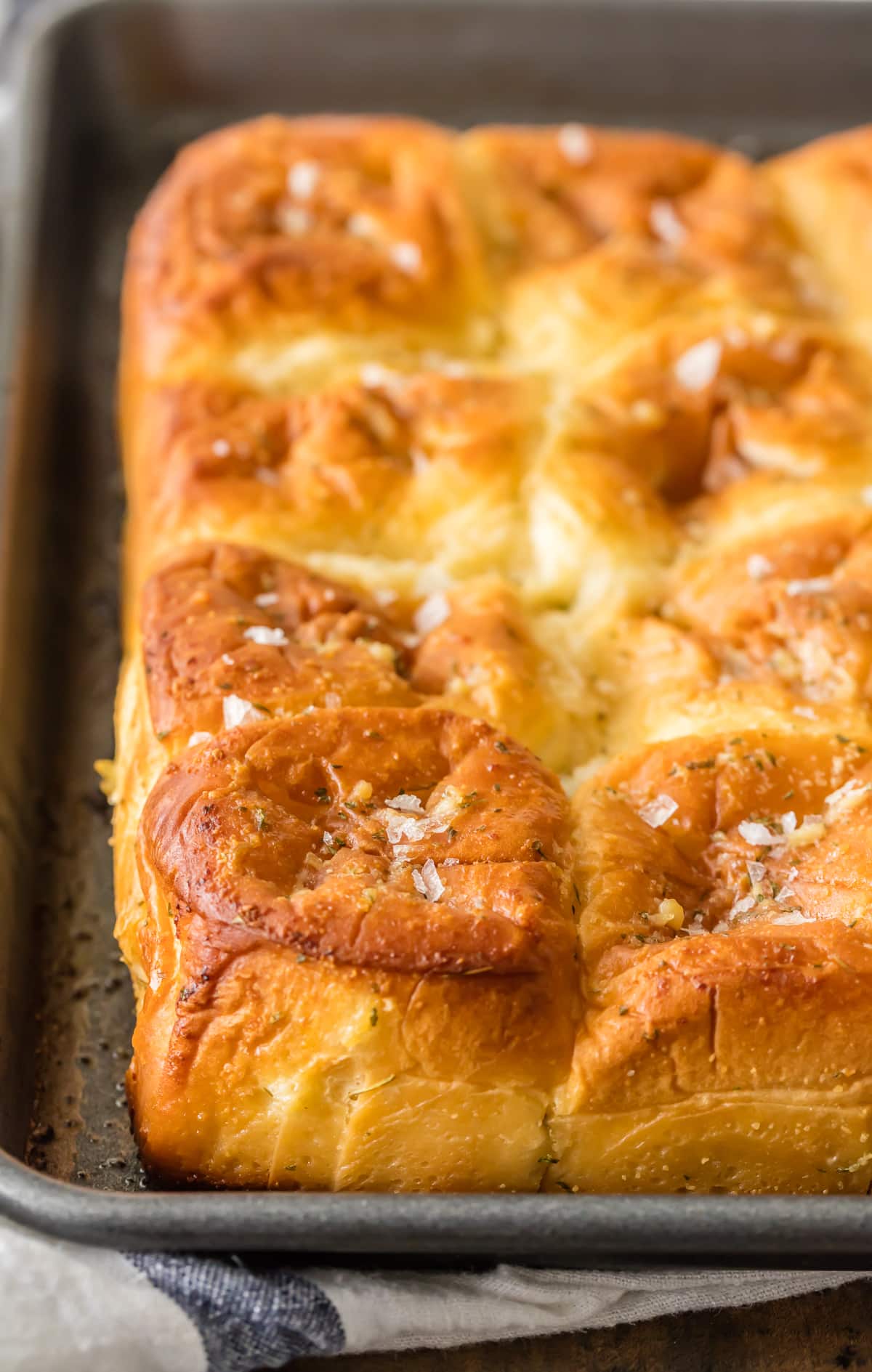 This easy garlic butter roll recipe is just so simple and perfect. Sometimes a little recipe hack is all you need to take something from good to great! Homemade garlic butter is exactly the thing to make these rolls even better than they already are.
Watch the Video and See the recipe card below for full details on how to make Hawaiian Rolls with Homemade Garlic Butter. Enjoy!
If you like this recipe, I know you'll love these recipes too: