Hearty and soul-warming, this stovetop Beef Stew Recipe is slow-cooked for maximum flavor. Made with chuck roast and fresh veggies, and seasoned with red wine, tomatoes, and herbs, this traditional recipe is the ultimate comfort food.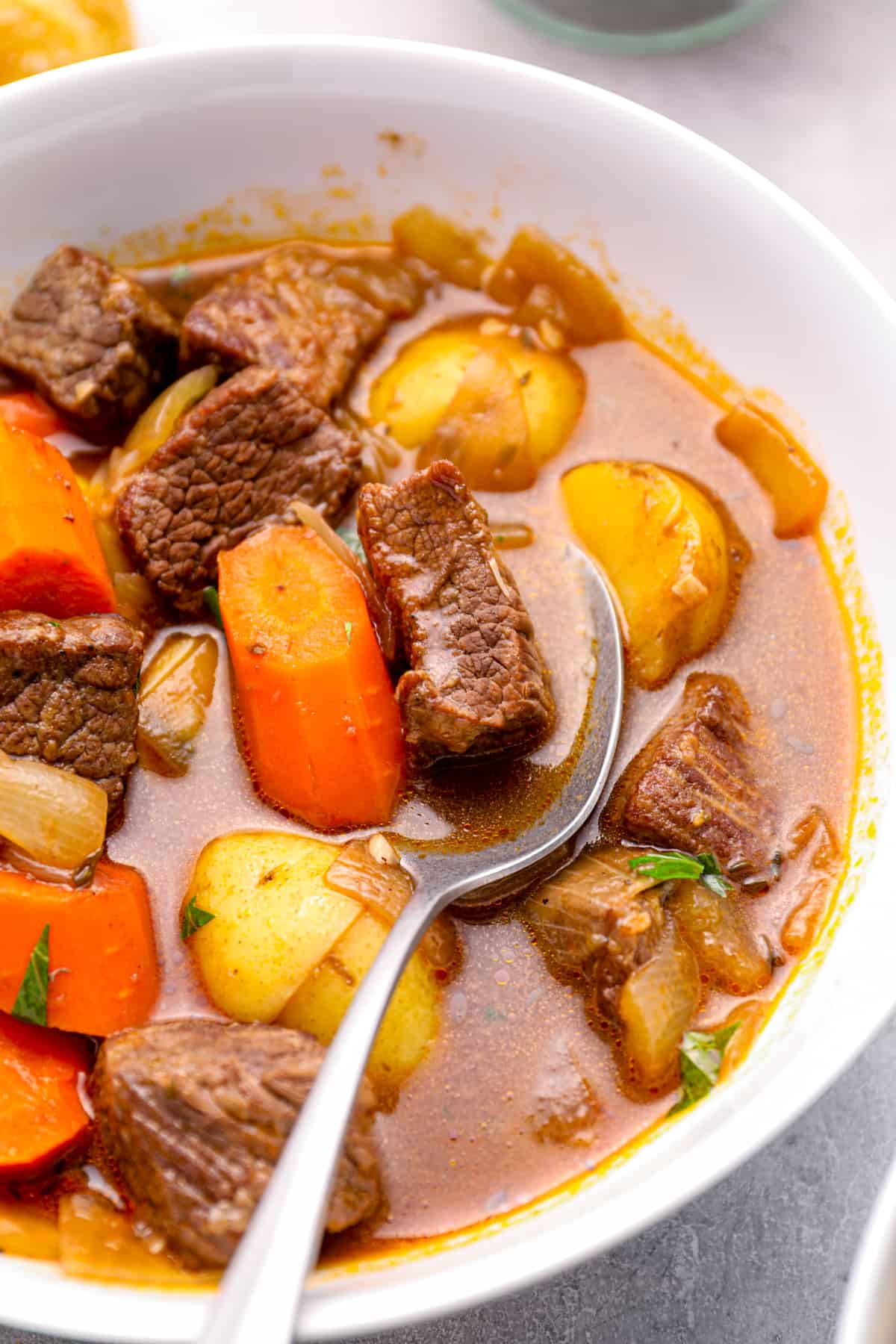 What's in Beef Stew?
If you're on the hunt for a big bowl of comfort, give homemade beef stew a try! Chunks of beef are slow-cooked in a flavorful broth on the stove for a rich and delicious dinner the whole family will love.
Chuck Roast: A flavorful cut of beef that becomes tender and juicy when cooked low and slow.
Salt + Pepper: Enhance the natural flavor of the beef.
All-Purpose Flour: Coats the beef chunks to create a browned crust and helps to thicken the stew.
Vegetable Oil: Helps the beef brown without burning.
Unsalted Butter: Adds richness and flavor to the stew and helps create a silky sauce.
Onions: Add a sweet, savory, and earthy flavor.
Garlic: Adds an earthy flavor and a pungent aroma.
Red Wine Vinegar: Adds acidity and brightness to balance the richness of the stew.
Tomato Paste: Adds a rich, tomatoey flavor to the stew and helps thicken the sauce.
Red Wine: Adds a deep, complex flavor and helps tenderize the meat.
Beef Broth: Adds moisture and richness to the dish.
Water: Helps the stew reach the correct consistency.
Bay Leaves: Add a unique earthy and herbal flavor.
Dried Thyme: Adds a rich herbal flavor.
Carrots: Add sweetness, color, and texture to the stew.
Baby Potatoes: Make this stew hearty and creamy.
Pro Tip: Cabernet Sauvignon is my favorite red wine to use in this beef stew!
Variations on the Best Beef Stew Recipe
Feel free to change up the veggies. Use your favorites! Peas, mushrooms, sweet potatoes, and kale are all delicious additions. For an alcohol-free version, swap the wine for more beef broth.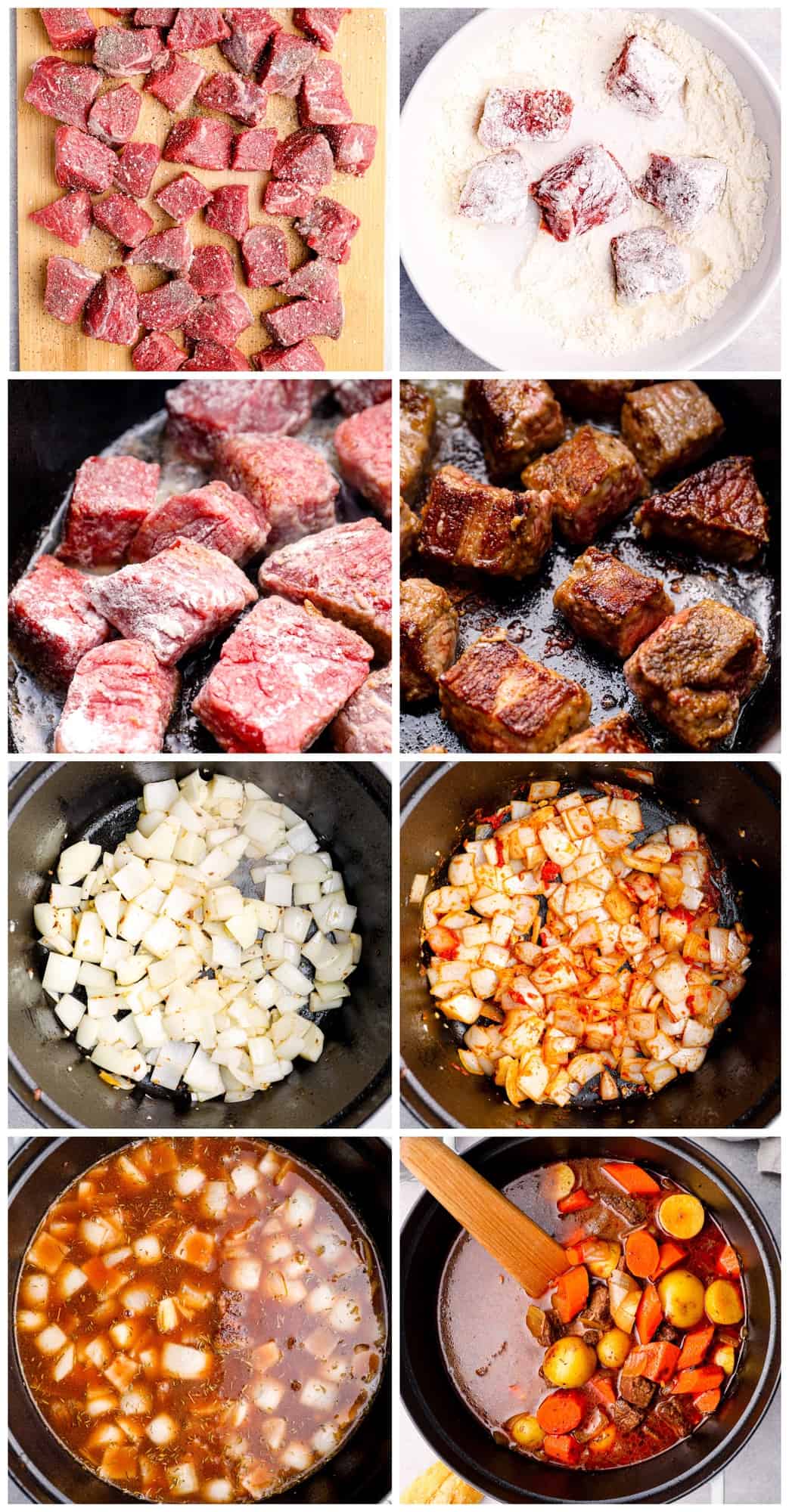 What is the most tender beef for stew?
I love making this beef stew with chuck roast. Cut it into 2-inch chunks before using it in the recipe.
Is beef stew healthy?
Yes and no. This recipe is high in protein, potassium, fiber, vitamin A, vitamin C, calcium, and iron. However, it is also high in saturated fat, cholesterol, and sodium. Enjoy this recipe in moderation as part of a balanced diet.
How long does beef stew take to cook?
This recipe takes about 3½ hours to cook. Low and slow is key to tender beef!
What can I use instead of wine?
Replace the wine with the same amount of beef broth.
What is the best thickening agent for beef stew?
I like to use flour because it is dual purpose– it helps the beef brown early on, and then it helps thicken the stew later. Tomato paste also helps thicken up this stew.
Can I braise this stew in the oven?
Yes. Preheat the oven to 325°F. Once the stew begins to boil on the stove in step 6, cover and cook in the oven for about 2 hours. Once the beef is tender, stir in the vegetables and cook, covered, for another hour.
What is the secret to good beef stew?
The secret to good beef stew is to choose the right cut of meat. I prefer chuck roast, but brisket or round are also good choices.
Why is my beef stew tasteless?
It's important to ensure that your beef is properly seasoned. I recommend ½-¾ teaspoon per pound of beef. Don't be afraid to taste and add more seasonings as you go!
Can you freeze beef stew?
Yes; however, the potatoes may turn mushy once thawed.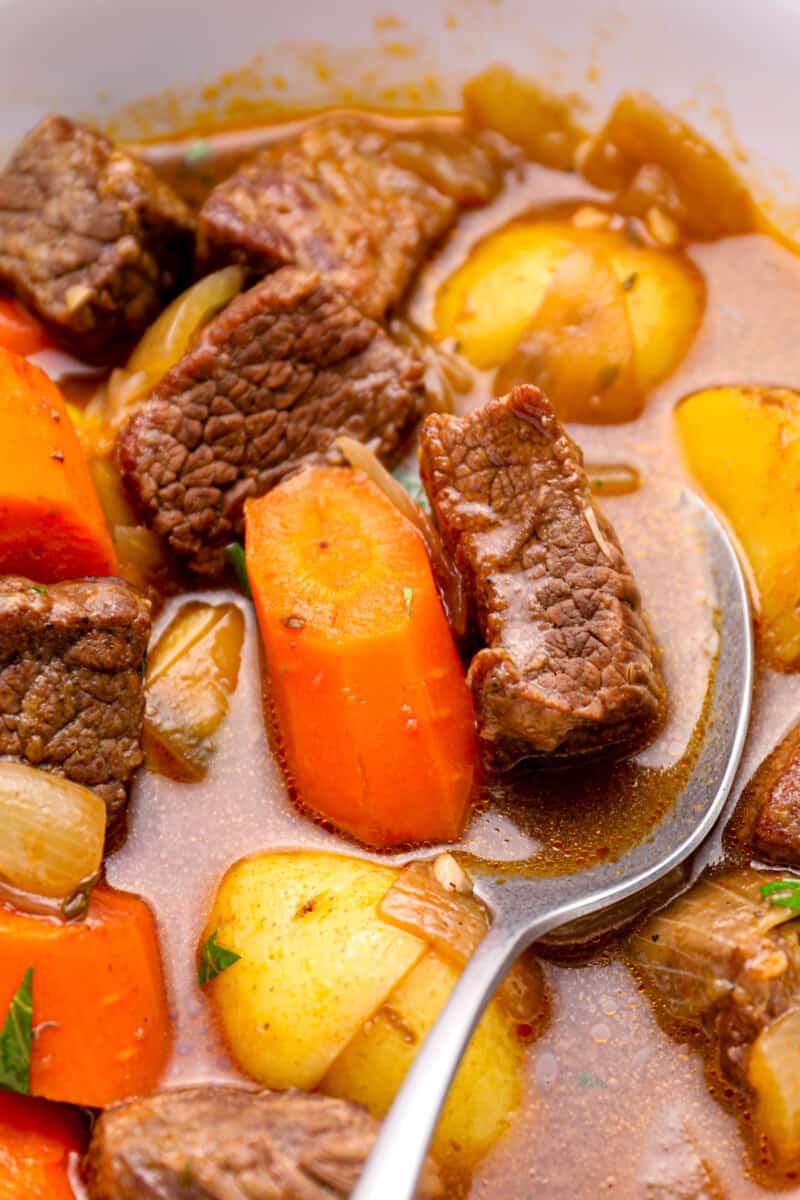 How to Store and Reheat
Store leftover beef stew in an airtight container in the refrigerator for up to 3 days. Reheat in a pot set over medium-low heat or in the microwave in 30-second increments until warmed through.
How to Freeze
Freeze beef stew whole or in individual portions in airtight containers or Ziplock bags for up to 3 months. Let thaw overnight in the refrigerator before reheating.
Serving Suggestions
Pair a hearty bowl of beef stew with cornbread or homemade dinner rolls and veggies, like baked green beans or garlic roasted asparagus.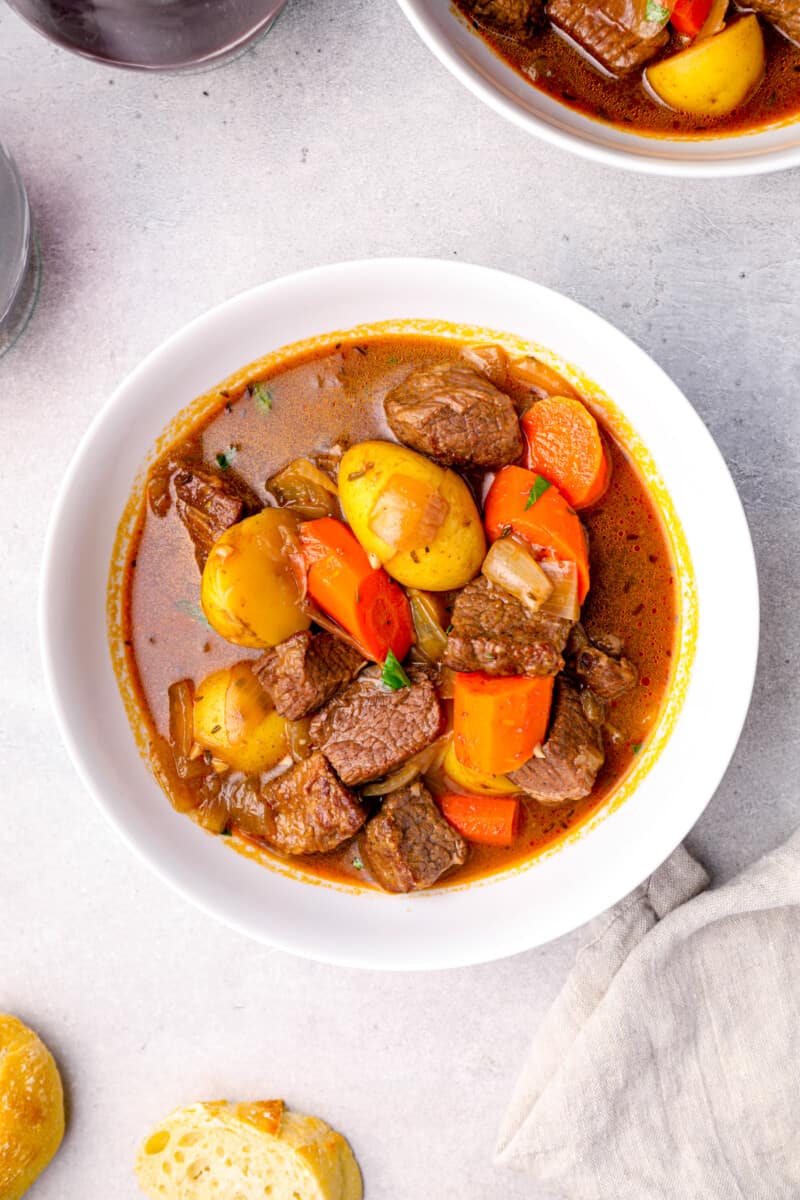 More Beef Stew Recipes We Love