Instant Pot Beef Stew Recipe (5 Spice Beef Stew) is topping my list of favorite Winter soups this year. There's just something about this Beef Stew. It's so comforting, easy, and unique! It's made in minutes in the pressure cooker and sure to please the entire family. It's loaded with carrots, parsnips, beef, spices, and more! So much flavor and so little effort. This Instant Pot Beef Stew is my kind of recipe.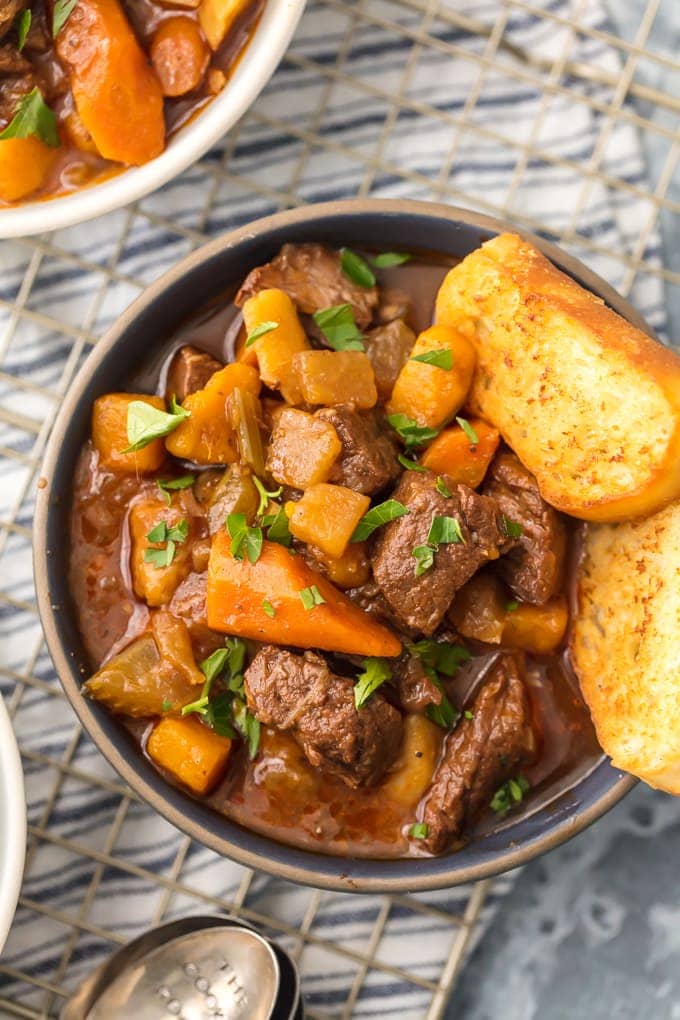 Beef Stew made in an Instant Pot
I'm so excited about the Instant Pot Beef Stew with Five Spice. Raise your hand if you're absolutely fall on your face OBSESSED with your Instant Pot! Every time I use it I pretty much swear its going to be the only kitchen tool I ever use again. I mean I know we have crazy technology left and right but I'm just honestly in awe of how fast the pressure cooker works.
Of all the cool stuff in our world right now, I know its not that ground breaking…but it sure is cool. I mean we cooked a Thanksgiving Turkey breast in ONE HOUR!? Mind blowing. I have so many recipes that I want to learn how to cook in an instant pot, but this 5 Spice Beef Stew was high on my list.
I love a comforting soup or stew for Winter, and this Instant Pot Beef Stew is top notch. Unique, flavorful, EASY, and oh so delicious. Cold weather has nothing on us when we are eating this for dinner!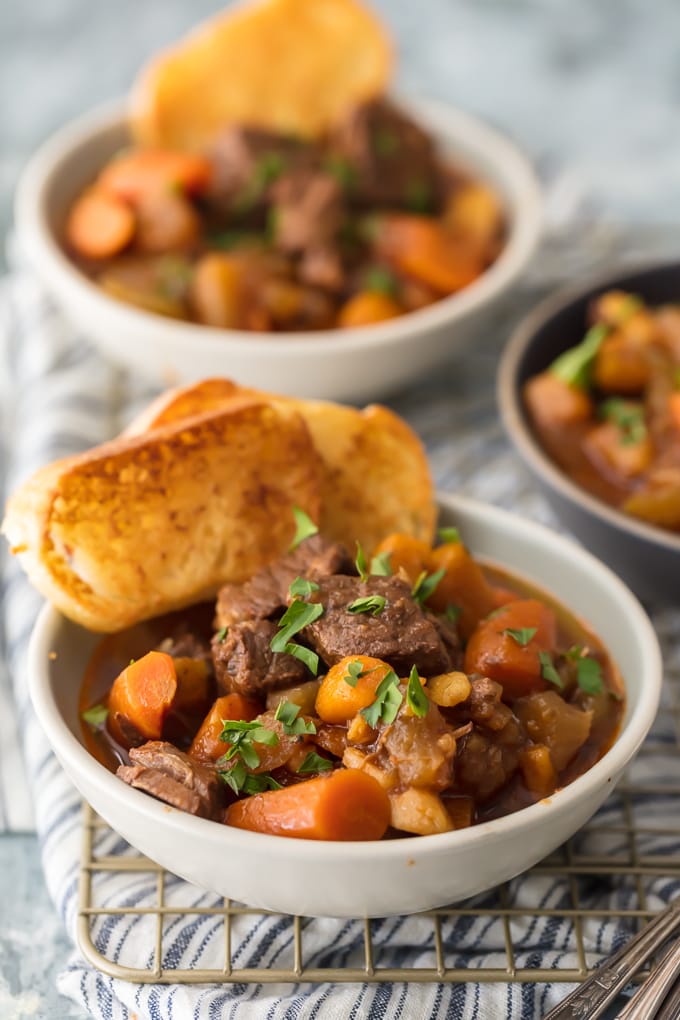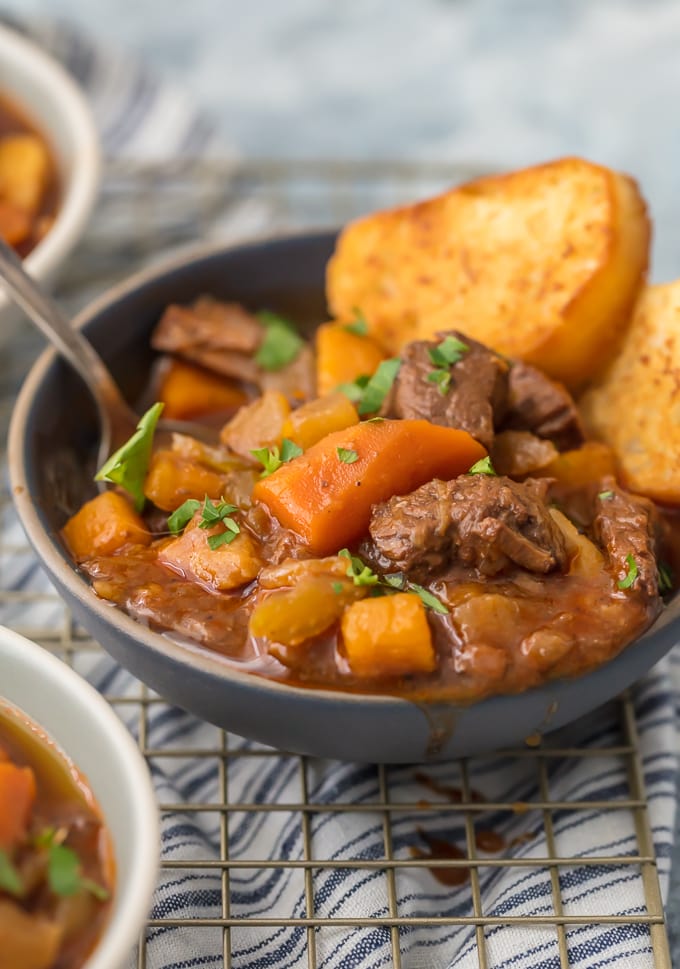 Instant Pot Beef Stew with 5 Spice
Regular Beef Stew (or Guinness Beef Stew if you're a beer drinker) is awesome on its own, but I happen to just love this 5 Spice version. I lovvvve the flavor and I think it's perfect in this stew. Adds just enough difference to really make it stand out. You can buy the blend in any grocery store spice aisle.
What is 5 spice (or all spice)?
Five Spice is a seasoning blend traditionally used in Chinese cooking. It typically includes star anise, sichuan pepper, black pepper, cloves, and cinnamon. You can make it on your own or buy it premade at any grocery store in the spice aisle. It's absolutely DELICIOUS in this Instant Pot Beef Stew Recipe. You're going to love it!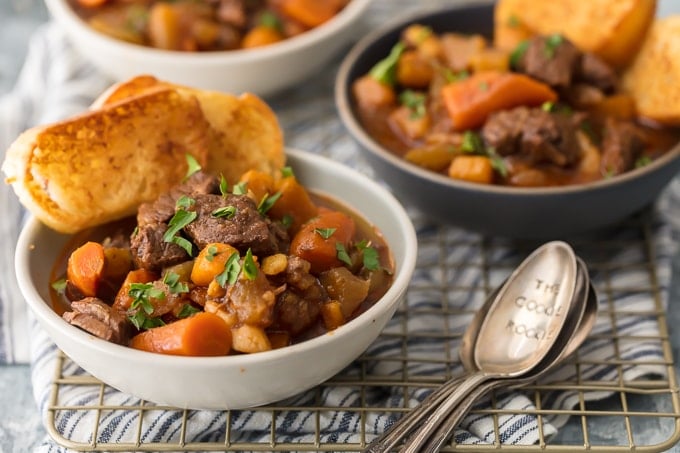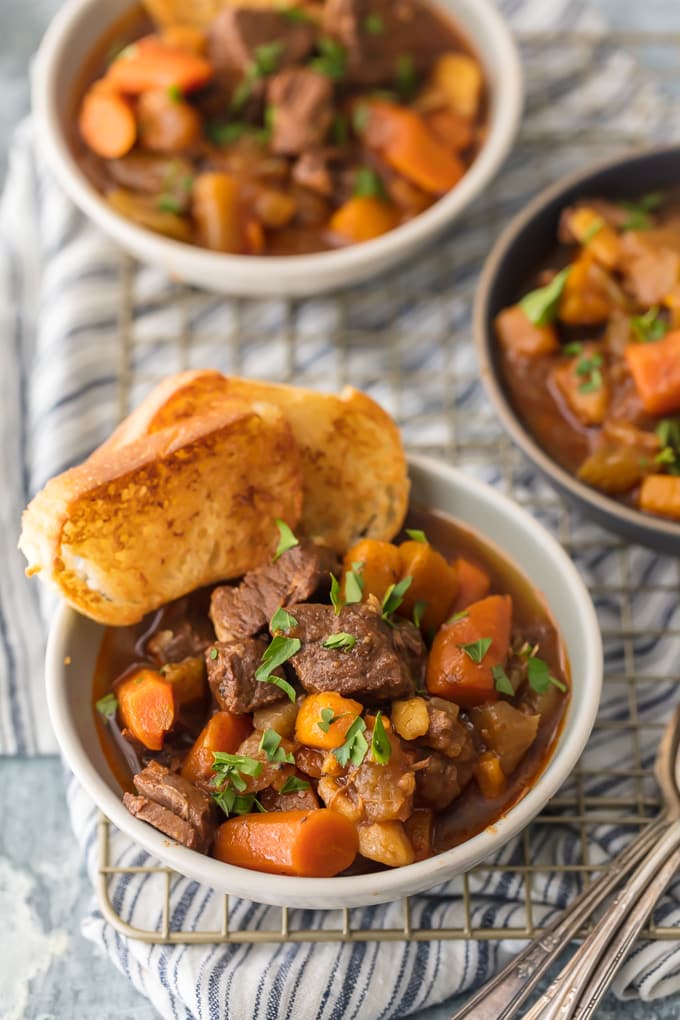 What veggies are in this stew?
We loaded this 5 Spice Beef Stew with tons of healthy veggies like carrots, potatoes, turnips, parsnips, and onion. If you like peas, you can throw those in as well. My dad HATES peas so if my Mom is helping in the kitchen, they're usually the first to go. :) Pat hates onions but I could care less. He's just flat out wrong when it comes to onions!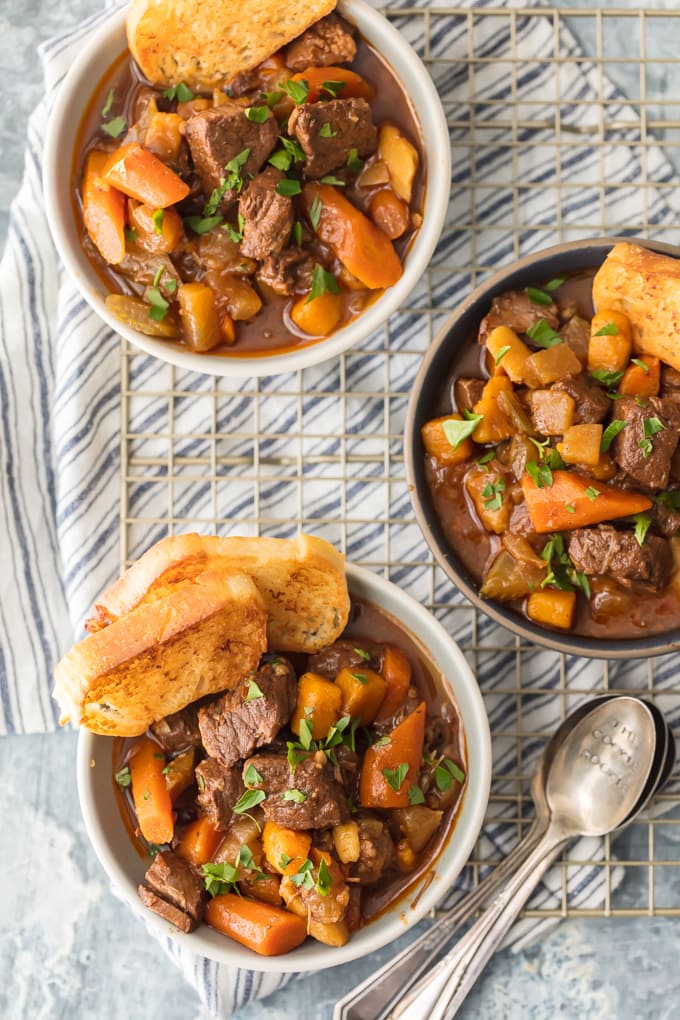 Can you use chicken broth in a beef stew?
You can! If you prefer chicken stock/broth or already have that in your pantry, feel free to use that. It won't taste chicken-y…it will be just fine.
Is the Instant Pot safe? Can it explode?
The Instant Pot has 10 different safety mechanisms in place to make sure it doesn't explode. It's not anything like scary pressure cookers of the past. Most accidents are totally due to user error and can be easily avoided. Be sure to follow instructions but you're in good hands.
How can you thicken a beef stew?
If you want your stew thicker, mix one tablespoon of cornstarch with one cup of stew liquid and stir until a paste forms. Add it in gradually to your Beef Stew, stirring as you combine.
If you haven't tried out an Instant Pot yet…what are you waiting for!
OBSESSED! I have linked my favorite sizes and styles below in the shop this post section. If you're looking for other IP recipes, be sure to check out our Pressure Cooker Honey Baked Ham, Classic Pot Roast, and Apple Pie Oatmeal (8 minutes to the best breakfast ever!).
We have so many great Beef Recipes that I hope you stick around and try! Some notables are our Hungarian Goulash, Stovetop Burgers, BEST Chili Recipe, and French Dip. MMMMMM! And don't forget this Red Wine Beef Stew if you don't have an Instant Pot.
See the recipe card below for full details on how to make Instant Pot Beef Stew. Enjoy!
AROUND THE WEB: Wanting to try different stew recipes? Here are some we love: Oyster Stew, Chicken Stew with Quinoa, and Slow Cooker Pork Stew.