Guinness beef stew is a hearty, cozy, and easy recipe to make in the Crock pot. This slow cooker Irish Stew is filled with beef, Guinness stout beer, potatoes, veggies, beef broth, and more. It's a simple dinner to make for St. Patrick's Day or any winter night that calls for a comforting meal!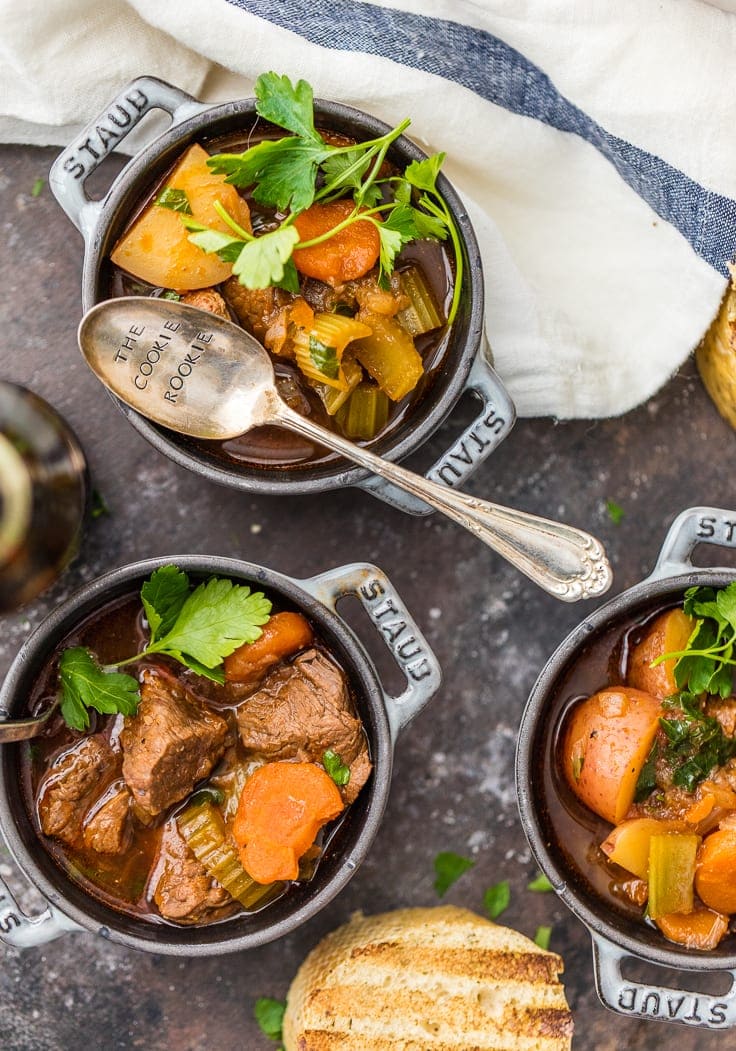 What's in Guinness Stew
This hearty beef stew is made with Guinness, potatoes, onion soup mix, and some other simple ingredients. It all comes together so easily in a Crock pot for a comforting and cozy meal.
Beef Stew Meat: The best stew meat is lean beef, with a lot of connective tissues. So chuck meat (from the shoulder) is your best option. Since it will be simmering for a long time, it will break down nicely and become tender.
Guinness: A bottle of Guinness adds a rich flavor to this Irish beef stew. You can use another dry stout beer.
Potatoes: Use small red potatoes, cut into quarters.
Beef Broth: This really deepens the beefy flavor!
Vegetables: Add sliced carrots, celery, and diced onion.
Flour: Use all-purpose flour while browning the meat.
Onion Soup Mix: This is a mix of things like onion, paprika, and other seasonings. It's a quick way to get that perfect flavor.
Tomato Sauce: This fills out the stew, adds flavor, and adds more thickness to the texture.
Seasoning: We add some garlic powder, dried basil, and of course salt and pepper to help season our stew.
Can I make Irish stew with lamb instead of beef?
I love this Guinness stew with beef, but you can absolutely use lamb instead. Traditional Irish stew is often made with lamb or mutton anyways, so it's a great option. Just follow the same process to brown the meat and then cook everything in the slow cooker.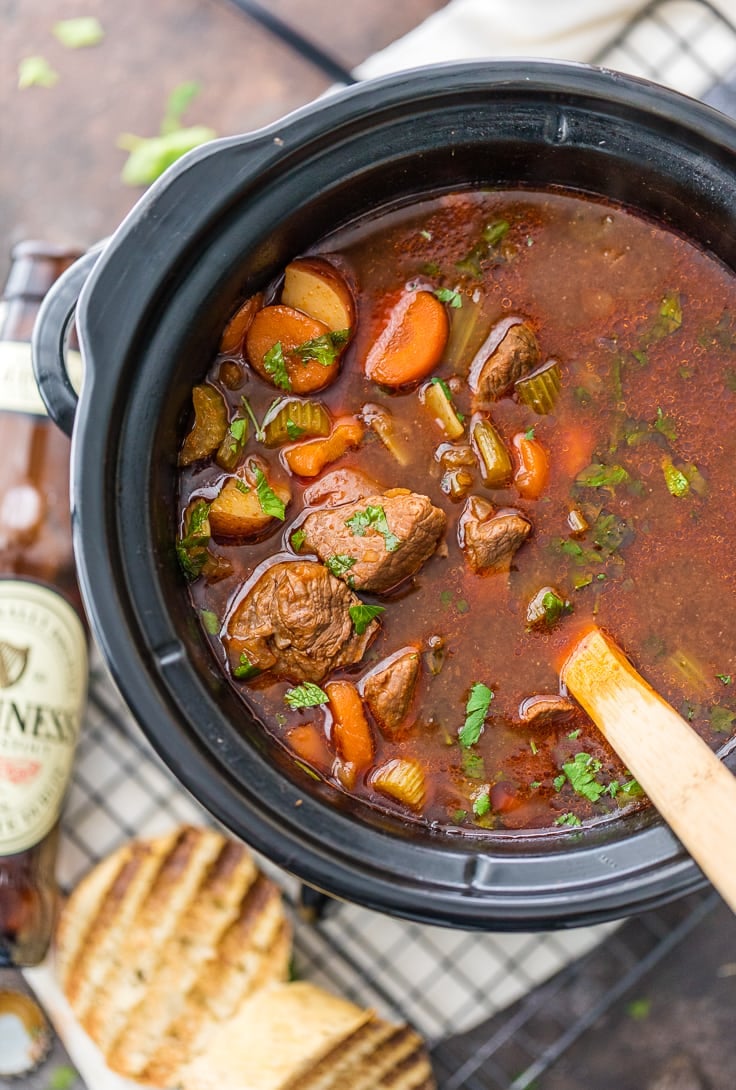 Why do you cook the beef with flour?
Flour actually helps to brown the meat better, and it creates a better texture.
How do you make stew thicker?
Flour is generally used to thicken soups and stews. I recommend making a slurry first, which means mixing flour with water (or some of the broth), and then adding it into the stew.
What is the difference between irish stew and beef stew?
Irish Stew is essentially any stew made with a mixture of meat and root vegetables, a popular dish in Ireland. Traditional Irish Stew is made with mutton, but it's often made with other types of meat. So this slow cooker beef stew is just another version since it's made with beef, carrots, and potatoes (also known as Irish Beef Stew).
Do you have to cook the beef before you put it in the slow cooker?
For this Guinness Beef Stew recipe, you should brown the meat before adding it into the slow cooker. You will season the beef, coat it with flour, and then cook it in a skillet along with the onions. This is a good way to prepare it for slow cooking to hold flavor, plus the flour will help make a thicker stew.
Why is my guinness stew bitter?
Guinness is a dry stout beer, which is quite dark and bitter. It tastes great in this stew, but if it's too intense for your liking, try mixing in a small amount of brown sugar while it simmers in the slow cooker.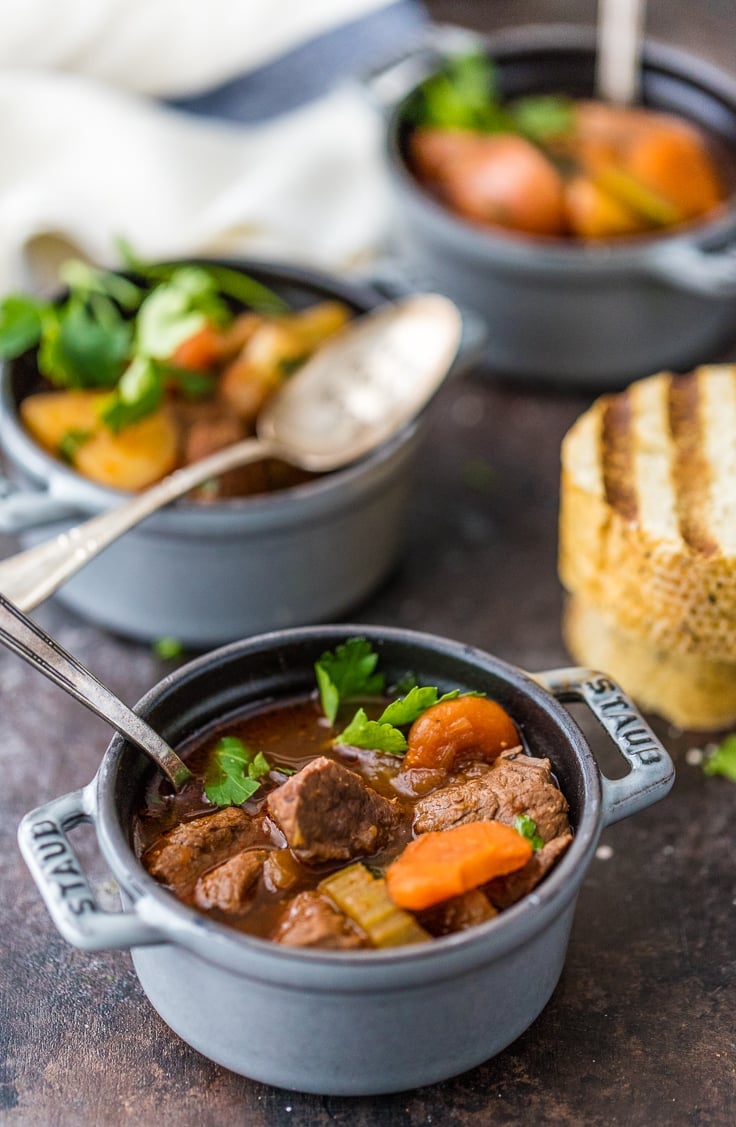 How to Store and Reheat
Store leftover Guinness stew in an airtight container and keep it in the refrigerator for 4-5 days. It keeps well, and that time in the fridge actually enhances the flavor. So feel free to make this cozy stew ahead of time if needed.
To reheat, you can gently warm it on the stove until fully heated through.
How to Freeze Slow Cooker Irish Stew
Let it cool to room temperature, then pour Irish beef stew into freezer-safe containers. It can be frozen for up to 3 months. Defrost in the refrigerator overnight, then reheat to serve.
What to Serve with Guinness Beef Stew
This flavorful Crock pot Guinness stew is certainly a full meal on its own, but I never serve it without some hearty bread. It goes well with this beer bread or beer bread muffins, and tastes great with cornbread too. And of course, grab another Guinness to sip on while you eat!
If you make this recipe be sure to upload a photo in the comment section below or leave a rating. Enjoy! You can also jump to recipe.