Smash Burgers are destined to be your favorite burgers! Crispy edges and a juicy middle, these skillet patties really hit the spot and are easy to whip up. Housed between two potato buns that soak up the juice, this is the ultimate bite!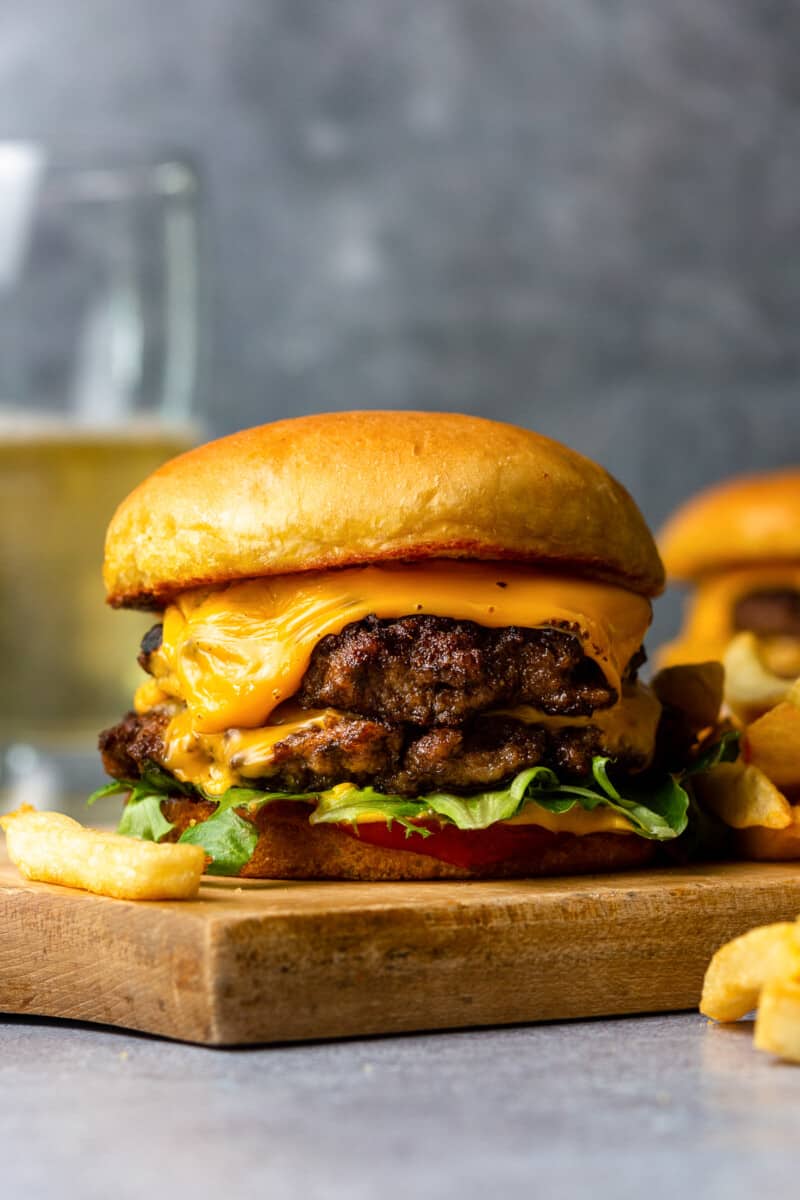 Smash Burger Recipe
Any burger you've eaten and thought to yourself 'this is so good', was probably made this way. These smash burgers are incredibly juicy, not too thick, and have perfectly crispy edges that steal show.
You get this effect by throwing ground beef on a hot pan, seasoning, and smashing!
This Smash Burger Recipe is so fun for the entire family. Top with all your favorite toppings to make them your own! And don't forget the perfect French fries to with them.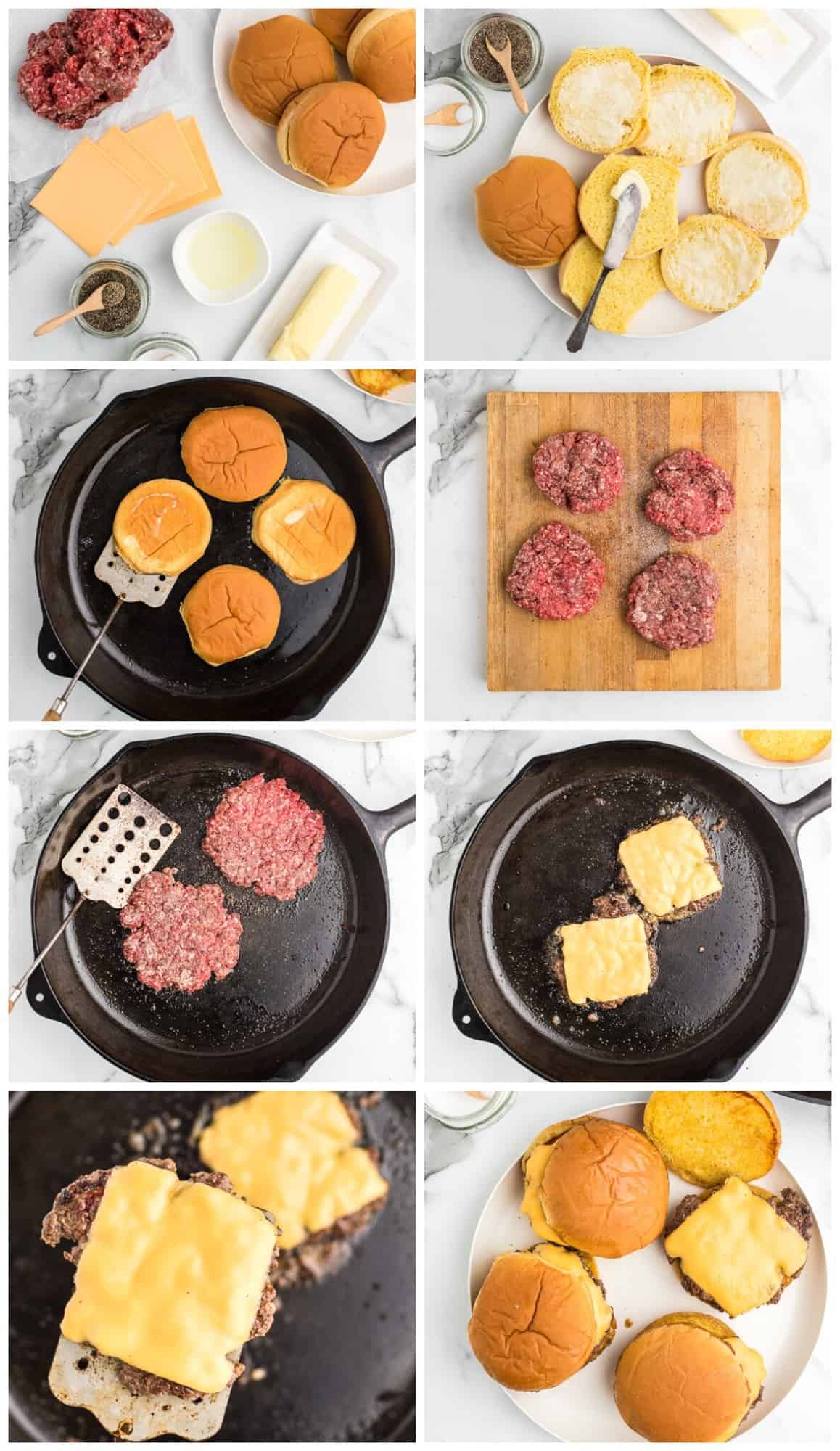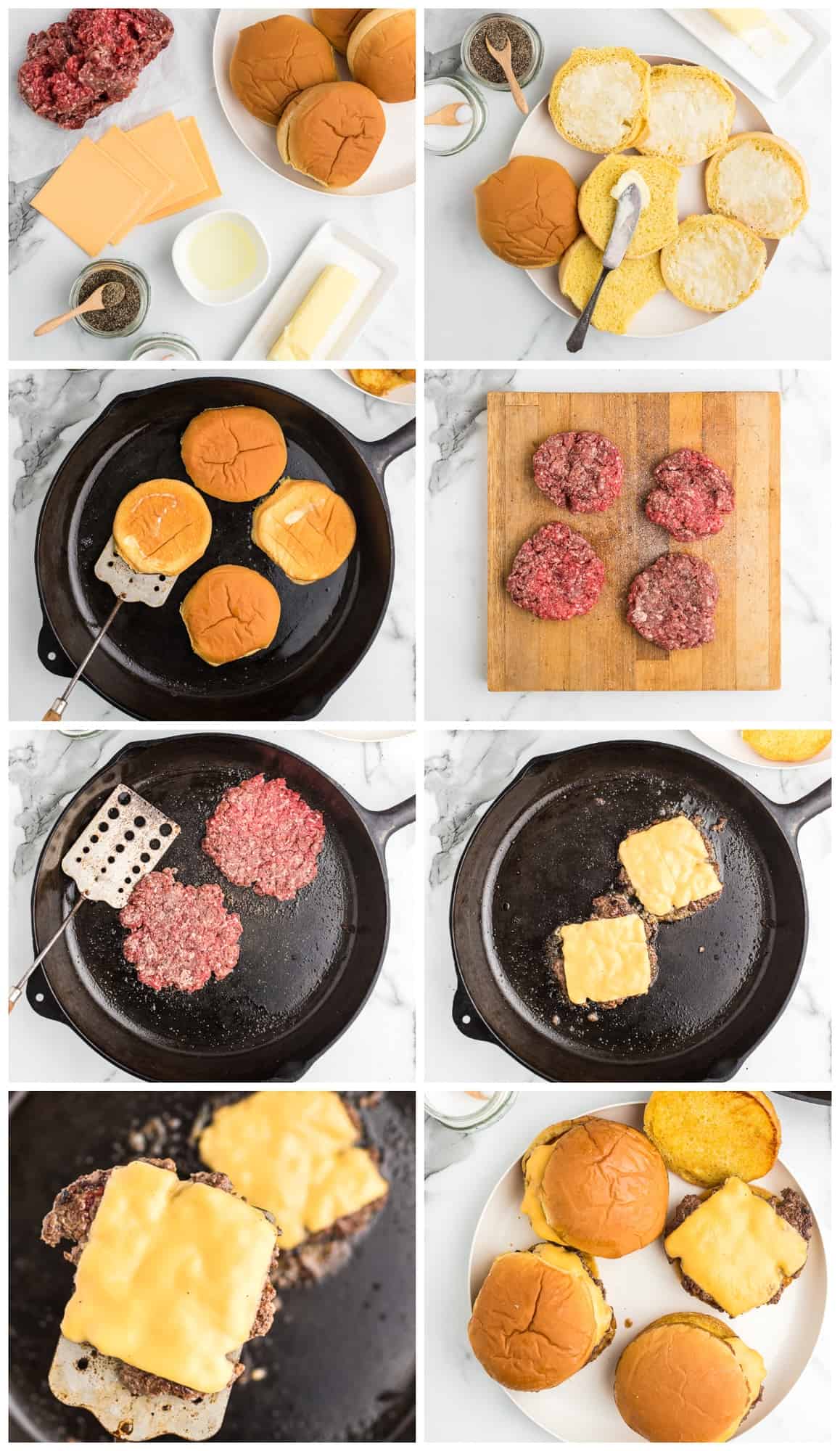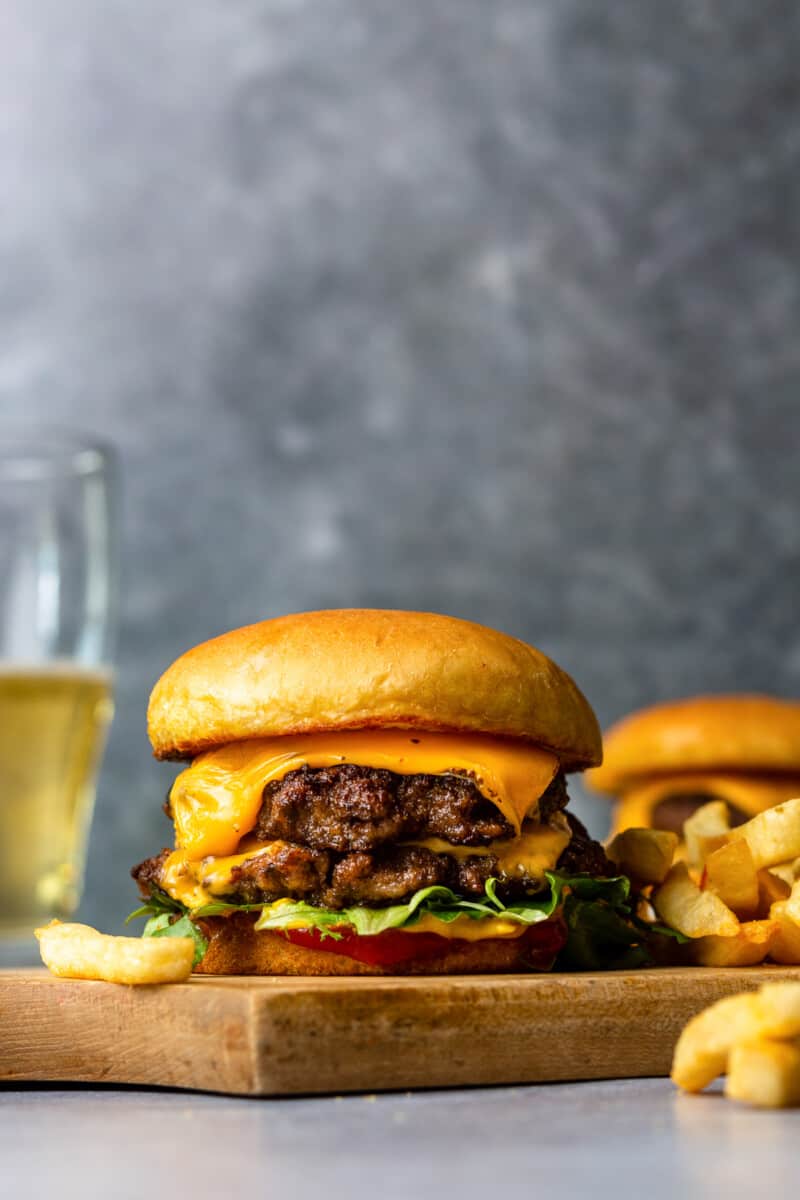 How To Make Smash Burgers – Step by Step
You can jump to the recipe card for full ingredients & instructions!
Form ¼ pound beef into very loose 2-inch thick patties and generously season one side of the patty with salt & pepper.
Cook buttered buns just until the buns are nicely toasted (watch closely). Set the buns aside.
Cook the patties, undisturbed, until the outer edges are dark caramel brown on both sides.
Add cheese and cook until desired doneness.
Place the burgers on the buns and add your favorite condiments and toppings. Enjoy!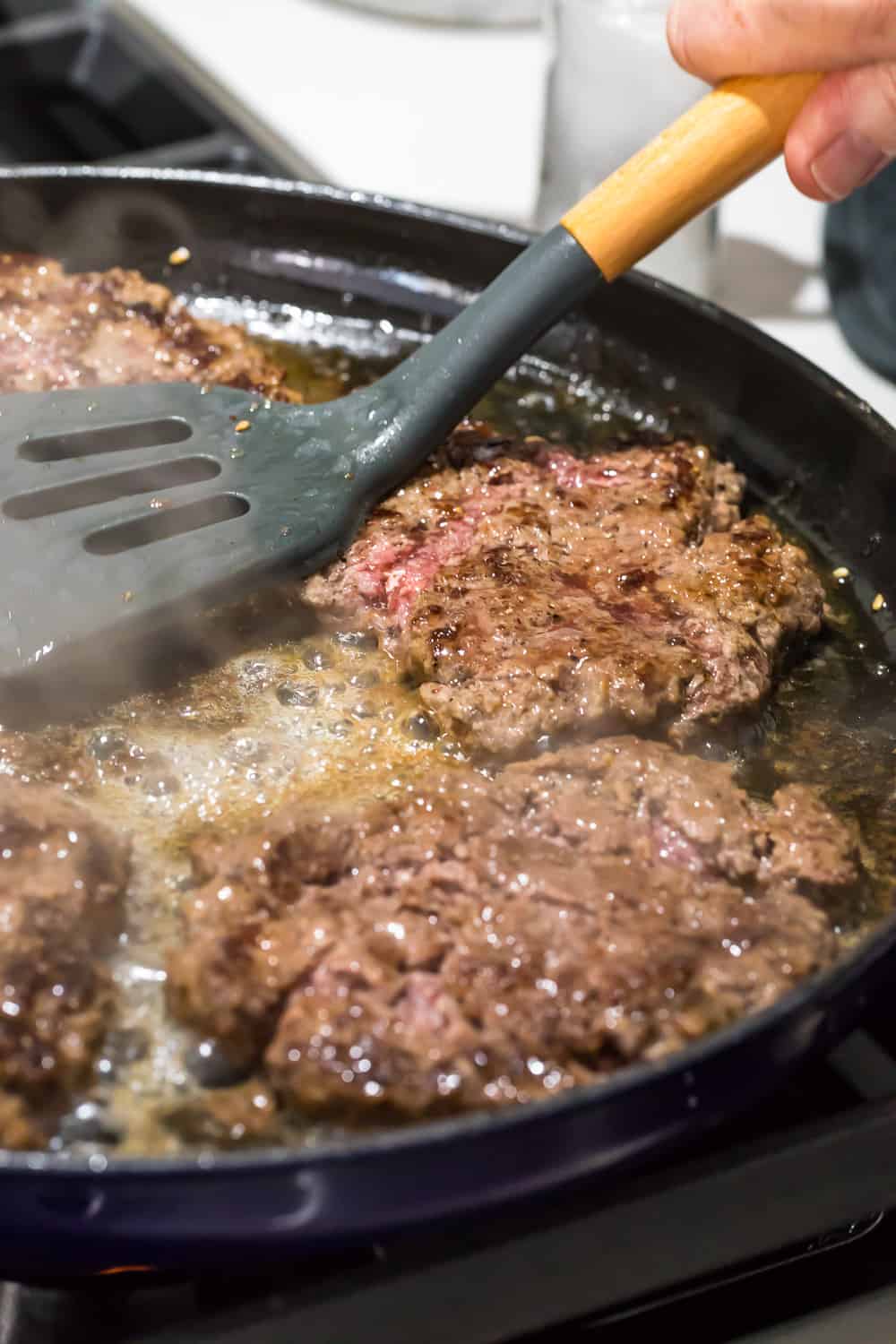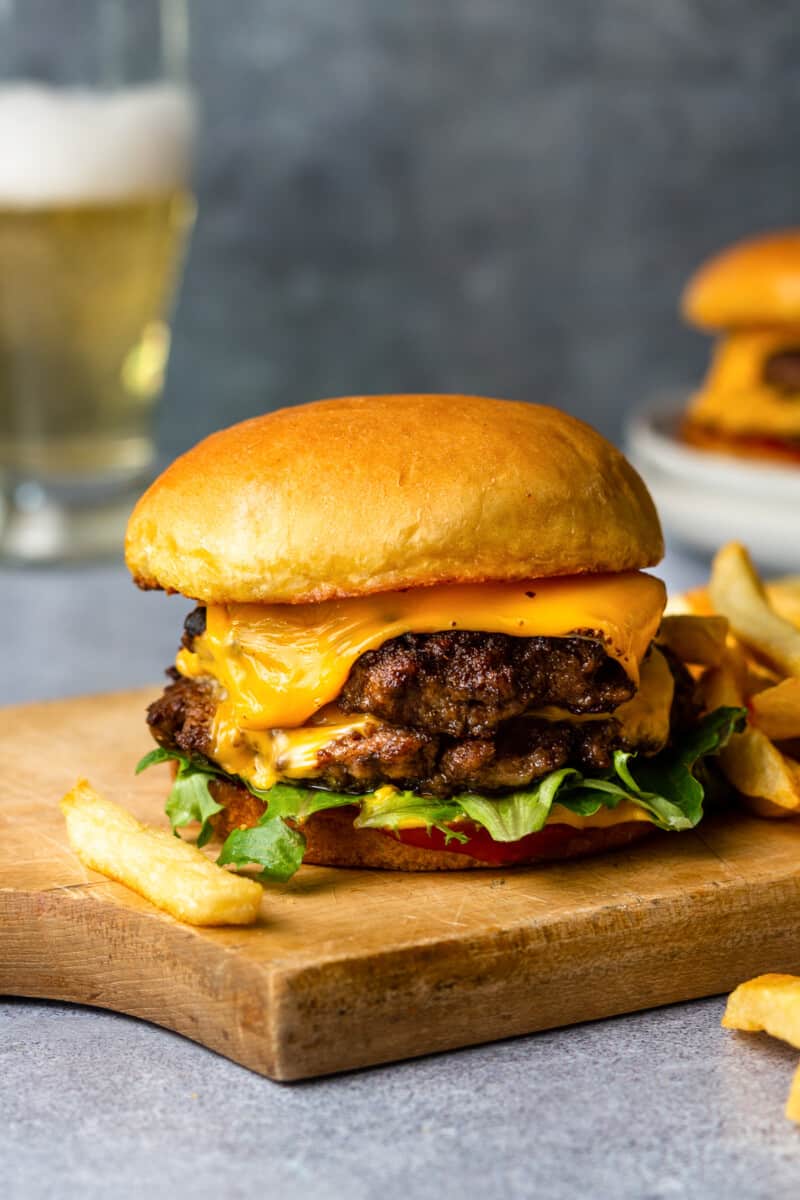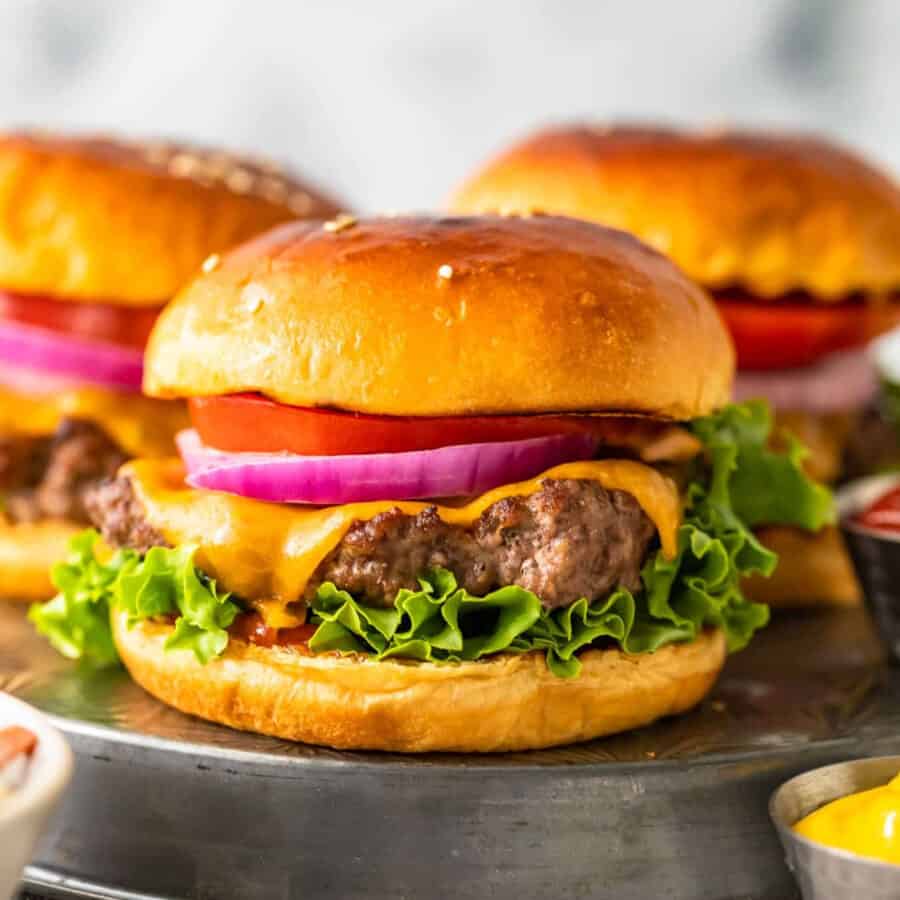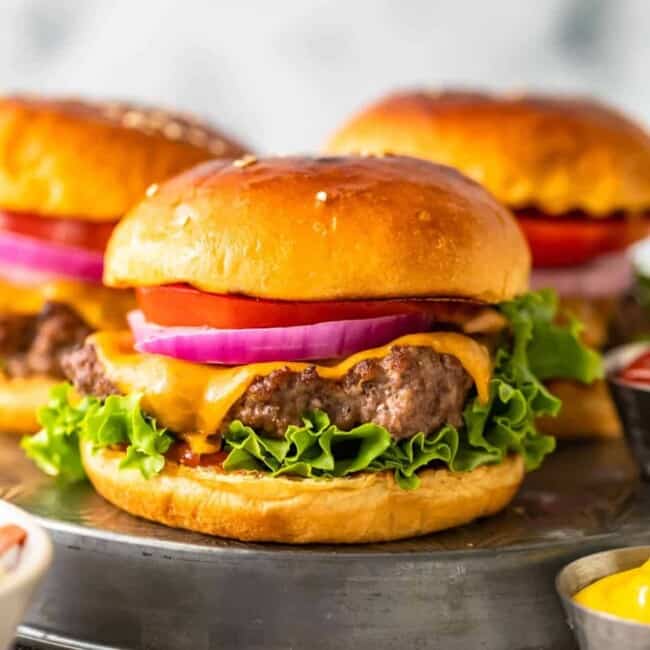 All the Burgers
Guide to Cooking Burgers at Home
See all of our favorite burger recipes plus tips and tricks for cooking the ultimate burger at home.
See Burger Guide
Cooking Burgers In A Skillet
When it comes to these smash burgers Ditch the grill. A cast iron skillet or griddle is what you want. All the fat drips into the fire on a grill, and fat is flavor!
So instead we are cooking the meat in its own juices, which is the secret to getting those delightfully crispy edges. You can cook this in a skillet on your stovetop, or you may like to cook it in the skillet on the grill, so that you don't heat up the whole kitchen.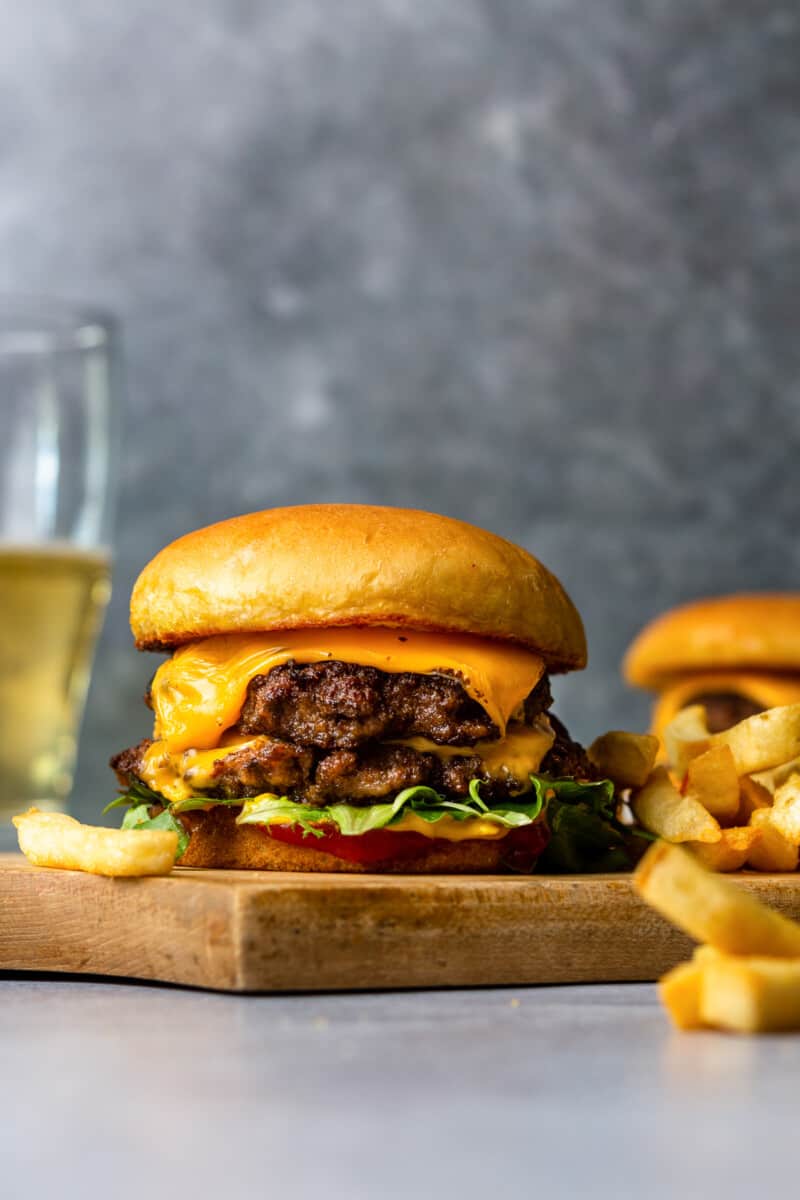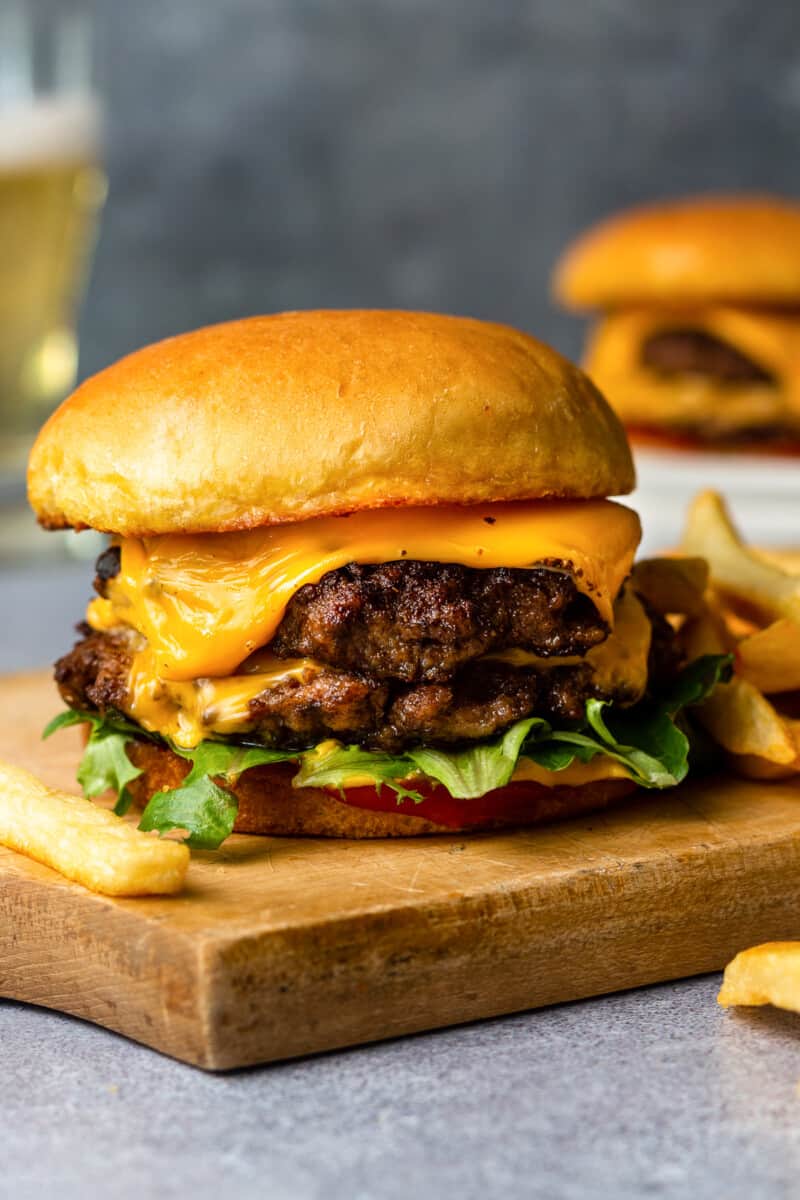 How To Smash a Burger
You need something to smash the burgers with, obviously. A heavy spatula will do, but a grill press works even better
The less you mess with the meat, the better. You want really loose ground beef. The more you mold it, the more packed it will become. Don't round off those edges; craggy, crispy edges are what you're going for.
Can I Freeze Smash Burgers?
Yes! Place patties in a single layer onto several plastic wrap-lined baking trays; cover loosely with plastic wrap and freeze just until meat is firm (1 to 2 hours).
Wrap patties tightly in heavy foil or place them into freezer bags and freeze for up to 3 months.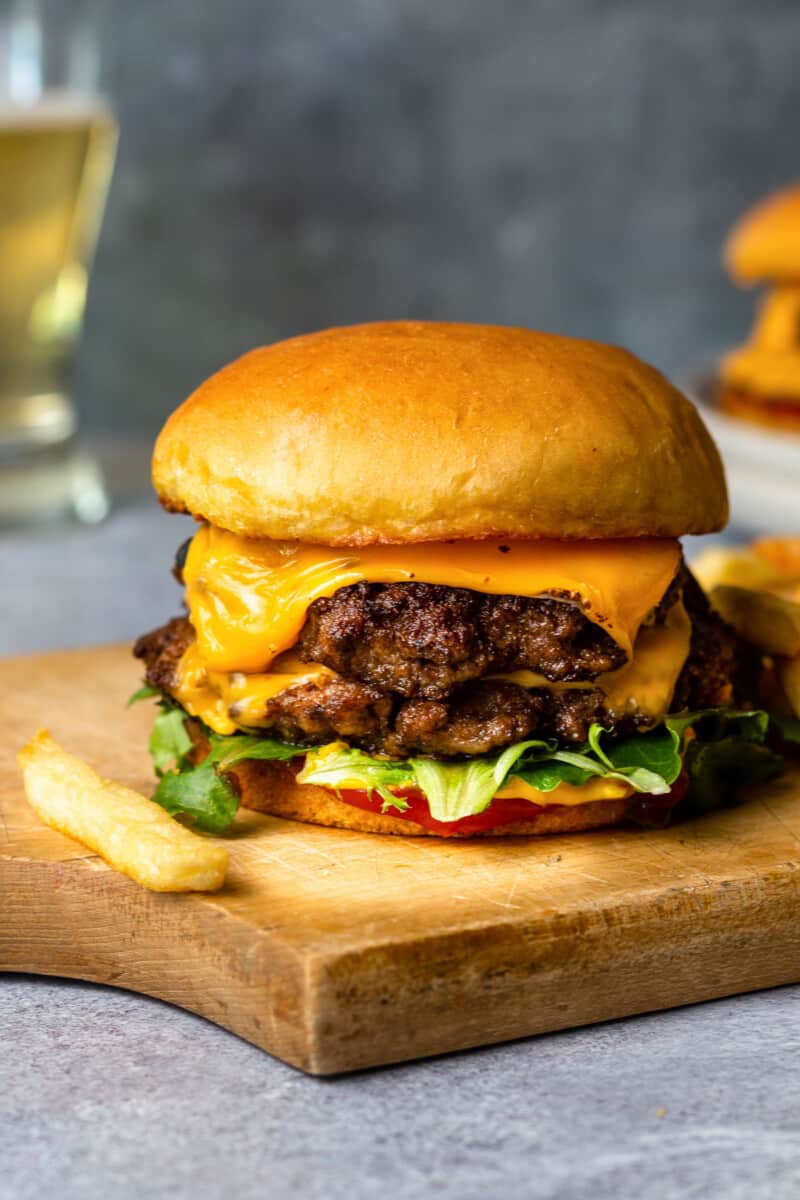 Tips!
Stick with American cheese, it melts better than cheddar!
You don't want your patties to be too compacted or they won't crisp up.
Potato or brioche buns work great for these burgers, soaking up an excess juice and added a hint of sweetness to each bite.
Serve with shoestring fries or garlic parmesan fries!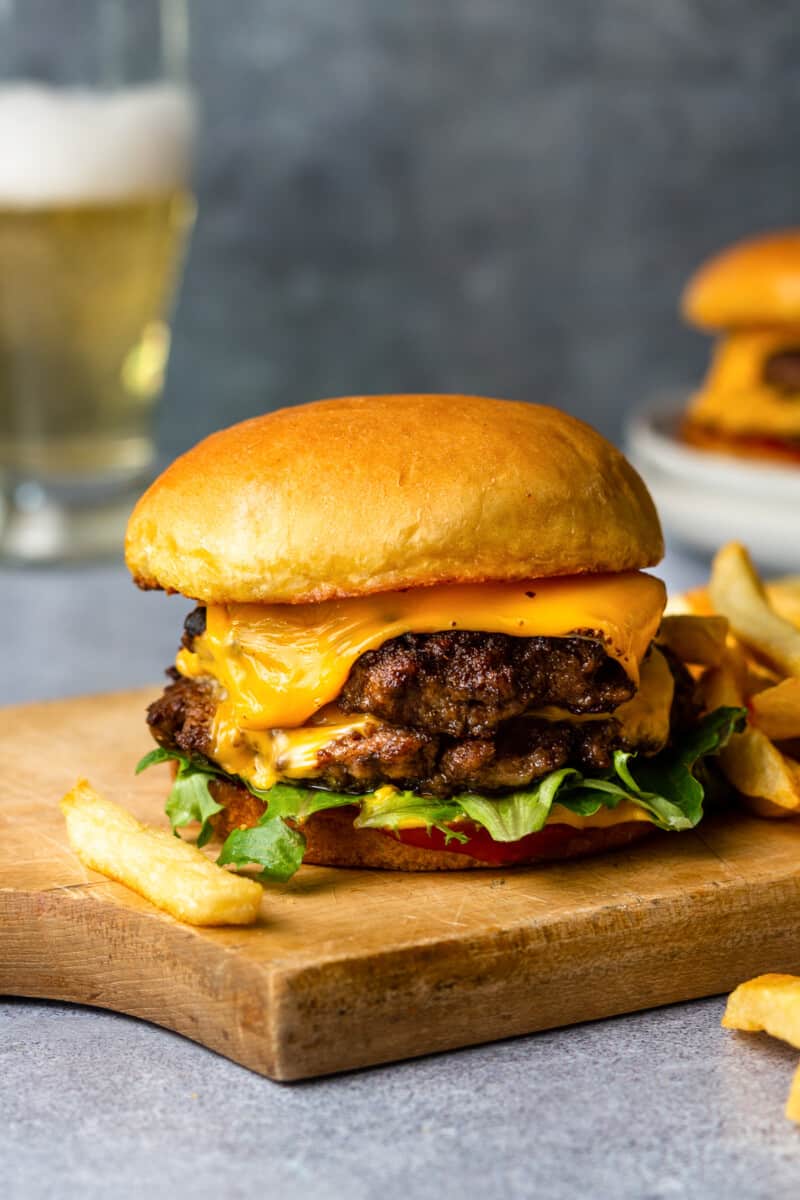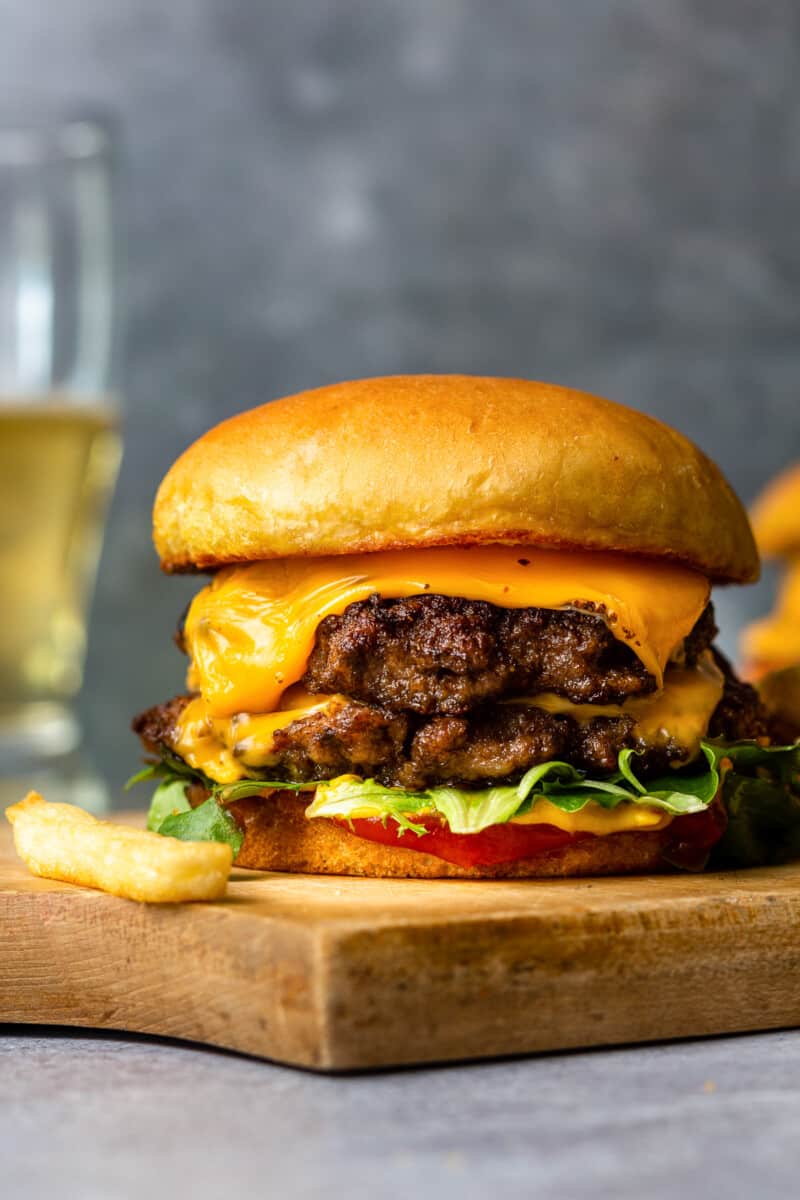 If you make this recipe be sure to upload a photo in the comment section below or leave a rating. Enjoy! You can also jump to recipe.