Make crispy Homemade French Fries with this easy recipe! This recipe uses basic ingredients and the deep frying method to make hot, crispy fries at home. These deep fried french fries make the perfect snack or side dish to go with almost any lunch or dinner meal! Pair these delicious fries with a homemade Garlic Aioli or your favorite Fry Sauce.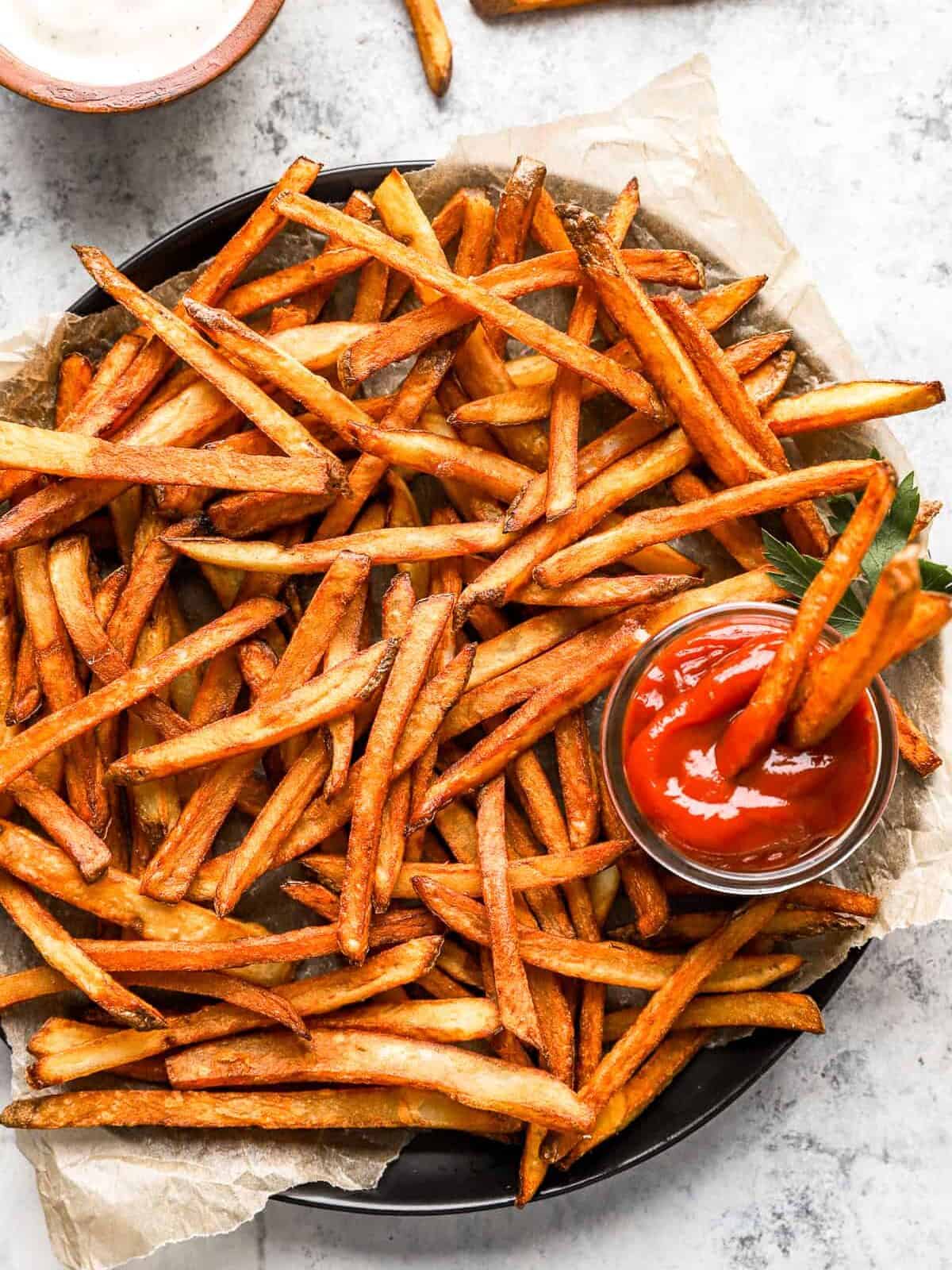 What's in French Fries?
This recipe only requires 3 ingredients to make the best Homemade French Fries. You can also make this recipe using a deep fryer or a large pot such as a Dutch oven.
Potatoes: For this recipe, we recommend using large russet potatoes. You can also use Yukon Gold or Idaho potatoes, or sweet potatoes.
Oil: The best oil for this recipe is vegetable oil, but you can also use canola oil or peanut oil.
Salt: Simple kosher salt is perfect for these french fries. You can also use a flaky sea salt if preferred.
Seasoned French Fries
This base french fry recipe is perfect for customization! Sprinkle the hot fries with ranch seasoning, Italian seasoning, everything bagel seasoning, chili seasoning, blackened seasoning, or taco seasoning for easy seasoned fries.
Top them with melted butter, garlic salt, and Parmesan cheese for garlic Parmesan fries.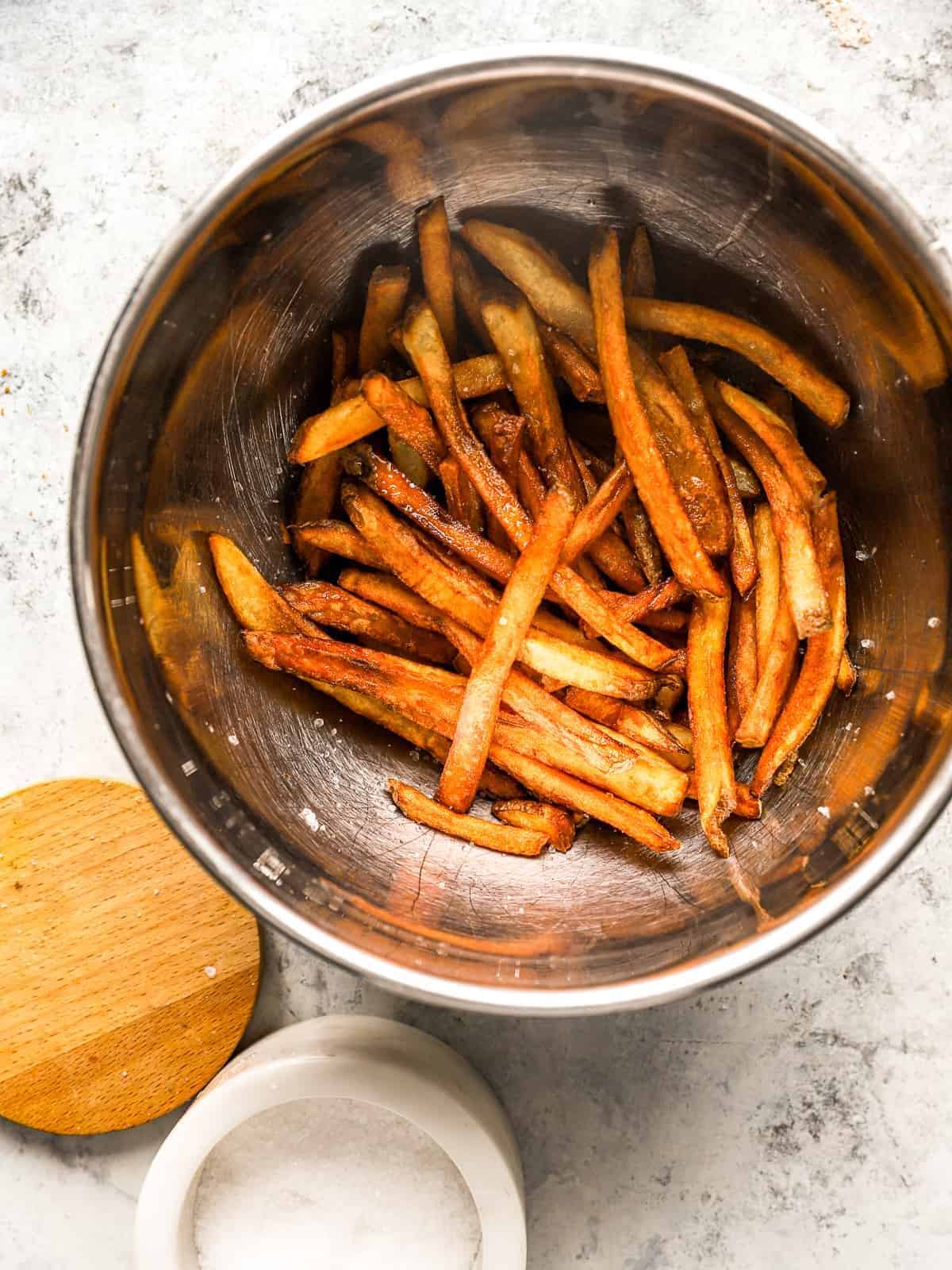 What are the best potatoes for homemade french fries?
With all the varieties of potatoes out there, it can get confusing to know which ones make the best fries. High-starch potatoes are the ones to seek out, and those are generally Russets–also called Idaho baking potatoes.
What kind of oil should I use for french fries?
For frying, you want to choose a neutral-flavored oil with a high smoke point. Vegetable, canola, and peanut are classic choices. You can also use avocado oil. Do not use olive oil for frying!
Are french fries vegan?
Yes! French fries are made from potatoes, oil, and salt, so they are naturally vegan.
Do I have to soak potatoes before frying them?
Yes! Soaking the cut potatoes helps to remove excess starch, which keeps the potatoes from sticking together. It also helps to ensure that the potatoes will be extra crispy once fried!
What temperature should the oil be for french fries?
For these fries, we double-fry them. For the first batch, you want the oil to be at 300°F to cook the fries through. With the second fry, you'll want the oil much hotter (400°F) to help the fries crisp up.
Why are my homemade french fries not crispy?
It's important to make sure to soak and rinse the fries to remove excess starch. Double-frying the fries helps to ensure crispiness. Finally, be sure to lay the fries on a lined baking sheet or a wire rack set in a baking sheet to ensure that they don't steam, which could cause them to become soggy.
How many calories in french fries?
One serving of these fries has 613 calories. This value will change depending on the size of your potatoes and the type of oil used.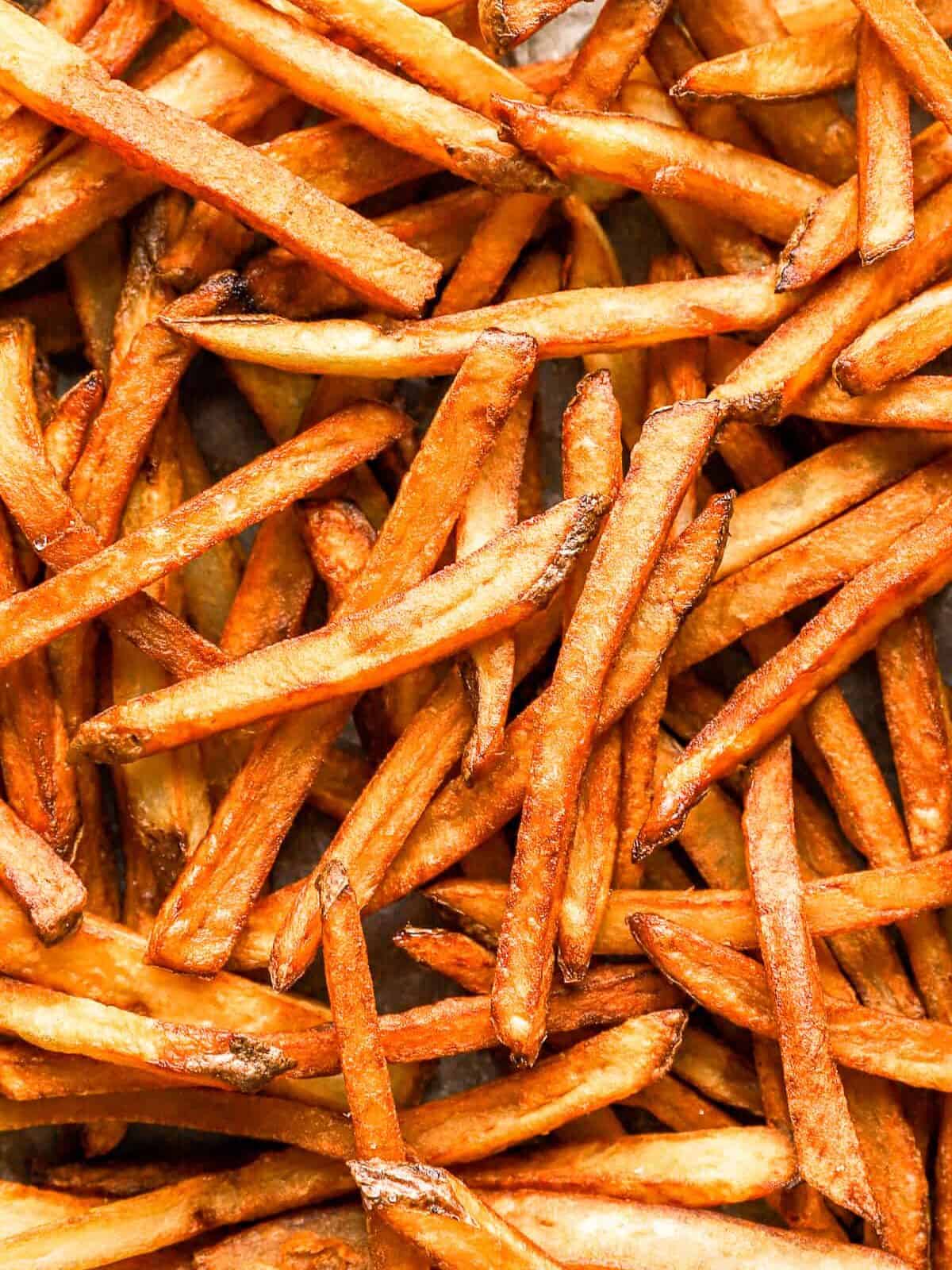 How to Store and Reheat Homemade Fries
Store leftover homemade french fries in an airtight container in the refrigerator for up to 5 days. Reheat in a single layer in a 350°F oven for about 5-7 minutes.
How to Freeze Potato French Fries
Freeze homemade french fries in a single layer on a lined baking sheet until solid, about 1-2 hours. Transfer to an airtight container or Ziplock bag to store for up to 3 months. Reheat directly from frozen in a single layer in a 350°F oven for about 10-12 minutes.
What to Serve with Crispy French Fries
Serve these cooked fries as an appetizer or side along with other dishes such as a Turkey Burger, Smash Burgers, a BLT Sandwich, or a Crispy Chicken Sandwich. You can also pair these french fries with a delicious Chocolate Banana Malt Milkshake, Homemade Limeade, or Homemade Sweet Tea.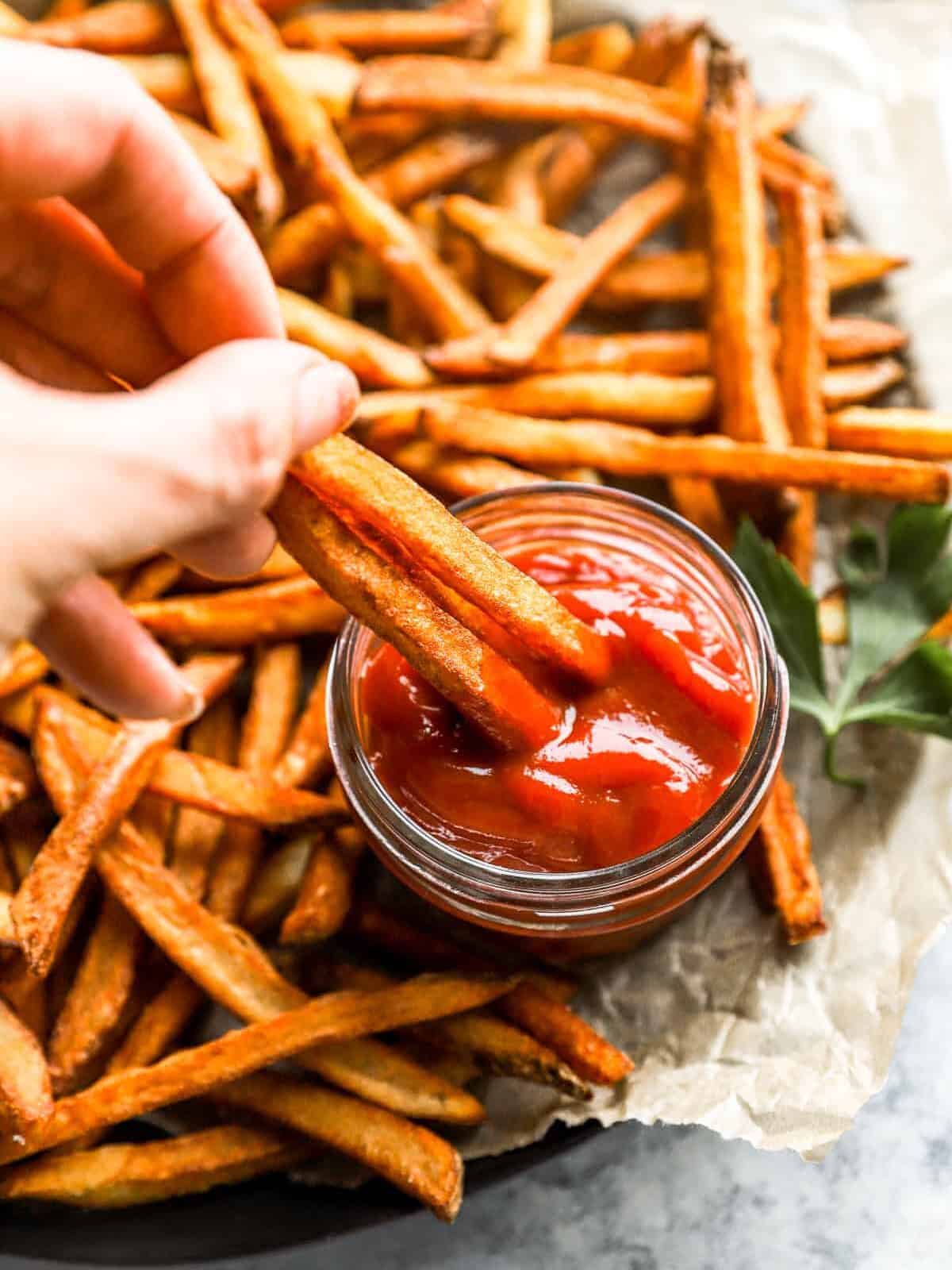 More French Fry Recipes We Love