Tandoori Chicken is SO delicious and flavorful! You might think Chicken Tandoori, typically an Indian dish requiring a special oven, is complicated, but it can be very easy and cooked on the stove! This "SMOKED" SKILLET TANDOORI CHICKEN is loaded with so much flavor you'll swear you used a smoker. This Tandoori Chicken Recipe is such a fun hack for a delicious and unique dinner at home.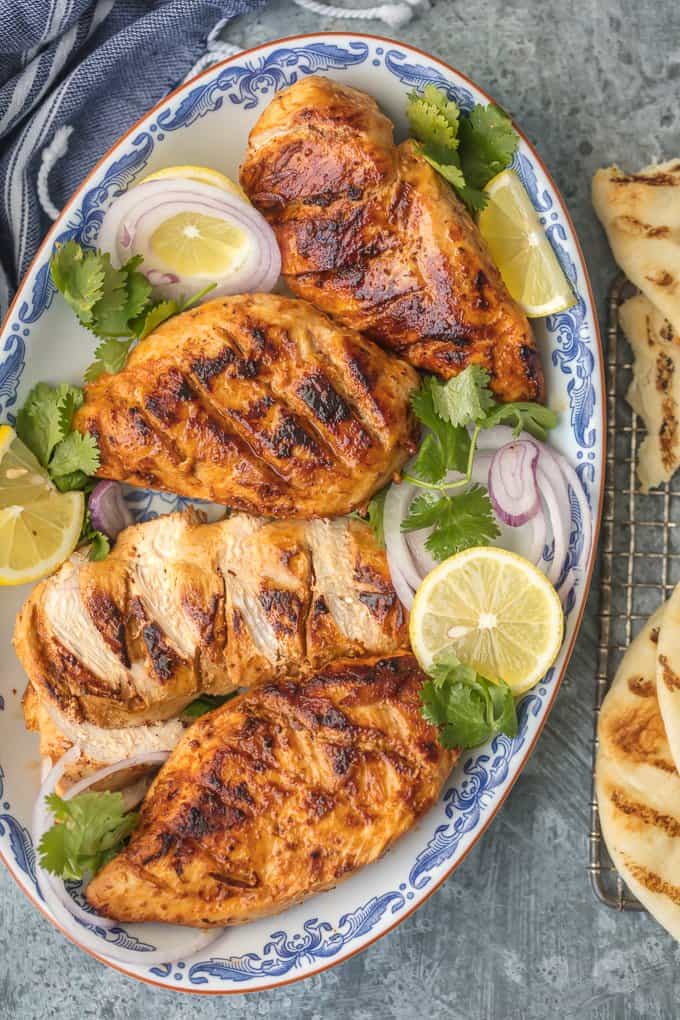 Easy Tandoori Chicken Recipe
Easy Tandoori Chicken is a must! I absolutely love Tandoori Chicken. I love the Indian flavors of tandoori masala mixed with the creamy yogurt to produce such a tender, flavorful, and delicious meal. It's traditionally only grilled or cooked in a tandoori pot…but odds are you don't have one of those sitting around.
Tandoori Chicken is traditionally made with bone in thighs or chicken legs, but I'm a big fan of boneless chicken breasts so we figured out a hack to make it just as juicy, with what you already have at home, and just the way I like it. The trick for the smokey flavor is SO fun and easy, I know you're sure to love it!
Serve it up with your favorite sides and some homemade naan.
Tandoori Chicken is a flavorful, fun, and easy dinner recipe your family will love!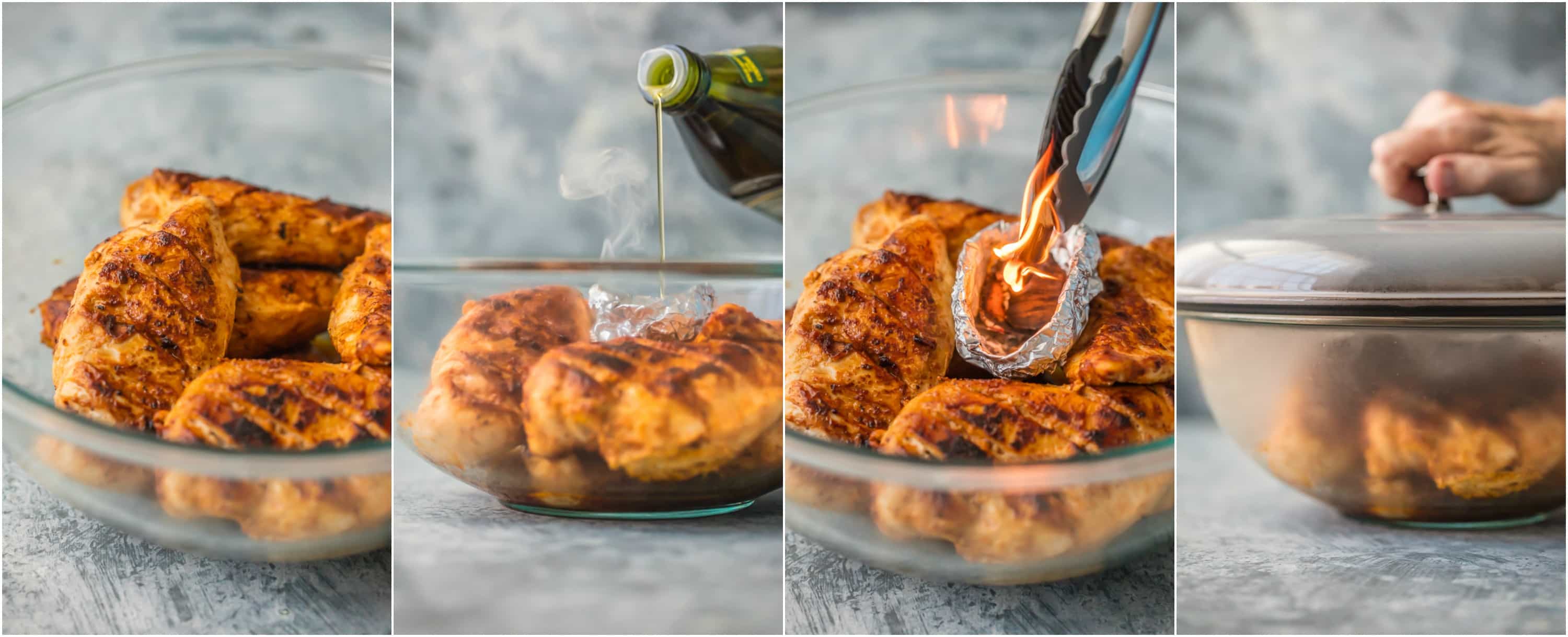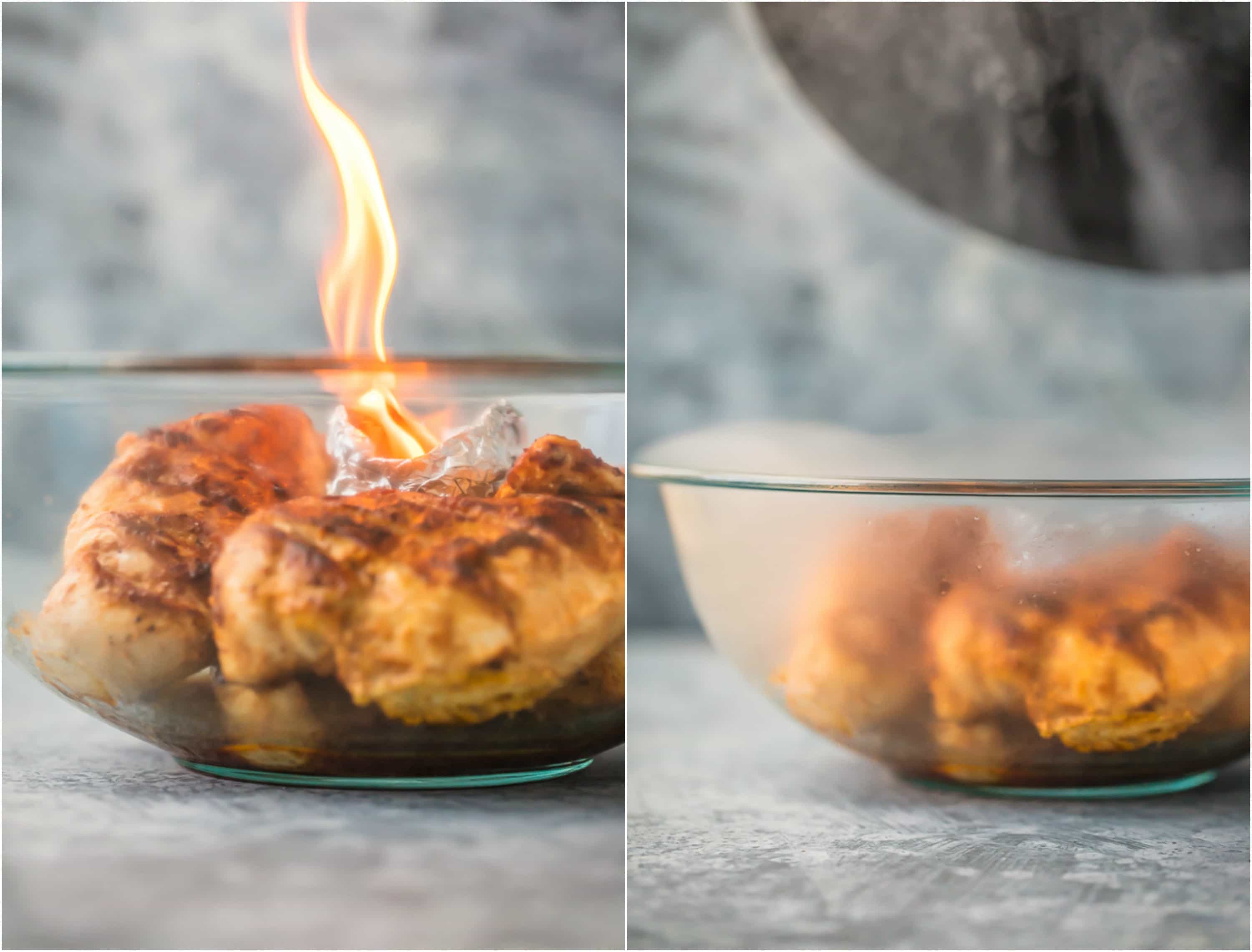 Tips for making Tandoori Chicken without special equipment:
After cooking the chicken in a cast iron skillet, we transfer it to a bowl to add the smokiness to it. Don't worry, you really don't need anything special to make this recipe.
All you need to make this Tandoori Chicken Recipe smokey and AMAZING is a smoking chip or piece of charcoal, some tin foil, and a bowl that you can cover to allow the smoke to permeate. We have SO MUCH FUN trying this at home (be careful) and the taste was out of this world.
If you're having a dinner party and want to impress your friends, this is the recipe for you. Not only does it have flavor for dayyyyyyys, it's fun and cool to boot. Look at all that smoke! We don't need smokers around here!!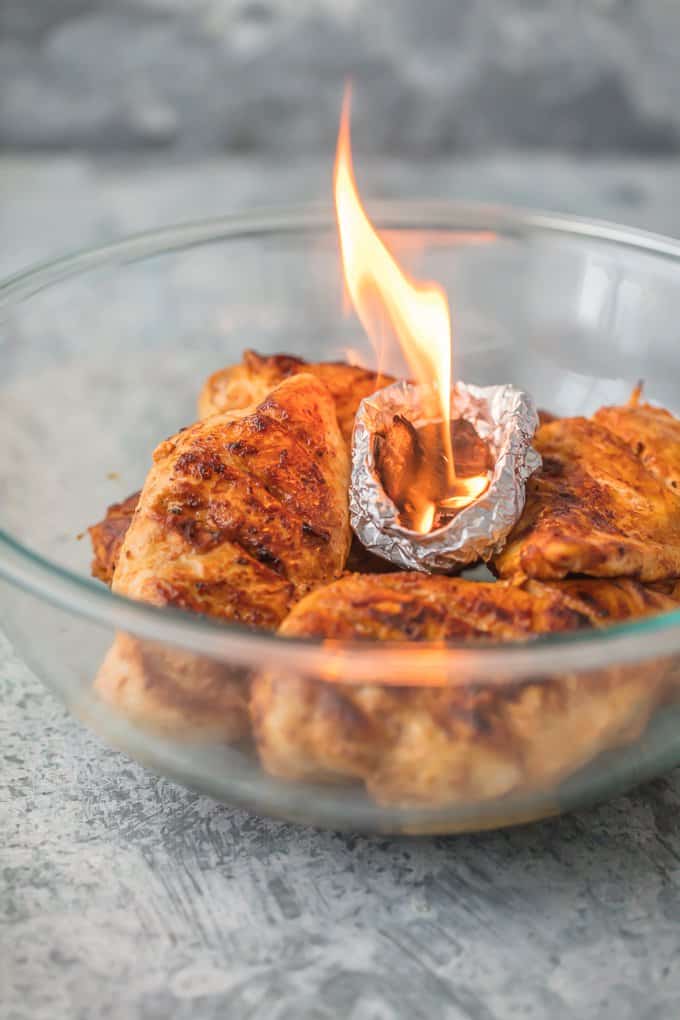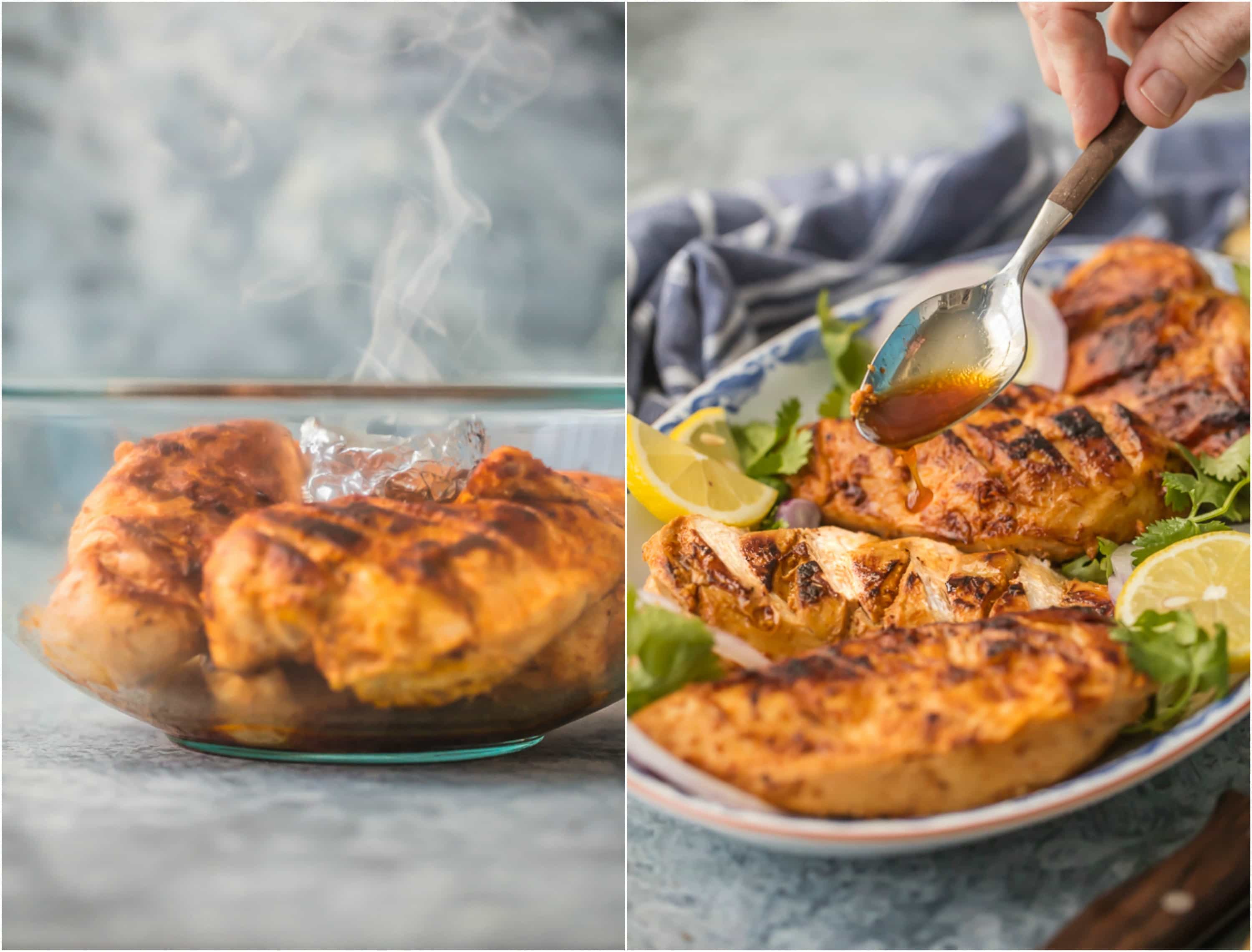 What does Tandoori Chicken taste like?
When we say flavorful, this "Smoked" Skillet Tandoori Chicken is FLAVORFUL. FLLLLLLLAVORFUL. You can serve it on its own, but we like to have it with lots of lemon, cilantro, and red onion. Be sure to get a little of all the flavors all in one bite. YOU GUYS. I can't. You have to experience it for yourselves.
Mom and I just kept saying "mmmmmmm" like dorks over and over again. Then she said her overused phrase that I constantly make fun of her for…"This really is one of my very favorite recipes!". She says this time she really meant it though.
What is Tandoori Spice Mix?
The fundamental flavors of Chicken Tandoori come from the Tandoori Masala Spices used in the recipe. You can buy it at the grocery store and its a mix of:
ground ginger.
ground cumin.
ground coriander.
paprika.
turmeric.
salt.
cayenne pepper.
The result of using this spice mix is a delicious and UNIQUE chicken recipe you'll make again and again!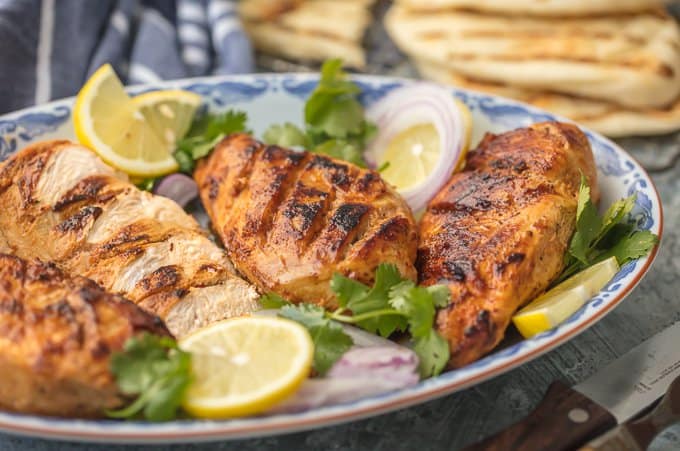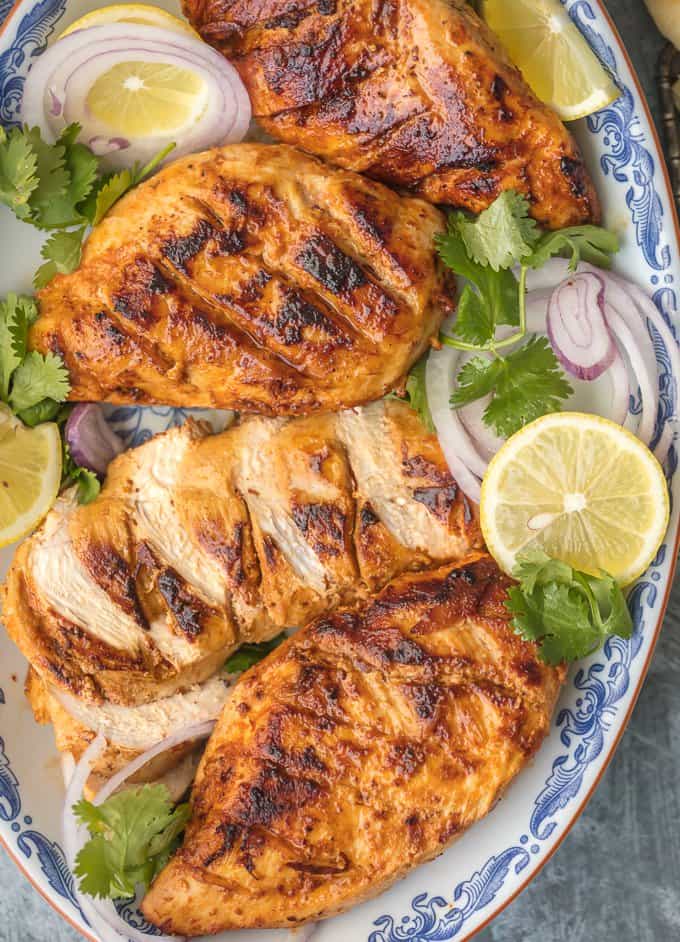 Please give this a try and let me know how you like this Tandoori Chicken Skillet! I love the faux "smoke" and think you will as well. I have a good feeling that you're going to be as obsessed as we are.
We love to serve Tandoori Chicken with sides such as roasted potatoes, balsamic brussels sprouts, naan rolls, or garlic mashed cauliflower. Be sure to check out all of our favorite side dishes!
If you like this dish, I think you'll love this chicken tikka masala and curry chicken too!
See the recipe card below for full details on How to Make Tandoori Chicken without special equipment.