Roasted Potatoes are utterly amazing and delicious! This simple side dish goes perfectly with so many dishes. These easy roasted potatoes will be your go-to potato recipe for every meal. We kept the seasoned potatoes simple, with just potatoes, olive oil, and herbs.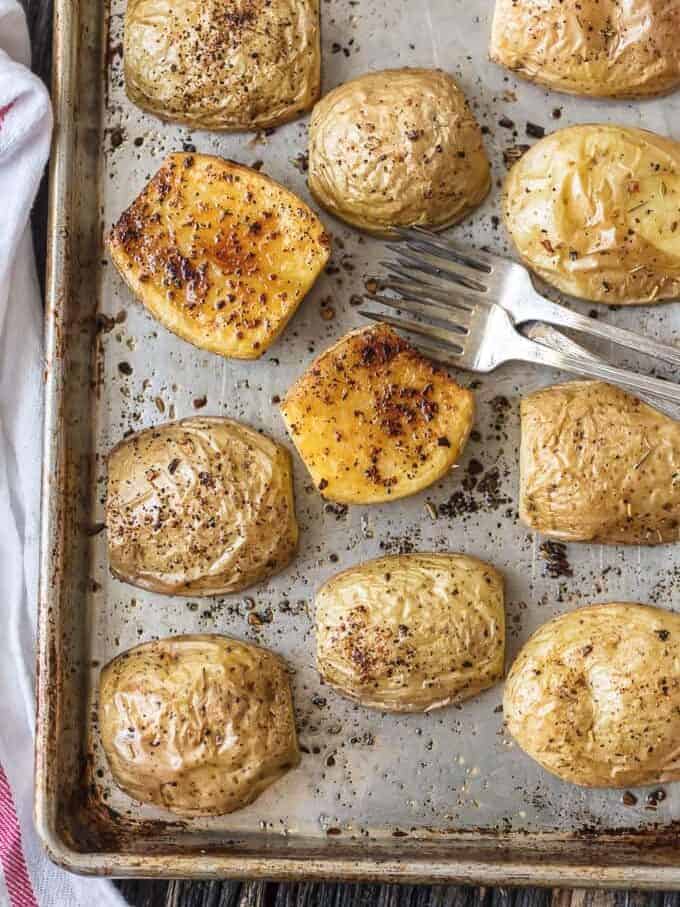 What's in Oven Roasted Potatoes?
These delicious seasoned potatoes are incredibly versatile and they are a hit among both kids and adults. If I can't decide on a side dish to make with dinner, this is what I end up making. It's my go-to potato side dish recipe because it's just so good.
Potatoes: I used Yukon Gold potatoes because they're the perfect balance of waxy and starchy. You can really use Yukon Golds for any potato recipe! Other potatoes I'd recommend for this recipe would be red, purple, new, or fingerling potatoes.
Olive Oil: Helps the potatoes bake up crisp without burning.
Salt + Pepper: Enhances the natural flavor of the potatoes.
Herbs: Here's where you can really get creative — I used rosemary, garlic powder, crushed red pepper flakes, and a bit of lemon peel for a simple side that goes with everything. but use your favorites!
Pro Tip: Place the potatoes cut-side down on the baking sheet to get them extra crisp!
Variations on Roasted Potatoes in the Oven
Like I said, this recipe is perfect for getting creative. I love my potatoes topped with chili powder, thyme, herbs de Provence, Italian seasoning, ranch seasoning, everything bagel seasoning, or taco seasoning. The possibilities are truly endless!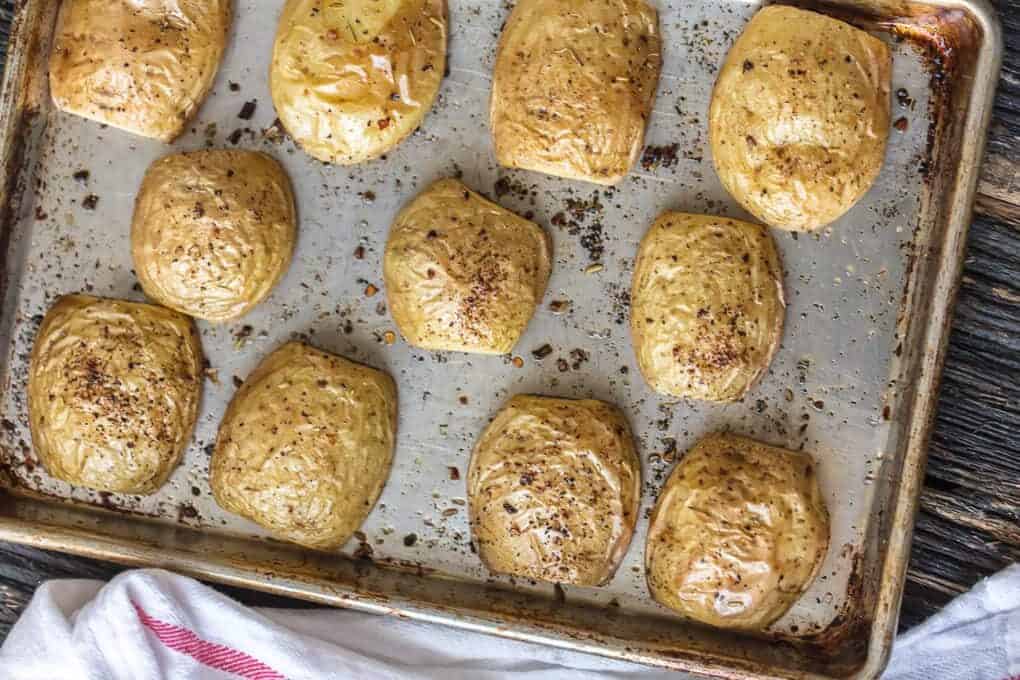 Which potatoes are best for roasting?
Yukon Gold potatoes are great for roasting, and that's what I used for this herb roasted potatoes recipe.
What herbs should I use?
Any herbs and spices can be used with this easy roasted potatoes recipe. Use basil, parsley, a bit of butter, paprika, curry powder, cumin… absolutely anything!
Is it necessary to boil potatoes before roasting?
It's not necessary to parboil potatoes before roasting if they are cut into pieces. If you plan to roast whole or exceptionally large pieces of potato, you may want to parboil them to ensure that they will cook all the way through.
How do you get crispy roast potatoes?
It's important to use high enough heat and to spread the potatoes out evenly over the baking sheet. If the potatoes seem too crowded on one baking sheet, you may want to spread them out over two baking sheets instead. Check your oven temperature carefully, as ovens can be up to 25°F cooler or warmer than the registered temperature.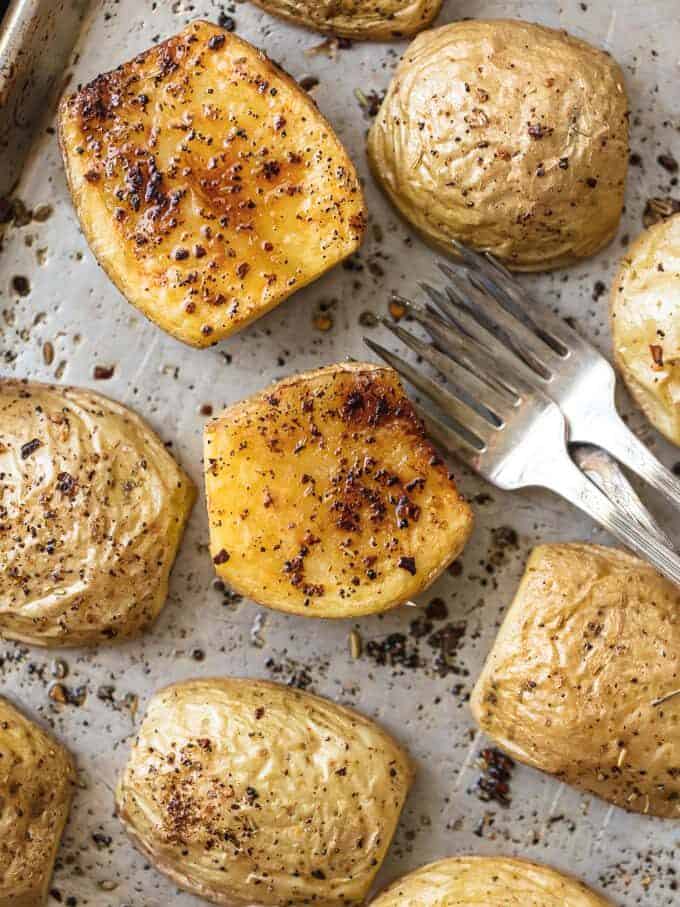 How to Store and Reheat
Store leftover roasted potatoes in an airtight container in the refrigerator for up to 5 days. Reheat in a 350°F oven for 5-10 minutes, until warmed through.
How to Freeze
Freeze roasted potatoes in a single layer on a lined baking sheet until solid, about 1-2 hours. Transfer to an airtight container or Ziplock bag to store for up to 3 months. Let thaw overnight in the refrigerator before reheating.
Serving Suggestions
These simple potatoes are great served with oven fried chicken, Parmesan pork chops, spinach stuffed chicken, air fryer salmon, or restaurant-style steak! Add a veggie, like Parmesan roasted broccoli, corn on the cob, or roasted Brussels sprouts, for a complete meal.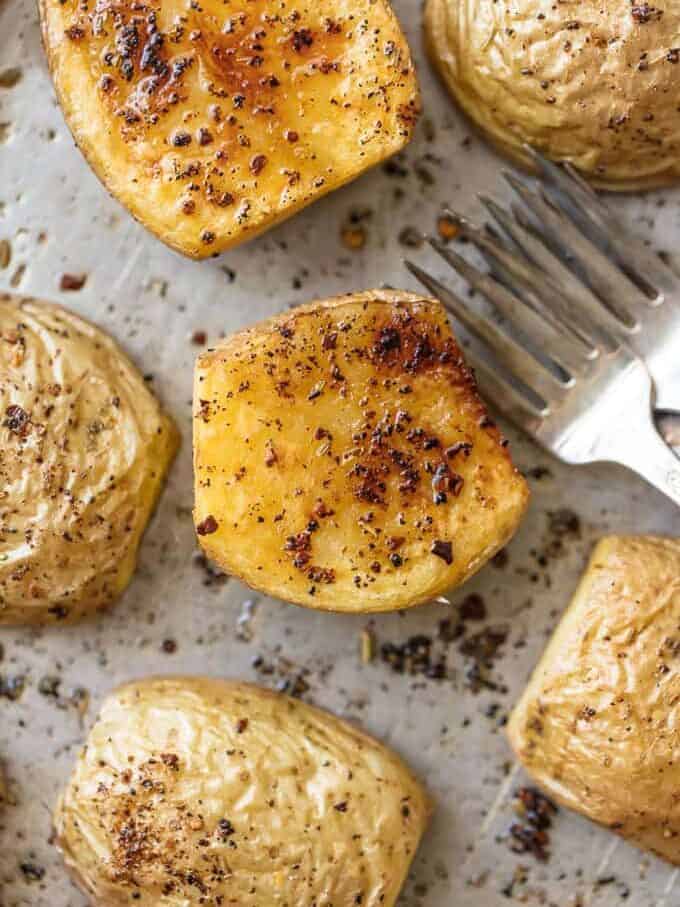 More Roasted Potato Recipes We Love