This fresh-baked Strawberry Bread recipe is deliciously sweet and fruity. Use fresh strawberries, lemon juice, vanilla and almond extract, and some other staple ingredients to whip up this cake-y quick bread in the oven, then drizzle a simple glaze on top. It's perfect for breakfast, dessert, and snacking!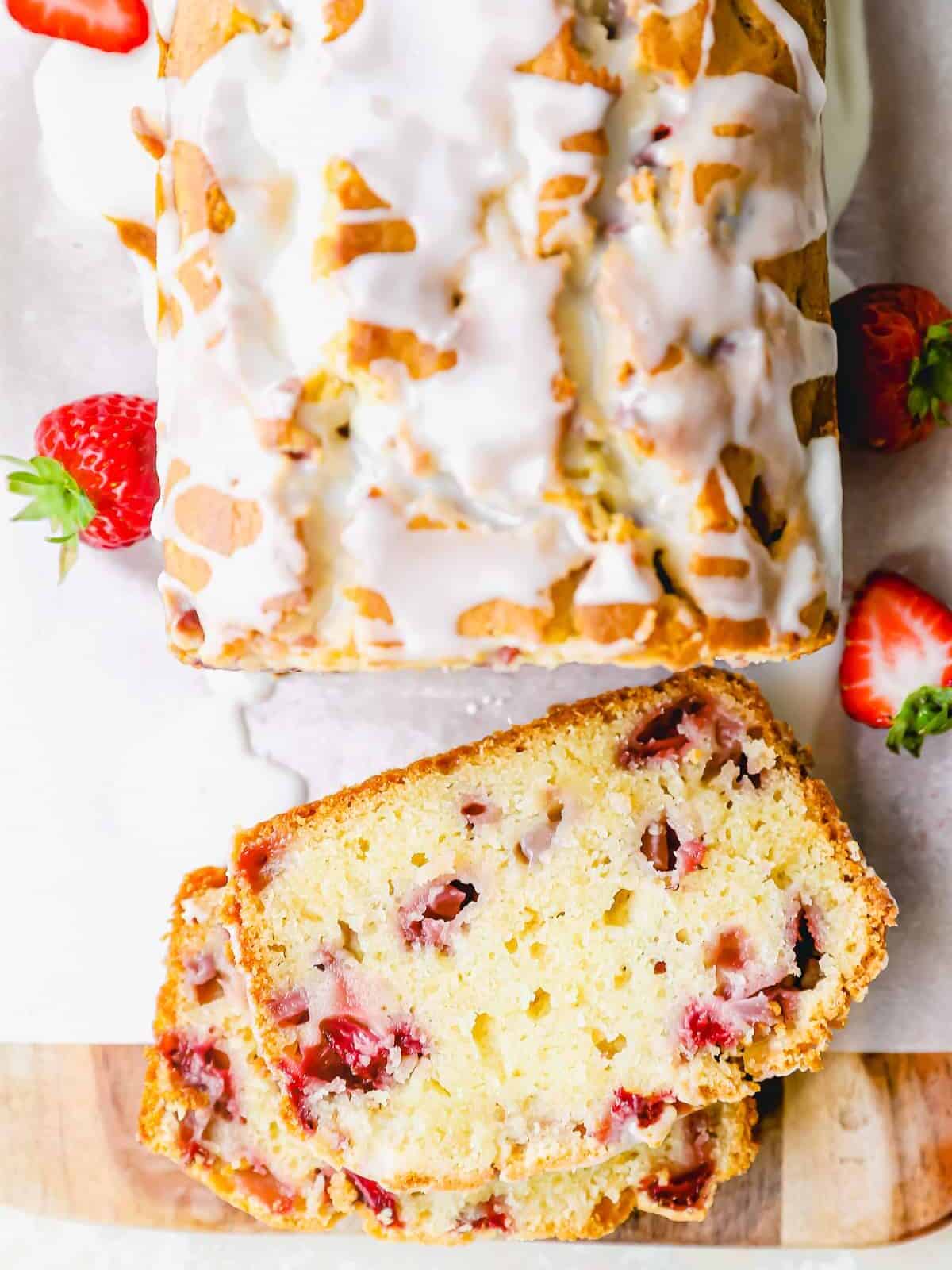 What's in this Strawberry Bread Recipe?
A warm vanilla-almond quick bread is studded with fresh strawberries and coated in a sweet vanilla glaze for the perfect breakfast treat!
All-Purpose Flour: Gives the bread structure.
Milk: Adds moisture to the cake and helps thin the glaze to drizzling consistency.
Lemon Juice: Mixes with the milk to create an approximation of buttermilk, which adds moisture and tanginess to offset the sweetness of the berries.
Baking Powder: Gives the bread lift.
Kosher Salt: Enhances the vanilla, almond, and strawberry flavors.
Granulated Sugar: Sweetens the bread.
Unsalted Butter: Adds flavor and fat to the bread.
Vegetable Oil: Helps the bread stay moist.
Eggs: Give the bread structure.
Vanilla Extract: Enhances the sweetness of the bread and glaze.
Almond Extract: Adds a nutty flavor to the bread. You can leave it out if you prefer.
Fresh Strawberries: Every bite of this dessert bread is bursting with juicy, sweet, and tart strawberries.
Powdered Sugar: Sweetens the glaze without making it gritty.
Pro Tip: To use frozen strawberries, thaw the berries overnight in the refrigerator, then pat them dry with paper towels before using in this recipe.
Strawberry Banana Bread
This quick strawberry bread recipe is excellent as is, but it also tastes divine with bananas. Not your typical banana bread per se, this version of strawberry banana bread includes sliced or diced bananas as part of the inclusions. Swap up to half of the strawberries by weight for bananas!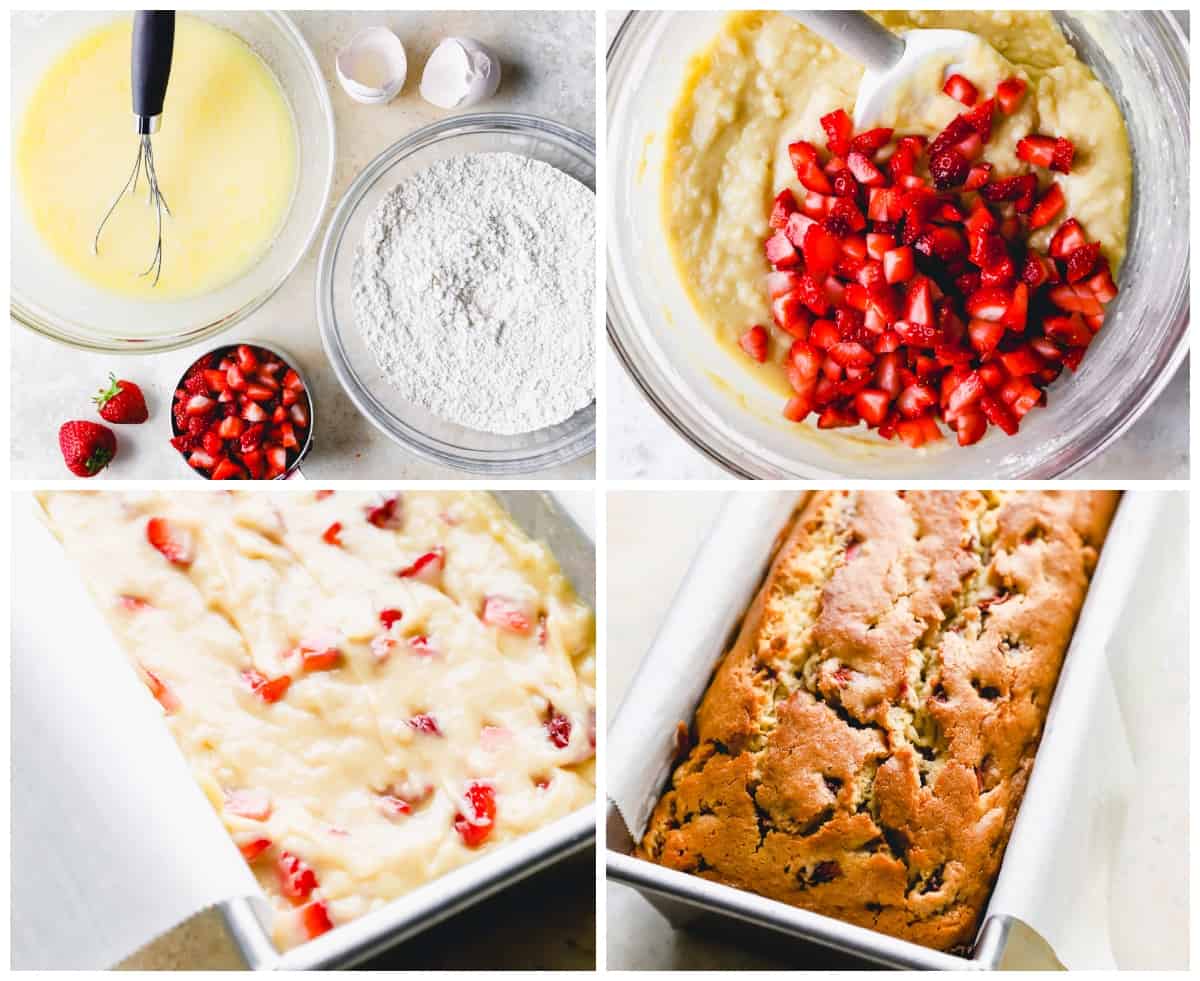 Is quick bread cake or bread?
In spite of their name, quick breads are much more similar to cake than bread. They are sweet and use chemical leaveners rather than yeast.
Is strawberry bread super sweet?
This bread is not too sweet. Strawberries naturally have a nice balance of sweetness and acidity, so they do not make this bread too sweet. You could add some lemon zest to the bread or the glaze to make it a bit more punchy!
Can I use different berries?
You sure can! Feel free to swap in your favorite berries or a mixture of berries!
How many carbs are in strawberry bread?
This bread has 42 grams of carbohydrates per serving.
Can I turn this bread into muffins?
Absolutely! To bake this quick bread into muffins, simply fill the wells of a muffin tin ¾ full with batter and bake for 12-15 minutes, or until a toothpick inserted in the center comes out clean.
How do I prevent the strawberries from sinking to the bottom of the loaf?
Sometimes, in spite of mixing very carefully, the berries still sink to the bottom. It happens to the best of us! I recommend tossing your berries in a bit of flour before adding them to the batter to help prevent them from sinking to the bottom.
Why did my strawberry bread sink in the middle?
Quick breads tend to sink in the middle due to rapid changes in temperature. I recommend opening the oven as little as possible while baking this bread. Furthermore, you'll want to make sure your baking powder is not expired and your batter is not too wet. To keep the batter from becoming too wet, pat the strawberries dry and coat them in flour before adding them to your batter.
Can I freeze strawberry bread?
Yes, this bread can be frozen for up to 3 months!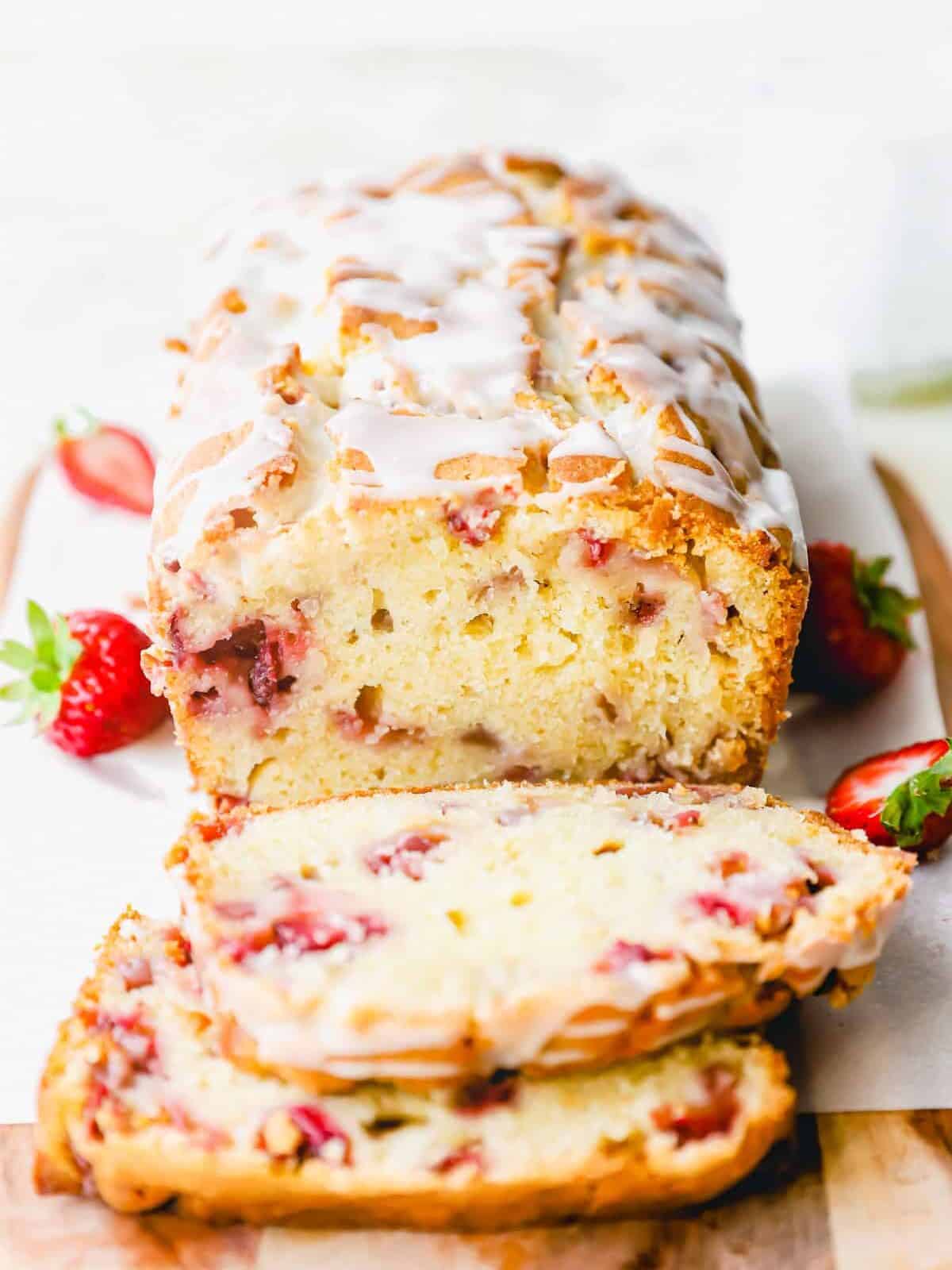 How to Store
Store leftover strawberry bread in an airtight container in the refrigerator for up to 5 days. Enjoy cold or at room temperature.
How to Freeze
Freeze strawberry bread whole or cut into individual slices tightly wrapped in 2 layers of plastic wrap and 1 layer of aluminum foil for up to 3 months. Let thaw overnight in the refrigerator before enjoying.
Serving Suggestions
This fresh strawberry quick bread is a delicious breakfast or after-dinner treat. Serve it alongside an iced coffee, pineapple matcha, chai tea milkshake, or Starbucks' pink drink. It'd make a great substitute for strawberry shortcake in a pinch served with whipped cream or vanilla ice cream! Or use it in place of pound cake in a strawberry shortcake pie!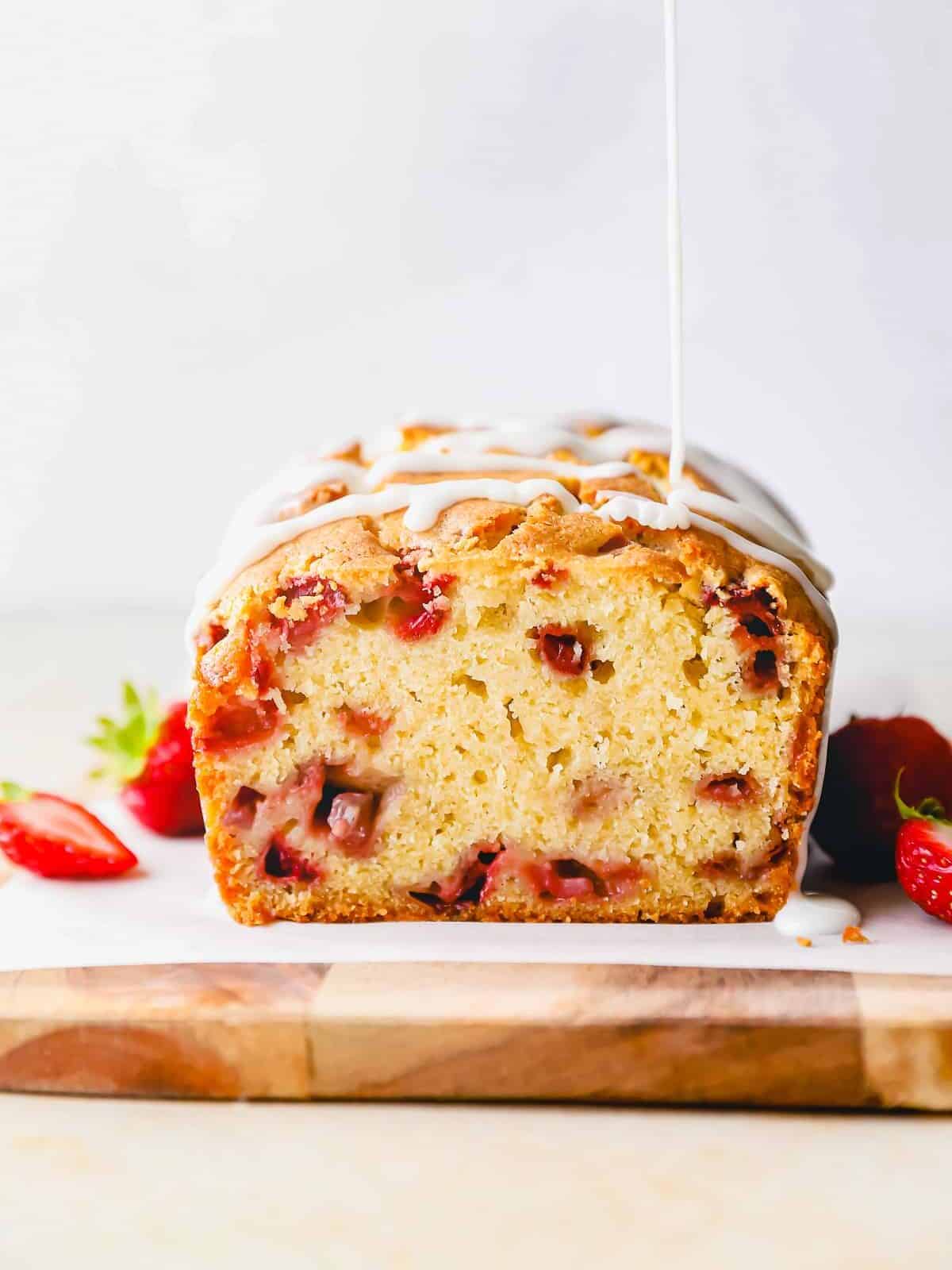 More Strawberry Cake Recipes We Love