This Strawberry Pound Cake recipe is made with fresh strawberries, strawberry syrup, and a strawberry glaze. That means lots of fruity flavor to go along with the rich, moist texture of a pound cake. This dessert is so easy to make and it's sure to please. It's a great cake for Easter, Valentine's Day, or the spring and summer seasons.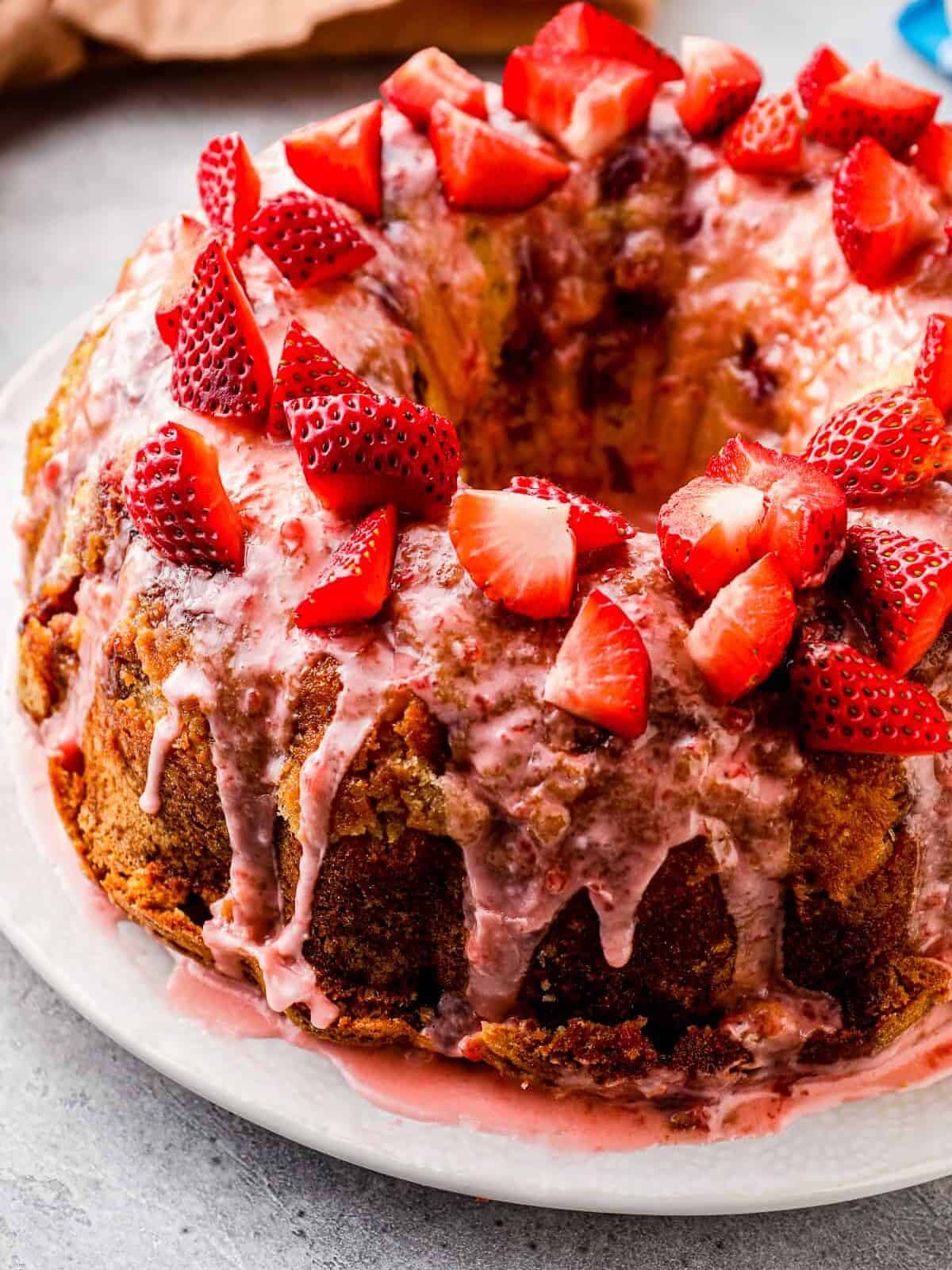 What's in this Strawberry Pound Cake recipe?
Traditional pound cake calls for a pound each of the main ingredients, but we won't use quite that much for this recipe. But don't worry, it still comes out super rich and moist!
Flour: Unbleached all-purpose flour is best for pound cake.
Granulated Sugar: You'll need granulated sugar to add sweetness to the cake batter, and to make the strawberry syrup.
Butter: Use unsalted butter. Let it come to room temperature and soften before using.
Eggs: Eggs add richness and structure to cake. These should be room temperature as well.
Half and Half: This adds moisture into the batter, and since it has a thicker and creamier texture than milk alone, it is much richer. You can combine heavy cream and whole milk to make your own substitute.
Extract: Vanilla extract and almond extract create the perfect flavor. You can use just vanilla if that's all you have.
Strawberries: Fresh strawberries should be finely chopped to mix into the batter. You will also need pureed strawberries for the syrup.
Powdered Sugar: Use powdered sugar for the strawberry glaze.
Lemon Juice: Lemon juice adds brightness and acidity to the glaze. Fresh juice is best, but you can use bottled juice as well.
Tip: Early summer is the best season for strawberries–they'll be extra fresh, sweet, and flavorful! So I love making this dessert in the summer, but luckily strawberries are available year-round in many places.
Recipe Variations
This is one of my favorite recipes to make with strawberries, but if you don't have (or don't like) them, you can use another berry or fruit instead. Use blueberries or raspberries (or a mix). They're easy to mix into the batter, and you can follow the same instructions to make the syrup and glaze with these berries instead.
Try making a lemon glaze or use lemon curd, and top with powdered sugar or whipped cream. Drizzle caramel sauce on top for an extra sweet treat. You could also replace the almond extract in the cake batter with lemon extract for a brighter flavor.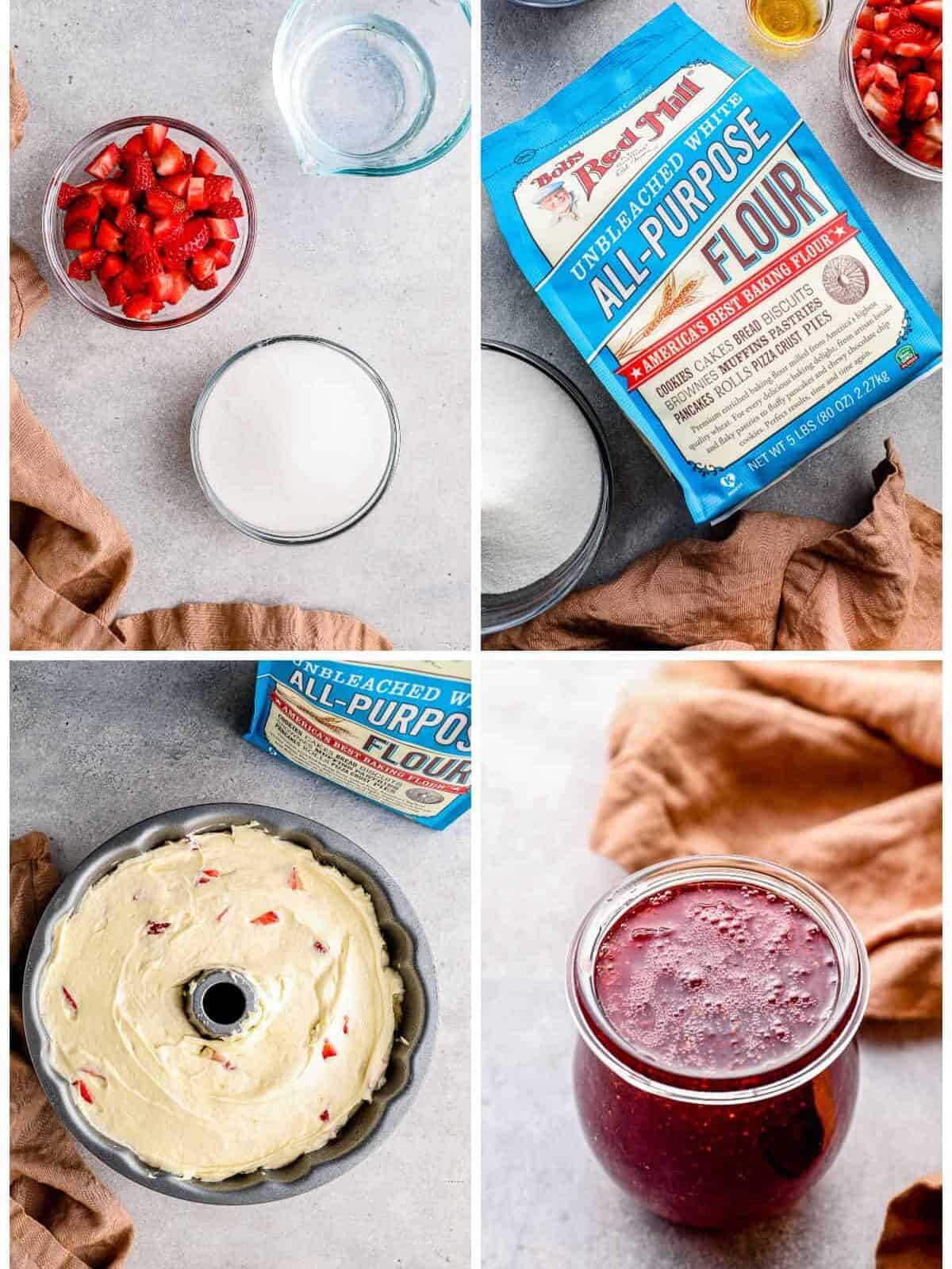 Can I use frozen strawberries?
Yes. If you don't have fresh strawberries on hand, substitute frozen. Be sure to fully thaw them first.
What kind of cake pan should I use?
I used a 10-cup bundt cake pan for this pound cake. It works best for this recipe since we are poking holes in the bottom and filling it with strawberry syrup after baking.
How long do you bake strawberry pound cake?
Baking at 325F, this pound cake will take about 80 minutes (1 hour 20 minutes) to bake. To check that it's done, stick a toothpick into the cake–it should come out clean without any liquid batter and few crumbs.
How do you remove a cake from a bundt pan?
Let the cake cool in the pan, upside down, for 30 minutes. Place a flat surface (a large plate, cutting board, etc) on top of the pan, and flip it over. If you used cooking spray, it should slide out fairly easily as you lift the pan. Give it a little shake until it comes loose.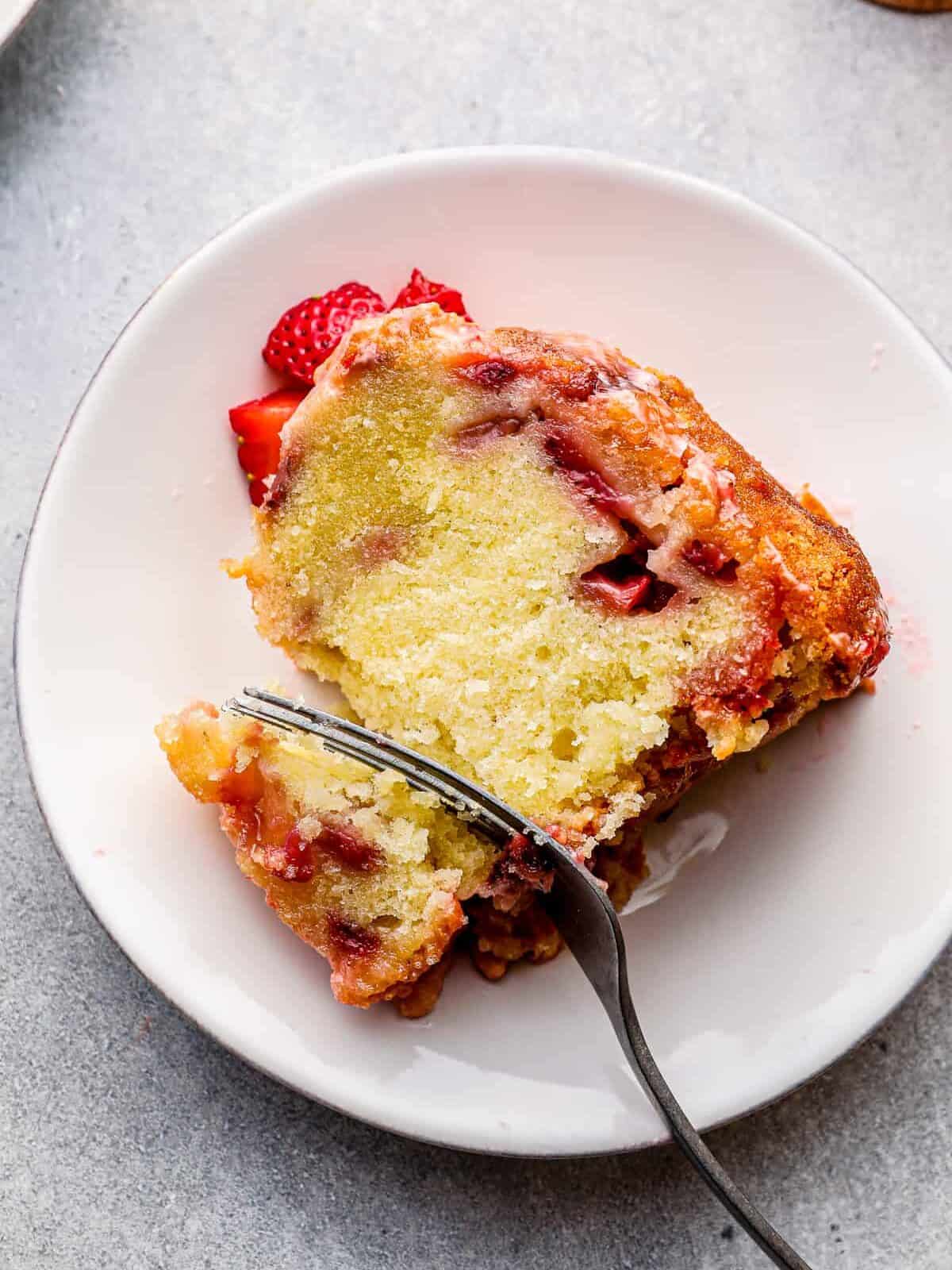 How to Store Strawberry Glazed Pound Cake
Once your strawberry pound cake has fully cooled, transfer it to an airtight container. It will keep well for up to 5 days at room temperature, or in the refrigerator for up to a week.
How to Freeze Pound Cake with Strawberries
If you plan to freeze this cake, I recommend skipping the glaze until you're ready to serve it. Let it cool completely, then wrap it in plastic wrap or foil, and place it in a freezer-safe container. It will keep for up to 3 months. Defrost before serving.
If you have already glazed the cake, you can still store leftovers. It may be easiest to store slices, but you can store the cake whole if you have the space and container for it.
If you make this recipe be sure to upload a photo in the comment section below or leave a rating. Enjoy! You can also jump to recipe.