Strawberry Shortcake Cups are as beautiful as they are delicious. These tiny trifles are such a fun and tasty way to enjoy summer! With a delicious mix of fresh strawberries, chocolate, cream, and pound cake, they're pint-sized perfection!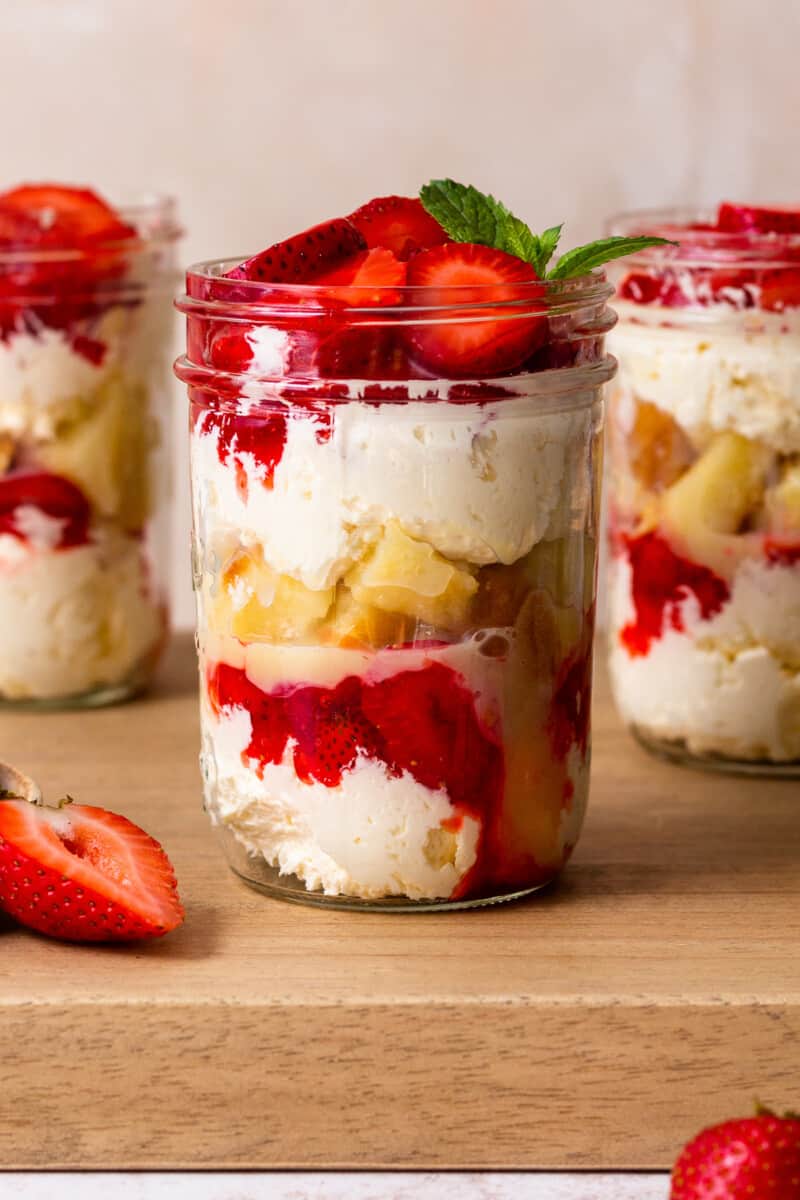 Deconstructed Strawberry Shortcake
Strawberries are my very favorite warm-weather treat. Strawberries on their own, strawberries in chocolate, strawberry bruschetta, strawberry basil cocktails… the list is endless! And strawberry shortcake is at the very top of my list.
Strawberry Shortcake Cups are individual trifles that make everyone at the party feel special, and they're the perfect amount of dessert.
Why You'll Love these Individual Strawberry Shortcake Cups:
INDIVIDUAL SERVINGS: They're served in cups, perfect to dish out at summer parties, and BBQs. It's one of my favorite 4th of July recipes too!
PORTION CONTROL: Strawberry Shortcake Cups are perfect for times when you don't want a lot.
DELICIOUS: Who wouldn't love a delicious mix of strawberries, cream, and chocolate, with a creamy chocolate ganache, all topped with sweet, glazed strawberries?
If you're looking for more strawberry desserts, try these Strawberry Cupcakes and this beautiful Strawberry Shortcake Pie.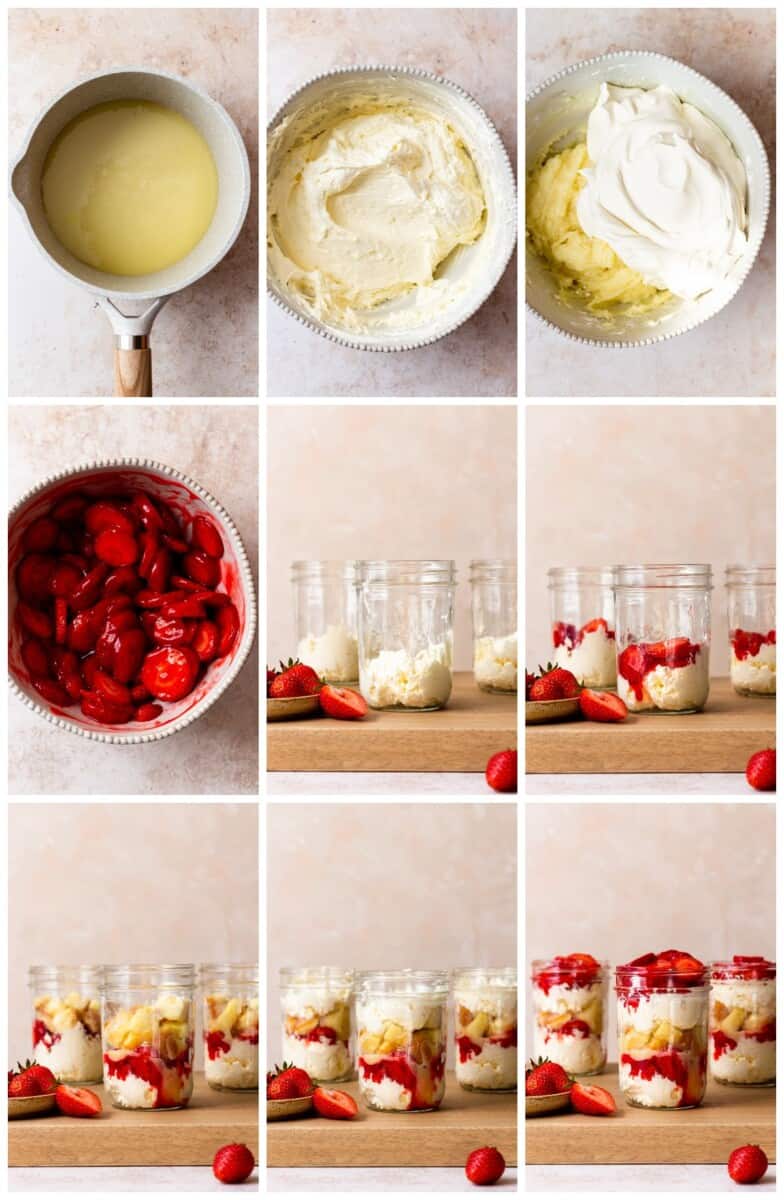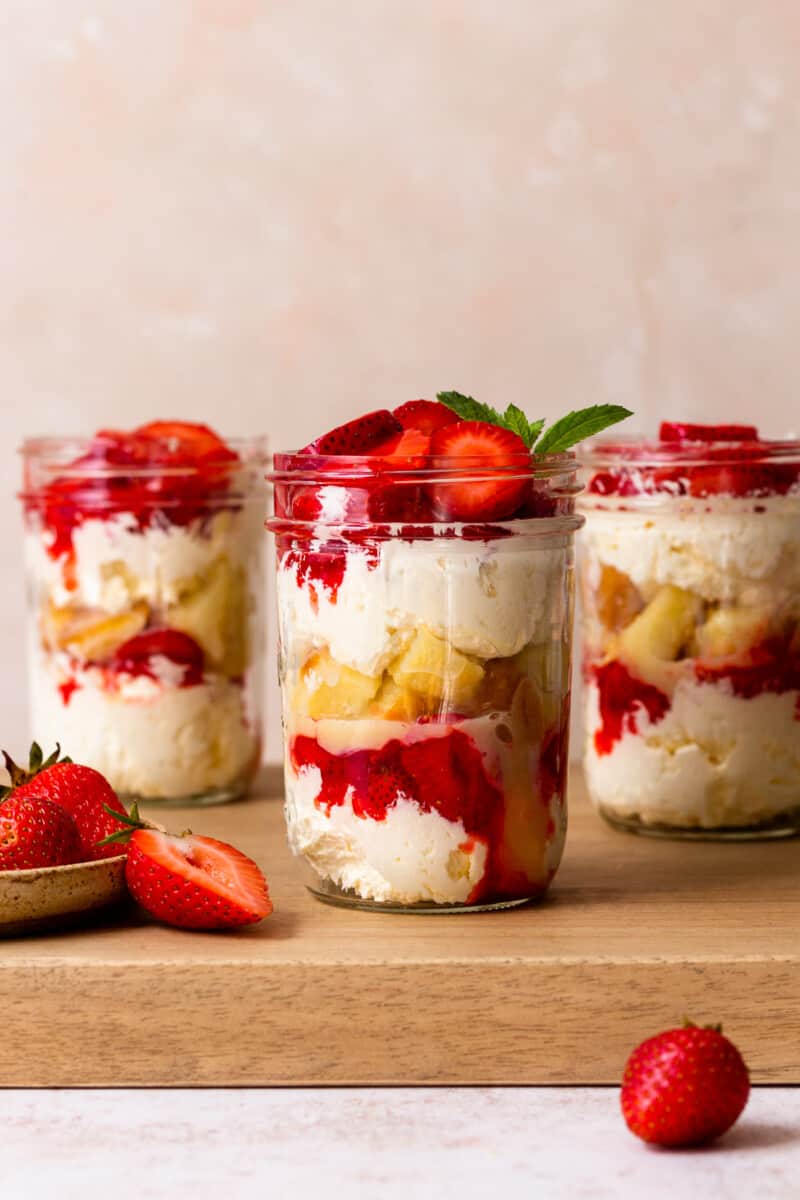 The Secret Ingredient
The secret ingredient? White chocolate. Each piece of shortcake is dipped in white chocolate ganache, and the whipped cream filling is mixed with melted white chocolate. Decadent. Sinful. Made for spring and summer BBQs!
Ingredients
Pound cake – Cubed into bite-sized chunks–buy a pre-packaged cake for effortless serving.
Cream cheese – Low-fat works great, especially if you're paying attention to calories.
White chocolate – It's that secret ingredient mentioned above, and we use it for melting and dipping!
Strawberries – Fresh, washed, and cut into pieces. Strawberries come into season in early June but are often available year-round at grocery stores.
Sugar – You'll need both powdered and granulated sugar.
Vanilla extract – You can substitute vanilla bean paste if you like.
Strawberry glaze – Go for regular or sugar-free glaze.
Heavy cream— For the ganache
Whipped topping – You can whip cream into medium/firm peaks if you prefer.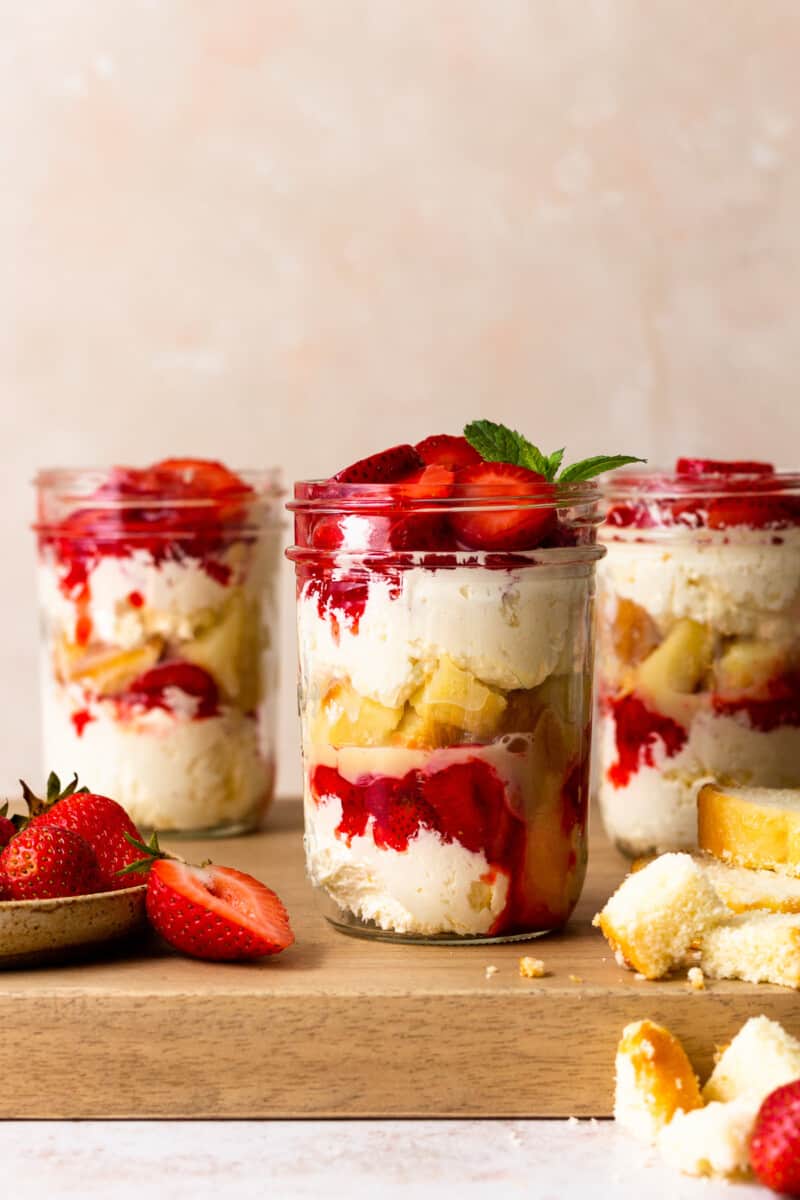 How to Make Strawberry Shortcake Cups
You can jump to the recipe card for full ingredients & instructions!
For the filling, mix the cream cheese, powdered sugar, melted chocolate, and vanilla. Fold in whipped topping.
For the glaze, macerate the berries with sugar, let stand a few minutes and mix in the glaze.
For the ganache, heat the cream and mix in chopped chocolate until smooth. Set aside to cool.
To assemble, place the filling in the bottom of small glasses, followed by glazed berries and then the diced shortcake (dipped in ganache). Add the berries, another layer of filling, and a spoonful of glaze.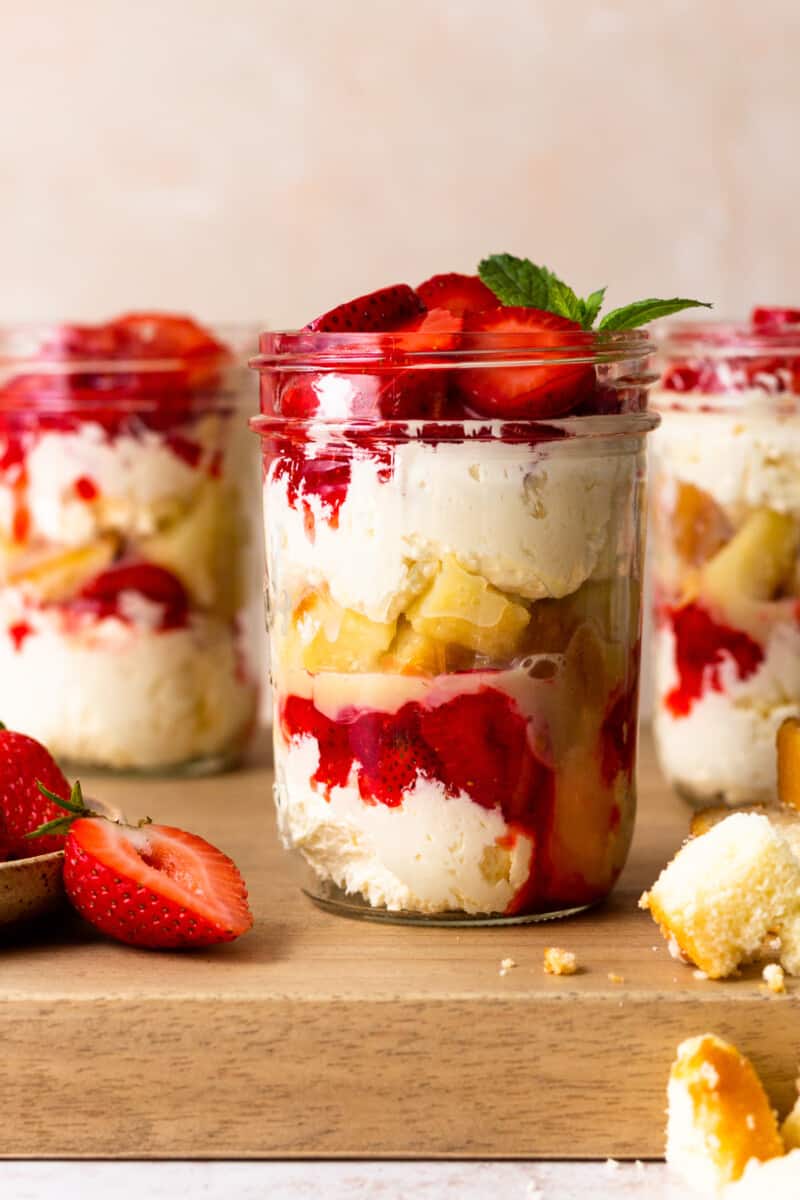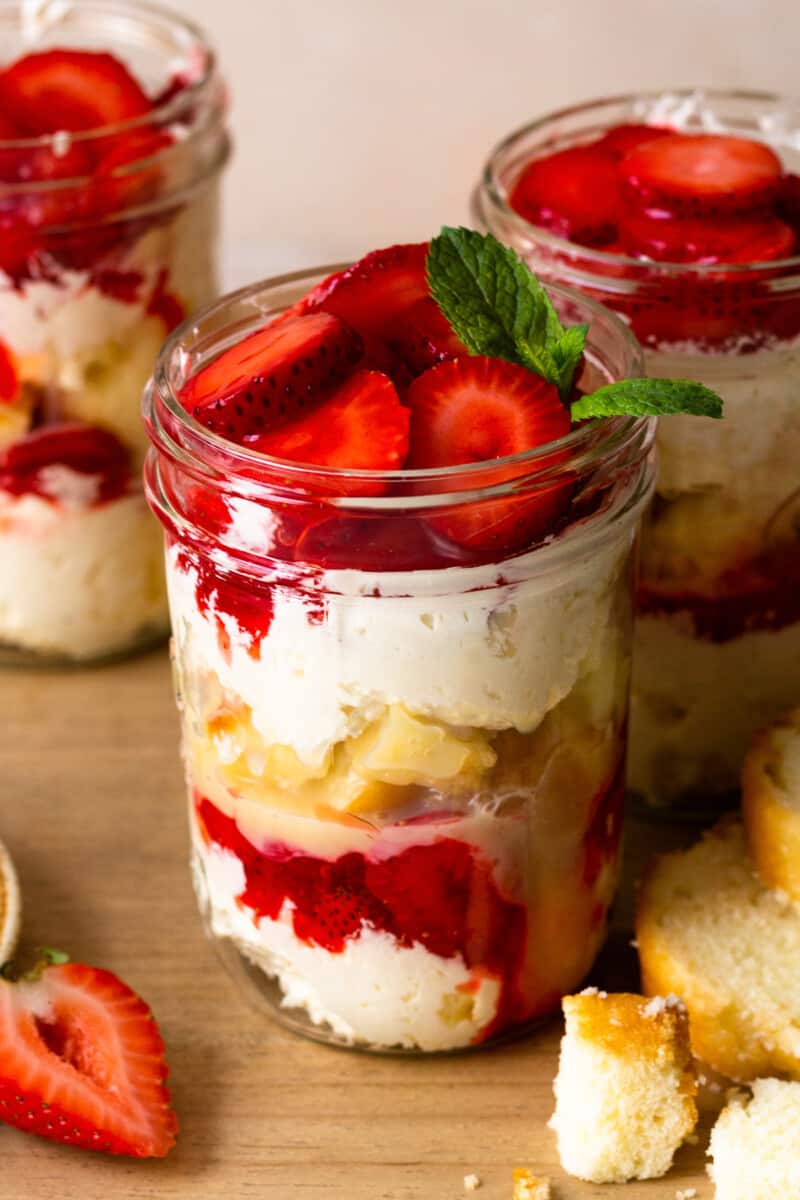 Can You Use Frozen Strawberries?
No. Frozen berries are too soggy for this recipe and the flavor isn't nearly as good.
This recipe calls for macerating the strawberries. That simply means to slice the berries and let stand a few minutes for the juices to form a light sauce.
What Size of Cup Should You Use?
For these individual strawberry shortcake cups, you can use 8-oz glass jars. But you can use any size jar you have on hand!
You can also layer this dessert in wine glasses for an elegant touch. If you're serving a crowd, look for disposable plastic cups in grocery and party supply stores. There are often multiple sizes available, so you can get exactly what you need.
Can You Use a Different Type of Cake?
Yes! Most trifles use pound cake, but you can also use Angel food cake, yellow cake, or even shortbread cookies.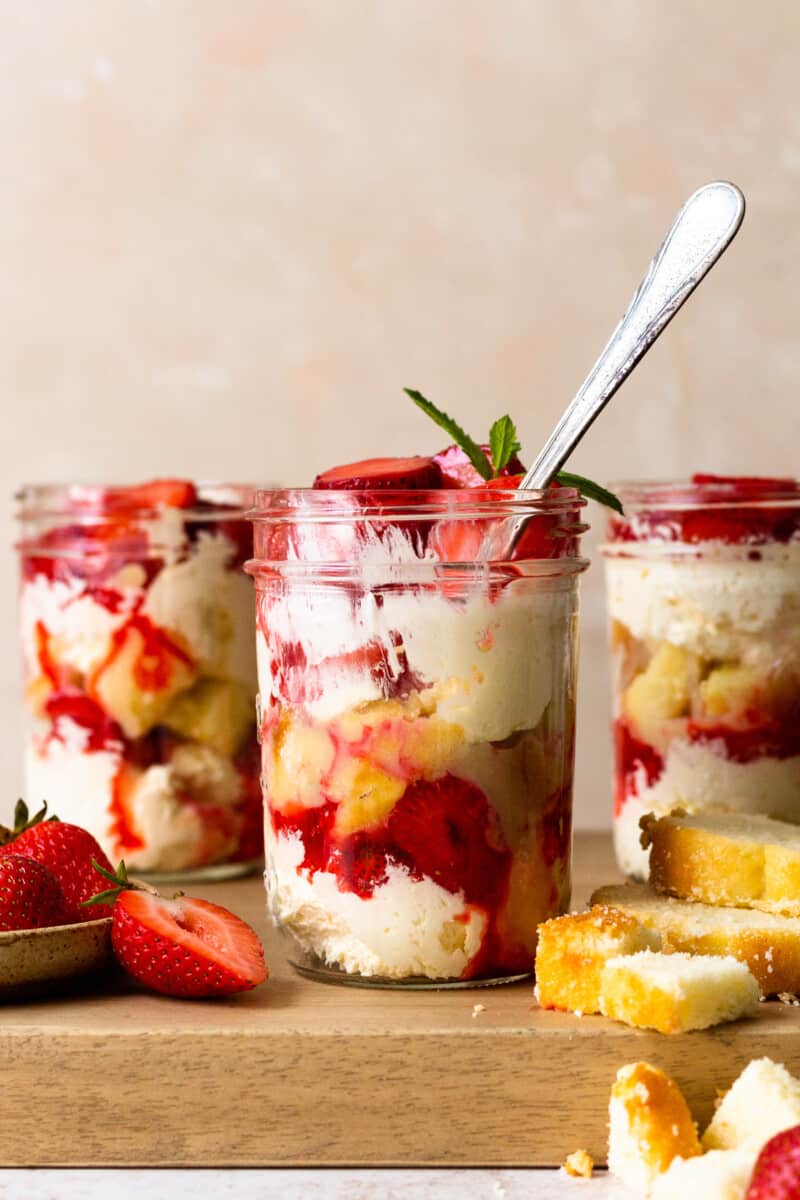 A Great Party Dessert
Creating this delicious dessert makes me so excited for summer. Sunshine, BBQs, and Memorial Day parties will be here before we know it!
These Strawberry Shortcake Cups look so colorful and fresh, especially in their individual cups. These single servings are great for backyard dinners and BBQs.
Check Out These Other Delicious Desserts
If you make this recipe be sure to upload a photo in the comment section below or leave a rating. Enjoy! You can also jump to recipe.