Strawberry Shortcake Cups are as beautiful as they are delicious. Such a fun and tasty way to enjoy Summer! These mini trifles are a delicious mix of fresh strawberries, chocolate, cream and pound cake – so good!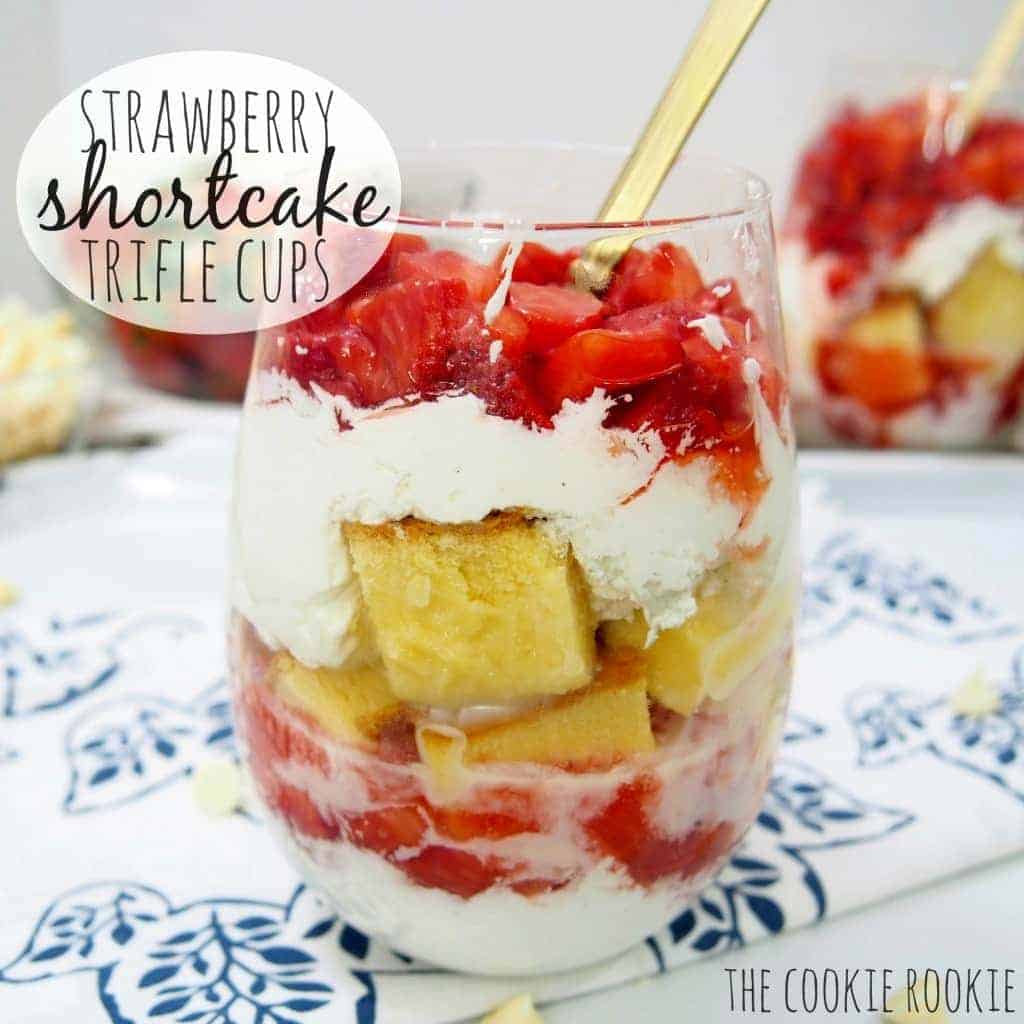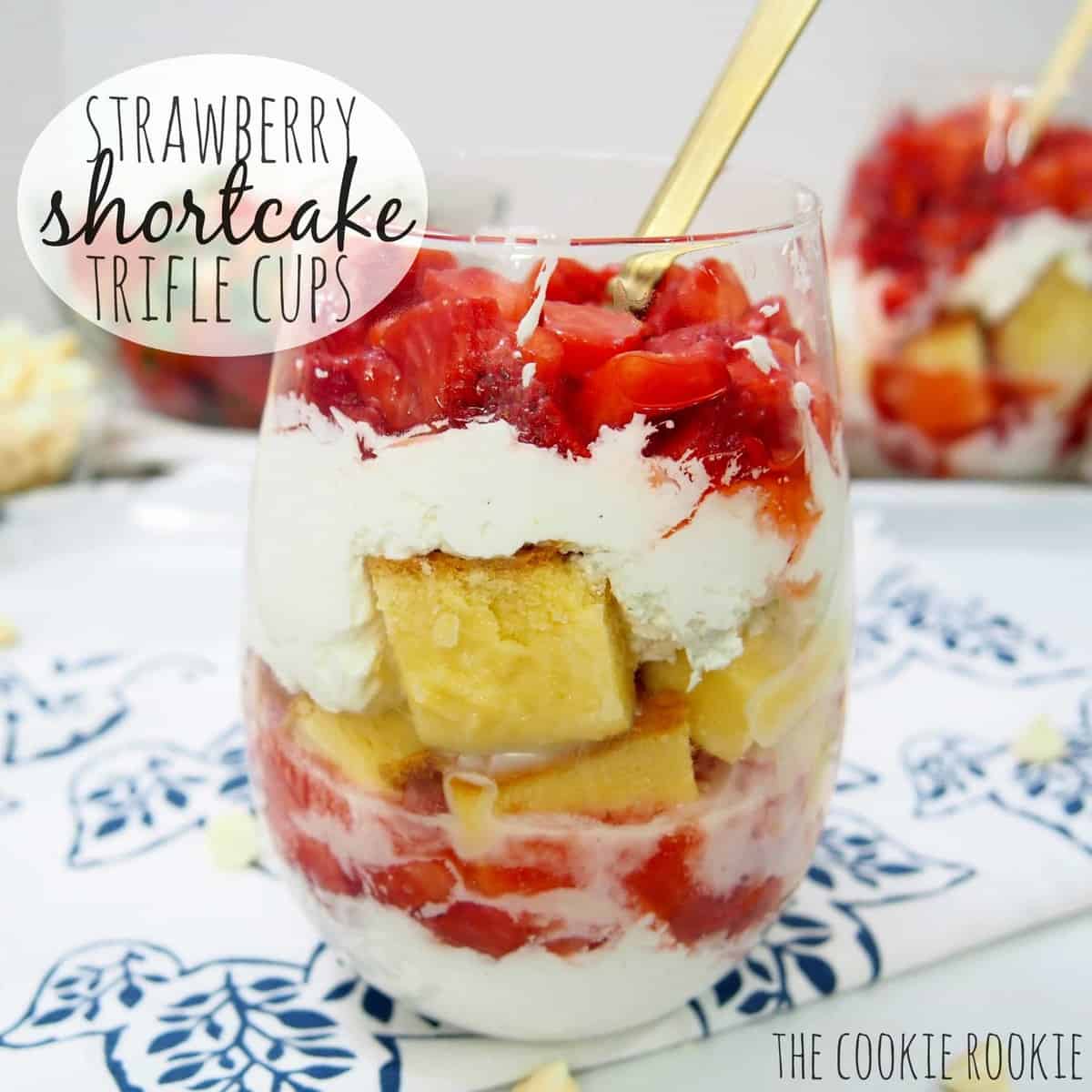 Almost everyone has had Strawberry Shortcake…but they haven't had it like this! Strawberry Shortcake Cups are individual trifles that make everyone at the party feel special, and they're the perfect amount of dessert.
Why these Strawberry Shortcake Cups are so good
Served in cups, perfect to dish out at summer parties and BBQ's
A delicious mix of strawberries, cream and chocolate .
Comes with a silky and creamy chocolate ganache.
Topped with sweet glazed strawberries.
Ingredients
Pound Cake – cubed into bite sized chunks. Sara Lee works really well.
Cream Cheese – low fat works great.
White Chocolate – you'll need them melted and cut up into cubes.
Strawberries – fresh, washed and cut into pieces. Strawberries come into season from June.
Sugar – powdered and granulated.
Vanilla Extract – or vanilla bean paste
Strawberry Glaze – sugar free
Heavy Cream
Cool Whip – or you can whip cream into medium/firm peaks
How to make Strawberry Shortcake Cups
For the filling, mix cream cheese with powdered sugar, melted chocolate and vanilla, then fold in Cool Whip. To make the glaze, macerate strawberries with sugar and let sit for a few minutes, then mix in strawberry glaze. Then onto the ganache, heat the heavy cream and then mix in the chopped chocolate, make sure it is cooled to room temp before using.
To assemble the trifles, place the filling in the bottom, followed by the glazed strawberries, then the diced shortcake (dipped in ganache) and strawberries. Finally top with another layer of filling and finish with a spoonful of strawberry glaze. Repeat with remaining cups – enjoy!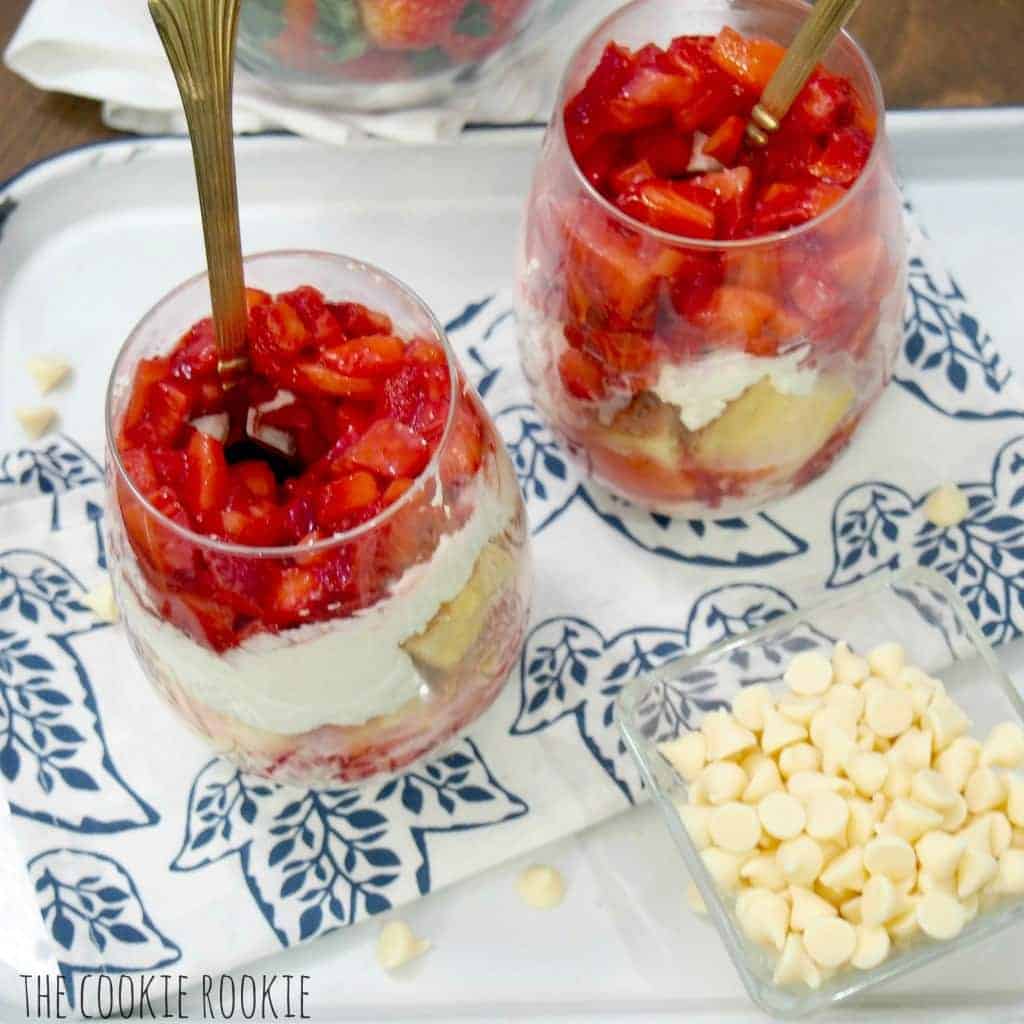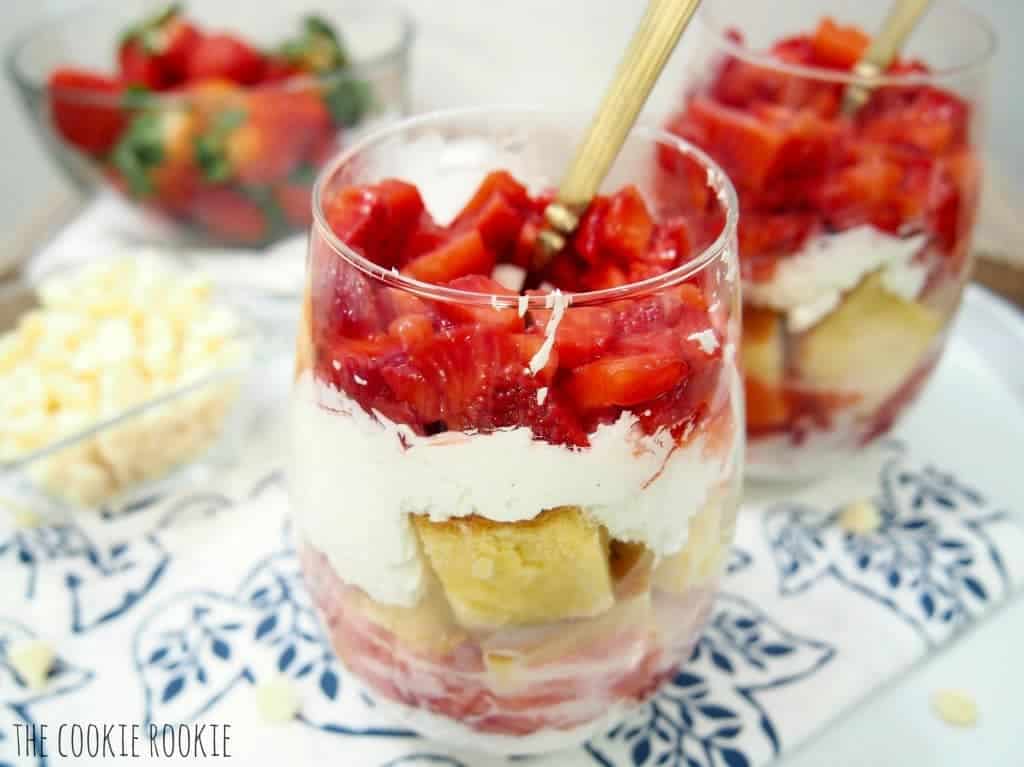 A delicious strawberry dessert
Strawberries are my very favorite sprint/summer treat. Strawberries on their own, strawberries in chocolate, strawberry bruschetta, strawberry basil cocktails, the list is endless! At the top of the list is strawberry shortcake.
I think it's the absolute best summer dessert. It's perfect for any summer get-together, and especially perfect for a Memorial Day BBQ! I'm already starting to dream about BBQs. I can't wait to make this for some guests on the new deck!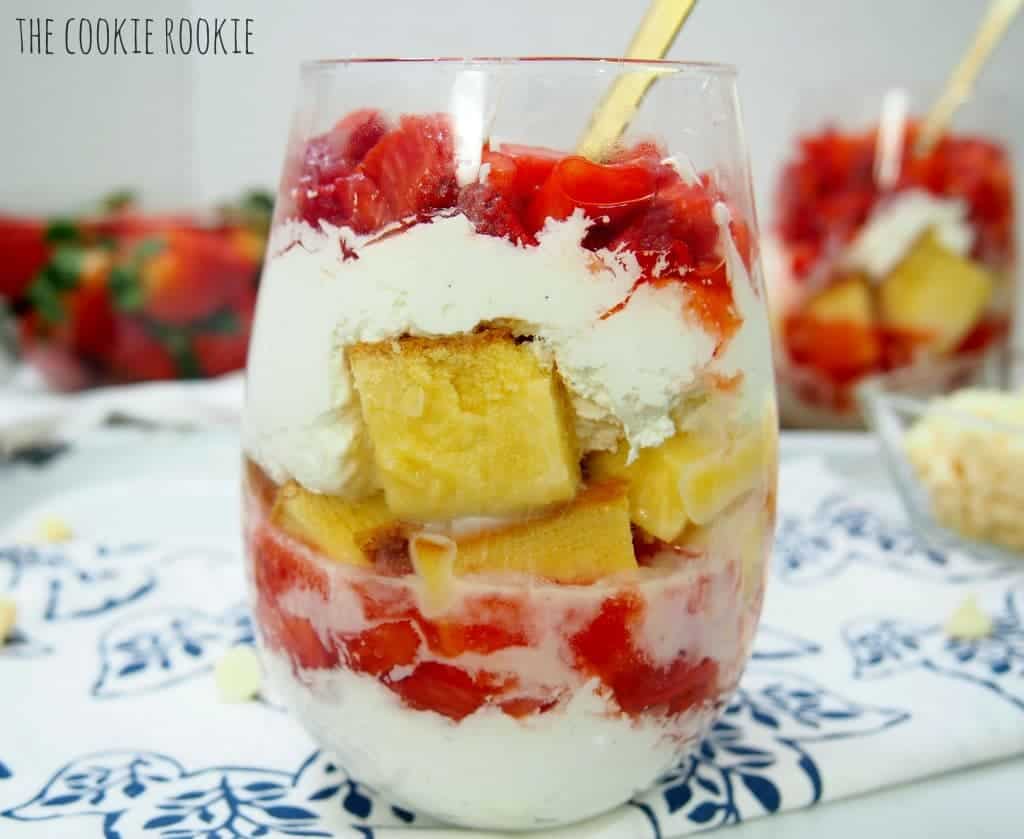 White chocolate
The secret ingredient? White chocolate. Each piece of shortcake is dipped in white chocolate ganache, and the whip cream filling is mixed with melted white chocolate. Decadent. Sinful. Made for Spring and Summer BBQs!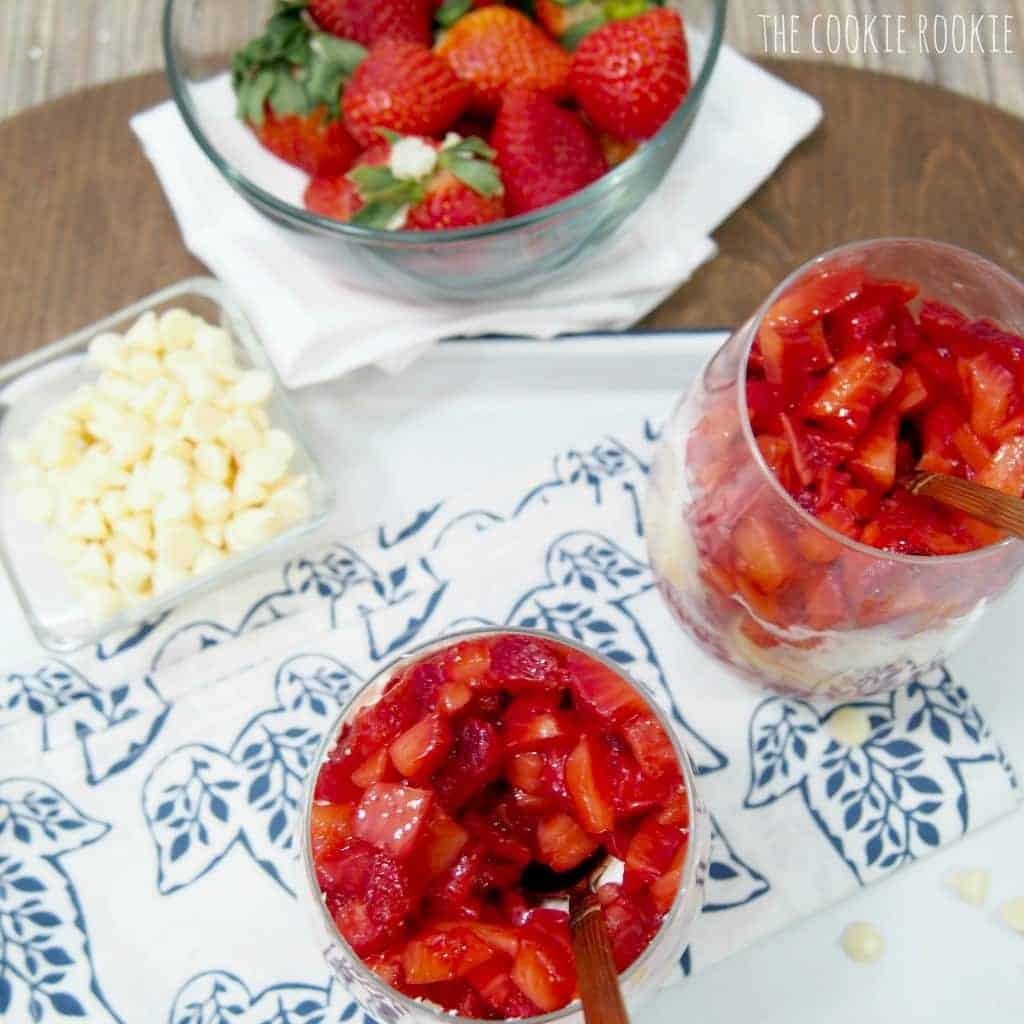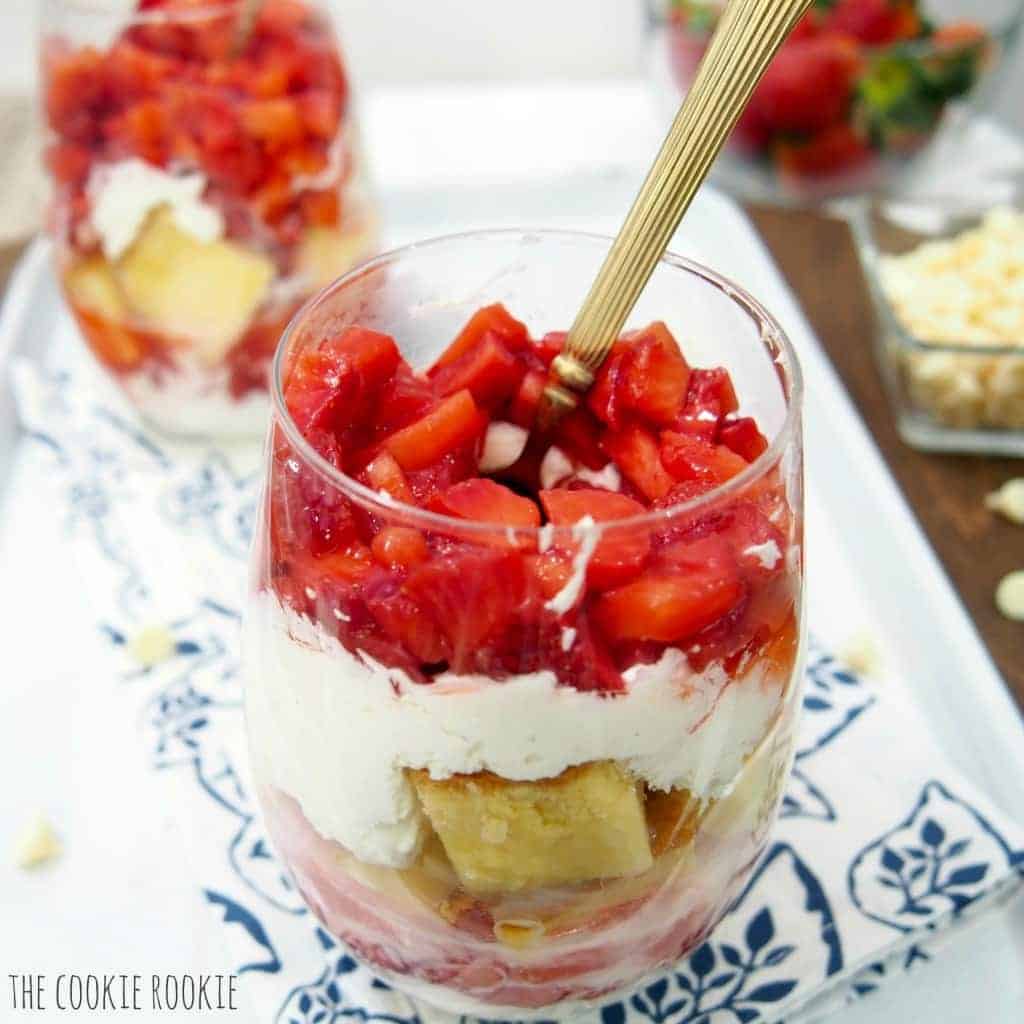 A great party dessert
Creating this delicious dessert SO excited for summer. Sunshine, BBQs, and Memorial Day parties will be here before we know it!! They look so colorful and fresh, especially in their individual cups. These single servings are great for backyard dinners and BBQ's.
I hope these shortcake cups can make your Party a bit more delicious. Enjoy!
What size of cup should you use?
For these individual strawberry shortcake cups, you can use 8-oz glass jars. But you can use any size jar you have on hand!
Top Tips
Frozen strawberries can't be used in this recipe. They're too soggy and the flavor isn't as good!
Make sure to let your ganache cool to room temp before using.
You can use vanilla extract or vanilla bean paste.
For a less sweet treat, scale back on the amount of sugar in the whipped cream.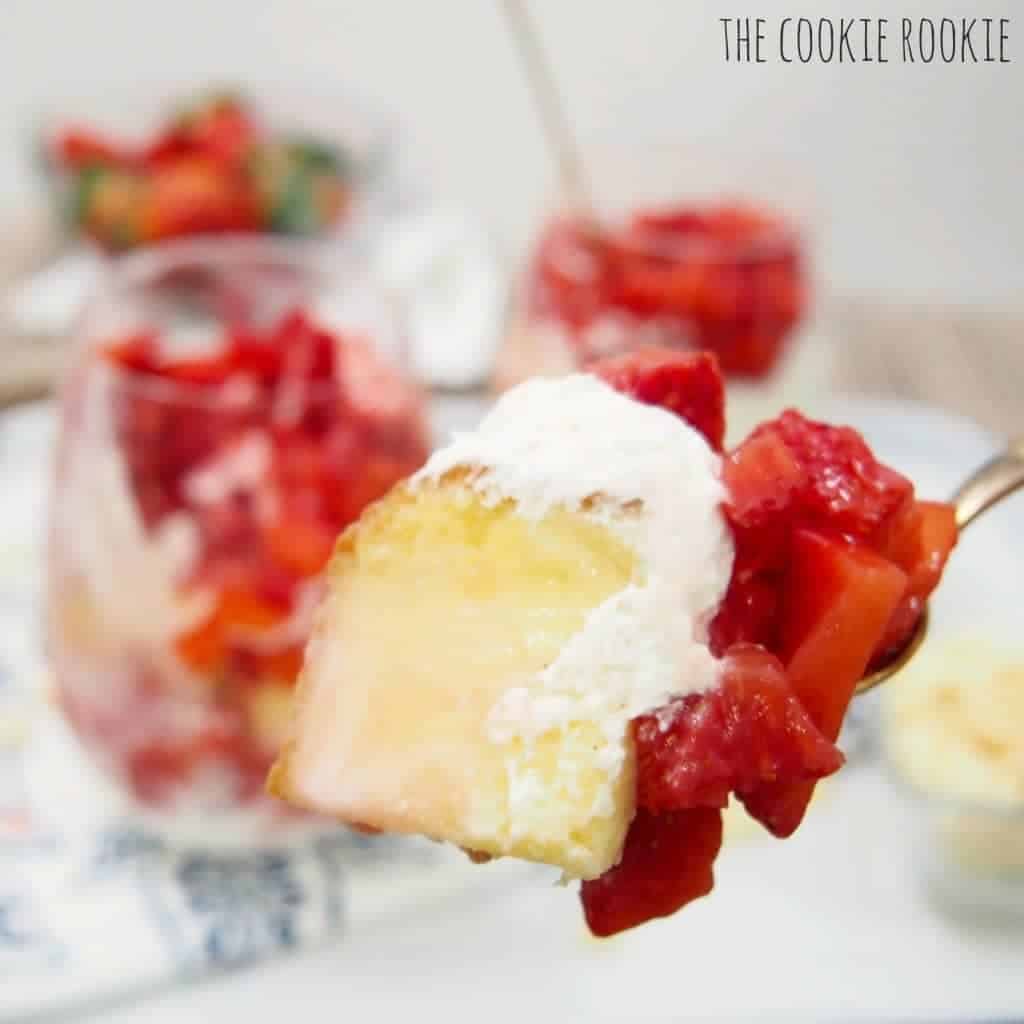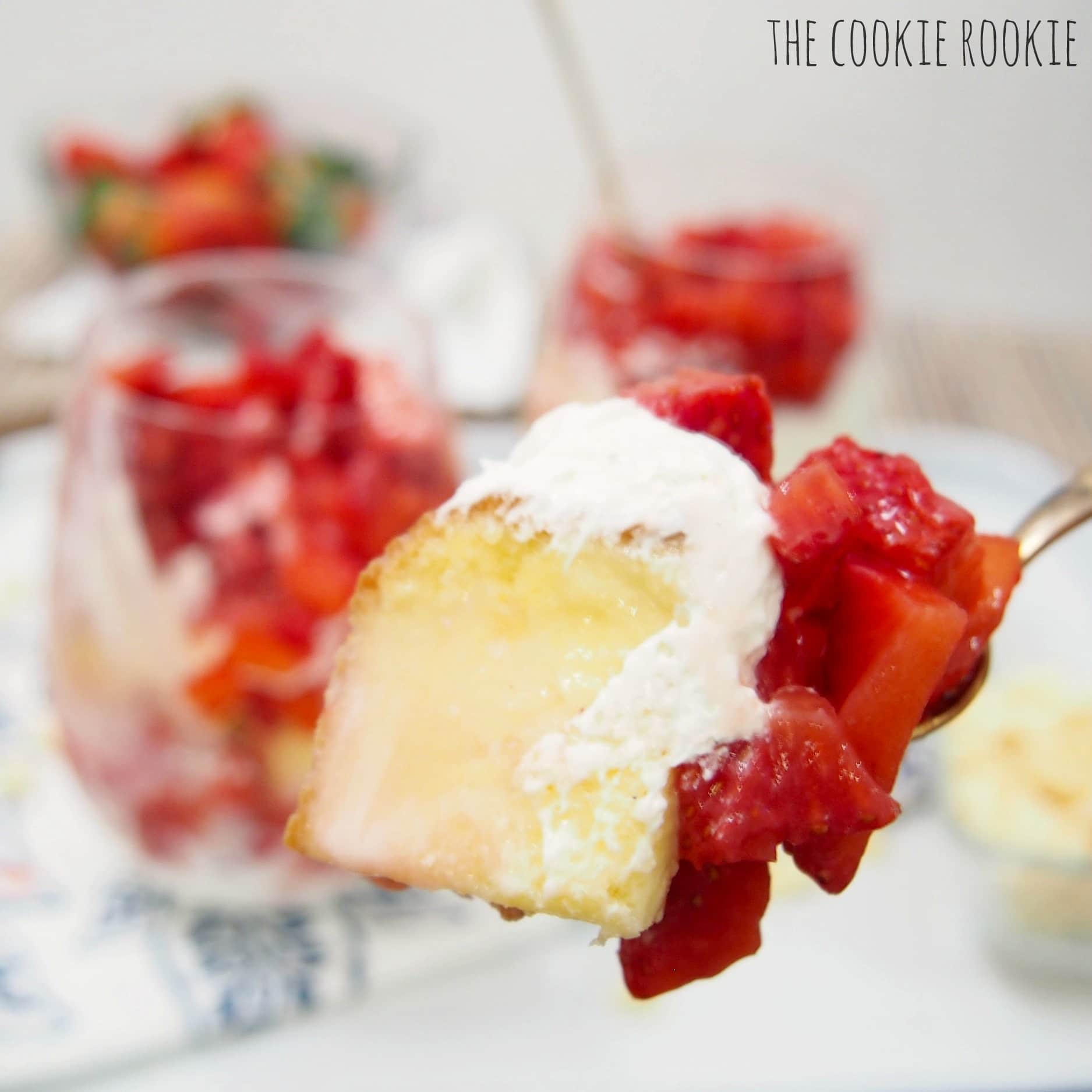 Check out these other delicious desserts
Have you tried these Strawberry Shortcake Cups? Feel free to leave a star rating and I'd love to hear from you in the comments below!