STRAWBERRY SHORTCAKE TRIFLE CUPS are as beautiful as they are delicious. Such a fun and tasty way to enjoy Summer!
SPRING IS HERE!!! I spent weekend in Jacksonville and was LOVING the weather.  Missouri is still cold…in fact it snowed while I was gone…but I can tell Spring is upon us.  So I broke out the strawberries! This is my most recent post for Celebrations.com…so hop on over and check it out!! They have TONS of other great spring/summer recipes.  Click HERE to see the post. :)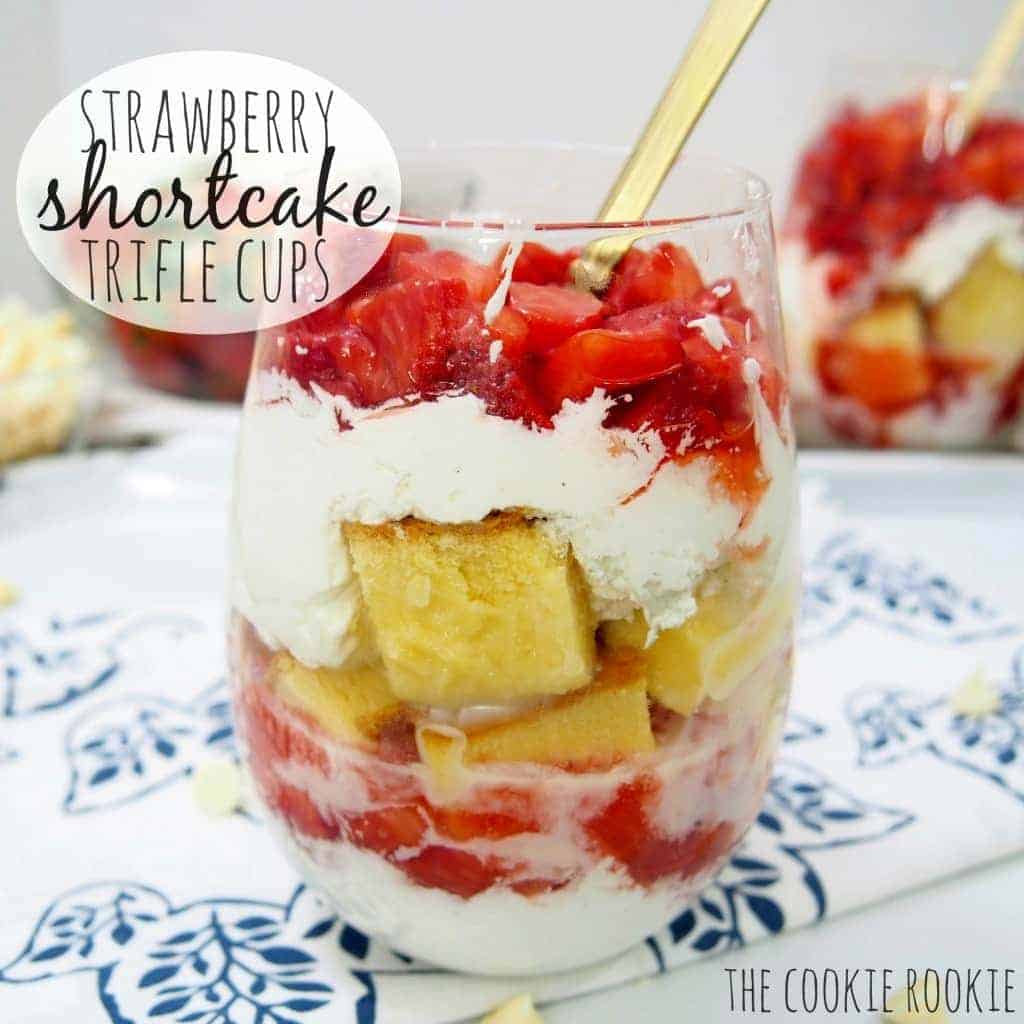 Strawberries are my very favorite sprint/summer treat.  Strawberries on their own, strawberries in chocolate, strawberry bruschetta, strawberry basil cocktails, the list is endless! At the top of the list is strawberry shortcake.  I think it's the absolute best summer dessert. It's perfect for any summer get-together, and especially perfect for a Memorial Day BBQ!  I'm already starting to dream about BBQs.  I can't wait to make this for some guests on the new deck!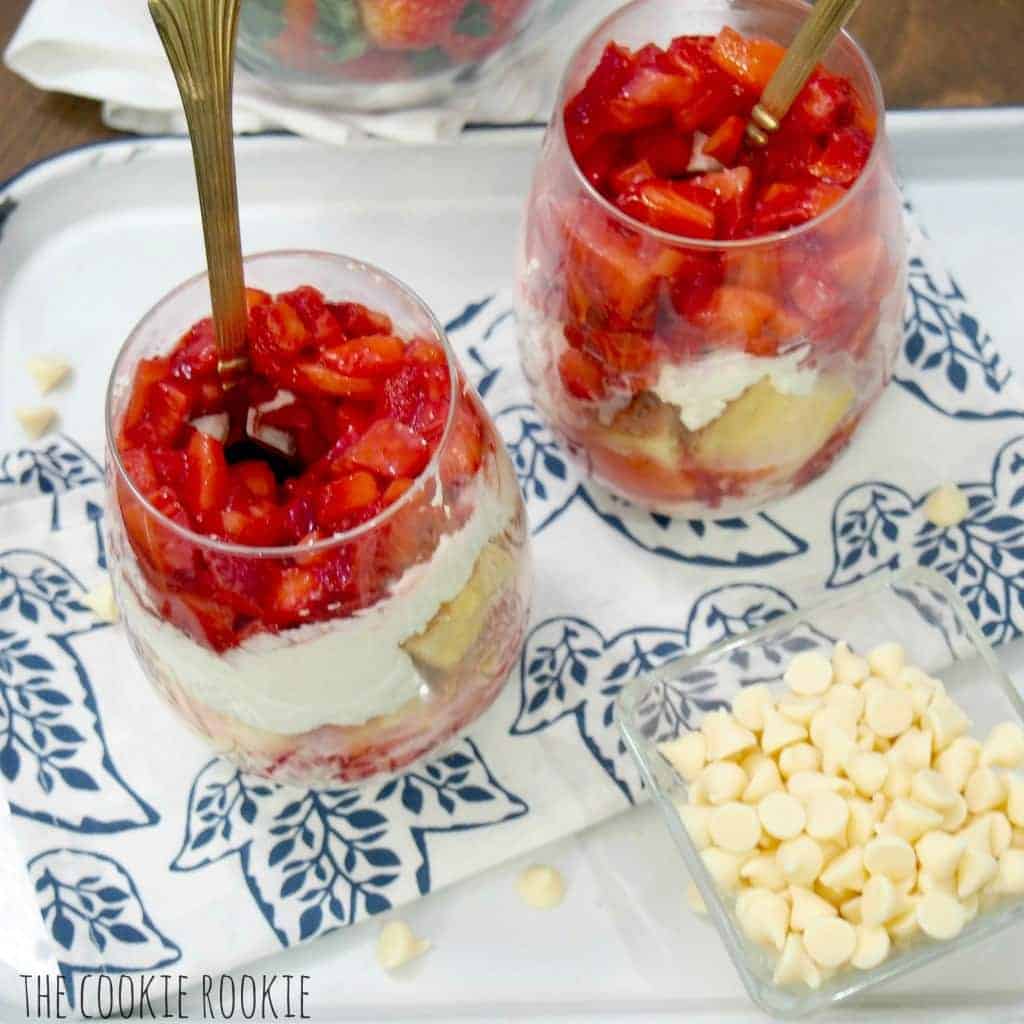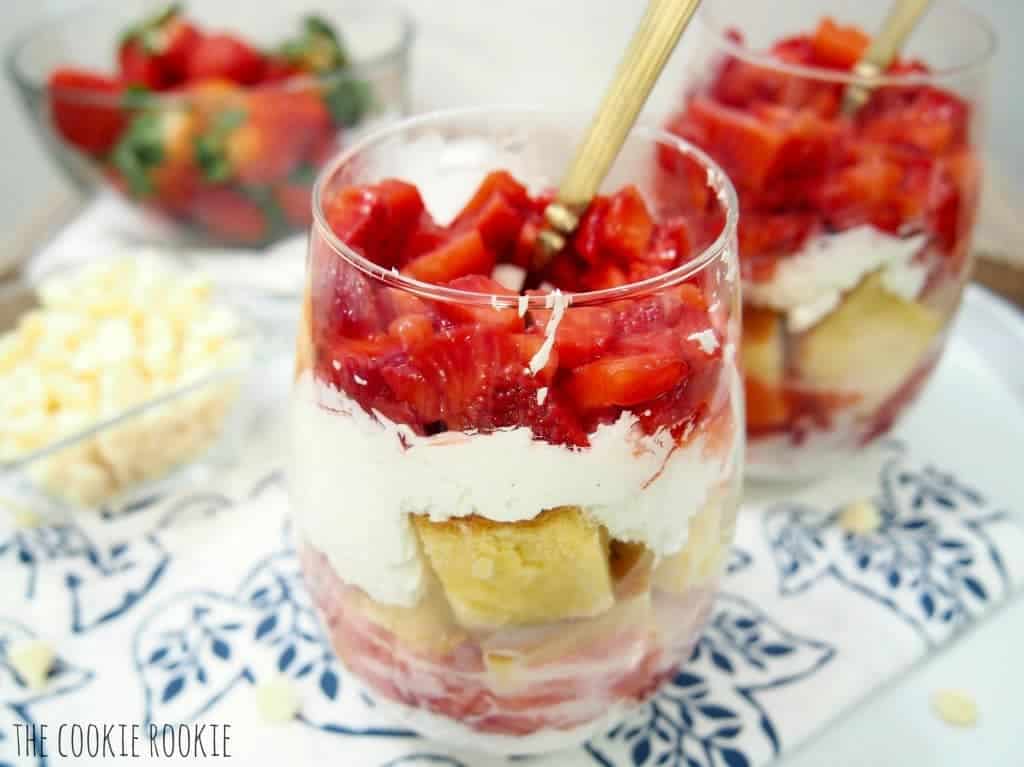 Almost everyone has had Strawberry Shortcake…but they haven't had it like this.  Individual trifle cups makes everyone at the party feel special, and they're the perfect amount of dessert.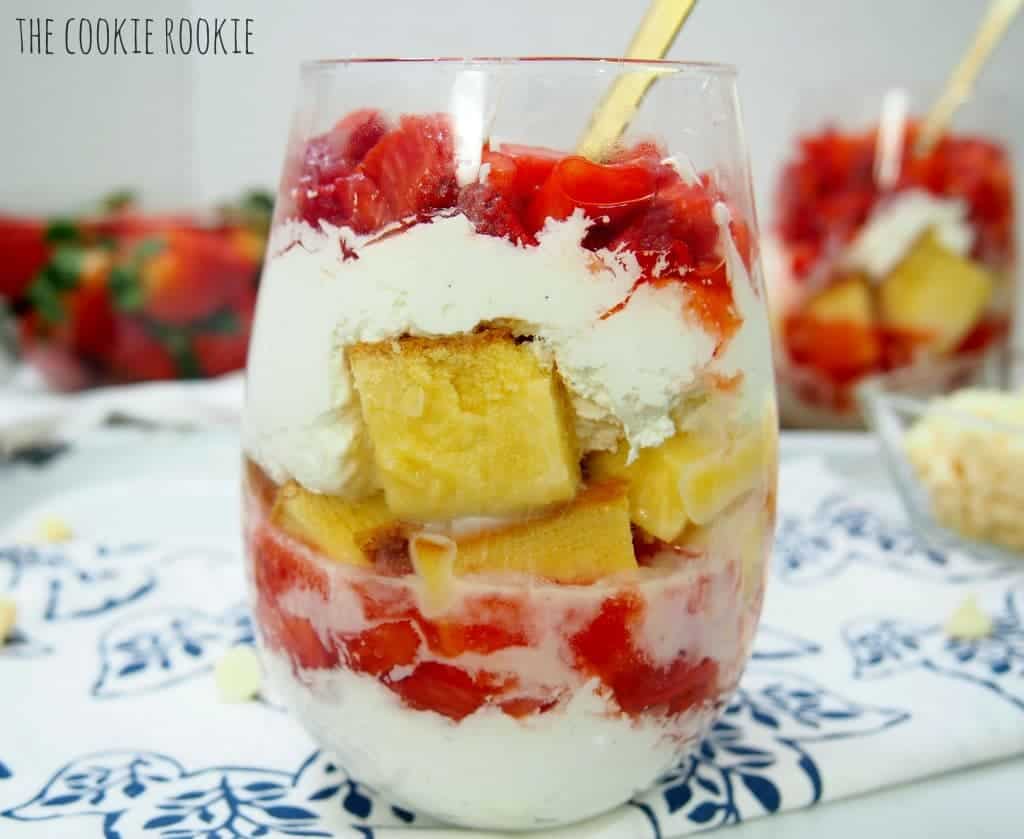 The secret ingredient? White chocolate.  Each piece of shortcake is dipped in white chocolate ganache, and the whip cream filling is mixed with melted white chocolate.  Decadent.  Sinful.  Made for Spring and Summer BBQs.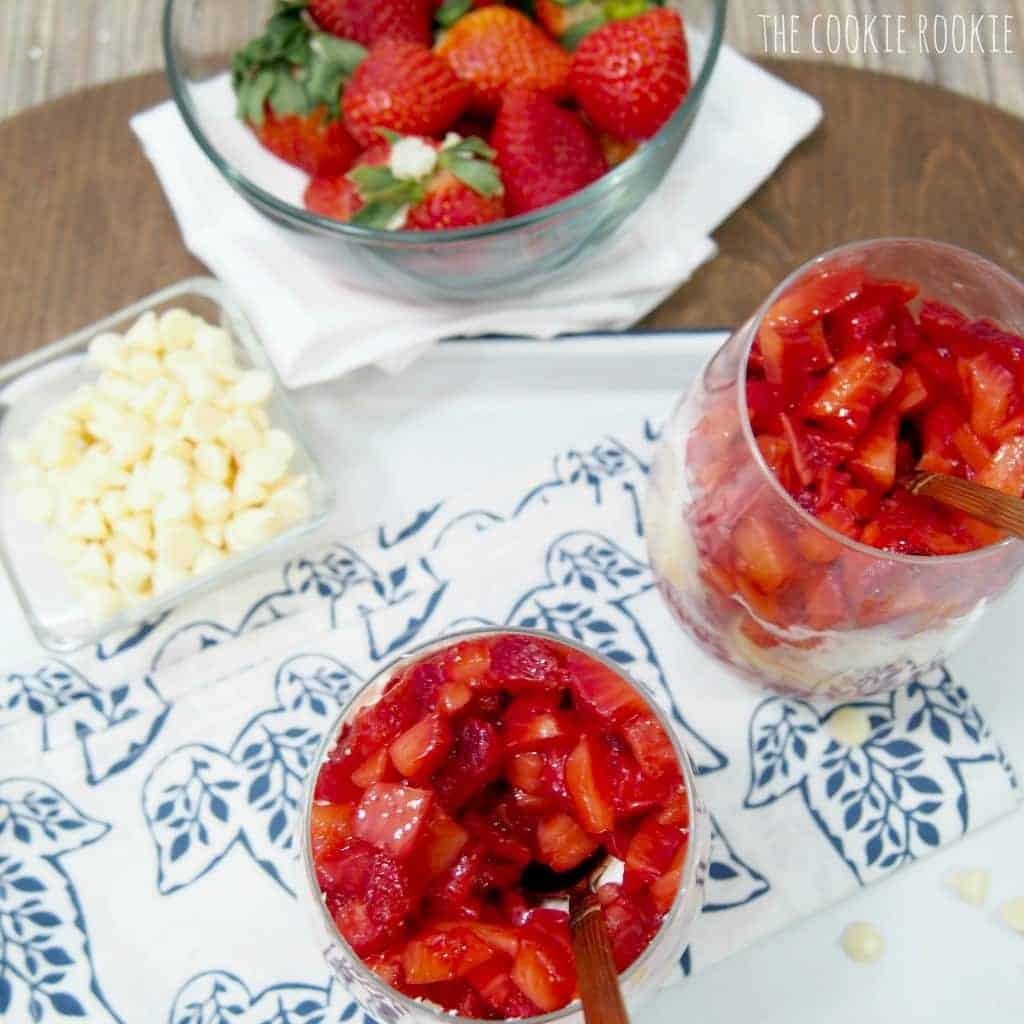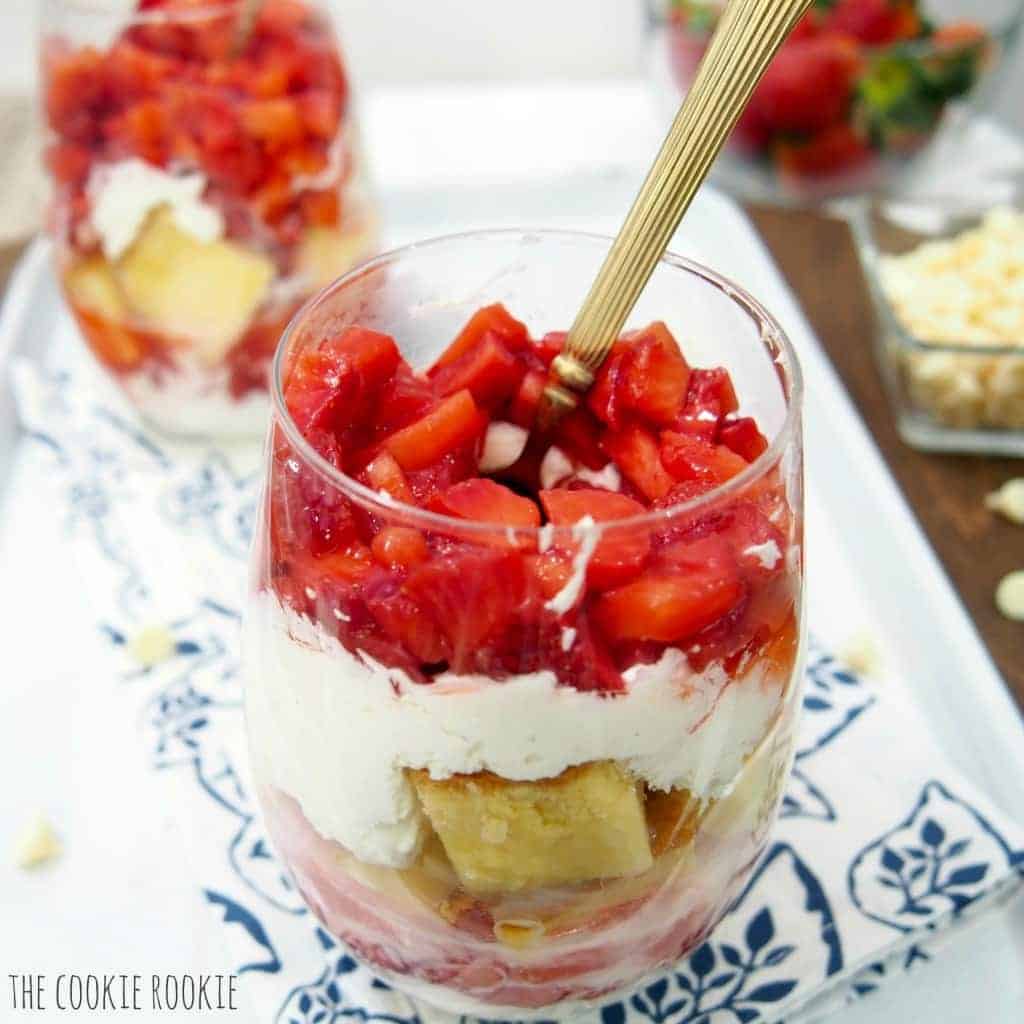 Creating this delicious dessert in the dead of winter makes me SO excited for summer.  Sunshine, BBQs, and Memorial Day parties will be here before we know it!! I hope these shortcake cups can make your Party a bit more delicious.  Enjoy!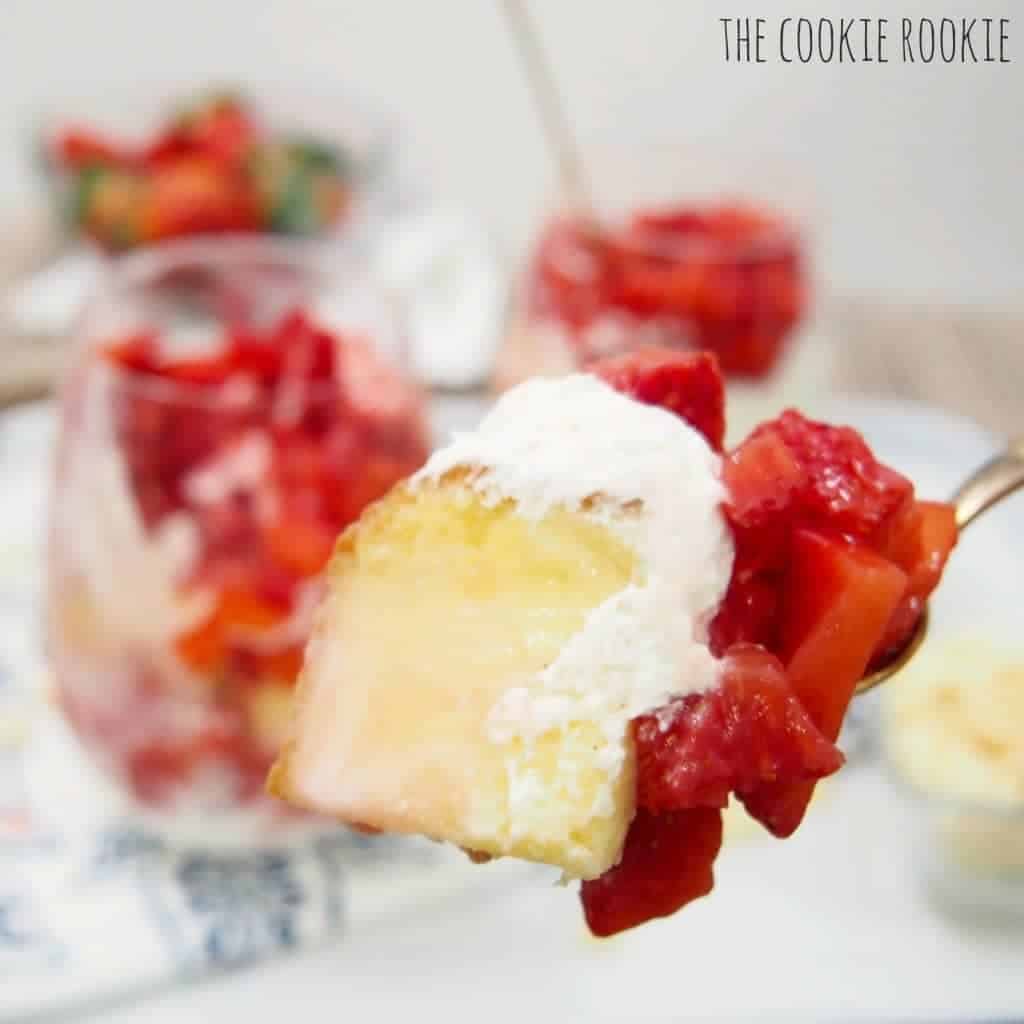 the cookie rookie
Strawberry Shortcake Trifle Cups
Individual Strawberry Shortcake Trifle Cups made with White Chocolate Ganache!
Ingredients
2 loaves Sara Lee Pound Cake, cubed
8 oz container of Cool Whip
6 oz low fat cream cheese
1 1/2 cups powdered sugar
4 oz white chocolate, melted
4 oz white chocolate, cut into small pieces
1 t vanilla extract, or 1 1/2 t vanilla bean paste
2 pints fresh strawberries, washed and sliced into small pieces
4 oz sugar free strawberry glaze
2 oz heavy cream
1/3 cup sugar
Instructions
For the filling:

Beat cream cheese until light and smooth.
Add powdered sugar, melted chocolate, and vanilla.
Fold in Cool Whip and set aside.

For the Strawberry glaze mixture:

Macerate the strawberries by adding sugar, stirring, and letting sit for at least 3-4 minutes.
Add strawberry glaze and mix together fully.
Set aside.

For the ganache:

Heat heavy cream in small saucepan until hot and bubbly.
Remove from heat and pour over chopped white chocolate, stirring until chocolate is completely melted.
Allow to cool, stirring occasionally. Make sure it is cooled to room temperature before proceeding. If the mixture is too hot it will soak into the cake layer.

To assemble the trifles:

Place a large spoonful of filling into the bottom of a cup
Using a slotted spoon, top with a large spoonful of the strawberry glaze mixture
Dip 6-8 cubes of shortcake into the ganache and place on top of the strawberries. The ganache will help the cake to not get too soggy from the glaze mixture
Top with another large spoonful of the filling
Finish the trifle with another heaping spoonful of the strawberry glaze mixture.
Repeat with remaining cups.
Makes about 6 individual cups
Enjoy!
7.6.4
2057
https://www.thecookierookie.com/strawberry-shortcake/

JOIN OUR MAILING LIST
TO GET COOKING!
Subscibe to recieve all the latest, greatest, and EASIEST recipes sent straight to your email inbox. If we post something yummy, you'll be the first to know.